Fifth District Dispatch

Welcome to the Fabulous Fifth District Dispatch!

Thank you for subscribing to my weekly e-newsletter. The Fifth District Dispatch includes information from County departments, regional boards I represent, transportation highlights and upcoming events in South County.

Please add me on Twitter @OCSupBartlett and Facebook @SupervisorLisaBartlett to receive regular social media updates.

It is my honor to represent you!

Sincerely,

Lisa Bartlett
Supervisor, 5th District
Orange County Board of Supervisors

County Connections

Second Installment of Property Taxes due April 10

The Treasurer-Tax Collector (TTC) advises that the second installment of property taxes is due by April 10. If you are planning to come into the TTC office to pay your property taxes in person, please be advised that the Civic Center is undergoing heavy construction and parking in Lot P4 and metered parking on Ross Street may be intermittently closed. Directions to the TTC office and parking information can be viewed or printed by going to ttc.ocgov.com and clicking the Info/Contact Us tab. The website has a chart that shows alternative parking options if these are closed.

If you have any questions, please contact the TTC office at ttcinfo@ttc.ocgov.com or call (714) 834-3411 between 9 AM and 5 PM.

Leaders Unite to Enhance the Aging Experience for our Senior Population

Orange County's community leaders and cities have united to form the Orange County Strategic Plan for Aging (OCSPA). OCSPA was created to address the challenges facing our rapidly aging population. Within the next 15 years, OC's senior population will grow by 63%, with Orange County being among the fastest growing aging counties in America.

OCSPA has acknowledged the issues the county's aging population is facing with growing frequency and has identified 10 key initiatives to improve the lives of older adults within an 18-month timeframe. While there have been multiple efforts to gather data across sectors, this will be the first strategic plan since 1998 to identify the areas of greatest need and coordinate multiple resources to address those needs.

I am proud to be a part of this initiative, as this is the first time where Orange County will have leaders from different organizations and funders all invested in this type of plan, working collaboratively to move the needle and secure resources for aging adults.

With that thought in mind, an awareness campaign launched this week at www.ocagingplan.org. The site outlines the plan's 10 key initiatives and will be followed by print, online and social media advertising.

Auditor-Controller: Small Business Property Tax Workshop

The County of Orange Auditor-Controller's office is proud to announce that Toni Smart, Director of Internal Audit, and Frank Davies, Property Tax Manager, have been selected as featured keynote speakers for the California Community Colleges Small Business Property Tax Workshop, to be held Friday, April 7, 2017 at 11:30 AM.

The event will focus on how small businesses can navigate the complex world of business taxes. At the seminar, speakers will focus on the tax assessment process, tax rates and collection, and where all the hard-earned taxpayer dollars go.

To register for the event, please visit https://www.eventbrite.com/e/small-business-property-tax-workshop-tickets-33019031813.

The Orange County Auditor-Controller's office typically releases anywhere from 1 to 5 audits per month and distributes almost $6 billion of property tax collections to Orange County cities, school districts, special districts, and County government. The Orange County Auditor-Controller is the largest independently elected County Auditor in the nation.

For more information on the Auditor-Controller's office, visit www.ac.ocgov.com.

Health Care Agency: New Director Appointed

Richard Sanchez, currently the Assistant Director of the County of Orange Health Care Agency (HCA), will now lead the agency as Director beginning March 31, 2017. Sanchez was selected from a competitive public recruitment following the retirement announcement of present HCA Director Mark Refowitz.

Sanchez has more than 30 years of experience in the public sector including serving HCA for the past 12 years. He has held a variety of leadership roles including Assistant Director and Director of Environmental Health and Assistant Director of the Agency. Prior to joining the County of Orange, Sanchez led Sacramento County's Environmental Health Department. He holds a Bachelor of Science degree in Biological Sciences from UC Irvine and a Master of Public Health from Loma Linda University.

"I was born and raised in Orange County, and it's tremendously important to me that every family here has the experience of a healthy community and environment that I was fortunate to have growing up," said Sanchez.

HCA is a regional provider, charged with protecting and promoting individual, family and community health through coordination of public and private sector resources. HCA's organizational structure includes five major service areas: Correctional Health Services, Public Health Services, Behavioral Health Services, Regulatory/Medical Health Services and Administrative Services. HCA is comprised of 2,700 employees with an annual operating budget of $650 million.

OC Moves

I-5 South County Construction Highlights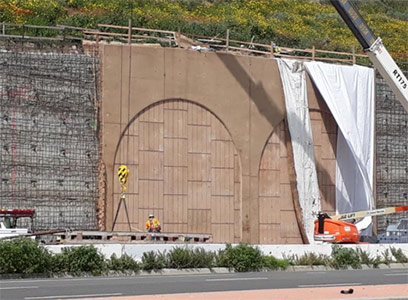 PCH / Camino Las Ramblas Closures: The nighttime work on the hardscape between the ramps at southbound I-5 and PCH / Camino Las Ramblas began Monday, March 27. It will occur from 10 p.m. to 5 a.m. Monday through Friday through April 10.

Detours will be posted. Motorists should consider using Camino Capistrano to access PCH / Camino Las Ramblas.

Avenida Pico Retaining Wall: Work is progressing on the face of the Avenida Pico retaining wall. Crews are pouring concrete into specially designed forms attached to the wall to create the architectural design. The wall face is expected to be completed later this spring. Below is a photo of the recent work, as well as an artist's rendering of the completed wall.

OC Sheriff's Department

Bike & Pedestrian Safety Enforcement this Weekend

The Orange County Sheriff's Department will step up Bike & Pedestrian Safety Enforcement Operations throughout the county on Saturday, April 1, and Sunday, April 2, with focused enforcement on collision causing factors involving motorists, pedestrians and bicyclists.

The department has mapped out locations over the past 3 years where pedestrian and bike collisions have occurred along with the violations that led to those crashes. Extra officers will be on duty patrolling areas where bike and pedestrian traffic crashes occur in an effort to lower deaths and injuries.

Officers will be looking for violations made by drivers, bike riders and pedestrians alike that can lead to life changing injuries. Special attention will be directed toward drivers speeding, making illegal turns, failing to stop for signs and signals, failing to yield to pedestrians in cross walks or any other dangerous violation.

Additionally, enforcement will be taken for observed violations when pedestrians cross the street illegally or fail to yield to drivers who have the right of way. Bike riders will be stopped and citations issued when they fail to follow the same traffic laws that apply to motorists. All riders are reminded to always wear a helmet – those under 18 years of age must wear helmets by law. Pedestrians should cross the street only in marked crosswalks or at corners.

Bicycle and pedestrian fatalities are rising in California as more people use these non-motorized means of transportation. Locally, the Orange County Sheriff's Department has investigated 759 fatal and injury collisions involving pedestrians and bicyclists during the past three (3) years. In 2013, California witnessed 701 pedestrians and 141 bicyclists killed, accounting for more than 28 percent of all traffic fatalities.

Funding for this program is provided by a grant from the California Office of Traffic Safety through the National Highway Traffic Safety Administration.

John Wayne Airport

Frequently Asked Questions on FAA's NextGen – Southern California Metroplex

The FAQ below has been created by John Wayne Airport to provide information on the FAA SoCal Metroplex Project. To enlarge the FAQ, simply click on the image.

For more information on the FAA SoCal Metroplex project, please visit the FAA's Community Involvement Web page at https://www.faa.gov/nexgen/communityengagement/socal/.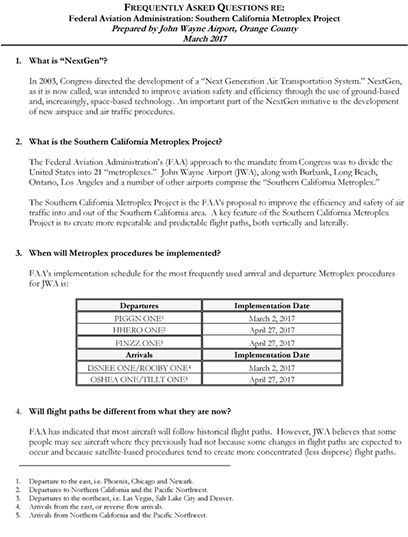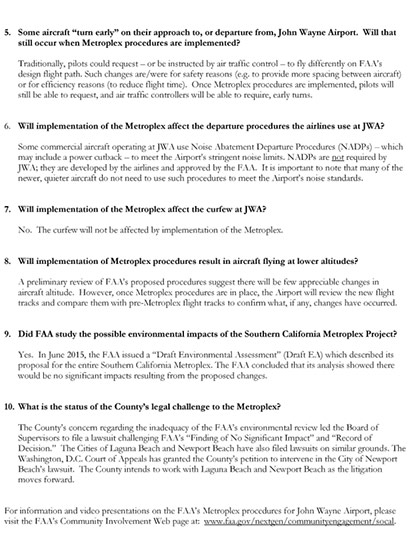 Click on the image above to view a PDF version.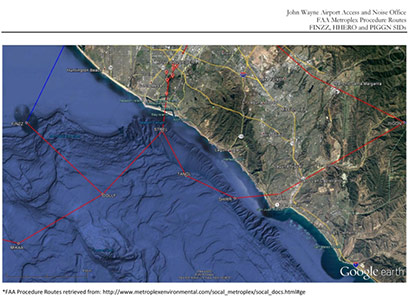 Click on the image above to view a PDF version.

OC Animal Care/Pet of the Week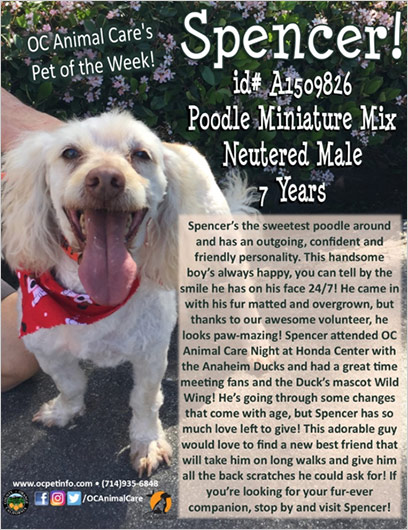 Click on the image above to view a PDF version.

Fifth District Spotlight

Laguna Bluebelt Coalition Announces 2017 Winners from 6th Annual Photo Contest

The Laguna Bluebelt Coalition, dedicated to preserving the health of Laguna Beach's marine habitats, has announced the winners of its 6th Annual Photo Contest. The contest focuses attention on Laguna's marine protected areas to educate and gain public support for their restoration and protection.

See all the photo entries on the Laguna Bluebelt Facebook page and vote online for your favorite "Best of the Rest."

Judging the 2017 contest this year were accomplished photographers Mark Chamberlain, Pat Sparkuhl and Mitch Ridder. They each remarked on the diversity, uniqueness and growth in quality of this year's entries.

The popular Artist Reception will be held on Friday, June 2 from 6-8 pm to honor the winners at the Forest & Ocean Gallery, 480 Ocean Avenue, Laguna Beach. Music, appetizers and drinks will be provided to make it fun for everyone.

Laguna Bluebelt thanks the contest participants, the community and the following sponsors for their ongoing support and commitment to the restoration of our marine life - OC Helicopters; Surf & Sand Resort's Splashes Restaurant; Brussels Bistro; The Ranch at Laguna; Beach Cities Scuba; Sunset Stand Up Paddle; Massage Envy Laguna Beach; and La Sirena Grill.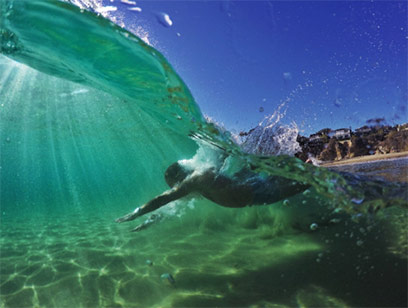 First Prize Winner, Professional: Dan Stensland's "The Great Wide Open"

Out and About In South County

Aliso Viejo: Soka University International Festival

Soka University will celebrate the 16th Annual International Festival from 10:30 AM to 5:00 PM on Saturday, May 6. Enjoy 900 musicians and dancers performing on four stages, and over 250 non-profit, craft and business exhibitors. The 2017 International Festival is part of Orange County's Imagination Celebration and will feature lots of international food, exhibitors, games and activities, art exhibitions and sales, a children's play and arts area, student projects, and much more. Mark your calendars and be sure to visit my County Information Booth while at the Festival! For more information, please click here.

Irvine: Great Park Update – Meet the Future

A special community meeting at 10 AM Sunday, April 2 at South Coast Chinese Cultural Center (9 Truman St., Irvine) will provide an update on the nation's largest parkland project of 688 acres, including a 194-acre Sports Park and the state's largest Community Ice Facility. Attendees will also be able to provide input on still-to-be-built segments of the Orange County Great Park. This a FREE public event, no RSVP needed. For more information, please click here.

Lake Forest: Etnies Egg-cellent Egg Hunt and Festival of Colors

It's time for the Skatepark's annual holiday egg hunt! On Saturday, April 8th, come and visit the Skateboarding Bunny, play in the jump houses, and participate in fun crafts. This is a family friendly event and great for the young ones! The Park will be closed to riding during this event so it will be safe for all to enjoy. Eggs will be hidden throughout the Skatepark and will have small prizes inside each one. Please bring your own basket as we may have limited supplies for the event. The Egg Hunt starts at 11:15 am sharp so please don't be late or you will miss it! Depending on overall turnout, participants may be limited in the amount of eggs they will be allowed to collect. There will be an opportunity to take photos with the bunny after the egg hunt. The color blast will start at 12:00 pm so make sure you have clothes you don't mind being covered in colors! Pre-registration is required and space is limited. For more information, click here.

Rancho Santa Margarita: Pooch-ini in the Park

The Coto de Caza Committee for the Philharmonic Society of Orange County invites you to attend a special dog show called "Pooch-Ini in the Park" on April 30 at Rancho Santa Margarita Central Park from noon to 4 PM. Pooch-Ini in the Park will feature a fun, family-oriented and pet-friendly environment with celebrities, vendors, music, opportunity prizes and of course DOGS that will compete in 5 different categories. To register your special pooch, or for more information, please click here.

Rancho Santa Margarita: Low Cost Pet Vaccination Clinic

This clinic will be held on Wednesday April 5 at the Bell Tower Regional Community Center from 6:30 to 8:30 PM. Cats only from 6:30 to 7:00 PM and both cats and dogs are acceptable from 7:00 to 8:30 PM. For more information, click here.

Rancho Santa Margarita: The Write Direction Workshop for High Schoolers

The Write Direction is hosting a free workshop on where students can learn tips on how to ace interviews and write a winning student résumé. Students will participate in mock interviews; practice a business handshake; learn professional etiquette tips; and begin writing a résumé. The workshop will be held on April 3 at RSM Library from 3:30 to 5:30 PM. Please register in advance at www.thewritedirection.org.

San Juan Capistrano: The Ecology Center Free Film Screening

Join filmmaker Cyrus Sutton at The Ecology Center for the West Coast premier of Island Earth. The evening will include a community dinner, a screening of the film in the courtyard, and a Q&A session. Bring a picnic dinner inspired by the season and sourced locally as possible. We'll set the table – you bring a delicious dish to enjoy amongst friends. This screening will be held at the Ecology Center on Friday, April 7th. The garden will open for dinner at 5pm, screening at 6:30pm. Click here for details.

The Anti-Cancer Challenge

I am happy to announce that my office has joined the fight against cancer as an Anti-Cancer Challenge Supporting Organization. You can ride, run, or volunteer for a cancer-free world and fundraise for lifesaving cancer research on June 11, 2017 at Angel Stadium. Proceeds benefit UCI's Chao Family Comprehensive Cancer Center. Learn more about the challenge and how you can get involved, and register today at Anti-CancerChallenge.org.

Orange County Triathlon/Duathlon...Mark Your Calendar!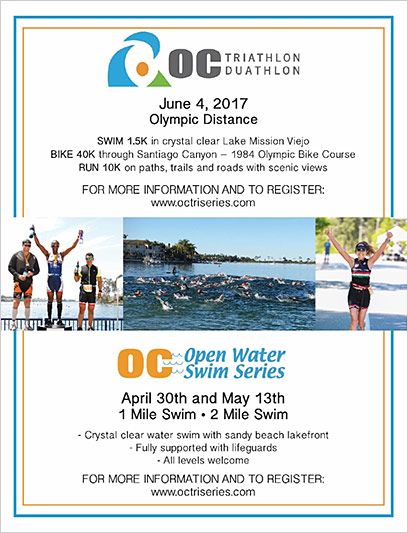 This week I:

Participated in the San Juan Capistrano Swallow's Day Parade. To view a photo album of the event, please click here.
Attended the OC Sheriff's Department Annual Medal of Valor Luncheon.
Participated in the OCTA Board meeting.
Participated in the Board of Supervisors meeting and presented Board Resolutions in recognition of National Public Health Week, and to outgoing HCA Director Mark Refowitz and Senior Assistant County Counsel Ann Fletcher in honor of their respective retirements from the County of Orange.
Gave the welcoming remarks at former Health Care Agency Director Mark Refowitz's retirement party.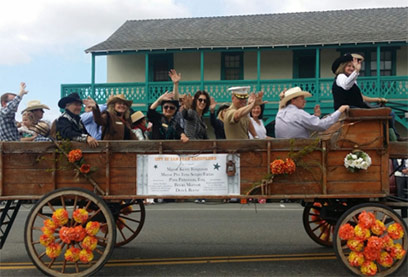 Enjoying the Swallows Day Parade with my fellow South County elected officials.

My Staff:

Presented a Certificate of Recognition in honor of the Mountain Mike's Pizza ribbon cutting in Lake Forest.
Presented a Certificate of Recognition in honor of the O Gourmet French Café & Bakery in San Juan Capistrano.
Attended the San Clemente Chamber's Legislative & Transportation Council meeting.
Attended the Municipal Water District of Orange County's Water Policy Forum & Dinner.
Attended the Laguna Niguel Chamber's City Council Meet & Greet.

South County Elected Officials in the Community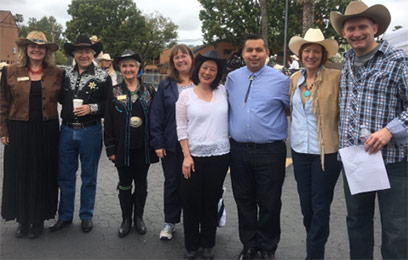 At the Swallows Day Parade with San Clemente Mayor Kathy Ward (left), Stuart Ferguson and San Juan Capistrano Mayor Kerry Ferguson, CUSD Board President Martha McNicholas, San Juan Capistrano Mayor Pro Tem Sergio Farias, Orange County Sheriff Sandra Hutchens, and San Juan Capistrano Councilman Brian Maryott.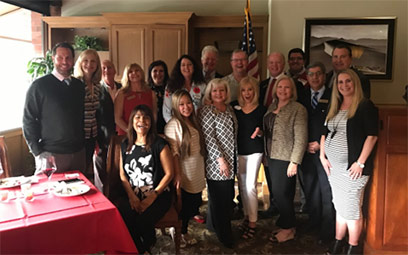 Laguna Niguel Council Meet and Greet with Mayor Jerry Slusiewicz, Mayor Pro Tem Fred Minagar, Council John Mark Jennings, Council Members Laurie Davies and Elaine Gennawey.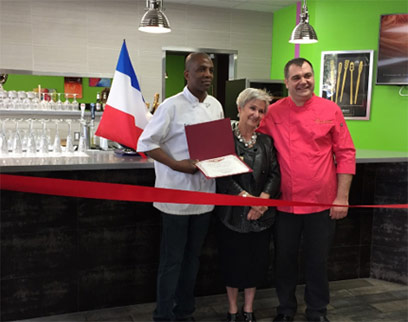 San Juan Capistrano Mayor Kerry Ferguson with co-owners and chefs Eric (left) and Ben at the O Gourmet ribbon cutting.

For questions or comments regarding Supervisor Bartlett's E-Newsletter please contact the Supervisor's office staff at: (714) 834-3550 or Tanya.Flink@ocgov.com.