Fifth District Dispatch


Welcome to the Fabulous Fifth District Dispatch!

Thank you for subscribing to my weekly e-newsletter. The Fifth District Dispatch includes information from County departments, regional boards I represent, transportation highlights and upcoming events in South County.

Please add me on Twitter @OCSupBartlett and Facebook @SupervisorLisaBartlett to receive regular social media updates.

It is my honor to represent you!

Sincerely,

Lisa Bartlett
Supervisor, 5th District
Orange County Board of Supervisors

County Connections

Orange County: Building a System of Care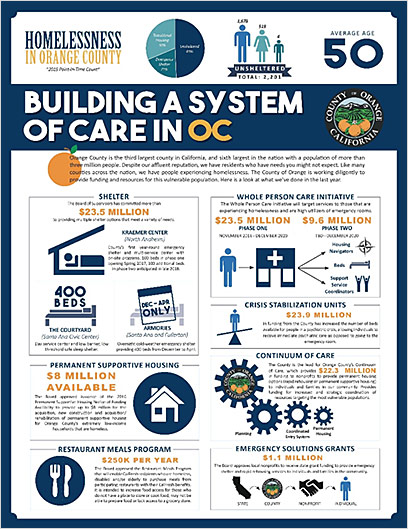 Click on the image above to view a PDF version.

Treasurer-Tax Collector

Second Installment Property Tax Payment Deadline is Monday, April 10

Orange County Treasurer-Tax Collector Shari Freidenrich reminds Orange County taxpayers that the second installment of property taxes is due no later than Monday, April 10, 2017. Payments not received by Monday, unless they have a United States Postal Service stamp on or before April 10, will incur a 10 percent late penalty plus a $23 fee.

Taxpayers can make payments using this method up to midnight on April 10 by going to ocgov.com/octaxbill. Taxpayers can also include their e-mail address to have their payment receipt e-mailed directly to them.

Taxpayers who need a copy of a prior year's tax bill in order to complete their State or Federal income tax returns by April 15 can view and print their 2010-11, 2011-12, 2012-13, 2013-14, 2014-15, 2015-16 and 2016-17 property tax bills online 24/7 and view the last two years of payment details using the Treasurer's website at ocgov.com/octaxbill. In addition, taxpayers can sign up to receive a payment date reminder e-mail by registering their e-mail with the Treasurer. This e-mail will go out approximately ten days before and again one day prior to the last timely payment date. An e-mail will also go out when the 2017-18 secured tax bills are available online.

If a taxpayer pays using a bank's or other online payment site, please make sure the payee is listed as the "County of Orange" and include the APN number as the account number, exactly as it shows on the property tax bill. As it may take several days, and possibly up to a week to receive these payments, we encourage taxpayers to pay using the Treasurer's secure online site to avoid a potential penalty.

Check out your parcel using our GIS map by clicking on the map icon when you view your property tax information online or go directly to ocgov.com/octaxmap (view in Chrome or Firefox) to view any property in the County of Orange. If you have already paid your property taxes, make sure that you check out the online property tax statement at ocgov.com/octaxbill and input your address to see if you have prior year delinquent property bill or if you have a refund due to you.

Internet Auction of Timeshare Intervals

The County of Orange Treasurer-Tax Collector's reoffer auction of tax-defaulted timeshare intervals will be held online April 18-19, 2017. The current list of 286 timeshares scheduled for auction with some minimum bids as low as $100 is available on the website at octaxauction.mytaxsale.com.

If you are interested in bidding on a parcel, you will need to register as a user and submit a single refundable deposit of $500 by 5 p.m. Pacific Standard Time (PST) on Monday, April 10, 2017, in order to participate in the online tax auction. Once you have registered as a user, you can log in to the site, click the "My Payments" link and select "Submit Deposit." All bid deposit payments must be made online by eCheck (bank account) through the website to our third-party vendor, Grant Street Group, and must be received by them no later than 5 p.m. PST, on April 10, 2017. Registration will not be permitted through the mail or in person, and will not be permitted after this date.

Treasurer Freidenrich recommends that if you are considering purchasing a timeshare interval(s), you should register and submit the required $500 deposit immediately, and then you can do research on the parcels up to the time of that parcel's tax auction close on April 19, 2017. For information on the resort, you can click on the resort name listed at each parcel and some information is listed with each parcel. In addition, you can obtain the contact information for each resort at ocgov.com/taxauction. All interested parties can view all timeshare intervals for sale on the website, but must register for a user ID in order to download the entire listing and become a bidder.

If you are not a successful bidder on a parcel, then your deposit will be automatically refunded back to your bank account within 10 business days after the close of the internet auction. Grant Street Group will transfer the deposits of all successful bidders to the County of Orange for credit toward the purchase.

We hope you will familiarize yourself with the auction site prior to the auction. You can click on "Property Tax Auction Instructions" for frequently asked questions and detailed information on how to participate in the auction process. Please read through the auction rules and use the recorded demonstrations to understand each aspect of participating in the auction. Be sure to carefully review the "Terms and Conditions – April 2017 Reoffer Auction of Tax-Defaulted Timeshares" and research all timeshare parcels thoroughly before placing a bid. Bidding on the timeshares will start at 9 a.m. PST on Tuesday, April 18, 2017, with batches of parcels scheduled to close through the stated close times provided at octaxauction.mytaxsale.com on Wednesday, April 19, 2017. This is a buyer beware sale, and all sales are final.

If you have general questions regarding the tax auction, please e-mail us at ttcinfo@ttc.ocgov.com or call (714) 834-3411 (call center hours are 9 a.m.to 5 p.m. PST).

OC Moves

I-5 South County Construction Highlights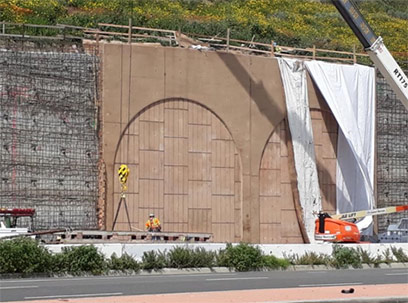 PCH / Camino Las Ramblas Closures: The nighttime work on the hardscape between the ramps at southbound I-5 and PCH / Camino Las Ramblas began Monday, March 27. It will occur from 10 p.m. to 5 a.m. Monday through Friday through April 10.

Detours will be posted. Motorists should consider using Camino Capistrano to access PCH / Camino Las Ramblas.

Avenida Pico Retaining Wall: Work is progressing on the face of the Avenida Pico retaining wall. Crews are pouring concrete into specially designed forms attached to the wall to create the architectural design. The wall face is expected to be completed later this spring. Below is a photo of the recent work, as well as an artist's rendering of the completed wall.

OC Sheriff's Department

DUI Enforcement Operations Planned this Weekend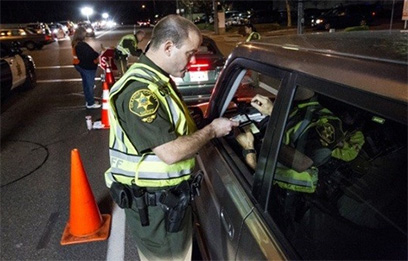 Deputies from the Orange County Sheriff's Department's DUI Enforcement Team will be deploying this weekend to stop and arrest alcohol and drug-impaired drivers in the Department's ongoing traffic safety campaign. DUI Saturation Patrols will deploy from 7 p.m. Friday, April 7, through 3 a.m. Saturday, April 8, in areas with high frequencies of DUI collisions and/or arrests in the cities of Mission Viejo and Lake Forest.

High Visibility Enforcement using both DUI checkpoints and DUI Saturation Patrols has proven to lower the number of people killed and injured in alcohol- or drug-impaired crashes. Research shows that crashes involving an impaired driver can be reduced by up to 20 percent when well-publicized, proactive DUI operations are routinely conducted.

Officers will be looking for signs of alcohol and/or drug impairment. When possible, specially trained officers will be available to evaluate those suspected of drug-impaired driving, which now accounts for a growing number of impaired driving crashes.

Drivers are encouraged to download the Designated Driver VIP, or "DDVIP," free mobile app for Android or iPhone. The DDVIP app helps find nearby bars and restaurants that feature free incentives for the designated sober driver, from free non-alcoholic drinks to free appetizers and more. The feature-packed app even has social media tie-ins and a tab for the non-DD to call Uber, Lyft or Curb.

The cost of a ride home is cheap. Those caught driving impaired can expect the impact of a DUI arrest to include jail time, fines, fees, DUI classes, license suspensions and other expenses that can exceed $10,000, not to mention the embarrassment when friends and family find out. Funding for this DUI operation is provided to the Orange County Sheriff's Department by a grant from the California Office of Traffic Safety, through the National Highway Traffic Safety Administration, reminding everyone to 'Report Drunk Driver – Call 9-1-1'.

Motorcycle Safety Enforcement Operations This Monday

The Orange County Sheriff's Department will conduct a specialized Motorcycle Safety Enforcement Operation throughout the county on Monday, April 10, 2017 in an effort to lower deaths and injuries from collisions.

Extra deputies will patrol areas frequented by motorcyclists and where motorcycle crashes occur to crack down on vehicle drivers and motorcyclists violating traffic safety laws.

Operations like this are aimed at curbing the rise in motorcycle fatalities and driving the number back down. Over the last three years, motorcycle-involved collisions have resulted in 288 fatal and injury crashes in the Orange County Sheriff's Department's jurisdiction. The Sheriff's Department encourages drivers and motorcyclists to do your part by safely sharing the road.

Safety tips for riders – See and Be Seen:

Use your lane position to increase visibility; change lanes only when there is ample room
Match your speed to surrounding traffic
Always wear a DOT compliant helmet and brightly colored, protective clothing
Ride with lights on during daylight hours
Safety tips for drivers – Share the Road:
Look twice for motorcyclists, especially when entering the roadway, turning or changing lanes
Motorcyclist are allowed in HOV lanes unless prohibited by signage
Riders are urged to get training through the California Motorcyclist Safety Program. Information and training locations are available at http://www.californiamotorcyclist.com/ or 1-877 RIDE 411 (1-877-743-3411).

John Wayne Airport

Call for Artists

John Wayne Airport (JWA) has issued a call for Orange County-related visual artists to apply for exhibition slots in JWA's Community Focus Space (CFS) program's exhibition calendar, beginning in October of 2018.

Each exhibition is approximately 30 days in duration and is presented by JWA at no cost to the artist. CFS exhibitions are located prior to the security checkpoints and adjacent to Baggage Carousels 1 and 4 in the Thomas F. Riley Terminal, and are accessible to passengers as well as the general public.

To qualify for consideration, artists must have been born, raised or educated in Orange County; or currently live, work or own property in Orange County.

Artist applications must be received by John Wayne Airport no later than 4:00 p.m. on July 21, 2017. Artist application instructions and guidelines may be found at www.ocair.com/terminal/artexhibits/. Artists approved through this review process will be notified by the end of October 2017.

For additional information about the Community Focus Space program or this Call for Artists, please contact Jeffrey Frisch, John Wayne Airport Arts Program Coordinator at Jfrisch@ocair.com.

Frequently Asked Questions on FAA's NextGen – Southern California Metroplex

The FAQ below has been created by John Wayne Airport to provide information on the FAA SoCal Metroplex Project. To enlarge the FAQ, simply click on the image.

For more information on the FAA SoCal Metroplex project, please visit the FAA's Community Involvement Web page at https://www.faa.gov/nexgen/communityengagement/socal/.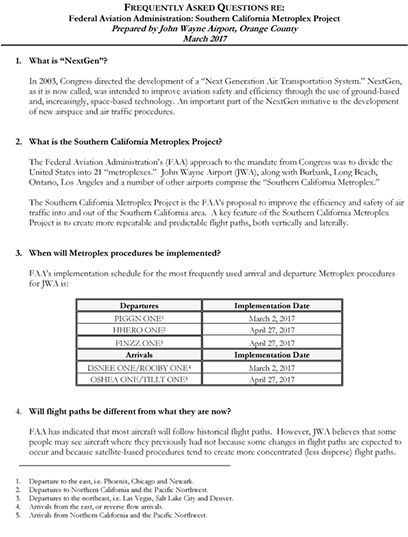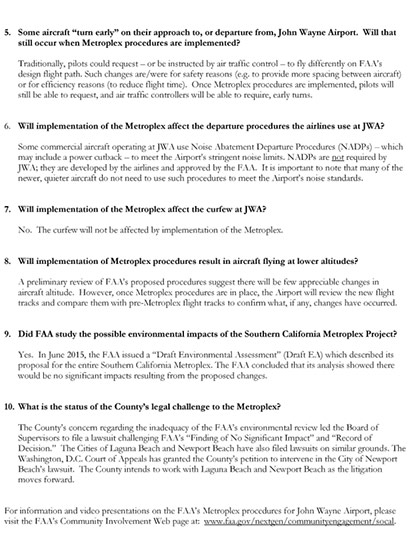 Click on the image above to view a PDF version.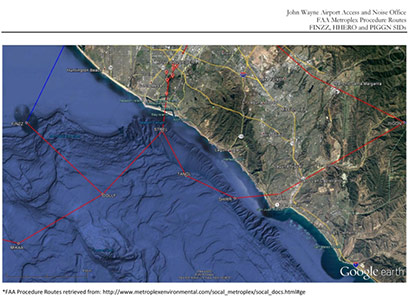 Click on the image above to view a PDF version.

OC Animal Care/Pet of the Week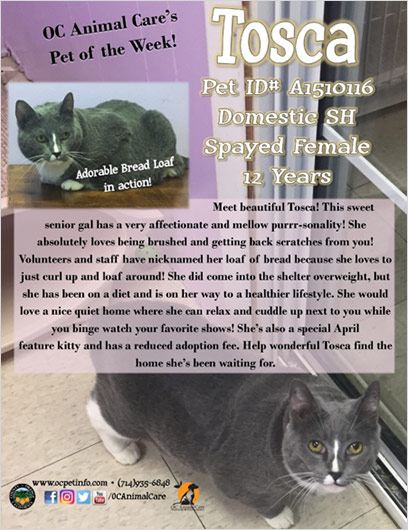 Click on the image above to view a PDF version.

New Shelter Project Update

Construction of the new Orange County Animal Care Facility is well underway! Read the flyer below for the full project update.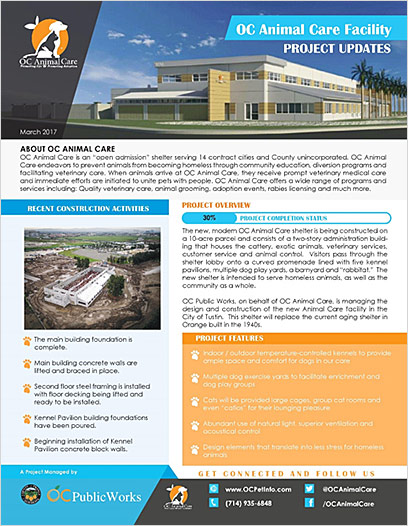 Click on the image above to view a PDF version.

Out and About In South County

Aliso Viejo: Soka University International Festival

Soka University will celebrate the 16th Annual International Festival from 10:30 AM to 5:00 PM on Saturday, May 6. Enjoy 900 musicians and dancers performing on four stages, and over 250 non-profit, craft and business exhibitors. The 2017 International Festival is part of Orange County's Imagination Celebration and will feature lots of international food, exhibitors, games and activities, art exhibitions and sales, a children's play and arts area, student projects, and much more. Mark your calendars and be sure to visit my County Information Booth while at the Festival! For more information, please click here or on the flyer below.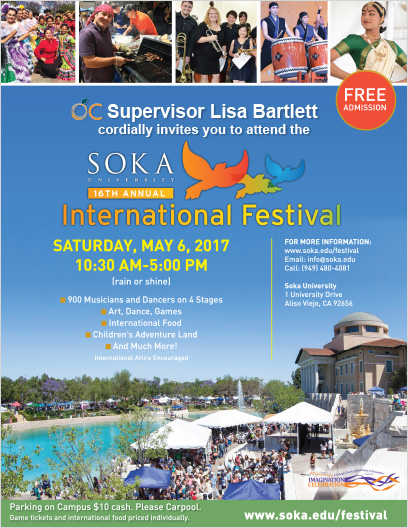 Click on the image above to view a PDF version.

Dana Point: Salt Life Mongoose Cup

The Sport of King's Mongoose Cup is one of the world's most beloved and respected Paddleboard events, dedicated to promoting harbor safety and raising funds to assist board builders and water craftsman. This event is Saturday, April 8th and begins at 7 AM with check in and trials and clinics throughout the day, ending with an awards ceremony at 3:45 PM. For more information, click here.

Ladera Ranch: Ladera Ranch Spring Celebration

Come have fun at the Ladera Ranch Chamber's Spring Celebration this Saturday, April 8th at Founders Park in Ladera Ranch from 11 AM until 2 PM. For more information, click here.

Lake Forest: Etnies Egg-cellent Egg Hunt and Festival of Colors

It's time for the Skatepark's annual holiday egg hunt! On Saturday, April 8th, come and visit the Skateboarding Bunny, play in the jump houses, and participate in fun crafts. This is a family friendly event and great for the young ones! The Park will be closed to riding during this event so it will be safe for all to enjoy. Eggs will be hidden throughout the Skatepark and will have small prizes inside each one. Please bring your own basket as we may have limited supplies for the event. The Egg Hunt starts at 11:15 am sharp so please don't be late or you will miss it! Depending on overall turnout, participants may be limited in the amount of eggs they will be allowed to collect. There will be an opportunity to take photos with the bunny after the egg hunt. The color blast will start at 12:00 pm so make sure you have clothes you don't mind being covered in colors! Pre-registration is required and space is limited. For more information, click here.

Laguna Niguel: Bunny Blast

On Saturday, April 8th, bring the family to the city's annual Bunny Blast at Chapparosa Park! This free event will feature children's activities such as crafts, games, face painting, and a meet and greet with members of the Parks and Rec staff and Sheriff's Department. The Easter Bunny will also be hopping around! Bring your own camera for pictures. Note: There will not be an egg hunt at this event. Food available for purchase. For more information, click here.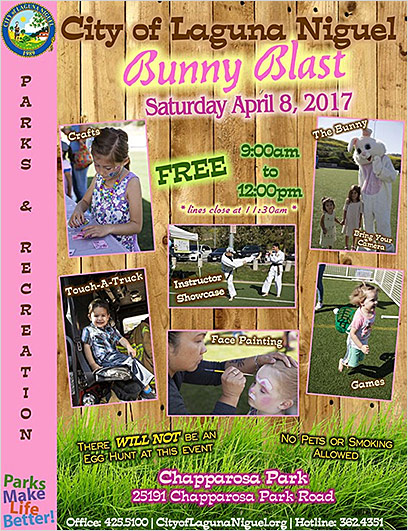 Rancho Santa Margarita: Pooch-ini in the Park

The Coto de Caza Committee for the Philharmonic Society of Orange County invites you to attend a special dog show called "Pooch-Ini in the Park" on April 30 at Rancho Santa Margarita Central Park from noon to 4 PM. Pooch-Ini in the Park will feature a fun, family-oriented and pet-friendly environment with celebrities, vendors, music, opportunity prizes and of course DOGS that will compete in 5 different categories. To register your special pooch, or for more information, please click here.

The Anti-Cancer Challenge

I am happy to announce that my office has joined the fight against cancer as an Anti-Cancer Challenge Supporting Organization. You can ride, run, or volunteer for a cancer-free world and fundraise for lifesaving cancer research on June 11, 2017 at Angel Stadium. Proceeds benefit UCI's Chao Family Comprehensive Cancer Center. Learn more about the challenge and how you can get involved, and register today at Anti-CancerChallenge.org.

Orange County Triathlon/Duathlon...Mark Your Calendar!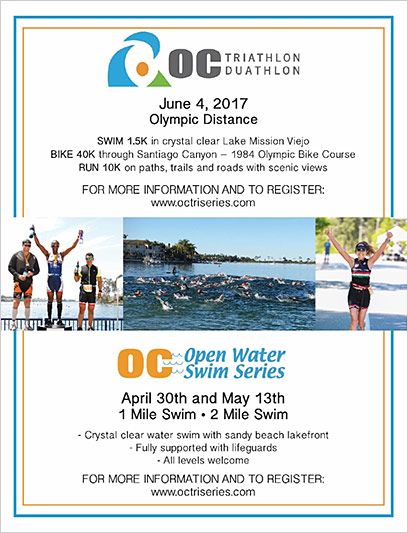 This week I:

Participated in the OCTA Executive Board and Environmental Oversight Committee meetings.
Toured the Anaheim Rockwood Apartments, an affordable housing development.
Participated in the California State Association of Counties (CSAC) Executive Committee meeting in Culver City.
Participated in the CalOptima Board meeting.
Attended the Saddleback College Foundation Gala.
Attended the Orange County Sheriff's Department Annual OC Victims' Rights Rally.
Attended the San Clemente State of the City.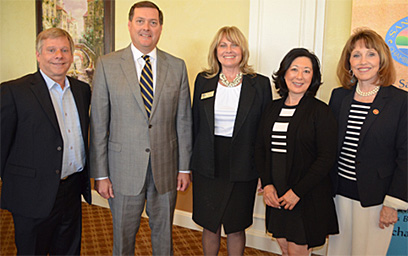 With Bella Collina Golf Club owner Mark Zane (left) Assemblyman Bill Brough, San Clemente Mayor Kathy Ward, and Senator Pat Bates at the San Clemente "State of the City" Luncheon. (Photo courtesy of Don Kindred/San Clemente Journal)

My Staff:

Presented a Certificate of Recognition in honor of the Buy Hand Grand Re-Opening in Laguna Beach.
Attended the Raise Foundation Blue Ribbon Kick-Off event.
Attended the Orange County Business Council's (OCBC) Advocacy & Government Affairs meeting.
Attended the OCTA Regional Planning & Highways Committee meeting.
Participated on the Urban Counties Caucus conference call.
Toured the Laguna College of Art & Design (LCAD) with College President Jonathan Burke.
Attended the Laguna Niguel Government Affairs Committee meeting.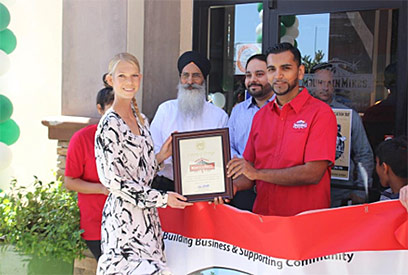 Presenting a Certificate of Recognition at last Friday's Mountain Mike's ribbon cutting in Lake Forest.

For questions or comments regarding Supervisor Bartlett's E-Newsletter please contact the Supervisor's office staff at: (714) 834-3550 or Tanya.Flink@ocgov.com.