Happy Easter!

The winter rains have finally subsided and we are in the prime of springtime! I hope you enjoy the Easter holiday and wonderful South County weather. To find a list of this weekend's spring-themed family-friendly events, scroll down to the "Out and About" section for the event nearest you.

Happy Spring and Happy Easter!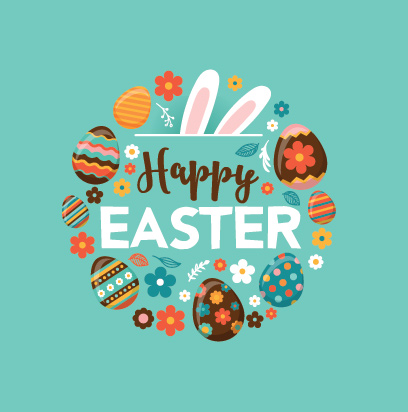 County Connections

Laguna Woods TV6 Interview: National Prescription Medication Take Back Day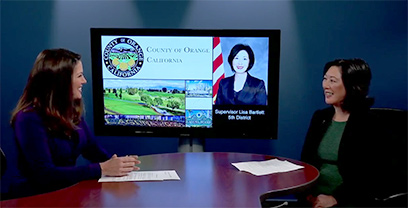 Click on the image above to view the video.
Over the last decade, opioid abuse has become a serious issue that affects many communities. In fact, it is the fastest growing drug problem our nation faces.

The Center for Disease Control and Prevention (CDC) reports that 91 Americans die every day from an opioid overdose. While opioid overdose affects all walks of life, the recent epidemic has been driven by sharper increases in the annual death rates among our youth and among women.

A report published late last year in the Journal of the American Medical Association notes that in a fifteen year period ending in 2012, over 13,000 infants, toddlers and adolescents, children between 1 and 19, where hospitalized due to prescription opioid poisoning. During that period, accidental deaths due to opioid use of those between 15 and 19 rose 303%.

Nationally, the CDC reports nearly 48,000 women have died of prescription pain reliever overdoses between 1999 and 2010. During that period, the annual death rate increased 400% among women, compared to 265% among men. Even more alarming, 1.4 million women nationally were admitted to the emergency room for prescription pain reliever overdose during the period of the study.

In Orange County, we have seen a surge in opioid addiction, drug related hospitalizations and overdose deaths. The Orange County Health Care Agency and the Orange County Sheriff's Department released a report in 2014 that showed that drug overdose was the third leading cause of premature death in the County. Drug and alcohol overdoses result in over 5,000 hospitalizations and nearly 600 deaths among our residents each year. Cities with the highest rates of drug and alcohol related hospitalizations are generally found in the southern and coastal cities of the County.

The County provides support services to residents and families already suffering because of substance abuse. If you or anyone you know is suffering from drug addiction, call the County's hotline 855-OC-LINKS for referrals to resources available in your community.

In an effort to raise awareness and provide the community with a way to properly dispose of old prescriptions, the County will be participating in the National Drug Take Back Day on Saturday, April 30. Anyone can drop off old and unwanted prescriptions, no questions asked. Last year, nearly 8,000 pounds was collected countywide. If you have old prescriptions you want to get rid of, stop by one of the drop off locations on Saturday, April 29 between 10:00am-2:00pm. See the flyer below for more details and to find a location near you. To view my video on Laguna Woods TV6 discussing National Prescription Medication Take Back Day, please click here.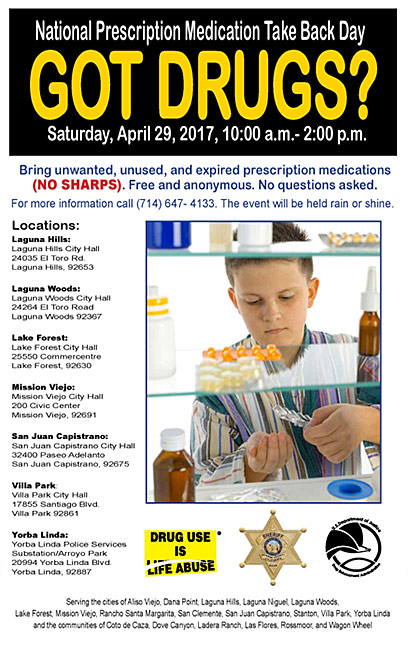 Click on the image above to view a PDF version.

Orange County: Building a System of Care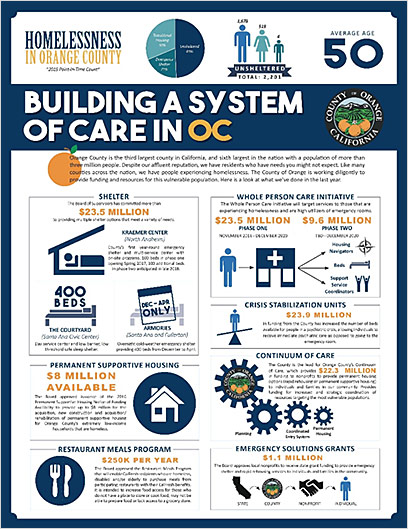 Click on the image above to view a PDF version.

OC Parks: Wildflowers in Bloom

An unusually wet winter has led to the best wildflower blooms seen in County regional and wilderness parks in many years.

As of mid-March, fields of bright orange California poppies could be seen in Caspers Wilderness Park, Santiago Oaks Regional Park and the Irvine Ranch Open Space. Other flowers, including lupine, wild hyacinth and mariposa lilies were also springing up in parks like Whiting Ranch Wilderness Park, O'Neill Regional Park and Aliso and Wood Canyons Wilderness Park.

Laguna Coast Wilderness Park is expecting a high concentration of blooms due to a wildfire last summer. Fire can clear away competing plants and cause some flowers to germinate, leading to a spectacular show of color.

Wildflower season is dependent on the weather and lasts for a short time, so it's best to get out to the parks soon to see the best flower displays. Remember to wear comfortable shoes, bring plenty of water and take only photographs – picking flowers is not permitted in County parks.

For additional information on the parks and trails where you are likely to see wildflowers in bloom, visit the OC Parks website.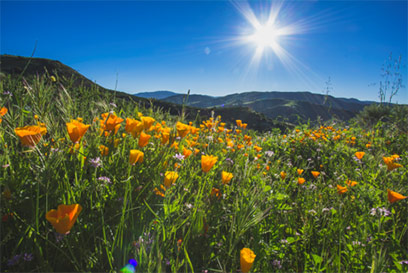 OC Waste & Recycling: The 2017 Eco Challenge Poster Contest is On!

For the fifth consecutive year, OC Waste & Recycling invites young artists to show their talent and their commitment to a greener planet. Youths aged eight to 14 may compete to win the Angels Baseball Bat Kid experience by creating a poster that shows how they personally "Take the Eco Challenge." The deadline for submitting posters is Friday, June 30, 2017.

The 2017 contest theme is organics. Contest entrants are encouraged to use their creativity to show how they would keep organic materials out of the landfills. The poster should show what could be done at school, at home or it the community to recycle green waste and/or food waste. The artwork must be original and may not be computer generated.

One winner in each Orange County Supervisorial District will be selected be an Honorary Bat Kid for one regular-season Angels home game in August or September. Each of the five winners also will receive four tickets to a predetermined Angels home game, complimentary parking, one Bat Kid uniform, one official baseball, one on-field credential for dugout access, and one professional field photo.

OC Waste & Recycling and its partners, Discovery Cube and Angels Baseball are pleased to offer the opportunity for young artists to engage in learning about environmental stewardship and demonstrate their knowledge through their artistic creativity.

For more information and contest rules, visit 2017 Bat Kid Poster Contest.


Clerk-Recorder: Saturday Opening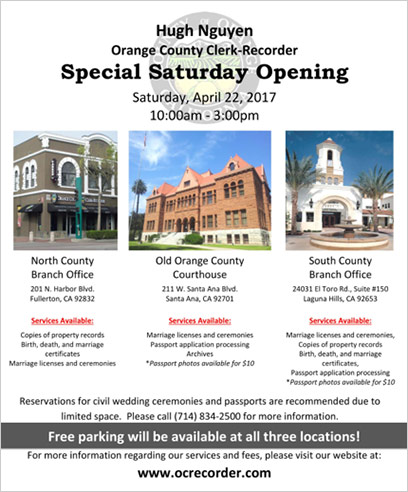 Click on the image above to view a PDF version.

OC Moves

I-5 South County

Orange County Transportation Authority has reached a number of milestones on the I-5 South County Improvement Project. Highlighted below are a few of those milestones and what to expect moving forward. This week OCTA hosted an I-5 Stakeholder Working Group. For those that were unable to attend, you can view the presentation on Facebook live here.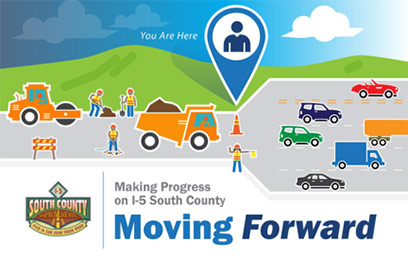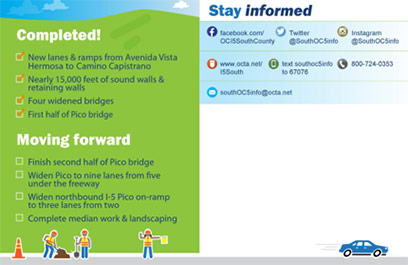 Click on the image above to view a PDF version.

OCTA Awards Funding to South County Transportation Projects

This week at OCTA, the Board awarded the 2017 Regional Capacity Program (RCP) and Regional Traffic Signal Synchronization Program (RTSSP) projects which are funded through Orange County's half-cent transportation sales tax. The RCP provides funds for capital improvements to congested streets, roads, intersections and interchanges. The Fifth District RCP projects funded are:

Ortega Highway Widening Improvements and
Cow Camp Road Segment 2A and 2B construction.
The RTSSP provides funding for multi-jurisdictional signal synchronization projects along Orange County streets and roads. The Fifth District RTSSP projects funded are:

Camino Vera Cruz in San Clemente and
Olympiad Road – Felipe Road Corridor in Mission Viejo.
I look forward to seeing these projects implemented over the next few years!

Treasurer-Tax Collector

Internet Auction of Timeshare Intervals

The County of Orange Treasurer-Tax Collector's reoffer auction of tax-defaulted timeshare intervals will be held online April 18-19, 2017. The current list of 286 timeshares scheduled for auction with some minimum bids as low as $100 is available on the website at octaxauction.mytaxsale.com.

If you are interested in bidding on a parcel, you will need to register as a user and submit a single refundable deposit of $500 by 5 p.m. Pacific Standard Time (PST) on Monday, April 10, 2017, in order to participate in the online tax auction. Once you have registered as a user, you can log in to the site, click the "My Payments" link and select "Submit Deposit." All bid deposit payments must be made online by eCheck (bank account) through the website to our third-party vendor, Grant Street Group, and must be received by them no later than 5 p.m. PST, on April 10, 2017. Registration will not be permitted through the mail or in person, and will not be permitted after this date.

Treasurer Freidenrich recommends that if you are considering purchasing a timeshare interval(s), you should register and submit the required $500 deposit immediately, and then you can do research on the parcels up to the time of that parcel's tax auction close on April 19, 2017. For information on the resort, you can click on the resort name listed at each parcel and some information is listed with each parcel. In addition, you can obtain the contact information for each resort at ocgov.com/taxauction. All interested parties can view all timeshare intervals for sale on the website, but must register for a user ID in order to download the entire listing and become a bidder.

If you are not a successful bidder on a parcel, then your deposit will be automatically refunded back to your bank account within 10 business days after the close of the internet auction. Grant Street Group will transfer the deposits of all successful bidders to the County of Orange for credit toward the purchase.

We hope you will familiarize yourself with the auction site prior to the auction. You can click on "Property Tax Auction Instructions" for frequently asked questions and detailed information on how to participate in the auction process. Please read through the auction rules and use the recorded demonstrations to understand each aspect of participating in the auction. Be sure to carefully review the "Terms and Conditions – April 2017 Reoffer Auction of Tax-Defaulted Timeshares" and research all timeshare parcels thoroughly before placing a bid. Bidding on the timeshares will start at 9 a.m. PST on Tuesday, April 18, 2017, with batches of parcels scheduled to close through the stated close times provided at octaxauction.mytaxsale.com on Wednesday, April 19, 2017. This is a buyer beware sale, and all sales are final.

If you have general questions regarding the tax auction, please e-mail us at ttcinfo@ttc.ocgov.com or call (714) 834-3411 (call center hours are 9 a.m.to 5 p.m. PST).

John Wayne Airport

Call for Artists

John Wayne Airport (JWA) has issued a call for Orange County-related visual artists to apply for exhibition slots in JWA's Community Focus Space (CFS) program's exhibition calendar, beginning in October of 2018.

Each exhibition is approximately 30 days in duration and is presented by JWA at no cost to the artist. CFS exhibitions are located prior to the security checkpoints and adjacent to Baggage Carousels 1 and 4 in the Thomas F. Riley Terminal, and are accessible to passengers as well as the general public.

To qualify for consideration, artists must have been born, raised or educated in Orange County; or currently live, work or own property in Orange County.

Artist applications must be received by John Wayne Airport no later than 4:00 p.m. on July 21, 2017. Artist application instructions and guidelines may be found at www.ocair.com/terminal/artexhibits/. Artists approved through this review process will be notified by the end of October 2017.

For additional information about the Community Focus Space program or this Call for Artists, please contact Jeffrey Frisch, John Wayne Airport Arts Program Coordinator at Jfrisch@ocair.com.

Frequently Asked Questions on FAA's NextGen – Southern California Metroplex

The FAQ below has been created by John Wayne Airport to provide information on the FAA SoCal Metroplex Project. To enlarge the FAQ, simply click on the image.

For more information on the FAA SoCal Metroplex project, please visit the FAA's Community Involvement Web page at https://www.faa.gov/nexgen/communityengagement/socal/.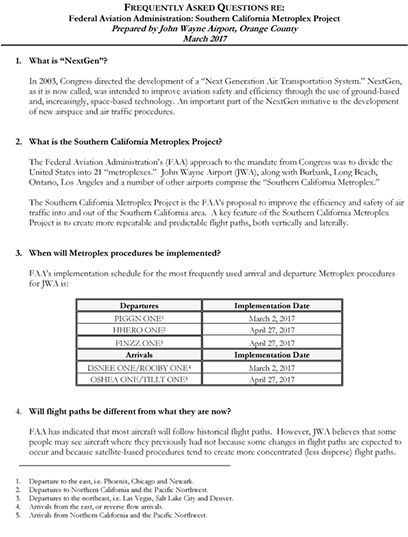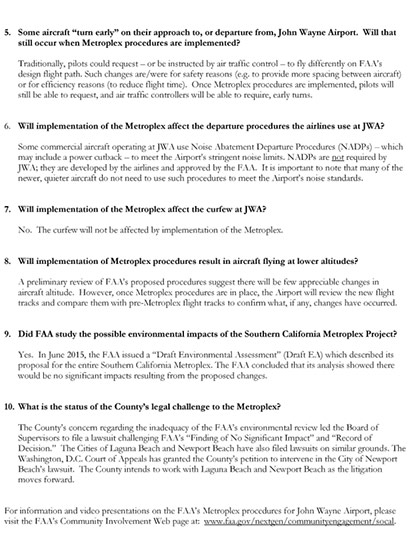 Click on the image above to view a PDF version.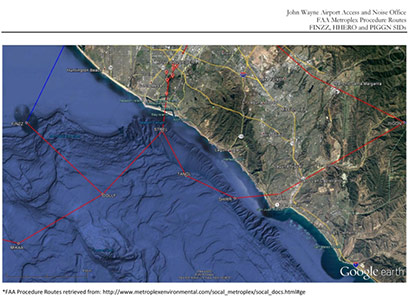 Click on the image above to view a PDF version.

OC Animal Care/Pet of the Week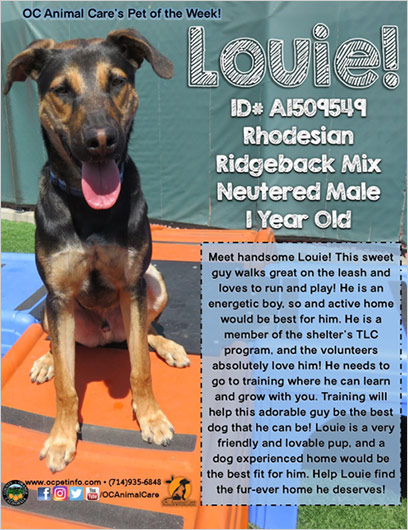 Click on the image above to view a PDF version.

Spring Fling Adoption Event

Looking to add a forever friend to your family this spring? Visit the Orange County Animal Shelter on April 29 to find your family's "purrfect" match! All adoptions are free, excluding nominal fees for licensing and microchip. Check out the animals available for adoption before you go, and get there early to ensure you don't miss out. See the flyer below for additional details.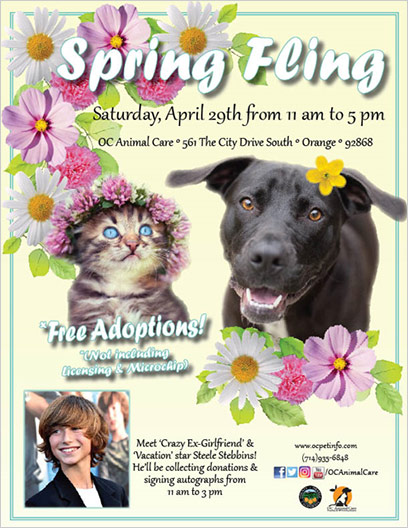 Click on the image above to view a PDF version.

Out and About In South County

Aliso Viejo: Soka University International Festival

Soka University will celebrate the 16th Annual International Festival from 10:30 AM to 5:00 PM on Saturday, May 6. Enjoy 900 musicians and dancers performing on four stages, and over 250 non-profit, craft and business exhibitors. The 2017 International Festival is part of Orange County's Imagination Celebration and will feature lots of international food, exhibitors, games and activities, art exhibitions and sales, a children's play and arts area, student projects, and much more. Mark your calendars and be sure to visit my County Information Booth while at the Festival! For more information, please click on the flyer below or here.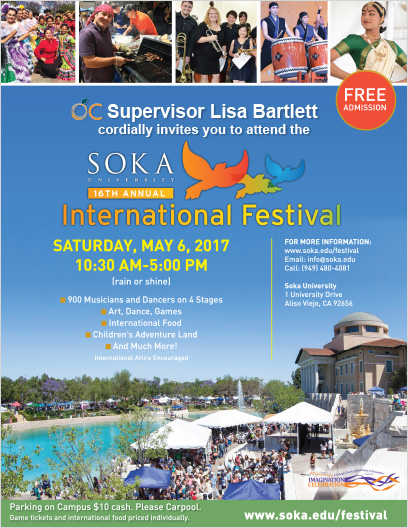 Click on the image above to view a PDF version.

Aliso Viejo: El Dia de los Ninos at the Library

El Día de los Niños - Celebrating Young Americans is a gift from the Latino community to all children. Come to the Aliso Viejo Library Programs Room on Thursday, April 27, where Barbara Wong will tell stories and kids will make an Ojo de Dios. All ages welcome with an adult, no registration required. For more information, click here.

Dana Point: Lantern District Classic Car & Motorcycle Show

The Dana Point Chamber of Commerce, in partnership with the City of Dana Point, presents the Dana Point Lantern District Car & Motorcycle Show on Sunday, April 23 from 10 a.m. to 2 p.m. Held on Del Prado between Violet Lantern and the PCH/Del Prado Arch, this event will feature hundreds of custom and classic cars, a motorcycle display, awards, food and more!

Please note, classic cars will be defined by 1985 models and earlier. Cars that are later than 1985 models will not be eligible for awards, but are welcome to exhibit. Registration ends TONIGHT (April 14th) at midnight. Click here to register now!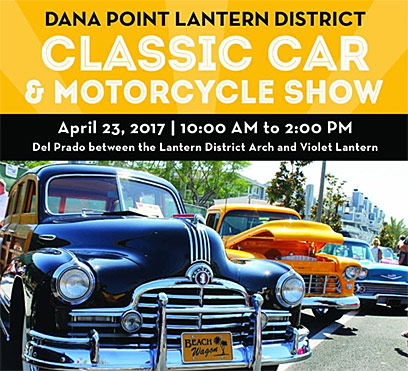 Dana Point: Egg Hunts

The event and activities will start on April 15 at 9 AM and the Egg Hunt will begin at 10 AM. Activities include a marionette and puppet show, children's relay games, a petting zoo, and Easter Bunny visits. The Egg Hunt is for ages up to 10 years old and is held at both Pines Park and Sea Canyon Park. For more information, click here.

Lake Forest: Pet Adoption Center of Orange County Grand Opening

I am happy to announce that the Board approved a cost sharing agreement with the City of Lake Forest to support the Orange County Pet Adoption Center. Both the County and City will each provide a one-time $15,000 contribution to facilitate the operation of this pilot program, whose mission is to find loving homes for our homeless pets. Mark your calendar for the Center's Grand Opening on April 24!

Mission Viejo: Bunny Days

Bring the family and celebrate spring Saturday April 15 from 10 AM to 1 PM at the Norman P. Murray Community and Senior Center. Enjoy carnival games; crafts; the spring garden center; photos with the bunny (bring your own camera), an inflatable obstacle course, slide and much more! Egg hunts will be held for children ages 11 and under from 10 AM until 12:45 PM. Children are encouraged to bring a bag or basket to collect their goodies. Entrance is free, and tickets will be sold at the event for games and activities (cash only). For more information, click here.

Rancho Santa Margarita: Pooch-ini in the Park

The Coto de Caza Committee for the Philharmonic Society of Orange County invites you to attend a special dog show called "Pooch-Ini in the Park" on April 30 at Rancho Santa Margarita Central Park from noon to 4 PM. Pooch-Ini in the Park will feature a fun, family-oriented and pet-friendly environment with celebrities, vendors, music, opportunity prizes and, of course, DOGS that will compete in various categories. Register your special pooch today! For for more information, please click here.

San Clemente: Sensational Springtacular

This event is Saturday April 15th from 9 AM to 12 PM at the Vista Hermosa Sports Park. Egg hunts are scheduled at children 2 years and under at 10 AM and for children 5-7 years of age at 11 AM. The Splashtacular Recreation Swim starts at 12 PM and includes music, games, and swimming fun! Regular swim rates apply or visit the Summer Camp Palooza to enjoy free swim. For more information, click here.

San Juan Capistrano: Spring Eggstravaganza

Hop on down to Los Rios Park on Saturday, April 15 for a Spring Eggstravaganza from 10:00 a.m. - 1:00 p.m. The event is free and open to children ages 2 - 12. The City sponsored event is being held with the support of local organizations such as South Coast Church, The Rotary Club, ZOOMARS, The City's Youth Advisory Board and the Boys & Girls Club. Scheduled activities include: Egg Hunts, Face painting, Crafts, Games, Marionette Shows, Complimentary Popcorn and Hot Dogs, Bunny Photo opportunity and free entrance to the ZOOMARS Petting Zoo. For more information, click here.

The Anti-Cancer Challenge

I am happy to announce that my office has joined the fight against cancer as an Anti-Cancer Challenge Supporting Organization. You can ride, run, or volunteer for a cancer-free world and fundraise for lifesaving cancer research on June 11, 2017 at Angel Stadium. Proceeds benefit UCI's Chao Family Comprehensive Cancer Center. Learn more about the challenge and how you can get involved, and register today at Anti-CancerChallenge.org.

This week I:

Participated in the Orange County Transportation Authority Board of Directors meeting.
Participated in the Local Agency Formation Commission and Strategic Planning meetings.
Participated in the TCA San Joaquin Hills Board of Directors meeting.
Recorded a live interview on Laguna Woods TV6 News to promote National Prescription Drug Take Back Day. To view the video, please click here.
Adjourned the Board of Supervisors meeting in memory of Laguna Beach resident Dennis Junka.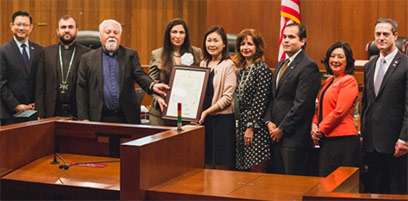 Presenting a Board Resolution in observance of Armenian Genocide Remembrance Day.

My Staff:

Presented a Certificate of Recognition at the Ray's Barber Place ribbon cutting in Dana Point.
Presented a Certificate of Recognition at the Dickey's Barbeque Pit ribbon cutting in Rancho Santa Margarita.
Presented Certificates of Recognition to the following businesses at the Laguna Niguel Multi-Member ribbon cutting: Business Coaches Unlimited, FASTSIGNS, Silvertrust Funding Inc., and Motu Estate & Yacht Watch Services.
Attended the Dana Point Harbor Association's Board meeting.

South County Elected Officials in the Community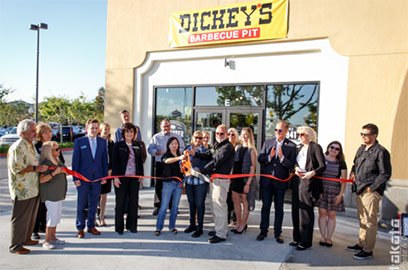 Ranch Santa Margarita Mayor Carol Gamble , Mayor Pro Tem Mike Vaughn, and Councilman Tony Beall at the Dickey's Barbeque Pit ribbon cutting. (Photo courtesy of Takata Photo & Design)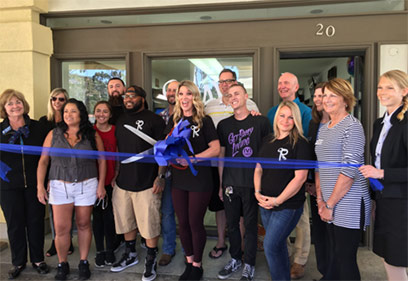 Dana Point Mayor Pro Tem Paul Wyatt (back row, blue shirt), at the Ray's Barber Place ribbon cutting.

For questions or comments regarding Supervisor Bartlett's E-Newsletter please contact the Supervisor's office staff at: (714) 834-3550 or Tanya.Flink@ocgov.com.