Happy Earth Day

Mark your calendar this Saturday, April 22, to participate in the global celebration of Earth Day.

Now an established holiday, Earth Day was founded in 1970 by Wisconsin Senator Gaylord Nelson in response to the horrific oil spill in Santa Barbara in 1969. Nelson and his co-chair, Republican Congressman Pete McCloskey, created a team to launch the Earth Day movement, drawing inspiration from the anti-war student walkouts and rallies.

On April 22, 1970, twenty million Americans took to the streets nationwide to spread the message of conservation. Earth Day has continued to grow ever since, reaching international status in 1990. I hope you enjoy the Earth Day festivities South County has to offer this year. Visit a farmer's market, picnic in a County park, or check out one of the many celebrations in the "Out and About" section of my newsletter.

Wishing you a wonderful weekend and Happy Earth Day!

Fifth District Spotlight

10th Annual South County Senior Summit

I am pleased to announce that I will host the 10th Annual South County Senior Summit in partnership with the Orange County Office on Aging, Laguna Woods Village, and Age Well Senior Services. This milestone event will take place Friday, May 12 in the Laguna Woods Performing Art Center (formerly Clubhouse 3).

This year's program will feature timely presentations related to our theme: "Financial Planning for Your Golden Years". Among our special guests will be Senator John Moorlach, as the Senator will provide an update on state legislation affecting older adults. Orange County District Attorney Tony Rackauckas will also be present to discuss financial fraud prevention for seniors.

As always, the Senior Summit is FREE and open to the public, with opportunities to win fabulous prizes. The event will begin at 8 AM with a complimentary breakfast – followed by an exciting and informative program at 9 AM – and will conclude with a complimentary lunch for all attendees. Throughout the day, attendees can also enjoy the senior vendor fair, featuring a wide array of organizations providing all manner of services and resources for older adults, including many FREE giveaways!

As a special bonus for our 10th anniversary, the Senior Summit will also offer FREE "One-on-One" financial planning consultations provided by Certified Financial Planner Professionals, with appointments from 1 PM to 4 PM. Space is limited. Sign-ups will be taken on a first come/first served basis at the Financial Planning Association table inside the event.

Please join me in applauding our Title Sponsor, Saddleback College Emeritus Institute, and our Diamond Sponsor, CalOptima, for supporting the 10th Annual South County Senior Summit! Seats for the program are limited and RSVP is required. To RSVP online, please click here or call (800) 510-2020.

For more information, please click on the flyer below or visit www.OCSeniorSummit.com. See you at the Senior Summit!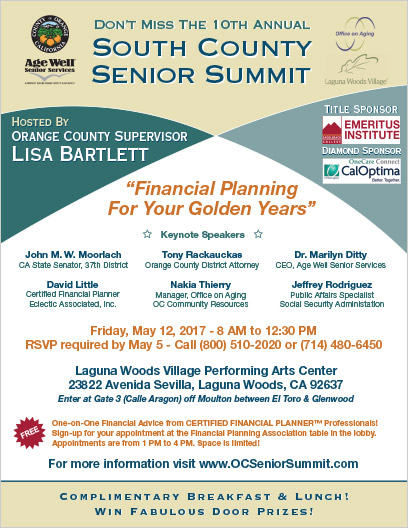 Click on the image above to view a PDF version.

South Orange County: "Under the Flight Path"

I'm aware of the concerns many of my constituents have regarding the changes in flight paths to and from John Wayne Airport, resulting from the FAA's Next Generation Air Transportation System (NextGen) and recently implemented Southern California Metroplex Project.

As such, I will be hosting a South County Community Forum on Monday, May 15 to address the flight path changes and associated noise impacting many communities in my district. The Community Forum, titled "South Orange County: Under the Flight Path", will be held from 6 PM to 8 PM at Laguna Niguel City Hall, 30111 Crown Valley Parkway, Laguna Niguel 92677.

Concerns over inadequacies in the FAA's environmental review led the County to file a lawsuit, challenging the FAA's "Finding of No Significant Impact" and "Record of Decision. The Cities of Laguna Beach and Newport Beach also filed lawsuits against the FAA on similar grounds. The County intends to work with Laguna Beach and Newport Beach as litigation moves forward.

A question and answer discussion will also be held following the presentations at the Forum. For more information, please click on the flyer below.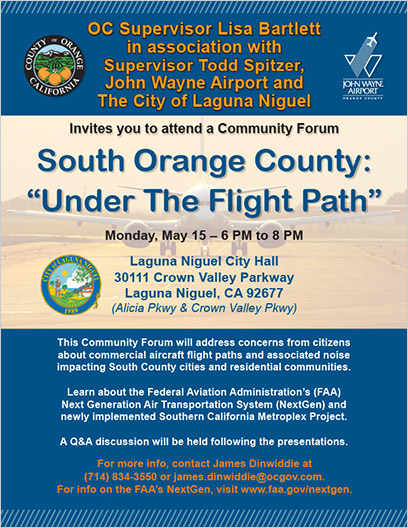 Click on the image above to view a PDF version.

County Connections

Facing the Opioid Epidemic in South County

Outreach and education are some of the most important tools we have to prevent our community from abusing drugs. The Orange County Health Care Agency offers presentations and informational seminars that are accessible to OC residents. See the list of upcoming presentations or program in your community:

Active Parenting Program: Mission Hospital Laguna Beach. Six session curriculum beginning April 27, from 9:30 am – 11:30 am.
"Quality Time Counts" Parent Workshop: Gate Elementary, Lake Forest (April 19 at 8:30 am), Montevideo Elementary, Mission Viejo (April 24 at 8:30 am), and Trabuco-Mesa Elementary, Rancho Santa Margarita (May 23 at 6:30 pm).
Teens in Action Program: A six series program designed to help youth understand the dangers of alcohol and drug abuse. Laguna Beach High School beginning April 24 in two classes: 8:00 am and 1:30 pm.
Media Detective: A 10 series media literacy education program designed to delay or prevent the onset of alcohol and tobacco use of 3rd to 5th grade students. Laguna Beach Boys and Girls Club; beginning June 30 at 9:00 am.
Marijuana Community Forum in partnership with the Orange County Sheriff's Department: "California's New Marijuana Laws: How do they affect your teen?" May 2, San Clemente High School, 6:30 pm – 8:00 pm.
The County provides support services to residents and families already suffering because of substance abuse. If you or anyone you know is suffering from drug addiction, call the County's hotline 855-OC-LINKS for referrals to resources available in your community.

In an effort to raise awareness and provide the community with a way to properly dispose of old prescriptions, the County will be participating in the National Drug Take Back Day on Saturday, April 29. Anyone can drop off old and unwanted prescriptions, no questions asked. For a list of locations, see the flyer here.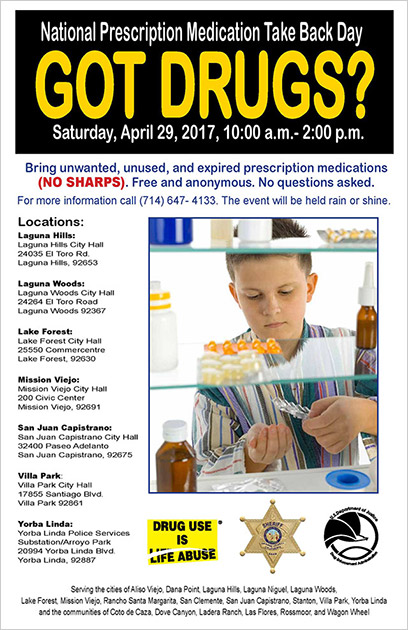 Click on the image above to view a PDF version.

OC Waste & Recycling: The 2017 Eco Challenge Poster Contest is On!

For the fifth consecutive year, OC Waste & Recycling invites young artists to show their talent and their commitment to a greener planet. Youths aged eight to 14 may compete to win the Angels Baseball Bat Kid experience by creating a poster that shows how they personally "Take the Eco Challenge." The deadline for submitting posters is Friday, June 30, 2017.

One winner in each Orange County Supervisorial District will be selected be an Honorary Bat Kid for one regular-season Angels home game in August or September. Each of the five winners also will receive four tickets to a predetermined Angels home game, complimentary parking, one Bat Kid uniform, one official baseball, one on-field credential for dugout access, and one professional field photo.

OC Waste & Recycling and its partners, Discovery Cube and Angels Baseball are pleased to offer the opportunity for young artists to engage in learning about environmental stewardship and demonstrate their knowledge through their artistic creativity.

For more information and contest rules, visit 2017 Bat Kid Poster Contest.

Clerk-Recorder: Saturday Opening, April 22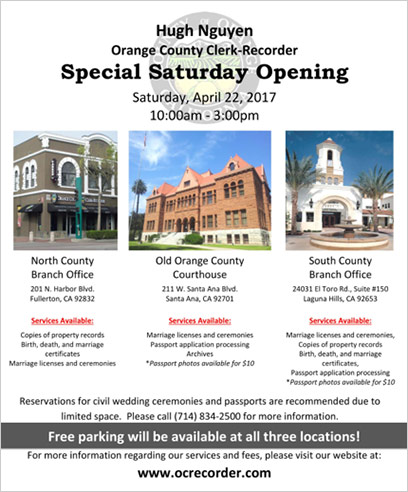 Click on the image above to view a PDF version.

DUI Checkpoint in San Clemente

The Orange County Sheriff's Department DUI Taskforce will be conducting a DUI/Driver's License Checkpoint on Friday, April 21, in the city of San Clemente between the hours of 7 PM and 3 PM.

Drivers caught driving impaired can expect the impact of a DUI arrest to include jail time, fines, fees, DUI classes, other expenses that can exceed $10,000 not to mention the embarrassment when friends and family find out.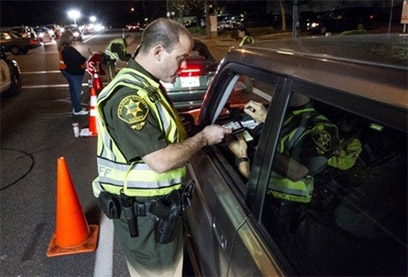 OC Moves

TCA Public Forum on South Orange County Regional Traffic Relief

On Monday, June 5, from 5:30pm to 8:00pm at Saddleback Community College in Mission Viejo, the Transportation Corridor Agencies (TCA) in cooperation with other state and local agencies will co-host its third public forum on South Orange County traffic issues.

The purpose of the forum is to engage our communities in learning more about the process for developing long term solutions that will address our worsening traffic problems in the region. This forum is a continuation of a series of forums that began in 2016 to solicit input and ideas, as well as address concerns, from the public that will be screened, analyzed and studied as required by state and federal laws before selecting and approving any transportation project, if at all.

It's important to note that TCA is in the very beginning stages of reviewing all ideas submitted thus far by local elected officials and members of the public. No project has been selected, approved, funded or even formally studied yet. A cornerstone of the process includes extensive technical environmental study including impacts, cost and other variables of the various ideas received to date. The process will take years and will include many opportunities for the public to follow and scrutinize.

I encourage your active participation as the public engagement process continues. For more information on this effort please click here and to stay engaged please visit GetMovingOC.com.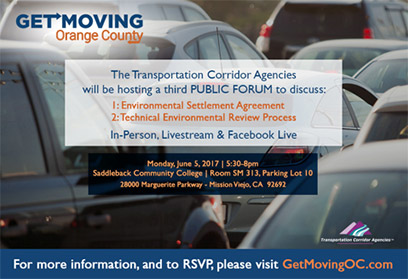 I-5 South County

Crews are scheduled to close Avenida Pico in San Clemente on Friday night, April 21 to adjust the falsework for the new Pico bridge. The full closure is set for 10 PM to 5 AM. Use Avenida Vista Hermosa and Calle Frontera as detours. For more information please visit octa.net/I-5Pico

Other Transportation Projects

PCH Bridge Deck Replacement Project - Caltrans is replacing the bridge deck on the loop on-ramp from eastbound Camino Las Ramblas to northbound I-5, and the ramp is expected to be closed until June 1.

NB I-5 El Camino Real Ramp Closure - The northbound I-5 off-ramp to El Camino Real is expected to be closed until the end of April. The closure is part of a safety improvement project to adjust the curve of I-5 at El Camino Real.

For questions related to these projects, please contact the Caltrans Public Information Office at 657-328-6000.

OCTA Bike Festival

Each year, the annual OCTA Bike Festival features fun in the sun, safety tips, and giveaways for the whole family. This year, the event will be in Dana Point on April 30 as part of the Dana Point Grand Prix, now in its 11th year of celebrating professional cycling and all things bike. Please click here to learn more about the Dana Point Grand Prix.

The OCTA Bike Festival is the first event in a month-long celebration of Bike Month in May. To encourage OC residents to get active and use bikes as part of their commutes and for recreation, OCTA is offering prizes for those who pledge to bike during Bike Month. Pledge at the OCTA Bike Festival or online for a chance to win a bike or a Fitbit. Everyone who pledges will receive a coupon from Jax Bicycle Center. Discover more ways to celebrate Bike Month by clicking here.


John Wayne Airport

Airport Conducts Successful Mass-Casualty Incident Exercise

Last Friday, John Wayne Airport (JWA) conducted a full-scale, mass-casualty exercise involving more than 500 volunteers, observers, support staff and emergency responders. Staged on the west side of the airfield, the drill allowed Airport officials and emergency responders to test and practice operational capabilities in response to a simulated aircraft accident involving a 90-passenger, commercial service airplane and a four-seat helicopter.

"While it is our hope that we never experience any of the emergencies we train for, we are committed to providing the very best response to our passengers, tenants and our community," said Airport Director Barry A. Rondinella. "Exercises like this are a key component of emergency response planning and preparedness. We are proud to work in concert with our partner agencies to ensure the Airport is ready in the event of an emergency."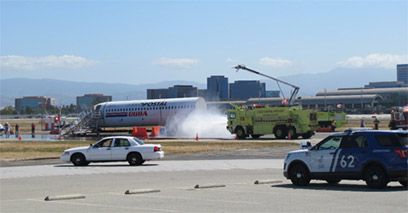 Simulated emergency response to mass-casualty exercise at JWA. Click here to view more pictures.

The Federal Aviation Administration (FAA) requires that commercial service airports conduct a full-scale, mass-casualty exercise every three years to maintain Title 14, Code of Federal Regulations, Part 139 Airport Certification. In intervening years, JWA conducts tabletop exercises to review emergency response plans with its mutual-aid partners in a classroom setting.

To read the full article, please click here.

OC Animal Care/Pet of the Week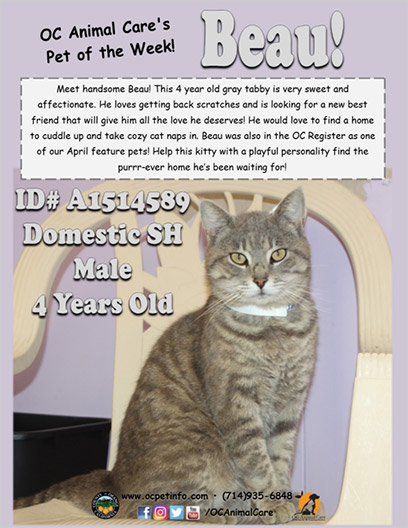 Click on the image above to view a PDF version.

Spring Fling Adoption Event

Looking to add a forever friend to your family this spring? Visit the Orange County Animal Shelter on April 29 to find your family's "purrfect" match! All adoptions are free, excluding nominal fees for licensing and microchip. Check out the animals available for adoption before you go, and get there early to ensure you don't miss out. See the flyer below for additional details.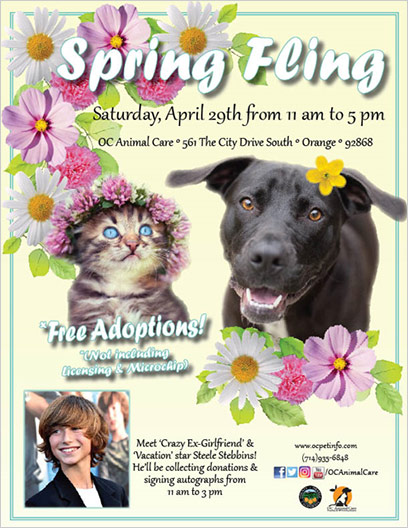 Click on the image above to view a PDF version.

Standout Constituents

I would like to recognize two outstanding young people in our Fifth District community:

Austin Brotman is a Ladera Ranch resident and student at JSerra High School. He was recently featured in The Orange County Register for achieving a perfect score on the ACT – an impressive feat, only 0.10% of test takers earn a perfect score. However, Austin is to be acknowledged for more than just his brains. In 2015, he suffered a severe spinal injury, leaving him wheelchair-bound and causing him chronic pain. Despite his constant physical struggles, Austin was committed to not only achieve academic success, but to enjoy his high school experience. He became an assistant swim coach and continued to participate in high school social events, such as formal dances. Austin's determination and optimism remind us to preserve in the face of our struggles, and to find joy in life during the dark times. Read more about Austin's story here.

Sabrina Astle is Laguna Hills resident and student at Laguna Hills High School. She was recently acknowledged on the Today Show website for her creative method to spread kindness and positive body image. Sabrina decided to hang positive messages in place of mirrors in the girls' bathroom at school. Now, instead of seeing their reflection, students will see "You are loved," and "You are beautiful," along with other similar affirmations. Sabrina's goal is to make high school a more positive environment for her fellow female classmates. Sabrina hopes to continue her goal of spreading positivity and kindness by launching a future project aimed at the boys of the school. Read more about Sabrina's story here.

Out and About in South County

Aliso Viejo: Soka University International Festival

Soka University will celebrate the 16th Annual International Festival from 10:30 AM to 5:00 PM on Saturday, May 6. Enjoy 900 musicians and dancers performing on four stages, and over 250 non-profit, craft and business exhibitors. The 2017 International Festival is part of Orange County's Imagination Celebration and will feature lots of international food, exhibitors, games and activities, art exhibitions and sales, a children's play and arts area, student projects, and much more. Mark your calendars and be sure to visit my County Information Booth while at the Festival! For more information, please click on the flyer below or here.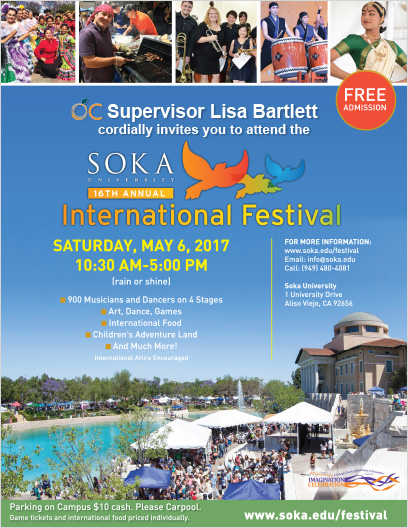 Click on the image above to view a PDF version.

Aliso Viejo: El Dia de los Ninos at the Library

El Día de los Niños - Celebrating Young Americans is a gift from the Latino community to all children. Come to the Aliso Viejo Library Programs Room on Thursday, April 27, where Barbara Wong will tell stories and kids will make an Ojo de Dios. All ages welcome with an adult, no registration required. For more information, click here.

Dana Point: Lantern District Classic Car & Motorcycle Show

The Dana Point Chamber of Commerce, in partnership with the City of Dana Point, presents the Dana Point Lantern District Car & Motorcycle Show on Sunday, April 23 from 10:00 a.m. to 2:00 p.m. Held on Del Prado between Violet Lantern and the PCH/Del Prado Arch, this event will feature hundreds of custom and classic cars, a motorcycle display, awards, food and more!

Please note, classic cars will be defined by 1985 models and earlier. Cars that are later than 1985 models will not be eligible for awards, but are welcome to exhibit. Click here to register now!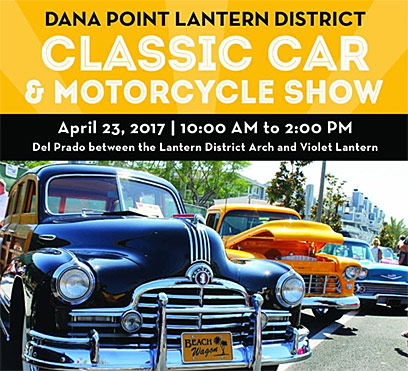 Laguna Beach: Kelpfest at Main Beach

Laguna Ocean Foundation will be hosting a fun-filled day celebrating a healthy ocean at the 8th annual Kelpfest, on Saturday, April 22, Earth Day. From 9 AM. to 3 PM, enjoy arts and crafts, educational displays, and live performances by local artists in celebration of the iconic giant kelp forests off the coast and our Laguna Beach Marine Protected Areas. Please click here for details.

Lake Forest: Pet Adoption Center of Orange County Grand Opening

I am happy to announce that the Board approved a cost sharing agreement with the City of Lake Forest to support the Orange County Pet Adoption Center. Both the County and City will each provide a one-time $15,000 contribution to facilitate the operation of this pilot program, whose mission is to find loving homes for our homeless pets. Mark your calendar for the Center's Grand Opening on April 24!

Mission Viejo: Dog Fair

On Thursday, April 27, spend the day with your dog at the Saddleback College Dog Fair. The day will be packed with fun activities, informational sessions, and vendors for both people and animals. Click here for the full schedule and list of vendors.

Mission Viejo: Arts Alive!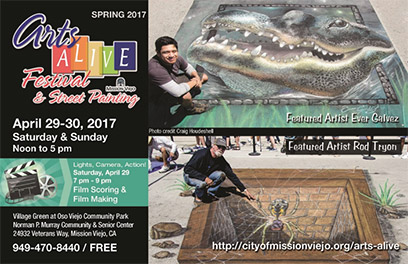 Click on the image above to view a PDF version.
This dynamic event takes place from noon to 5 PM, Saturday, April 29 and Sunday, April 30 at the Oso Viejo Community Park on the Village Green and neighboring Norman P. Murray Community and Senior Center, 24932 Veterans Way. With "Lights, Camera, Action!" as the theme, this year's festival will feature a cornucopia of fun, arts and crafts, musical performances, as well as amazing street paintings brought to life by incredible artists traveling to Mission Viejo from near and far. The two-day event includes an array of tasty fare and beverages along with cool activities for kids. Admission is free. Click here for details.

Rancho Santa Margarita: Pooch-Ini in the Park

The Coto de Caza Committee for the Philharmonic Society of Orange County invites you to attend a special dog show called "Pooch-Ini in the Park" on April 30 at Rancho Santa Margarita Central Park from noon to 4 PM. Pooch-Ini in the Park will feature a fun, family-oriented and pet-friendly environment with celebrities, vendors, music, opportunity prizes and, of course, DOGS that will compete in various categories. Register your special pooch today! For more information, please click here.

San Clemente: Earth Day

Join the City of San Clemente and the Watershed Task Force as they organize a day of educational information about how everyone can make a difference in reducing litter and pollutants. This free community event features live music, kid's arts and crafts, educational displays, demonstrations and artists. The day begins with a beach cleanup at 8:30am - wear comfortable shoes. The event will take place from 8:30 AM to 2 PM, and will be located at Parque Del Mar, 622 Avenida Del Mar, San Clemente, CA 92672. For more information, please click here.

San Juan Capistrano: Earth Day at the Ecology Center

Join us at The Ecology Center to make crafts, break bread, and activate change around Earth Day. There's limited space in our free Earth Day workshops, so don't wait to sign up. We're also setting a community table for hundreds! Bring a fresh lunch made with seasonal ingredients to enjoy amongst friends and neighbors. We'll provide seasonal drinks and snacks to supplement your communal feast, and we'll have fresh salads, sandwiches, sweets, aqua frescas, and acai bowls for sale. Further, there'll be plenty of fun eco-crafts for the entire family, including a special Earth Day community mural with Kyle Beck. Activities will include making raw snacks, crafting seed balls, and block printing. We'll also have live music throughout the day from local favorites Trevor Greene and Wreck n Sow. Please click here for more information.

This week I:
Participated in the TCA Environmental Oversight Committee, Joint Capital Programs & Projects Committee, and Special Board of Directors Joint meeting.
Participated in a Special Meeting of the Board of Supervisors.
Presented a County update at the South Orange County Association of Mayors meeting in Laguna Niguel.
Participated in the OCTA Legislative & Communications Committee.
Participated in the California Transportation Commission's Road Charge Technical Advisory Committee meeting in Sacramento.

Speaking at the South Orange County Association of Mayors meeting.

My Staff:
Presented a Certificate of Recognition at the Tokyo Joe's ribbon cutting in Laguna Niguel.
Toured the new OC Animal Shelter construction site.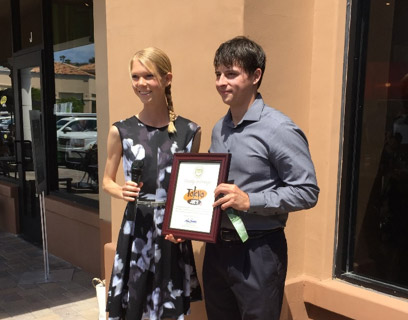 Presenting a certificate to Adam Tuttle, Director of Operations at Tokyo Joe's in Laguna Niguel.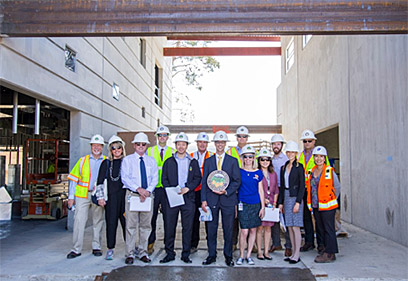 Touring the construction site of the new OC Animal Shelter.

South County Elected Officials in the Community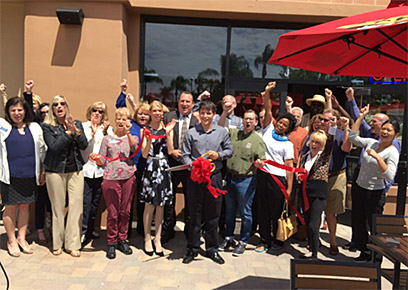 Laguna Niguel Mayor Jerry Slusiewicz at the Tokyo Joe's ribbon cutting.

For questions or comments regarding Supervisor Bartlett's E-Newsletter please contact the Supervisor's office staff at: (714) 834-3550 or Tanya.Flink@ocgov.com.