Fifth District Calendar

10th Annual South County Senior Summit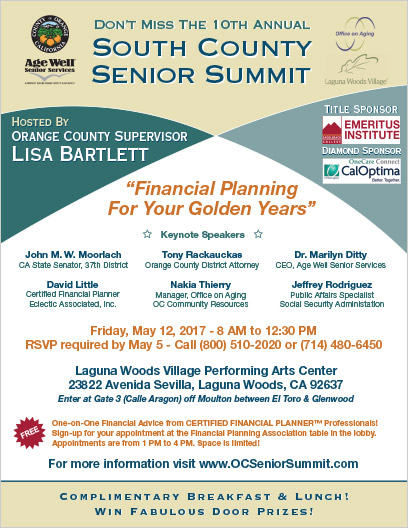 Click on the image above to view a PDF version.
To watch the show I filmed with District Attorney Tony Rackauckas for Laguna Woods TV6, click here. You can also watch the PSA for this event with Laguna Woods Mayor Shari Horne here.

See you at the South County Senior Summit!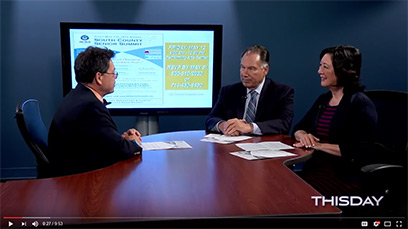 Click to watch the show I filmed with District Attorney Tony Rackauckas for Laguna Woods TV6.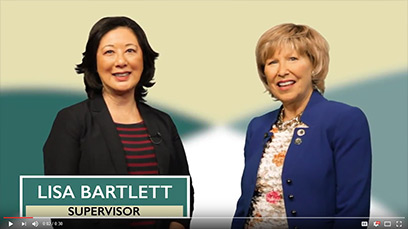 Click to watch the PSA for this event with Laguna Woods Mayor Shari Horne.

South Orange County: "Under the Flight Path"

I'm aware of concerns many of my constituents have regarding changes in flight paths to and from John Wayne Airport, resulting from the FAA's Next Generation Air Transportation System (NextGen) and recently implemented Southern California Metroplex Project.

As such, I will be hosting a South County Community Forum on Monday, May 15 to address the flight path changes and aircraft noise impacting many communities in my district. The Forum, titled "South Orange County: Under the Flight Path", will be held from 6 PM to 8 PM at Laguna Niguel City Hall, 30111 Crown Valley Parkway, Laguna Niguel 92677.

Concerns over inadequacies in the FAA's environmental review led the County to file a lawsuit, challenging the FAA's "Finding of No Significant Impact" and "Record of Decision". The Cities of Laguna Beach and Newport Beach also filed lawsuits against the FAA on similar grounds. The County intends to work with Laguna Beach and Newport Beach as litigation moves forward.

A question and answer discussion will be held following the presentations at the Forum. For more information, please click on the flyer below.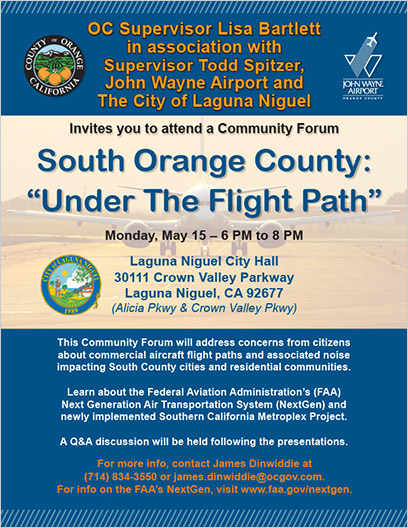 Click on the image above to view a PDF version.

TCA Public Forum on South Orange County Regional Traffic Relief

Many of you have expressed interest or concern regarding various conceptual ideas proposed by the public that will be considered as a part of an overall effort for addressing South Orange County regional traffic relief.

So far, through public forums and input from local elected officials the Transportation Corridor Agencies (TCA) has received eighteen (18) conceptual ideas including widening the I-5 Freeway, multiple SR-241 to I-5 connections, widening and expanding existing arterials, building mobility hubs to connect multiple modes of transportation, expanding train service, expanding bus service, connecting SR-241 with SR-73, and developing contiguous bike lanes throughout South Orange County.

I encourage you to participate in our upcoming forum June 5 to learn more about the process for reviewing the ideas and solving our growing traffic problems with long term solutions. For more information on this effort, please visit the TCA website here. To learn more about previous forums and information gathered from the public, and to RSVP for the next forum, please click here.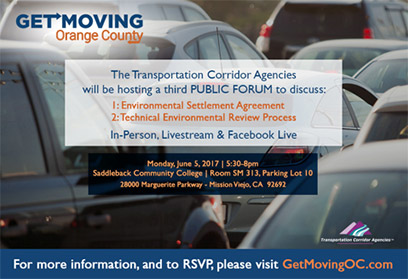 County Connections

County Opens First Year-Round Homeless Shelter and Multi Service Center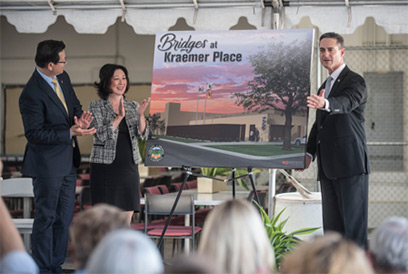 Today, Friday May 5th, the County of Orange opened the doors to its first year-round emergency shelter and service center. The shelter, named Bridges at Kraemer Place, will ultimately provide year-round shelter and services to 200 individuals each night who are experiencing homelessness.

Phase One, now complete, provides bed space and services for up to 100 single men and women. Phase Two, expected completion in summer 2018, will add an additional 100 beds, along with an onsite kitchen, interior restrooms and showers and a multi-service center with a health clinic.

With onsite services, meals, laundry, restrooms and showers, Bridges at Kraemer Place is designed to be a facility where clients stay up to 180 days. During that time, onsite assessments will connect the individual to employment and housing navigation services.

Bridges at Kraemer Place is an important part of the County's system of care that includes a wide range of services and strategies to meet people where they are and provide bridges to permanent housing. We have an opportunity to make a lasting effect on the lives of individuals who need it most. The County of Orange is focused on providing sustainable solutions for those experiencing homelessness.

To read the full press release, click here.

OC Information Technology Earns National Achievement Awards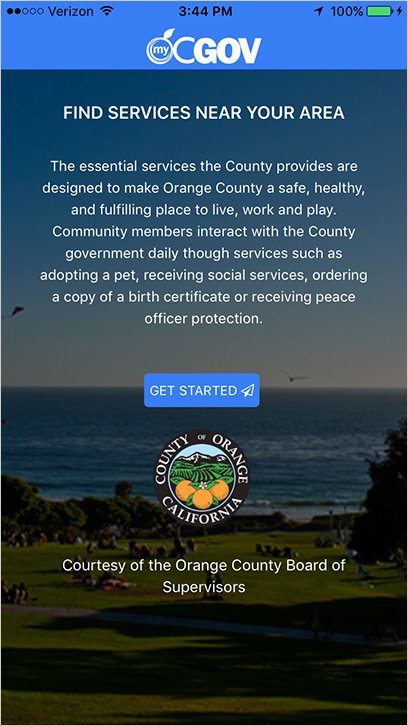 OC Information Technology's Shared Services Strategy & myOCgov Mobile Application have been recognized with Achievement Awards from the National Association of Counties (NACo). The awards honor innovative, effective county government programs that enhance services for residents. NACo recognized:

Best in Category: County Administration and Management

Implementing a Shared Services Strategy for Information Technology

Civic Education and Public Information

myOCgov Mobile – Find County of Orange Services Near You
Nationally, awards are given in 18 different categories that reflect the vast, comprehensive services counties provide. The categories include children and youth, criminal justice, county administration, information technology, health, civic engagement and many more. Started in 1970, NACo's annual Achievement Award Program is designed to recognize innovative county government programs. Each nominee is judged on its own merits and not against other applications received.

Falcons at South County Beaches Aid Successful Water Quality Projects

This summer, the County of Orange and City of Dana Point, along with other stakeholders, will continue utilizing Harris's Hawks to deter the large number of gulls from Salt Creek and Monarch beaches.

Last summer, the County and local partners worked collaboratively on a three-month long demonstration project. The Project provided dramatic beach water quality improvements at Monarch and Salt Creek beaches by utilizing a Harris's Hawk named Shira to deter the large numbers of gulls from congregating in the area and contributing large amounts of bacteria with their daily droppings.

The stakeholders have a priority on finding the right balance between deterring only the nuisance birds causing water quality impairments, while also protecting the area's natural resources. The three funding partners, the City of Dana Point, County and Monarch Beach Resort, along with the Monarch Bay HOA, have collaborated to finalize a robust Plan to ensure that sensitive bird species, including the western snowy plover, are not negatively impacted by the Project.

The Project will start the first week of May and go through October. In general, the falconer will be on site every day for the first two weeks from 8am-4pm and then reduce the schedule to five days a week for a month and a half (or less, as needed) and then go to three or four days a week to remain effective.

I am proud to have a partnership that improves water quality and protects the health of beachgoers. It is a natural and cost effective method that keeps our beaches clean and accessible.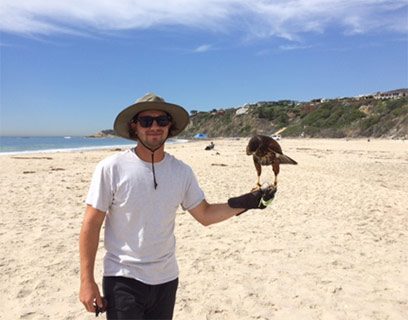 Don't Drink and Drive! DUI Enforcement Operations

DUI Saturation Patrols will deploy from 7 p.m. on Friday, May 5, to 3 a.m. Saturday, May 6, in areas with high frequencies of DUI collisions and/or arrests in the cities of Laguna Hills and Laguna Niguel.

Drivers are encouraged to download the Designated Driver VIP, or "DDVIP," free mobile app for Android or iPhone. The DDVIP app helps find nearby bars and restaurants that feature free incentives for the designated sober driver, from free non-alcoholic drinks to free appetizers and more. The feature-packed app even has social media tie-ins and even a tab for the non-DD to call Uber, Lyft or Curb.

The cost of a ride home is cheap! Drivers caught driving impaired can expect the impact of a DUI arrest to include jail time, fines, fees, DUI classes, license suspensions and other expenses that can exceed $10,000 not to mention the embarrassment when friends and family find out.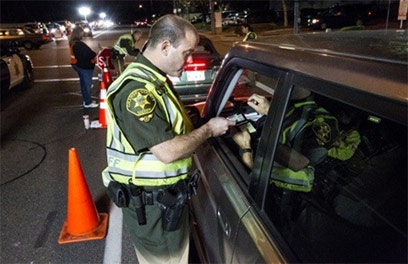 Be A 'Roll' Model: Practice Safety and Awareness for National Bicycle Safety Month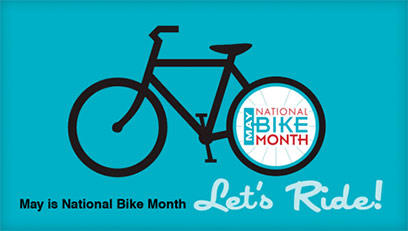 The Orange County Sheriff's Department and the California Office of Traffic Safety (OTS) call upon bicycle riders and motorists to be cautious during May's National Bicycle Safety Month, and every other month during the year.

California has the Move Over Law requiring motorist to share the road and pass bike riders with at least a 3- foot cushion. Support community efforts in your community, be involved in bicycle safety, whether while riding a bike, or driving a vehicle. Officers will focus on violations observed by both motorist and cyclist.

For more information on Bicycle Safety Month, please visit www.NHTSA.gov/bicycle-safety

Design Your Own Transit System


What's your vision of transit in your city and throughout Orange County? Do you want trains, buses, shuttles, or something different? The Orange County Transportation Authority (OCTA) is asking for your help in shaping the future of transit.

You can design your own transit system with the interactive Build Your Own System survey that allows you to select from various transit features that could enhance transit in Orange County. These features include stops, stations, vehicle types and service. As you develop your transit system, you can see the benefits - such as enhanced ridership, travel time, accessibility or passenger experience - change in real-time. Please take the survey here.

Meet OC Animal Care's Pet of the Week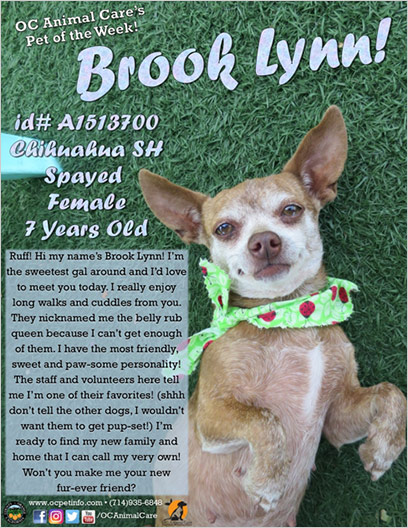 Click on the image above to view a PDF version.

Mother's Day Kitten Shower: May 14th

Have you ever wanted to foster a kitten? On Sunday, May 14th, the OC Animal Shelter is celebrating Mother's Day by hosting a foster information session from 11am – 2pm. Learn how to be the purrfect kitten mom (or dad!) and cuddle with some adorable kittens that need extra care. See the flyer below for details.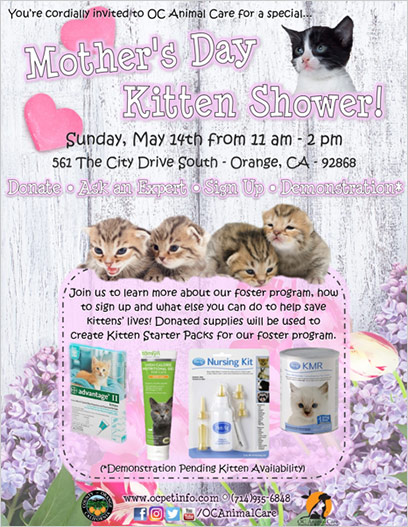 Click on the image above to view a PDF version.

The 2017 Eco Challenge Poster Contest is On!

For the fifth consecutive year, OC Waste & Recycling invites young artists to show their talent and their commitment to a greener planet. Youths aged 8 to 14 may compete to win the Angels Baseball Bat Kid experience by creating a poster that shows how they personally "Take the Eco Challenge." The deadline for submitting posters is Friday, June 30, 2017.

For more information and contest rules, visit 2017 Bat Kid Poster Contest or click the flyer below.


Out and About In South County

Aliso Viejo: Soka University International Festival

Soka University will celebrate the 16th Annual International Festival from 10:30 AM to 5:00 PM on Saturday, May 6. Enjoy 900 musicians and dancers performing on four stages, and over 250 non-profit, craft and business exhibitors. The 2017 International Festival is part of Orange County's Imagination Celebration and will feature lots of international food, exhibitors, games and activities, art exhibitions and sales, a children's play and arts area, student projects, and much more. Mark your calendars and be sure to visit my County Information Booth while at the Festival! For more information, please click on the flyer below or here.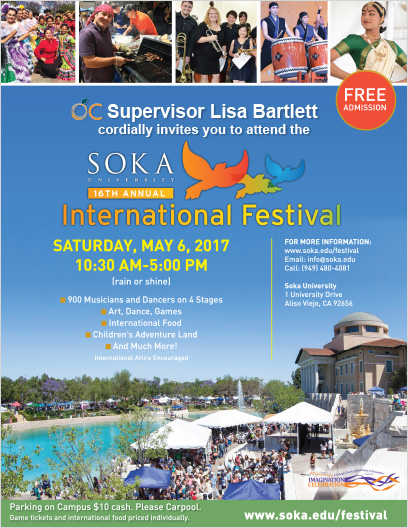 Click on the image above to view a PDF version.

Dana Point: Whale Walk & Talk

Join this month's Whale Walk & Talk on May 13th. This walk focuses on the offshore visitors that can be frequently seen from the Dana Point Headlands. It is designed to introduce participants to our whale "seasons." Participants will learn about Gray Whales, who migrate past us in the winter and spring months, and Blue and Humpback Whales, in the summer months. The walk begins at the Nature Interpretive Center (34558 Scenic Drive, Dana Point, CA 92629) at 9 AM and is approximately 1.5 to 2 hours long, covering about 1.5 miles. To RSVP, click here.

Laguna Beach: Charm House Tour

The Village Laguna Charm House Tour is an annual celebration of Laguna Beach, presenting homes of beauty and originality. This year the tour features six unique homes in delightfully eclectic and picturesque woods cove. The tour will be held May 21. Click here for more information and to purchase tickets.

Laguna Beach: Friday Night Sunset Serenades

Sunset Serenades are a beloved Laguna Beach tradition, taking place at the Heisler Park amphitheater on four Friday nights in the spring and fall at 6:30 p.m., and they begin tonight, May 5th. It's hard to beat such a beautiful setting, with its ocean view and surrounding plant life, in which to listen to good music. For details and the schedule of performers, click here.

Laguna Hills: Memorial Day Half Marathon May 29th

Runners of all skill levels are welcome to participate in the event of their choice, the Half Marathon (13.1 miles), 10K run/walk (6.2 miles), 5K run/walk (3.1 miles) or Kid's Run (1/2 mile). The City of Laguna Hills will donate $3 per race registration to the 3/5 Marine support committee. In addition to the running events, the City of Laguna Hills will once again hold a one-day community expo featuring live music and more than 50 exhibitors and vendors from 7:30-11:30 AM. For race times, fees, course descriptions, information regarding sponsorships, entertainment, parking, directions and more, visit the race website.

Laguna Niguel: Support our Sailors Car Wash

The Laguna Niguel Military Support Committee is holding a "Support Our Sailors" Car Wash on Saturday, May 6 from 10 AM to 2 PM at Plaza De La Paz Center, 27241 La Paz Rd., Laguna Niguel. All proceeds benefit sailors and families of the USS Stockdale DDG-106. This is an adopted Navy Ship by the City of Laguna Niguel. Come and get you car in Ship Shape! For more information, visit LNMilitarysupport.org.

Laguna Niguel: Live Smart Community Event by Moulton Niguel Water District

On Saturday, May 13th, join the Moulton Niguel Water District for a fun-filled community event focused on water education. Enjoy games, music, food, giveaways, meet & greets and more while learning how to conserve your water, energy, and money! See the flyer below or click here for details.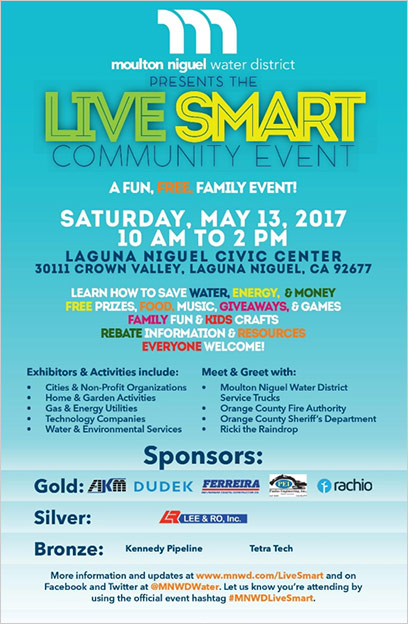 Lake Forest: Rancho Days Fiesta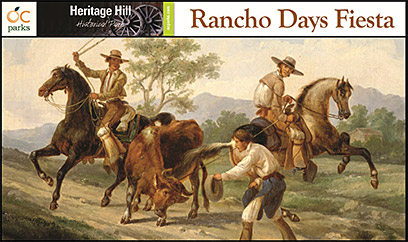 On May 6, the County will celebrate the 21st Annual Rancho Days Fiesta at Heritage Hill Historical Park from 11 a.m. to 3 p.m. Get your friends and family together and join in the fun as we travel back in time to the days of the rancho era and enjoy hands-on activities, music, dance, and more. Historic buildings will also be open and available for tours, courtesy of the Amigo del la Colina docents. The Fiesta is located at Heritage Hill Historical Park, 25151 Serrano Road in Lake Forest. $5 admission per person age 3 and up, and parking is free. For more information, click here.

This week I:

Traveled to Washington, D.C. to participate in the Orange County Business Council's Annual Advocacy Trip and met with legislators.
Participated in the County's Kraemer Homeless Shelter Dedication and Naming Ceremony.
Participated in the CalOptima Board meeting and presented a Proclamation to outgoing Chairman Mark Refowitz.
Provided Certificates of Recognition for the honorees at the OC Human Relations Awards 46 Gala.
Interviewed with Leslie Leyton on Charter Local Edition.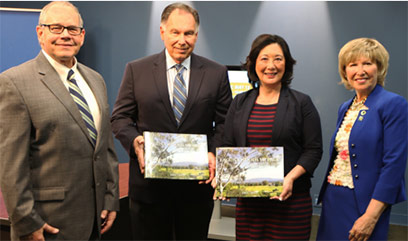 With Ernesto Munoz, Director of Maintenance Operations, Laguna Woods Village (left), Orange County District Attorney Tony Rackauckas, and Laguna Woods Mayor Shari Horne at the TV6 studio. (Photo courtesy of Paul Ortiz, TV Services Manager, Laguna Woods Village).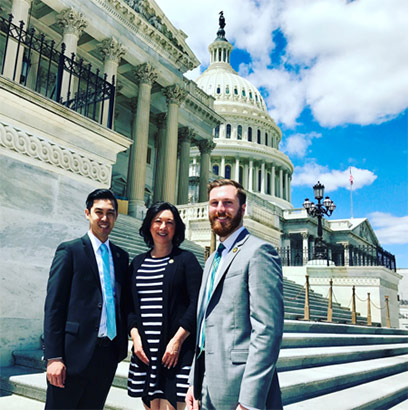 Me with my staff, Senior Policy Advisor Victor Cao (left) and Policy Advisor James Dinwiddie (right) in Washington, D.C. More photos to come and an update on our trip in next week's newsletter!

My Staff:

Participated in the OCBC Annual Advocacy Trip.
Presented a proclamation to the Laguna Niguel Chamber of Commerce in honor of their 35th anniversary celebration.
Participated as a judge at the "Pooch-Ini In the Park" Dog Show Competition in Rancho Santa Margarita.
Attended the Laguna Niguel Chamber of Commerce Government Affairs Committee meeting.
Presented a Proclamation to the Laguna Beach Friendship Shelter Founder Colin Henderson in honor of his outstanding service to the organization and homeless in South County.
Presented a Certificate of Recognition at the Piazza Wellness ribbon cutting in Dana Point.
Attended the OCTA Executive Board and Regional Planning & Highways meetings.
Participated in the OCTA Environmental Oversight Committee's Aliso Creek Restoration Properties Tour.
Attended the South Orange County Watershed Management Executive Committee meeting.
Attended the OCBC Advocacy & Government Affairs meeting.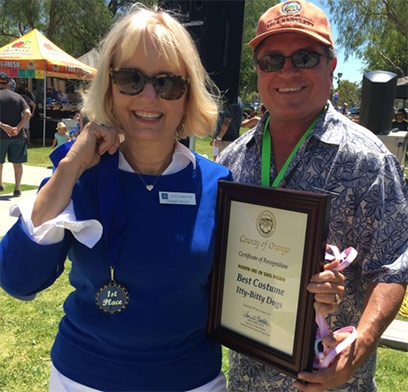 Judging at the Poochi-Ini in the Park dog show competition, with Sydney Riccio, Co-Chair of the Coto Committee of the Philharmonic Society of OC.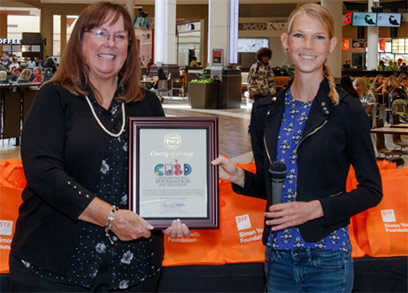 Presenting a Certificate of Recognition at the CUSD Ribbon Cutting in Mission Viejo.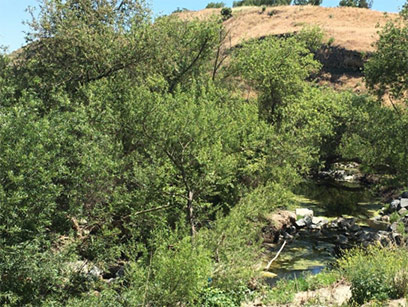 Catch a glimpse of the OCTA Aliso Creek Restoration project! (Photo credit Melanie Schlotterbeck, Friends of Harbors, Beaches and Parks.)

South County Elected Officials in the Community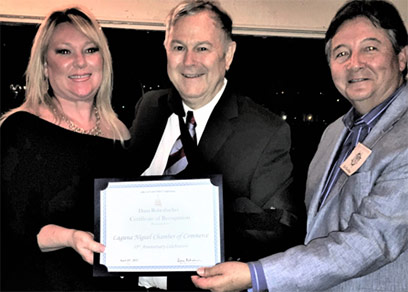 Congressman Dana Rohrabacher at the Laguna Niguel Chamber's 35th anniversary celebration.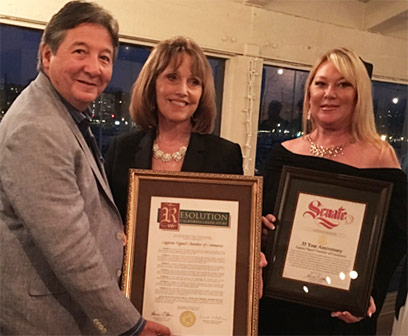 Senator Pat Bates at the Laguna Niguel Chamber's 35th anniversary celebration.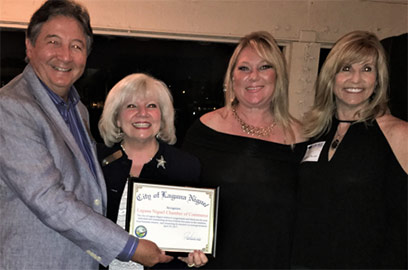 Laguna Niguel Councilwomen Elaine Gennawey and Laurie Davies at the Laguna Niguel Chamber's 35th anniversary celebration.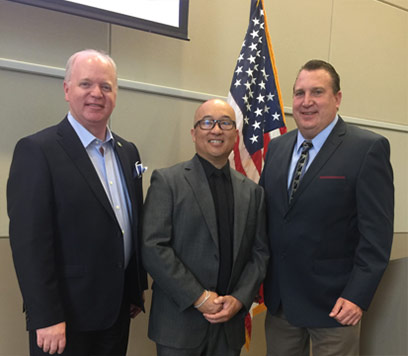 Laguna Niguel Councilman Mark Jennings (left) and Mayor Jerry Slusiewicz (right) at the Laguna Niguel Chamber Government Affairs meeting.

For questions or comments regarding Supervisor Bartlett's E-Newsletter please contact the Supervisor's office staff at: (714) 834-3550 or Tanya.Flink@ocgov.com.