From the OC to DC: Advocating for YOU!

I am honored and privileged to have the opportunity to represent the Fabulous Fifth District, and as your Supervisor I strive to advocate on your behalf each and every day. Last week, I was able to travel to Washington DC to speak to members of Congress, key staff, and members of federal departments.

While in our nation's capital, I was pleased to:

Meet with all members of the Orange County Congressional Delegation
Advocate for Point of Entry (POE) status at John Wayne Airport, which would lower cost of flights and create more opportunity for new destinations.
Advocate for increased opportunities for veterans affairs grants and housing programs.
Seek support and advocate for my Veterans Village concept which will provide housing and wrap around services for veterans
Advocate for federal action to expedite removal of nuclear waste at San Onofre Nuclear Generating Station
Voice residents' concerns regarding the implementation of the FAA's NextGen and the Socal Metroplex project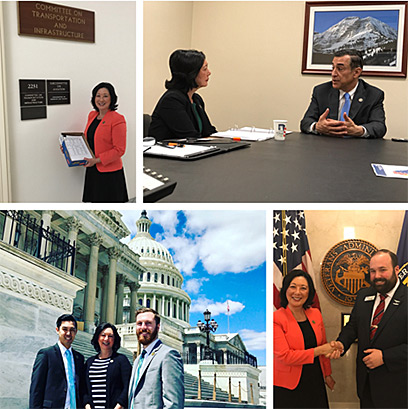 To view a photo album of my advocacy trip to Washington D.C., please click here.

Shark Activity Increases in Orange County!

We have continued to see an increase in shark sightings at our OC beaches! This week, 15 great white sharks were spotted near the shore in Capistrano Beach. Orange County Sheriff's Deputy, Brian Stockridge, who was patrolling our coastline from a Sheriff's Department helicopter, warned paddle boarders to exit the water.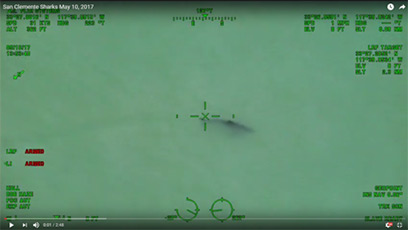 Click on the image above to view this video.
Earlier this month, beachgoer Leanne Ericson was attacked by a shark at San Onofre State Beach. With the help of surfers, lifeguards, and the emergency response personnel, she was able to receive medical treatment at Scripps and is currently recovering. The community has shown a lot of support on the gofundme page that was set up to help pay her medical bills.

As shark activity continues to increase along our coastline, I encourage extreme caution if you're headed to the beach. Advisories and beach closures will be posted in areas experiencing an increase in shark sightings. Check out the shark activity captured by surf cameras along the coastline at Surfline.com.

10th Annual South County Senior Summit a Huge Success!

I was pleased today to host the 10th Annual South County Senior Summit in partnership with Age Well Senior Services, the Orange County Office on Aging, and Laguna Woods Village. Over 1,000 attendees learned about the resources available to them through the County of Orange, how to protect themselves from financial fraud, and how to better prepare for their future financial wellbeing.

Senator John Moorlach was among the keynote speakers with presentations related to this year's theme: Financial Planning for Your Golden Years. Attendees received free financial consultations services from members of the Financial Planning Association of Orange County. A photo album of the event will be in next week's newsletter.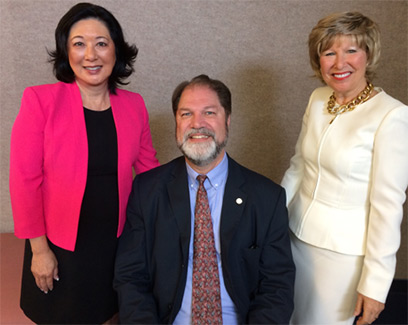 With Senator John Moorlach and Mayor Shari Horne at the South County Senior Summit.

Giving "Meals on Wheels" a New Meaning!

After the South County Senior Summit, my staff and I had the opportunity to deliver leftover packaged meals from the event to The Courtyard! The Santa Ana Courtyard is an important piece of the County's Continuum of Care to serve our homeless population. Every night, around 400 homeless individuals seek shelter in The Courtyard and are provided with meals, showers, linkages to vital services and more.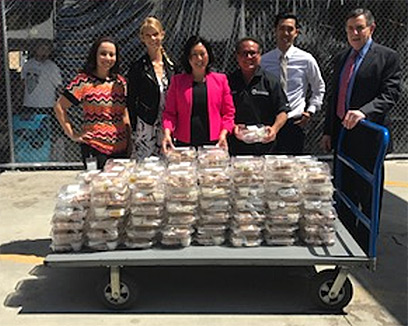 Deliverying meals to the homeless at The Courtyard.

2017 Point in Time Count Reports an Increase in Homelessness

Today, the County of Orange released the 2017 Point in Time (PIT) count, which shows a 7.6% increase in homelessness in Orange County since the last count took place in 2015. The PIT count is a biennial tally of people without a home on a given night.

I am committed to doing everything I can to help those experiencing homelessness, and will continue to target our resources regionally to provide much needed assistance. To read the full County press release, click here. Additional information regarding Orange County's 2017 PIT count can also be found on our Care Coordination website.

New Dana Point Harbor Advisory Council

Over the past several months, I have been working with members of the Dana Point community and formalizing their role in the Harbor Revitalization process. I am deeply committed to inclusive and collaborative government. I am pleased to announce that on May 11, the OC Parks Commission approved a new subcommittee that will focus on Dana Point Harbor and its diverse user groups.

The new Dana Point Harbor Advisory Council will assist the County in balancing the needs of various harbor stakeholder groups, service providers, businesses and operators. The Council will serve as an advisory group to OC Parks and the OC Parks Commission, providing feedback on operations, policy and revitalization of the harbor.

The Council will have public meetings to review harbor events and improvements and provide a forum to facilitate discussion and collaboration among groups in the harbor. Meetings are expected to be held at the OC Sailing and Events Center at least quarterly and more frequently as needed. Additional information and applications to join the Dana Point Harbor Advisory Council are available here. Applications must be submitted by Wednesday, May 31, 2017.

Celebrating Cultural Diversity at Soka University International Festival!

Last weekend, I was pleased to participate in the Soka University International Festival. Attendees enjoyed international food, performers, exhibits and more. The annual event provides the community a unique opportunity to celebrate and experience cultures from around the world.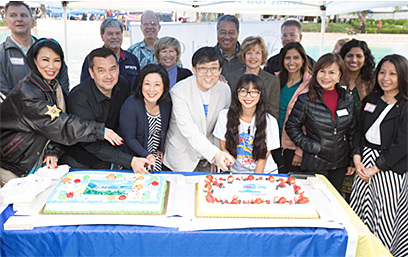 Cutting the cake at the Soka International Festival with University President Daniel Habuki (center), OC Clerk-Recorder Hugh Nguyen, Laguna Woods Mayor Shari Horne, Aliso Viejo Councilmen Mike Munzing, Ross Chun and Bill Phillips, and SOCCCD Trustee Marcia Milchiker.

Fifth District Calendar

South Orange County: "Under the Flight Path"

I'm aware of the concerns many of my constituents have regarding changes in flight paths to and from John Wayne Airport, resulting from the FAA's Next Generation Air Transportation System (NextGen) and recently implemented Southern California Metroplex Project.

In response, I will be hosting a South County Community Forum on Monday, May 15 to address the flight path changes and aircraft noise impacting many communities in my district. A question and answer discussion will be held following the presentations at the Forum. For more information, please click on the flyer below.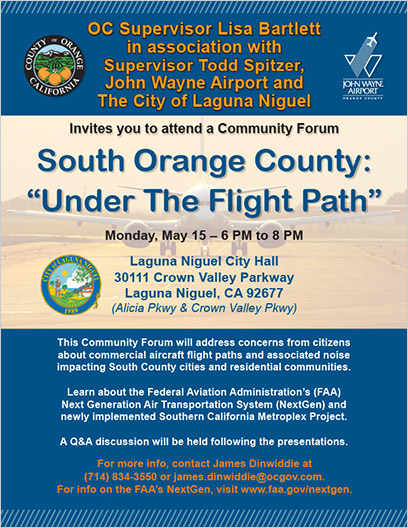 Click on the image above to view a PDF version.

7th Annual South County Job Fair

I am pleased to host the 7th Annual South Orange County Job Fair in partnership with the Orange County Development Board on May 19! I invite all interested parties to attend this event designed for South County businesses and job seekers. Over 500 job seekers are expected to attend the Job Fair to meet with over 50 employers accepting resumes, interviewing and hiring to fill positions throughout Orange County. Free resume critique and professional coaching will also be ongoing during the event.

Don't miss the opportunity to network with employers and access resources for skill training opportunities that could lead to a new or better career pathway! A priority registration table and wrist bands will also be available to assist and identify our Veteran participants. For more information about the South Orange County Job Fair, please click here or contact Lisa Burns at (949) 341-8011.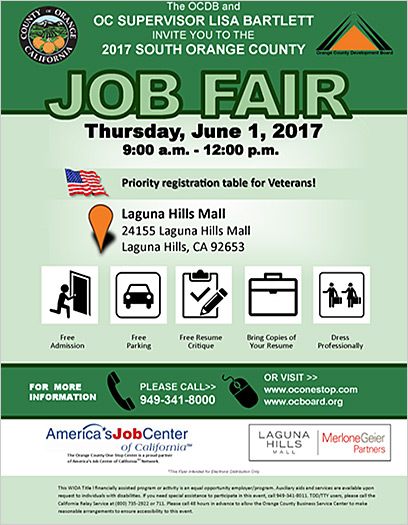 Click on the image above to view a PDF version.

OC Passport Day: Get your Passport to Paradise!

Please join me and Orange County Clerk-Recorder, Hugh Nguyen at OC Passport Day 2017! The event is designed to provide South County residents with the opportunity to obtain a passport without having to miss work. Passport seekers will be able to submit their applications and obtain passport photos at the event. The Clerk-Recorder also hopes to make the passport process easier for parents, as both parents must be present to obtain passports for children younger than 16 years of age.

Appointments for passport applications are recommended due to an anticipated increase in demand for services and the fast approaching summer travel season. To save time, passport applications can be completed in advance online at www.ocrecorder.com. To download your Passport Check List, please click here. For more information about OC Passport Day, click on the flyer below.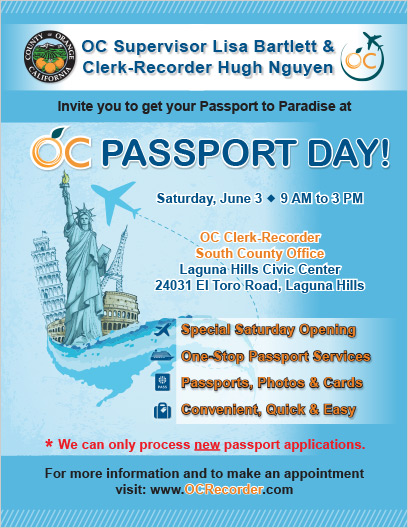 Click on the image above to view a PDF version.

TCA Public Forum on South Orange County Regional Traffic Relief

Many of you have expressed interest or concern regarding various conceptual ideas proposed by the public that will be considered as part of an overall effort for addressing South Orange County regional traffic relief.

So far, through public forums and input from local elected officials the Transportation Corridor Agencies (TCA) has received eighteen (18) conceptual ideas including widening the I-5 Freeway, multiple SR-241 to I-5 connections, widening and expanding existing arterials, building mobility hubs to connect multiple modes of transportation, expanding train service, expanding bus service, connecting SR-241 with SR-73, and developing contiguous bike lanes throughout South Orange County.

I encourage you to participate in our upcoming forum June 5 to learn more about the process for reviewing the ideas and solving our growing traffic problems with long term solutions. For more information on this effort, please visit the TCA website here. To learn more about previous forums and information gathered from the public, and to RSVP for the next forum, please click here.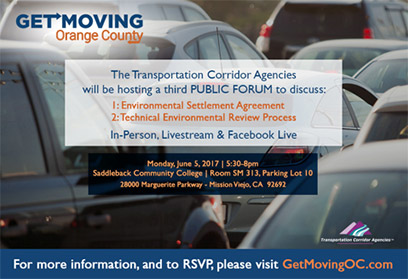 County Connections

Improvements Coming to Interchange Near Laguna Hills Mall

I am honored to represent South County on the Orange County Transportation Authority (OCTA) Board of Directors.

In an effort to decrease traffic congestion and improve safety conditions, OCTA is working with Caltrans on the I-5/ El Toro Road Interchange Project. The project, which is included in the M2 freeway program, will improve traffic capacity and mobility, accommodate future traffic demand, and relieve congestion on I-5 and on El Toro Road. The current I-5 freeway off-ramp conditions include triple left turn lanes and present major public safety issues.

Caltrans will begin environmental clearance work this month which will be complete by late 2019. The El Toro Road Interchange Project improvements will benefit the cities of Laguna Hills, Laguna Woods and Lake Forest.

I will provide updates as this project progresses.

HCA Launches Program to Improve Emergency Medical Services

The OC Health Care Agency (HCA) launched the implementation of an electronic system that enables the instantaneous sharing of a patient's medical history from an ambulance to a hospital. The innovation will improve the quality of care for patients experiencing a medical emergency.

The program has been recognized this month by the Journal of Emergency Medical Services for its innovation. HCA's Emergency Medical Services division became the first in the nation to fully launch the Search, Alert, File, Reconcile (SAFR) model of health information exchange in February of this year!

To read the "Armed with History" article from the May edition of the Journal of Emergency Medical Services, please click here.

Be A 'Roll' Model: Practice Safety and Awareness for National Bicycle Safety Month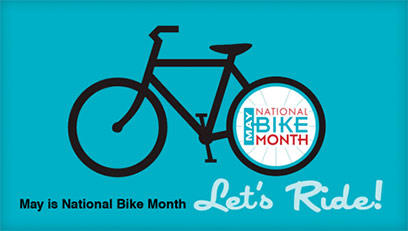 The Orange County Sheriff's Department and the California Office of Traffic Safety (OTS) call upon bicycle riders and motorists to be cautious during May's National Bicycle Safety Month, and every other month during the year. California has the Move Over Law requiring motorist to share the road and pass bike riders with at least a 3- foot cushion. Support community efforts in your community, be involved in bicycle safety, whether while riding a bike, or driving a vehicle. Officers will focus on violations observed by both motorist and cyclist.

For more information on Bicycle Safety Month, please visit www.NHTSA.gov/bicycle-safety

Meet OC Animal Care's Pet of the Week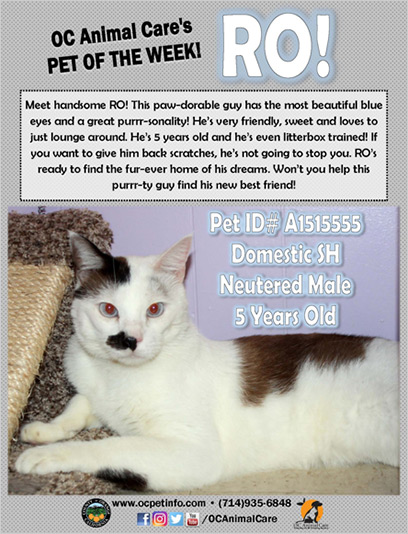 Click on the image above to view a PDF version.

Mother's Day Kitten Shower: May 14

Have you ever wanted to foster a kitten? On Sunday, May 14, the OC Animal Shelter is celebrating Mother's Day by hosting a foster information session from 11am – 2pm. Learn how to be the purrfect kitten mom (or dad!) and cuddle with some adorable kittens that need extra care. See the flyer below for details.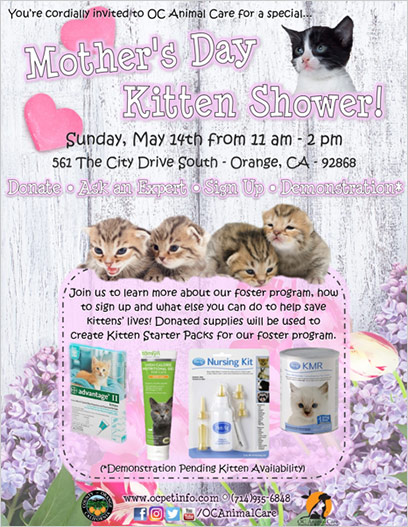 Click on the image above to view a PDF version.

South County Spotlight

Surfrider Foundation Launches Ocean-Friendly Restaurant Campaign

On Tuesday, May 16, please join the South Orange County Surfrider Chapter at Waterman's Harbor in Dana Point to celebrate the launch of this organization's Ocean Friendly Restaurant campaign in our community. Waterman's is the first restaurant in South County to meet the strict certification requirements of this campaign, which is aimed to promote ocean-friendly practices in the restaurant business. The reception will be held from 5 PM to 7 PM. Click here to learn more about this organization and its mission to promote ocean sustainability.

Out and About In South County

Dana Point: 20th Annual Doheny Blues Festival

Come out and enjoy the 20th Annual Doheny Blues Festival, May 20-21 at Doheny State Beach. For the last 20 years, the Doheny Blues Festival has created a festival environment like none other! Three alternating stages of blues, rock and soul music, legendary artists, a beachfront venue, microbrews, overnight camping, an eclectic vendor village and 20,000 music fans throughout the weekend! The nationally-recognized festival has welcomed a mix of music legends and rock headliners, and the 2017 lineup will not disappoint! For more information, please click here. For volunteer opportunities, please click here (must be 21 or over).

Laguna Beach: Friday Night Sunset Serenades

Sunset Serenades are a beloved Laguna Beach tradition, taking place at the Heisler Park amphitheater on four Friday nights in May at 6:30 p.m. It's hard to beat such a beautiful setting, with its ocean view and surrounding plant life, in which to listen to good music. For details and the schedule of performers, click here.

Laguna Hills: Memorial Day Half Marathon

On May 29, runners of all skill levels are welcome to participate in the event of their choice, the Half Marathon (13.1 miles), 10K run/walk (6.2 miles), 5K run/walk (3.1 miles) or Kids Run (1/2 mile). The City of Laguna Hills will donate $3 per race registration to the 3/5 Marine support committee. In addition to the running events, the City of Laguna Hills will once again hold a one-day community expo featuring live music and more than 50 exhibitors and vendors from 7:30-11:30 AM. For race times, fees, course descriptions, information regarding sponsorships, entertainment, parking, directions and more, visit the race website.

Laguna Niguel: Human Trafficking Town Hall

Human Trafficking: What is it? Would you recognize the signs? What should you do if you suspect it? How do we help the victims? Learn more on Thursday, May 25, from 7 PM to 9 PM at the Laguna Niguel City Hall Community Room. Due to the sensitive nature of the topic, we ask that all attendees be at least 16 years of age. Click here to view the flyer and additional details.

Laguna Niguel: MNWD "Live Smart" Community Event
On Saturday, May 13, join the Moulton Niguel Water District for a fun-filled community event focused on water education. Enjoy games, music, food, giveaways, meet & greets and more while learning how to conserve your water, energy, and money! Click here or on the flyer below for details.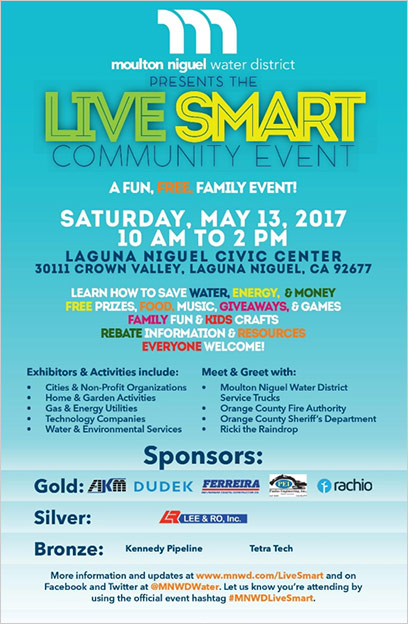 Laguna Woods: South County Adult Day Services Open House

Tour the new building during the Open House and Ribbon Cutting Ceremony on May 19, 5:30 PM – 7:30 PM. Meet the team, learn about the services, and enjoy light hors d'oeuvres and desserts. Click here to RSVP for this free event.

Lake Forest: Prelude in the Park

Bring your family and friends to the 10th Annual Prelude in the Park, a community concert to benefit the El Toro High School Instrumental Music Department. The concert will showcase of a wide variety of popular music styles by the El Toro High School music ensembles. Be sure to bring a lawn chair or blanket. This event will be held May 20 at Pittsford Park in Lake Forest from 3 PM to 6:30 PM. Click here for details.

Rancho Santa Margarita: SMWD Water Awareness Festival

On May 20 from 10 AM to 2 PM, Santa Margarita Water District will host its Water Awareness Festival, a family-friendly event where adults and children are able to learn more about water use efficiency and local supply reliability. SMWD customers are invited to enjoy a day of fun and learning with a hands-on tide pool exhibit, water efficient irrigation and native plant displays, water presentations, games and crafts, and music and face painting. Tours of the Chiquita Wastewater Treatment Plant are also offered. Click here for details.

This week I:

Participated in the Soka University 16th Annual International Festival and Cake Cutting Ceremony in Aliso Viejo.
Hosted the 10th Annual South County Senior Summit (More on this is next week's newsletter).
Participated in the OCTA Board meeting.
Participated in the Board of Supervisors meeting.
Participated in the TCA San Joaquin and Foothill Eastern Board meeting.
Participated in the San Onofre Community Engagement Panel meeting.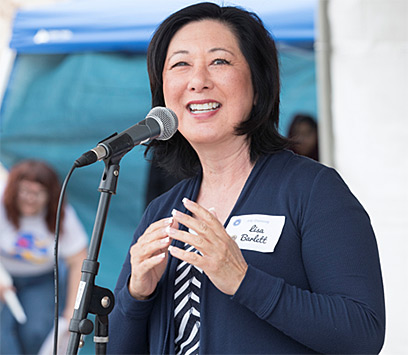 Welcoming attendees at the Soka University International Festival.

My Staff:

Attended the Laguna Beach "State of the City" Luncheon at the Montage Laguna Beach.
Presented a Certificate of Recognition at the SAMLARC Beach Club Renovation ribbon cutting in Rancho Santa Margarita.
Presented a Certificate of Recognition at the Docent Brewing ribbon cutting in San Juan Capistrano.
Presented a Certificate of Recognition at the Lake Forest Civic Center groundbreaking ceremony.
Attended the Laguna Niguel Jr. Civic Workshop Graduation.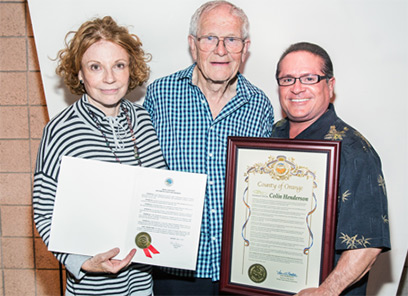 With Laguna Beach Mayor Toni Iseman presenting a proclamation to Friendship Shelter Founder Colin Henderson.

South County Elected Officials in the Community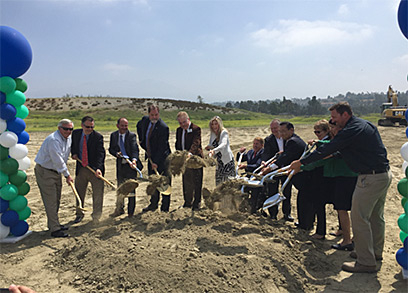 Lake Forest Mayor Scott Voigts, Mayor Pro Tem Leah Basile, and Councilmen Andrew Hamilton, Dwight Robinson, and Dr. Jim Gardner at the ground breaking ceremony for the new Lake Forest Civic Center with Senator John Moorlach and Assemblyman Steven Choi.



Laguna Beach Mayor Toni Iseman and South Coast Water District General Manager Andy Brunhart at the State of the City.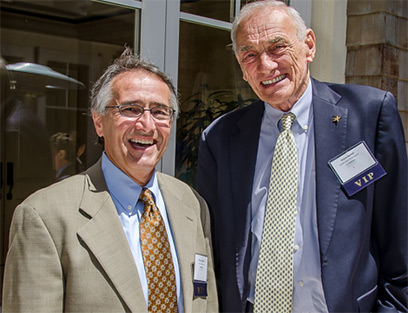 Laguna Beach Councilman Rob Zur Schmiede and South Coast Water District General President Wayne Rayfield at the State of the City.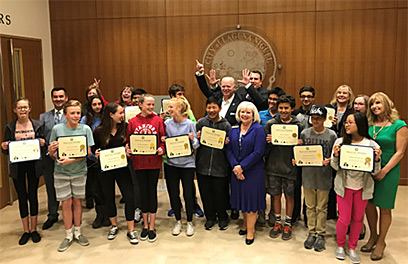 Laguna Niguel Council Member Elaine Gennawey with the 2017 graduating class of the Laguna Niguel Junior Civic Workshop.

For questions or comments regarding Supervisor Bartlett's E-Newsletter please contact the Supervisor's office staff at: (714) 834-3550 or email Sergio.Prince@ocgov.com or Tanya.Flink@ocgov.com.