Martin Luther King, Jr. Day

For many Americans, the third Monday of January is just a day off, a nice three-day respite after the post-holiday rush at work. However, this Monday - Martin Luther King, Jr. Day - is much more than that.

Martin Luther King, Jr. roused our country to embrace love instead of hate. He brought about positive, significant change in regards to how we view and treat others. He inspired us to remain strong in the face of hardship. Let us pause to celebrate this man and his words of wisdom that enriched our nation. It is my hope that we all practice kindness and respect to others, not just on this day, but everyday.

Dr. King's message of love and strength is essential to good governance. At the County, we work to preserve his moral code, as we make decisions that affect our constituents and our community. His timeless speeches will continue to be a personal motivation. I would like to wish you a relaxing holiday, but I would also ask that we reflect on two of his famous quotes:

"The ultimate measure of a man is not where he stands in moments of comfort and convenience, but where he stands at times of challenge and controversy."

"Darkness cannot drive out darkness; only light can do that. Hate cannot drive out hate; only love can do that."

Happy MLK Day!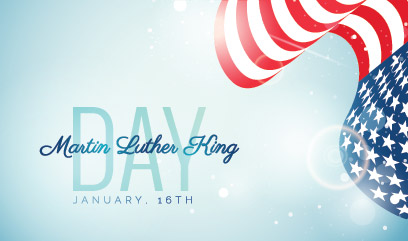 County Connections

Sheriff's Department: DUI Enforcement Operations This Weekend

The Orange County Sheriff's Department Traffic Unit will be conducting a DUI/Drivers' License Checkpoint on Friday Jan. 13, in Laguna Niguel between the hours of 7 p.m. and 3 a.m.

The deterrent effect of DUI checkpoints is a proven resource in reducing the number of persons killed and injured in alcohol or drug involved crashes. Research shows that crashes involving an impaired driver can be reduced by up to 20 percent when well-publicized DUI checkpoints are conducted routinely. DUI checkpoints are placed in locations based on collision statistics and frequency of DUI arrests, affording the greatest opportunity for achieving drunk and drugged driving deterrence.

Recent statistics reveal that 30 percent of drivers in fatal crashes had one or more drugs in their systems. A study of active drivers showed more tested positive for drugs that may impair driving (14 percent) than did for alcohol (7.3 percent). Of the drugs, marijuana was most prevalent, at 7.4 percent, slightly more than alcohol. Everyone should be mindful that if you're taking medication – whether prescription or over-the-counter – drinking even small amounts of alcohol can greatly intensify the impairment effects.

Law Enforcement emphasizes the preventable nature of drunk driving reminding everyone that all it takes is a little planning ahead. Designate a sober driver or call a cab. Whatever you do, don't drink and drive. The California Office of Traffic Safety DDVIP (Designated Driver VIP) mobile app is now available for free download on iOS and Android devices.

Launched last year, the new DDVIP app offers enhanced features, allowing users to "Map a Spot" with their current location to find DDVIP partnering establishments in their area or a "List of Spots" to search all participating bars and restaurants throughout California. Users will be offered free incentives at each bar to celebrate their life saving role.

The cost of a ride home is inexpensive. Drivers caught driving impaired can expect the impact of a DUI arrest to include jail time, fines, fees, DUI classes, license suspensions and other expenses that can exceed $10,000 not to mention the embarrassment when friends and family find out.

Funding for this DUI checkpoint is provided to the Orange County Sheriff's Department by a grant from the California Office of Traffic Safety, through the National Highway Traffic Safety Administration, reminding everyone to "Report Drunk Drivers – Call 9-1-1".

Orange County Armories

Orange County's Armory program provides up to 400 beds per night for the homeless in Fullerton and Santa Ana. Volunteers will be needed 7 days per week to help both in the evening (5:30 – 8:30pm) and morning hours (5-7am). Volunteers will be assisting with set-up, clean-up, passing meals and donations. Volunteers are also needed to provide dinners on a nightly basis.

The Santa Ana Armory is located at 612 E. Warner St. Santa Ana, CA 92707 & the Fullerton Armory is located at 400 S. Brookhurst St. Fullerton, CA. 92833.

Sign up to volunteer here!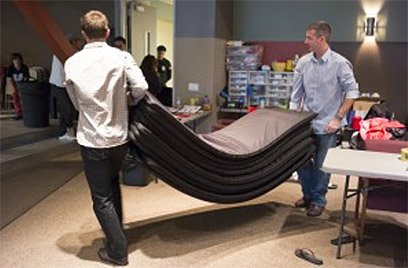 Donations are accepted Mon – Thurs 6pm-8pm at the Armories. Please keep in mind that we can only accept adult clothing at the Fullerton Armory including attire that is appropriate for the cold weather. Please no summer clothing. If you are interested in donating hot chocolate, granola bars (nature valley) we would be more than happy to accept these in-kind items!

If you have additional questions, please contact Irene Drissen at irenem@mercyhouse.net!

Point-In-Time Count of the Homeless

In a county with one of the state's most expensive housing markets, providing additional resources to help homeless people transition to long-term housing is more critical than ever, as well as addressing the complex social and medical issues that result in chronic homelessness.

To that end, every two years, during the last week of January, a countywide Point-In-Time Count (PIT) takes place to count and survey the homeless population in Orange County. The PIT Count is planned, coordinated, and carried out locally to meet Federal Department of Housing and Urban Development requirements for Continuum of Care (CoC) homeless programs.

Locally, the CoC supports the coordinated efforts of 15 nonprofit agencies that provide rapid rehousing and permanent supportive housing for those experiencing homelessness within our communities. The Count process is a critical factor in determining the amount of federal funding the County receives to serve the homeless population. It also provides information on how to improve the available resources and approaches to meet the needs of the different populations.

Two years ago, my staff and I were pleased to participate in the 2015 PIT Count. This year, the 2017 Count provides another opportunity for communities to come together to learn about the resources available, gain insights into the plight of people that are currently experiencing homelessness, and make a contribution to the broader solutions to end homelessness in our county.

Because having an accurate and comprehensive Count relies on the participation of hundreds of volunteers, I am inviting you to volunteer for the 2017 Point-In-Time Count on Saturday, January 28 from 4:30 AM to 9:00 AM. The 2017 Count will be deployed from deployment centers located in each of the five Supervisorial Districts to survey the surrounding neighborhoods for homelessness.

An estimated 1,500 volunteers are needed to work in the field and at deployment centers on the morning of the Count. The South County deployment centers will be Family Assistance Ministries in San Clemente, and Families Forward in Irvine. To register as a volunteer, please visit the project website at www.pointintimeoc.org or email pointintime@211oc.org. Additional information on ways to get involved or make a charitable donation is available at www.pointintimeoc.org.

Thank you kindly for your generous time and selfless effort in assuring that homeless and at-risk individuals and families in our county receive the care and services they need.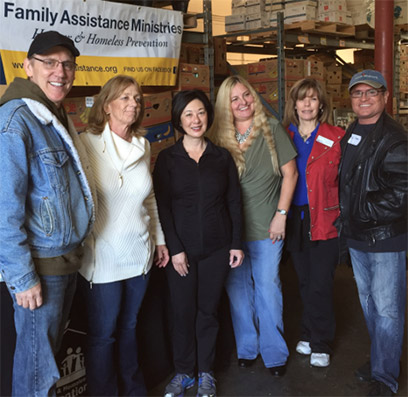 Participating in the 2015 Point-In-Time Count of the Homeless.

OC Grand Jury: Court Extends Grand Jury Application Deadline to February 1

Hon. Kirk Nakamura, Assistant Presiding Judge of the Orange County Superior Court and chair of the Grand Jury Recruitment and Selection Committee, announced that the Court has extended the deadline to apply to serve on the next Grand Jury to February 1, 2017 due to a shortage of applicants.

Judge Nakamura said, "By law, the Court must impanel a 19-member Grand Jury each fiscal year to serve a one-year term. It is difficult to attract qualified individuals from all areas of Orange County who can devote 30 to 35 hours per week for this unique community service opportunity." Panelists receive a $50 per day stipend, reimbursement for mileage, and reserved onsite parking at the Central Justice Center in Santa Ana, where they meet.

The Grand Jury provides civil oversight of local governments and agencies by reviewing and evaluating county, city, and other agencies, including jails, schools, and special districts, within Orange County. At the conclusion of these investigations, the Grand Jury compiles written reports with its findings and recommendations for improvement. The Grand Jury also considers evidence for possible indictment of individuals for criminal charges and reviews issues of concern submitted by the public. However, the Grand Jury has no jurisdiction to review matters involving the Orange County Superior Court or state and federal agencies.

Superior Court judges interview qualified applicants and choose the top candidates to proportionally represent all areas of Orange County. Selection of the 19-member Grand Jury is accomplished by a random drawing of the 25 to 30 finalists. Current grand jurors and their advisors provide training to the new panelists. The grand jurors will take the oath of office on June 30, 2017 for a one-year term.

The requirements to serve are: Orange County resident, U.S. citizen, 18 or older, sufficient knowledge of English, sound judgment, and a sense of fairness. The application form and more information are available online at www.ocgrandjury.org, by calling 657-622-6747, or in person at the Jury Commissioner's Office, 700 Civic Center Drive West, Santa Ana.

OC Public Libraries

San Clemente Library: Brain Boosters Educational Class

On January 27, please join the San Clemente Library for a fun, interactive class for adults led by Gerontologst, Dr. Jane Mahakian. Come learn up-to-date research and information about memory and aging, why we forget and how memory changes over the lifespan. Class begins at 10:30am and ends at 12pm. See the flyer below for details.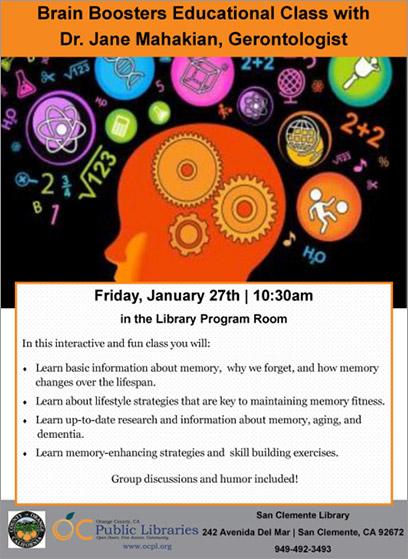 Rancho Santa Margarita Library: Teen Advisory Board

Calling all RSM teens! The RSM Library wants to hear what you think. Join the Teen Advisory Board and let your voice be heard. See the flyer below for details, and click here for the application.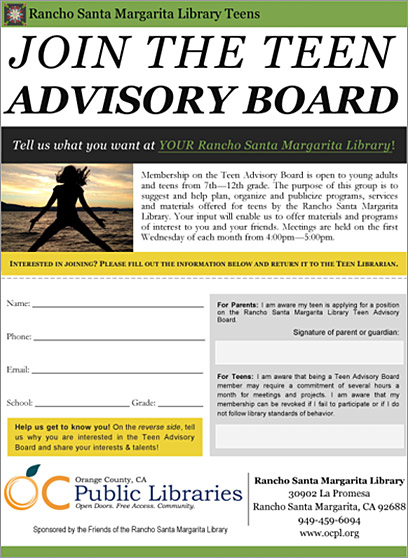 OC Moves

I-5 Construction Alert

The daytime lane and ramp closures on northbound I-5 and Camino de Estrella have been rescheduled because of rain. The closures must be done during the day because of temperature requirements for paving. The tentative new schedule is:
Time, Date
Closure
8 a.m. - 6 p.m.
Saturday, Jan. 14
Northbound straight on-ramp from westbound Camino de Estrella.
8 a.m. - 6 p.m.
Monday, Jan. 16
Northbound loop on-ramp from eastbound Camino de Estrella
10 a.m. - 2 p.m.
Monday, Jan. 16
Outside lane on northbound I-5, between Avenida Vaquero and Camino de Estrella

For recommended detours during the freeway on-ramp closures, please visit www.octa.net/5southCountyDetourmap.

Please be advised, dates and times are subject to change if there is inclement weather or if there are other unforeseen operational factors.

OC Clerk-Recorder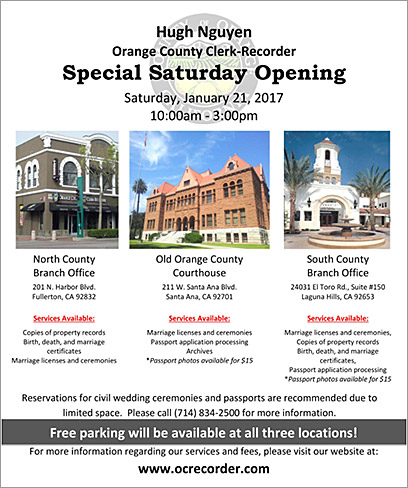 Click on the image above to view a PDF version.

OC Animal Care/Pet of the Week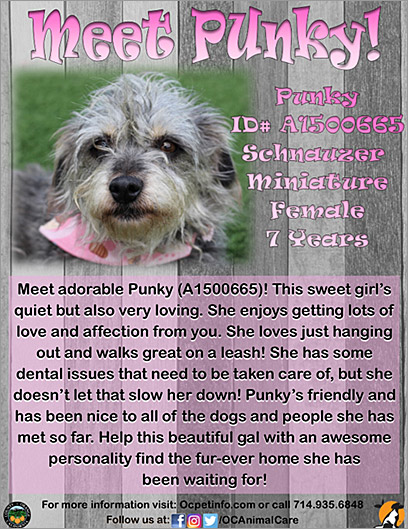 Click on the image above to view a PDF version.

Out and About South County

Aliso Viejo: Low-Cost Pet & Vet Clinic

In an effort to help keep Aliso Viejo pets healthy, the City is teaming up with VetCare Pet Clinic to host a low-cost pet vaccination and microchip clinic on Saturday, January 14th from 9:30 a.m. to 11:00 a.m. at the Aliso Viejo Center.

Vaccinations for cats and dogs as well as micro-chipping will be offered at reduced rates. Physical exams, diagnostic testing, heart-worm prevention, prescription flea and tick control, de-worming and nail trimming will also be available. All dogs must be on leashes and cats in carriers. (Appointments are not necessary.)

The Aliso Viejo Center is at 31 Santa Barbara Drive off Golf Drive and Glenwood. For more information, call 949-425-2550.

Aliso Viejo: First Annual Bike Safety Day

Calling all bike lovers to Aliso Viejo's First Annual Bike Safety Day brought to you by G2Bike! G2 will be providing safety demonstrations for any new bike owners or anyone who wants to come listen! There will also be prize giveaways, complimentary food, and music. The event will be held out front the G2 Location at 27101 Aliso Creek Rd #146, Aliso Viejo, CA 92656. Click here for more information.

Dana Point: Whale Walk and Talk

This walk focuses on the offshore visitors that can be frequently seen from the Dana Point Headlands. It is designed to introduce participants to our whale "seasons" (ie, November to May equals Grays and Summer Blues)! In particular, this walk focuses on what types of marine mammals we see, how to identify them, where and when to look for them, and how to responsibly view marine wildlife.

The Whale Walk and Talk occurs on the second Saturday of each month. The walk begins at the Nature Interpretive Center (34558 Scenic Drive, Dana Point, CA 92629) at 9 AM and is approximately 1.5 to 2 hours long, covering about 1.5 miles.

Please RSVP to DPNaturalResources@danapoint.org or (949) 248-3527.

Laguna Beach: Nursery Plant Propagation and Care Day

Come join us at the Laguna Coast Wilderness Park where we help restore the local habitat. Gain hands-on experience with habitat restoration while working alongside other zany and interesting plant lovers! Volunteers may collect seeds, sow seeds in flats, bump plants up, plant at restoration sites, sterilize plant containers, and/or help maintain the facilities for the plants. Be sure to wear closed toe shoes, layered clothing and a hat and sunscreen. Free parking passes will be provided for you at the nursery. Online reservations required: www.lagunacanyon.org/activities. For questions, call 949-497-8324.

Lake Forest: New Business Reception

On January 18th from 6-7:30PM the City of Lake Forest and Lake Forest Chamber of Commerce are co-sponsoring the Lake Forest New Business Reception at Lake Forest City Hall. The reception is designed to provide new businesses with an overview of the City's Business Development and Attraction Program and the various business tools that can enhance their operations in Lake Forest. Businesses wishing to network with other Lake Forest businesses are also invited.

The reception will be held in an open-house format to facilitate greater agencies participating in the event. Information booths will include Business Watch, Planning and Building, Lake Forest Chamber of Commerce, U.S. Small Business Administration, the Orange County Business Service Center, SCORE Business Counselors, Small Business Development Center, and more. For more information, call 949-461-3567.

Mission Viejo: E-Waste Recycling Event

If you have an old computer, hard drive, TV or other electronic device, drop it off at Mission Viejo City Hall on Saturday, January 21 between 9 a.m. to 3 p.m. for a good cause! Bring old cameras, laptops, monitors, copiers, radios, fax machines, cell phones, keyboards, printers, scanners, hard drives, MPS players, and other electronics for recycling. Proceeds will benefit Relay For Life of Mission Viejo, an annual American Cancer Society event that raises money for cancer research and programs.

For more information, contact mvgreen@cityofmissionviejo.org or 949-470-3010.

This week I:

Participated in the OCTA Board meeting.
Chaired, for the final time, the OC Board of Supervisors meeting.
Attended the Swearing-In Ceremonies for Supervisors Spitzer and Do.
Presented a Board Resolution to Bill Wood of Laguna Beach in honor of his retirement after 23 years of outstanding service on the OC Human Relations Commission.
Joined Supervisor Steel in presenting a Board Resolution in recognition of Korean American Day.
Participated in the Local Agency Formation Commission (LAFCO) Board meeting.
Participated in the California State Association of Counties (CSAC) Executive Committee meeting in Sacramento.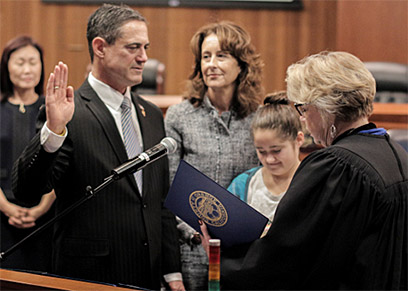 Supervisor Spitzer receiving the Oath of Office.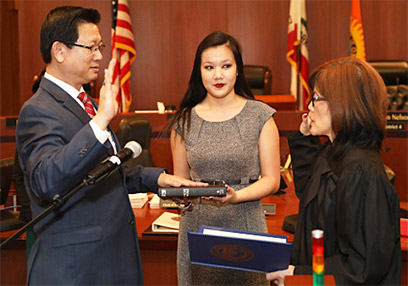 Supervisor Do receiving the Oath of Office.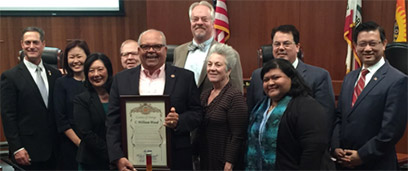 Presenting a Board Resolution to Bill Wood for his 23 years of service on the Human Relations Commission.




Presenting a Board Resolution in recognition of Korean American Day.

My Staff:

Attended the Aliso Viejo City Council meeting to present a certificate of recognition to outgoing Mayor Mike Munzing.
Participated in a "Meeting of the Minds" hosted by Orange County United Way at UC Irvine to discuss ending homelessness in Orange County and develop actions items for 2017.
Attended the Laguna Hills "State of the City" reception.
Participated in a Point-In-Time Count of the Homeless volunteer training session.
Toured the Westminster Therapeutic Residential Center.
Toured the GD Biosciences facility.
Attended the Dana Point Harbor Association meeting.
Attended the TCA Foothill Eastern 241/91 Express Ad Hoc meeting.
Attended the Laguna Niguel Chamber of Commerce Installation Breakfast to present a proclamation to David Simpson, outgoing Chairman of the Board of Directors, and a certificate of recognition to outgoing Board Member Heidi Fisher.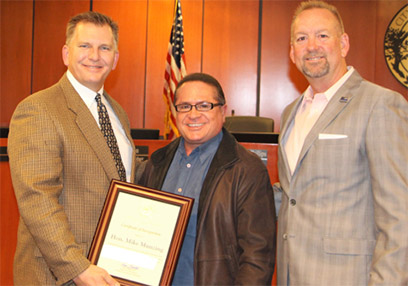 Presenting a certificate of recognition to outgoing Aliso Viejo Mayor Mike Munzing (left) with current Mayor Dave Harrington.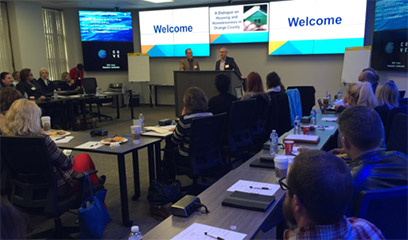 At "The State of Homelessness in Orange County" working meeting at UCI.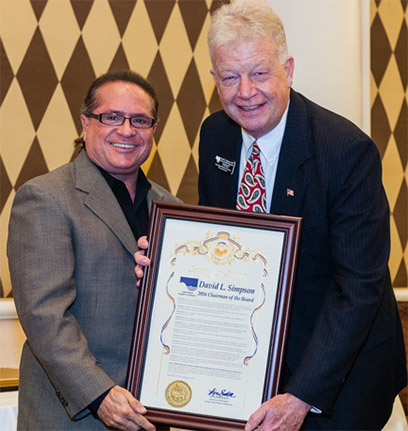 Presenting a proclamation to outgoing 2016 Laguna Niguel Chamber Chairman David Simpson.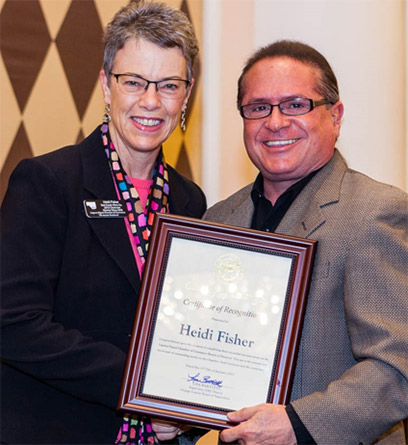 Presenting a certificate of recognition to outgoing Laguna Niguel Chamber Board Member Heidi Fisher.

South County Elected Officials in the Community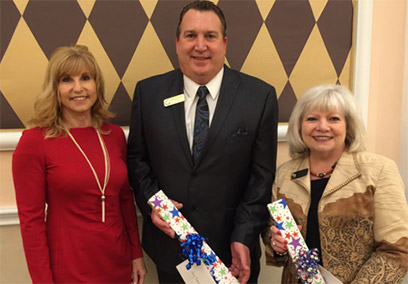 Laguna Niguel Councilwoman Laurie Davies, Mayor Jerry Slusiewicz, and Councilwoman Elaine Gennawey at the Laguna Niguel Chamber Installation Breakfast.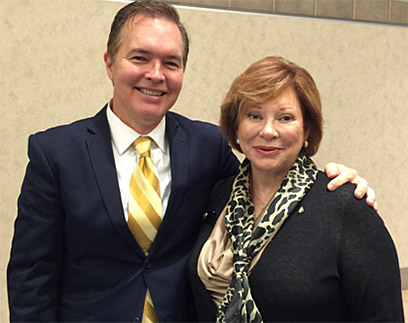 Laguna Hills Mayor Don Sedgwick and Councilwoman Barbara Kogerman at the Laguna Hills "State of the City" Luncheon.

For questions or comments regarding Supervisor Bartlett's E-Newsletter please contact the Supervisor's office staff at: (714) 834-3550 or Tanya.Flink@ocgov.com.