"Under the Flight Path" Community Forum

Earlier this week I was pleased to host a community forum titled "South Orange County: Under the Flight Path". The forum drew several hundred people to Laguna Niguel City Hall to receive information on the FAA's Metroplex project and learn what they can do to ensure their concerns are heard. We had a robust program which leveraged the expertise of John Wayne Airport staff and included presentations from Supervisor Todd Spitzer, Laguna Niguel Mayor Jerry Slusiewicz, Congressman Dana Rohrabacher, and myself.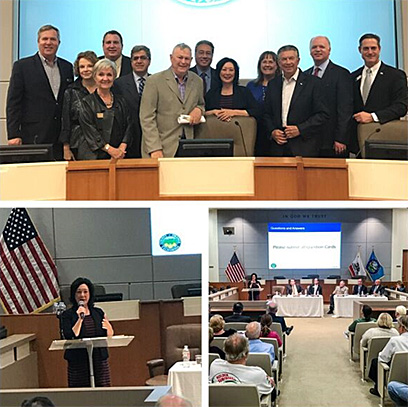 The event was a clear indication that the County, the Board of Supervisors, the cities and our residents are united in our effort to ensure the FAA hears our voices and will work together to preserve the quality of life we have come to know and love.

Unfortunately, authority over aircrafts in flight resides solely with the federal government. I encourage residents who have experienced negative impacts due to aircraft overflights to reach out to your federal representatives as well as the FAA. Complaints regarding aircraft noise can be filed by contacting the FAA's Aviation Noise Ombudsman at (202) 267-3521 or via email at
9-AWA-NoiseOmbudsman@faa.gov.

Although several hundred people attended, I understand not everyone was able to make the forum but would like access to the information that was shared. As such, I invite you to click on the video below to see the presentation in its entirety.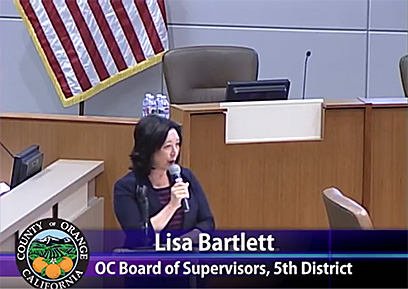 Click on the image above to view a video.
I would like to give special thanks to Laguna Niguel Mayor Jerry Slusiewicz and the City of Laguna Niguel for allowing us to use their venue; Supervisor Todd Spitzer for joining me; Congressman Dana Rohrabacher for his presentation; JWA Deputy Airport Director Eric Freed and JWA Access & Noise Manager Nick Gaskins for providing their technical expertise and analysis; and to my staff, Policy Advisor James Dinwiddie and my Community Relations Advisor Sergio Prince, who were instrumental in organizing the forum.

To view a photo album of the event, please click here.

2nd Annual Celebrate Ladera

Last weekend, I was pleased to sponsor and participate in the 2nd annual "Celebrate Ladera" event, a community street fair in Ladera Ranch filled with family-friendly activities and fun. The event also featured a number of County departments and agencies with educational booths providing information on the many services and resources that are available to residents of the unincorporated community of Ladera Ranch.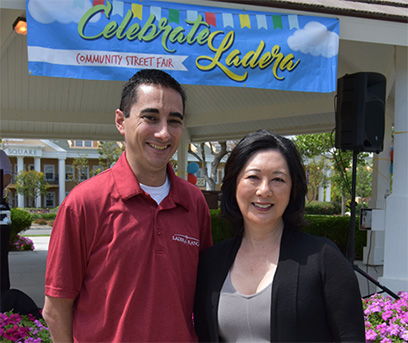 With LARCS Lifestyle Director George Blair at Celebrate Ladera.
To view a photo album of the event, please click here.

Fifth District Calendar

7th Annual South County Job Fair

I am pleased to host the 7th Annual South Orange County Job Fair in partnership with the Orange County Development Board on June 1 from 9 AM to 12 PM at the Laguna Hills Mall. I invite all interested parties to attend this excellent event designed for South County businesses and job seekers.

Over 500 job seekers are expected to attend the South County Job Fair to meet with more than 50 employers accepting resumes, interviewing and hiring to fill positions throughout Orange County. Free resume critique and professional coaching will also be ongoing during the event.

Don't miss the opportunity to network with employers and access resources for skill training opportunities that could lead to a new or better career pathway! A priority registration table and wrist bands will also be available to assist and identify Veteran participants.

To speak with someone about the Job Fair, please contact Lisa Burns at (949) 341-8011 or lisa.burns@oconestop.com. For more information, please click here or on the flyer below.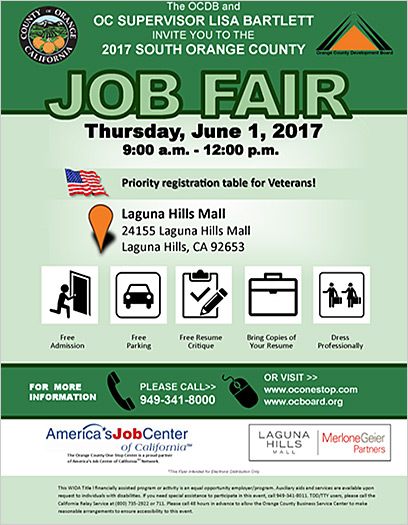 Click on the image above to view a PDF version.

OC Passport Day: Get your Passport to Paradise!

Please join me and Orange County Clerk-Recorder Hugh Nguyen at OC Passport Day! The event is designed to provide South County residents with the opportunity to obtain a passport without having to miss work. Passport seekers will also be able to submit their applications and obtain passport photos at the event. The Clerk-Recorder hopes to make the passport process easier for parents, who must be present to obtain passports for children younger than 16 years of age.

Appointments for passport applications are recommended due to an anticipated increase in demand for services and the fast approaching summer travel season. To save time, passport applications can be completed in advance online at www.ocrecorder.com. To download your Passport Check List, please click here. For more information about OC Passport Day, click on the flyer below.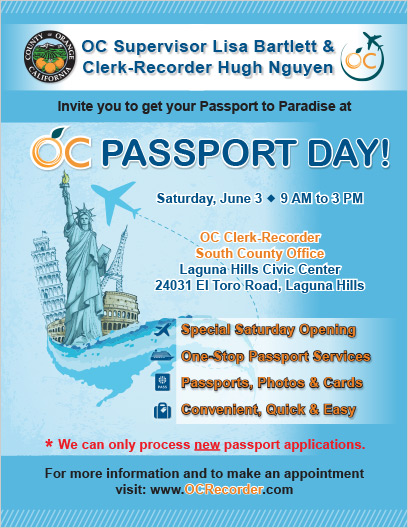 Click on the image above to view a PDF version.

TCA Public Forum on South County Regional Traffic Relief

Many of you have expressed interest or concern regarding various conceptual ideas proposed by the public that will be considered as part of an overall effort for addressing South Orange County regional traffic relief.

So far, through public forums and input from local elected officials the Transportation Corridor Agencies (TCA) has received eighteen (18) conceptual ideas including widening the I-5 Freeway, multiple SR-241 to I-5 connections, widening and expanding existing arterials, building mobility hubs to connect multiple modes of transportation, expanding train service, expanding bus service, connecting SR-241 with SR-73, and developing contiguous bike lanes throughout South Orange County.

I encourage you to participate in our upcoming forum June 5 at Saddleback College in Mission Viejo to learn more about the process for reviewing the ideas and solving our growing traffic problems with long term solutions. For more information on this effort, please visit the TCA website here. To learn more about previous forums and information gathered from the public, as well as to RSVP for the June 5 forum, please click here.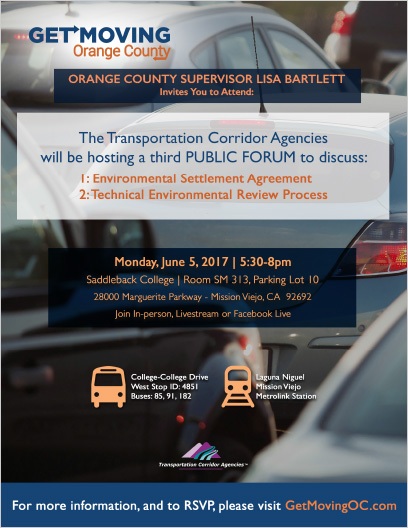 Click on the image above to view a PDF version.

County Connections

Clerk-Recorder Earns Prestigious National Award

The Orange County Clerk-Recorder's Auto-Indexing and Redaction – Increasing the Accuracy and Access to the Public Records Program has been recognized with an Achievement Award from the National Association of Counties (NACo). The NACo awards honor innovative, effective county government programs that enhance services for residents.

Orange County's Auto-Indexing and Redaction system increases the accuracy and security of the public records through the use of innovative software. Some of the benefits of this system include allowing the Clerk-Recorder Department to make recorded real property documents available to the public 48 hours after the documents have been recorded, eliminating the need for an outside redaction vendor, as well as providing cost savings and increasing the accuracy of the records by eliminating the manual entry of information. Click here to read the full press release.

Eco Challenge Poster Contest Deadline is June 30

There is still time to enter the 2017 Eco Challenge Poster Contest. OC Waste & Recycling is teaming up with Angels Baseball again to inspire environmental stewardship in youth between the ages of 8 and 14.

The focus of this year's contest is organics recycling – reducing the amount of food waste and green waste sent to landfills from our homes, schools and communities. Contestants create original art that illustrates how to reduce and recycle green waste and food waste. One winner from the Fifth District will win a Bat Kid Experience, including a visit to the dugout to meet the Angels, tickets to a game, a Bat Kid Jersey, and an on-field introduction!

Full rules and eligibility details are available at OC Bat Kids.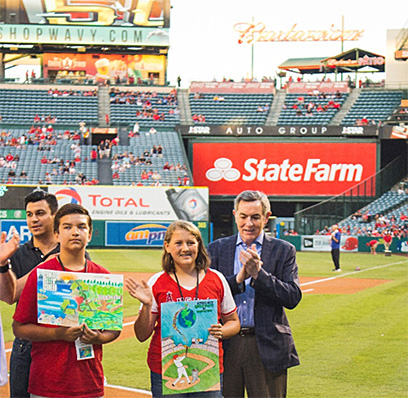 My Chief of Staff, Paul Walters, with last year's Fifth District Winner, Elisa Sirin.

Be A 'Roll' Model: Practice Safety and Awareness for National Bicycle Safety Month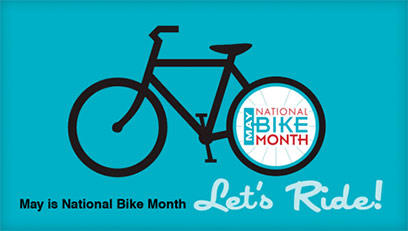 The Orange County Sheriff's Department and the California Office of Traffic Safety (OTS) call upon bicycle riders and motorists to be cautious during May's National Bicycle Safety Month, and every other month during the year. California has the Move Over Law requiring motorist to share the road and pass bike riders with at least a 3- foot cushion. Support community efforts in your community, be involved in bicycle safety, whether while riding a bike, or driving a vehicle. Officers will focus on violations observed by both motorist and cyclist.

For more information on Bicycle Safety Month, please click here.

Meet OC Animal Care's Pet of the Week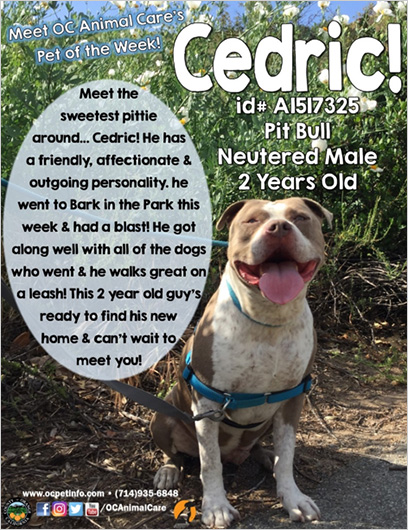 Click on the image above to view a PDF version.

Animals for Armed Forces Day

The Orange County Animal Shelter is honoring our members of the armed forces and their families by waiving adoption fees during Memorial Day Weekend (licensing and microchip fees still apply). This fee waiver applies to all current and past participants and their immediate families; see the flyer below for details.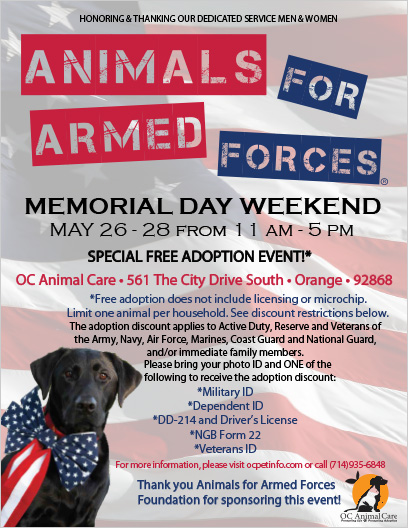 Click on the image above to view a PDF version.

South County Spotlight

Deputy Zachariah Scott named National Law Enforcement Officer of the Year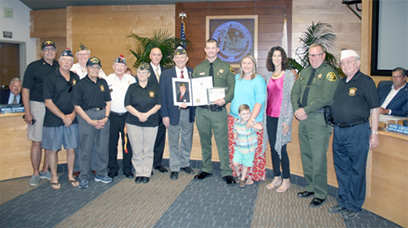 Deputy Scott at the special Dana Point City Council presentation.
Deputy Zach Scott, an Orange County Sheriff's Department Deputy assigned to Dana Point Police Services, was recently recognized as the Veterans of Foreign Wars (VFW) National Law Enforcement Officer of the Year. Deputy Scott has taken the initiative to be proactive in public safety by becoming an expert in drunk driving enforcement. His efforts have saved the lives of many Dana Point residents.

This past year, he was selected by his peers to become a Field Training Officer, which he has excelled at. Deputy Scott is the first member of the OC Sheriff's Department to receive this honor. The County is extremely fortunate to have him on our team and we thank him for keeping our community safe.

Out and About in South County

Dana Point: 20th Annual Doheny Blues Festival

Come out and enjoy the 20th Annual Doheny Blues Festival, May 20-21 at Doheny State Beach. For the last 20 years, the Doheny Blues Festival has created a festival environment like none other! Three alternating stages of blues, rock and soul music, legendary artists, a beachfront venue, microbrews, overnight camping, an eclectic vendor village and 20,000 music fans throughout the weekend! The nationally-recognized festival has welcomed a mix of music legends and rock headliners, and the 2017 lineup will not disappoint! For more information, please click here.

Coto de Caza: Bugs & Butterflies at Riley Wilderness Park

On Sunday, June 4, bring the family to Riley Wilderness Park to explore the butterfly garden and learn about our community's natural insect inhabitants. There will be a plethora of fun and educational activities for all ages, but be sure not to miss the 3 PM butterfly release! See the flyer below for details.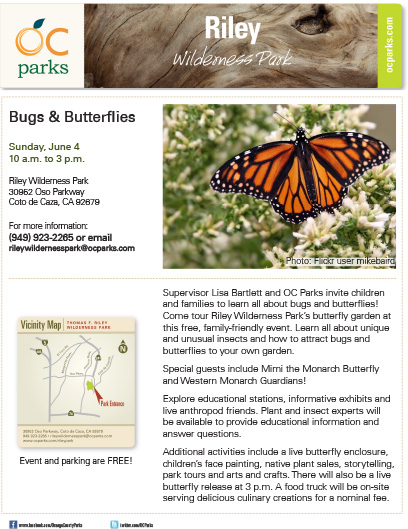 Click on the image above to view a PDF version.

Laguna Beach: PantryPalooza!

Laguna Food Pantry believes no one should go hungry and provides free groceries to anyone struggling to make ends meet. Come shake off your blues while helping others by attending Laguna Food Pantry's third annual PantryPalooza on Friday, May 19 from 5 PM to 7 PM at the White House Restaurant in Laguna Beach. For more information, please click here.

Laguna Beach: Friday Night Sunset Serenades

Sunset Serenades are a beloved Laguna Beach tradition, taking place at the Heisler Park amphitheater on Friday nights in May at 6:30 PM. It's hard to beat such a beautiful setting, with its ocean view and surrounding plant life in which to listen to great music. For details and the schedule of performers, please click here.

Laguna Beach: Laguna Bluebelt Artist Reception

View the winning photographs of the Laguna Bluebelt Coalition's Annual Photo Contest and mingle with the artists who created them. This unique event will take place on Friday, June 2, from 6 PM to 8 PM at the Forest and Ocean Gallery in Laguna Beach. Please click here for details.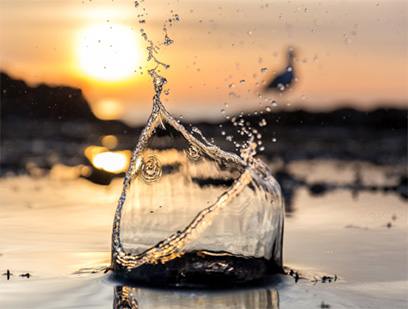 "Plop" by Brian Crawford – Second Place Professional Winner.

Laguna Hills: Memorial Day Half Marathon

On May 29, runners of all skill levels are welcome to participate in the event of their choice, the Half Marathon (13.1 miles), 10K run/walk (6.2 miles), 5K run/walk (3.1 miles) or Kids Run (1/2 mile). The City of Laguna Hills will donate $3 per race registration to the 3/5 Marine support committee. In addition to the running events, the City of Laguna Hills will once again hold a one-day community expo featuring live music and more than 50 exhibitors and vendors from 7:30 AM to 11:30 AM. For race times, fees, course descriptions, information regarding sponsorships, entertainment, parking, directions and more, visit the race website.

Laguna Niguel: Human Trafficking Town Hall

Human Trafficking: What is it? Would you recognize the signs? What should you do if you suspect it? How do we help the victims? Learn more Thursday, May 25, from 7 PM to 9 PM at the Laguna Niguel City Hall Community Room. Due to the sensitive nature of the topic, we ask that all attendees be at least 16 years of age. Click here for additional details.

Lake Forest: Prelude in the Park

Bring your family and friends to the 10th Annual Prelude in the Park, a community concert to benefit the El Toro High School Instrumental Music Department. The concert will showcase of a wide variety of popular music styles by the El Toro High School music ensembles. Be sure to bring a lawn chair or blanket. This event will be held May 20 at Pittsford Park in Lake Forest from 3 PM to 6:30 PM. Click here for details.

Irvine: Fair Chance Hiring Summit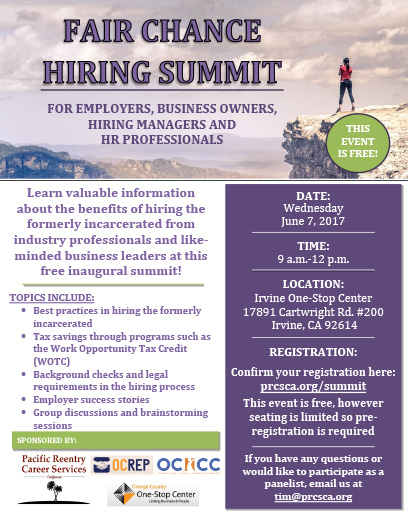 Click on the image above to view a PDF version.

RSM: SMWD Water Awareness Festival

On May 20 from 10 AM to 2 PM, Santa Margarita Water District will host its Water Awareness Festival, a family-friendly event where adults and children are able to learn more about water use efficiency and local supply reliability. SMWD customers are invited to enjoy a day of fun and learning with a hands-on tide pool exhibit, water efficient irrigation and native plant displays, water presentations, games and crafts, and music and face painting. Tours of the Chiquita Wastewater Treatment Plant are also offered. Click here for details.

San Clemente: Memorial Day Ceremony

On Memorial Day, May 29, the City of San Clemente will hold its annual ceremony at the Park Semper Fi Marine Monument to honor all branches of our military. Everyone is welcome to attend. See the flyer below for details.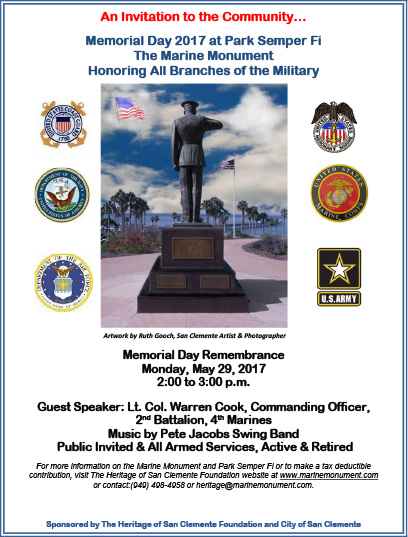 Click on the image above to view a PDF version.

This week I:

Hosted a South County Community Forum titled "Under The Flight Path" held in Laguna Niguel City Hall.
Participated in the California State Association of Counties (CSAC) Board of Directors meeting in Sacramento.
Participated in the Urban Counties Caucus Board meeting in Sacramento.
Participated in the California Transportation Commission's Road Charge Technical Advisory Board Committee meeting in San Diego.
Gave welcoming remarks and hosted a County Information Booth at the Celebrate Ladera event.

With Mission Viejo Councilman Greg Raths (left), Laguna Beach Mayor Toni Iseman, San Juan Capistrano Mayor Kerry Ferguson, Laguna Niguel Mayor Jerry Slusiewicz amnd Mayor Pro Tem Fred Minagar, Congressman Dana Rohrabacher, Aliso Viejo Councilman Ross Chun, CUSD Board President Martha McNicholas, former Supervisor Tom Wilson, Laguna Niguel Councilman Mark Jennings, and Supervisor Todd Spitzer at the South County Forum in Laguna Niguel.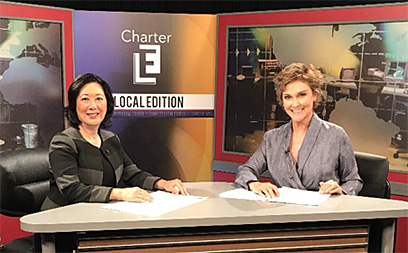 Click here to watch my recently released interview on sober living homes with Leslie Leyton on Charter Local Edition.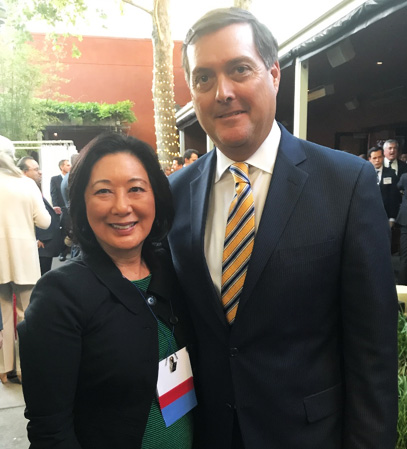 With Assemblyman Bill Brough at the CSAC Legislative Reception in Sacramento.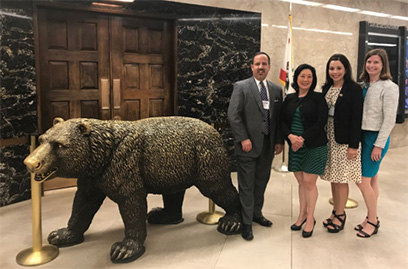 Met with legislators in the Capitol during the CSAC Legislative Conference. Pictured: Peter DeMarco (Director of Legislative Affairs), Senior Policy Advisor Kelley Lee, and Jessica Witt (Deputy Chief Operating Officer).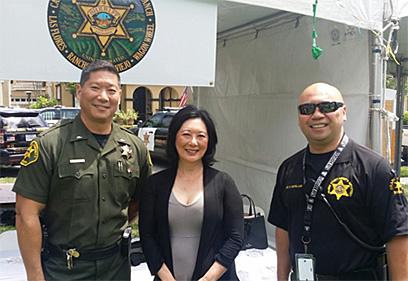 With Lt. Mitch Wang and Sgt. Rocky Castellano at Celebrate Ladera.

My Staff:

Presented a Certificate of Recognition at the Pacific Park CrossFit ribbon cutting in Aliso Viejo.
Presented a Certificate of Recognition at the Paris Baguette ribbon cutting in Aliso Viejo.
Presented a Certificate of Recognition at the Pinot's Palette ribbon cutting in Rancho Santa Margarita.
Attended the South Orange County Economic Coalition Executive meeting.
Attended the Ladera Ranch Civic Council meeting.
Presented Certificates of Recognition at the Angels for the Arts event at Saddleback College
Presented certificates of recognition at the Saddleback College VETS Program End of Year Recognition event.
Presented a Certificate of Recognition at the South County Adult Day Services ribbon cutting in Laguna Woods.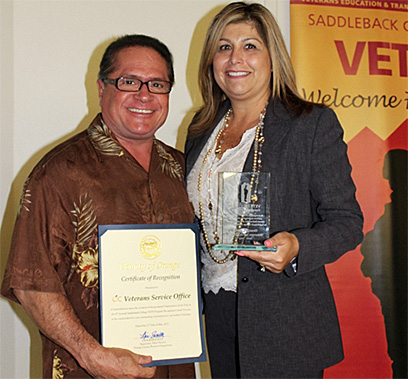 Presenting a Certificate of Recognition to OC Community Services Director Renee Ramirez in honor of the OC Veterans Service Office at the Saddleback College VETS event.

South County Elected Officials in the Community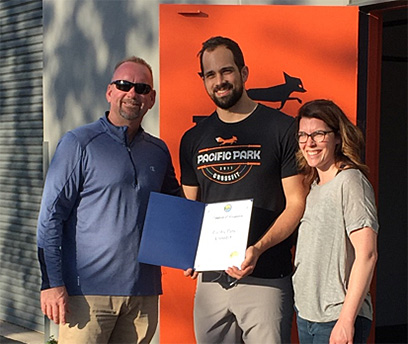 Aliso Viejo Mayor Dave Harrington at the Pacific Park CrossFit ribbon cutting.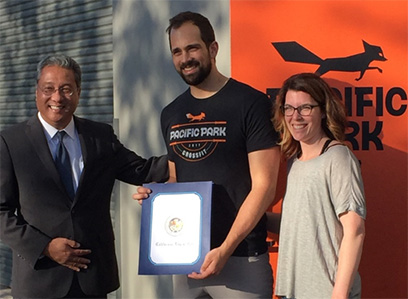 Aliso Viejo Councilman Ross Chun at the Pacific Park CrossFit ribbon cutting.

For questions or comments regarding Supervisor Bartlett's E-Newsletter please contact the Supervisor's office staff at: (714) 834-3550 or email Sergio.Prince@ocgov.com or Tanya.Flink@ocgov.com.