Happy Memorial Day!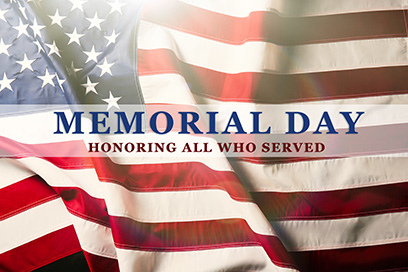 This Monday, May 29, is a special day to honor the brave men and women who made the ultimate sacrifice for our country. Memorial Day allows us to come together with our local communities to remember those who fought and died for our freedoms.

We extend our deepest condolences to the families whose courageous soldiers left this world too soon, and we celebrate the great nation their sacrifices have provided us. Let the parades we attend and the flags we wave be a reminder of the lives that were given to keep us safe and free today.

On Memorial Day, please join me in paying tribute to the selfless patriots who gave their lives serving our nation and celebrate their heroism. Thank you so much for your service!

Fifth District Calendar

7th Annual South County Job Fair

I am pleased to host the 7th Annual South Orange County Job Fair in partnership with the Orange County Development Board on June 1 from 9 AM to 12 PM at the Laguna Hills Mall. I invite all interested parties to attend this excellent event designed for South County businesses and job seekers.

Over 500 job seekers are expected to attend the South County Job Fair to meet with more than 50 employers accepting resumes, interviewing and hiring to fill positions throughout Orange County. Free resume critique and professional coaching will also be available at the event.

Don't miss this opportunity to network with employers and access resources for skill training opportunities that could lead to a new or better career pathway! A priority registration table and wrist bands will also be available to assist and identify Veteran participants.

To speak with someone about the Job Fair, please contact Lisa Burns at (949) 341-8011 or lisa.burns@oconestop.com. For more information, please click here or on the flyer below.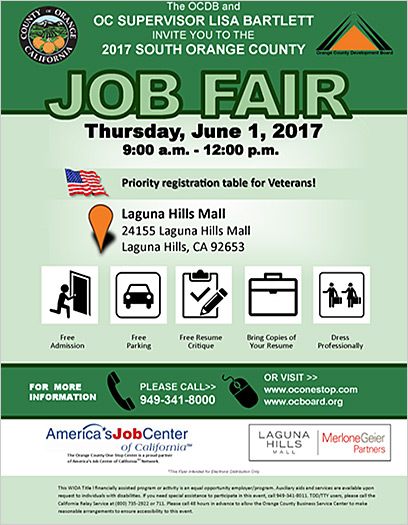 Click on the image above to view a PDF version.

OC Passport Day: Get your Passport to Paradise!

Please join me and Orange County Clerk-Recorder Hugh Nguyen at OC Passport Day! The event is designed to provide South County residents with the opportunity to obtain a passport without having to miss work. Passport seekers will also be able to submit their applications and obtain passport photos at the event. The Clerk-Recorder hopes to make the passport process easier for parents, who must be present to obtain passports for children younger than 16 years of age.

Appointments for passport applications are recommended due to an anticipated increase in demand for services and the fast approaching summer travel season. To save time, passport applications can be completed in advance online at www.ocrecorder.com. To download your Passport Check List, please click here. For more information about OC Passport Day, click on the flyer below.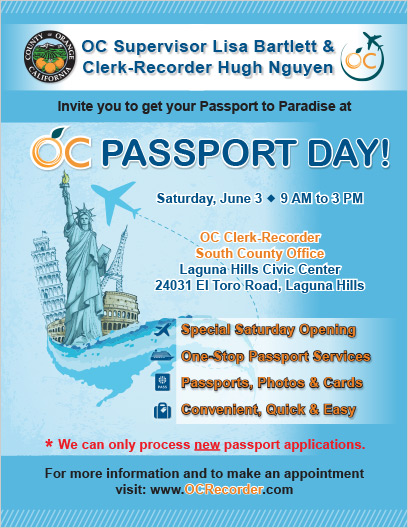 Click on the image above to view a PDF version.

TCA Public Forum on South County Regional Traffic Relief

Many of you have expressed interest or concern regarding various conceptual ideas proposed by the public that will be considered as part of an overall effort for addressing South Orange County regional traffic relief.

So far, through public forums and input from local elected officials the Transportation Corridor Agencies (TCA) has received eighteen (18) conceptual ideas including widening the I-5 Freeway, multiple SR-241 to I-5 connections, widening and expanding existing arterials, building mobility hubs to connect multiple modes of transportation, expanding train service, expanding bus service, connecting SR-241 with SR-73, and developing contiguous bike lanes throughout South Orange County.

I encourage you to participate in our upcoming forum June 5 at Saddleback College in Mission Viejo to learn more about the process for reviewing the ideas and solving our growing traffic problems with long term solutions. For more information on this effort, please visit the TCA website here. To learn more about previous forums and information gathered from the public, as well as to RSVP for the June 5 forum, please click here.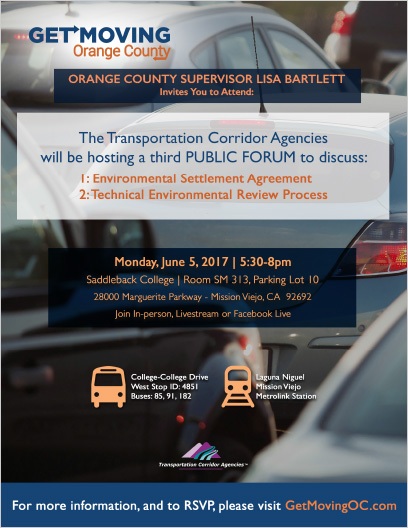 Click on the image above to view a PDF version.

County Connections

County Launches Senior Resources Mobile App

The County is always looking for new ways to increase engagement with the senior members of our community and their families. At the 10th Annual South County Senior Summit I hosted May 12, the Orange County Office on Aging announced it had launched the OC Senior Resources mobile application.

The free mobile app allows the public to easily access senior services and resources, such as disability services, caregiver support, employment, education, financial assistance and insurance. Additional features allow individuals to seek hotline numbers, behavioral health services, veteran benefits, and volunteer opportunities.

The OC Senior Resources mobile app is available for download on Android and iPhone (IPad version available June 1). Simply search "OC Senior" on the App Store and Google Play.

Board of Supervisors Recognizes Doris Starling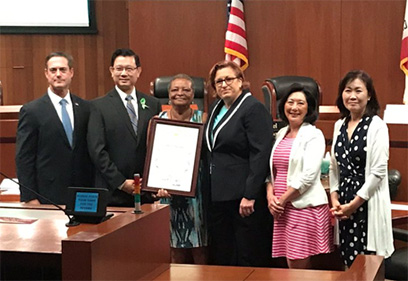 Presenting a Board Resolution to Doris Starling (3rd from left).
The Board was pleased to recognize Doris Starling from Midnight Mission during our meeting Tuesday for her outstanding service at The Courtyard in Santa Ana. Doris has been instrumental in operating The Courtyard, which provides shelter and services to over 400 homeless individuals each night. Big thanks to Doris for having a huge role in serving Orange County's vulnerable homeless population!

Orange County Receives 20 Prestigious Awards

The County of Orange received a total of 20 awards this month, including 16 Achievement Awards from the National Association of Counties (NACo) and four Golden Hub of Innovation awards from the Association of California Cities-Orange County (ACC-OC).

Among these, the initiative to create a new, shared-services Orange County Information Technology (OCIT) organization was designated "Best of Category" in the NACo category for County Administration and Management.

Charles Eckstrom, Assistant Chief Information Officer, also received the Innovator of the Year Award from ACC-OC for his work championing innovation as the key to public policy solutions.

Please click here to view all of the awards.

Youth Summer Bus Passes Available for Half Price

The Orange County Transportation Authority is encouraging youth to explore their community this summer using the discounted OCTA Youth Summer Pass.

The 30-Day Youth Summer Pass is a limited-time discount on the youth monthly pass. It's being offered to youth ages 6 to 18 and costs $20, half off the regular price. It is valid for unlimited rides on the 65 OC Bus routes for 30 consecutive days between June 1 and August 31. The Youth Summer Pass can be conveniently purchased using the mobile ticketing feature of the OC Bus app. Please click the link below for other purchasing options.

As part of this year's promotion, OCTA is offering prizes, including Knott's Berry Farm tickets, movie theater tickets and gift cards, to a lucky winner each week. To enter, participants are asked to hop on an OC Bus, take a selfie with the special summer bus decal and share their photos on social media using #OCSummerBus.

To find out more about the OCTA Youth Summer Pass, please click here.

Orange County Veterans Legal Clinic Available

On April 18, the Orange County Veterans Service Office and the Veterans Legal Institute received a grant award in the amount of $40,000 from the State of California Department of Veterans Affairs. The money will be used to develop a new monthly free legal clinic at the Orange County Veterans Service Office in Santa Ana. These clinics will expand information, access and referrals for vulnerable "justice involved," transitioning service members, veterans, and their families.

The monthly clinics will start on July 12, 2017 and run through June 2018. They will be held every second Wednesday of each month from 9:00 a.m. to 12:00 p.m. Potential clients can learn more about the clinic by visiting the Orange County Veterans Service Office website.

Orange County Seeks Ethics Commissioners

The Orange County Board of Supervisors is now accepting applications for Commissioners to serve on the County's Campaign Finance and Ethics Commission.

The Commission will consist of five appointed members, one appointment by each Supervisor. Commissioners shall serve terms up to three years and may not serve more than two full terms. A full list of the qualifications and an online application can be found on the Office of Campaign Finance and Ethics Commission website. Proposed commissioners must be confirmed by a majority vote of the Board of Supervisors.

In addition to the Office of Campaign Finance and Ethics, the County of Orange has a fraud hotline for use by County employees, the general public, or vendors reporting suspected waste, fraud, violations of County policy, or misuse of County resources by vendors, contractors or County employees. The County Fraud Hotline number is (714) 834-3608. For more information about reporting fraud, please click here.

Free "Hands Only" CPR Trainings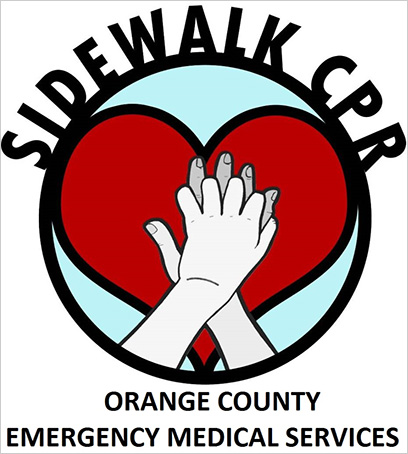 Orange County residents are urged to take just ten minutes out of their day Thursday, June 1 to learn a skill that can save a life: Hands-Only Cardiopulmonary Resuscitation (CPR).

Participants in "Sidewalk CPR" day can receive this training for free at more than 10 locations countywide, including Laguna Beach, thanks to a partnership between the Orange County Emergency Medical Services team and the American Heart Association.

Attendees will learn how and when to use Hands-Only CPR, which is different from conventional CPR because it focuses on chest compression without the need for mouth-to-mouth breathing.

For a full list of locations, please click here.

Eco Challenge Poster Contest Deadline is June 30

There is still time to enter the 2017 Eco Challenge Poster Contest. OC Waste & Recycling is teaming up with Angels Baseball again to inspire environmental stewardship in youth between the ages of 8 and 14.

The focus of this year's contest is organics recycling – reducing the amount of food waste and green waste sent to landfills from our homes, schools and communities. Contestants create original art that illustrates how to reduce and recycle green waste and food waste. One winner from the Fifth District will win a Bat Kid Experience, including a visit to the dugout to meet the Angels, tickets to a game, a Bat Kid Jersey, and an on-field introduction!

Full rules and eligibility details are available at OC Bat Kids.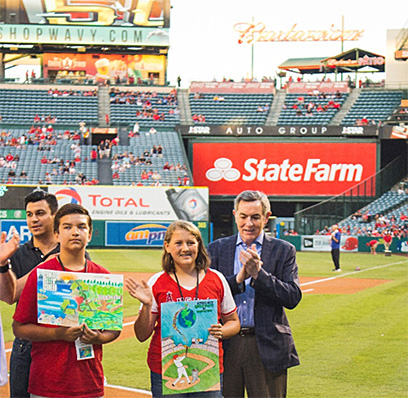 My Chief of Staff, Paul Walters, with last year's Fifth District Winner, Elisa Sirin.

OC Transit Vision


What's your vision of transit in Orange County? Do you want trains, buses, shuttles, or something different?

The Orange County Transportation Authority is asking for your help in shaping the future of transit. You can design your own transit system with the fun and interactive Build Your Own System survey that allows you to select from various transit features that could enhance transit in Orange County. These features include stops, stations, vehicle types, and service. As you develop your transit system, you can see the benefits, such as enhanced ridership, travel time, accessibility, or passenger experience change in real-time. For more info, please click here.

Meet OC Animal Care's Pet of the Week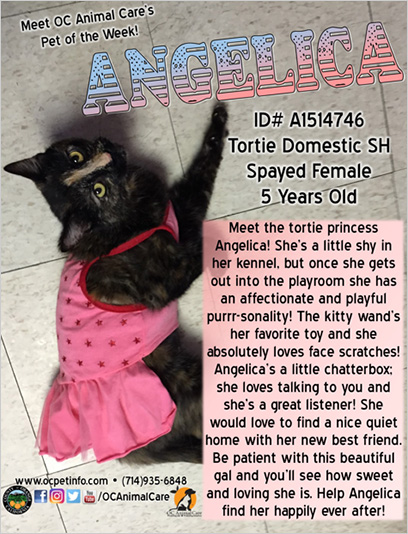 Click on the image above to view a PDF version.

Animals for Armed Forces Day

The Orange County Animal Shelter is honoring our esteemed members of the armed forces and their families by waiving adoption fees during Memorial Day Weekend (licensing and microchip fees still apply). This fee waiver applies to all current and past participants and their immediate families. Please see the flyer below for details.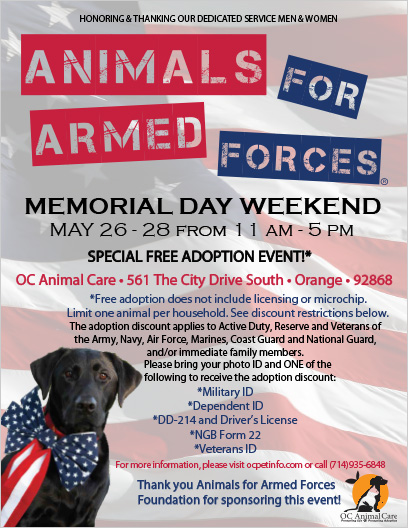 Click on the image above to view a PDF version.

South County Spotlight
Recognizing Rodger Beard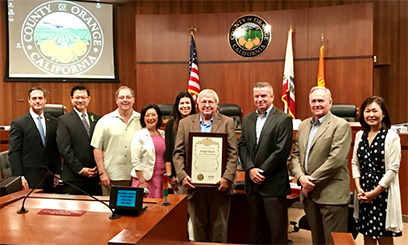 Presenting a Proclamation to Roger Beard (center).
It was an honor to present a proclamation to Roger Beard, Co-Founder and Outgoing President of the Dana Point Boater's Association, during the Board of Supervisors meeting in recognition of his retirement and years of dedication to the Dana Point Harbor community and revitalization efforts.

Out and About in South County

Coto de Caza: Bugs & Butterflies at Riley Wilderness Park

On Sunday, June 4, bring the family to Riley Wilderness Park to explore the butterfly garden and learn about our community's natural insect inhabitants. There will be a plethora of fun and educational activities for all ages, but be sure not to miss the 3 PM butterfly release! See the flyer below for details.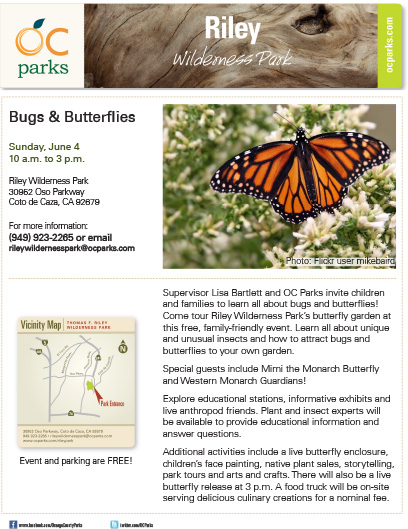 Click on the image above to view a PDF version.

Laguna Beach: Friday Night Sunset Serenades

Sunset Serenades are a beloved Laguna Beach tradition, taking place at the Heisler Park amphitheater on Friday nights in May at 6:30 PM. It's hard to beat the beautiful setting, with its ocean view and surrounding plant life in which to enjoy great music. For details and the schedule of performers, please click here.

Laguna Beach: Laguna Bluebelt Artist Reception

View the winning photographs of the Laguna Bluebelt Coalition's Annual Photo Contest and mingle with the artists who created them. This unique event will take place on Friday, June 2, from 6 PM to 8 PM at the Forest and Ocean Gallery in Laguna Beach. Please click here for details.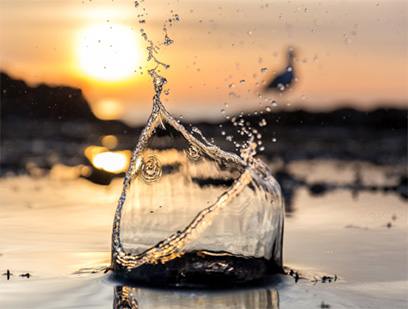 "Plop" by Brian Crawford – Second Place Professional Winner.

Laguna Hills: Memorial Day Half Marathon

On May 29, runners of all skill levels are welcome to participate in the event of their choice, the Half Marathon (13.1 miles), 10K run/walk (6.2 miles), 5K run/walk (3.1 miles) or Kids Run (1/2 mile). The City of Laguna Hills will donate $3 per race registration to the 3/5 Marine support committee. In addition to the running events, the City of Laguna Hills will once again hold a one-day community expo featuring live music and more than 50 exhibitors and vendors from 7:30 AM to 11:30 AM. For race times, fees, course descriptions, information regarding sponsorships, entertainment, parking, directions and more, visit the race website.

Mission Viejo: Saddleback College VETS 5K & Kids Ruck Run

The Saddleback College Veterans Education and Transition Services (VETS), the Society of American Military Engineers, and the Veterans Student Council is proud to present the inaugural "VETS 5K & Kids Ruck Run" benefiting student Veterans in South County. This event will be held Sunday, June 18 at Saddleback College, with the 5k beginning at 8:00 AM. Registration can be completed online or the morning of the race. By participating in this event, you have the opportunity to honor and give back to those who have proudly served our nation. For more information, please click here or on the flyer below.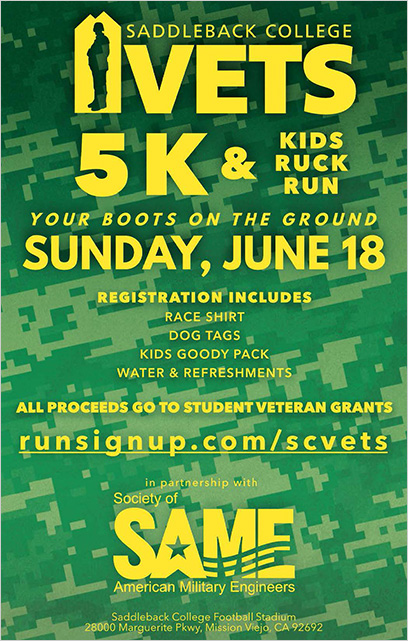 San Juan: Congressman Darrell Issa Town Hall

Congressman Issa invites his constituents to a Town Hall meeting Saturday, June 3 at 9 AM in San Juan Capistrano. This is an opportunity to interact directly with your Congressman, share input, and ask questions of high priority to South County. The meeting will be held at the San Juan Hills High School, inside the theater. Please click here for details and to register.

San Clemente: Memorial Day Ceremony

On Memorial Day, May 29, the City of San Clemente will hold its annual ceremony at the Park Semper Fi Marine Monument to honor all branches of our military. Everyone is welcome to attend. See the flyer below for details.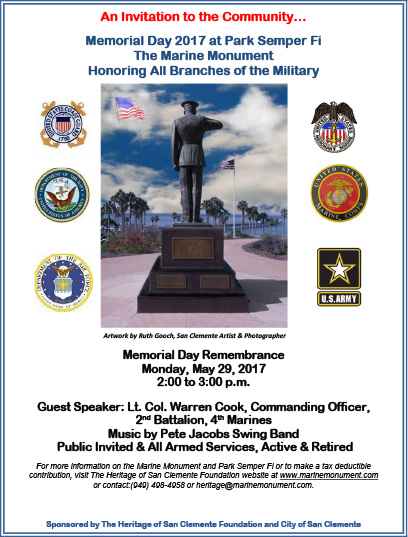 Click on the image above to view a PDF version.

This week I:

Gave welcoming remarks at the Santa Margarita Water District Water Festival in Rancho Santa Margarita.
Presented a Proclamation to David Tuma, Laguna Niguel Citizen of the Year, at the City's Volunteer Appreciation Dinner.
Presented a Proclamation to Rich Sherman and Ryan Cueva at the Doheny Blues Festival in honor of its 20th anniversary.
Participated in the Orange County Transportation Authority (OCTA) Board meeting.
Interviewed with Nobuyuki Nakatani, a Japan-based reporter for SGI Graphic Magazine (SOKA University's founding organization) with over 1.2 million subscribers, on the importance of a college education and the role of youths in fostering peaceful communities.
Participated in the Board of Supervisors meeting and adjourned the meeting in memory of Stu Saffer, a Laguna Beach constituent and founder/editor of Stu News Laguna. Learn about his full life by clicking here.
Participated in the Transportation Corridor Agencies (TCA) Joint Foothill Eastern/San Juan Hills Operations and Finance Committee meeting.
Participated in the Orange County Fire Authority (OCFA) Executive and Regular Board meetings.
Participated in the Center For Higher Ambition Leadership's CEO Roundtable meeting.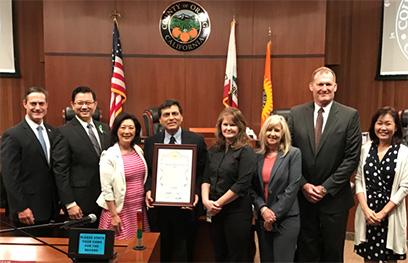 Presenting a Board Resolution to HCA Director Richard Sanchez in recognition of "Lupus Awareness Month."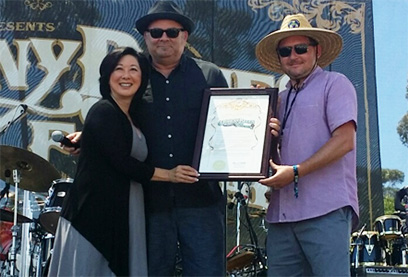 Presenting a proclamation to Rich Sherman (founder/owner) and Ryan Cueva (VP of Operations) in honor the 20th Anniversary of the Doheny Blues Festival.

My Staff:

Presented a Certificate of Recognition at the grand opening of South County Adult Day Services in Laguna Woods.
Staffed a County Information Booth at the Doheny Blues Festival.
Presented a Certificate of Recognition at the Pinot's Palette ribbon cutting in Rancho Santa Margarita.
Attended the South County Faith Leaders Forum at Mount of Olives Church in Mission Viejo to discuss ending homelessness in our community.
Attended the Association of California Cities-Orange County (ACC-OC) Chapter's Legislative & Regulatory Committee meeting.
Attended the OC Public Works Open House.
Attended the Dana Point Historical Society Founder's Day event to present a Proclamation to Georgelean & Carlos Olvera.
Presented a Certificate of Recognition in honor of the RTH Stroke Foundation ribbon cutting in Laguna Hills.
Served as Principal for a Day at Dana Hills High School.
Attended the OC Sheriff's Advisory Council Peace Officer's Memorial.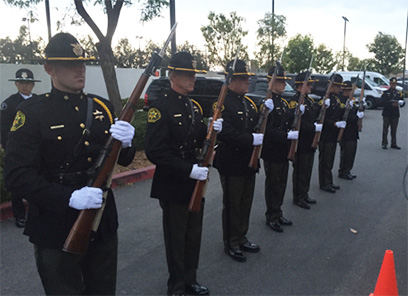 Orange County Sheriff's Peace Officer Memorial.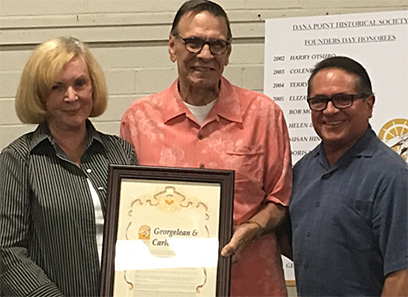 Presenting a proclamation to Georgelean & Carlos Olvera at the Dana Point Historical Society Founders Day event.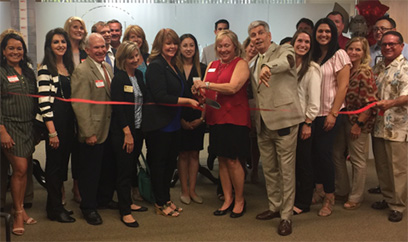 At the RTH Stroke Foundation ribbon cutting in Laguna Hills.

South County Elected Officials in the Community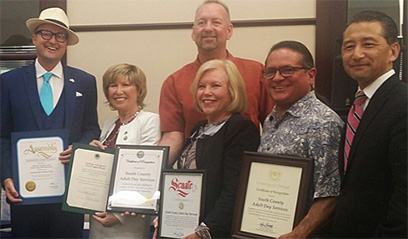 Assemblyman Matt Harper, Laguna Woods Mayor Shari Horne, Aliso Viejo Mayor Dave Harrington, Candice Burroughs (Senator Pat Bates' office), my Community Relations Advisor Sergio Prince, and Aliso Viejo Mayor Pro Tem Phil Tsunoda at the grand opening of South County Adult Day Services.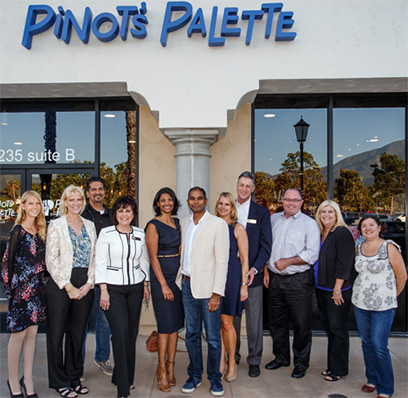 RSM Mayor Carol Gamble, Mayor Pro Tem Mike Vaughn, and Councilman Brad McGirr at the Pinot's Palette ribbon cutting.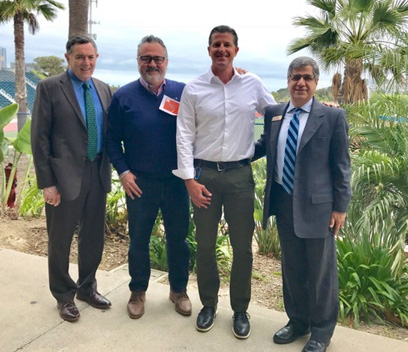 My Chief of Staff, Paul Walters (left), served as "Principal for a Day" at Dana Hills High School. He poses with Dana Point Arts Commissioner Anthony Smalls, Dana Hills Principal Dr. Jason Allemann, and Laguna Niguel Mayor Pro Tem Fred Minagar.

For questions or comments regarding Supervisor Bartlett's E-Newsletter please contact the Supervisor's office staff at: (714) 834-3550 or email Sergio.Prince@ocgov.com or Tanya.Flink@ocgov.com.