Fifth District Calendar

OC Passport Day: Get your Passport to Paradise!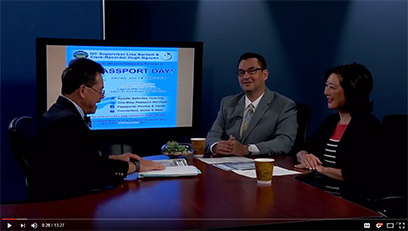 Click above to watch video of Clerk-Recorder Hugh Nguyen and I promoting OC Passport Day.
Please join me and Orange County Clerk-Recorder Hugh Nguyen at OC Passport Day! The event is designed to provide South County residents with the opportunity to obtain a passport without having to miss work. Passport seekers will also be able to submit their applications and obtain passport photos at the event. The Clerk-Recorder hopes to make the passport process easier for parents, who must be present to obtain passports for children younger than 16 years of age.

Appointments for passport applications are recommended due to an anticipated increase in demand for services and the fast approaching summer travel season. To save time, passport applications can be completed in advance online at www.ocrecorder.com. To download your Passport Check List, please click here. For more information about OC Passport Day, please click on the flyer below.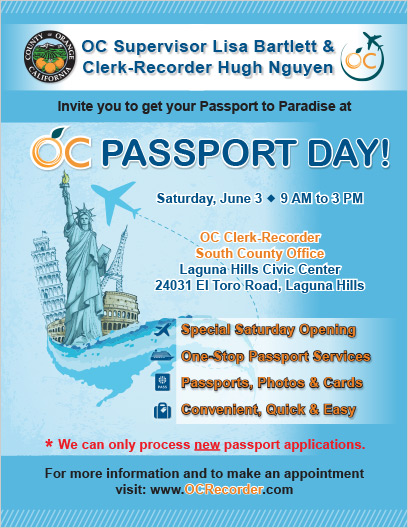 Click on the image above to view a PDF version.

TCA Public Forum on South County Traffic Relief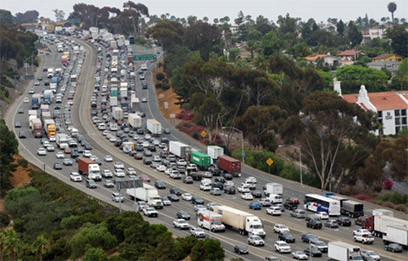 Many of you have expressed interest or concern regarding various conceptual ideas proposed by the public that will be considered as part of an overall effort for addressing South Orange County regional traffic relief.

So far, through public forums and input from local elected officials the Transportation Corridor Agencies (TCA) has received eighteen (18) conceptual ideas including widening the I-5 Freeway, multiple SR-241 to I-5 connections, widening and expanding existing arterials, building mobility hubs to connect multiple modes of transportation, expanding train service, expanding bus service, connecting SR-241 with SR-73, and developing contiguous bike lanes throughout South Orange County.

TCA has reached capacity in person for the upcoming forum June 5 at Saddleback College in Mission Viejo. For those who are unable to secure a seat in the room there will be an opportunity to participate online through Livestream at GetMovingOC.com or Facebook Live at "The Toll Roads" Facebook page, where questions from online participants will be responded to as well.

I have received a number of your calls and emails regarding capacity at the Public Forum next week. Based on your concerns, I formally requested an additional Public Forum held in South County which can accommodate more of the community. I will keep you informed as details for an additional public forum are confirmed.

10th Annual Fête de la Musique in Laguna Beach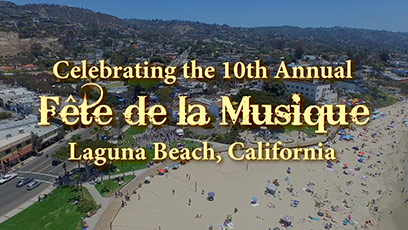 Click above to view the Fête de la Musique video.
I cordially invite all music lovers to attend the 10th anniversary celebration of Fête de la Musique in Laguna Beach!

This milestone event is being presented by the Laguna Beach Sister Cities Association in partnership with my office, the City of Laguna Beach, Laguna Beach Chamber of Commerce, Visit Laguna Beach, and the Orange County Visitors Association.

The award-winning Fête de la Musique, the largest and best attended musical event in Laguna Beach, will take place Saturday, June 17 from 12 noon to 4 PM, and will start at Main Beach.

Also known as World Music Day, Fête de la Musique originated in Paris in 1982. Today, this international phenomenon draws music lovers to over 540 cities worldwide.

Like other locales around the globe, musical performers will be scattered throughout the streets of Laguna, playing a myriad of musical genres and offering wonderful surprises around every corner for all to enjoy!

For more information, please click here or on the flyer below.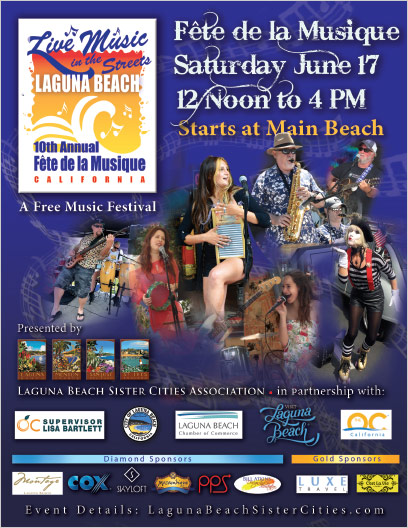 Click on the image above to view a PDF version.

County Connections

DUI Checkpoint in Dana Point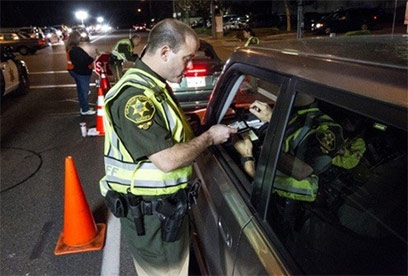 Members of the Orange County Sheriff's DUI Enforcement Team will hold a DUI and Driver's License Checkpoint this weekend to stop and arrest alcohol and drug-impaired drivers as part of the department's ongoing traffic safety campaign. The checkpoint will be held from 7 p.m. Friday, June 2, to 3 a.m. Saturday, June 3.

Drivers are encouraged to download the Designated Driver VIP, or "DDVIP," free mobile app for Android or iPhone. The DDVIP app helps find nearby bars and restaurants that feature free incentives for the designated sober driver, from free non-alcoholic drinks to free appetizers and more. The feature-packed app even has social media tie-ins and even a tab for the non-DD to call Uber, Lyft or Curb.

The cost of a ride home is cheap! Drivers caught driving impaired can expect the impact of a DUI arrest to include jail time, fines, fees, DUI classes, license suspensions and other expenses that can exceed $10,000.

Remember, to report a drunk driver, call 9-1-1.

State-of-the-Art Traffic Management Center Opens

The County of Orange in partnership with the Orange County Transportation Authority, Rancho Santa Margarita, and Caltrans implemented a successful multi-jurisdictional traffic signal synchronization project on Antonio Parkway. The 10-mile project corridor provides significant benefits to commuters including:

16% reduction in travel time
23% reduction in number of stops
33% reduction in delay
The collaboration of multiple agencies provided multi-million dollar cost savings. The cost savings allowed the County to leverage Measure M2, local transportation sales tax dollars to implement the state-of the-art Traffic Management Center which improves efficiencies to monitoring the signals, provides public safety enhancements and allows for future expansion based on funding opportunities.

I applaud the County, OCTA, Caltrans and the City of Rancho Santa Margarita for approaching this project with innovative ideas. This collaboration successfully improved traffic technology and at the same time resulted in cost savings.

Youth Summer Bus Passes Available for Half Price

The Orange County Transportation Authority is encouraging youth to explore their community this summer using the discounted OCTA Youth Summer Pass.

The 30-Day Youth Summer Pass is a limited-time discount on the youth monthly pass. It's being offered to youth ages 6 to 18 and costs $20, half off the regular price. It is valid for unlimited rides on the 65 OC Bus routes for 30 consecutive days between June 1 and August 31. The Youth Summer Pass can be conveniently purchased using the mobile ticketing feature of the OC Bus app. Click the link below for other purchasing options.

As part of this year's promotion, OCTA is offering prizes, including Knott's Berry Farm tickets, movie theater tickets and gift cards, to a lucky winner each week. To enter, participants are asked to hop on an OC Bus, take a selfie with the special summer bus decal and share their photos on social media using #OCSummerBus.

To find out more about the OCTA Youth Summer Pass, please click here.

WANTED: Orange County Ethics Commissioners

The Orange County Board of Supervisors is now accepting applications for Commissioners to serve on the County's Campaign Finance and Ethics Commission.

The Commission will consist of five appointed members, one appointment by each Supervisor. Commissioners shall serve terms up to three years and may not serve more than two full terms. A full list of the qualifications and an online application can be found on the Office of Campaign Finance and Ethics Commission website. Proposed commissioners must be confirmed by a majority vote of the Board of Supervisors.

In addition to the Office of Campaign Finance and Ethics, the County of Orange has a fraud hotline for use by County employees, the general public, or vendors reporting suspected waste, fraud, violations of County policy, or misuse of County resources by vendors, contractors or County employees.

The County Fraud Hotline number is (714) 834-3608. For more information about reporting fraud, please click here.

Eco Challenge Poster Contest Deadline is June 30

There is still time to enter the 2017 Eco Challenge Poster Contest. OC Waste & Recycling is teaming up with Angels Baseball again to inspire environmental stewardship in youth between the ages of 8 and 14.

The focus of this year's contest is organics recycling – reducing the amount of food waste and green waste sent to landfills from our homes, schools and communities. Contestants create original art that illustrates how to reduce and recycle green waste and food waste. One winner from the Fifth District will win a Bat Kid Experience, including a visit to the dugout to meet the Angels, tickets to a game, a Bat Kid Jersey, and an on-field introduction!

Full rules and eligibility details are available at OC Bat Kids.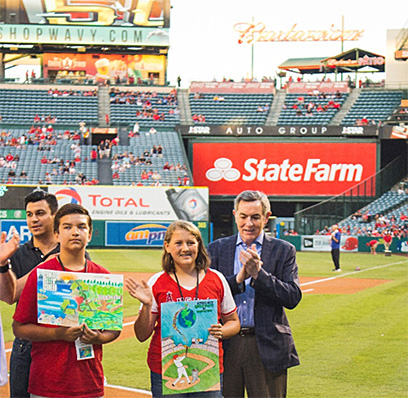 My Chief of Staff, Paul Walters, with last year's Fifth District Winner, Elisa Sirin.

OC Transit Vision


What's your vision of transit in Orange County? Do you want trains, buses, shuttles, or something different?

The Orange County Transportation Authority is asking for your help in shaping the future of transit. You can design your own transit system with the fun and interactive Build Your Own System survey that allows you to select from various transit features that could enhance transit in Orange County. These features include stops, stations, vehicle types, and service. As you develop your transit system, you can see the benefits, such as enhanced ridership, travel time, accessibility, or passenger experience change in real-time. For more info, please click here.

Meet OC Animal Care's Pet of the Week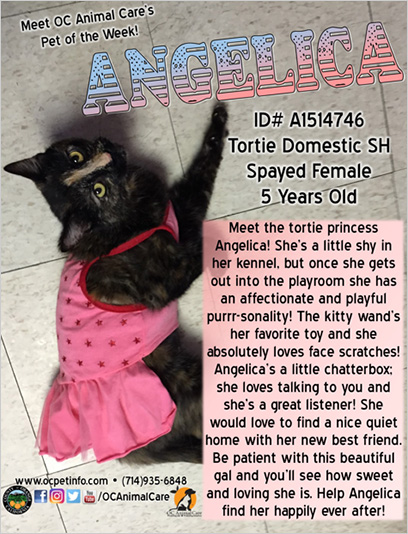 Click on the image above to view a PDF version.

South County Spotlight

Casa Romantica to Create Living Exhibition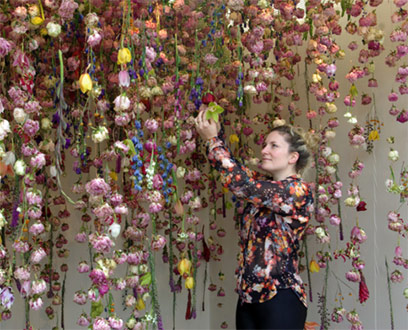 Casa Romantica Cultural Center and Gardens, a nonprofit cultural center in San Clemente, has commissioned renowned artist Rebecca Louise Law to create an art installation.

Casa Romantica is recruiting gardeners from the Southern California area to grow and donate the 8,000 blooms needed to comprise the material for the artwork. The artist and her team will weave and hang the blooms at the Center's gallery in June 2017, and the living exhibition will transform as summer passes.

Casa Coastal: Rebecca Louise Law will lead educational efforts about the benefits of native and drought-tolerant horticulture from an artistic standpoint. To learn more about this project and get involved, please click here.

Out and About In South County

Coto de Caza: Bugs & Butterflies at Riley Wilderness Park

On Sunday, June 4, bring the family to Riley Wilderness Park to explore the butterfly garden and learn about our community's natural insect inhabitants. There will be a plethora of fun and educational activities for all ages, but be sure not to miss the 3 PM butterfly release! See the flyer below for details.

Dana Point: Guest Lecture Series – Sharks

Join the Ocean Institute in welcoming guest lecturer Dr. Chris Lowe from CSU Long Beach's Shark Lab! With shark sightings along our local coastline increasing, Dr. Lowe will speak on sharks, their behavior, and the research done at the Shark Lab. Light refreshments will be available. This event will be held June 15 from 6 PM to 8 PM at the Ocean Institute in Dana Point Harbor. $10 per person. Please click here to register or for more information.

Laguna Beach: Friday Night Sunset Serenades

Sunset Serenades are a beloved Laguna Beach tradition, taking place at the Heisler Park amphitheater on Friday, June 2 and June 9 at 6:30 PM. It's hard to beat the beautiful setting, with its ocean view and surrounding plant life in which to enjoy great music. For details and the schedule of performers, please click here.

Mission Viejo: Saddleback College VETS 5K & Kids Ruck Run

The Saddleback College Veterans Education and Transition Services (VETS), the Society of American Military Engineers, and the Veterans Student Council is proud to present the inaugural "VETS 5K & Kids Ruck Run" benefiting student Veterans in South County. This event will be held Sunday, June 18 at Saddleback College, with the 5k beginning at 8:00 AM. Registration can be completed online or the morning of the race. By participating in this event, you have the opportunity to honor and give back to those who have proudly served our nation. For more information, please click here or on the flyer below.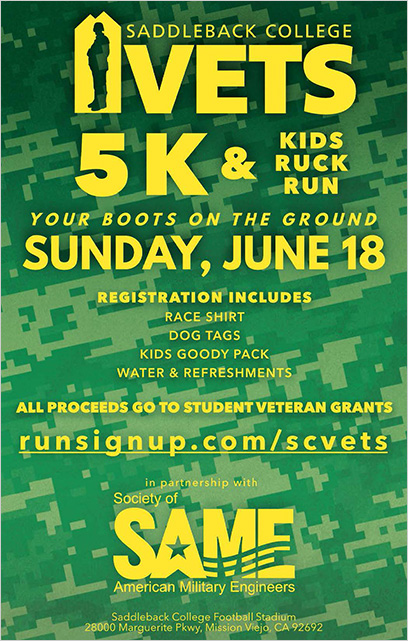 San Juan: Congressman Darrell Issa Town Hall

Congressman Issa invites his constituents to a Town Hall meeting Saturday, June 3 at 9 AM. This is an opportunity to interact directly with your Congressman, share input, and ask questions of high priority to South County. The meeting will be held at the San Juan Hills High School, inside the theater. Click here for details.

This week I:

Interviewed live with Clerk-Recorder Hugh Nguyen on Laguna Woods TV6 to promote the June 3 Passport Day. Click here to watch the video.
Gave the welcoming remarks at the South County Job Fair in Laguna Hills. More on this in next week's newsletter.
Participated in the CalOptima Board Nominations Ad Hoc meeting.
Participated in the CalOptima Board meeting.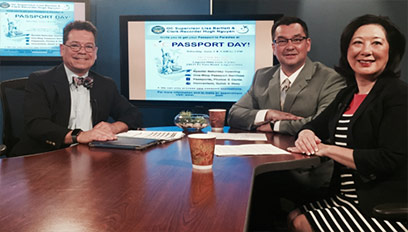 With Clerk-Recorder Hugh Nguyen promoting OC Passport Day on Laguna Woods TV6.

My Staff:

Presented a Certificate of Recognition in honor of the Clear Choice Hearing Aid ribbon cutting in San Clemente.
Presented a Certificate of Recognition in honor of the Cru Café ribbon cutting in Mission Viejo.
Attended the OCBC Advocacy & Government Affairs meeting.
Attended the Antonio Parkway Regional Traffic Signal Synchronization Project meeting.
Gave an office update at the San Clemente Chamber's Legislative and Transportation Council meeting.
Attended the South Orange County Legislative Round Table meeting in San Clemente.
Attended the Laguna Niguel Chamber of Commerce Government Affairs Committee meeting.
Presented a Certificate of Recognition at the Discover Emerging Artists Showcase ribbon cutting in Laguna Beach.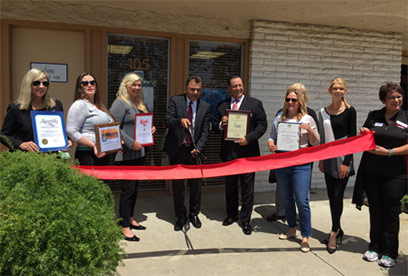 Presenting a certificate of recognition at the Clear Choice Hearing Aid Inc. ribbon cutting in San Clemente.

South County Elected Officials in the Community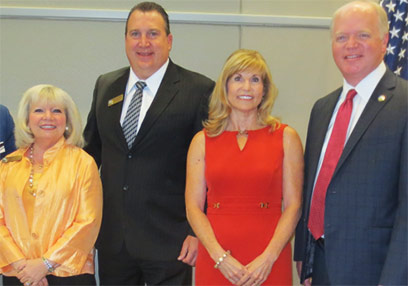 Laguna Niguel Councilwoman Elaine Gennawey, Mayor Jerry Slusiewicz, Councilwoman Laurie Davies, and Councilman Mark Jennings at the Chamber of Commerce Government Affairs Committee meeting.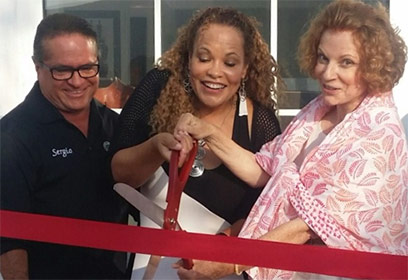 Laguna Beach Mayor Toni Iseman (right) at the Discover Emerging Artists Showcase ribbon cutting.

For questions or comments regarding Supervisor Bartlett's E-Newsletter please contact the Supervisor's office staff at: (714) 834-3550 or email Sergio.Prince@ocgov.com or Tanya.Flink@ocgov.com.