Fifth District Calendar

Ride FREE to Laguna Beach on a Summer Breeze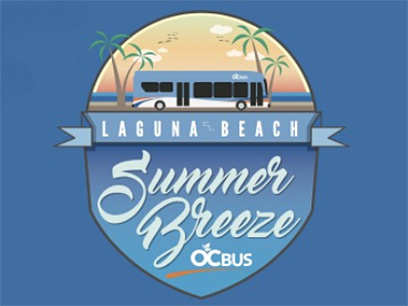 On Saturday, July 1, please join me and the City of Laguna Beach for a fun-filled affair kicking off this year's Summer Breeze bus service. This FREE event will take place from 10 AM to 2 PM, featuring festivities for the whole family, carnival games, refreshments, and fabulous prizes!

A special drawing will be held for the first 100 people who ride the Summer Breeze into Laguna Beach that day. Prizes include 2 premier seats to the Festival of Arts & Pageant of the Masters, in addition to tickets for Laguna Playhouse, Taste of Laguna, excellent restaurants, and much more!

Laguna Beach's Summer Breeze offers FREE parking and a FREE bus ride, blowing through the jasmine of Laguna Canyon Road. The Summer Breeze offers convenient stops at the Festival of Arts & Pageant of the Masters, Sawdust Art Festival, Art-A-Fair, and Laguna Playhouse, as well as the Laguna Beach Bus Station, where riders can easily connect with the FREE Laguna Beach Trolley.

The Summer Breeze runs every Saturday and Sunday, 11 AM to midnight, from July 1 through September 3. This FREE park & ride service originates from the Summer Breeze parking lot located at the I-405 & SR-133 (Laguna Canyon Road) interchange in Irvine, previously the site of the Odysseo/Cavalia horse show.

No need worrying about parking hassles in Laguna Beach this summer! Blow freely into town on a sweet Summer Breeze and be returned safely to your vehicle when you're done! For more information - including the Summer Breeze bus schedule, route map, and directions - please click here or see the flyer below.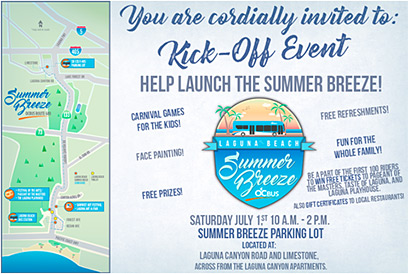 Click on the image above to view a PDF version.

County Connections

OC Senior Resources App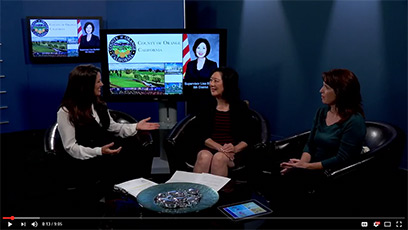 Please click image above to view the video.
This week, I was joined by Erin Ulibarri of the Orange County Office on Aging to tape a talk show at Laguna Woods TV6 about the new OC Senior Resources mobile app. At my 10th annual South County Senior Summit last month, the County announced the launch of this new app, called "OC Senior Resources", which connects older adults and their family members and/or caretakers to a plethora of senior services available in their area.

For a step-by-step tutorial on how to download the new mobile app, please click here. To view the Office on Aging's Online Resource Directory, please click here. To view the video, please click here.

County Launches "Summer of OC" Photo Contest

The County of Orange is now accepting entries into its "Summer OC" Photo Contest. Orange County residents are encouraged to submit their photos of summer concerts in the park, swimming or surfing in the local waves, visiting the zoo or enjoying other fun summer activities.

The contest begins on the first official day of summer, June 20, and photos will be accepted through July 20. All entries must be submitted via email, and the top three photos will be posted to the County's Facebook and Twitter accounts each Friday during the contest.

On July 21, the top three photos from the contest will be posted to the County's Facebook page, and public voting will take place from July 21 through noon Pacific Time on July 28. The photo with the most Facebook likes as of noon on July 28 will be named the contest winner. The winner of the "Summer OC" Photo Contest will receive a certificate of recognition from the County and will have his or her winning photo featured in the County Hall of Administration.

To enter the "Summer OC" Photo contest, entrants can email their photos to ceocom@ocgov.com with the subject line "Photo Contest Entry." For additional information on how to enter the contest and other details, visit the "Summer OC" Photo Contest webpage.

OCTA and Wildlife Officials Preserve 1,300 Acres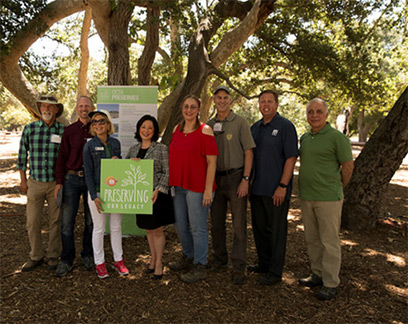 The Orange County Transportation Authority joined with officials from federal and state wildlife agencies and local environmental leaders on Tuesday to announce the completion of plans to protect 1,300 acres of open space, ensuring that it remains free from development forever.

Tuesday's event marked the culmination of more than 10 years of work between the agencies to finalize the plans related to the Measure M Freeway Environmental Mitigation Program, which protects natural habitat and rare animal and plant species in Orange County.

The certification of the final conservation plans, known as the Natural Community Conservation Plan/Habitat Conservation Plan and the associated environmental impact report, is the culmination of OCTA's work with both the U.S. Fish and Wildlife Service and the California Department of Fish and Wildlife.

OCTA's freeway environmental mitigation program allocates funds from Measure M, the county's half-cent sales tax for transportation improvements, to acquire land and fund habitat restoration projects in exchange for streamlined approvals for 13 freeway improvement projects throughout Orange County.

The program is a comprehensive effort to offset the environmental impacts of the freeway construction projects in Measure M by preserving large swaths of valuable habitat, to protect the plant species and rare animals that live on the land and provide connectivity to other natural lands.

Approximately $10 million in funding also has been made available for 11 habitat restoration projects, totaling nearly 400 acres. Overall, approximately $280 million is expected to be made available for environmental conservation projects over a 30-year period.

As a member of the Environmental Oversight Committee (EOC), it was an honor to be a part of this momentous occasion. My predecessor, now Senator Pat Bates, set the framework in her role on the EOC when it was initially established in 2007.

For more information on OCTA's environmental program, visit octa.net/environmental.

I-5 South County Construction Highlights

Evening Ramp Closures

The Camino Las Ramblas / PCH on-ramps to southbound I-5 are expected to close, beginning at 10 p.m. tonight, June 23, through 7 a.m. Saturday, June 24, for the installation of metal beam guard rails. Motorists should use Doheny Park Road and southbound Pacific Coast Highway to access southbound I-5.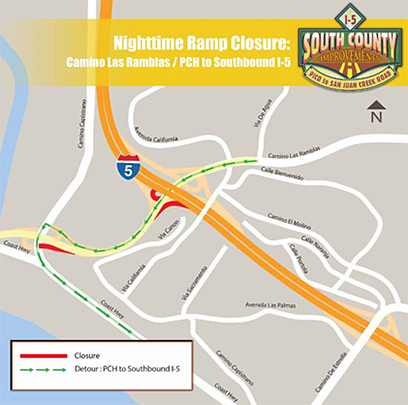 Please click the image above to view the pdf version.
Median Demo Work

On Friday night, June 23, crews are scheduled to begin demolishing a portion of the median concrete barrier on I-5 between Avenida Palizada and just south of Avenida Presido. The work requires lane closures for the safety of the construction crew and traveling motorists, which must take place at night.

Construction will occur from 10 p.m. to 5 a.m., for up to two weeks. The work is necessary to install overhead signsfor the new carpool lanes. Please be advised that this work may be loud.

Take the OC Parks Survey

OC Parks are important to our communities. This brief questionnaire is your opportunity to let the County of Orange know your thoughts about our parks. What is working? What would you love to see more of in your OC parks? Your feedback is valuable, and your individual responses will be kept confidential. KH Consulting Group (KH) will use your input to help us shape OC Parks' strategic plan to make your parks and community even better!

Please click the image below to complete the questionnaire (English, Spanish, and Vietnamese). We encourage you to share the link with others - friends, family members, neighbors, park users, constituents - who care about our parks and their future. We want to hear from you!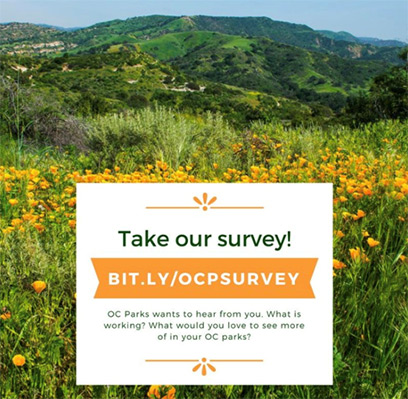 Please click the image above to take the survey.

Youth Summer Bus Passes Available for Half Price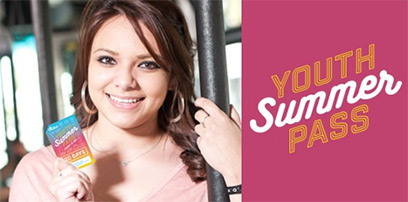 The Orange County Transportation Authority is encouraging youth to explore their community this summer using the discounted OCTA Youth Summer Pass.

The 30-Day Youth Summer Pass is a limited-time discount on the youth monthly pass. It's being offered to youth ages 6 to 18 and costs $20, half off the regular price. It is valid for unlimited rides on the 65 OC Bus routes for 30 consecutive days between June 1 and August 31. The Youth Summer Pass can be conveniently purchased using the mobile ticketing feature of the OC Bus app. Click the link below for other purchasing options.

As part of this year's promotion, OCTA is offering prizes, including Knott's Berry Farm tickets, movie theater tickets and gift cards, to a lucky winner each week. To enter, participants are asked to hop on an OC Bus, take a selfie with the special summer bus decal and share their photos on social media using #OCSummerBus.

To find out more about the OCTA Youth Summer Pass, click here.

WANTED: Orange County Ethics Commissioners


The Orange County Board of Supervisors is now accepting applications for Commissioners to serve on the County's Campaign Finance and Ethics Commission.

The Commission will consist of five appointed members, one appointment by each Supervisor. Proposed commissioners must be confirmed by a majority vote of the Board of Supervisors.

Commissioners shall serve terms up to three years and may not serve more than two full terms. A full list of the qualifications and an online application can be found on the Office of Campaign Finance and Ethics Commission website.

In addition to the Office of Campaign Finance and Ethics, the County of Orange has a fraud hotline for use by County employees, the general public, or vendors reporting suspected waste, fraud, violations of County policy, or misuse of County resources by vendors, contractors or County employees.

The County Fraud Hotline number is (714) 834-3608. For more information about reporting fraud, please click here.

Metrolink $10 Weekend Day Pass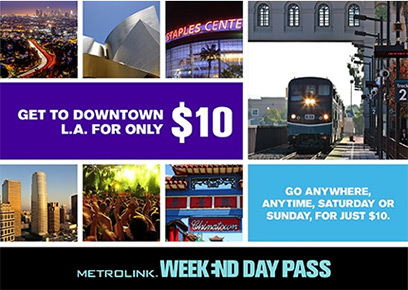 Metrolink is offering a Weekend Day Pass for only $10 per day. This pass allows a rider to ride anytime, anywhere system-wide on either Saturday or Sunday.

The Weekend Day Pass offers FREE connectivity to most rail or busses throughout Southern California. For example, after you purchased your Weekend Day Pass and took Metrolink from Irvine to downtown LA, you can board the subway at Union Station and ride all the way to Hollywood and Highland for FREE!

Metrolink Monthly Pass holders have the ability to ride any Metrolink train from 7 PM Friday through 11:59 PM Sunday, anywhere in the Metrolink system for no additional charge. The $10 Weekend Day Pass is available for purchase through all Metrolink ticket vending machines (TVM) and the mobile app on Saturday and Sunday only. For more information, click on the video below.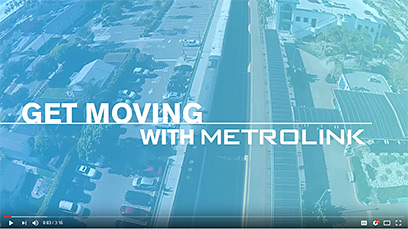 Please click the image above to view the video.

Meet OC Animal Care's Pet of the Week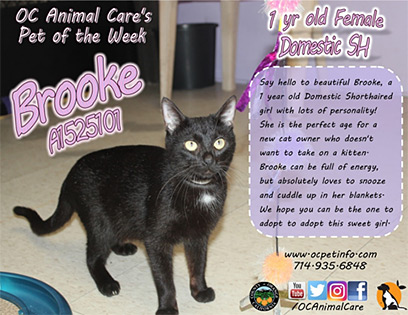 Please click the image above to view the pdf version.

Out and About In South County

Aliso Viejo: Sweet 16 Anniversary Party

Please join the City of Aliso Viejo on Saturday, June 24 from 12 PM to 3 PM at the Aliso Viejo Aquatic Center for its "Sweet 16" Anniversary Party! The festivities include swimming, family games, food, music and more. Admission is free. For more information, please visit city's event page or call 949-425-2537.

Dana Point: Doheny Surf Festival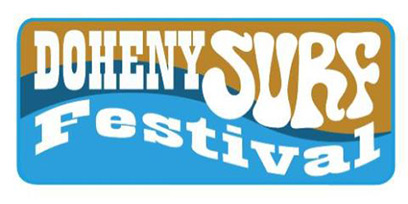 Join us for a celebration of the Southern California surfing life style at the Doheny Surf Festival. This event is free on Saturday June 24 and Sunday the 25th from 10 AM to 6 PM. For more information, click here.

Lake Forest: Summer Concert & Car Show

Kick off the summer with a ROCKIN' good time! This event is from 5:30 to 8:30 PM at Lake Forest Sports Park on Sunday the 25. "The Rockabillys" are family friendly entertainment, playing 50s and 60s/Americana, "Oldies but Goodies" and of course, the best Rockabilly music around! The Rodeo brings a mix of your favorite classic country numbers and dancin' songs. "The Swing Kings" are a versatile dance band featuring an extensive playlist. They guarantee to move your dancin' feet! The Car Show is open to the public. For more information, click here.

Mission Viejo: Water Safety Day

In an effort to prevent drowning incidents, the City of Mission Viejo will host a special Water Safety Day from 2 PM to 4 PM Saturday, June 24 at the Montanoso Recreation Center, 25800 Montanoso Drive. Water Safety Day will feature drowning-prevention tips, emergency responders reacting to a "mock" drowning, educational exhibits, games and raffle prizes along with free all-day swimming. Refreshments will be available for purchase. For more information, click here.

San Clemente: Beach Concert

Head down to the beach on Thursday June 29 to enjoy the sounds of music and surf with the sunset as your backdrop. Fisherman's Restaurant provides a BBQ dinner served at the beach front for $8 per person (cash only). For more information, click here.

San Juan Capistrano: The Write Direction

On Monday, July 10, The Write Direction will host a "Writing Your College Admission Essays" workshop from 7PM to 8PM at the Community Presbyterian Church. This free workshop provides key writing tools for rising high school seniors to tackle the Common Application essay prompts and University of California's personal insight questions. The course is limited to 20 students, so please register in advance by emailing Cindy Sherwood at csherwood@thewritedirection.org and providing your name, email, phone number, and high school. Click here for more details and upcoming workshops.

Countywide: OC Parks Sunset Cinema Series

The temperature is heating up! Enjoy our gorgeous Orange County summer weather while watching a great film under the stars. All movies are family-friendly (PG rating). Bring your beach towel and mark your calendar for a screening near you!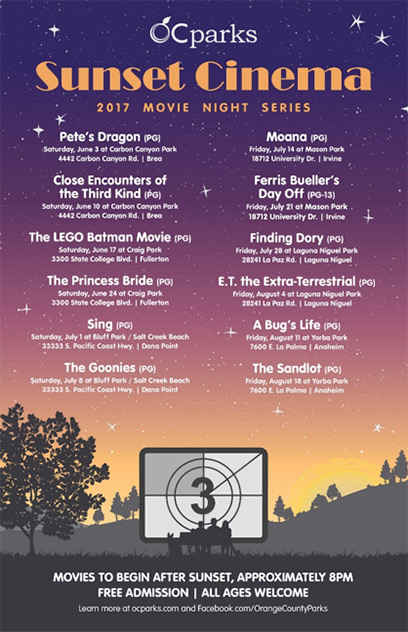 Click on the image above to view a PDF version.

This week I:

Presented a Proclamation to the Laguna Beach Sister Cities Association in honor of the 10th Annual Fete de la Musique.
Presented a Certificate of Recognition to the OCGOP's Volunteer of the Month for May, Thea Dulevie.
Attended the OCTA Conservation Plan Commemoration Event.
Participated in the Orange County Strategic Plan on Aging's Leadership Council meeting.
Spoke at the Women in Transportation Orange County reception in Costa Mesa.
Participated in a live televised interview on Laguna Woods TV6 to promote the new OC Senior Resources mobile app. Click here to view the video.
Participated in the TCA Joint Strategic Planning Ad Hoc meeting.
Attended the OC Public Forum.
Delivered the State of the County address at the South Orange County Economic Coalition's (SOCEC) luncheon.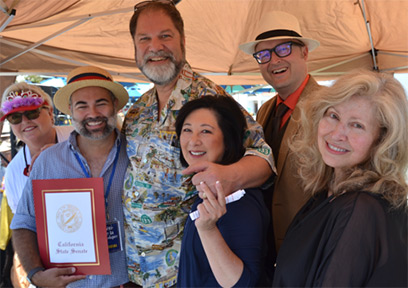 With Senator John Moorlach and Assemblyman Matt Harper (center), and LBSCA leaders Maggie Maggie Hempen, Justin Myers and Karyn Philippsen at the Laguna Beach Fête de la Musique celebration.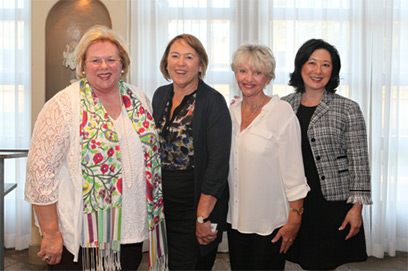 WTS-OC Reception with Honorable Lucy Dunn (CTC Commissioner and Orange County Business Council President/CEO), Honorable Fran Inman (CTC Vice Chair and Majestic Realty Co. Senior Vice President, and Honorable Christina Shea – City of Irvine Councilmember and TCA Board Member



With Dan Daley, the Alzheimer's OC Healthcare Outreach Specialist, at the SOCEC State of the County Luncheon.

My Staff:

Attended the OC Animal Shelter's Pet Fair Adoption Event.
Presented a Certificate of Recognition at the Basanti ribbon cutting in San Juan Capistrano.
Presented Crystal Awards to the sponsors of the 10th Annual Fête de la Musique in Laguna Beach.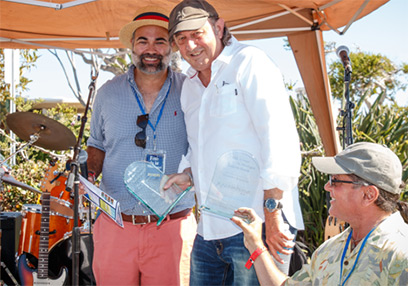 Presenting a Crystal Award to Ivan Spiers (center), owner of SkyLoft and Mozambique restaurants in Laguna Beach, for sponsoring the 10th Annual Fête de la Musique. (Photo courtesy of Takata Photo & Design)

South County Elected Officials in the Community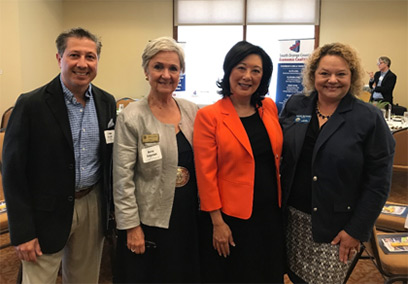 (L-R) Trabuco Canyon Water District Director Glenn Acosta, San Juan Capistrano Mayor Kerry Ferguson, and Mission Viejo Mayor Wendy Bucknum at the SOCEC State of the County.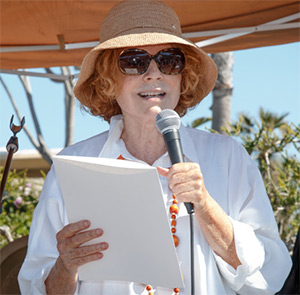 Laguna Beach Mayor Toni Iseman at the Fête de la Musique celebration. (Photo courtesy of Takata Photo & Design)

For questions or comments regarding Supervisor Bartlett's E-Newsletter please contact the Supervisor's office staff at: (714) 834-3550 or email Sergio.Prince@ocgov.com or Tanya.Flink@ocgov.com.