Happy 4th of July!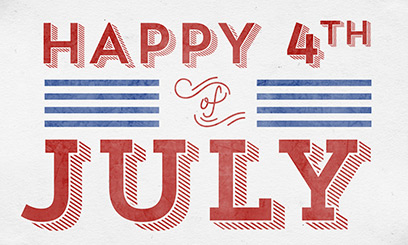 I am pleased to present you this special 4th of July edition of my newsletter. Along with the regular County and Fifth District updates, I also included information about various South County celebrations to help you make the most out of the holiday. Please see the "Out & About in South County" section of this newsletter for more information.

This day is all about community, on both a local and national scale. Together we celebrate our freedom and our unity by participating in community events, and we demonstrate our patriotism by waiving a common flag. Let us rejoice in the success and prosperity of our nation, achieved through an engaged and free citizenry.

I hope you enjoy quality time with family and friends by participating in a local 4th of July street fair, watching a patriotic parade, or beholding a star-spangled fireworks spectacular. No matter how you choose to celebrate, I wish you and yours a safe and happy Independence Day!

Fifth District Calendar

Ride FREE to Laguna Beach on a Summer Breeze!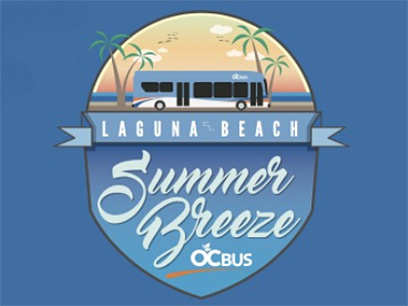 On Saturday, July 1, please join me and the City of Laguna Beach for a fun-filled affair kicking off this year's Summer Breeze bus service. This FREE event will take place from 10 AM to 2 PM, featuring festivities for the whole family, carnival games, refreshments, and fabulous prizes!

A special drawing will be held for the first 100 people who ride the Summer Breeze into Laguna Beach this Saturday. Prizes include 2 premier seats to the Festival of Arts & Pageant of the Masters, in addition to tickets for Laguna Playhouse, Taste of Laguna, excellent restaurants, and much more!

Laguna Beach's Summer Breeze will make you feel fine with FREE parking and a FREE bus ride, blowing through the jasmine of Laguna Canyon Road. The Summer Breeze offers convenient stops at the Festival of Arts and Pageant of the Masters, Sawdust Art Festival, Art-A-Fair, and Laguna Playhouse, as well as the Laguna Beach Bus Station, where riders can easily connect with the FREE Laguna Beach Trolley.

The Summer Breeze runs Saturdays and Sundays through September 3, every 30 minutes from 11 AM to midnight. This FREE park & ride service originates from the Summer Breeze parking lot located at the I-405 & SR-133 (Laguna Canyon Road) interchange in Irvine, previously the site of the Odysseo/Cavalia horse show.

No need stressing about parking in Laguna Beach this summer! Blow freely into town on a sweet Summer Breeze and be returned safely to your vehicle when you're done! For more information - including the Summer Breeze bus schedule, route map, and directions - please click here or see the flyer below.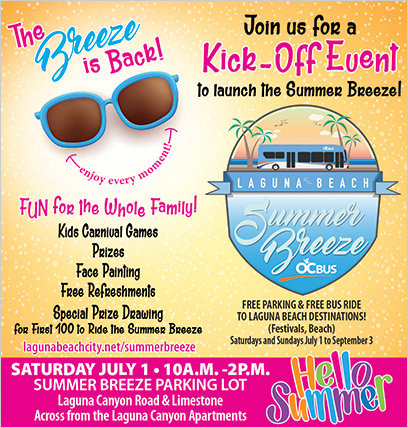 Click on the image above to view a PDF version.

South County Spotlight

SOCEC "State of South County" Luncheon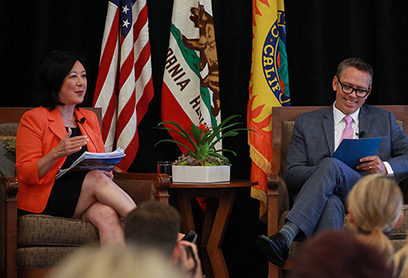 With SOCEC Chair Paul Simonds at the State of South County Luncheon. (Photo courtesy of Jeni Maria Photography)
Last week, I had the pleasure of presenting the "State of South County" to an overflow audience at a luncheon hosted by the South Orange County Economic Coalition (SOCEC) at the Mission Viejo Country Club. The presentation was conducted in an informal Q&A format, with SOCEC Chair Paul Simonds as moderator.

I want to thank SOCEC for hosting this wonderful event and all those who took time from their busy schedules to attend. To view a photo album of the 2017 State of South County Luncheon, please click here.

CalTravel Excellence in Tourism Advocacy Award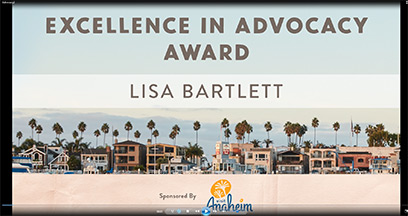 Please click the image above to view the video.
This week, I was pleased to receive the 2017 Excellence in Tourism Award from the California Travel Association (CalTravel). The award was presented at the CalTravel Annual Awards Luncheon held in Newport Beach.

Orange County, and certainly my district, is a vibrant international tourist destination with many wonderful attractions and amenities for visitors to enjoy. The revenue generated from promoting all our wonderful county has to offer certainly serves to enhance the economic viability and livability of our unique communities, both coastal and inland.

As such, I want to thank CalTravel for honoring me with this prestigious award. To view the video presented at the CalTravel Awards Luncheon, please click here.

South County Summer Trolleys: All Aboard!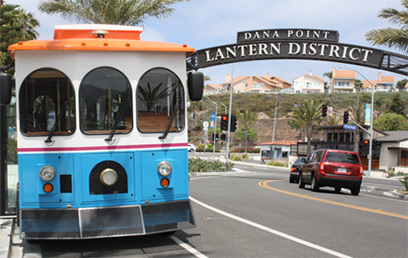 Since before I took office, I have been a strong advocate for an integrated trolley network that provides a convenient and flexible transportation system connecting our unique and beautiful South County communities.

Last year, as a member of the Orange County Transportation Authority Board of Directors, I was pleased to support full funding of all Project V Community Circulator applications, investing more than $27 million for capital, operations and planning purposes. As a result, this trolley service is now a fabulous way to experience South County's summer destinations without the stress of sitting in traffic or fighting for parking.

For summer 2017, we now have three cities connected for a fun and easy way to get around! All three trolley services are free of charge for South County residents and visitors alike. With 28 miles of trolley coverage, you can now connect to and from Laguna Beach, Dana Point, and San Juan Capistrano. Aside from avoiding parking headaches, you can now explore our incomparable South County communities during summer using this convenient, fun and free form of transportation.

The Laguna Beach Trolley has pick-ups every 20 minutes. The free daily service runs through September 3, with limited hours July 4. The Laguna Beach Trolley System has three different routes available for your enjoyment, including a convenient connection to the Dana Point trolley. Click here and here for more information. Laguna Beach also offers the free Summer Breeze park & ride service on weekends from the I-405 & SR-133, transporting visitors through picturesque Laguna Canyon Road to the popular art festivals and free trolley service in town.

The Dana Point Trolley connects conveniently to the Harbor Shuttle, as well as the Laguna Beach and San Juan Capistrano trolley junctions. The trolley service through this ocean lovers' paradise is free of charge and runs daily through September 4 (Labor Day), arriving at each stop every 15 minutes. Click here to view the trolley map, or here for more information.

The San Juan Capistrano Trolley operates Friday evenings, as well as Saturdays and Sundays through Labor Day. With frequency every 20 minutes, this free service through Orange County's most historic town also connects conveniently with the Dana Point Trolley. Click here for more information.

The Laguna Beach, Dana Point, and San Juan Capistrano trolleys all interconnect, allowing intrepid explorers to enjoy continuous shuttle service through all three of these cities during summer without the parking hassles!

In addition, Mission Viejo and San Clemente also have shuttles that operate within their respective city boundaries. And the Orange County RanchRide will be on board soon, too.

Summertime and the living is easy! I hope you take advantage of these convenient, fun and free trolley services all summer long and encourage your friends and family to do the same! To view a map of the entire South County Trolley System, please click the image below.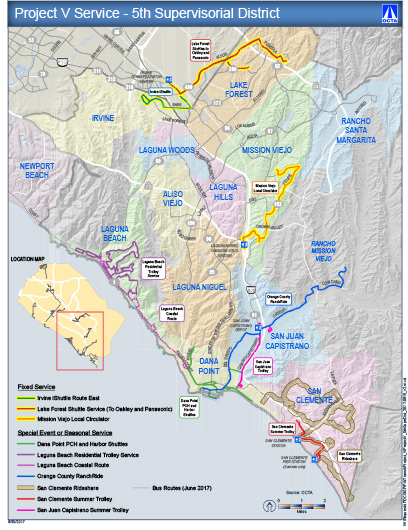 Click on the image above to view a PDF version.

Fifth District Cities Among the Safest in California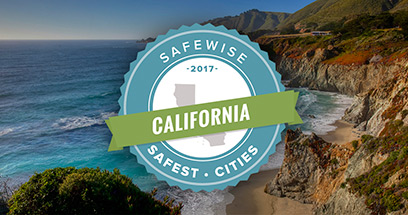 As Supervisor for the Fifth District, I am proud to announce a majority of our South County cities rank among the top fifty safest cities in the state, according to the recently released Safewise Report: "The 50 Safest Cities in California."

In fact, seven cities in my district placed in the top 25, including Rancho Santa Margarita (#2), Aliso Viejo (#3), Laguna Woods (#4), Laguna Niguel (#13), Mission Viejo (#19), Lake Forest (#23), and San Clemente (#25).

This report is based off the 2015 FBI crime report statistics and population data. I would like to congratulate these Fifth District cities and the County of Orange for providing our constituents the highest standard of public safety. To read the full article, please click here.

County Connections

4th of July Travel Tips from John Wayne Airport

The busy summer travel season is underway at John Wayne Airport (JWA) and with the upcoming Fourth of July holiday, JWA anticipates a busy travel period from Friday, June 30 through Wednesday, July 6. Passengers are reminded that fireworks are prohibited in or around the Airport.

Demand for parking over the holiday weekend is expected to be high. Travelers should plan ahead and check real-time parking availability by calling 949-252-5200, or clicking here for all parking options and availability.

To avoid delays and enjoy stress-free holiday travel, passengers are encouraged to follow these helpful travel tips:

All passengers flying out of JWA are encouraged to arrive 90 minutes to two hours before the scheduled departure time for domestic flights and three hours for international flights. Passengers who are members of TSA Pre✓™ can expedite the screening process in Terminals A, B and C.
Passengers are allowed one small carry-on bag plus one personal item as long as the carry-on bag fits airline dimensions. Check with individual airlines for specifics. For helpful information about the 3-1-1 liquids rule for carry-on bags and other travel tips from the Transportation Security Administration (TSA) please visit the TSA website.
Drivers picking up passengers at the Airport are encouraged to utilize the Cell Phone Waiting Lot or the 2-hour parking spaces located on the lower level of Parking Structures A1, B2 and C.
Travelers are encouraged to be aware of their surroundings and report questionable objects or activities, "If You See Something, Say Something™." To report a suspicious object or activity, dial 0 for the operator, dial 2-5000 from a white courtesy phone or notify an Airport employee or a uniformed officer.
For more Airport travel tips, visit ocair.com. Also visit the TSA website for a list of frequently asked questions.

Whole Person Care Pilot Program: Round Two
Additional Recuperative Care for Homeless

On Tuesday, my colleagues and I approved funding to expand the State of California's Department of Health Care Services (DHCS) on Whole Person Care (WPC) pilot program Round 2, providing additional recuperative care beds and expanding the WPC system to include homeless shelter programs.

The need for a program like this has been years in the making. As a member of the CalOptima Board of Directors, seeing it expand to offer more services and greater access is another huge step in a coordinated approach to caring for our most vulnerable population.

The County of Orange received notification this month that the WPC Round 2 application was approved. Round 2 of the WPC Pilot proposes to fund shelter providers as WPC participating entities, additional recuperative care beds specifically targeted to medically fragile individuals in the shelter programs, homeless outreach and navigation staff to four additional community clinics and more. The WPC Pilot Round 2 will begin July 1, 2017, and will fund approximately 27,320 recuperative care bed nights through December 31, 2020.

With the initial WPC application, the WPC Pilot focused on referrals to Recuperative Care primarily from hospitals, as well as a smaller number of persons that could be referred directly from community clinics to avoid unnecessary emergency department visits. With WPC Pilot Round 2, some of the additional bed days will be used specifically for referrals from County-funded shelter programs such as The Courtyard.

This also enhances linkages for referrals from the Health Care Agency's Behavioral Health Services and Public Health Services teams for persons with medical or co-occurring physical and mental health/substance use disorder issues.

To learn more about WPC, please click here. To read the full press release, please click here.

County Launches "Summer of OC" Photo Contest

The County of Orange is now accepting entries into its "Summer OC" Photo Contest. Orange County residents are encouraged to submit their photos of summer concerts in the park, swimming or surfing in the local waves, visiting the zoo or enjoying other fun summer activities.

The contest begins on the first official day of summer, June 20, and photos will be accepted through July 20. All entries must be submitted via email, and the top three photos will be posted to the County's Facebook and Twitter accounts each Friday during the contest.

On July 21, the top three photos from the contest will be posted to the County's Facebook page, and public voting will take place from July 21 through noon Pacific Time on July 28. The photo with the most Facebook likes as of noon on July 28 will be named the contest winner. The winner of the "Summer OC" Photo Contest will receive a certificate of recognition from the County and will have his or her winning photo featured in the County Hall of Administration.

To enter the "Summer OC" Photo contest, entrants can email their photos to ceocom@ocgov.com with the subject line "Photo Contest Entry." For additional information on how to enter the contest and other details, visit the "Summer OC" Photo Contest webpage.

Youth Summer Bus Passes Available for Half Price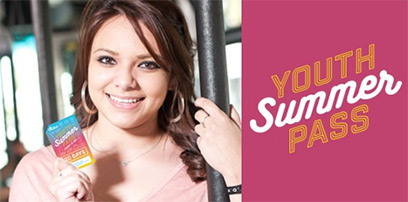 The Orange County Transportation Authority is encouraging youth to explore their community this summer using the discounted OCTA Youth Summer Pass.

The 30-Day Youth Summer Pass is a limited-time discount on the youth monthly pass. It's being offered to youth ages 6 to 18 and costs $20, half off the regular price. It is valid for unlimited rides on the 65 OC Bus routes for 30 consecutive days between June 1 and August 31. The Youth Summer Pass can be conveniently purchased using the mobile ticketing feature of the OC Bus app. Click the link below for other purchasing options.

As part of this year's promotion, OCTA is offering prizes, including Knott's Berry Farm tickets, movie theater tickets and gift cards, to a lucky winner each week. To enter, participants are asked to hop on an OC Bus, take a selfie with the special summer bus decal and share their photos on social media using #OCSummerBus.

To find out more about the OCTA Youth Summer Pass, click here.

WANTED: Orange County Ethics Commissioners


The Orange County Board of Supervisors is now accepting applications for Commissioners to serve on the County's Campaign Finance and Ethics Commission.

The Commission will consist of five appointed members, one appointment by each Supervisor. Proposed commissioners must be confirmed by a majority vote of the Board of Supervisors.

Commissioners shall serve terms up to three years and may not serve more than two full terms. A full list of the qualifications and an online application can be found on the Office of Campaign Finance and Ethics Commission website.

In addition to the Office of Campaign Finance and Ethics, the County of Orange has a fraud hotline for use by County employees, the general public, or vendors reporting suspected waste, fraud, violations of County policy, or misuse of County resources by vendors, contractors or County employees.

The County Fraud Hotline number is (714) 834-3608. For more information about reporting fraud, please click here.

Meet OC Animal Care's Pet of the Week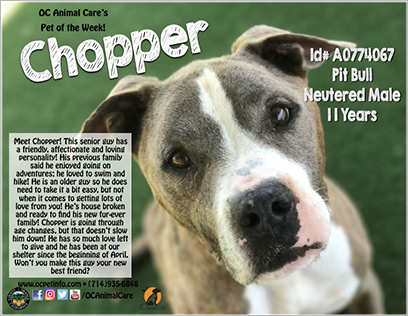 Click on the image above to view a PDF version.

Summer Lovin': Discounted Pet Adoptions

During the month of July, OC Animal Care is hosting two special adoption promotions to help our homeless pets find loving, forever homes. Looking for the purrfect feline friend? Visit the shelter on "Caturday" (any Saturday in July) and take home your new companion at a discounted rate. If you prefer a more active lifestyle and have the time to devote to man's best friend, the shelter is offering the same discount for all Pit Bull adoptions every day in July. See the flyer for details.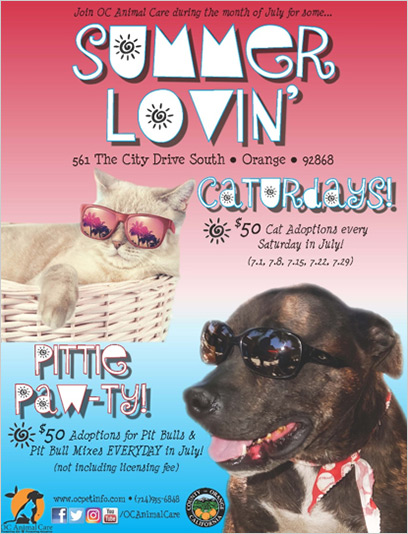 Click on the image above to view a PDF version.

Out and About In South County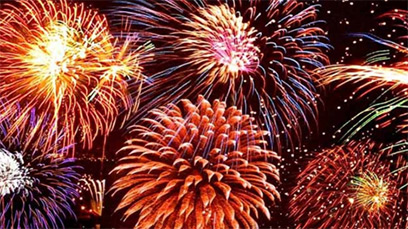 Aliso Viejo: July 4th Celebration & Fireworks

Celebrate July 4th from 6 PM to 9:30 PM at Grand Park in Aliso Viejo. Enjoy live entertainment from 7 PM to 9 PM by The Skinny Little Twits, as well as food & beverages for purchase, arts & crafts, complimentary face painting and bounce houses, and a Fireworks Show at dusk! For more information, click here.

Dana Point: 4th of July Extravaganza

The annual Dana Point fireworks extravaganza is a great 4th of July tradition. Be sure to turn your radio to KSBR 88.5 FM and watch the fireworks while listening to the synchronized music. Shuttles will make the trip from your car to the harbor a breeze with FREE service from Dana Hills High School to Dana Point Harbor from 8 AM to 11 PM. For more information, click here.

Laguna Beach: Independence Day Celebration

Celebrate Independence Day in Laguna Beach! The City's fireworks show will originate from Monument Point at Heisler Park. For this reason, the Monument Point area will be closed all day on the 4th of July. The fireworks show will begin at approximately 9 PM. For more information, click here.

Laguna Hills: Fourth of July Celebration

Celebrate America's birthday at the City of Laguna Hills Annual Fourth of July Celebration! Carnival rides and games, live music, patriotic crafts and face painting will all be part of the celebration along with a fabulous fireworks show to conclude the evening. Food and drinks will be available for purchase. For more information, click here.

Laguna Niguel: July 4 Concert and Fireworks Spectacular

Celebrate the 4th of July 70's style with a performance by Mirage! (Fleetwood Mac Tribute), followed by a firework display in the Regional Park at 9 PM. Food and dessert will be available for purchase. Free shuttle service from City Hall to the park from 4 PM to 10:30 PM. For more information, click here.

Lake Forest: 4th of July Parade

Come celebrate Independence Day with me at Lake Forest's legendary 4th of July parade, starting at the corner of Toledo Way and Ridge Route Drive (in front of El Toro High School) and ending on Serrano Road at Ridge Route. The parade's theme this year is "Let Freedom Ring" and will take place from 10 AM to 12 PM. For more information, click here.

Mission Viejo: Street Faire & Fireworks Spectacular

Mission Viejo will hold its Annual Street Faire and Fireworks Spectacular on Olympiad between Marguerite and Melinda. The fun begins at 12 PM with live entertainment on the Main Stage and youth bands performing on the Freedom Stage. Admission is FREE with tickets being sold for games and rides. The fireworks spectacular begins at 9 PM. For more information, click here.

Rancho Santa Margarita: Star Spangled Spectacular

Don't miss the annual SAMLARC firework show at RSM Lake! Viewers can reserve their spot as early as July 3 at 5:16 AM by placing a blanket or folding chair on their preferred patch of grass. The show starts at 9 PM on July 4. Click here for details.

San Clemente: Independence Day Fireworks

The City of San Clemente will host its annual fireworks show from the San Clemente Pier beginning at 9 PM. The fireworks display can also be seen from many beaches and hilltop areas. The entire Pier will be closed on Tuesday, July 4 beginning at 8 AM for preparations. For more information, click here.

San Juan Capistrano: 4th of July Celebration & Carnival

Information about the City's four-day Independence Day Carnival and Fourth of July Fireworks Show can be found here, and a Fireworks Safety bulletin from OCFA is attached and a special OCFA video can be found here. For more information about the City's Fourth of July festivities, please contact the San Juan Capistrano Community Services Department at (949) 443-5911.

This week I:

Participated in the OCTA Board meeting.
Participated in the Orange County Board of Supervisors meeting.
Received the Excellence in Tourism Advocacy Award at the Orange County Visitors Association annual awards luncheon.
Filmed a PSA to promote the OC Drowning Prevention Campaign.
Presented a Proclamation to Orange County United Way President & CEO, Max Gardner, in honor of his retirement and outstanding service.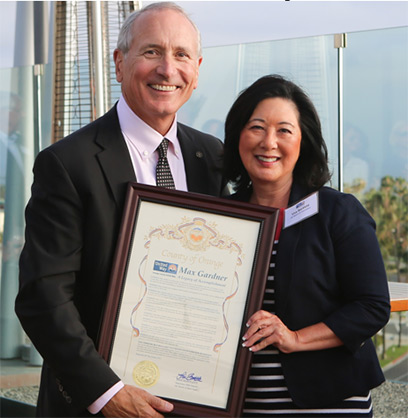 Presenting a Proclamation to retiring United Way CEO Max Gardner.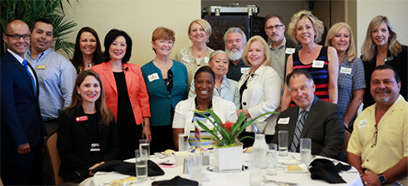 With attendees at the State of South County Luncheon. (Photo courtesy of Jeni Maria Photography)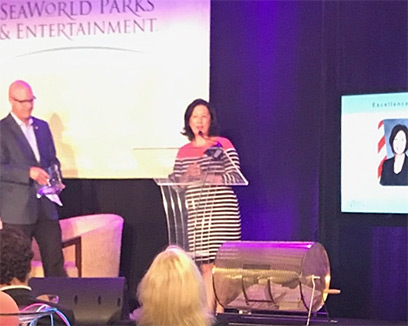 Accepting the Excellence in Tourism Advocacy Award from the California Travel Association.

My Staff:

Presented a Certificate of Recognition in honor of the Optivest ribbon cutting in Dana Point.
Attended the California Data Collaborative Conference in Los Angeles.
Participated in the Air Support Unit tour at John Wayne Airport.

Fifth District Staff Highlight

On Sunday, June 25, my Policy Advisor, James Dinwiddie III, married his lovely fiancée, Jayna Seidel. My staff and I were honored to attend the wedding and reception at the gorgeous and historic Richard Nixon Library. Congratulations to James and Jayna on this wonderful occasion. We wish them a lifetime of happiness together!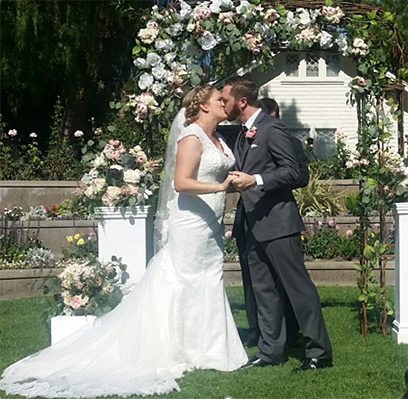 The happy newlywed couple, Jayna and James Dinwiddie.

Elected Officials in the Community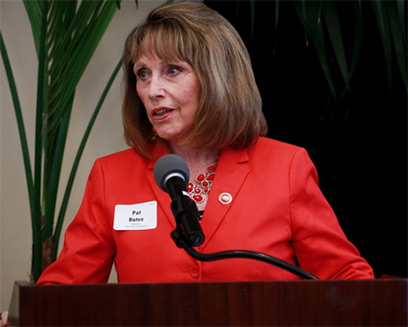 Senator Pat Bates delivering the Invocation at the State of South County Luncheon. (Photo courtesy of Jeni Maria Photography)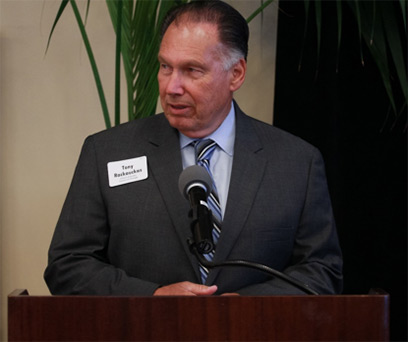 OC District Attorney Tony Rackauckas leading the Pledge of Allegiance at the State of South County Luncheon. (Photo courtesy of Jeni Maria Photography)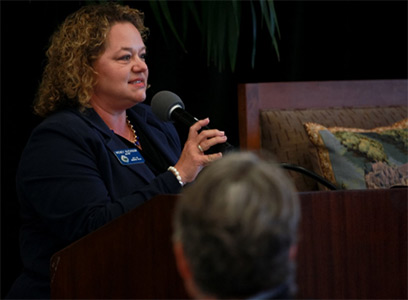 Mission Viejo Mayor Wendy Bucknum at the State of South County Luncheon. (Photo courtesy of Jeni Maria Photography)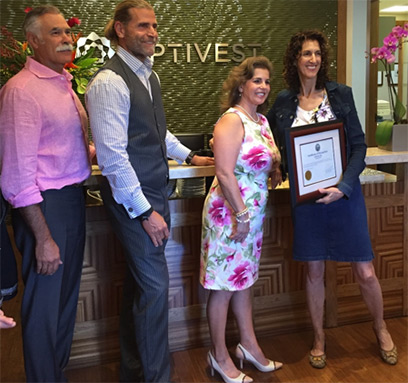 Dana Point Mayor Debra Lewis (right) at the Optivest ribbon cutting.

For questions or comments regarding Supervisor Bartlett's E-Newsletter please contact the Supervisor's office staff at: (714) 834-3550 or email Sergio.Prince@ocgov.com or Tanya.Flink@ocgov.com.