Fifth District Calendar

Ride FREE to Laguna Beach on a Summer Breeze!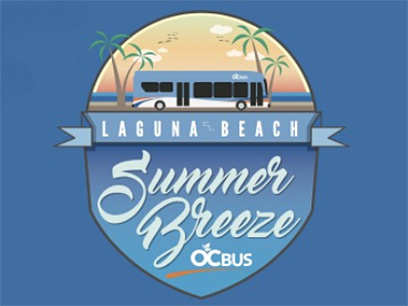 Summer Breeze makes you feel fine, with FREE parking and a FREE bus ride, blowing through the jasmine of Laguna Canyon. The Summer Breeze offers convenient stops at the Festival of Arts and Pageant of the Masters, Sawdust Art Festival, Art-A-Fair, and Laguna Playhouse, as well as the Laguna Beach Bus Station, where riders can easily connect with the FREE Laguna Beach Trolley.

The Summer Breeze runs Saturdays and Sundays through September 3, every 30 minutes from 11 AM to midnight. This FREE park & ride service originates from the Summer Breeze parking lot located at the I-405 & SR-133 (Laguna Canyon Road) interchange in Irvine, previously the site of the Odysseo/Cavalia horse show.

No need stressing about parking in Laguna Beach this summer! Blow freely into town on a sweet Summer Breeze and be returned safely to your vehicle when you're done! For more information - including the Summer Breeze bus schedule, route map, and directions - please click here or see the flyer below.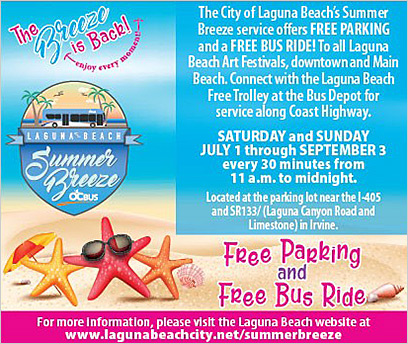 Click on the image above to view a PDF version.

South County Spotlight

South County Summer Trolleys: All Aboard!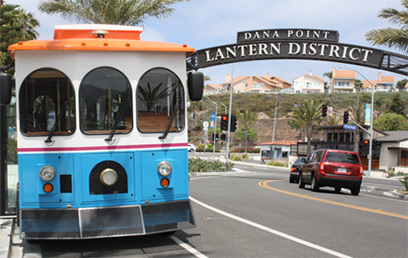 Since before taking office as your Orange County Supervisor, I have been a strong advocate for an integrated trolley network that provides a convenient and flexible transportation system connecting our unique and beautiful South County communities.

Last year, as a member of the Orange County Transportation Authority Board of Directors, I was pleased to support full funding of all Project V Community Circulator applications, investing more than $27 million for capital, operations and planning purposes. As a result, this trolley service is now a fabulous way to experience South County's summer destinations without the stress of sitting in traffic or fighting for parking.

For summer 2017, we now have three cities connected for a fun and easy way to get around! All three trolley services are free of charge for South County residents and visitors alike. With 28 miles of trolley coverage, you can now connect to and from Laguna Beach, Dana Point, and San Juan Capistrano. Aside from avoiding parking headaches, you can now explore our incomparable South County communities during summer using this convenient, fun and free form of transportation.

The Laguna Beach Trolley has pick-ups every 20 minutes. The free daily service runs through September 3, with limited hours July 4. The Laguna Beach Trolley System has three different routes available for your enjoyment, including a convenient connection to the Dana Point trolley. Click here and here for more information. Laguna Beach also offers the free Summer Breeze park & ride service on weekends from the I-405 & SR-133, transporting visitors through picturesque Laguna Canyon Road to the popular art festivals and free trolley service in town.

The Dana Point Trolley connects conveniently to the Harbor Shuttle, as well as the Laguna Beach and San Juan Capistrano trolley junctions. The trolley service through this ocean lovers' paradise is free of charge and runs daily through September 4 (Labor Day), arriving at each stop every 15 minutes. Click here to view the trolley map, or here for more information.

The San Juan Capistrano Trolley operates Friday evenings, as well as Saturdays and Sundays through Labor Day. With frequency every 20 minutes, this free service through Orange County's most historic town also connects conveniently with the Dana Point Trolley. Click here for more information.

The Laguna Beach, Dana Point, and San Juan Capistrano trolleys all interconnect, allowing intrepid explorers to enjoy continuous shuttle service through all three of these cities during summer without the parking hassles!

In addition, Mission Viejo and San Clemente also have shuttles that operate within their respective city boundaries. And the Orange County RanchRide will be on board soon, too.

Summertime and the living is easy! I hope you take advantage of these convenient, fun and free trolley services all summer long and encourage your friends and family to do the same! To view a map of the entire South County Trolley System, please click the image below.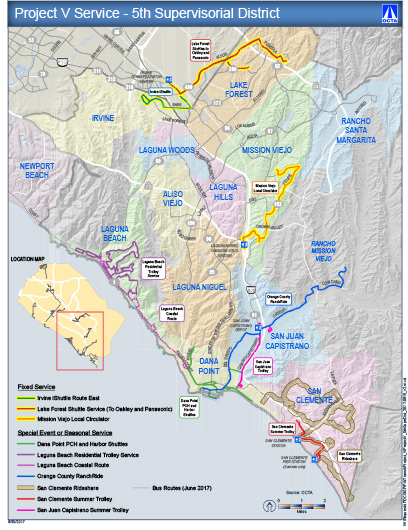 Click on the image above to view a PDF version.

County Connections

OC Fair Express returns July 15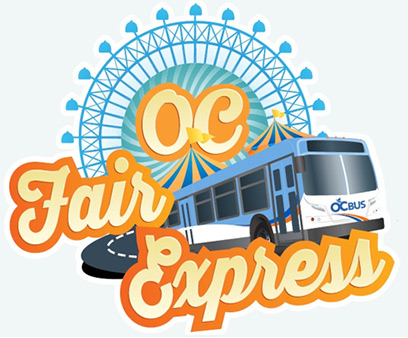 The OC Fair Express Bus service returns July 15 to provide convenient non-stop travel to the OC Fair on weekends. The express bus service will provide service from nine locations to the OC Fair from 11 AM to midnight on Saturdays and Sundays, from July 15 to Aug. 13.

Regular bus fare is $4 round-trip, and riders receive a coupon for $3 admission to the OC Fair. Riders ages 60 and over and those with disabilities ride for just 75 cents each way, and children 5 years and younger ride for free when accompanied by a paying adult.

Riders can also download the free OC Bus app to their mobile device to easily buy electronic tickets in advance and to check bus routes and schedules.

The OC Fair Express allows riders to avoid traffic and parking hassles, and passengers are dropped off at the Yellow Gate just feet from the entrance to the OC Fair.

For more information, click here.

Youth Summer Bus Passes Available for Half Price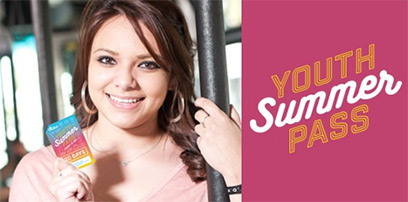 The Orange County Transportation Authority is encouraging youth to explore their community this summer using the discounted OCTA Youth Summer Pass.

The 30-Day Youth Summer Pass is a limited-time discount on the youth monthly pass. It's being offered to youth ages 6 to 18 and costs $20, half off the regular price. It is valid for unlimited rides on the 65 OC Bus routes for 30 consecutive days between June 1 and August 31. The Youth Summer Pass can be conveniently purchased using the mobile ticketing feature of the OC Bus app. Click the link below for other purchasing options.

As part of this year's promotion, OCTA is offering prizes, including Knott's Berry Farm tickets, movie theater tickets and gift cards, to a lucky winner each week. To enter, participants are asked to hop on an OC Bus, take a selfie with the special summer bus decal and share their photos on social media using #OCSummerBus.

To find out more about the OCTA Youth Summer Pass, click here.

County Launches "Summer of OC" Photo Contest


The County of Orange is now accepting entries into its "Summer OC" Photo Contest. Orange County residents are encouraged to submit their photos of summer concerts in the park, swimming or surfing in the local waves, visiting the zoo or enjoying other fun summer activities.

The contest begins on the first official day of summer, June 20, and photos will be accepted through July 20. All entries must be submitted via email, and the top three photos will be posted to the County's Facebook and Twitter accounts each Friday during the contest.

On July 21, the top three photos from the contest will be posted to the County's Facebook page, and public voting will take place from July 21 through noon Pacific Time on July 28. The photo with the most Facebook likes as of noon on July 28 will be named the contest winner. The winner of the "Summer OC" Photo Contest will receive a certificate of recognition from the County and will have his or her winning photo featured in the County Hall of Administration.

To enter the "Summer OC" Photo contest, entrants can email their photos to ceocom@ocgov.com with the subject line "Photo Contest Entry." For additional information on how to enter the contest and other details, visit the "Summer OC" Photo Contest webpage.

WANTED: Orange County Ethics Commissioners


The Orange County Board of Supervisors is now accepting applications for Commissioners to serve on the County's Campaign Finance and Ethics Commission.

The Commission will consist of five appointed members, one appointment by each Supervisor. Proposed commissioners must be confirmed by a majority vote of the Board of Supervisors.

Commissioners shall serve terms up to three years and may not serve more than two full terms. A full list of the qualifications and an online application can be found on the Office of Campaign Finance and Ethics Commission website.

In addition to the Office of Campaign Finance and Ethics, the County of Orange has a fraud hotline for use by County employees, the general public, or vendors reporting suspected waste, fraud, violations of County policy, or misuse of County resources by vendors, contractors or County employees.

The County Fraud Hotline number is (714) 834-3608. For more information about reporting fraud, please click here.

Meet OC Animal Care's Pet of the Week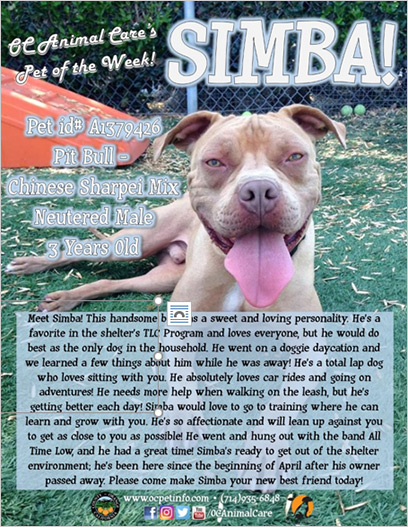 Click on the image above to view a PDF version.

Summer Lovin': Discounted Pet Adoptions

During the month of July, OC Animal Care is hosting two special adoption promotions to help our homeless pets find loving, forever homes.

ooking for the purrfect feline friend? Visit the shelter on "Caturday" (any Saturday in July) and take home your new companion at a discounted rate.

If you prefer a more active lifestyle and have the time to devote to man's best friend, the shelter is offering the same discount for all Pit Bull adoptions every day in July. See the flyer for details.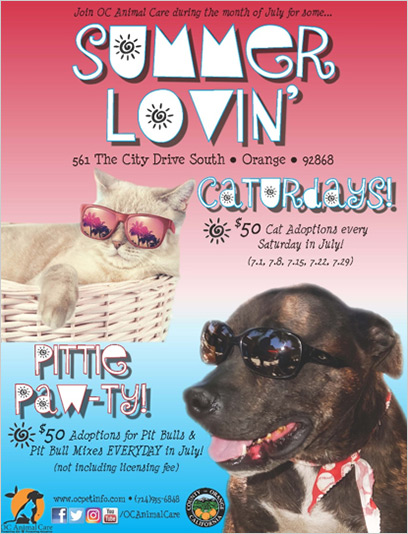 Click on the image above to view a PDF version.

Out and About In South County

Aliso Viejo: AVCA Summer Concert

The Aliso Viejo Community Association will host a Summer Concert on Sunday, July 9, featuring Common Sense (surf/reggae) from 5:30 PM to 7:30 PM at Grand Park/Town Center Amphitheater. For more information, click here.

Aliso Viejo: Reptile Night and Family Movie Night

Join the City of Aliso Viejo for a FREE family event Friday, July 14, behind the Family Resource Center at 24671 Via Iglesia. Learn about snakes, tortoises, lizards and other creatures at a live animal show by The Reptile Zoo beginning at 7 PM, then stick around for "The Muppet Movie" starring Kermit the Frog. For more information, click here.

Dana Point: Summer Concert Series

Dana Point kicks off its Summer Concert Series on July 9 at Sea Terrace Park. The Neil Deal: The Best of Neil Young and Crosby, Stills, Nash & Young will play from 2:30 PM to 4 PM, and The Sam Morrison Band Tribute to Bob Seger and Southern Rock will perform from 4:30 PM to 6 PM. Free Shuttle Service is available from Dana Hills High School from 1 PM to 7 PM. For more information, click here.

Dana Point: Science Night - Sharks!

Come to the Dana Point Community Center on Thursday, July 13 for this month's Science Night, "SHARKS: Myths Behind the Monster." This is a great opportunity to learn about different species of sharks found throughout our area, get informed about recent Great White sightings at Orange County beaches, and gain a better understanding of why these creatures are important to our oceans. For more information, click here.

Laguna Beach: Summer Art Festivals

The world famous summer art festival season is in full swing in Laguna Beach, including the newly renovated Festival of Arts and Pageant of the Masters, as well as the Sawdust Art & Craft Festival and Laguna Art-A-Fair. These popular festivals feature a wide array of arts & crafts exhibits from world-renowned artisans, as well as excellent music, delicious food, enchanting ambiance, and much more. Ride the Summer Breeze to the festivals FREE on Saturdays and Sundays! Click the links above for more information.

Laguna Hills: Shakespeare in the Hills

Laguna Hills will host a re-interpreted production of Romeo & Juliet on Friday, July 28 from 7 PM to 9 PM at the Community Center & Sports Complex. This interpretation transports the star-crossed lovers to 1845 in the conflicted world of Alta California, in which the local rancheros of old Mexico cope with the influx of American immigrants. Tickets are $10 per person and children under 12 are FREE! For more information, click here.

Rancho Santa Margarita: Summer Concert

Come to Rancho Santa Margarita on Sunday, July 9 from 6 PM to 8 PM at Central Park for an evening of excellent music, featuring "Mighty Untouchables - Dance Party Band". Visit some of the City's local restaurants before the concerts and bring a picnic dinner with you. For more information, click here.

San Clemente: Ocean Festival

Join the City of San Clemente on July 15 as they cheer competitors of the many ironman water and land events! There will also be a free beach concert, Sand Sculpting Contest, Ocean Art Show, Great Rubber Duck Race, and much more! The festival will be held all day and begin at Pier 7. For more information, click here.

San Juan Capistrano: Free Saturday Film

On Saturday, July, 18, the San Juan Capistrano Library will feature "Beauty and the Beast" for FREE from 10 AM to 12 PM. For more information, click here.

This week I:

Spoke at the OCTA Summer Breeze Kick Off event in Laguna Beach.
Participated in the Lake Forest 4th of July Parade.
Participated in the OCTA Environmental Oversight Committee meeting.
Toured the Illumination Foundation's Recuperative Care Facility in Midway City.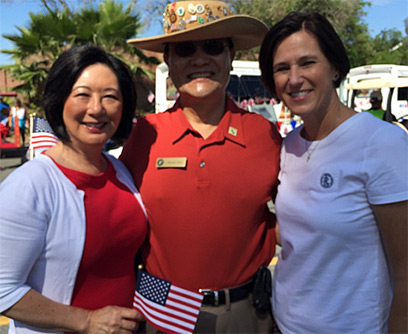 With Assemblyman Steven Choi and Congresswoman Mimi Walters at the Lake Forest Fourth of July Parade.

My Staff:

Attended the OCBC Advocacy & Government Affairs meeting.
Attended the OCTA Regional Planning & Highways Committee meeting.
Attended the San Juan Capistrano 4th of July Celebration.
Presented a Certificate of Recognition in honor of the Aqua Derm Esthetics ribbon cutting in Lake Forest.
Attended the Laguna Niguel Chamber's Government Affairs meeting.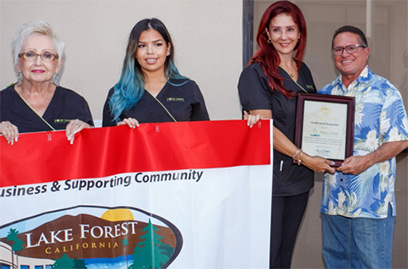 My Community Affairs Advisor, Sergio Prince, presenting a certificate of recognition at the Aqua Derm Esthetics ribbon cutting in Lake Forest. (Photo courtesy of Takata Photo & Design)

Elected Officials in the Community


San Juan Capistrano Mayor Kerry Ferguson and Mayor Pro Tem Sergio Farias at the city's 4th of July Celebration.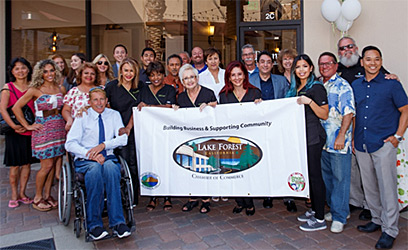 Lake Forest Mayor Scott Voigts (left) at the Aqua Derm ribbon cutting.

For questions or comments regarding Supervisor Bartlett's E-Newsletter please contact the Supervisor's office staff at: (714) 834-3550 or email Sergio.Prince@ocgov.com or Tanya.Flink@ocgov.com.