Fifth District Calendar

Ride FREE to Laguna Beach on the Summer Breeze!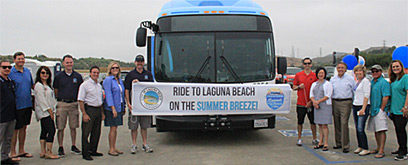 Preparing to board the first Summer Breeze bus of the season.
Summer Breeze makes you feel fine, with FREE parking and a FREE bus ride, blowing through the jasmine of Laguna Canyon Road. The Summer Breeze offers convenient stops at the Festival of Arts and Pageant of the Masters, Sawdust Art Festival, Art-A-Fair, and Laguna Playhouse; as well as the Laguna Beach Bus Station, where riders can easily connect with the FREE Laguna Beach Trolley.

The Summer Breeze runs Saturdays and Sundays through September 3, every 30 minutes from 11 AM to midnight. This FREE park & ride service originates from the Summer Breeze parking lot located at the I-405 & SR-133 (Laguna Canyon Road) interchange in Irvine, previously the site of the Odysseo/Cavalia horse show.

No need to stress about parking in Laguna Beach this summer! Blow freely into town on a sweet Summer Breeze and be returned safely to your vehicle when you're done! For more information - including the Summer Breeze bus schedule, route map, and directions - please click here or see the flyer below.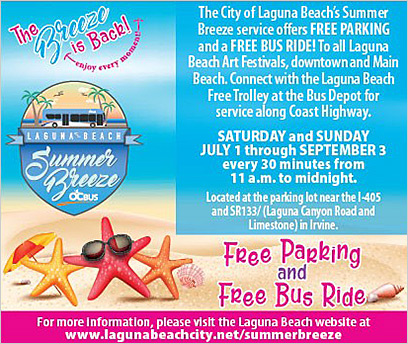 Click on the image above to view a PDF version.

South County Spotlight

South County Summer Trolleys: All Aboard!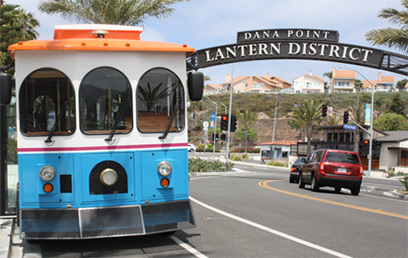 Even before taking office as your Orange County Supervisor, I have been a strong advocate for an integrated trolley network that provides a convenient and flexible transportation system connecting our unique and beautiful South County communities.

Last year, as a member of the Orange County Transportation Authority Board of Directors, I was pleased to support full funding of all Project V Community Circulator applications, investing more than $27 million for capital, operations, and planning purposes. As a result, this trolley service is now a fabulous way to experience South County's summer destinations without the stress of sitting in traffic or fighting for parking.

For summer 2017, we now have three cities connected for a fun and easy way to get around! All three trolley services are free of charge for South County residents and visitors. With 28 miles of trolley coverage, you can now connect to and from Laguna Beach, Dana Point, and San Juan Capistrano. You can now explore our South County communities during summer using this convenient, fun, and free form of transportation, while avoiding parking headaches!

The Laguna Beach Trolley has pick-ups every 20 minutes. The free daily service runs through September 3. The Laguna Beach Trolley System has three different routes available for your enjoyment, including a convenient connection to the Dana Point trolley. Click here and here for more information.

The Dana Point Trolley connects to the Harbor Shuttle, as well as the Laguna Beach and San Juan Capistrano trolley junctions. The trolley service through this ocean lovers' paradise is free of charge and runs daily through September 4 (Labor Day), arriving at each stop every 15 minutes. Click here to view the trolley map, or here for more information.

The San Juan Capistrano Trolley operates Friday evenings, as well as Saturdays and Sundays through Labor Day. With frequency every 20 minutes, this service through Orange County's most historic town also connects conveniently with the Dana Point Trolley. Click here for more information.

The Laguna Beach, Dana Point, and San Juan Capistrano trolleys all interconnect, allowing intrepid explorers to enjoy continuous shuttle service through all three of these cities during summer without the parking hassles!

In addition, Mission Viejo and San Clemente also have shuttles that operate within their respective city boundaries. And the Orange County RanchRide will be on board soon, too.

Summertime and the living is easy! I hope you take advantage of these convenient, fun, and free trolley services all summer long and encourage your friends and family to do the same! To view a map of the entire South County Trolley System, please click the image below.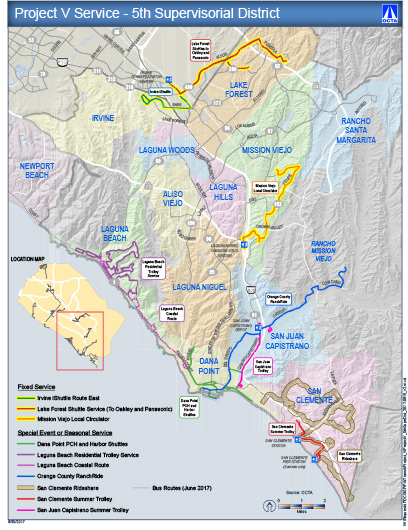 Click on the image above to view a PDF version.

Full Nighttime Closures on the I-5 in South County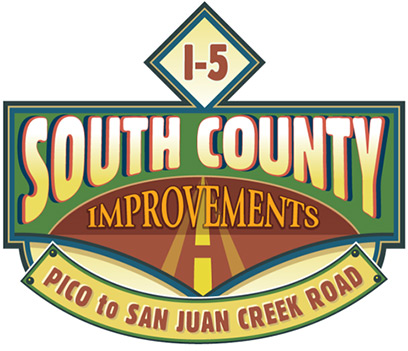 Please be advised that northbound I-5 is scheduled to close at night July 26, 27 & 28 between Avenida Pico and PCH/Camino Las Ramblas. Additionally, lane closures are scheduled July 24 through July 28.

Crews will be replacing outdated overhead signs that span the freeway.

Lane closures are scheduled from 10 PM to 5 AM. Full freeway closures are scheduled midnight to 5 AM.

Motorists should expect significant delays and avoid the area if possible.

For more information, including maps and detour routes, please click here.

*Dates and times are subject to change based on weather or unforeseen circumstances

County Connections

OC Fair Express returns July 15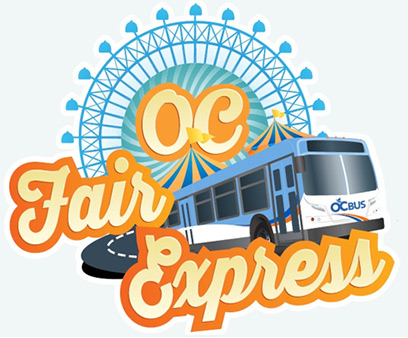 The OC Fair Express Bus service returns July 15 to provide convenient non-stop travel to the OC Fair on weekends. The express bus service will provide service from nine locations to the OC Fair from 11 AM to midnight on Saturdays and Sundays, from July 15 to Aug. 13.

Regular bus fare is $4 round-trip, and riders receive a coupon for $3 admission to the OC Fair. Riders ages 60 and over and those with disabilities ride for just 75 cents each way, and children 5 years and younger ride for free when accompanied by a paying adult.

Riders can also download the free OC Bus app to their mobile device to easily buy electronic tickets in advance and to check bus routes and schedules.

The OC Fair Express allows riders to avoid traffic and parking hassles, and passengers are dropped off at the Yellow Gate just feet from the entrance to the OC Fair.

For more information, click here.

OC Waste & Recycling Offers a Different Perspective on National Drive-Thru Day

Want fries with that battery bucket? OC Waste & Recycling is putting a twist on National Drive Thru Day, using the celebratory day to help increase awareness about bringing household hazardous waste to the proper place and making sure it stays out of landfills.

If you visit a Household Hazardous Waste Collection Center on Saturday, July 22, between 9 AM and 3 PM to drop off materials, you will receive a Discovery Cube OC free child admission coupon and a battery bucket – while supplies last. The centers are located in Anaheim, Huntington Beach, Irvine and San Juan Capistrano. Residents are encouraged to use this opportunity to clear out unwanted e-waste, paint, chemicals and more, then drop it off drive-thru style – without having to exit your vehicle. Household Hazardous Waste Collection Centers are open FREE to Orange County residents Tuesdays through Saturdays from 9 AM to 3 PM year-round, excluding holidays and rain events.

Drive-thrus are the iconic, quintessential measure of convenience. People have enjoyed this service since the 1930s. Today it is most often associated with fast food convenience. Fortunately for Orange County residents, that also includes hazardous waste disposal. For more information on OC Waste & Recycling services and the National Drive-thru Day promotion, visit oclandfills.com.

County Appoints New OC Waste & Recycling Director

Tom Koutroulis has been appointed to the position of Director of Waste & Recycling (OCWR) for the County of Orange. Koutroulis was selected following a nationwide search and a competitive recruitment process.

Koutroulis has dedicated his professional life to the waste industry and has more than 25 years of experience in a variety of roles. He has spent the last 13 years of his career in leadership roles with Waste Management, Inc. and most recently served as the Senior Manager for Organics Project Development. He holds a Bachelor of Arts degree from the University of California, Irvine and a Master of Business Administration in Technology Management and Implementation from the University of Phoenix.

OCWR serves the County's solid waste disposal needs by providing waste management services, operating public landfills, protecting the local environment, investing in renewable energy enterprises, and promoting recycling in order to ensure a safe and healthy community for current and future generations. The department manages one of the nation's premier solid waste disposal systems, serving residents and businesses in the County's 34 cities and unincorporated areas. OCWR's three active landfills reflect environmental engineering at its best. They are among the largest in the state and annually receive more than 4 million tons of solid waste. Learn more by visiting the OCWR website at www.oclandfills.com.

"I look forward to joining the great team at OC Waste & Recycling as the director and working with our community partners to achieve our goals," said Koutroulis.

WANTED: Orange County Ethics Commissioners


The Orange County Board of Supervisors is now accepting applications for Commissioners to serve on the County's Campaign Finance and Ethics Commission.

The Commission will consist of five appointed members, one appointment by each Supervisor. Proposed commissioners must be confirmed by a majority vote of the Board of Supervisors.

Commissioners shall serve terms up to three years and may not serve more than two full terms. A full list of the qualifications and an online application can be found on the Office of Campaign Finance and Ethics Commission website.

In addition to the Office of Campaign Finance and Ethics, the County of Orange has a fraud hotline for use by County employees, the general public, or vendors reporting suspected waste, fraud, violations of County policy, or misuse of County resources by vendors, contractors or County employees.

The County Fraud Hotline number is (714) 834-3608. For more information about reporting fraud, please click here.

Meet OC Animal Care's Pet of the Week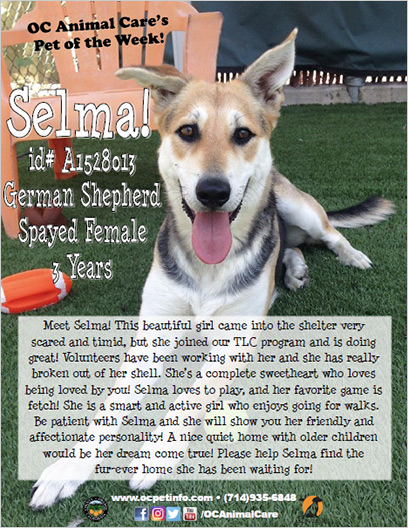 Click on the image above to view a PDF version.

Summer Lovin': Discounted Pet Adoptions

During the month of July, OC Animal Care is hosting two special adoption promotions to help our homeless pets find loving, forever homes.

Looking for the purrfect feline friend? Visit the shelter on "Caturday" (any Saturday in July) and take home your new companion at a discounted rate.

If you prefer a more active lifestyle and have the time to devote to man's best friend, the shelter is offering the same discount for all Pit Bull adoptions every day in July. See the flyer for details.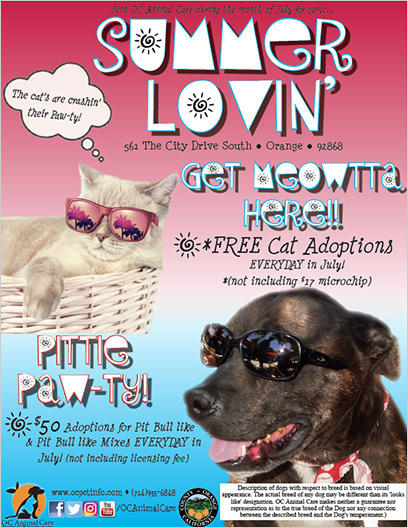 Click on the image above to view a PDF version.

Out and About in South County

Dana Point: Summer Concert

Join the City of Dana Point as they host a free concert at Sea Terrace Park on Sunday, July 23 from 2:30 PM - 6:00 PM. This week's bands are: Saturday Night Fever: A Tribute to the BeeGees from 2:30 PM-4:30 PM and ABBAFAB: ABBA Tribute from 4:30 PM-6:00 PM. Food and beverages will be available for purchase and there will be a free shuttle service from Dana Hills High School from 1:00 PM - 7:00 PM to take you and your family to the concert. For more information about this free concert, please call the Recreation Department at (949) 248-3536.

Laguna Hills: Shakespeare in the Hills

The City of Laguna Hills will be hosting a re-interpreted production of Romeo & Juliet on Friday, July 28 from 7:00 PM -9:00 PM at the Community Center & Sports Complex. This re-interpretation transports the star crossed lovers to 1845 in the conflicted world of Alta, California in which the local rancheros of old Mexico are coping with the influx of American immigrants. Tickets will be on sale for $10 per person and children under 12 are free! For more information regarding this production, please contact (949) 707-2680 or click here.

Mission Viejo: Symphony in the Cities

Join the City of Mission Viejo on Saturday, July 22 at 4:00 PM as they host the Pacific Symphony in Village Green at Oso Viejo Park! This is a free event and will include a Prelude and Musical Playground before the concert starting at 4:00 PM. The Prelude and Musical Playground will include gourmet food trucks, a beer and wine garden as well as lots of free children's activities! For more information about the Symphony in the City or the Prelude, please call (949)470-8440 or click here.

Rancho Santa Margarita: Summer Concert

The City of Rancho Santa Margarita is hosting a free summer concert on Sunday, July 23 from 6:00 PM to 8:00 PM in Central Park, 30842 La Miranda Rancho Santa Margarita, CA 92688. Enjoy local restaurants before the concert or bring a picnic dinner to enjoy in the park. For more information regarding this concert or any upcoming concert, please contact the Community Services Department at (949) 216-9700.

San Clemente: "Common Sense" Beach Concert

Join the City of San Clemente as they host a beach concert on Thursday, July 27 at 6:00 PM! The headlining band will be Common Sense, an Orange County based reggae band. Fisherman's Restaurant will also be providing a BBQ dinner for $8 a person and will be served at the beach front. For more information regarding this free concert click here.

This week I:

Participated in the TCA Foothill Eastern Ad Hoc meeting.
Attended a multi-chamber event with the Dana Point, Laguna Niguel, San Clemente, and San Juan Capistrano chambers of commerce. During the event, I presented a Proclamation in honor of the Dana Point Chamber's outgoing Executive Director, Heather Johnson.
Presented a County update at the South Orange County Association of Mayors (SOCAM) meeting at the Ecology Center in San Juan Capistrano.
Participated in the OCTA Legislative and Communications Committee.

With District Attorney Tony Rackauckas at the multi-chamber event in Dana Point.

Staff Spotlight

Victor Cao Appointed to Deputy Chief of Staff

I am proud to announce that Victor has been promoted to Deputy Chief of Staff for the Fifth District. He has been with my office since December 2014 and was promoted to Senior Policy Advisor in June 2016. He manages several public policy initiatives primarily in land use and infrastructure. Prior to that, he directed government affairs at the Building Industry Association of Orange County chapter for four years.

Victor is an accomplished and respected public policy professional in Orange County. He is a natural servant leader and has demonstrated an ability to work at a very high level. His appointment to Deputy Chief of Staff will further support me in the service to Orange County residents, especially those in the Fifth District. Congratulations, Victor!

My Staff:

Took a tour of the Norooz Clinic Foundation
Attended the HomeAid Dedication Ceremony.
Presented a Certificate of Recognition in honor of the Legado Bar & Kitchen ribbon cutting ceremony in Laguna Niguel.
Toured the OC Parks Aliso & Wood Canyon Visitor Center.
Attended the OC Parks Strategic Planning Workshop.
Attended the OC Forum luncheon.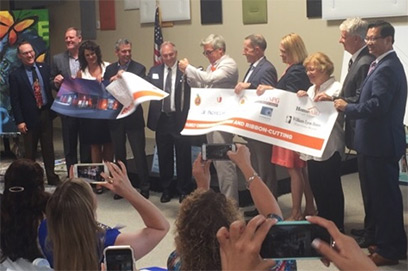 At the ribbon cutting ceremony for the new HomeAid Orange County Family Center in Orange.

Elected Officials in the Community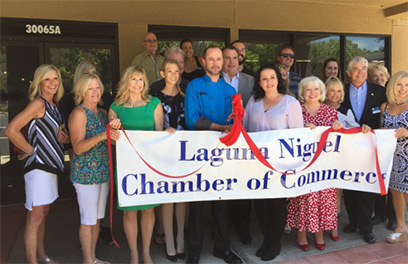 Laguna Niguel Mayor Jerry Slusiewicz, Councilwoman Laurie Davies, and Councilwoman Elain Gennawey at the Lagado Bar & Kitchen ribbon cutting.

For questions or comments regarding Supervisor Bartlett's E-Newsletter please contact the Supervisor's office staff at: (714) 834-3550 or email Sergio.Prince@ocgov.com or Tanya.Flink@ocgov.com.