Fifth District Dispatch

Welcome to the Fabulous Fifth District Dispatch!

Thank you for subscribing to my weekly e-newsletter. The Fifth District Dispatch includes information from County departments, regional boards I represent, transportation highlights and upcoming events in South County.

Please add me on Twitter @OCSupBartlett and Facebook @SupervisorLisaBartlett to receive regular social media updates.

It is my honor to represent you!

Sincerely,

Lisa Bartlett
Supervisor, 5th District

County Connections

Health Care Agency: Its Not Too Late to Vaccinate

The Health Care Agency has reported a rapid increase of flu activity in Orange County over the past few weeks and reminds residents that it's not too late to vaccinate. More than 900 confirmed influenza cases have been reported by local medical providers to date this season. Nine adults between the ages of 18-64 and two children under 18 years of age have developed severe infection requiring a visit to intensive care.

"The rapid rise in reports of illness and hospitalization around the state makes it likely that this will be a severe flu season," said County Health Officer Dr. Eric Handler. "The vaccine seems to match well with the virus we're seeing, and it's a quick and easy way for folks to protect themselves against severe complications from the flu."

Influenza is a seasonal contagious respiratory illness which can be caused by influenza A or B viruses. Flu symptoms may include fever, cough, sore throat, runny or stuffy nose, headaches, body aches, chills and fatigue. Flu illness can be severe, leading to missed school or work, hospitalization and even death.

Flu virus is mainly spread through droplets from coughs and sneezes. The best way to protect against both influenza A and B viruses is by getting vaccinated each year before the start of the flu season. Vaccinations are recommended for everyone 6 months of age and older, and are especially important for infants, young children, pregnant women, adults over 50 and those with chronic medical conditions. Close contacts and caregivers of these high risk people should also be vaccinated.

Most insurance plans including MediCal and Medicare cover free vaccinations from your health care provider.

Remember these important steps to help stop the spread of flu and other germs:

Cover your cough or sneeze with a tissue (or sleeve if you are caught by surprise)
Wash your hands often with soap and warm water (or alcohol-based sanitizer, if not available)
Stay home if you are sick (at least 24 hours after your fever is gone)
The most current local information, including vaccination locations, is available at www.ochealthinfo.com/flu or by calling the Health Referral Line at 800-564-8448, Monday through Friday from 8 a.m. to 5 p.m.

Orange County Armories

Orange County's Armory program provides up to 400 beds per night for the homeless in Fullerton and Santa Ana. Volunteers will be needed 7 days per week to help both in the evening (5:30 – 8:30pm) and morning hours (5-7am). Volunteers will be assisting with set-up, clean-up, passing meals and donations. Volunteers are also needed to provide dinners on a nightly basis.

The Santa Ana Armory is located at 612 E. Warner St. Santa Ana, CA 92707 & the Fullerton Armory is located at 400 S. Brookhurst St. Fullerton, CA. 92833.

Sign up to volunteer here!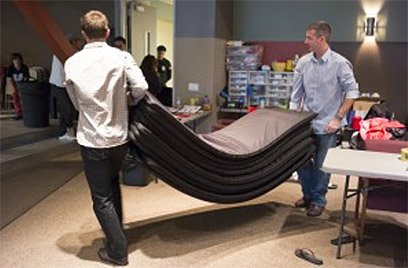 Donations are accepted Mon – Thurs 6pm-8pm at the Armories. Please keep in mind that we can only accept adult clothing at the Fullerton Armory including attire that is appropriate for the cold weather. Please no summer clothing. If you are interested in donating hot chocolate, granola bars (nature valley) we would be more than happy to accept these in-kind items!

If you have additional questions, please contact Irene Drissen at irenem@mercyhouse.net!

Point-In-Time Count of the Homeless

In a county with one of the state's most expensive housing markets, providing additional resources to help homeless people transition to long-term housing is more critical than ever, as well as addressing the complex social and medical issues that result in chronic homelessness.

To that end, every two years, during the last week of January, a countywide Point-In-Time Count (PIT) takes place to count and survey the homeless population in Orange County. The PIT Count is planned, coordinated, and carried out locally to meet Federal Department of Housing and Urban Development requirements for Continuum of Care (CoC) homeless programs.

Locally, the CoC supports the coordinated efforts of 15 nonprofit agencies that provide rapid rehousing and permanent supportive housing for those experiencing homelessness within our communities. The Count process is a critical factor in determining the amount of federal funding the County receives to serve the homeless population. It also provides information on how to improve the available resources and approaches to meet the needs of the different populations.

Two years ago, my staff and I were pleased to participate in the 2015 PIT Count. This year, the 2017 Count provides another opportunity for communities to come together to learn about the resources available, gain insights into the plight of people that are currently experiencing homelessness, and make a contribution to the broader solutions to end homelessness in our county.

Because having an accurate and comprehensive Count relies on the participation of hundreds of volunteers, I am inviting you to volunteer for the 2017 Point-In-Time Count on Saturday, January 28 from 4:30 AM to 9:00 AM. The 2017 Count will be deployed from deployment centers located in each of the five Supervisorial Districts to survey the surrounding neighborhoods for homelessness.

An estimated 1,500 volunteers are needed to work in the field and at deployment centers on the morning of the Count. The South County deployment centers will be Family Assistance Ministries in San Clemente, and Families Forward in Irvine. To register as a volunteer, please visit the project website at www.pointintimeoc.org or email pointintime@211oc.org. Additional information on ways to get involved or make a charitable donation is available at www.pointintimeoc.org.

Thank you kindly for your generous time and selfless effort in assuring that homeless and at-risk individuals and families in our county receive the care and services they need.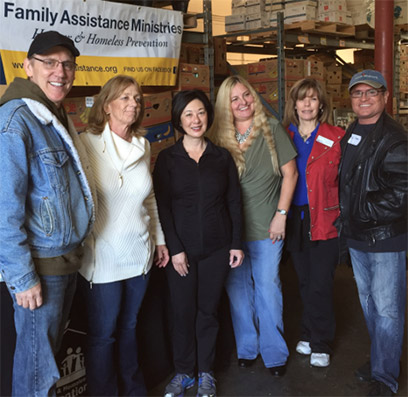 Participating in the 2015 Point-In-Time Count of the Homeless.

OC Grand Jury: Court Extends Grand Jury Application Deadline to February 1

Hon. Kirk Nakamura, Assistant Presiding Judge of the Orange County Superior Court and chair of the Grand Jury Recruitment and Selection Committee, announced that the Court has extended the deadline to apply to serve on the next Grand Jury to February 1, 2017 due to a shortage of applicants.

Judge Nakamura said, "By law, the Court must impanel a 19-member Grand Jury each fiscal year to serve a one-year term. It is difficult to attract qualified individuals from all areas of Orange County who can devote 30 to 35 hours per week for this unique community service opportunity." Panelists receive a $50 per day stipend, reimbursement for mileage, and reserved onsite parking at the Central Justice Center in Santa Ana, where they meet.

The Grand Jury provides civil oversight of local governments and agencies by reviewing and evaluating county, city, and other agencies, including jails, schools, and special districts, within Orange County. At the conclusion of these investigations, the Grand Jury compiles written reports with its findings and recommendations for improvement. The Grand Jury also considers evidence for possible indictment of individuals for criminal charges and reviews issues of concern submitted by the public. However, the Grand Jury has no jurisdiction to review matters involving the Orange County Superior Court or state and federal agencies.

Superior Court judges interview qualified applicants and choose the top candidates to proportionally represent all areas of Orange County. Selection of the 19-member Grand Jury is accomplished by a random drawing of the 25 to 30 finalists. Current grand jurors and their advisors provide training to the new panelists. The grand jurors will take the oath of office on June 30, 2017 for a one-year term.

The requirements to serve are: Orange County resident, U.S. citizen, 18 or older, sufficient knowledge of English, sound judgment, and a sense of fairness. The application form and more information are available online at www.ocgrandjury.org, by calling 657-622-6747, or in person at the Jury Commissioner's Office, 700 Civic Center Drive West, Santa Ana.

John Wayne Airport: Artwork Update

From January 17, 2017 – February 16, 2017, a series of pastel artworks by Laguna Niguel resident Ruth Kurisu will be on display at John Wayne Airport (JWA) as part of JWA's Community Focus Space Program. These pastels can be viewed on the Departure (upper) Level near security screening areas in Terminals A, B and C, and on the Arrival (lower) Level adjacent to Baggage Carousels 1 and 4.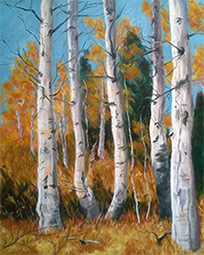 Aspen Elegance by Ruth Kurisu

More images can be seen here.
"For me, being an artist is about the journey," said Ms. Kurisu. "When you see my art, you see more than a pastel painting. You see hundreds of hours of experimentation and failure. You see a piece of my heart, a part of my soul and a moment in my life."

Kurisu began her artistic journey as a photographer, studying with National Geographic photographer Chris Rainier and National Geographic Traveler Magazine editor Dan Westergren. Her photographs have been published by the International Library of Photography and Photographer's Forum, Best of Photography. Ms. Kurisu began her formal study of painting 10 years ago, and since then she has achieved a growing list of juried exhibition acceptances and awards, has received international recognition with Light Space & Time Gallery, and is published in numerous exhibition catalogues. Please visit www.ruthkurisu.com for more information about Ruth Kurisu's work.

To learn more about JWA's Art Programs, visit www.ocair.com/terminal/artexhibits.

OC Public Libraries

San Clemente Library: Brain Boosters Educational Class

On January 27, please join the San Clemente Library for a fun, interactive class for adults led by Gerontologst, Dr. Jane Mahakian. Come learn up-to-date research and information about memory and aging, why we forget and how memory changes over the lifespan. Class begins at 10:30am and ends at 12pm. See the flyer below for details.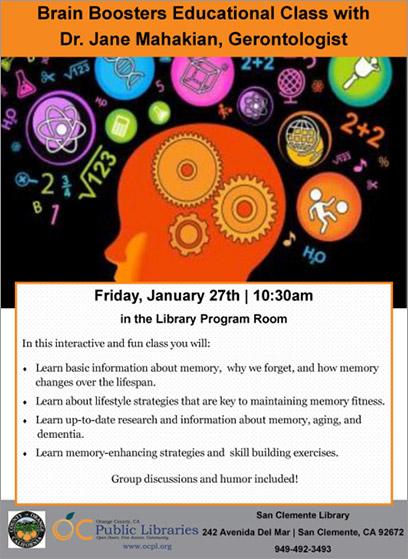 OC Clerk-Recorder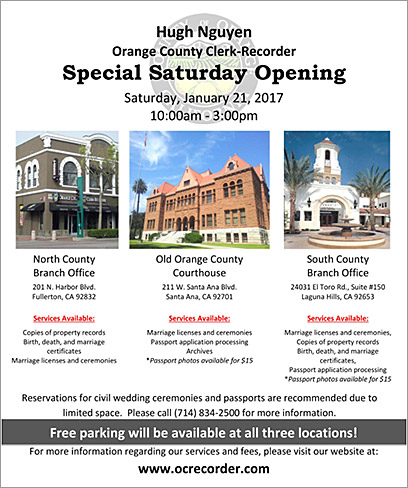 Click on the image above to view a PDF version.

OC Animal Care/Pet of the Week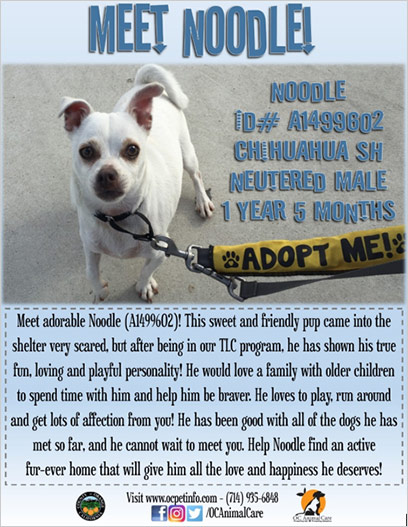 Click on the image above to view a PDF version.

Out and About In South County

Aliso Viejo: Snow Fest

The annual Snow Fest event has been postponed to Saturday, January 28. Please mark your calendars for this new date. Folks who preregistered will enjoy Grand Mountain and Bunny Hill, groomed inclines for sledding and Snowman Park, an enclosed snow field perfect for snow play and exploration for children age five and under.

New this year, we have added a Snowman Gallery for families to build their own snow figures. Please note that the registration period for wristbands to enter the snow areas is now closed, however there are many free activities offered outside including an art studio, family games, community information and activity booths, a balloon twister, glitter tattoos and photo opportunities with the Snow Fest mascot "Frosty". The second rain date is February 4th. For more information, click here.

Dana Point: A Walk Through History

This walk focuses on local Dana Point History and is designed to introduce participants to several different historical periods including the surfing heritage era and harbor construction. This walk is on Saturday, January 21st from 9-11 AM at the Dana Point Nature Interpretive Center. The walk is 1.5 to 2 hours long and covers about 1.5 miles. For more information, click here.

Lake Forest: Snow Fest 2017

Be part of this annual winter event and hit the snow laden slopes at Pittsford Park! Grab the kids, the camera and your friends and come play in the snow where sleds and saucers will be available to slide down Mount Pittsford. Each participant must have a signed waiver form on file with the City. There will also be a snow play area for kids 5 and under open during the entire event.

Check out additional attractions at the event and bring your camera for guest appearances from a galaxy far away. This event is on Saturday, January 28th from 11 AM to 4 PM at Pittsford Park and costs $7 for sledding. For more information, click here.

Mission Viejo: E-Waste Recycling Event

If you have an old computer, hard drive, TV or other electronic device, drop it off at Mission Viejo City Hall on Saturday, January 21 between 9 a.m. to 3 p.m. for a good cause! Bring old cameras, laptops, monitors, copiers, radios, fax machines, cell phones, keyboards, printers, scanners, hard drives, MPS players, and other electronics for recycling.

Proceeds will benefit Relay For Life of Mission Viejo, an annual American Cancer Society event that raises money for cancer research and programs. For more information, contact mvgreen@cityofmissionviejo.org or 949-470-3010.

Mission Viejo: Polar Bear Plunge
Take an icy dip in the spa for a fun photo opportunity and experience the thrill of playing in 180 gallons of artificial snow. Enjoy carnival games, snowball fights, snow cones, hot chocolate, waterslide and rec swim in the heated pool. This event is on Saturday, January 28th from 1 to 4 PM and entrance is free. For more information, click here.

This week I:

Attended the San Clemente City Council meeting to present Certificates of Recognition to the San Clemente High School Tritons football team, coaches and staff in recognition of their recent victory at the CIF-SS Division 2 Championship.
Spoke at the South Orange County Association of Mayors meeting in Laguna Woods and presented a Certificate of Recognition to Laguna Woods Mayor Shari Horne upon being named one on OC's 100 Most Influential by The Orange County Register.
Participated in the OCTA Legislative and Communications Committee meeting.
Participated in the TCA Joint Capital Programs & Projects meeting.
Spoke at the Gift of History's Nothing Rhymes with Orange assembly at RH Dana Elementary in Dana Point.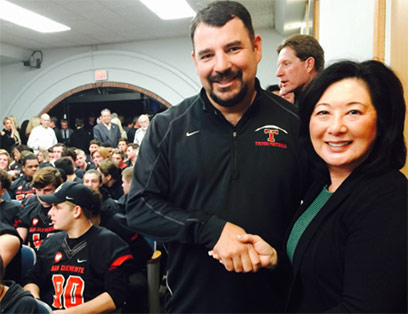 Congratulating San Clemente Tritons Football Head Coach Jaime Ortiz upon the team winning the CIF Title.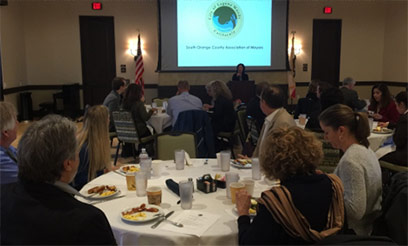 Speaking at the South Orange County Association of Mayors meeting in Laguna Woods.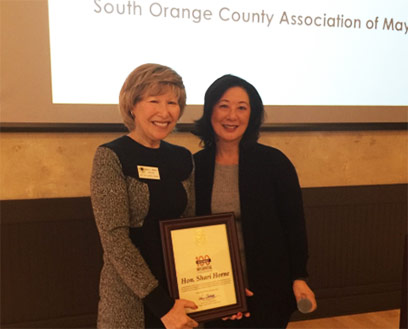 Presenting a Certificate of Recognition to Laguna Woods Mayor Shari Horne.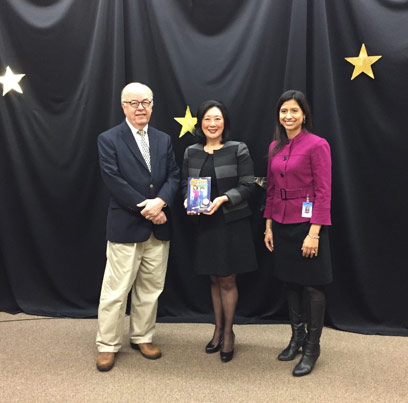 At the Gift of History Assembly at RH Dana Elementary, with author Stan Oftelie and school Principal Dr. Christina Portillo.

My Staff:

Presented a Certificate of Recognition at the San Diego County Credit Union ribbon cutting in Laguna Niguel.
Presented a Proclamation to Lake Forest City Manager Bob Dunek in honor of his retirement after 21 years of distinguished service to the City.
Participated in the Point-in-Time Count of the Homeless volunteer training.
Presented a Certificate of Recognition to O'Connor Mortuary in Laguna Hills in honor of their recent renovation.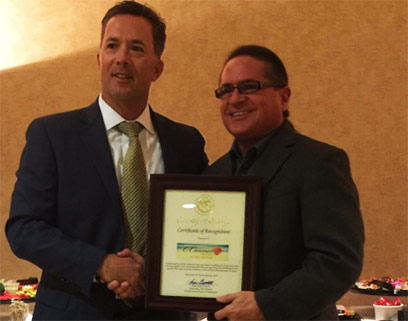 Presenting a Certificate of Recognition to Neil O'Connor of O'Connor Mortuary.

South County Elected Officials in the Community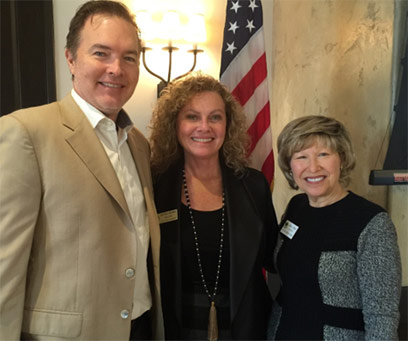 Laguna Hills Mayor Don Sedgwick, San Clemente Mayor Kathy Ward, and Laguna Woods Mayor Shari Horne at the South Orange County Association of Mayors meeting.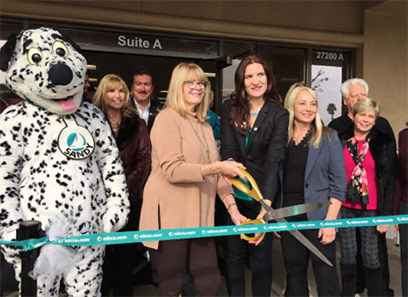 Councilwoman Laurie Davies (right of mascot) at the San Diego County Credit Union ribbon cutting in Laguna Niguel.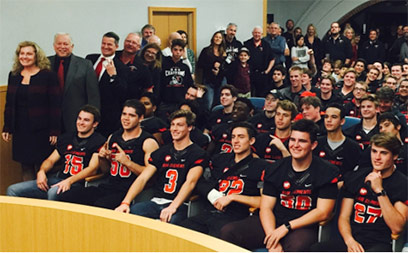 San Clemente Mayor Kathy Ward (left), Councilman Steve Swartz, and Mayor Pro Tem Tim Brown recognizing the Tritons Football Team.

For questions or comments regarding Supervisor Bartlett's E-Newsletter please contact the Supervisor's office staff at: (714) 834-3550 or Tanya.Flink@ocgov.com.