Fifth District Highlights

Transportation Opportunities for our Older Adults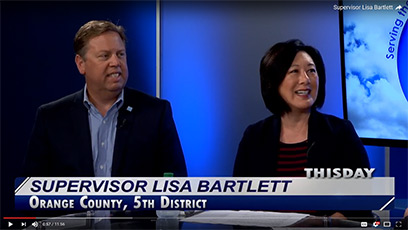 With OCTA CEO Darrell Johnson. Click the image above to view video.
This week, Darrell Johnson, CEO of the Orange County Transportation Authority (OCTA), joined me to tape a segment at Laguna Woods TV6 about transportation opportunities for older adults living in Laguna Woods Village, as well as those residing in other areas of my district.

A few of the options discussed include:

Riding an OCTA bus for just 75 cents each way. Visit ocbus.com for more information;
Enjoying Easy Rider, which makes 80 local stops; and
To view the Laguna Woods TV6 video, please click here or on the screenshot above.

Ride the Summer Breeze FREE to Laguna Beach!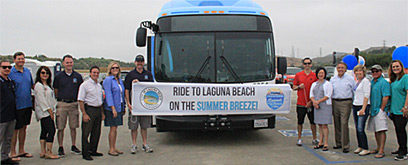 Preparing to ride the FREE Summer Breeze to Laguna.

The Summer Breeze offers convenient stops at the Festival of Arts and Pageant of the Masters, Sawdust Art Festival, Laguna Art-A-Fair, Laguna Playhouse, and the Laguna Beach Bus Station.

From the Laguna Beach Bus Station, riders can easily connect with the FREE Laguna Beach Trolley, which takes visitors to world-class beaches, shopping, and restaurants along Coast Highway. Main Beach is only a block from the Bus Station.

The Summer Breeze runs Saturdays & Sundays through Sept. 3, every 30 minutes from 11 AM to midnight. This FREE park & ride service originates from the Summer Breeze parking lot located at the I-405 & SR-133 (Laguna Canyon Road) interchange in Irvine, previously the site of the Odysseo/Cavalia horse show.

For more information - including the Summer Breeze bus schedule, route map, and directions - please click here.

South County Summer Trolleys: ALL ABOARD!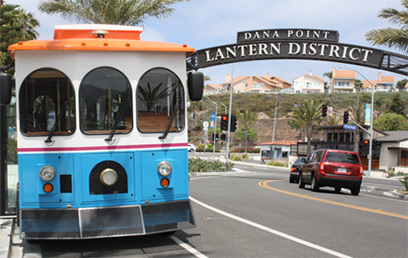 Photo courtesy of Kristina Pritchett/Dana Point Times
It's not too late to take advantage of the summer trolleys! For summer 2017, three cities are connected via trolley for a fun and easy way to get around! All three trolley services are free of charge for South County residents and visitors. With 28 miles of trolley coverage, you can now connect to and from Laguna Beach, Dana Point, and San Juan Capistrano.

The Laguna Beach Trolley has pick-ups every 20 minutes. The free daily service runs through September 3. The Laguna Beach Trolley System has three different routes available for your enjoyment, including a convenient connection to the Dana Point trolley. Click here and here for more information.

The Dana Point Trolley connects to the Harbor Shuttle, as well as the Laguna Beach and San Juan Capistrano trolley junctions. The trolley service is free of charge and runs daily through September 4 (Labor Day), arriving at each stop every 15 minutes. Click here to view the trolley map, or here for more information.

The San Juan Capistrano Trolley operates Friday evenings, as well as Saturdays and Sundays through Labor Day. With frequency every 20 minutes, this service through Orange County's most historic town also connects conveniently with the Dana Point Trolley. Click here for more information.

In addition, Mission Viejo and San Clemente also have successful shuttles that operate within their respective city boundaries. And the Orange County RanchRide will be on board soon, too.

I hope you take advantage of these convenient, fun, and free trolley services all summer long and encourage your friends and family to do the same!

County Connections

Voice Your Opinion: Feb. 2018 Bus Service Plan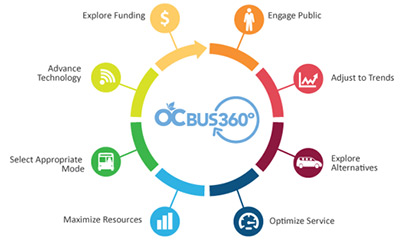 OCTA is proposing changes to its bus service to increase efficiency and productivity.

In 2015, the OCTA Board of Directors launched OC Bus 360°, a plan that examines bus service from all angles. During the initial implementation of this comprehensive plan, OC Bus 360° provided better service in high-demand areas by reallocating existing resources, improved passenger experiences through technology, stimulated ridership with pricing changes, and created fresh marketing and branding to attract new riders.

OC Bus 360° has been effective in improving service in those areas where service was reallocated to meet demand. To continue in this positive direction, OCTA is proposing additional adjustments through OC Bus 360° that will result in better service and greater efficiency in areas where demand is greatest.

The proposed service plan for February 2018 improves evening, weekday and weekend service on several routes and reduces service on others with low demand. In addition, service on some Stationlink and express routes will be reduced or eliminated due to low ridership. Services and resources can be reallocated to high-demand areas to reduce travel times and serve more people.

To view the proposed changes, click here. If you would like to share your opinion, please attend a South County community meeting Wednesday, August 23 from 6 PM to 8 PM at the Laguna Hills Community Center, 25555 Alicia Parkway, Laguna Hills, or fill out the online survey here.

Thank you for riding OC Bus!

Meet OC Animal Care's Pet of the Week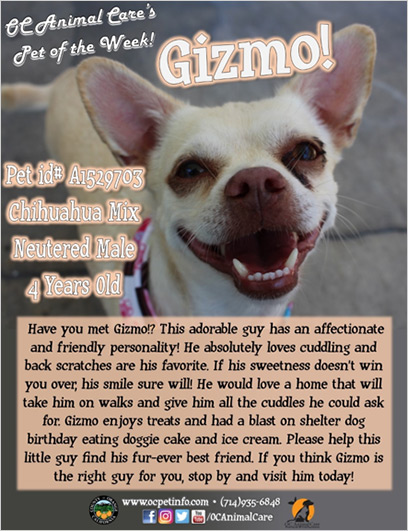 Click on the image above to view a PDF version.

Clear the Shelters

On Saturday, August 19, you can take part in the national Clear the Shelters event by adopting a pet at the OC Animal Shelter. From 10 AM to 5 PM, all adoptions are just $17 (excluding the licensing fee).

Check out the adoptable animals here before you go, and get there early if you have your heart set on adopting a particular pet. Find your new best friend and help our homeless pet population!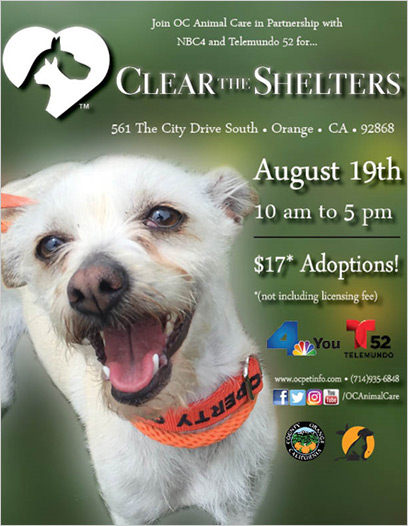 Click on the image above to view a PDF version.

South County Spotlight

Laguna Beach Girls Water Polo Teams Best in US!

Over the past couple of weeks, the Laguna Beach girls water polo teams have won three Junior Olympic National Championship gold medals, making them the top 10U, 12U and 14U teams in the entire United States!

The first win was for the 10U girls, who beat Huntington Beach 5-3, with Sofia Umeda named the Tournament MVP. Next up was the 12U girls team, which also won in a 5-3 game against Riverside, with Charlotte Riches named Tournament MVP. And to cap off the victorious weekend, the 14U girls took on Commerce, beating them 10-9, with Nicole Struss named Tournament MVP.

"2017 has been a great year for girls water polo in Laguna Beach. Last February, the High School team won the prestigious CIF-SS Division 1 Championship, followed two weeks ago by the California High School State Championship, and now the age group girls are national champions," said Club Director Rob Grayeli.

Congratulations to the Laguna Beach girls water polo teams!
Report and photos courtesy Steve Riches / Stu News Laguna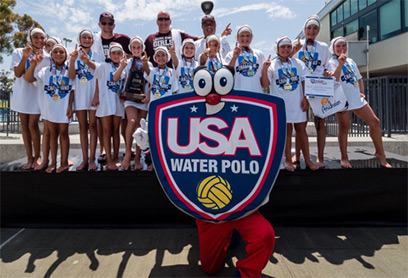 10U Team: (L-R) Siena Jumani, Kylie Lupescu, Isabella Sarkis, Kaelyn Chism, Coach Albie Beeler, Jordan Katz, Kara Carver, Coach Chad Beeler, Brooke Schneider, Presley Jones, Coach Marc Umeda, Rowan Van Dender, Isabella Renezeder, Tasha Jochim, Sofia Umeda (MVP), and Cailin Mulvany.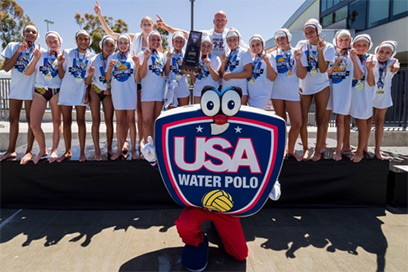 12U Team: (L-R) Lauren Schneider, Taylor Naughton, Jordan Schneider, Myha Pinto, Ava Knepper, Coach Kelcie Ferreira, Charlotte Riches (MVP), Cleo Washer, Rebecca Storke, Coach Chad Beeler, Sara Block, Eleanor Ramsey, Lauren Short, Avery Montiel, Nina Rogers, Claire Turner, and Sadie Riester.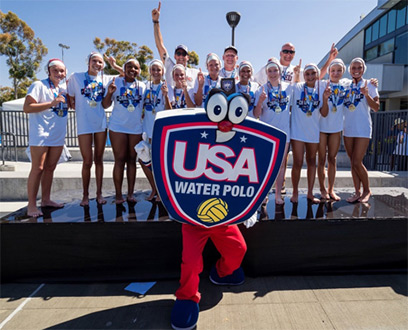 14U Team: (L-R) Tasha Denny, Nicole Struss (MVP), Imani Clemens, Ava Houlahan, Coach Rob Grayeli, Rachael Carver, Genoa Rossi, Coach Rob Carver, Jessie Rose, Lela McCarrol, Coach Chad Beeler, Emma Lineback, Emma Singer and Molly Renner.

Out and About in South County this Summer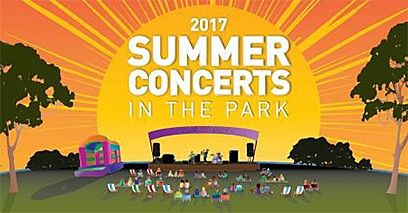 Aliso Viejo: Summer Concert

The Aliso Viejo Community Association will host a Summer Concert on Sunday, August 6, featuring Flashback Heart Attack (80s tribute) from 5:30 PM to 7:30 PM at Grand Park/Town Center Amphitheater. For more information, click here.

Dana Point: 3 Great Events in One Day!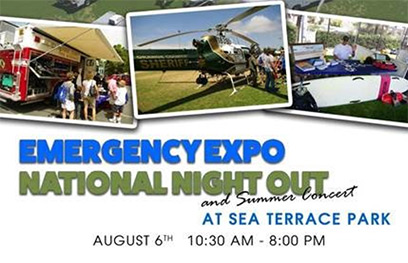 Dana Point is combining three excellent events Sunday, August 6, including their Emergency Expo, Summer Concert, and National Night Out. This fun day of activities will begin in Sea Terrace Park with the Emergency Expo from 10:30 AM to 2:30 PM, followed by the Summer Concert from 2 PM to 6 PM, and National Night Out from 6 PM to 8 PM. Click here for details.

Irvine: Great Park Sports Park Grand Opening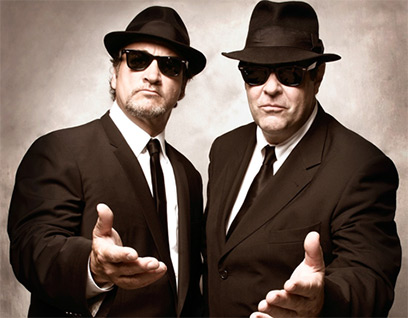 The first phase of the Great Park Sports Park opens Saturday, August 5 with free sports activities and a free concert. The event begins at 2 PM, and food trucks will be available on-site. After the sports festivities, you are invited to a free concert in the soccer stadium, featuring The Blues Brothers with Dan Aykroyd and Jim Belushi! Click here for more information.

Laguna Beach: Summer Art Festivals


Laguna's world famous art festivals are in full swing, including the newly renovated Festival of Arts and Pageant of the Masters, Sawdust Art & Craft Festival and Art-A-Fair. These festivals feature a wide array of arts & crafts, great music, delicious food, enchanting ambiance, and much more. Ride the Summer Breeze to the festivals FREE on Saturdays and Sundays. Receive unlimited admission to the festivals with a Passport to the Arts! Click the links above for more information.

Laguna Beach: Music in the Park

Enjoy a free concert in Laguna Beach on Sunday, August 6 from 5 PM to 7 PM at Bluebird Park (Bluebird/Cress street) featuring Stone Soul. For more information, click here.

Laguna Niguel: Summer Concert

Enjoy music from the 90's with No Duh (No Doubt tribute) at Crown Valley Community Park, 29751 Crown Valley Parkway, on Friday, August 4 from 6:30 PM to 8 PM. Free shuttle service is available from Laguna Niguel City Hall, 30111 Crown Valley Parkway, 5:30 PM to 9:15 PM . Food and dessert will be available for purchase from gourmet food trucks. For more information, click here.

Lake Forest: Movie in the Park

Join the City of Lake Forest at the Sports Park and Recreation Center for a free movie in the park! On Friday, August 11, the featured movie is Moana. The show will begin at 7:30 pm. For more information, click here.

Mission Viejo: Camp Out

Enjoy an exciting weekend camping out with your family at Beebe Park on Saturday, August 5, 2017 at 4:00pm to Sunday, August 6, 2017 at 9:00am. This event includes a flashlight hike, s'mores, family games and special entertainment. Register early as this event sells out fast. Dinner and breakfast will be provided. For more information, click here.

Rancho Santa Margarita: Summer Concert

Come to RSM on Sunday, August 6 from 6 PM to 8 PM at Central Park for an evening of great music, featuring Derek Bordeaux Band (R&B). Visit some of the City's local restaurants before the concerts and bring a picnic dinner with you. For more information, click here.

San Clemente: Beach Concert and Music Festival

Head down to San Clemente Pier on Thursday, August 10 at 6 PM for Ultimate Stones (Rolling Stones tribute) and enjoy the sounds of music and surf with the sunset as your backdrop. For more information, click here.

This week I:

Attended the ACI Jet Grand Opening event at John Wayne Airport.
Participated in the CalOptima Board meeting.
Participated in the welcoming reception and OCTA Streetcar briefing and tour with Florida Congressman Mario Diaz-Balart.
Attended the California Women's Leadership Association event.
Toured the Laguna College of Art and Design with my staff.
Recorded a live interview with Laguna Woods TV6 to discuss senior transportation with OCTA Executive Director, Darrell Johnson.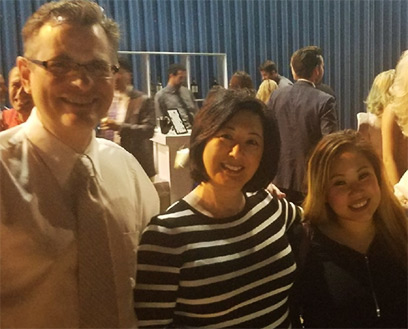 With Lake Forest Councilman Andrew Hamilton (left) and OCAR Community Affairs Administrator Dirissy Doan at the ACI Jet grand opening at JWA.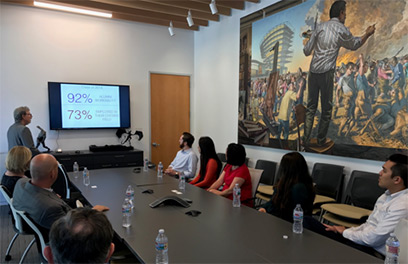 Touring the Laguna College of Art & Design with my staff and LCAD President Jonathan Burke.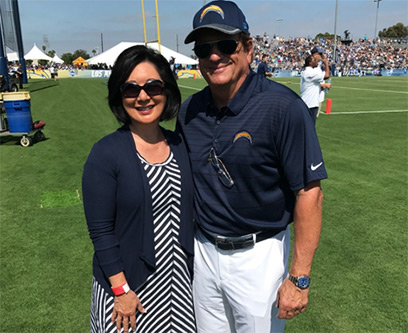 With Dean Spanos, owner of the Los Angeles Chargers.

My Staff:

Attended the DUI Court Graduation at the Harbor Justice Center.
Presented a Certificate of Recognition at the Capistrano Skate ribbon cutting in San Juan Capistrano.
Attended the Laguna Niguel Chamber of Commerce Government Affairs Committee meeting.
Attended the South Orange County Watershed Management Executive Committee meeting.
Attended the Orange County Business Council's Advocacy & Government Affairs meeting.
Participated in the California State Association of Cities (CSAC) Executive Committee call.
Attended the F-35 Lightning II press event with Congresswoman Mimi Walters.
Participated in the judging of the OC Waste & Recycling Eco Challenge Poster Contest.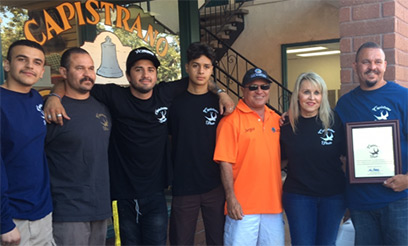 My Community Relations Advisor, Sergio Prince, presenting a certificate of recognition at the Capistrano Skate ribbon cutting in San Juan Capistrano.

Elected Officials in the Community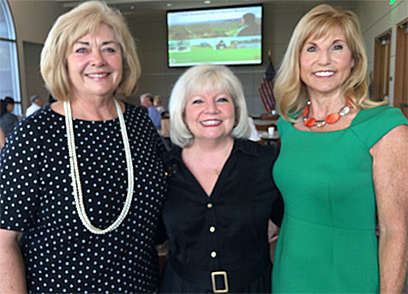 (L-R) Rhonda Reardon representing Senator Pat Bates, and Laguna Niguel Councilwomen Elaine Gennawey and Laurie Davies at the Laguna Niguel Chamber of Commerce Government Affairs Committee meeting.

For questions or comments regarding Supervisor Bartlett's E-Newsletter please contact the Supervisor's office staff at: (714) 834-3550 or email Sergio.Prince@ocgov.com or Tanya.Flink@ocgov.com.