Fifth District Highlights

Ventura County Supervisor visits Orange County's System of Care for Homeless



With Supervisor Andrew Do, Ventura County Supervisor Kelly Long and staff.
Ventura County Supervisor Kelly Long visited Orange County this week to observe and learn about our system of care for homelessness. A tour was arranged to include participants from both the public and private sectors.

The group visited the Courtyard, the County's low threshold shelter; Potter's Lane, a permanent supportive housing development for veterans; and Bridges, Orange County's first year-round shelter and multi-service center.

To read the latest on the County's effort to address homelessness, check out our Care Coordination Newsletter!

Final OC Parks Summer Concert at Salt Creek!


On Thursday, August 24, bring your picnic basket and gather with friends for the final show of the OC Parks Summer Concert Series! These fantastic summer concerts were brought to you by the Orange County Board of Supervisors.

For our last show of the summer, head down to Salt Creek Beach and get your groove on with local favorites Family Style and Tijuana Dogs from 6 PM to 8 PM, with the sparkling blue Pacific and a blazing setting sun as your backdrop! The grass is cool and green, so don't worry about your dancing shoes!

This amazing final concert is FREE and open to the public, including FREE parking. Food trucks will be serving delicious fare available for purchase, including a beer & wine garden for those 21 and over, at The Bluff at Salt Creek Beach, 33333 S. Pacific Coast Hwy., Dana Point.

As a large crowd is expected, additional FREE parking and FREE shuttle service are available from 5 PM to 9 PM at the nearby Selva Parking Lot, 34199 Selva Rd., Dana Point.

HOT TIP: If you're coming from Laguna Beach, just hop on their FREE "Limited Stop" Coastal Trolley and be dropped off at the Ritz Carlton, immediately adjacent to the concert. Or if you're coming from Dana Point, do the same with the FREE Dana Point Trolley.

For more information about the final show, click here.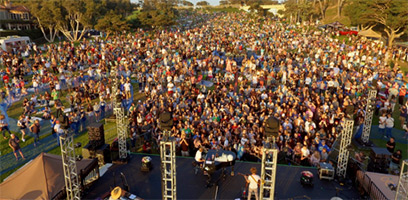 Concertgoers enjoying the OC Parks Summer Concert at Salt Creek on August 17 with Andrew McMahon in the Wilderness.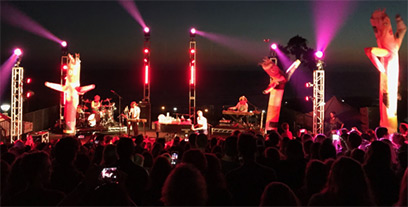 Andrew McMahon closes the show in style at Salt Creek.

50-Year Time Capsule Plaque Dedication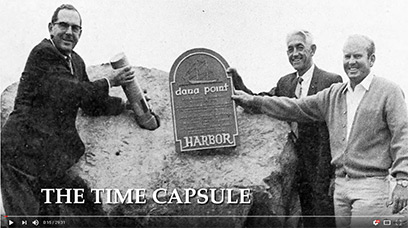 Click on the image above to view the Time Capsule video.
On August 29, 1966, a Time Capsule was sealed within a large boulder in Dana Point Harbor during a large public ceremony. At that time, the thousands of attendees were given tickets for a free BBQ dinner 50 years later at a celebration that would unveil the contents of the Time Capsule.

On August 29, 2016, we delivered on that promise made by our predecessors a half-century ago, with an estimated 2,000 people attending the 50-Year Time Capsule Celebration last summer, including many who flew in from all over the country with their free dinner tickets they received at the 1966 ceremony.

This major undertaking was successful thanks to the collaborative effort of a number of organizations and individuals that participated in the Dana Point Harbor 50-Year Time Capsule Celebration Planning Committee, including my office, OC Parks, OC Archives, the City of Dana Point, Dana Point Historical Society, Dana Point Harbor Association, Dana Point Chamber of Commerce, Ocean Institute, and others.

On Tuesday, August 29, 2017, those involved in that remarkable effort will again gather in Dana Point Harbor at a special ceremony to dedicate a new plaque, created by Bill Atkins Design & Illustration, which will be placed on The Rock at Baby Beach to commemorate last summer's 50-Year Time Capsule Celebration. The new commemorative plaque will join the original that was mounted on The Rock in 1966. I cordially invite the community to join us at 10 AM for this special dedication ceremony!

Those interested in viewing the most interesting items found in the 50-Year Time Capsule can do so through September by visiting the Dana Point Historical Society Museum, located at Dana Point City Hall, 33282 Street of the Golden Lantern, Dana Point, CA 92629. For more information, including DPHS Museum hours of operation, please call (949) 248-8121 or click here.

To view an excellent video produced by Jonathan Morgan Jenkins titled "The Rock, The Time Capsule, The Harbor", please click here. For more information, click on the flyer below.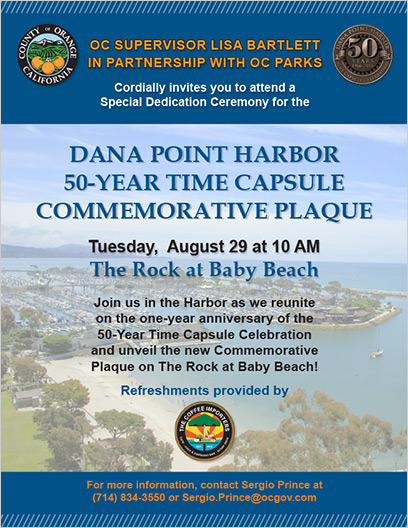 Click on the image above to view a PDF version.

Don't miss the 33rd Annual Tall Ships Festival!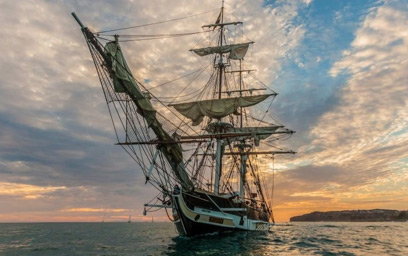 I cordially invite you to join me at the 2017 Tall Ships Festival in beautiful Dana Point Harbor. This popular 33rd annual event is not to be missed and will take place from Friday evening, September 8 through Sunday, September 10.

In celebration of California's rich maritime history, the Ocean Institute annually hosts a fleet of historic tall ships that sail into Dana Point Harbor. This extraordinary event takes place each year on the second weekend in September.

See history comes alive, as crews from each ship, along with historical re-enactors, engage the public in cannon battles, pirate adventures, mermaid encounters, ship tours, and much more!

FREE parking is available with FREE shuttle rides to the Tall Ship Festival, as there is no onsite parking at the Ocean Institute or along Dana Point Harbor Drive.

For full event details – including parking & shuttle information – click here or on the flyer below.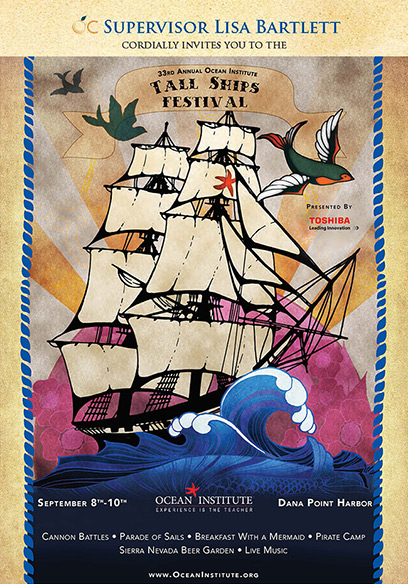 Click on the image above for more information.

New Aliso and Wood Canyons Visitor Center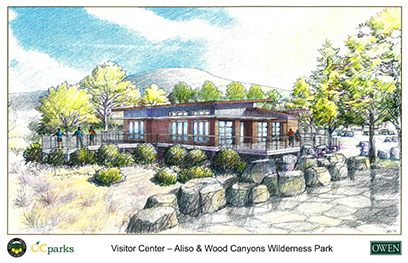 Improvements to the entry of Aliso and Wood Canyons Wilderness Park will enter the next phase, as the Board of Supervisors approved a contract to build a new visitor center at our August 8 meeting.

The Park's 4,500 acres of coastal canyons, grasslands, and oak & sycamore woodlands, represents one of the most pristine remaining natural areas in Orange County. The recently completed, award-winning enhancements to the park's entrance provided a staging area for hikers, bikers, and equestrians to start their journey into the park. The next phase of improvements to the main entry include a visitor center, restrooms, and park staff offices.

With the contract awarded to CJW construction, Inc., construction is anticipated to start this fall and be completed in spring 2018. Funded partially through a $1 million grant provided by the California Coastal Conservancy, the new 2,600 sq. ft. center will provide park visitors with an introduction to the park's past natural and cultural resources and provide a place for outdoor environmental stewardship and education.

The visitor center will include a reception desk, an interpretive exhibit area and a conference room for educational opportunities, along with park ranger and staff offices. Roll-up doors provide natural light in the exhibit area and extended "outdoor classroom" opportunities, slanted windows were designed specifically to minimize bird/glass collision and building materials are reclaimed and recycled where appropriate.

With the addition of the visitor center, park users will be able learn about all the great places in the park to experience for their enjoyment, recreation and education. For more information, click here.

I-5 Weekend Ramp Closures in San Clemente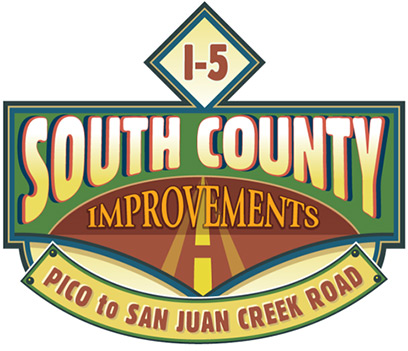 Drivers traveling in South County are advised that weekend closures are planned at Avenida Pico in San Clemente as crews reconfigure the road and freeway ramps as part of the I-5 South County Improvements Project.

The northbound Interstate 5 on- and off-ramps at Avenida Pico will be closed from 10 PM on Friday, Aug. 18, to 5 AM on Monday, Aug. 21, for paving and striping.

Avenida Pico at the I-5 freeway also will be closed intermittently during nighttime hours to allow crews to perform paving work in the road's median.

Businesses along Avenida Pico near the I-5 will remain open for business during the closures. Motorists should use Avenida Vista Hermosa as a detour for access to Avenida Pico around the closure.

Once the weekend work is completed, traffic will shift onto the new ramps. Drivers should use caution when traveling these new configurations as they get accustomed to the new transition configuration between the freeway ramps and Avenida Pico. For more information about the closures, click here.

Construction on the I-5 South County Improvements Project began in 2014. The project will add nearly six miles of carpool lanes in each direction from Avenida Pico in San Clemente to San Juan Creek Road in San Juan Capistrano. Avenida Pico is being widened as part of the project as well.

The $230-million project is scheduled for completion in 2018 and is part of the Measure M program, the voter-approved, half-cent sales tax for transportation improvements. For more information on the overall improvement project, click here.

OCTA Seeks Feedback on Proposed Bus Service Changes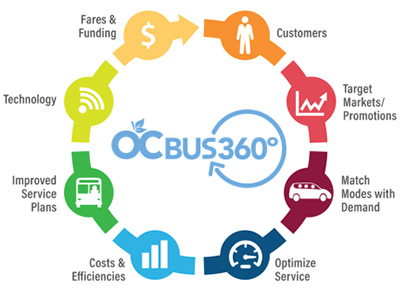 The public is invited to attend a series of community meetings and a public hearing to provide input on the Orange County Transportation Authority's (OCTA) proposed bus service changes for February 2018.

OCTA is proposing to improve evening, weekday and weekend service on several routes while reducing service on routes with low demand in an effort to provide better service in high-demand areas. The proposed changes are part of an overall plan, called OC Bus 360°, to examine bus service from all angles and to make the transit system more efficient and cost-effective.

The OC Bus 360° plan, launched in 2015, has been effective in improving bus service in areas where it was reallocated to meet demand. To continue in this positive direction, OCTA is proposing additional adjustments that will result overall in better service and greater efficiency.

One of the cornerstones of the OC Bus 360° plan is to collect public input in order to ensure riders' concerns are taken into consideration. OCTA is seeking public comments at three countywide community meetings and a public hearing taking place at the following times and locations:

6 PM to 8 PM Wednesday, Aug. 23 at the Laguna Hills Community Center, 25555 Alicia Parkway in Laguna Hills.
A public hearing at 9 AM Monday, Sept. 25 at OCTA Headquarters, 550 South Main St. in Orange.
Comments can also be submitted online by those who are unable to attend one of these meetings. For more information about the plan or to submit a comment, click here.

TCA Toll Booth Removal Project in South County

Starting August 14, crews will be removing 13 toll booths at 11 ramp locations throughout The Toll Roads. Work will be conducted over five weekends, with the first full weekend closure scheduled for August 25.

The specific closures in South County are currently scheduled to take place at the following locations and dates:

September 8 – 10: 241 Toll Road Antonio Pkwy northbound on-ramp and Antonio Pkwy southbound off-ramp
September 15 – 17: 241 Toll Road Portola Pkwy (South) southbound on-ramp
September 22 – 24: 241 Toll Road Alton Pkwy southbound on-ramp
September 29 – October 1: 73 Toll Road Aliso Creek Rd. northbound off-ramp
September 29 – October 1: 73 Toll Road La Paz Rd. southbound on-ramp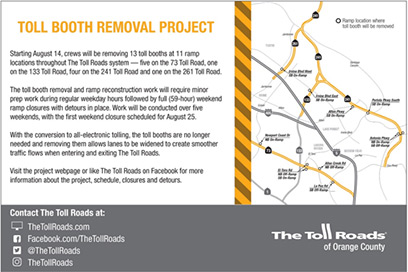 Click on the image above to view a PDF version.

DUI Checkpoint in Mission Viejo this Weekend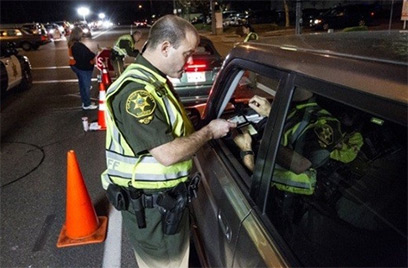 Members of the Orange County Sheriff's DUI Enforcement Team will hold a DUI and Driver's License Checkpoint this weekend to stop and arrest alcohol and drug-impaired drivers as part of the department's ongoing traffic safety campaign.

The checkpoint will be held from 7 PM Friday, Aug. 18 to 3 PM Saturday, Aug. 19.

Drivers are encouraged to download the Designated Driver VIP, or "DDVIP," free mobile app for Android or iPhone. The DDVIP app helps find nearby bars and restaurants that feature free incentives for the designated sober driver, from free non-alcoholic drinks to free appetizers and more. The feature-packed app even has social media tie-ins and even a tab for the non-DD to call Uber, Lyft or Curb.

Funding for this DUI operation is provided to the Orange County Sheriff's Department by a grant from the California Office of Traffic Safety, through the National Highway Traffic Safety Administration, reminding everyone to 'Report Drunk Driver – Call 9-1-1'.

Meet OC Animal Care's Pet of the Week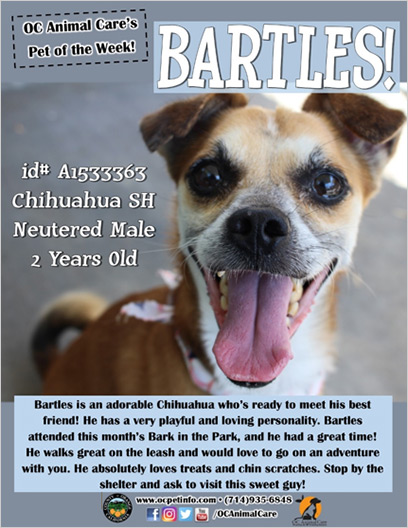 Click on the image above to view a PDF version.

Clear the Shelters

On Saturday, August 19, you can take part in the national Clear the Shelters event by adopting a pet at the OC Animal Shelter. From 10 AM to 5 PM, all adoptions are just $17 (excluding the licensing fee).

Check out the adoptable animals here before you go, and get there early if you have your heart set on adopting a particular pet. Find your new best friend and help our homeless pet population!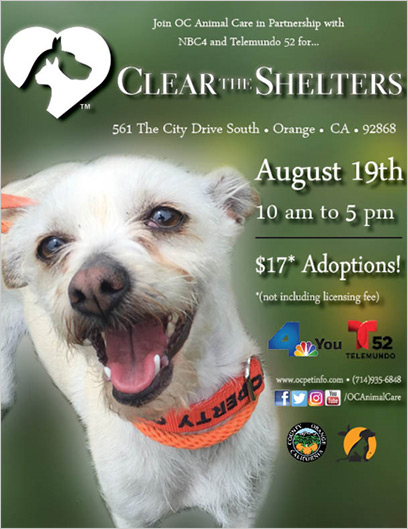 Click on the image above to view a PDF version.

South County Spotlight

Local Young Artist Joins Eco Challenge Poster Contest Hall of Fame

Congratulations to San Clemente resident, Tanner Salgado, age 13. He is the 2017 Eco Challenge Poster Contest winner representing the Fifth District. The Eco Challenge contest is sponsored by OC Waste & Recycling in partnership with Discovery Cube Orange County and Angels Baseball. This year's contest theme promotes the eco-friendly benefits of recycling food and green waste.

Why is it important to recycle food and green waste in Orange County? Organic waste accounts for more than a third of the material in California's waste stream. Collecting and processing organic materials to meet new mandates will change how we manage waste within our homes and contribute to bigger change. For information on playing your part, visit CalRecycle.

Tanner's poster was chosen from 500 contestants. He will be recognized in a special on-field presentation before the Angels game on Friday, September 15. In addition, Tanner will serve as an honorary Bat Kid at an Angels game. Come to the game on September 15 and cheer him on!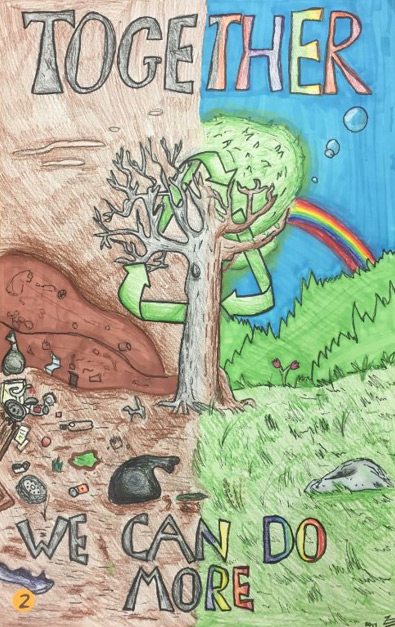 Eco Challenge Poster by Tanner Salgado of San Clemente.

Laguna Beach Festival of Arts Celebrates 85 Years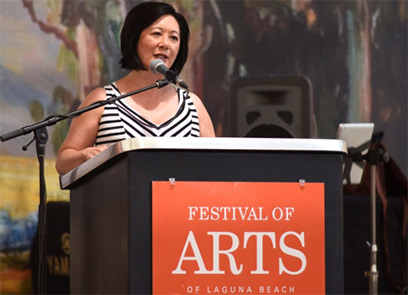 At the 85th anniversary celebration for the Festival of Arts.
(Photo courtesy of Cheyne Walls, Festival of Arts)
On August 13, I had the pleasure of presenting a proclamation to the Laguna Beach Festival of Arts in honor of its 85th anniversary celebration. The presentation to Festival Board President Fred Sattler took place on the beautiful new stage in the recently renovated Festival of Arts grounds.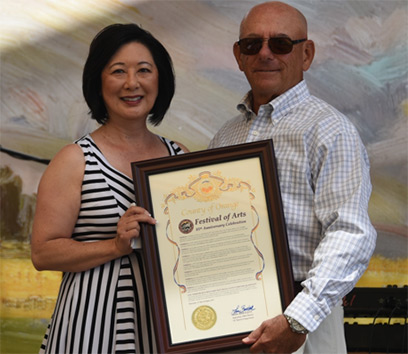 Presenting a Proclamation to FOA Board President Fred Sattler.
(Photo courtesy of Christopher Bliss, Festival of Arts)
Kicking-off the festive occasion was the presentation of awards to the many talented junior artists whose works of art were judged to be the most outstanding among the 91 selected to be exhibited in the 2017 show from thousands of entries.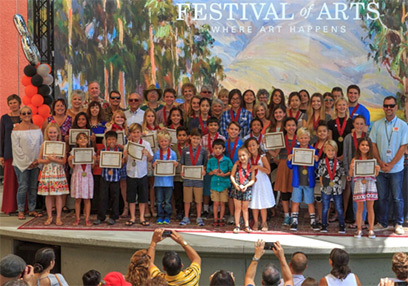 Junior artists receive awards at the FOA anniversary celebration.
(Photo courtesy of Tom Lamb, Festival of Arts)
Just in time for the 2017 summer season, the Festival of Arts recently unveiled its spectacular new multi-million dollar, award-winning art facility designed by BAUER Architects, introducing the exciting next chapter of the Festival's rich history and further reinforcing the reputation of Laguna Beach as the preeminent arts capital of Southern California.

As amazing as the works of art displayed at the Festival are, its 85-year history is equally as colorful:

1932 – A group of artists banded together to raise spirits and sell their art, as they hung paintings on fences, trees, and buildings along Laguna Beach's main street, hoping to lure tourists to the first Festival of Arts. Opening day was August 13, as music, colorful signs and banners, parades and entertainment added to the celebratory ambiance of the event, turning Laguna Beach into one enormous art gallery and providing a promising start to the Festival of Arts.


1933 – Artists staged a publicity stunt to draw attention to the exhibit, as a parade of volunteers costumed as characters in famous works of art marched downtown along Coast Highway to the location of the 2nd Festival of Arts. They later appeared inside a tiny, booth-like set, holding their poses as tableaux vivants (living pictures). Together the event was titled "The Spirit of the Masters Pageant".


1935 – Roy Ropp took charge of the "living pictures" and transformed their presentation, with help from his wife Marie, into a full production with music, narration and painted backdrops, and rechristened the performance "The Pageant of the Masters".


1941 – The City of Laguna Beach purchased the present 6-acre Festival site from the Irvine Company, and that summer, the Festival of the Arts and Pageant of the Masters were held for the first time in their new permanent home.
From its humble beginnings, the Festival of Arts has evolved into a beloved summer tradition, attracting millions of visitors from around the globe, and has clearly established itself as a world-famous cultural institution.

Congratulations to the Laguna Beach Festival of Arts upon celebrating 85 glorious years!

For more information about the Festival's 85th anniversary celebration, click here. Click here for more information on the history of the Festival, and here to view a fascinating historical video. For more information on the Festival's recent renovation, click here.

Out and About in South County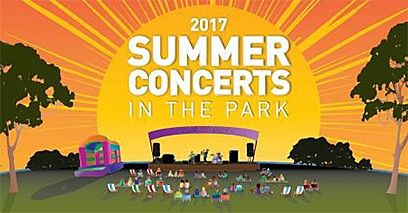 Aliso Viejo: Movie in the Park & Summer Concert

Grab your blankets & chairs and enjoy a showing of The Wizard of Oz (G) at Grand Park in Aliso Viejo on Friday, August 18. Food trucks will open at 6 PM and complimentary face painting will be available from 6 PM to 7:30 PM. The movie begins at dusk. For more information, click here.

Come back Sunday, August 20 for a concert at Grand Park/Town Center Amphitheatre, featuring Stone Soul (60's/Motown) from 5:30 PM to 7:30 PM. Food trucks will open at 5 PM. For more information, click here.

Dana Point: British Invasion Concert

On Sunday, August 20 from 2 PM to 6 PM, experience the British Invasion at Sea Terrace Park in Dana Point with performances by My Generation from 2 PM to 3 PM, The Ultimate Stones from 3:30 PM to 4:30 PM, and Sgt. Pepper from 5 PM to 6 PM. For more information, click here.

Laguna Beach: FREE Sundays at the Sawdust!


South County residents can enjoy FREE Sunday admission to the Sawdust Festival in Laguna Beach through Sept. 3! Get FREE admission Sundays after 5 PM with valid ID for residents of Aliso Viejo, Laguna Hills, Laguna Woods, Laguna Niguel, Monarch Beach, Lake Forest, Mission Viejo, San Juan Capistrano, Dana Point, San Clemente, Las Flores, Coto de Caza, Ladera Ranch, Dove Canyon, and Rancho Santa Margarita. On all other days, get $1 off admission by clicking here. Avoid parking hassles and ride the Summer Breeze to the Sawdust FREE on Saturdays and Sundays!

Laguna Beach: Music in the Park

Enjoy a free concert in Laguna Beach on Sunday, August 20 from 5 PM to 7 PM at Bluebird Park (Bluebird/Cress street) featuring Upstream (Reggae/Calypso). For more information, click here.

This week I:

Presented a Proclamation in honor of the Laguna Beach Festival of the Arts 85th Anniversary.
Participated in the OCTA Board meeting.
Spoke at the Niguel Shores Men's Club meeting.
Attended the Water Reliability Summit at the Norman P. Murray Center in Mission Viejo.
Attended the Ocean Institute Board Retreat.
Participated in the homeless services tour with representatives from Ventura County.
Participated in the OCTA Environmental Oversight Committee meeting.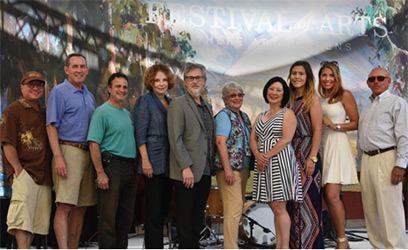 Celebrating the Festival of Arts 85th anniversary with (L-R) my Community Relations Advisor Sergio Prince, Laguna Beach Councilmen Bob Whalen & Steve Dicterow, Mayor Toni Iseman, LCAD President Jonathan Burke, 50-Year FOA Artist Jacqui Moffett, Visit Laguna Beach CEO Ashley Johnson, Poet Laureate Kate Buckley, and FOA Board President Fred Sattler.
(Photo courtesy of Christopher Bliss, Festival of Arts)

My Staff:

Attended the San Juan Capistrano City Council meeting.
Introduced Andrew McMahon in the Wilderness at the OC Parks Summer Concert at Salt Creek Beach in Dana Point. For information on the final OC Parks Concert on August 24 at Salt Creek, click here.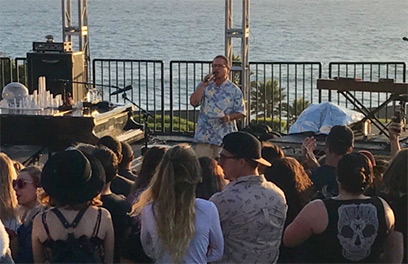 My Community Relations Advisor Sergio Prince introducing Andrew McMahon in the Wilderness at the OC Parks Summer Concert.

For questions or comments regarding Supervisor Bartlett's E-Newsletter please contact the Supervisor's office staff at: (714) 834-3550 or email Sergio.Prince@ocgov.com or Tanya.Flink@ocgov.com.