Fifth District Highlights

Laguna Woods TV6 Interview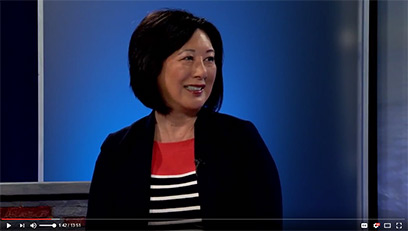 Click the image above to view the TV6 Interview
This week, I was pleased to appear on Laguna Woods TV6 with OC Office on Aging Administrative Manager Erin Ulibarri. During the TV interview with host Ken Goldberg, we discussed Healthier Living, the new OC Senior Resources App, the Orange County Office on Aging, and other topics of interest for older adults.

View the TV6 video here. For more information on the OC Senior Resources App, see the flyer below.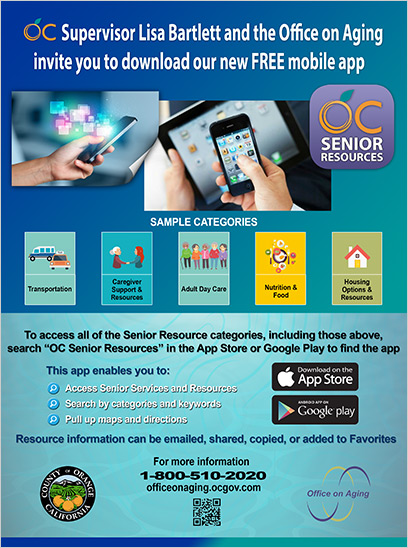 Click the image above to view a PDF version of the flyer

50-Year Time Capsule Plaque Dedication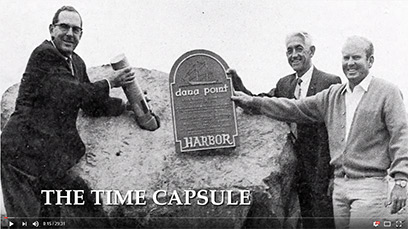 Click on the image above to view the Time Capsule video.
On August 29, 1966, a Time Capsule was sealed within an 8-ton boulder during a rock-placing ceremony in Dana Point Harbor. At that event, thousands of attendees were given tickets for a free BBQ dinner 50 years later at a celebration that would unveil the contents of the Time Capsule.

On August 29, 2016, we delivered on the promise made a half-century earlier, with 2,000 people attending the 50-Year Time Capsule Celebration last summer, including many who flew in from all over the country with the free dinner tickets they received at the 1966 ceremony.

On Tuesday, August 29, 2017, those involved in that effort will gather in Dana Point Harbor at Baby Beach to dedicate a new plaque, created by Bill Atkins Design & Illustration, to be placed on The Rock, commemorating last summer's Time Capsule Celebration. I invite you to join us at 10 AM for this special dedication ceremony!

View the most interesting items found in the 50-Year Time Capsule through September at the Dana Point Historical Society Museum, located at Dana Point City Hall.

View the video by Jonathan Morgan Jenkins titled "The Rock, The Time Capsule, The Harbor". For more information, see the flyer below.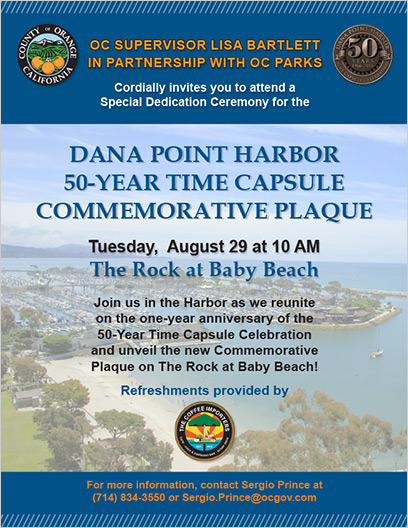 Click on the image above to view a PDF version.

Don't miss the 33rd Annual Tall Ships Festival!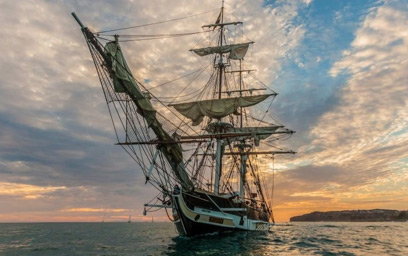 I cordially invite you to join me at the 2017 Tall Ships Festival in beautiful Dana Point Harbor. This popular 33rd annual event is not to be missed and will take place from Friday evening, September 8 through Sunday, September 10.

In celebration of California's rich maritime history, the Ocean Institute annually hosts a fleet of historic tall ships that sail into Dana Point Harbor. This extraordinary event takes place each year on the second weekend in September.

See history comes alive, as crews from each ship, along with historical re-enactors, engage the public in cannon battles, pirate adventures, mermaid encounters, ship tours, and much more! FREE parking is available with FREE shuttle rides to the Tall Ship Festival, as there is no onsite parking at the Ocean Institute or along Dana Point Harbor Drive.

For full event details – including parking & shuttle information – visit the Ocean Institute website or click on the flyer below.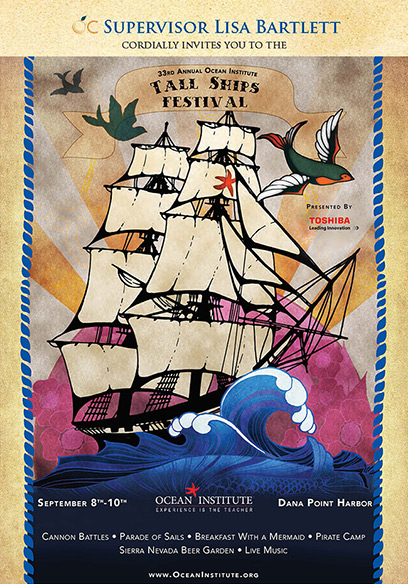 Click on the image above for more information.

County Connections

Excessive Heat Warning This Weekend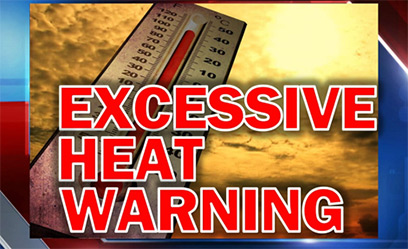 Temperatures in most inland Orange County and surrounding mountain communities are expected to reach high temperatures in the 90s Sunday, August 27, and heating to 95 to 105 degrees Monday and Tuesday. Temperatures of this magnitude increase the risk of heat related illnesses, including heat exhaustion and heat stroke, for those more sensitive to high temperatures.

Symptoms of heat exhaustion may include heavy sweating, muscle cramps, weakness, headache, nausea or vomiting and dizziness. Warning signs of heat stroke may include an extremely high body temperature, unconsciousness, confusion, hot and dry skin (no sweating), a rapid, strong pulse, and a throbbing headache.

If symptoms of heat stroke occur, immediately call for medical assistance. Move the person to a shady area and begin cooling their body with water.

Read the full HCA Press Release for additional information on heat-related illness and prevention so you and your family can stay safe while enjoying the final weeks of summer.

OCWR Receives National Recognition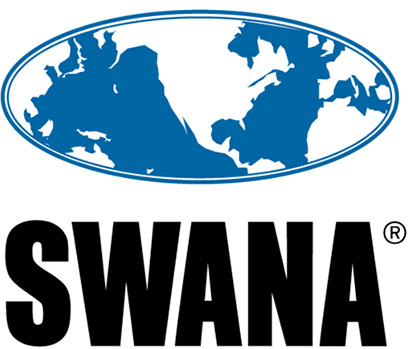 OC Waste & Recycling (OCWR) has received two prestigious national awards from the Solid Waste Association of North America (SWANA), the leading waste industry association.

The awards recognize OCWR's excellence in two categories: Landfill Gas and Biogas, for the Bowerman Power Project with Montauk Energy; and Educational Programs, for the agency's Landfill Tour Program.

The Frank R. Bowerman Landfill generates methane-rich gas from as many as 11,500 tons of waste that go into the landfill daily and decompose. Collecting and flaring the landfill gas does nothing to maximize the value of this gas nor improve the environment.

OCWR partners with Montauk Energy, the project operator, and Anaheim Public Utilities, the power buyer, to bring about this environmental and economic achievement. The project began operation in March 2016, delivering 20 megawatts of power to the grid, enough electricity to serve 14,700 homes.

OCWR's Landfill Tour Program helps to inform the public about how they can be better environmental stewards by knowing what should and should not go into a landfill. Also, it educates how the County provides the essential public service of managing waste and the level to which landfills are feats of environmental engineering, dispelling the misnomer that the landfills are dumps.

The entries can be found on SWANA's webite.

TCA Toll Booth Removal Project

Starting August 14, crews will be removing 13 toll booths at 11 ramp locations throughout The Toll Roads. Work will be conducted over five weekends, with the first full weekend closure scheduled for August 25.

The specific closures in South County are currently scheduled to take place at the following locations and dates:

Sept. 8 – 10: 241 Toll Road Antonio Pkwy northbound on-ramp and Antonio Pkwy southbound off-ramp
Sept. 15 – 17: 241 Toll Road Portola Pkwy (South) southbound on-ramp
Sept. 22 – 24: 241 Toll Road Alton Pkwy southbound on-ramp
Sept. 29 – October 1: 73 Toll Road Aliso Creek Rd. northbound off-ramp
Sept. 29 – October 1: 73 Toll Road La Paz Rd. southbound on-ramp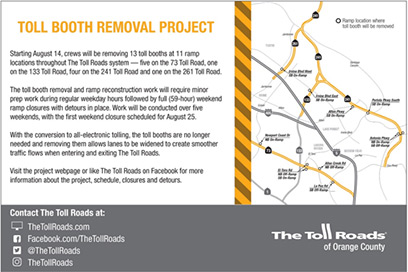 Click on the image above to view a PDF version.

Meet OC Animal Care's Pet of the Week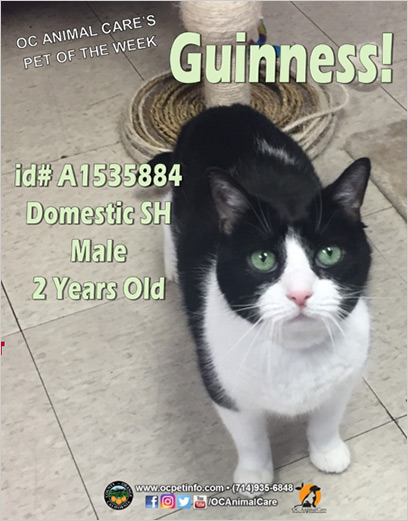 Click on the image above to view a PDF version.

Labor of Love Adoption Event

To celebrate Labor Day, OC Animal Care will host a special adoption event on Saturday, September 2, from 11 AM to 5 PM. All adoption fees will be waived, just pay for licensing and microchip. Adopt your new best friend, and help an animal in need find their forever home.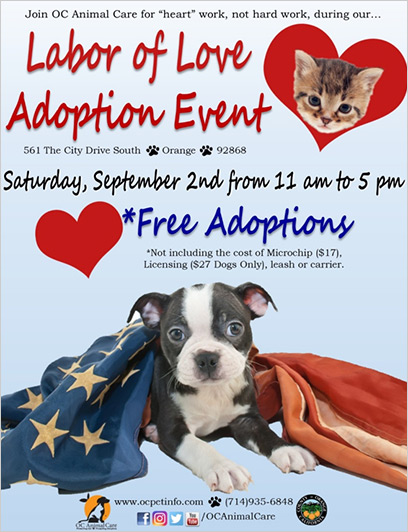 Click on the image above to view a PDF version.

Out and About in South County this Summer

Dana Point: Pet Project Foundation Fundraiser

Mark your calendar to celebrate National Dog Day with Outlets at San Clemente and Pet Project Foundation! The Barks & Brews event is this Saturday, August 26 from 4 PM to 7 PM at the Oak Tree Court at Outlets at San Clemente. There will be a doggy costume contest, photo booths, food trucks, live entertainment, beer and wine tastings and dog friendly vendors. Proceeds benefit Pet Project Foundation and the lost and abandoned pets at the San Clemente Dana Point Animal Shelter. Learn more about this event.

Laguna Beach: FREE Sundays at the Sawdust!


South County residents can enjoy FREE Sunday admission to the Sawdust Festival in Laguna Beach through Sept. 3! Get FREE admission Sundays after 5 PM with valid ID for residents of Aliso Viejo, Laguna Hills, Laguna Woods, Laguna Niguel, Monarch Beach, Lake Forest, Mission Viejo, San Juan Capistrano, Dana Point, San Clemente, Las Flores, Coto de Caza, Ladera Ranch, Dove Canyon, and Rancho Santa Margarita. Get a coupon for $1 off admission all other days. Avoid parking hassles and ride the Summer Breeze to the Sawdust FREE Saturdays & Sundays!

Laguna Beach: Main Beach Clean Ups

The South Orange County Chapter Surfrider Foundation will host community beach clean ups at Main Beach in Laguna each Tuesday in September from 3 PM to 5 PM. Make friends with fellow volunteers and help beautify and protect our oceans and beaches. Learn more about the organization and other ways to get involved at the Surfrider OC website.

Laguna Niguel: The Batman LEGO Movie

Bring the whole family out for a night of fun under the stars. This event is Friday, September 8 from 7:30 PM to 9 PM at Crown Valley Community Park. Check out the City of Laguna Niguel's website for additional details.

Lake Forest: End of Summer Bash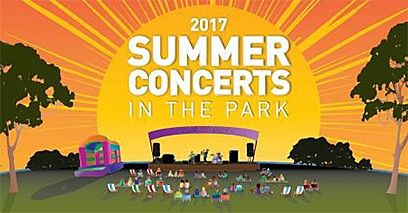 End the summer on a groove with three amazing performances. Common Sense is a reggae-rock mix with a unique style. The Suffragettes are an all-female cover band playing songs from the 1970s to the hits of today. The Kalama Brothers play a variety of instruments to recreate cover songs that work with all ages. This event is Sunday, August 27 from 5:30 PM to 8:30 PM at the Lake Forest Sports Park. Check out the City of Lake Forest's calendar for more information and upcoming events.

Rancho Santa Margarita: Pet Vaccination Clinic

This event is September 6 from 6:30 PM to 8:30 PM at the Bell Tower Regional Community Center. Cats only from 6:30 PM to 7:30 PM please. Both dogs and cats are okay from 7 PM to 8:30 PM. For more information, visit the City of RSM's event page.

San Juan Capistrano: 17th Annual RMV Rodeo!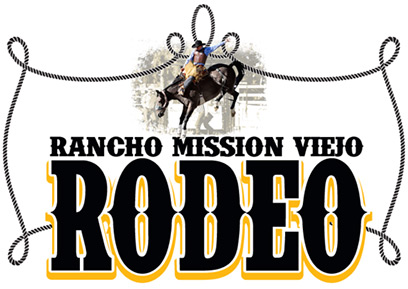 Join us this Saturday and Sunday, August 26 and 27, for the 17th Annual Rancho Mission Viejo Rodeo! The Rodeo will take place at the Rancho Mission Viejo Riding Park, located at the intersection of Ortega Highway and Antonio Parkway/La Pata in San Juan Capistrano. Gates open at 1 PM Saturday and 11:30 AM Sunday. Visit the RMV Rodeo website for more information.

This week I:

Attended the Aliso Viejo Relay for Life event.
Participated in the Orange County Board of Supervisors meeting.
Participated in a Special California State Association of Counties (CSAC) conference call.
Met with the new members of the Grand Jury.
Attended a meet and greet with the Dana Point Boater's Association.
Was interviewed on Laguna Woods TV6.
Participated in a Special OCFA Board meeting.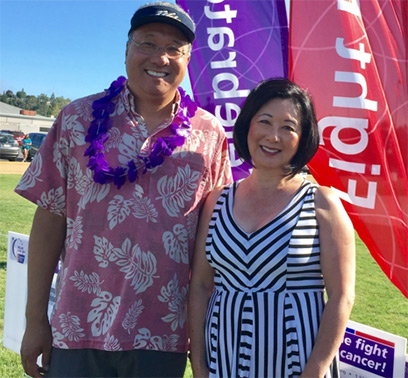 With Aliso Viejo Councilman Ross Chun at the City's Relay for Life event.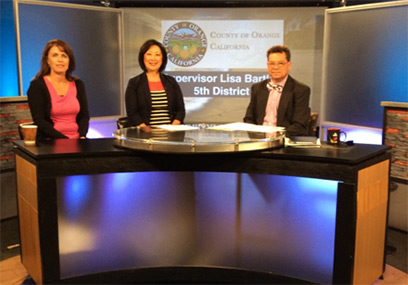 At the Laguna Woods TV6 interview with Erin Ulibarri (Office on Aging) and host Ken Goldberg.

My Staff:

Participated in an Orange County Sheriff Department's helicopter ride-along.
Attended a bus service plan community meeting in Laguna Hills.
Introduced the band at the OC Parks Summer Concert at Salt Creek Beach.
Attended the South Orange County Economic Coalition meeting in Laguna Hills.

For questions or comments regarding Supervisor Bartlett's E-Newsletter please contact the Supervisor's office staff at: (714) 834-3550 or email Sergio.Prince@ocgov.com or Tanya.Flink@ocgov.com.