Patriot Day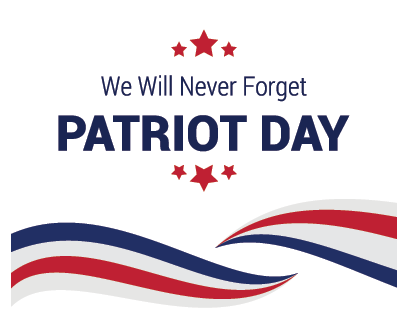 Monday, September 11, will mark the sixteenth anniversary of the September 11 attacks on our nation. Although far removed in time, the physical and emotional impacts from that day still resonate with us. It is important that we never forget. Let us never forget those who lost their lives and those who made sacrifices to help others in need. Let us never forget the bravery and heroism demonstrated by both first responders and civilians. Instead, let us honor these individuals and recognize the strength of our united nation. I encourage you to take a moment of silence on Monday to remember. By remembering our past, we can strengthen our future.

Fifth District Highlights

South County Homelessness Roundtable



Full house at the South County Homeless Roundtable.
We had excellent participation at the South County Homelessness Roundtable meeting this week, with over 100 stakeholders in attendance. We are bringing together service providers, cities, and faith based organizations to create a system of care that ends homelessness. The County is collaborating with stakeholders to leverage resources so we can create more adequate behavioral health programs and provide housing solutions to those in need. Thank you to all those who are working towards a solution!

33rd Annual Tall Ships Festival This Weekend!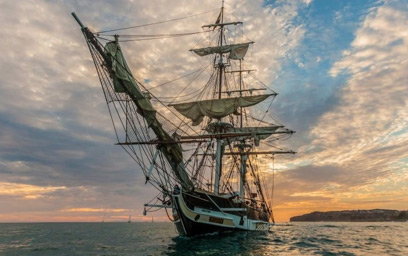 I cordially invite you to join me at the 2017 Tall Ships Festival in beautiful Dana Point Harbor. This popular 33rd annual event is not to be missed and will take place from Friday, September 8 through Sunday, September 10.

In celebration of California's rich maritime history, the Ocean Institute hosts a fleet of historic tall ships that sail annually into Dana Point Harbor. This extraordinary event takes place each year on the second weekend in September.

See history come alive, as crews from each ship, along with historical re-enactors, engage the public in cannon battles, pirate adventures, mermaid encounters, ship tours, and much more! FREE parking is available with FREE shuttle rides to the Tall Ship Festival, as there is no onsite parking at the Ocean Institute or along Dana Point Harbor Drive.

For full event details – including parking & shuttle information – visit the Ocean Institute website or click on the flyer below.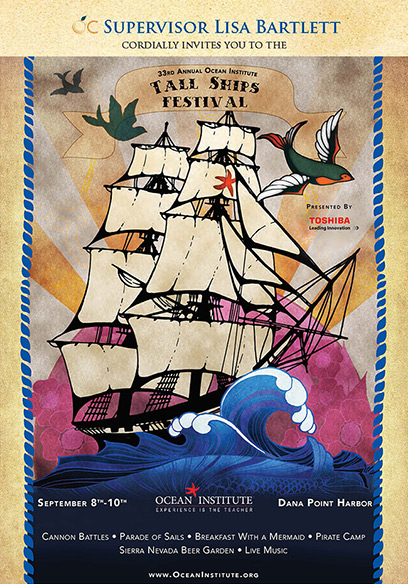 Click on the image above for more information.

South County Veterans Resource Fair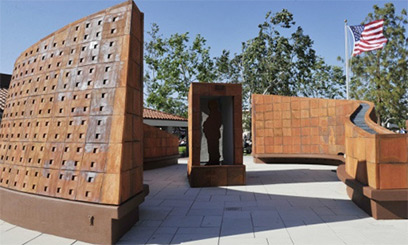 I know you value our local veterans as much as I do. As such, I invite you to join me at the South County Veterans Resource Fair. This popular 9th annual event will be held Tuesday, September 19 at Saddleback College from 10 AM to 1 PM in the Student Services Quad, adjacent to their wonderful Veterans Memorial.

This will be my third year hosting the Veterans Resource Fair with Saddleback College. I'm pleased to announce that partnering with us this year will be the OC Veterans Service Office and the Tierney Center for Veteran Services at Goodwill of Orange County.

As Orange County is home to one of the largest concentrations of veterans in the nation, our goal is to connect with veterans, active duty personnel and military families in our community. To this end, the theme for the 2017 South County Veterans Resource Fair is: "Operation Veterans Success".

The Veterans Resource Fair will feature free admission to the event and public parking in Lot 9. Over 60 informational booths of local organizations and employers will provide a wide array of services and resources to veterans and their families

Complimentary refreshments will be served to all attendees beginning at 9:30 AM! For more information, see the flyer below.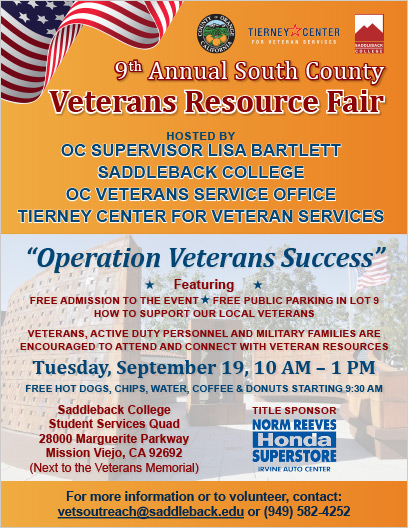 Click the event flyer above to view a PDF version.

County Connections

California Task Force 5 Return Home


As a County Supervisor and a Director with the Orange County Fire Authority, I would like to congratulate Orange County Task Force 5 on their courageous efforts to help those effected by Hurricane Harvey. The 44 member team was deployed to Texas and worked seamlessly to rescue well over 1000 individuals and animals from the devastating effects of the hurricane.

It is thanks to their heroic efforts and other first responders and volunteers in Texas that these residents are safe at one of the many shelters throughout the region.

Learn more about CA Task Force 5.

OC Moves

OCTA Seeks Public Input on Open Space Preserves



Aliso Canyon Preserve in Laguna Beach
Public input is being sought on draft plans released this week that will guide the management of valuable wildlife and habitat on the Orange County Transportation Authority's open space properties in the Aliso Canyon Preserve in Laguna Beach and Hayashi Preserve in Brea.

The preserves are being purchased to offset the impacts of construction on 13 Measure M freeway projects being built throughout Orange County.

The public can review the plans and comment online.

The 90-day public review and comment period ends Dec. 1.

Cove Road Closure in Dana Point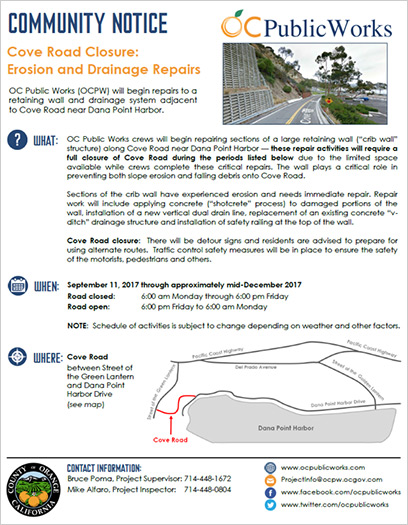 Click the event flyer above to view a PDF version.

I-5 South Construction Update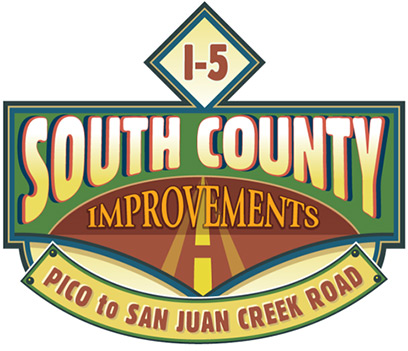 There will be ongoing nighttime lane closures on northbound and southbound I-5 from Dana Point to San Clemente for the next several months, as crews work to complete the project by early 2018. Motorists should expect delays from 10 PM to 5 AM. Learn more about the lane reductions and closures.

Meet OC Animal Care's Pet of the Week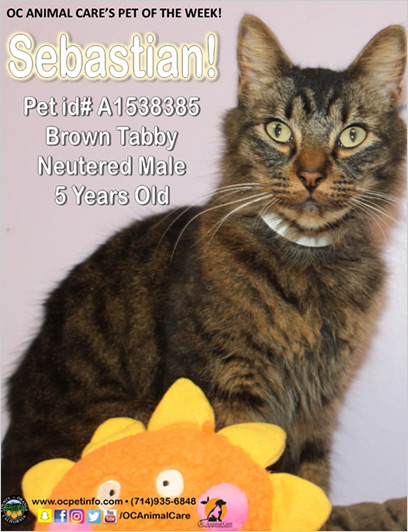 Click on the image above to view a PDF version.

Out and About in South County

Aliso Viejo: Trails and Creek Clean Up Event

Join the City of Aliso Viejo on Saturday, September 16 from 8 AM to 12 PM at Aliso Viejo Ranch to participate in the 2017 Trails and Creek Clean Up. Please wear appropriate clothing and bring sunscreen, a hat and gloves if you have them. Complimentary refreshments will be provided. To learn more, please see the event flyer.

Dana Point: Ohana Music Festival


The Ohana Festival is a three-day music festival at Doheny State Beach taking place September 8-10. In addition to offering three days in the sun with a diverse music lineup, Ohana will donate a portion of proceeds to the San Onofre Parks Foundation and the Doheny State Beach Interpretive Association. Check out the music line up.

Dana Point: Relay for Life

The Dana Point Relay for Life is September 16-17 from 10 AM to 10 AM at Lantern Bay Park. The American Cancer Society Relay for Life movement is the world's largest and most impactful fundraising event to end cancer. To help unite against cancer, please visit the Dana Point Chamber website.

Laguna Beach: Main Beach Clean Ups

The South Orange County Chapter Surfrider Foundation will host community beach clean ups at Main Beach in Laguna each Tuesday in September from 3 PM to 5 PM. Make friends with fellow volunteers and help beautify and protect our oceans and beaches. Learn more about the organization and other ways to get involved at the Surfrider OC website.

Laguna Niguel: The Batman LEGO Movie
Bring the whole family out for a night of fun under the stars. This event is Friday, September 8 from 7:30 PM to 9 PM at Crown Valley Community Park. Check out the City of Laguna Niguel's website for details.

Lake Forest: The Write Direction Workshop

The Write Direction provides college admission essay workshops for high school seniors. Students will learn the writing tools necessary to tackle this year's Common Application essay prompts and the University of California personal insight questions. Each workshop is limited to 20 students. The next workshop will be held on Saturday, September 16 from 11 AM to 12 PM at the Foothill Ranch Library (27002 Cabriole, Foothill Ranch). Pre-registration is required; email csherwood@thewritedirection.org to RSVP.

Mission Viejo: An Evening on Broadway

The Ocean Institute's Sand Dollar Guild is hosting their second annual "An Evening on Broadway" September 9 from 5 PM to 8 PM at Mission Viejo Country Club, 26200 Country Club Drive, Mission Viejo. Proceeds from the event will be donated to the Ocean Institute's popular Ocean in Motion program. For more information, see the event flyer and press release.

Mission Viejo: Patriot Day

The City will host a simple solemn ceremony to honor the men, women and children who lost their lives and the heroes who responded to the events of 9/11. This will take place on Monday, September 11 from 6 PM to 8 PM. For information about this ceremony, please view the City website.

Rancho Santa Margarita: Little League National All Star Team

A parade and rally is scheduled for Saturday, September 9 at 10 AM to celebrate the Santa Margarita Little League National All Star Team who recently returned home from the Little League World Series. The route will start at City Hall and end at Central Park. To learn more about the team and the parade, please visit the Santa Margarita Little League Facebook page.

Rancho Santa Margarita: Patriot Day Remembrance Ceremony

Join the City of RSM as we pay tribute to those who lost their lives on September 11, 2001 and honor those who rose to service in response to the tragedy. The ceremony will take place at Civic Center Plaza from 5:30 PM to 6:30 PM. To learn more about this ceremony, please visit the City website.

San Juan Capistrano: Adopt-A-Pet

On Saturday, September 9, The Ark of San Juan and Leashes of Love animal rescues will host an adoption event outside Coldwell Banker Residential Brokerage in Capistrano Beach (27111 Camino De Estrella, Capistrano Beach, CA 92624). Stop by from 10 AM to 2 PM and help an animal in need find a loving new home. There will also be refreshments for purchase, a bake sale, and raffle.

San Clemente: South County Job Fair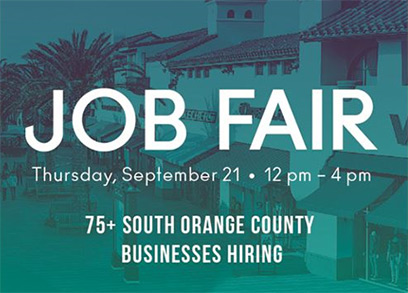 Looking to staff up for the holiday season, or looking for a job? Outlets at San Clemente is teaming up with local Chambers of Commerce to host a job fair on Thursday, September 21 from 12 PM to 4 PM. Employers from Dana Point, San Clemente, Laguna Niguel and San Juan Capistrano will join Outlets at San Clemente merchants to offer more than 1,500 full-time, part-time and seasonal positions in hospitality, food service, retail, business administration and more. Interested business are encouraged to sign up before the deadline on September 15.

San Clemente: SC Open Skate Contest

The City of San Clemente's SC Open Skate Contest is an annual event that is designed to promote and support skateboarding in San Clemente. The event is open to all ages, males and females, from "groms" to adults. In partnership with the Friends of San Clemente Beaches, Parks & Rec Foundation, this event also helps to raise funds and awareness for future improvements at the San Clemente Skate Park. This event will be held on September 16 at the Ralphs Skate Court. For details on registration and vendors, please visit the City website.

This week I:

Participated in the South County Homeless Roundtable in Mission Viejo.
Participated in the CalOptima Board meeting.
Participated in the Urban Counties Caucus conference call meeting.
Participated in the OCTA Executive Committee meeting.
Participated in the Special California State Association of Cities (CSAC) Board of Directors meeting.

My Staff:

Presented a proclamation in honor of the 100th birthday of Jack Kirkeby in Mission Viejo.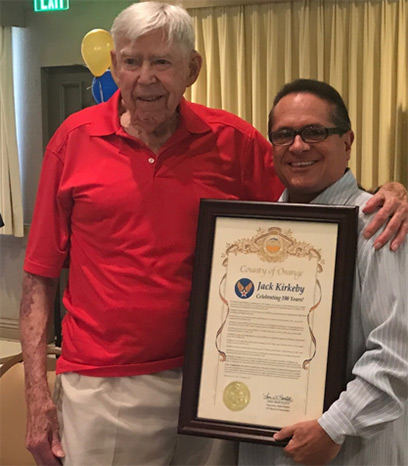 My Community Relations Advisor, Sergio Prince, presenting a proclamation to Jack Kirkeby on his 100th birthday.

For questions or comments regarding Supervisor Bartlett's E-Newsletter please contact the Supervisor's office staff at: (714) 834-3550 or email Sergio.Prince@ocgov.com or Tanya.Flink@ocgov.com.