Fifth District Dispatch


Welcome to the Fabulous Fifth District Dispatch!

Thank you for subscribing to my weekly e-newsletter. The Fifth District Dispatch includes information from County departments, regional boards I represent, transportation highlights and upcoming events in South County.

Please add me on Twitter @OCSupBartlett and Facebook @SupervisorLisaBartlett to receive regular social media updates.

It is my honor to represent you!

Sincerely,

Lisa Bartlett
Supervisor, 5th District

2017 South County Pet Expo & Dog-a-Palooza


I cordially invite all animal lovers to attend the South County Pet Expo and Dog-a-Palooza!

This enormously popular event is being presented by my office, in partnership with the City of Lake Forest, OC Animal Care, The Pet Adoption Center of Orange County, and Mount of Olives Church. The Pet Expo will be held Saturday, February 18 from 10 AM to 2 PM in The Commons greenbelt area at Lake Forest Sports Park, 28000 Rancho Parkway, Lake Forest, CA 92630.

The 2017 South County Pet Expo is pleased to introduce special guest Bruce Cameron, author of the New York Times Bestseller and Universal Pictures Production, "A Dog's Purpose", starring Dennis Quaid, released nationwide January 27. In addition to a special presentation about the writing of "A Dogs Purpose", Mr. Cameron will also have books available for purchase and will also conduct a public book signing for Pet Expo attendees.

Additionally, this family and pet friendly event will feature rescue groups with many loving animals available for adoption, fun and exciting canine demonstrations, local vendors providing all manner of pet products and services, as well as food trucks, music and entertainment.

As an added bonus, Mount of Olives Church will perform a special Blessing of the Animals to all pets present at the Expo, followed by the inaugural Dog-a-Palooza Pet Parade! Overflow parking and shuttle service will be available at Saddleback Church, directly across the street from the Pet Expo.

We look forward to seeing you and your well-behaved pet (leashes required) at the South County Pet Expo! For more information, please click on the flyer below.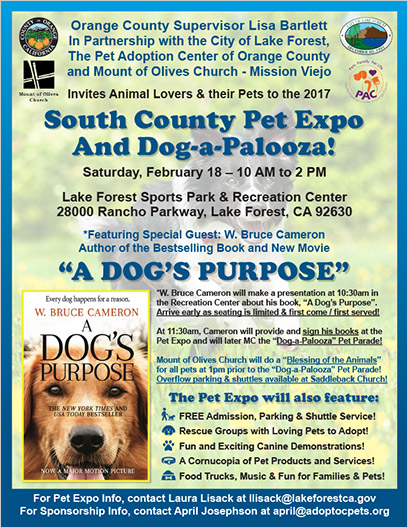 Click on the image above to view a PDF version.

County Connections

OC Sheriff's Department: DUI Enforcement Operations This Weekend

Deputies from the Orange County Sheriff's Department's DUI Enforcement Team will be deploying this weekend to stop and arrest alcohol and drug-impaired drivers in the Department's ongoing traffic safety campaign.

DUI Saturation Patrols will deploy from 7 p.m. Friday, Jan. 27, through 3 a.m. Saturday, Jan. 28, in areas with high frequencies of DUI collisions and/or arrests in the cities of Dana Point and San Clemente.

High Visibility Enforcement using both DUI checkpoints and DUI Saturation Patrols has proven to lower the number of people killed and injured in alcohol- or drug-impaired crashes. Research shows that crashes involving an impaired driver can be reduced by up to 20 percent when well-publicized, proactive DUI operations are routinely conducted.

Officers will be looking for signs of alcohol and/or drug impairment. When possible, specially trained officers will be available to evaluate those suspected of drug-impaired driving, which now accounts for a growing number of impaired driving crashes.

Drivers are encouraged to download the Designated Driver VIP, or "DDVIP," free mobile app for Android or iPhone. The DDVIP app helps find nearby bars and restaurants that feature free incentives for the designated sober driver, from free non-alcoholic drinks to free appetizers and more. The feature-packed app even has social media tie-ins and a tab for the non-DD to call Uber, Lyft or Curb.

The cost of a ride home is cheap. Those caught driving impaired can expect the impact of a DUI arrest to include jail time, fines, fees, DUI classes, license suspensions and other expenses that can exceed $10,000, not to mention the embarrassment when friends and family find out. Remember, if you see a drunk driver, call 9-1-1.

Orange County Armories

Orange County's Armory program provides up to 400 beds per night for the homeless in Fullerton and Santa Ana. Volunteers will be needed 7 days per week to help both in the evening (5:30 – 8:30pm) and morning hours (5-7am). Volunteers will be assisting with set-up, clean-up, passing meals and donations. Volunteers are also needed to provide dinners on a nightly basis.

The Santa Ana Armory is located at 612 E. Warner St. Santa Ana, CA 92707 & the Fullerton Armory is located at 400 S. Brookhurst St. Fullerton, CA. 92833.

Sign up to volunteer here!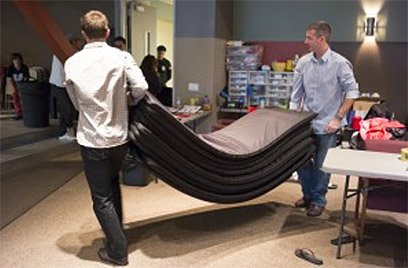 Donations are accepted Mon – Thurs 6pm-8pm at the Armories. Please keep in mind that we can only accept adult clothing at the Fullerton Armory including attire that is appropriate for the cold weather. Please no summer clothing. If you are interested in donating hot chocolate, granola bars (nature valley) we would be more than happy to accept these in-kind items!

If you have additional questions, please contact Irene Drissen at irenem@mercyhouse.net!

OC Grand Jury: Court Extends Grand Jury Application Deadline to February 1

Hon. Kirk Nakamura, Assistant Presiding Judge of the Orange County Superior Court and chair of the Grand Jury Recruitment and Selection Committee, announced that the Court has extended the deadline to apply to serve on the next Grand Jury to February 1, 2017 due to a shortage of applicants.

Judge Nakamura said, "By law, the Court must impanel a 19-member Grand Jury each fiscal year to serve a one-year term. It is difficult to attract qualified individuals from all areas of Orange County who can devote 30 to 35 hours per week for this unique community service opportunity." Panelists receive a $50 per day stipend, reimbursement for mileage, and reserved onsite parking at the Central Justice Center in Santa Ana, where they meet.

The Grand Jury provides civil oversight of local governments and agencies by reviewing and evaluating county, city, and other agencies, including jails, schools, and special districts, within Orange County. At the conclusion of these investigations, the Grand Jury compiles written reports with its findings and recommendations for improvement. The Grand Jury also considers evidence for possible indictment of individuals for criminal charges and reviews issues of concern submitted by the public. However, the Grand Jury has no jurisdiction to review matters involving the Orange County Superior Court or state and federal agencies.

Superior Court judges interview qualified applicants and choose the top candidates to proportionally represent all areas of Orange County. Selection of the 19-member Grand Jury is accomplished by a random drawing of the 25 to 30 finalists. Current grand jurors and their advisors provide training to the new panelists. The grand jurors will take the oath of office on June 30, 2017 for a one-year term.

The requirements to serve are: Orange County resident, U.S. citizen, 18 or older, sufficient knowledge of English, sound judgment, and a sense of fairness. The application form and more information are available online at www.ocgrandjury.org, by calling 657-622-6747, or in person at the Jury Commissioner's Office, 700 Civic Center Drive West, Santa Ana.

Superior Court: Expanded Hours in Mission Viejo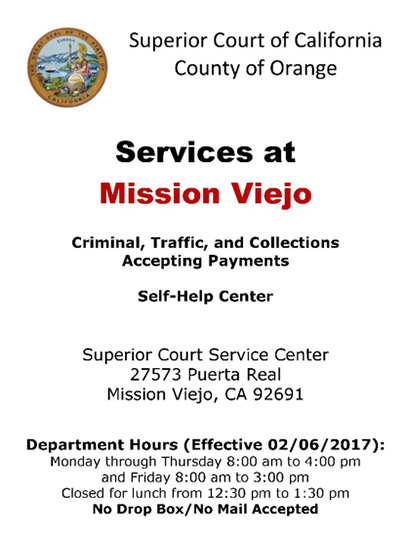 OC Moves

EMERGENCY FULL CLOSURE 74 Ortega Highway

The California Department of Transportation (Caltrans) has closed SR-74 Ortega Highway until further notice eastbound at Gateway Place and westbound at Nichols Institute due to roadway that has been severely undermined by the recent storms.

The damaged roadway is at post mile 5.5 which is about ½ mile east of Gibby Road in Orange County. Caltrans Geotechnical engineers have determined that the roadway at that point has weakened due to the heavy rainfall experienced this past week and is not currently safe to use. Caltrans will bring in special teams to further access the situation, determine the course of repairs and an emergency construction crew to perform the repairs.

Caltrans does not know the length of the closure at this time until a full assessment can be determined, however, all motorists should plan to use alternate routes until further notice. Signs will be posted to alert motorists of activity. Caltrans appreciates the public's patience and support while we perform this assessment and emergency operation.

DETOURS:

Interstate 5 (I-5):
South I-5 to East State Route 76 (SR-76) to North Interstate 15 (I-15)
North I-5 to State Route 55 (SR-55) to East State Route 91 (SR-91) to South I-15

I-15:
North 1-15 to Westbound SR-91 to South SR-55 to South I-5
South 1-15 to Westbound SR-76 to North 1-5

For quicker updates you can like District 12's Facebook page at 'Caltrans District12'; contact the District 12 Public Information Office at (657) 328-6000, or log on to the Caltrans website at www.dot.ca.gov/dist12.

OC Animal Care/Pet of the Week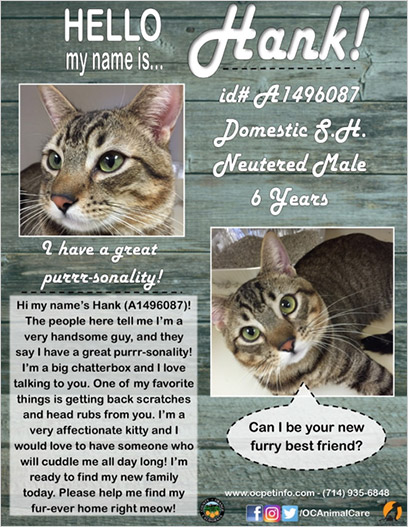 Click on the image above to view a PDF version.

Out and About In South County

Aliso Viejo: Snow Fest

The annual Snow Fest event has been postponed to Saturday, January 28. Please mark your calendars for this new date. Folks who preregistered will enjoy Grand Mountain and Bunny Hill, groomed inclines for sledding and Snowman Park, an enclosed snow field perfect for snow play and exploration for children age five and under. New this year, we have added a Snowman Gallery for families to build their own snow figures. Please note that the registration period for wristbands to enter the snow areas is now closed, however there are many free activities offered outside including an art studio, family games, community information and activity booths, a balloon twister, glitter tattoos and photo opportunities with the Snow Fest mascot "Frosty". The second rain date is February 4th. For more information, click here.

Laguna Niguel: Triathalon

Come out to test your endurance or cheer on the athletes at Laguna Niguel's annual triathalon on Sunday, January 29th! The course includes a 3.1 mile run, 8 mile bike, and 175 yard pool swim. Ticket prices range from $40-$140. The event will be located at Crown Valley Community Park. For more information click here.

Lake Forest: Snow Fest 2017

Be part of this annual winter event and hit the snow laden slopes at Pittsford Park! Grab the kids, the camera and your friends and come play in the snow where sleds and saucers will be available to slide down Mount Pittsford. Each participant must have a signed waiver form on file with the City. There will also be a snow play area for kids 5 and under open during the entire event. Check out additional attractions at the event and bring your camera for guest appearances from a galaxy far away. This event is on Saturday, January 28th from 11 AM to 4 PM at Pittsford Park and costs $7 for sledding. For more information, click here.

Mission Viejo: Polar Bear Plunge

Take an icy dip in the spa for a fun photo opportunity and experience the thrill of playing in 180 gallons of artificial snow. Enjoy carnival games, snowball fights, snow cones, hot chocolate, waterslide and rec swim in the heated pool. This event is on Saturday, January 28th from 1 to 4 PM and entrance is free. For more information, click here.

Rancho Santa Margarita: Low-Cost Vaccine Clinic

Come join us at our low-cost dog and cat health care clinic! There will be vaccinations, de-wormings, microchipping, flea and tick control and nail trims! We care very much about the health and welfare of your pet and use only the highest quality products. Pet owners from everywhere are welcome to attend. You do not need to be a resident of this city to participate! Cat are seen from 6:30 pm to 7:00 pm. Dogs are seen from 7:00 pm to 8:30 pm.

For further participation details and other useful information, call 714-993-9193 or click here.

This week I:

Participated in the OCTA Board meeting.
Participated in a CalOptima Ad Hoc conference call.
Participated in the Orange County Board of Supervisors meeting and presented a Board Resolution to Ken Inouye for his 23 years of service as Commissioner on the OC Human Relations Commission.
Participated in the TCA Joint Executive Ad Hoc, Joint Financial & Investment, and Joint Strategic Planning Ad Hoc meetings.
Participated in the OCFA Ad Hoc and Board meeting.

My Staff:

Presented a Proclamation to former Dana Point City Manager Doug Chotkevys in honor of his retirement and years of service to the City.
Presented a Certificate of Recognition to Willa Porter upon receiving the Pat Peplar Citizenship Award from the Dana Point Historical Society.
Presented Certificates of Recognition at the Laguna Niguel Chamber of Commerce Multi-Business Ribbon Cutting event to: DB Coaching and Consulting, CarePossible, Inc., Luminance Health Care Group, Voit Real Estate Services, and Pacific Marine Mammal Center.
Presented a Certificate of Recognition in honor of the South Cove reception in Dana Point.
Presented a Certificate of Recognition in honor of the Coffee Bean & Tea Leaf ribbon cutting in Laguna Woods.
Attended the Dana Point Chamber of Commerce Installation Dinner to present a Proclamation to outgoing Chairman Mits Arayama, Ambassador of the Year Nancy Jenkins, Citizen of the Year Bruce Beall, and Business of the Year to John Hicks, owner of The Harbor Grill.
Attended the ACC-OC Prop 64 Regulation Roundtable.
Attended the ACC-OC Legislative & Regulatory Committee meeting.
Attended the South Orange County Economic Coalition (SOCEC) monthly meeting.
Participated in the Point-In-Time Count training.
Attended the Southern Region CALAFCO Annual Meeting in Los Angeles.
Attended the San Juan Watershed Project meeting.
Attended the Orange County Animal Care Community Outreach Committee meeting.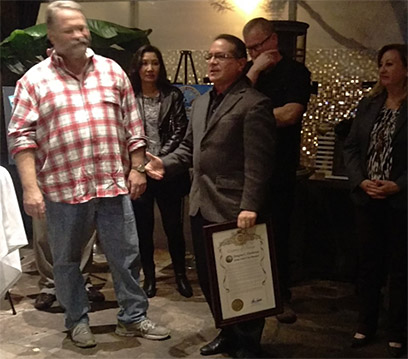 Presenting a proclamation to retired Dana Point City Manager Doug Chotkevys for his outstanding service to the City and its residents.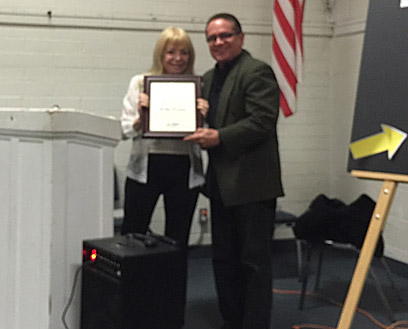 Presenting a certicate of recognition to Willa Porter at the Dana Point Historical Society meeting.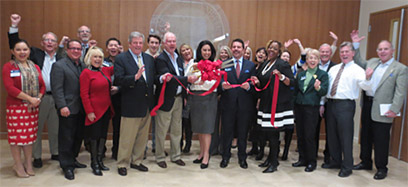 At the Laguna Niguel Chamber of Commerce Multi-Business ribbon cutting ceremony.

South County Elected Officials in the Community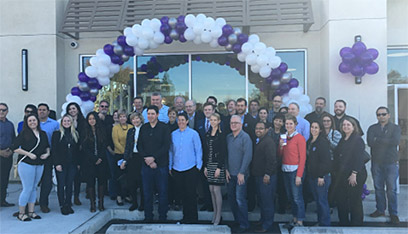 Laguna Woods Mayor Shari Horne, Mayor Pro Tem Carol Moore, Councilwoman Cynthia Conners, and Councilman Noel Hatch at the Coffee Bean & Tea Leaf ribbon cutting.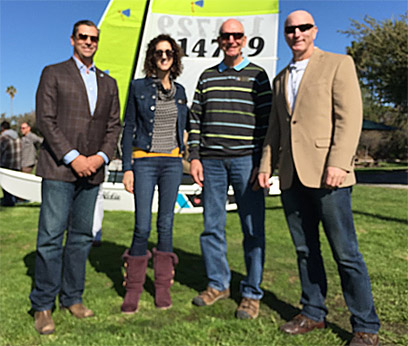 Dana Point Councilman Joe Muller, Mayor Debra Lewis, Mayor Pro Tem Paul Wyatt, and Councilman Richard Viczorik at the South Cove reception at Doheny State Beach.

For questions or comments regarding Supervisor Bartlett's E-Newsletter please contact the Supervisor's office staff at: (714) 834-3550 or Tanya.Flink@ocgov.com.