Fifth District Highlights

"Chief" Paul Walters becomes new OC District Attorney Chief of the Bureau of Investigations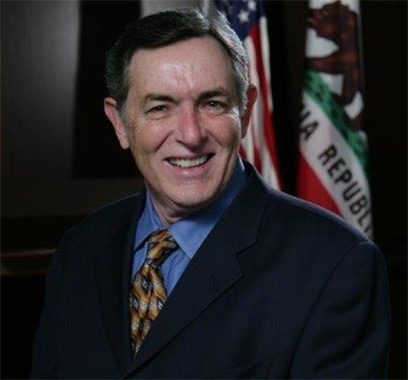 My former Chief of Staff and the new Chief of the Bureau of Investigations for the OC District Attorney, Paul Walters.
Congratulations to my outgoing Chief of Staff, Paul Walters, for his new position as the Orange County District Attorney's Chief of the Bureau of Investigations! Paul (a.k.a "Chief") is one of the longest-running law enforcement leaders in California history, and has served as my Chief of Staff since I took office in 2014.

Paul served as Chief of Police in Santa Ana from 1988 to 2013, the longest run as Chief in a major city in modern U.S. history. He oversaw a department that shifted from over 400 officers serving 293,000 people to 320 officers protecting 335,000 residents – and a total population of over 500,000 during work days. During his tenure, the crime rate dropped in Sana Ana to its lowest level in almost 40 years.

Recognized as a national innovator and leader in policing, Paul received the Director's Award from Director of the FBI, Louis Freeh, for exceptional public service and leadership. At the time of this award, he was only the second person in the history of the FBI to receive this honor as a non-FBI employee.

Paul is a committed, experienced and professional public servant. His 40+ years of experience in law enforcement, local government as a city manager and in my Fifth District office will serve him well as he takes on his new role. Although I will miss working with him, I look forward to watching his continued success with the District Attorney's Office.

CalOptima Prioritizes the Opioid Epidemic, Homeless Health & Children's Mental Health

For 2017, CalOptima's Board of Directors identified strategic priority areas, which include opioid abuse, homeless health and children's mental health. CalOptima will make funding available to our community partners through a community grant process.

The agency is currently requesting Letters of Interest to help them determine the funding levels for the three Priority Areas. Please see the attached Request for Letters of Interest (LOI) for information regarding how and when to submit your Letters of Interest.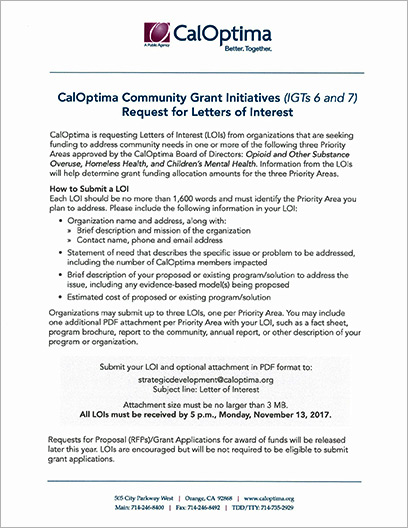 Click on the image above to view a PDF version.

Holiday Decorations on Public Property in Unincorporated Areas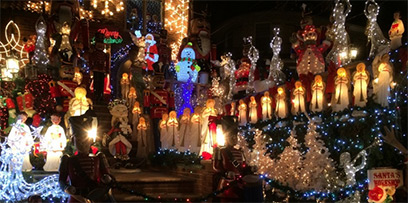 With the holiday season approaching, the County of Orange would like to provide support for decorating unincorporated communities in a safe manner. In the Fifth District, this includes the communities of Coto De Caza, Ladera Ranch, Las Flores, Rancho Mission Viejo, Stonecliffe, and Wagon Wheel.

The County wants to work with interested residents and home owner associations in our unincorporated areas to help ensure the placement of decorations on/over public property is done properly in compliance with the County of Orange regulations. The simplified process below will ensure compliance:

Encroachment permit application
Site Plan – clearly show locations of decoration
Letter of Authorization – notarized by representative of HOA
Credit Card Authorization
Insurance Information
Contractor Guidelines
For more information, residents and HOAs can contact the OC Public Works Development Processing Center at (714) 667-8888 or via email, or visit the website for online services.

OC Moves

Avenida La Pata Traffic Lane Transition

On Wednesday, November 8, northbound travelers on Avenida La Pata will be transitioned to the newly completed lane sections as part of the ongoing road widening improvements.

Two southbound lanes will be shifted slightly to allow project work to continue in the center median of the road. In addition, there will be one northbound lane until future widening improvements are completed.

As a reminder, the speed limit in the project area along Avenida La Pata is 35 MPH during construction activities and 55 MPH during non-construction hours.

Completion of the overall widening improvements along Avenida La Pata is expected to be completed in April 2018. This schedule is subject to change due to weather and other factors.

When workers are present, please be mindful of the reduced speed limit through the construction zone. For more information, see the Construction Notice.

On-Demand Shared Ride Service Coming Soon to South County


Last week, the OCTA Board approved a one-year pilot program to improve bus ridership and provide a range of transit services that better fits the needs of the community.

OC Flex, an on-demand shared ride service, will be part of OCTA's suite of alternative transportation services. This type of service is also known as micro-transit and features short wait times and curb-to-curb pickup and drop off.

As part of the pilot program, OC Flex will be offered initially in two zones – one in Huntington Beach and one in Aliso Viejo, Laguna Niguel and Mission Viejo.

Service areas include major activity centers for shopping, entertainment and employment, and connectivity to other transit options. OC Flex is anticipated to launch in July 2018. I look forward to sharing more details once they are available!

For more information, visit the OCTA website.

County Connections

OCWR Eco Challenge Collection Event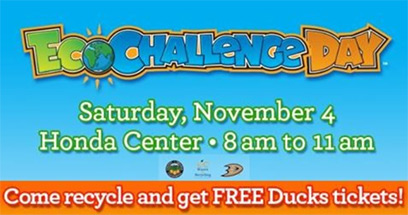 OC Waste & Recycling (OCWR) will host their Eco Challenge Day collection event at the Honda Center on Saturday, November 4 from 8 AM to 11 AM. Free paper shredding, e-waste collection, family fun and prizes await participants tomorrow at the Honda Center. Visit the DiscoveryCube website for more information.

Rerouting of Pedestrian Traffic in the Civic Center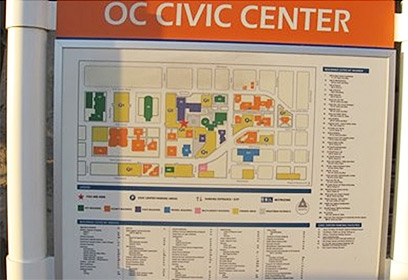 Visiting our County offices in the Civic Center? Be sure to note the specific construction alerts, which have altered both parking options and pedestrian routes in the area. For directions and maps, see the full press release.

JWA Webpage on FAA's SoCal Metroplex Project

Over the past several months, many individuals have reached out to the County regarding the Federal Aviation Administration's Southern California Metroplex Project and the impacts they attribute to the changes. The FAA's SoCal Metroplex Project is part of implementation of the "Next Generation Air Transportation System" otherwise known as NextGen.

This week, John Wayne Airport (JWA) provided an updated webpage focusing purely on the FAA SoCal Metroplex Project, which consolidates information previously provided, as well as additional information and resources.

Visit the new Southern California Metroplex Project Webpage to get:

The Latest update on the County's lawsuit against the FAA
Background info on the FAA's NextGen & SoCal Metroplex Project
FAA's contact information
JWA Noise & Access Office contact information (only FAA has jurisdiction over aircraft in flight)
Additional information & Resources

Meet OC Animal Care's Pet of the Week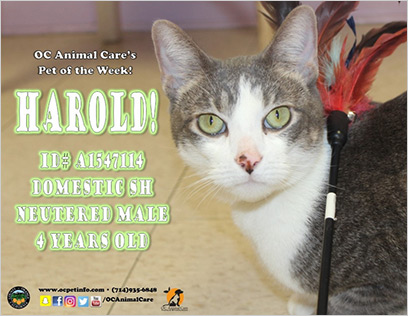 Click on the image above to view a PDF version.

Adoption Event November 4!

This Saturday, November 4, the Orange County Animal Shelter is hosting a special adoption event for all pets four years or older. Adoption fees will be waived, just pay for licensing and microchip. These pets still have some spring in their step, and you certainly can teach an old dog new tricks, so bring the family on Saturday to find the purrfect pet for you!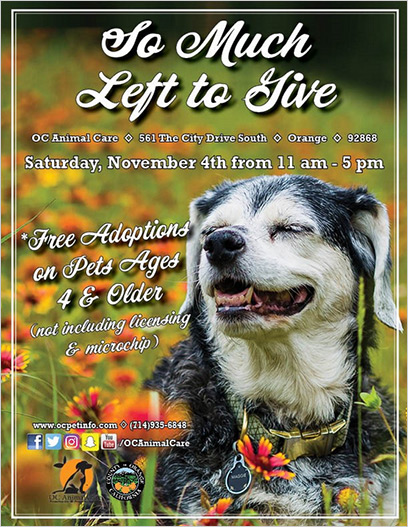 Click on the image above to view a PDF version.

Out and About in South County

Aliso Viejo: Health, Resource & Safety Fair

Learn how to help keep yourself and your loved ones healthy and safe by attending the Health, Resource & Safety Fair & Flu Shot Clinic on Saturday, November 4 from 1 PM to 4 PM at the Iglesia Park Community Center in Aliso Viejo. Free flu vaccines are available for those age nine and older. A parent must be present for children under eighteen. No appointment necessary. For more information, view the event flyer.

Dana Point: Veterans Day Ceremony

VFW Post 9934 and the City of Dana Point will present a Veterans Day program Saturday, November 11, at the Dana Point Veterans Memorial, starting at 10 AM. The Memorial is located at 34201 Selva Road, at Strand Beach, just off Pacific Coast Highway. For more information, see the event website.

Laguna Beach: Laguna Food Pantry Drive

In observance of National Hunger & Homelessness Awareness Month, all are invited to contribute nonperishable food items to help their neighbors in need during the 2017 Laguna Food Pantry Citywide Food Drive. Sponsored by the City of Laguna Beach and Waste Management, this food drive will be held November 1-17. See the Laguna Food Pantry website for suggested donations and drop-off sites.

Laguna Niguel: Veterans Day Ceremony

Come to the City of Laguna Niguel on Saturday, November 11 from 11 AM to 12:30 PM to honor our veterans. This event will held at the Sea Country Senior and Community Center, 24602 Aliso Creek Road, Laguna Niguel. See the event flyer for more information.

Laguna Niguel: Service Saturday

The City of Laguna Niguel will be collecting necessity items Saturday, November 4 to benefit the children of the Orangewood Foundation. This project was initiated by the recent Human Trafficking Town Hall meeting, which identified these youth aging out of the Foster Care system to be at a higher risk of human trafficking. Your donations are welcome and appreciated. See the flyer below for details.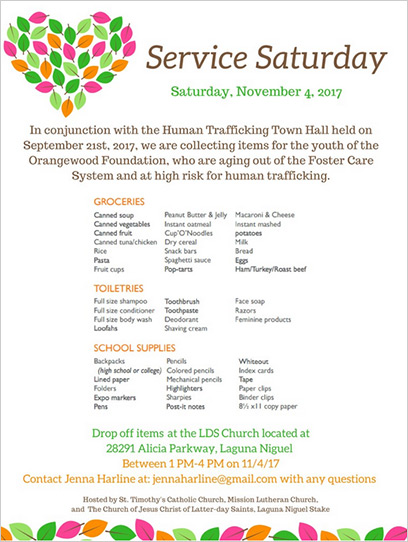 Click on the image above to view a PDF version.

Mission Viejo: Veterans Day Observance

On Veterans Day, the City of Mission Viejo will honor and remember the men and women of our Armed Forces. Light refreshments will be provided. Saturday, November 11 from 2 PM to 5 PM at the Norman Murray Community Center, 24932 Veterans Way Mission Viejo. For more information, see the city calendar.

Rancho Santa Margarita: Veterans Day Ceremony

On November 8, the City of Rancho Santa Margarita invites the public to its 3rd Annual Veterans Day Recognition Ceremony to recognize the men and women of the community for their military service. The event begins at 6:30 PM at City Hall, where light refreshments will be served, followed by a special presentation to veterans of all branches of the armed services. See the city calendar for more information.

San Clemente: Veterans Day Ceremony and Marine Corps Birthday

All are welcome to join the Heritage of San Clemente Foundation on Saturday, November 4, as they host a Veterans Day ceremony and dedicate the 2nd Battalion, 4th Marines insignia plaque at Park Semper Fi. The ceremony will begin at 2 PM. See the flyer below for details.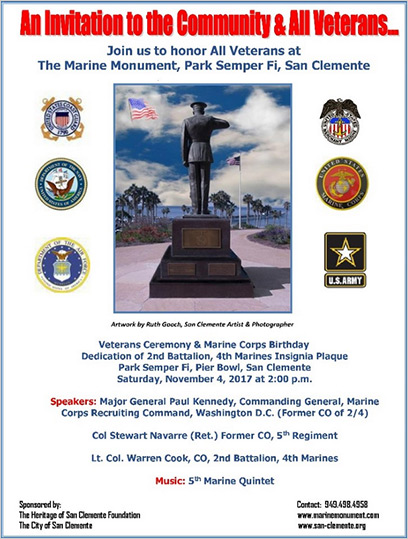 Click on the image above to view a PDF version.

This week I:

Met with a Japanese delegation of young political leaders, facilitated by the American Council of Young Political Leaders, the Japan Center for International Exchange, and La Palma Councilman Peter Kim.
Participated in the CalOptima Board of Directors meeting.
Participated in the OCTA/LA Metro Board Member Forum.
Hosted a farewell party for my outgoing Chief of Staff, Paul Walters.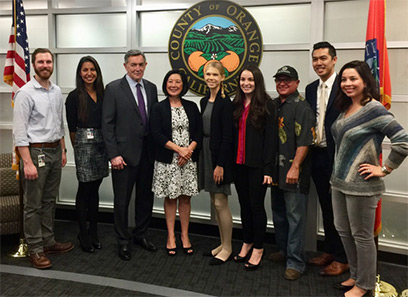 With my staff, bidding a fond farewell to my Chief of Staff, Paul Walters.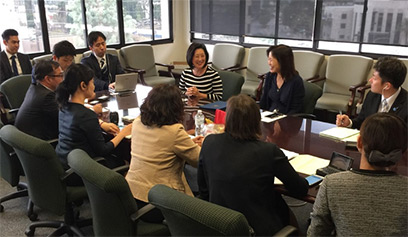 Meeting with the Japanese delegation at the Hall of Administration.




Meeting with OCTA and LA Metro Board Members to discuss opportunities for regional partnership.

My Staff:

Presented a certificate of recognition at the Dunkin' Donuts ribbon cutting in Lake Forest.
Attended the Orange County Trauma Intervention Program annual dinner at the Anaheim Hilton.
Attended the Laguna Niguel Chamber of Commerce Government Affairs Committee meeting.
Attended the Orange County City Selection Committee meeting at Tustin City Hall.
Attended the Orange County Business Council's (OCBC) Advocacy & Government Affairs meeting.
Completed the 2017 OC Courts Leadership Academy.


Congratulations to my Policy Advisor, James Dinwiddie III, for completing the 2017 OC Courts Leadership Academy!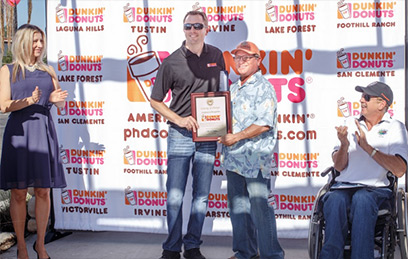 My Community Relations Advisor, Sergio Prince, presents a certificate of recognition at the Dunkin Donuts ribbon cutting ceremony in Lake Forest with Mayor Pro Tem Leah Basile (left) and Mayor Scott Voigts (right).

Elected Officials in the Community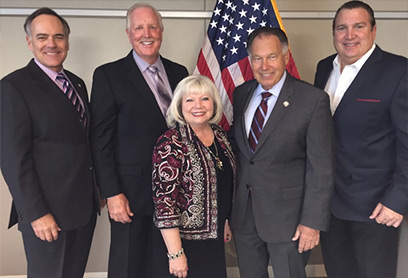 (L-R) My Audit Oversight Committee Representative Bob Brown, Moulton Niguel Water District Director Duane Cave, Laguna Niguel Mayor Pro Tem Elaine Gennawey, OC District Attorney Tony Rackaukas, and Councilman Jerry Sluziewicz, at the Laguna Niguel Chamber Government Affairs Committee meeting.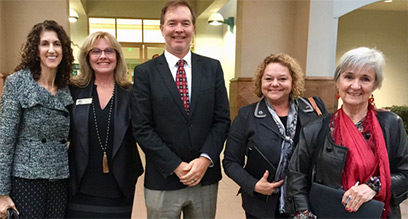 (L-R) Dana Point Mayor Debra Lewis, San Clemente Mayor Kathy Ward, Laguna Hills Mayor Don Sedgwick, Mission Viejo Mayor Wendy Bucknum, and San Juan Capistrano Mayor Kerry Ferguson at the OC City Selection Committee meeting in Tustin.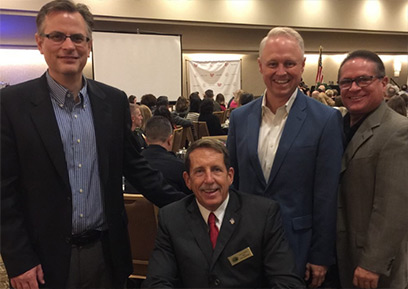 With Lake Forest Councilman Andrew Hamilton (left), Mayor Scott Voigts and Councilman Dwight Robinson at the OC Trauma Intervention Program Gala.

For questions or comments regarding Supervisor Bartlett's E-Newsletter please contact the Supervisor's office staff at: (714) 834-3550 or email Sergio.Prince@ocgov.com or Tanya.Flink@ocgov.com.