Fifth District Highlights

A Superhero Holiday Final Weekend!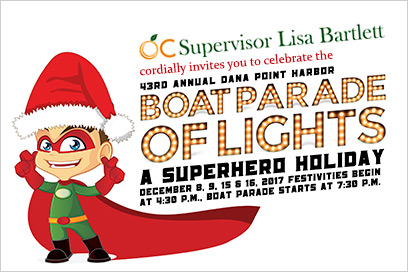 Click here to see a complete list of holiday activities in Dana Point Harbor.
Please join me, OC Parks and Dana Point Harbor in celebrating the season with "A Superhero Holiday" during the final weekend of the 43rd Annual Boat Parade of Lights – taking place Friday & Saturday, December 15 & 16 – as we present a cornucopia of holiday festivities, entertainment, and free family-friendly activities that culminate with the spectacular Boat Parade of Lights!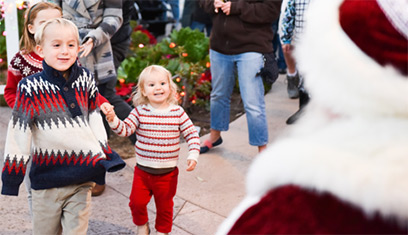 Children light up with excitement to visit with Santa.
FREE trolleys will run both nights of the Boat Parade from 3:30 PM to 10:30 PM, picking up and dropping off merrymakers along Dana Point Harbor Drive at Doheny State Beach, The Visitor's Center, Ocean Institute, Baby Beach, Island Way, the Retail Area, and back to Doheny State Beach. Kids and the young at heart are encouraged to dress-up as their favorite superheroes during the Boat Parade!

Click here to see a complete list of holiday activities in Dana Point Harbor or visit DanaPointHarbor.com. See you there!

Editorial: Housing is a Hand Up, Not a Hand Out


With Homeless Persons' Memorial Day taking place December 21, we acknowledge there are a large number of homeless men, women, teenagers, children and entire families in our community.

Every two years, the County of Orange conducts the Point-In-Time (PIT) Count, a census administered on a given night of the homeless in our communities. The PIT Count, which represents a snapshot in time, revealed a troubling trend in 2017 – a 7.6 percent increase in the number of homeless, with a total of nearly 4,800 individuals counted.

Orange County has diligently and compassionately tried to stem this rising tide by building a system of care that meets the needs of this complex and diverse population. Our efforts include increasing shelter capacity, outreach and services, including but limited to the following initiatives:

Establishment of The Courtyard, a partnership between the County and The Midnight Mission that provides 400 shelter beds every night
Completion of phase one of Bridges at Kramer, the County's year-round emergency shelter that provides 100 beds; Phase two, which will provide a total of 200 beds, is slated for completion in May 2018
Enhancing our efforts to ensure public safety in large encampments
Increasing outreach and service linkages for the homeless
As impactful and encouraging as these efforts are, an urgent need remains for more permanent supportive housing.

A recent cost study conducted by UCI and Orange County United Way indicated that $300 million was spent on homelessness within one fiscal year between the County, cities, hospitals, law enforcement agencies, and community based organizations. Providing stable housing with case management, social and medical services to the most medically fragile homeless individuals would reduce the cost of serving that population 50% per capita, at $100,000 a year for the unsheltered versus $50,000 a year for those in housing.

Chronically homeless individuals with disabilities and lacking stable housing often do not receive the appropriate preventative care or supportive services. These individuals, who are covered through public health plans, are likely to struggle with severe medical needs, often resulting in costly emergency department visits and hospitalizations.

The average cost of health care services for chronically homeless individuals who lack stable housing was $98,000 annually versus $26,158 for the chronically homeless, who are placed in housing programs.

Providing permanent supportive housing for the homeless population with medical disabilities provides a compassionate long-term solution that helps individuals improve their conditions, while reducing our overall costs.

In June this year, I introduced a measure that dedicates $5 million in Mental Health Services Act dollars toward creating additional housing and supportive services for the disabled homeless who suffer from mental illness.

As our community moves forward developing solutions to our growing homeless crisis, I am committed to working collaboratively with stakeholders and my colleagues on the Board of Supervisors to develop the system of care and increase the housing available to our homeless residents.

To learn how you can have a positive impact in helping those experiencing hunger and homelessness in South County this holiday season, please click on the flyer below.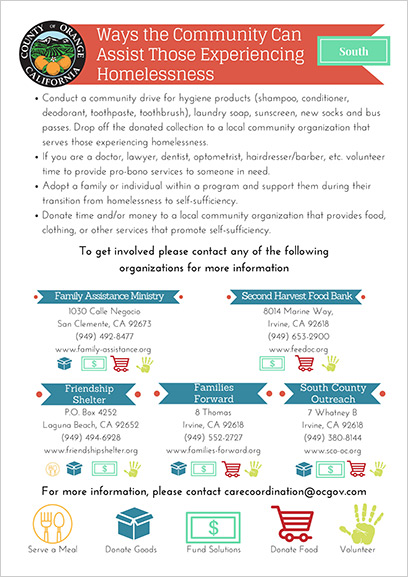 Click on the image above to view a PDF version.

County Connections

Homeless Persons' Memorial Service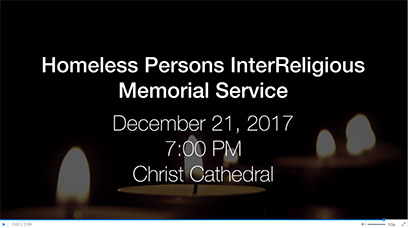 Click on the image above to view the video.
Orange County's second annual Homeless Persons' Interreligious Memorial Service will be held Thursday, December 21 at Christ Cathedral in Garden Grove. This interreligious service will take place at 7 PM on the first day of winter and the longest night of the year to commemorate the lives of the homeless members of our community who perished in 2017.

Participants will join community groups, service providers, and individuals in cities across the nation that will be holding services of their own in observance of Homeless Persons' Memorial Day. Learn about volunteer opportunities for this event or email Gina Scott to sign-up. For more information, please see the event flyer below or view the video.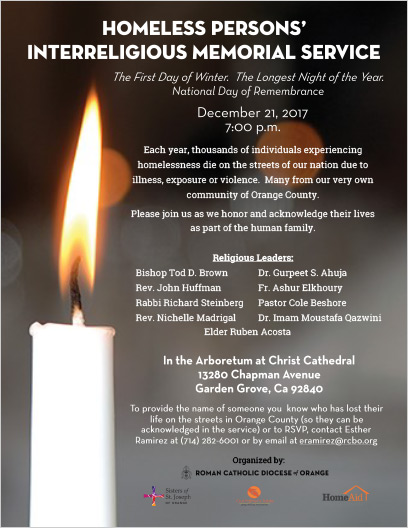 Click on the image above to view a PDF version.

Operation Santa Claus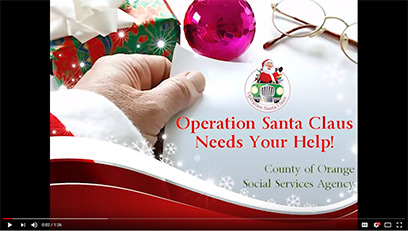 Click on the image above to view the video.
Operation Santa Claus, which began as a small effort to meet the needs of a handful of children in 1962, has become a major event for the community. This program provides gifts and toys to children who are in foster care in Orange County, as well as children of disadvantaged families who are receiving services from the County of Orange.

Last year, Operation Santa Claus distributed over 39,000 toys/gifts to 18,000 children. This would not be possible without the generosity and collaborative effort of our County of Orange employees, community based organizations, businesses, and individuals in the community, who play an important role in collecting the toys.

In addition to Operation Santa Claus, the Orange County Social Services Agency (SSA) also runs Senior Santa & Friends. This program provides gifts and special request items to low income elderly or severely disabled adults who are clients of SSA and/or the Orange County Health Care Agency.

Residents of Orange County can take part by volunteering and/or donating to make Operation Santa Claus and Senior Santa & Friends by doing the following:

Donate new and unwrapped toys at collection boxes found in many County buildings, including every County Library throughout Orange County, or drop off toys and other gifts at 1505 E. Warner Ave., Santa Ana, CA 92705. Email regarding drop off times and locations.
Donate online for Operation Santa Claus and/or Senior Santa & Friends.
Angel Tags can be displayed on trees, bulletin boards, walls, etc. Angel Tags provide gift suggestions for a senior or child in need of a gift from "Santa." Email requests to Operation Santa Claus and/or Senior Santa & Friends.
For more information about Operation Santa Claus, please call (714) 679-2438 or view the video. For more information about Senior Santa & Friends, please call (714) 825-3111.

'Drive Sober or Get Pulled Over' Enforcement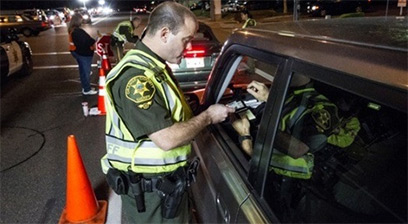 This holiday season, the Orange County Sheriff's Department will find and arrest impaired drivers as part of the department's commitment to keeping the community safe.

From Dec. 15 through Jan. 1, law enforcement across the state is partnering with the California Office of Traffic Safety (OTS) and the National Highway Traffic Safety Administration (NHTSA) in a special year-end "Drive Sober or Get Pulled Over" enforcement mobilization to get impaired drivers off the street and to spread the word about this dangerous crime.

As part of the holiday enforcement campaign, law enforcement agencies will deploy DUI Checkpoints and DUI Saturation Patrols during the upcoming 18-day DUI crackdown.

Drivers are encouraged to download the Designated Driver VIP, or "DDVIP," free mobile app for Android or iPhone. The DDVIP app helps find nearby bars and restaurants that feature free incentives for the designated sober driver, from free non-alcoholic drinks to free appetizers and more.

Remember, if you see a drunk driver, call 9-1-1.

Clerk-Recorder Offices to Open December 16


If you plan to get married before the end of the year and can't make it to the Orange County Clerk-Recorder's offices during normal operating hours, take advantage of the department's last Saturday opening of 2017. The Clerk-Recorder will open their offices Saturday, December 16 from 10 AM to 3 PM, including the South County branch located at the Laguna Hills Civic Center.

Copies of property records, and birth, death and marriage certificates will be available at the Laguna Hills office, as well as services for marriage licenses, civil marriage ceremonies, and passport applications.

Appointments are not required during Saturday hours but are recommended due to demand for marriage and passport services. Additionally, passport photos are available on the spot for $10, including free parking. To save time, applications for passports, marriage licenses and ceremonies can be completed in advance online.

Coto de Caza Planning Advisory Committee


The County of Orange is seeking qualified candidates to serve on the Coto de Caza Planning Advisory Committee (CPAC) to serve as volunteers for a two-year term.

In October 2016, CPAC was established to advise the County on all discretionary actions within the boundaries of the Coto de Caza Specific Plan.

CPAC is responsible for conducting public meetings for the purpose of considering proposed land development projects submitted by the County for its review. CPAC shall report any recommendations on such projects to the Director of OC Public Works or his/her designee.

Interested individuals may apply by completing and submitting an application by January 5, 2018. For more information on CPAC, please visit the OC Public Works website or call (714) 834-3550.

The Grand Jury Needs You – Apply Today!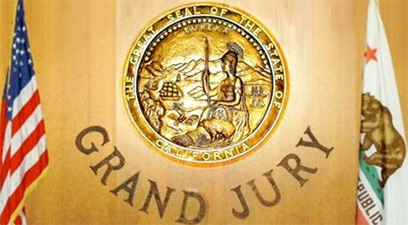 The Orange County Superior Court is looking for qualified volunteers to serve on the 2018-2019 Grand Jury. The 19-member Grand Jury will take the official oath of office on June 29, 2018 for a one-year term.

To qualify to serve on the Grand Jury, you must be a resident of Orange County for at least a year, a United States citizen, at least 18 years old, in possession of sound judgment, and have sufficient knowledge of English. Interested citizens must apply by January 26, 2018.

The application form and additional information are available on the Grand Jury website, by calling the Grand Jury Hotline 657-622-6747, or in person at the Jury Commissioner's Office, 700 Civic Center Drive West, Santa Ana, 92701.

Critter Chronicles

Pet of the Week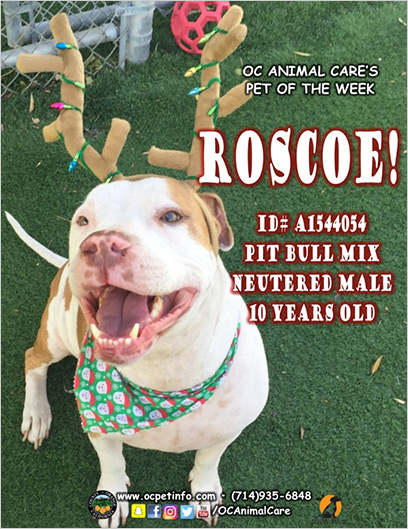 Click on the image above to view a PDF version.

Photos With Santa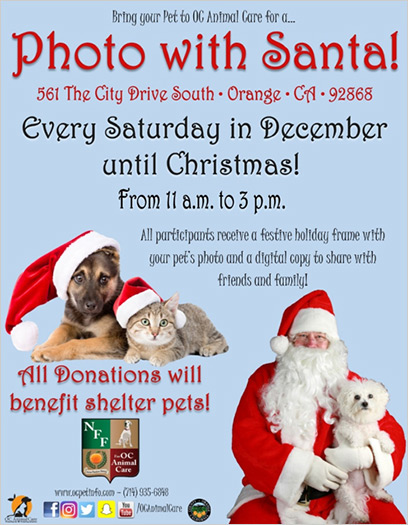 Click on the image above to view a PDF version.

South County Spotlight

Young Wonders: A CNN Heroes Special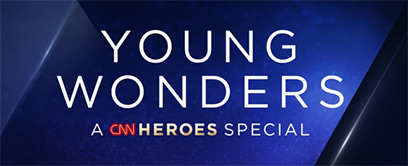 I am very pleased to announce that a young Fifth District constituent, 8-year-old Ryan Hickman, has been named by CNN as one of their Young Wonders!

In keeping with their 11-year tradition, CNN selected five outstanding youth throughout the nation to highlight their altruistic efforts and showcase their compassion through two Christmas specials, "Young Wonders: A CNN Heroes Special" on December 15 (tonight at 7 PM) and "CNN Heroes: An All-Star Tribute" on December 17.

Young Ryan Hickman is being honored for his commitment to environmentalism. With the help of his father, Ryan started Ryan's Recycling to educate others about the importance of recycling and protecting our natural resources. In doing so, he has recycled 280,000 cans and bottles, as well as participated in multiple beach clean-ups.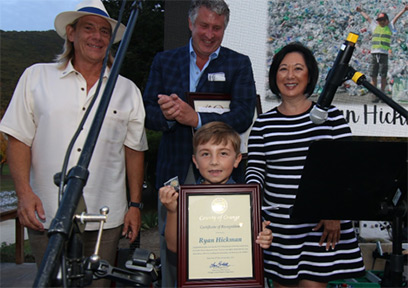 Presenting a certificate of recognition to Ryan Hickman at the PMMC gala.
In addition, the profits from his Ryan's Recycling t-shirt campaign are all donated to the Pacific Marine Mammal Center (PMMC) in Laguna Beach, which has generated $5,412 to date. In September, I had the great pleasure of presenting Ryan Hickman with a certificate of recognition at a gala hosted by PMMC, where he was honored with their 2017 Philanthropist of the Year Award.

Learn more about Ryan's story on Friday, Dec. 15 at 7 PM (tonight), when Ryan will appear on CNN's "Young Wonders" special with Anderson Cooper. You can also watch Ryan live on Sunday, Dec. 17, during "CNN Heroes: An All-Star Tribute" at 5 PM.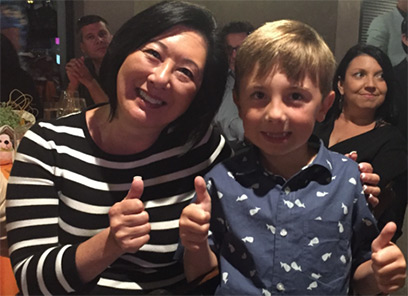 Out and About In South County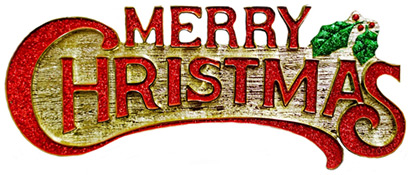 Laguna Beach: Winter Fantasy Final Weekend

On Saturday & Sunday, December 16 & 17, the Sawdust Festival grounds in Laguna Beach will transform into a winter wonderland from 10 AM to 7 PM. Experience unique artwork by 175 artists, live holiday entertainment, great outdoor cafes, art classes and demonstrations, Santa and more! Visit the Sawdust website for more info.

Lake Forest: Elf Yourself 5K

On Saturday, December 16, join the Lake Forest Chamber of Commerce at their first annual 5K walk, run or skip. The event will be held at the Lake Forest Sports Park at 9 AM (registration at 8 AM). Stay after the race for the family-friendly expo and children's obstacle course! See the event flyer below for more info.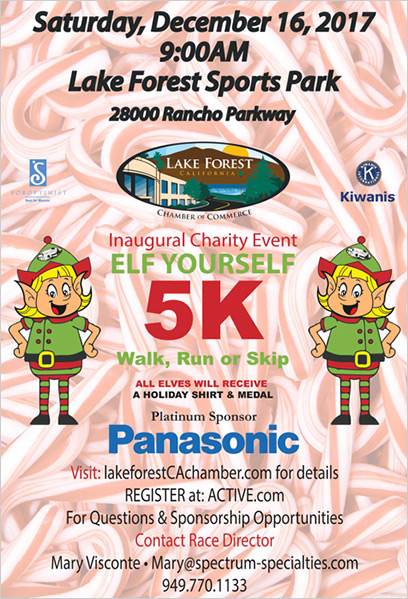 Click on the image above to view a PDF version.

Laguna Niguel: Chanukah Wonderland

Enjoy live entertainment, activities, and crafts, as well as your favorite Chanukah treats – latkes, dreidels, and more! Bring your family, friends, and lots of holiday spirit! Sponsored by the Chabad of Laguna Niguel and City of Laguna Niguel. Event will be held at the City Hall Community Room on December 17 from 5:30 to 7:30 PM. For more info, visit ChabadLagunaNiguel.com.

Mission Viejo: Winter Gala

Dress in holiday attire for a festive evening December 18 from 6:30 PM to 9:00 PM! Enjoy a traditional holiday meal, dance to the sounds of a live 10-piece Big Band, take your annual holiday photos in front of our merry decorations and receive a lovely memento of the season. Don't miss this winter holiday celebration at the Norman Murray Community Center $12 per person. See the event website for more info.

Rancho Mission Viejo: Holiday Nature Crafting

On Saturday, December 16, enjoy a cool winter morning creating treasured keepsakes and personalized gifts made from natural and recycled materials, hosted by The Reserve at Rancho Mission Viejo. Advance registration is required. Visit The Reserve's online calendar to confirm your spot by December 15!

This week I:

Participated in the 2017 Laguna Niguel Holiday Parade.
Attended the swearing-in ceremony for my former Chief of Staff, Paul Walters, the new Chief of the Bureau of Investigations for the Orange County District Attorney's Office.
Participated in the OCTA Board meeting.
Participated in the Orange County Board of Supervisors meeting.
Gave the welcoming remarks at the South County Children & Families Forum at Mission Hospital.
Participated in the California State Association of Counties (CSAC) Executive Officers Retreat and meeting in Yountville, CA.
Hosted my annual Holiday Open House, along with Chairwoman Steel, Vice-Chair Do, and Supervisor Spitzer.
Participated in the Office of Independent Review interviews.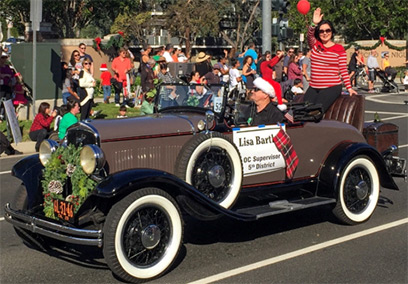 Riding in the Laguna Niguel Holiday Parade on a beautiful 1929 De Soto.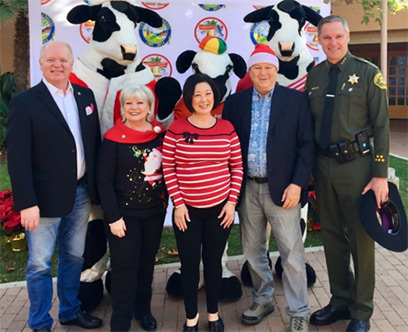 With Laguna Niguel Mayor Pro Tem John Mark Jennings (left), Mayor Elaine Gennawey, Congressman Dana Rohrabacher, and Undersheriff Don Barnes before the Laguna Niguel Holiday Parade.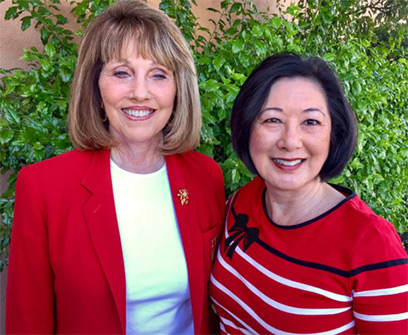 With Senator Pat Bates before the Laguna Niguel Holiday Parade.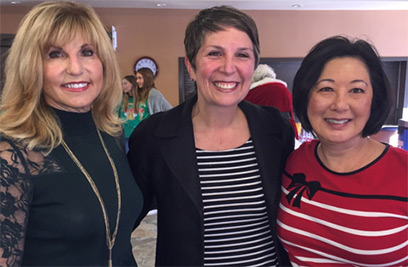 With Laguna Niguel Councilwoman Laurie Davies and CUSD Superintendent Kirsten Vital before the Laguna Niguel Holiday Parade.

My Staff:

Presented a certificate of recognition in honor of the Starbucks Drive-Thru grand opening in Laguna Woods.
Presented a certificate of recognition in honor of the AR Workshop ribbon cutting in San Juan Capistrano.
Presented a certificate of recognition in honor of the Epic Yoga ribbon cutting in San Clemente.
Participated in the TCA Joint Board of Directors meeting.
Attended the OCBC/OCAR holiday reception.
Attended the Dana Point Harbor Association meeting.
Met with Dr. Jyothi Robertson, the OC Animal Shelter consultant for a briefing on the new animal shelter.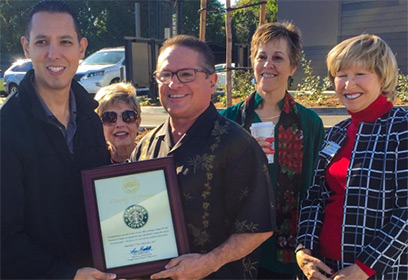 My Community Relations Advisor, Sergio Prince, presents a certificate of recognition at the Starbucks Drive-Thru grand opening in Laguna Woods with Mayor Pro Tem Carol Moore, Councilwoman Cynthia Conners and Mayor Shari Horne.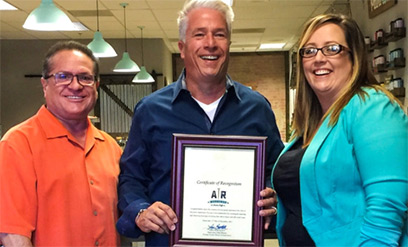 Presenting a certificate of recognition at the AR Workshop ribbon cutting in San Juan Capistrano.




Presenting a certificate of recognition at the Epic Yoga ribbon cutting in San Clemente.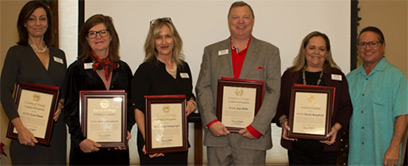 Presenting certificates of recognition to the outgoing Board of Directors of the Women's Council of Realtors – South Orange County.

Elected Officials in the Community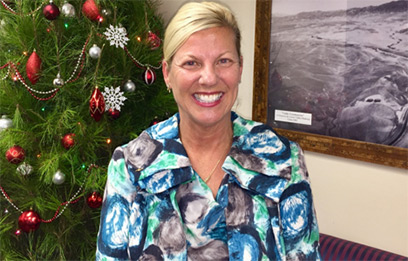 Orange County Treasurer Shari Freidenrich at my office holiday party.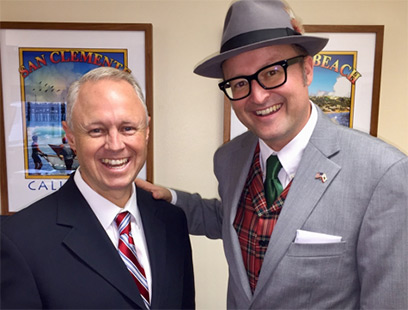 Lake Forest Councilman Dwight Robinson (left) and State Assemblyman Matt Harper at my office holiday party.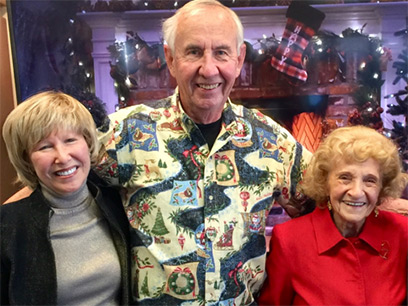 Laguna Woods Mayor Shari Horne (left), former San Juan Capistrano Mayor Larry Kramer, and Anna T. Boyce of Mission Viejo at my office holiday party.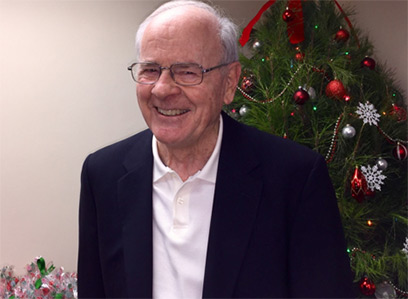 Laguna Woods Councilman Noel Hatch at my office holiday party.

For questions or comments regarding Supervisor Bartlett's E-Newsletter please contact the Supervisor's office staff at: (714) 834-3550 or email Sergio.Prince@ocgov.com or Tanya.Flink@ocgov.com.