Fifth District Dispatch

Welcome to the Fabulous Fifth District Dispatch!

Thank you for subscribing to my weekly e-newsletter. The Fifth District Dispatch includes information from County departments, regional boards I represent, transportation highlights and upcoming events in South County.

Please add me on Twitter @OCSupBartlett and Facebook @SupervisorLisaBartlett to receive regular social media updates.

It is my honor to represent you!

Sincerely,
Lisa Bartlett
Supervisor, 5th District

Point in Time Count

This past Saturday, my staff and I volunteered for the Point in Time Count at deployment centers at Family Assistance Ministries (San Clemente), Families Forward (Irvine), and The Village (Santa Ana). The Count brings thousands of volunteers to participate in a census of homeless individuals and families in the region. The data is used to secure up to $22 million in federal grant money and provide secure housing in Orange County.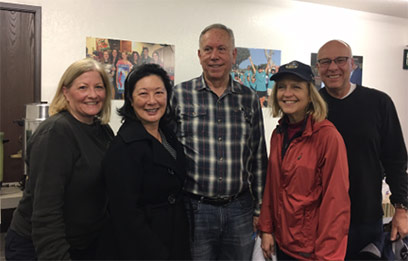 With San Clemente Councilwoman Lori Donchak (red jacket) at the Point in Time Count at the San Clemente deployment center.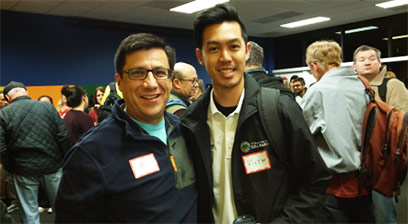 Al Tello (3rd District) and Victor Cao (5th District) volunteering at the Families Forward deployment center.

2017 South County Pet Expo & Dog-a-Palooza

I cordially invite all animal lovers to attend the South County Pet Expo and Dog-a-Palooza!

This enormously popular event is being presented by my office, in partnership with the City of Lake Forest, OC Animal Care, The Pet Adoption Center of Orange County, and Mount of Olives Church. The Pet Expo will be held Saturday, February 18 from 10 AM to 2 PM in The Commons greenbelt area at Lake Forest Sports Park, 28000 Rancho Parkway, Lake Forest, CA 92630.

The 2017 South County Pet Expo is pleased to introduce special guest Bruce Cameron, author of the New York Times Bestseller and Universal Pictures Production, "A Dog's Purpose", starring Dennis Quaid, released nationwide January 27. In addition to a special presentation about the writing of "A Dogs Purpose", Mr. Cameron will also have books available for purchase and will also conduct a public book signing for Pet Expo attendees.

Additionally, this family and pet friendly event will feature rescue groups with many loving animals available for adoption, fun and exciting canine demonstrations, local vendors providing all manner of pet products and services, as well as food trucks, music and entertainment.

As an added bonus, Mount of Olives Church will perform a special Blessing of the Animals to all pets present at the Expo, followed by the inaugural Dog-a-Palooza Pet Parade! Overflow parking and shuttle service will be available at Saddleback Church, directly across the street from the Pet Expo.

We look forward to seeing you and your well-behaved pet (leashes required) at the South County Pet Expo! For more information, please click on the flyer below.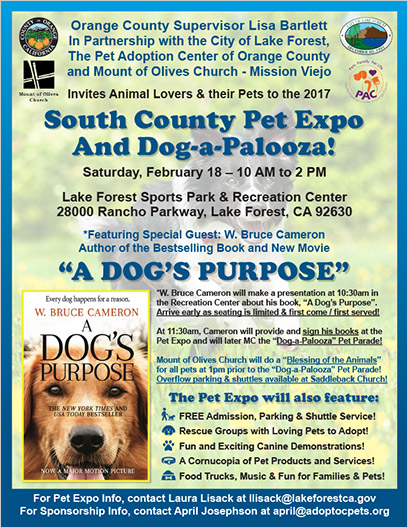 Click on the image above to view a PDF version.

County Connections

Health Care Agency: First Influenza-Reported Death of the Season

The County of Orange Health Care Agency has confirmed Orange County's first influenza-related death in a person under 65 this season. A male in his 50s who was a resident of Laguna Woods died of complications related to an influenza infection last week. Public Health Laboratory testing confirmed that he was infected with influenza A virus.

"This is a sad and somber reminder of the serious threat posed by influenza," County Health Officer Dr. Eric Handler said. "It is important for everyone to continue practicing good respiratory and hand hygiene and to get vaccinated."

Influenza is a seasonal contagious respiratory illness which can be caused by influenza A or B viruses. Flu symptoms may include fever, cough, sore throat, runny or stuffy nose, headaches, body aches, chills and fatigue. Flu illness can be severe, leading to missed school or work, hospitalization and even death.

Flu virus is mainly spread through droplets from coughs and sneezes. The best way to protect against both influenza A and B viruses is by getting vaccinated each year. Vaccinations are recommended for everyone 6 months of age and older, and are especially important for infants, young children, pregnant women, adults over 50 and those with chronic medical conditions. Close contacts and caregivers of these high risk people should also be vaccinated.

Most insurance plans including MediCal and Medicare cover free vaccinations from your health care provider. In addition, many clinics and pharmacies offer no-cost or low-cost flu shots throughout Orange County. The Health Care Agency will be offering free seasonal influenza vaccinations for people six months of age and older who do not have a medical provider or health insurance coverage.

Vaccinations are available on a walk-in basis on the following days and times:

Monday - Friday
8 to 11:30 a.m. and 1 to 4 p.m.
Public Health Clinic, 1725 West 17th Street, Santa Ana, CA 92706

The most current local information, including vaccination locations, is available at www.ochealthinfo.com/flu or by calling the Health Referral Line at 800-564-8448, Monday through Friday from 8 a.m. to 5 p.m.

OC Sheriff's Department: DUI Patrols this Super Bowl Weekend

Law enforcement will step up patrols this weekend as part of the "Fans Don't Let Fans Drive Drunk" campaign urging football fans to call the right play on Super Bowl weekend and pass the keys to a sober driver before the drinking begins.

The Sheriff's Department will deploy additional officers on special DUI saturation patrols specifically to stop and arrest drivers showing signs of alcohol or drug impairment during and after the game. As part of the Super Bowl Sunday enforcement efforts, police, sheriff and the CHP will be on heightened alert ready to stop and arrest any impaired driver.

Drivers are encouraged to download the Designated Driver VIP, or "DDVIP," free mobile app for Android or iPhone. The DDVIP app helps find nearby bars and restaurants that feature free incentives like non-alcoholic drinks and appetizers for the designated sober driver. The app also has social media tie-ins and a tab to call Uber, Lyft or Curb.

Remember to drive sober or get pulled over and report drunk drivers by calling 911.

Superior Court: Court Reinstates Call Center to Assist Public with Criminal & Traffic Cases

The Superior Court of Orange County has opened a new call center to assist the public with services and information regarding criminal and traffic cases. Assistance is available in English, Spanish, and Vietnamese by calling 657-622-8459. An automated phone system is available 24 hours per day, 7 days per week and customer service representatives are available from 8:00 a.m. to 4:00 p.m., Monday through Friday, except Court holidays. Since the center's "soft launch" on January 11, representatives have assisted an average of 145 customers per day.

Due to severe budget cuts, the Court closed its prior call center in 2013 to redeploy staff to fill vacancies in more critical areas. Although the Court is still in a precarious financial situation, it was able to allocate funds to open a smaller center by maintaining a high employee vacancy rate and automating services.

The call center provides resources such as general criminal and traffic information, processing extensions on fines or traffic school enrollment, and reserving a date to appear in front of a judicial officer to enter a plea in response to charges. Also, callers may request to have automated reminders sent to their home or mobile phone with payment due dates and/or court hearing information.

Information and additional resources are also available online at www.occourts.org.

OC Moves

EMERGENCY FULL CLOSURE 74 Ortega Highway

On January 25, the California Department of Transportation (Caltrans) closed SR-74 Ortega Highway due to roadway that has been severely undermined by the recent storms. The closure boundaries are eastbound near Cristianitos and Gibby Roads in San Juan Capistrano (SJC) and westbound from the Lake Elsinore area in Riverside County at Nichols Institute Road also in SJC.

Caltrans geotechnical engineers have determined that the roadway has weakened due to the heavy rainfall last week and is not currently safe to use. Numerous tests revealed 30 feet under the pavement the soil and roadway material had become unstable.

Caltrans has already begun work to strengthen and rebuild the roadway. anticipates the emergency construction work will take three weeks weather permitting. The restoration operation will run 24/7 until the roadway is fully repaired and reopened to traffic.

All motorists should plan to use alternate routes until further notice. Signs will be posted to alert motorists of activity.

DETOURS:

Interstate 5 (I-5):
South I-5 to East State Route 76 (SR-76) to North Interstate 15 (I-15)
North I-5 to State Route 55 (SR-55) to East State Route 91 (SR-91) to South I-15

I-15:
North 1-15 to Westbound SR-91 to South SR-55 to South I-5
South 1-15 to Westbound SR-76 to North 1-5
For quicker updates you can like District 12's Facebook page at 'Caltrans Santa Ana'; contact the District 12 Public Information Office at (657) 328-6000, or log on to the Caltrans website at www.dot.ca.gov/dist12.

OCTA Employees of the Year

This week I was honored to attend the Orange County Transportation Authority (OCTA) Employee of the Year luncheon. Every month employees in their respective divisions are recognized for their exemplary performance and demonstration of OCTA's core values of integrity, teamwork, communications, customer focus and can-do spirit.

The OCTA employees who earned "Employee of the Year" are:

Debora Munguia, Maintenance
Ruben Rodriguez, Coach Operator
Gina Jimenez, Administration
I would like to again congratulate all OCTA employees of the year for their stellar service and contribution to establish OCTA as a nationally recognized regional transportation planning agency.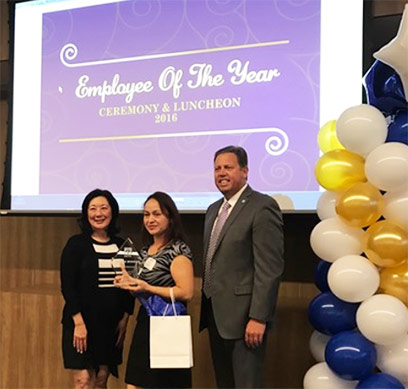 Debora Munguia, Maintenance Employee of the Year accepting her award.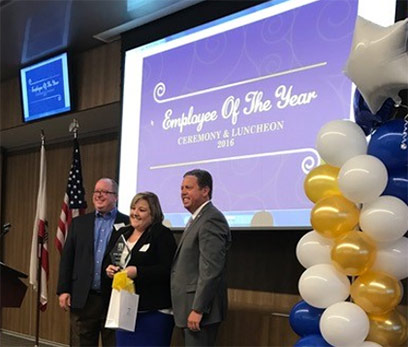 Gina Jimenez, Administrative Employee of the Year accepting her award.

OC Animal Care/Pet of the Week


Click on the image above to view a PDF version.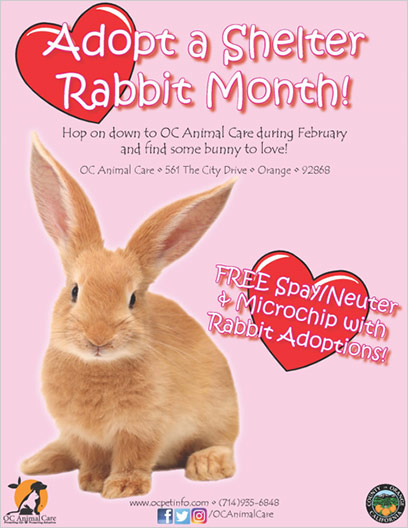 Click on the image above to view a PDF version.

Out and About In South County

Dana Point: Valentines Day Cruises at Dana Wharf

From February 10th - February 14th, Dana Wharf Sportsfishing will offer special Valentines-themed cruises. Enjoy sweet treats such as a complimentary glass of champagne or sparkling cider as you observe the gorgeous sunset and search for marine life. Click here for tickets and cruise times.

Laguna Beach: All You Need is Love Fun-Raiser

On February 11th, come dressed in Beatles attire (optional) and enjoy a great local Beatles band led by Jason Feddy. This will be a combination of a concert, sing-a-long and dance celebration. All proceeds become a "love gift" to help others in Laguna Beach who are in need. To purchase tickets and for more information, click here.

Laguna Hills: Daddy Daughter Dinner Dance

On Friday, February 10th, fathers and daughters are invited to a special Alice in Wonderland-themed daddy/daughter dinner and dance at the Community Center & Sports Complex. Click here for details and to purchase tickets.

Laguna Niguel: Car Wreck Fitness Hike

Experience a long distance, high elevation hike that takes us inside Dripping Cave, up steep Mathis Canyon Trail, then by the old car wreck. This hike is for experienced hikers only. Hikers should be ages 15 and up, who are capable of an 8-mile, 900-ft. elevation gain hike on steep and rocky terrain. Be prepared for hot weather, with at least two liters of water, a snack, hiking footwear, sunscreen, hat/sunglasses, and necessary medications. The hike begins at 9:00 AM at the Aliso & Wood Canyons Wilderness Park Ranger Headquarters. For more Information click here.

San Juan Capistrano: Taste of San Juan

The Fiesta Association invites everyone to "The Taste of San Juan!" Help launch the kick-off celebration of the Fiesta de las Golondrinas at The San Juan Hills Golf Club on February 9th from 6PM - 9PM. The Taste brings together many of San Juan's delectable restaurants under one roof to tempt you with 'tastes' of their fare. Click here for details.

This week I:

Volunteered at the Point in Time Count at the San Clemente deployment center.
Was honored at the Laguna Beach Chamber Installation & Awards Gala and accepted the First Inaugural Community Impact Award.
Participated in the OC Public Works Ad Hoc meeting.
Attended the OCTA Employee of the Year Luncheon.
Participated in the TCA Environmental Oversight Committee meeting.
Participated in the Urban Counties Caucus (UCC) conference call.
Attended the Women in Transportation Reception for OCTA Chairman Michael Hennessey.
Participated in a Special Board of Supervisors Closed meeting.
Spoke at the Laguna Hills Men's Club monthly meeting.

My Staff:

Toured the James A. Musick Facility.
Presented a Certificate of Recognition in honor of the Southland Physical Therapy ribbon cutting in Mission Viejo.
Attended the CalOptima Board meeting.
Attended the Orange County Sheriff's Department's Marijuana Summit.
Attended the South Orange County Watershed Management Area Executive Committee meeting.
Met with Director of the California Department of Housing and Community Development at the Orange County Business Council's Advocacy & Government Affairs meeting.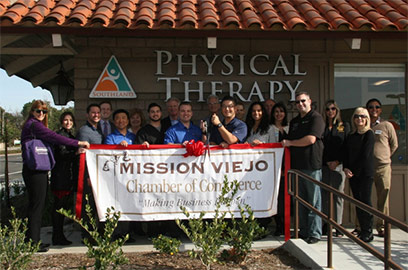 Southland Physical Therapy ribbon cutting in Mission Viejo.

For questions or comments regarding Supervisor Bartlett's E-Newsletter please contact the Supervisor's office staff at: (714) 834-3550 or Tanya.Flink@ocgov.com.