Happy Holidays!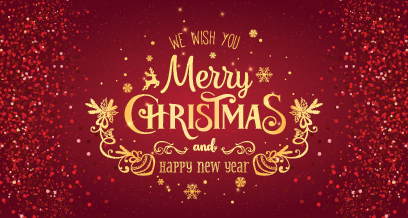 The holidays are here, but I hope you have been celebrating everything they have to offer all season long. The love, hope and joy of the holidays bring communities and people together, which is why I will always cherish this special time of year.

It is my hope and prayer that you will embrace and share the spirit of the season with your family, friends and neighbors.

From our Fifth District family to yours, wishing you a safe and happy holiday season!

Supervisorial Editorial

Housing is a Hand Up, Not a Hand Out


With Homeless Persons' Memorial Day taking place yesterday, December 21, we acknowledge there are a large number of homeless men, women, teenagers, children and entire families in our community.

Every two years, the County of Orange conducts the Point-In-Time (PIT) Count, a census administered on a given night of the homeless in our communities. The PIT Count, which represents a snapshot in time, revealed a troubling trend in 2017 – a 7.6 percent increase in the number of homeless, with a total of nearly 4,800 individuals counted.

Orange County has diligently and compassionately tried to stem this rising tide by building a system of care that meets the needs of this complex and diverse population. Our efforts include increasing shelter capacity, outreach and services, including but limited to the following initiatives:

Establishment of The Courtyard, a partnership between the County and The Midnight Mission that provides 400 shelter beds every night
Completion of phase one of Bridges at Kramer, the County's year-round emergency shelter that provides 100 beds; Phase two, which will provide a total of 200 beds, is slated for completion in May 2018
Enhancing our efforts to ensure public safety in large encampments
Increasing outreach and service linkages for the homeless
As impactful and encouraging as these efforts are, an urgent need remains for more permanent supportive housing.

A recent cost study conducted by UCI and Orange County United Way indicated that $300 million was spent on homelessness within one fiscal year between the County, cities, hospitals, law enforcement agencies, and community based organizations. Providing stable housing with case management, social and medical services to the most medically fragile homeless individuals would reduce the cost of serving that population 50% per capita, at $100,000 a year for the unsheltered versus $50,000 a year for those in housing.

Chronically homeless individuals with disabilities and lacking stable housing often do not receive the appropriate preventative care or supportive services. These individuals, who are covered through public health plans, are likely to struggle with severe medical needs, often resulting in costly emergency department visits and hospitalizations.

The average cost of health care services for chronically homeless individuals who lack stable housing was $98,000 annually versus $26,158 for the chronically homeless, who are placed in housing programs.

Providing permanent supportive housing for the homeless population with medical disabilities provides a compassionate long-term solution that helps individuals improve their conditions, while reducing our overall costs.

In June this year, I introduced a measure that dedicates $5 million in Mental Health Services Act dollars toward creating additional housing and supportive services for the disabled homeless who suffer from mental illness.

As our community moves forward developing solutions to our growing homeless crisis, I am committed to working collaboratively with stakeholders and my colleagues on the Board of Supervisors to develop the system of care and increase the housing available to our homeless residents.

To learn how you can have a positive impact in helping those experiencing hunger and homelessness in South County, please click on the flyer below.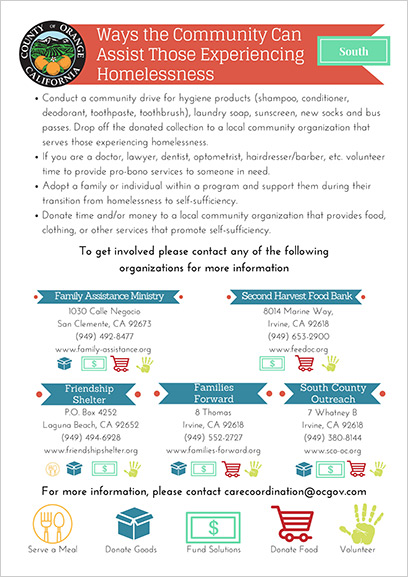 Click on the image above to view a PDF version.

Fifth District Highlights

A Winter Wonderland Awaits at Dana Point Harbor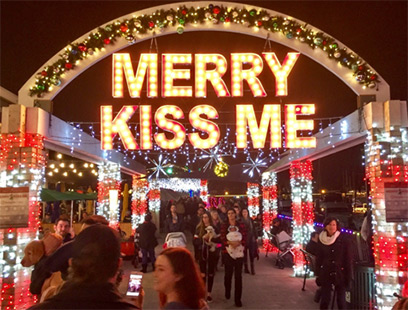 Merrymakers strolling down Candy Cane Lane in Dana Point Harbor.
Dana Point Harbor recently celebrated the holiday season with two spectacular weekends of the 43rd Annual Boat Parade of Lights, offering fantastic displays of this year's theme, "A Super Hero Holiday."

The boaters' interpretations of superheroes featured not only popular comic book heroes, such as The Avengers and Justice League, but also celebrated everyday heroes, including our brave military personnel and first responders.

All of the entries in the parade were amazing, but some really went all out! An awards breakfast was held last Sunday to recognize these super-boats, including the winner of my "Spirit of OC" award. To see a complete list of boat parade award winners and categories, click here. To view a PowerPoint of the Boat Parade winners, click here.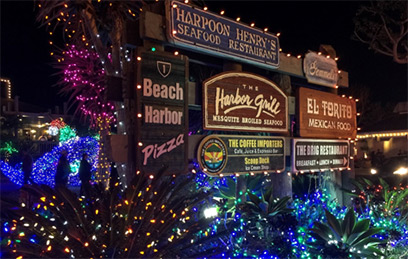 Experience the holiday magic and ring in the New Year at the Harbor!
While the boat parade may be over, it's still not too late to enjoy the enchanting lights and colorful decorations that have transformed the harbor into a winter wonderland! Be sure to visit the shops and dine at the restaurants to continue enjoying all the holiday magic at Dana Point Harbor through New Year's!

View holiday photos of the harbor or visit DanaPointHarbor.com for more information.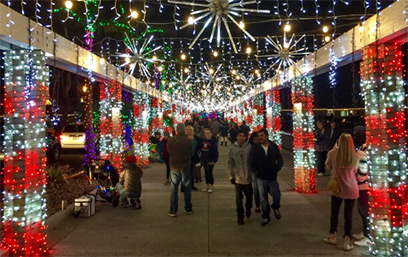 A winter wonderland awaits you and yours at Dana Point Harbor!

La Pata Traffic Lane Transition

Beginning Thursday, December 21, 2017, southbound travelers on Avenida La Pata will be transitioned to newly completed lane sections on the east side of the roadway, as part of the ongoing road widening improvements. There may be brief traffic stops during construction activities.

The overall widening improvements along Avenida La Pata are expected to be completed in April 2018. This schedule may be subject to change due to weather and other factors. For more information, visit the La Pata Project website or see the Construction Notice below.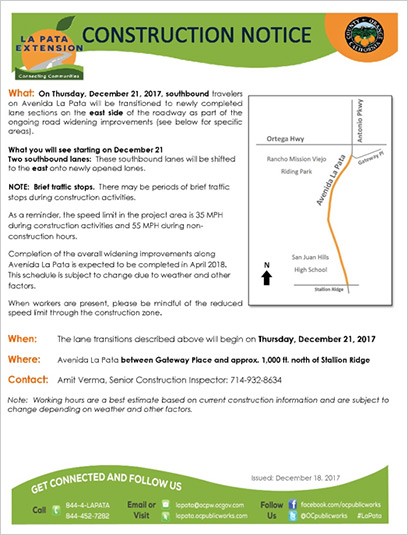 Click on the image above to view a PDF version.

County Connections

JWA Holiday Travel Tips


With the holiday travel season in full-swing, John Wayne Airport (JWA) anticipates a busier-than-normal travel period through January 2, 2018. Last year, more than 500,000 passengers traveled through JWA during this period. JWA travelers can visit www.ocair.com for real-time flight status, parking availability, and road closures and construction activity near the Airport.

Demand for parking during the peak holiday travel period is expected to be high. The Airport recommends passengers consider all parking options available. Travelers should plan ahead and check real-time parking availability by calling 949-252-5200, or check Parking Availability.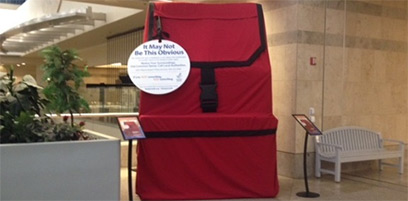 This season, JWA has continued its partnership with KeepOCSafe. Together, we encourage travelers to be aware of their surroundings and report questionable objects or activities. A Giant Red Backpack (pictured above) will be on display in the Riley Terminal throughout the holidays to remind passengers and visitors, "If You See Something, Say Something™."

For a full list of tips and more information, visit ocair.com.

'Drive Sober or Get Pulled Over' Enforcement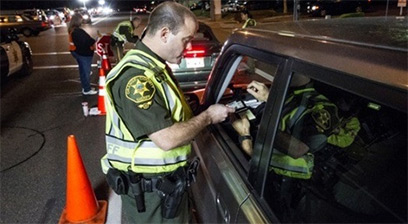 This holiday season, the Orange County Sheriff's Department will find and arrest impaired drivers as part of the department's commitment to keeping the community safe.

From Dec. 15 through Jan. 1, law enforcement across the state is partnering with the California Office of Traffic Safety (OTS) and the National Highway Traffic Safety Administration (NHTSA) in a special year-end "Drive Sober or Get Pulled Over" enforcement mobilization to get impaired drivers off the street and to spread the word about this dangerous crime.

As part of the holiday enforcement campaign, law enforcement agencies will deploy DUI Checkpoints and DUI Saturation Patrols during the upcoming 18-day DUI crackdown.

Drivers are encouraged to download the Designated Driver VIP, or "DDVIP," free mobile app for Android or iPhone. The DDVIP app helps find nearby bars and restaurants that feature free incentives for the designated sober driver, from free non-alcoholic drinks to free appetizers and more.

Remember, if you see a drunk driver, call 9-1-1.

OCTA Offers Free Bus Service New Year's Eve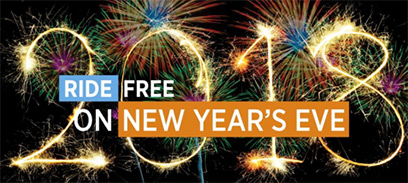 The Orange County Transportation Authority (OCTA) is providing rides for those ringing in 2018 with free rides on OC Buses from 6 PM New Year's Eve (Sunday, Dec. 31) to 2:30 AM Monday, Jan. 1.

Riding an OC Bus is a safe and easy way to get to popular destinations around Orange County, including bus routes that operate near Downtown Fullerton, Disneyland, Knott's Berry Farm and more.

Late-night service routes vary, so those who are planning to ride the bus are encouraged to plan their trip ahead of time by visiting ocbus.com or calling 714-636-7433.

Last year, more than 4,700 riders took advantage of the free bus service on New Year's Eve and more than 140,000 have used it since it began in 2002.

For more information, visit OCbus.com.

OCWR Offers Christmas Tree Recycling Tips


Each year about 30 million real Christmas trees are sold across the U.S. As important as these trees are to our holiday traditions, they play an even bigger role once the festivities are over. Real trees are a renewable, recyclable resource.

Most trees can be chipped and turned into mulch if the right steps are taken during the first weeks after the holidays. Christmas "tree-cycling" requirements are different for each city and hauler—including when the pick-up begins and how long it's available.

Here are some tips to ensure your tree is repurposed the best way possible in your area:

Check ahead with your hauler to find out their schedule for picking up Christmas trees. Missing the last pick-up day means finding another alternative. It is often done on the same as the weekly curbside trash pick-up. You can find OC waste hauler information here.
Find out any special requirements from your waste hauler. Sometimes taller trees must be cut in half before pick-up or even cut into pieces and placed in the greenwaste bin.
Only the tree is recyclable. Remove all decorations, including lights, tinsel, garland, tree stands and ornaments.
Flocked trees cannot be recycled. They may be cut down and placed in your regular trash bin.
If you miss the tree recycling dates of your hauler, check with your city Recycling Coordinator for other options.
If you have Christmas lights or other e-waste to dispose of after the holidays, take it to one of Orange County's four Household Hazardous Waste Collection Centers. They're open Tuesday through Saturday, 9 a.m. to 3 p.m. Find locations and other information here.
More information is available at oclandfills.com.

Important Proposed Federal Tax Changes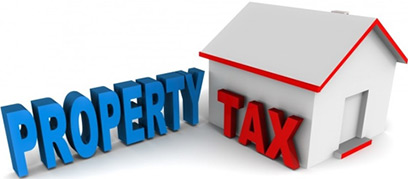 The proposed federal legislation relating to the deductibility of State and Local Taxes (SALT) greatly scales back how much state and local taxes can be deducted on federal income taxes in 2018. Under current federal law, the SALT is unlimited.

In the proposed legislation, taxpayers can deduct up to $10,000, any combination of property, income or sales taxes. As the average secured property tax bill in fiscal year 2017-2018 is approximately $7,100, and California has both an income tax and sales tax, it is likely that many taxpayers would pay more than $10,000 in SALT next year.

Orange County Treasurer-Tax Collector Shari Freidenrich is encouraging taxpayers to check with their CPAs or financial advisors to see if paying the second installment of the fiscal year 2017-18 property taxes or any outstanding supplemental property taxes prior to December 31, 2017, makes financial sense. The second installment of secured property taxes is due on February 1 and late after April 10, 2018.

If you choose to pay the second installment or supplemental taxes early, please consider paying using our online electronic window at ocgov.com/octaxbill. Taxpayers can also include their email address to have their payment receipt emailed directly to them and have it printed as well. The receipt includes the property address and the APN.

Our office has received numerous questions asking if taxpayers can prepay property taxes for fiscal year 2018-19. We are not able to accept any payments for property taxes that have not yet been billed and, at this time, can only accept payments for the second installment of property taxes or any supplemental property taxes already billed.

Check out our online statement to make sure that you don't have any outstanding property taxes that can also be paid by December 31, 2017, at ocgov.com/octaxbill. In addition, taxpayers can also go to ocgov.com/taxreminder and sign up to receive a payment reminder by text (NEW) or by email approximately 10 days and one day before each installment's last timely payment date. Please also tell a friend to also sign up for this free tax reminder service!

OCFA Strike Teams Return Home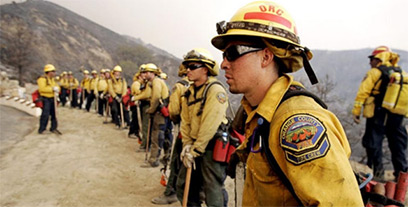 After over two weeks on the front lines, two of the three Orange County Fire Authority (OCFA) strike teams will be returning home. A strike team consists of five fire engines and a strike team leader. I'm pleased to report structure protection strike teams 1401-A and 1402-A have returned home safely.

Brush engine strike team 9328-C will remain on the Thomas Fire throughout the next two weeks assisting in total extinguishment of the fire. Personnel rotation for strike team 9328-C is being formulated now and a replacement plan is being put into place so that the assigned strike team can be committed for an additional two weeks. Overhead personnel assigned to the incident will remain in place.

Thank you so much to all of the brave individuals on the OCFA team who have provided aid to extinguish the Thomas Fire! Your outstanding dedication and tireless efforts are greatly appreciated and valued!

Critter Chronicles

Pet of the Week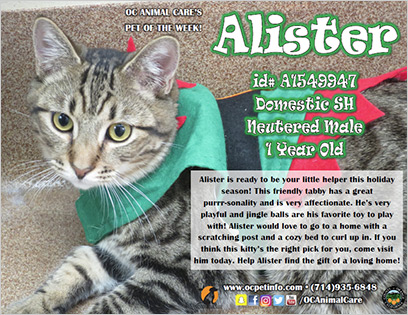 Click on the image above to view a PDF version.

Pawliday Adoption Event

Visit the Orange County Animal Shelter Saturday, December 23, from 11 AM to 5 PM to find your purrfect match! All adoptions are free, excluding licensing and microchip fees. Make a difference in the life of an animal in need this holiday season. Adopt, don't shop, and help us decrease our homeless pet population. See the flyer below for details.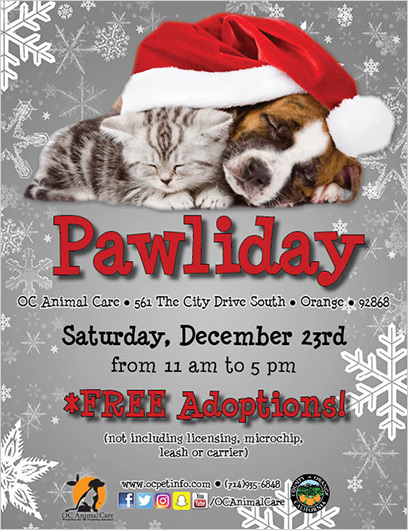 Click on the image above to view a PDF version.

This week my staff:

Served as a judge for the Dana Point Harbor Boat Parade of Lights and also attended the Boat Parade Awards Breakfast to present my "Spirit of OC" award.
Provided a proclamation for Lt. Matt Barr, Laguna Niguel Chief of Police Services, upon his retirement from the Orange County Sheriff's Department.
Attended the second annual Homeless Persons' Interreligious Memorial Service at Christ Cathedral.

Elected Officials in the Community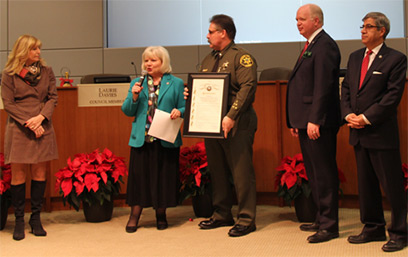 Laguna Niguel Mayor Elaine Gennawey (center) presents a proclamation to retiring Police Chief Matt Barr with Councilwoman Laurie Davies, Mayor Pro Tem John Mark Jennings and Councilman Fred Minagar.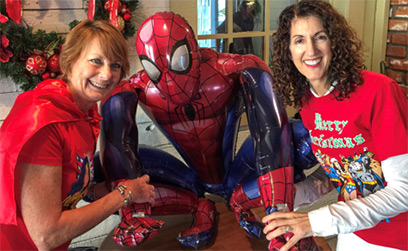 Kim Tilly, Dana Point Harbor Association Executive Director (left) and Dana Point Councilwoman Debra Lewis with Spider-Man at the Boat Parade awards breakfast.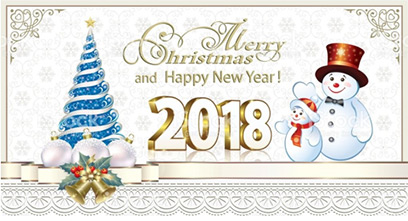 For questions or comments regarding Supervisor Bartlett's E-Newsletter please contact the Supervisor's office staff at: (714) 834-3550 or email Sergio.Prince@ocgov.com or Tanya.Flink@ocgov.com.