Fifth District Dispatch

Welcome to the Fabulous Fifth District Dispatch!

Thank you for subscribing to my weekly e-newsletter. The Fifth District Dispatch includes information from County departments, regional boards I represent, transportation highlights and upcoming events in South County.

Please add me on Twitter @OCSupBartlett and Facebook @SupervisorLisaBartlett to receive regular social media updates.

It is my honor to represent you!

Sincerely,

Lisa Bartlett
Supervisor, 5th District

2017 South County Pet Expo & Dog-a-Palooza


I cordially invite all animal lovers and their well-behaved pets to attend the South County Pet Expo and Dog-a-Palooza!

This enormously popular event is being presented by my office, in partnership with the City of Lake Forest, OC Animal Care, The Pet Adoption Center of Orange County, and Mount of Olives Church. The Pet Expo will be held Saturday, February 18 from 10 AM to 2 PM in The Commons greenbelt area at Lake Forest Sports Park, 28000 Rancho Parkway, Lake Forest, CA 92630.

The 2017 South County Pet Expo is pleased to introduce special guest Bruce Cameron, author of the New York Times Bestseller and Universal Pictures Production, "A Dog's Purpose", starring Dennis Quaid, released nationwide January 27. In addition to a special presentation at 10:30 AM inside the Recreation Center about the writing of "A Dogs Purpose", Mr. Cameron will have books available for purchase and will also conduct a public book signing for Pet Expo attendees.

Additionally, this family and pet friendly event will feature rescue groups with many loving animals available for adoption, fun and exciting canine demonstrations, local vendors providing all manner of pet products and services, as well as food trucks, music and entertainment.

As an added bonus, Mount of Olives Church – Mission Viejo will perform a special Blessing of the Animals to all pets present at the Expo, followed by the inaugural Dog-a-Palooza Pet Parade! Overflow parking and shuttle service will also be available at Saddleback Church, directly across the street from the Pet Expo.

We look forward to seeing you and your well-behaved pet (leashes required) at the South County Pet Expo! For more information, please click on the flyer below.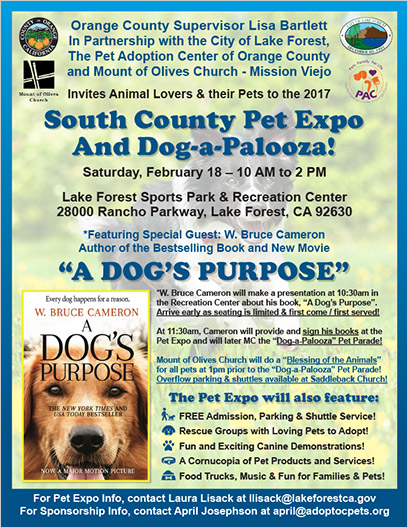 Click on the image above to view a PDF version.

County Connections

Clerk-Recorder: Extended Hours for Valentine's Day

For those looking to tie the knot on Valentine's Day, look no further. To accommodate couples, Orange County Clerk-Recorder Hugh Nguyen will be offering extended hours at his offices in Fullerton, Laguna Hills and at the Old County Courthouse in Santa Ana this Valentine's Day. The department will close at 5:30 pm instead of its normal closing hours to issue marriage licenses and perform marriage ceremonies.

Valentine's Day continues to be one of the busiest days of the year for the department and this year will be no exception. Appointments will go fast. Couples are encouraged to make an appointment for a civil marriage ceremony due to the popularity of this day. Couples can make an appointment by visiting our website at www.ocrecorder.com and using the online appointment system. Walk-in couples are welcome and will be accommodated based on availability of ceremony rooms.

"In the past, Valentine's Day has always been a great success," said Clerk-Recorder Hugh Nguyen. "By opening until 5:30 pm, more people will have an opportunity to marry on what many consider the most romantic day of the year." "I would like to thank my staff for volunteering to work and for making this possible for our customers," he added. The department would like to remind couples that Orange County has one of the lowest costs for a marriage license and marriage ceremony in the state. Couples can obtain a public marriage license for $61 and a confidential marriage license for $66. A civil marriage ceremony can be performed for an additional $28.

Please note that the department's Westminster location will only issue marriage licenses and will close at 4:30 pm. To save time, marriage license applications can be completed online at www.ocrecorder.com prior to visiting our offices. For more detailed information, call (714) 834-2500.

OC Public Works: Annual Weed Abatement Program

Orange County Public Works will be conducting its annual weed abatement inspection and cleaning after April 11, 2017 on unincorporated areas. Inspections ensure proper compliance with the applicable provisions of the California Health and Safety Code.

With fire season approaching, maintaining weeds at ground level will help prevent the spread of fire. Please call the Weed Abatement Program at (714) 955-0111 if you have unique vegetation, topographical, or weather conditions for your property.

For further information, you may write or call the Weed Abatement Program at the above Contact Information, Monday through Friday, between the hours of 8 a.m. and 5 p.m. Please have your Assessor's Parcel Number ready when calling.

OC Moves

EMERGENCY FULL CLOSURE 74 Ortega Highway Update

On January 25, the California Department of Transportation (Caltrans) closed SR-74 Ortega Highway due to roadway that has been severely undermined by the recent storms. The closure boundaries are eastbound near Cristianitos and Gibby Roads in San Juan Capistrano (SJC) and westbound from the Lake Elsinore area in Riverside County at Nichols Institute Road also in SJC.

Caltrans geotechnical engineers have determined that the roadway has weakened due to the heavy rainfall last week and is not currently safe to use. Numerous tests revealed 30 feet under the pavement the soil and roadway material had become unstable.

According to Caltrans, they anticipate the emergency construction work will open Ortega Highway next week, weather permitting. The restoration operation will run 24/7 until the roadway is fully repaired and reopened to traffic.

All motorists should plan to use alternate routes until further notice. Signs will be posted to alert motorists of activity.

DETOURS:
Interstate 5 (I-5):
South I-5 to East State Route 76 (SR-76) to North Interstate 15 (I-15)
North I-5 to State Route 55 (SR-55) to East State Route 91 (SR-91) to South I-15

I-15:
North 1-15 to Westbound SR-91 to South SR-55 to South I-5
South 1-15 to Westbound SR-76 to North 1-5

For quicker updates you can like District 12's Facebook page at 'Caltrans Santa Ana'; contact the District 12 Public Information Office at (657) 328-6000, or log on to the Caltrans website at www.dot.ca.gov/dist12.

I-5 South County Construction Alert

Crews are continuing to construct the realigned loop on-ramp from westbound Camino Las Ramblas to southbound I-5. Barring delays because of rain or low temperatures, which would affect paving, the ramp is still expected to reopen at 5 a.m. on Monday, Feb. 13.

Please visit www.facebook.com/OCI5SouthCounty for the latest information on the ramp's re-opening.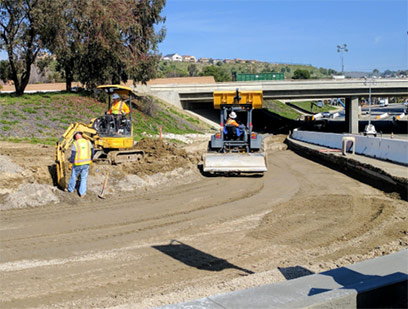 OC Animal Care/Pet of the Week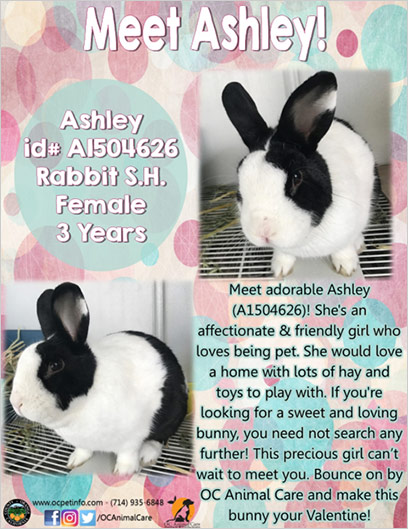 Click on the image above to view a PDF version.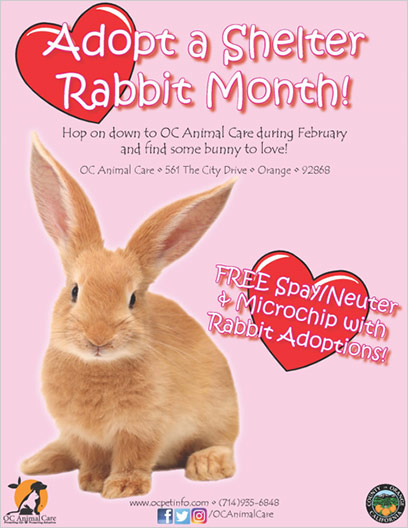 Click on the image above to view a PDF version.

Out and About In South County

Dana Point: Valentines Day Cruises at Dana Wharf

From February 10 - February 14, Dana Wharf Sportsfishing will offer special Valentines-themed cruises. Enjoy sweet treats such as a complimentary glass of champagne or sparkling cider as you observe the gorgeous sunset and search for marine life. Click here for tickets and cruise times.

Laguna Beach: All You Need is Love Fun-Raiser

On February 11, come dressed in Beatles attire (optional) and enjoy a great local Beatles band led by Jason Feddy. This will be a combination of a concert, sing-a-long and dance celebration. All proceeds become a "love gift" to help others in Laguna Beach who are in need. To purchase tickets and for more information, click here.

Laguna Niguel: Coffee with a Cop

No agendas or speeches, just a chance to ask questions, voice concerns, and get to know the deputies in your neighborhood. Coffee with a Cop is Wednesday, February 15 from 7 to 9 AM at the Corner Bakery on La Paz Road. For more information, click here.

Mission Viejo: Food Drive

The City of Mission Viejo is joining forces with South County Outreach on Saturday, February 11 to host a food drive from 10 AM to 3 PM in the parking lot of the Norman P. Murray Community and Senior Center. Canned and non-perishable food items are sought to benefit the nonprofit organization that strives to prevent homelessness in the area by providing food and resources for thousands of families every year. The most-needed food items include nut or seed butter, soup, cereal, canned fruit, pasta and sauce, canned beans, rice, and canned vegetables. The food drive will feature crafts for kids and a photographer to snap fun family photos. For more information click here.

O'Neill Regional Park: Walk with a Naturalist

Join O'Neill Regional Park naturalists and learn about the animals and nature of Trabuco Canyon. This will be a light to moderate walk on mostly paved roads. The hike will be held on Saturday, February 11 at O'Neill Regional Park from 9:00AM to 10:30AM. All ages are welcome and parking is $5 per vehicle. For more information click here.

This week I:

Participated in the OCTA Executive Committee meeting.
Presented a Certificate of Recognition in honor of the ribbon cutting to celebrate the expansion of Coffee Importers in Dana Point.
Met with the recently elected San Juan Capistrano Councilmember, Sergio Farias.
Participated in the California State Association of Counties (CSAC) Premier Leadership Forum in San Diego.

My Staff:

Presented a Certificate of Recognition in honor of the Luminance ribbon cutting in San Juan Capistrano.
Attended the Building Industry Association's (BIAOC) Annual Outlook Reception and Dinner.
Attended the Dana Point Harbor and Dana Point Boater's Association meetings.
Attended the Concerned Coastal Cities meeting in Laguna Beach.
Attended the TCA Joint Board and Foothill Eastern/241/91 Express Connector Ad Hoc meetings.
Attended the OCFA Board Orientation.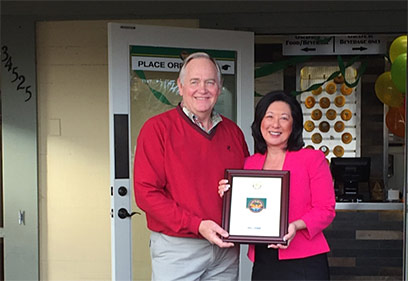 Presenting a Certificate of Recognition to Jim Miller, owner of Coffee Importers in Dana Point.

South County Elected Officials in the Community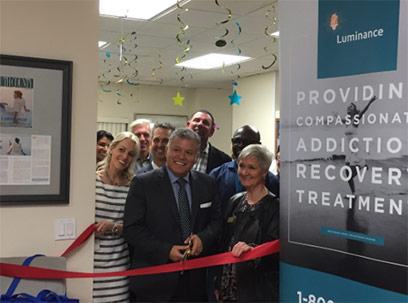 San Juan Capistrano Mayor Kerry Ferguson (right) at the Luminance ribbon cutting.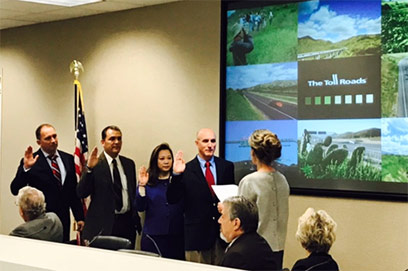 TCA Directors Brian Maryott, Jose Moreno, Peggy Huang and Richard Viczorek being sworn in at the TCA Board meeting.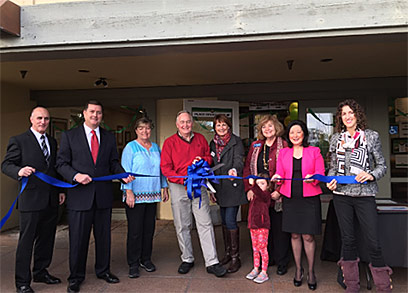 Dana Point Councilmember Richard Viczorek (far left), Assemblyman Bill Brough, and Dana Point Mayor Debra Lewis (far right) at the Coffee Importers ribbon cutting.

For questions or comments regarding Supervisor Bartlett's E-Newsletter please contact the Supervisor's office staff at: (714) 834-3550 or Tanya.Flink@ocgov.com.