Fifth District Dispatch

Welcome to the Fabulous Fifth District Dispatch!

Thank you for subscribing to my weekly e-newsletter. The Fifth District Dispatch includes information from County departments, regional boards I represent, transportation highlights and upcoming events in South County.

Please add me on Twitter @OCSupBartlett and Facebook @SupervisorLisaBartlett to receive regular social media updates.

It is my honor to represent you!

Sincerely,

Lisa A. Bartlett
Supervisor, 5th District

Pet Expo Postponed/"A Dog's Purpose" Still On

Due to the heavy rains predicted for Friday and Saturday this week, the South County Pet Expo has been postponed until Saturday, March 11 from 10 AM to 2 PM in The Commons greenbelt area at Lake Forest Sports Park, 28000 Rancho Parkway, Lake Forest, CA 92630.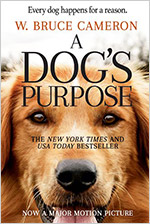 Although the outdoor Pet Expo has been rescheduled, we are pleased to announce that the presentation and book signing from "A Dog's Purpose" author Bruce Cameron will still take place rain or shine tomorrow, February 18 inside the Lake Forest Sports Park Recreation Center.

The presentation by Bruce Cameron of "A Dog's Purpose" will begin at 10:30 AM, followed by a book signing, including books available for purchase, until 2 PM.

Please note that animals will not be permitted inside the Recreation Center for the Bruce Cameron presentation & book signing. However, well-behaved pets on a leash are more than welcome at the Pet Expo outdoors on March 11

We hope to see you at the presentation & book signing of "A Dog's Purpose" this Saturday, as well as on March 11 for the rescheduled Pet Expo! For more information, please click on the flyer below.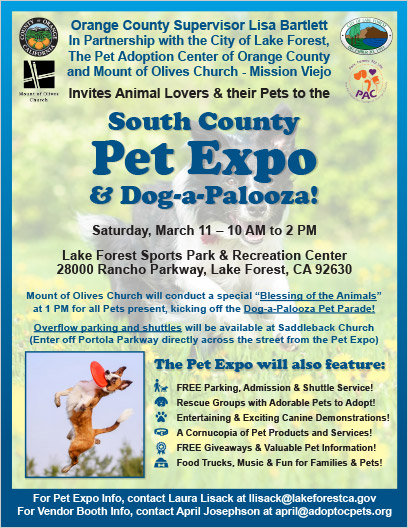 Click on the image above to view a PDF version.

John Wayne Airport

Flight Cancellations Due to Storm

John Wayne Airport is experiencing significant impacts to scheduled airline operations due to the heavy rain expected today and throughout the weekend. American Airlines cancelled all flights arriving to and departing from JWA between 9:00 am and 7:30 pm on Friday and Southwest Airlines has cancelled most of its flights to and from JWA today.

United and Alaska Airlines have also cancelled JWA-related flights, and additional cancellations, delays and diversions are expected throughout the day. Updates will be posted on the Airport's website (www.ocair.com), but passengers are highly encouraged to call their airline to confirm the flight status.

FAA NextGen – Southern California Metroplex

In 2003, Congress directed the development of a "Next Generation Air Transportation System." NextGen, as it is now called, was intended to improve aviation safety and efficiency through the use of ground-based and, increasingly, space-based technology. An important part of the NextGen initiative is the development of new airspace and air traffic procedures.

The Federal Aviation Administration's approach to this mandate from Congress was to divide the United States into 21 "metroplexes" with John Wayne Airport joining Burbank, Long Beach, Ontario, LAX and a number of other airports in the "Southern California Metroplex." The FAA then worked with industry stakeholders (primarily airlines) to develop new airspace and air traffic procedures; local community representatives were not included in this process. In June 2015, the FAA issued a "Draft Environmental Assessment" (Draft EA) which described their proposal for the entire Southern California Metroplex. The FAA reported that its analysis showed there would be no significant impacts resulting from the proposed changes.

FAA received over 4,000 comment letters on the Draft EA, including more than 100 letters from Orange County residents, community groups, and cities. Representing communities located under both the approach and departure corridors for John Wayne Airport, the Board of Supervisors also submitted formal comments to FAA. The Board's comments focused on the importance of protecting the long-standing operational and noise restrictions in place at JWA and on FAA's responsibility to fully and accurately describe the impacts of their proposals. In a nutshell, the Board made it clear that impacted communities should have been, but had not been, involved in the development of the proposed procedures and that the Board believed there were substantial flaws in FAA's environmental analysis.

Unfortunately, FAA chose not to make the corrections we requested and, on August 31, 2016, the FAA issued a "Record of Decision" which allows them to move ahead with their proposed airspace and procedure changes. FAA began to implement some of the new approach procedures last Fall (for arrivals north of the JWA) and plans to implement additional departure procedures (for departures south of the JWA) in March and April of this year.

The County's concern for the inadequacy of FAA's environmental review led the Board of Supervisors to file a lawsuit challenging FAA's Record of Decision on the Southern California Metroplex project. The Cities of Laguna Beach and Newport Beach have also filed lawsuits on similar grounds. At this point, the Washington, D.C. District Court of Appeals has recently granted the County's petition to intervene in the City of Newport Beach's lawsuit and we continue to work with them to achieve the kinds of protections our residents need and deserve. As this item progresses, we will continue to ensure that the community is well informed.

County Connections

County Launches "myOCgov" Mobile App

Each day, the County of Orange gets approximately 17,000 visitors to our County website via mobile devices such as smart phones. While a wealth of information on services can be found on the website, this information isn't always mobile friendly or responsive. Thus an interactive tool that provides friction free self-service for finding information on county services was needed.

Over the past few months, members of my staff have collaborated with OC Information Technology's Solutions Development team to create the "myOCgov" mobile application.

The new app, available online through the Apple iPhone "App Store" and through Android Google Play, gives users the ability to browse and search all County services near them or learn more about services in categories such as "Libraries," "Parks," "Health & Human Services," "Public Safety" and "Other Government Services."

The County offers a number a public services that help fulfill our mission of making the County a safe, healthy, and fulfilling place to live, work, or play; and "myOCgov" makes finding information about where these services are located much easier. I would encourage everyone whether resident or visitor to download the 'myOCgov" app.

To download the app, Apple users visit http://apple.co/2llLgi9 and Android users visit http://bit.ly/2lpzSOf.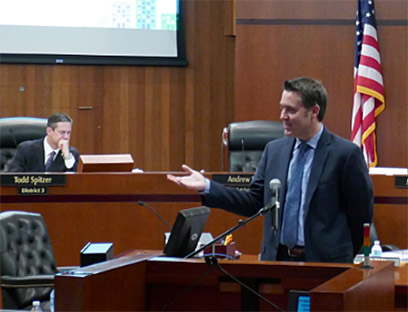 Interim County Chief Information Officer, Charles Eckstrom providing a demonstration of myOCgov at the February 14th Board Meeting.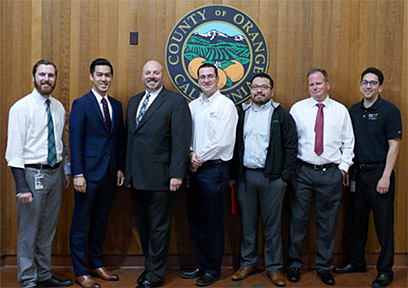 Members of my staff and the OCIT Solutions Development team who created myOCgov

From left to right: James Dinwiddie, Victor Cao, Stephen Salcido, Josh Myers, Josh Gomez, Marc Wiggins, and Darius Iniguez

HCA: Orange County's 2017-2019 Health Improvement Plan Now Available

The Orange County 2017-19 Health Improvement Plan is now available online at www.ochealthiertogether.org. The plan lays out assessments, goals, objectives and strategies for addressing the priority health areas and overall public health system over the next three years.

The health of the Orange County community continues to fare well compared to other California counties; the County Health Rankings ranked OC the 4th healthiest county in California. Despite that, the county is experiencing poorer outcomes than in the past on issues such as diabetes and Alzheimer's disease. In addition, we know not all communities experience the same level of health. As examples, youth in South Orange County are more likely to smoke tobacco or drink alcohol; and Latinos have higher rates of obesity and lower access to healthcare.

The 2017-19 plan builds off the inaugural 2014-16 plan and continues efforts in four priority health areas: 1) infant and child health; 2) older adult health; 3) obesity and diabetes; and 4) mental health and substance use. Three new areas of interest have been identified for exploration: 1) access to health care; 2) oral health and 3) social determinants of health, which are factors such as economic stability, affordable housing, access to education, and public safety that have an indirect but real impact on individual health.

Learn more at www.ochealthiertogether.org.

The Ecology Center: 10 Ways to Save Water

The Ecology Center is a local non-profit eco-education center focused on creative solutions for thriving on planet Earth. They work to inspire communities around simple solutions that empower individuals everywhere to be part of the solution. Check out their website for upcoming events for both children and adults, and see the flyer below for 10 quick tips to save water with a bucket.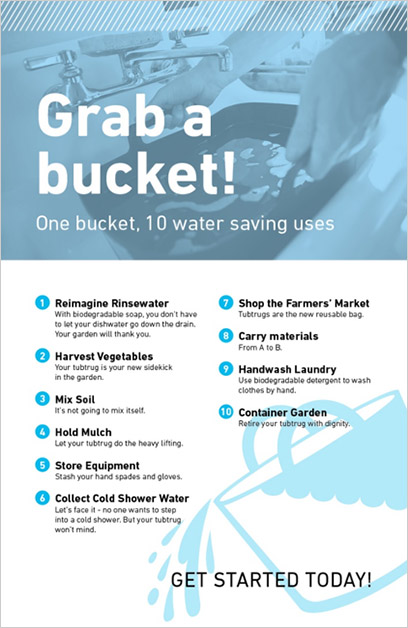 OC Moves

I am happy to announce that the Ortega Highway is now open in both directions. This crucial connector between Orange and Riverside Counties closed 3 weeks ago due to storm damage. To read the full article issued by Caltrans, click here.

OC Animal Care/Pet of the Week

In honor of Adopt a Shelter Rabbit Month, meet Clifford, our Pet of the Week! The Orange County Animal Shelter is offering free spay/neuter and microchip for all rabbits adopted during month of February. Bring the family for a visit and find some "bunny" to love!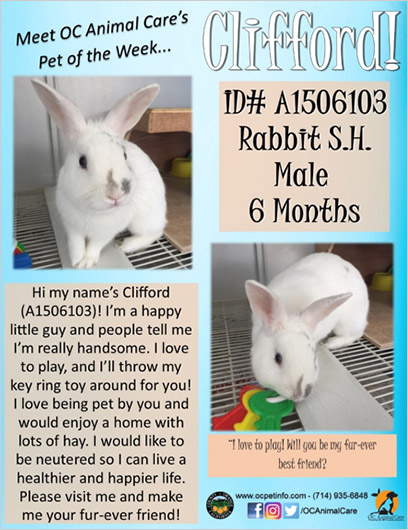 Click on the image above to view a PDF version.

Spay Day USA

On Saturday, February 25th, the Orange County Animal Shelter is offering free spay/neuter services for all dog, cat, and rabbit adoptions. Spaying/neutering can save lives and dramatically decrease our community's homeless pet population. Let's do our part by giving a shelter animal a forever home and making sure they are spayed/neutered.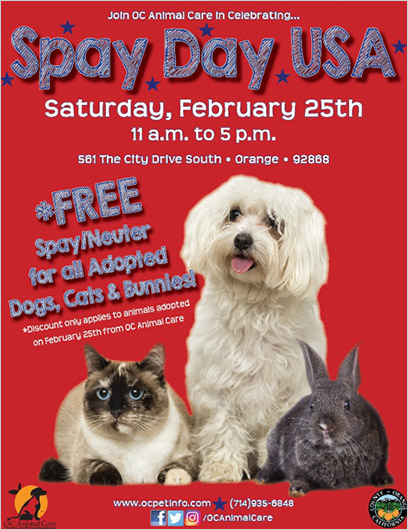 Click on the image above to view a PDF version.

Out and About In South County

Aliso & Woods Canyons Wilderness Park: Mountain Biking

Catch beautiful canyon views on this 10-mile ride over steep and uneven terrain (1,600-ft elevation gain) with Laguna Canyon Foundation volunteer Mountain Bike Trail Assistants. This is for intermediate riders with mountain biking experience and appropriate mountain biking equipment is required. The ride will be located at Aliso & Wood Canyons Wilderness Park Ranger Headquarters, 28373 Alicia Parkway (from southbound Aliso Creek Road, turn right on Alicia Parkway, first right on Awma Road, left into parking lot), and will be held on Feb. 19th from 8:30AM to 10:30AM. Parking will be $3 per vehicle.

For more information click here.

Mission Viejo: A Walk in their Shoes

Working Wardrobes is a non-profit aimed at helping men, women, young adults and veterans overcome difficult barriers so they can achieve the dignity of work. They are hosting their first 5K Walk and Fun Run on Saturday, March 25th, in Mission Viejo to benefit our community's veterans. For more information and to register, click here.

Laguna Beach: Bluebelt Photo Contest

The Laguna Bluebelt Coalition invites photographers, both professional and amateur, to show their love for the ocean in the 6th Annual Laguna Bluebelt Photo Contest which begins February 6th and runs until March 6. Photos must be taken of Laguna's Marine Protected Areas (MPAs) and can be submitted at www.contest.lagunabluebelt.org. Each year the Bluebelt Coalition strives to educate the public about Laguna's marine reserves so these magical places can be restored. It's a worthwhile, fun event celebrating our MPAs!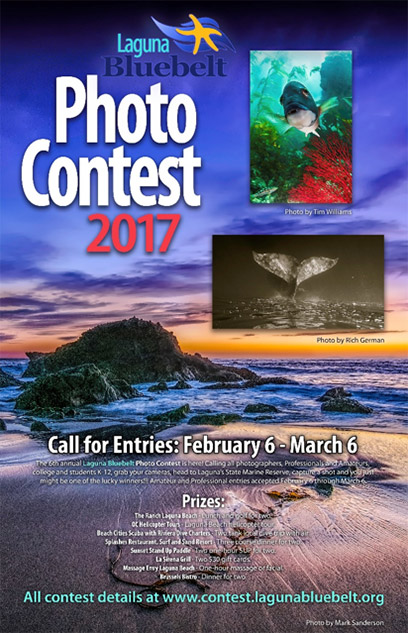 Laguna Hills: South Orange County Economic Coalition Drought Update

On Friday, February 24th, join the South Orange County Economic Coalition to learn from experts and the regional water agency leaders and discuss how this winter's rains have impacted our water supplies. Are we out of the woods? The meeting will be held at the Orange County Association of REALTORS office from 7:15AM – 9AM. For more information and to register, click here.

San Juan Capistrano: Kid's Pet Parade

Children between the ages of 5 - 12 can show off their favorite animals in the San Juan Capistrano Kid's Pet Parade on Saturday, February 25th! All pets must be leashed, haltered, or caged, and an adult must accompany children. A special "Judges Choice" prize will be awarded and this winner will be given the opportunity to be in the Swallows Day Parade. There is a $5.00 entry fee. Please bring your completed application and pay in person at the gate. Registration begins at 11:00 A.M. A hot lunch will be offered to Kids Pet Parade participants. The event will be held from 11AM to 2PM at 31747 Los Rios Street, San Juan Capistrano, CA 92675. For more information click here.

This week I:

Participated in the OCTA Board and Special Committee meetings.
Participated in the Board of Supervisors meeting and presented a Resolution to OCIT for the department's work on the new myOCgov mobile application.
Met with the City of Laguna Niguel representatives to discuss a city-specific project.
Participated in the TCA Joint Capital Programs & Projects Committee meeting.

My Staff:

Presented a Certificate of Recognition at the Pavilions Grand Opening in Rancho Santa Margarita.
Attended the Fete de la Musique planning meeting in Laguna Beach.
Presented a Certificate of Recognition at the Café L'Noyer ribbon cutting in Mission Viejo

South County Elected Officials in the Community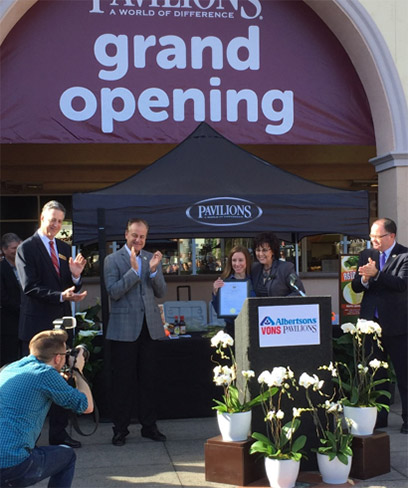 From left to right: Rancho Santa Margarita Councilman Brad McGirr, Councilman Tony Beall, Mayor Carol Gamble, and Mayor Pro Tem Mike Vaughn at the Pavilions Grand Opening.

For questions or comments regarding Supervisor Bartlett's E-Newsletter please contact the Supervisor's office staff at: (714) 834-3550 or Tanya.Flink@ocgov.com.