Fifth District Dispatch

Welcome to the Fabulous Fifth District Dispatch!

Thank you for subscribing to my weekly e-newsletter. The Fifth District Dispatch includes information from County departments, regional boards I represent, transportation highlights and upcoming events in South County.

Please add me on Twitter @OCSupBartlett and Facebook @SupervisorLisaBartlett to receive regular social media updates.

It is my honor to represent you!

Sincerely,

Lisa A. Bartlett
Supervisor, 5th District

Pet Expo

I am happy to announce that the South County Pet Expo and Dog-a-Palooza is now scheduled for Saturday, March 11th! Although the original date was rained out, the extra time will allow us to create an even more spectacular event for the community.

This enormously popular event is being presented by my office, in partnership with the City of Lake Forest, OC Animal Care, The Pet Adoption Center of Orange County, and Mount of Olives Church. The Pet Expo will be held from 10 AM to 2 PM in The Commons greenbelt area at Lake Forest Sports Park, 28000 Rancho Parkway, Lake Forest, CA 92630.

This family and pet friendly event will feature rescue groups with many loving animals available for adoption, fun and exciting canine demonstrations, local vendors providing all manner of pet products and services, as well as food trucks, music and entertainment.

As an added bonus, Mount of Olives Church – Mission Viejo will perform a special Blessing of the Animals to all pets present at the Expo, followed by the inaugural Dog-a-Palooza Pet Parade! Overflow parking and shuttle service will also be available at Saddleback Church, directly across the street from the Pet Expo.

We look forward to seeing you and your well-behaved pet (leashes required) at the South County Pet Expo! For more information, please click on the flyer below.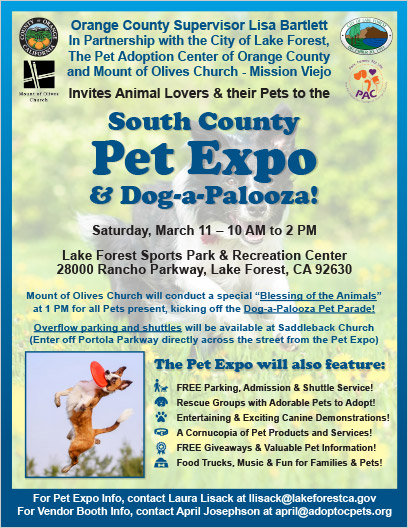 Click on the image above to view a PDF version.

County Connections

OC Sheriff's Department: Child Safety Education Program

The Orange County Sheriff's Department is offering child car seats to limited income residents of Aliso Viejo, Rancho Santa Margarita, and San Juan Capistrano. All recipients will also be enrolled in a two hour safety seat installation class. See the flyer below for details, and call 949-240-7898 ext. *11 to pre-register.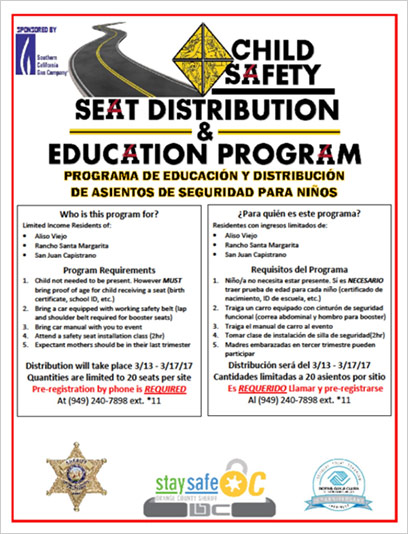 OC Sheriff's Department: The Department's Role in Immigration Enforcement

As immigration policy has taken front and center over the past few weeks, debates continue and questions from the public proliferate. Sheriff Sandra Hutchens explains the Orange County Sheriff's Department's role in the enforcement of immigration law:

Enforcing immigration law is a federal government responsibility. The Orange County Sheriff's Department does not play a role in the enforcement of these laws, and it is not part of its primary mission. As they patrol our communities, deputies are focused on criminal violations of state and local law. They enforce these laws equally, without bias, and without regard for one's immigration status. In carrying out these duties, they do not ask the immigration status of suspects, witnesses, or those who call to report crimes. To reiterate: The Sheriff's Department will provide for your safety and respond to your call for service without concern for your immigration status.

Federal Immigration and Customs Enforcement (ICE) officers carry out their duties in our communities, but the Sheriff's Department does not play a role in their day-to-day work. We have a similar relationship with the California Highway Patrol (CHP). CHP takes responsibility for traffic enforcement on the highways that run through our communities. The Sheriff's Department is not statutorily charged with that function or budgeted with the financial resources to perform such a role. Similarly, ICE is legally charged and funded to enforce immigration law. There is a significant way OCSD works with ICE, and that is with regards to its custody operations. Those who are booked into our jails are screened for their immigration status. ICE is notified of undocumented individuals in our custody who have been convicted of serious offenses, such as murder or rape. Once one of these convicted criminals serves their sentence, ICE is able to take them into their custody. This practice has been in place for a number of years and is in keeping with California's TRUST Act, which allows for cooperation with ICE on specified serious offenses.

In 2016, 57,123 people were booked into our county jail from various law enforcement agencies. Deputies identified 391 inmates who would qualify under the TRUST Act for an ICE detainer. These individuals represent less than 1% of total jail bookings. Their charges ranged from homicide, rape and possession of weapons, to driving while under the influence.

Rhetoric on immigration can be emotional, confusing and, at times, contain misinformation. Do not let misleading headlines distort the reality of local law enforcement's role. In simple terms, the Orange County Sheriff's Department does not participate directly in field-level immigration enforcement, but they work with federal partners through our custody operations to ensure violent offenders are held accountable for all charges they face.

Dana Point Harbor: Street Improvement Notice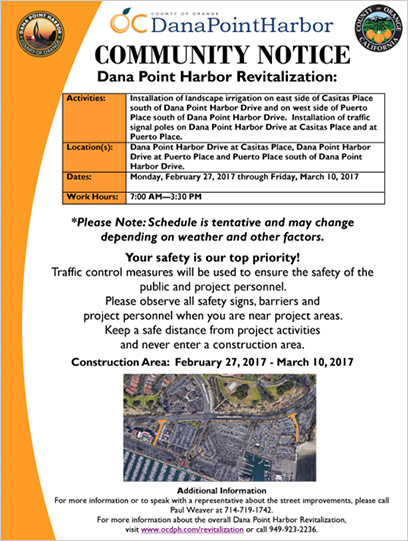 Click on the image above to view a PDF version.

The Ecology Center: 10 Ways to Save Water

The Ecology Center is a local non-profit eco-education center focused on creative solutions for thriving on planet Earth. They work to inspire communities around simple solutions that empower individuals everywhere to be part of the solution. Check out their website for upcoming events for both children and adults, and see the flyer below for 10 quick tips to save water with a bucket.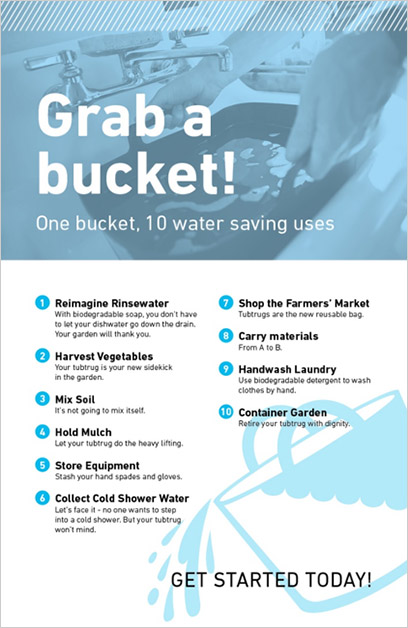 OC Moves

I-5 South County Construction Update

Crews are set to close Avenida Pico northbound off- and on-ramps at night Monday, Feb. 27 for up to six weeks to begin removing the falsework beneath the Pico bridge.

It will take crews about two weeks to remove the existing falsework, and up to four more weeks to set it up for the new bridge concrete pours.

During that nighttime work, for the safety of the crews and the traveling public, Avenida Pico will be completely closed under the freeway. In addition the northbound I-5 off- and on-ramps will be closed during this time.

Details will be provided once exact closure times are available.

Please be advised, dates and times are subject to change if there is inclement weather or if there are unforeseen operational factors.

OC Animal Care/Pet of the Week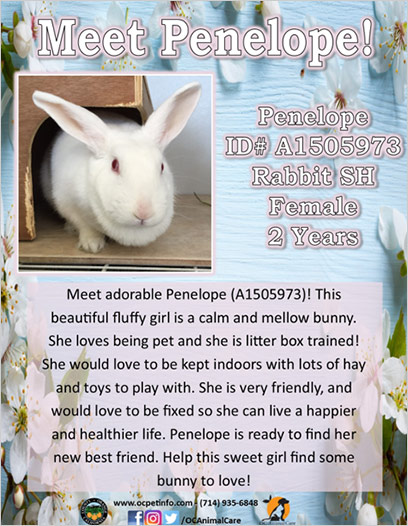 Click on the image above to view a PDF version.

Spay Day USA

On Saturday, February 25th, the Orange County Animal Shelter is offering free spay/neuter services for all dog, cat, and rabbit adoptions. Spaying/neutering can save lives and dramatically decrease our community's homeless pet population. Let's do our part by giving a shelter animal a forever home and making sure they are spayed/neutered.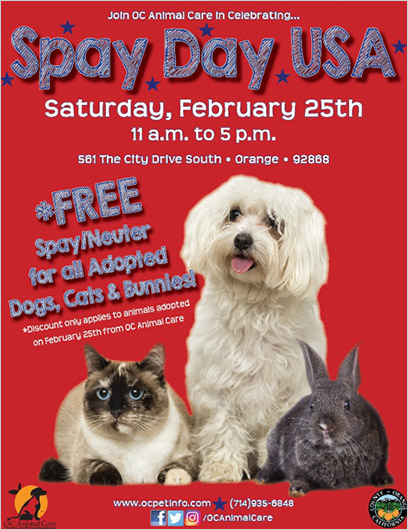 Click on the image above to view a PDF version.

Out and About In South County

Aliso Viejo Aquatic Center's Spring Kick-Off Party & Water Safety Day

Come out Saturday, March 4th from noon to 3:00 p.m. to the Aliso Viejo Aquatic Center at 29 Santa Barbara Drive for bouncers, face painting, balloon artists, gourmet food trucks as well as games and activities designed to test the abilities of swimmers of all ages. For more information, click here.

Dana Point: Festival of Whales

The 46th Annual Dana Point Festival of Whales kicks off its first weekend, March 4th through the 5th with the Festival Parade down PCH starting at 10 a.m. on Saturday March 4th and the Street Faire from 10 a.m. until 3 p.m. Sunday the 5th starts the day with a Pancake Breakfast starting at 7 a.m. and a nighttime movie screening at the Ocean Institute. For the full weekend schedule and more information, click here.

Mission Viejo: Community Health Fair

Join companies and organizations, Saturday, February 25th from 10:00 a.m. to 1:00 p.m. as they showcase their healthy options and services to the public. Get inspired to get on a healthy track! Free health screenings, giveaways, and over 50 vendors and kids activities will be there! This event is at the Norman P. Murray Community Senior Center, for more information, click here.

Mission Viejo: A Walk in their Shoes

Working Wardrobes is a non-profit aimed at helping men, women, young adults and veterans overcome difficult barriers so they can achieve the dignity of work. They are hosting their first 5K Walk and Fun Run on Saturday, March 25th, in Mission Viejo to benefit our community's veterans. For more information and to register, click here.

Laguna Beach: Bluebelt Photo Contest

The Laguna Bluebelt Coalition invites photographers, both professional and amateur, to show their love for the ocean in the 6th Annual Laguna Bluebelt Photo Contest which begins February 6th and runs until March 6. Photos must be taken of Laguna's Marine Protected Areas (MPAs) and can be submitted at www.contest.lagunabluebelt.org. Each year the Bluebelt Coalition strives to educate the public about Laguna's marine reserves so these magical places can be restored. It's a worthwhile, fun event celebrating our MPAs!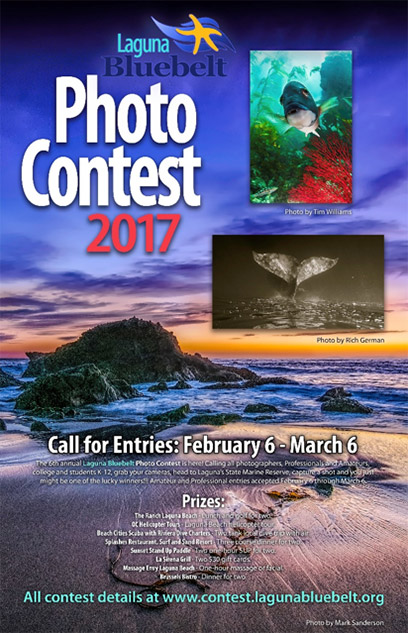 San Juan Capistrano: Kid's Pet Parade

Children between the ages of 5 - 12 can show off their favorite animals in the San Juan Capistrano Kid's Pet Parade on Saturday, February 25th! All pets must be leashed, haltered, or caged, and an adult must accompany children. A special "Judges Choice" prize will be awarded and this winner will be given the opportunity to be in the Swallows Day Parade. There is a $5.00 entry fee. Please bring your completed application and pay in person at the gate. Registration begins at 11:00 A.M. A hot lunch will be offered to Kids Pet Parade participants. The event will be held from 11AM to 2PM at 31747 Los Rios Street, San Juan Capistrano, CA 92675. For more information click here.

San Clemente Day

You and your family are invited to swim for free on February 25th at the newly renovated historic Ole Hanson Beach Club (105 W Avenida Pico) from 10:00 a.m. to 12:00 p.m. or join us at the state of the art San Clemente Aquatics Center (987 Avenida Vista Hermosa) for lap swimming from 9:00 a.m. to 12:00 p.m. During the day, participants can relax poolside with music or jump in and play games led by the San Clemente Pool Lifeguards. Revelers will also have the opportunity to receive free San Clemente "swag" and giveaways at both celebration sites, including stickers, treats and more! For more information, click here.

This week I:

Hosted a special presentation and book signing with A Dog's Purpose author, Bruce Cameron, at the Lake Forest Recreation Center.
Participated in a Special Board of Supervisors meeting.
Gave a County update at the American Legion Post 281 meeting in Dana Point.
Participated as a speaker at the ACC-OC Homeless Task Force meeting.
Attended the joint California Women Leadership Association (CWLA) and OCTax Reception.
Toured the GameChanger Charity technology lab in San Juan Capistrano. This non-profit's mission is to leverage innovation and technology to ease the pain and suffering of children with life-threatening illnesses.
Gave a joint presentation with Supervisor Spitzer at the Republican Club of Laguna Woods meeting.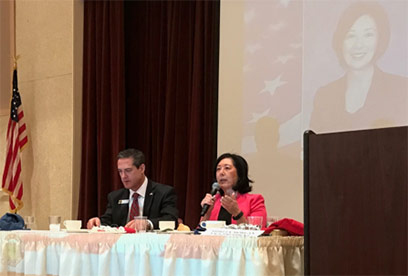 Presenting the keynote address with Supervisor Todd Spitzer at the Laguna Woods Republican Club meeting.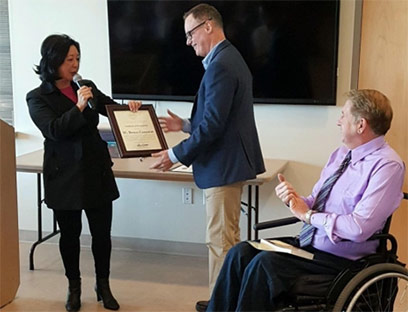 Presenting a certificate of recognition to "A Dog's Purpose" author Bruce Cameron with Lake Forest Mayor Scott Voigts.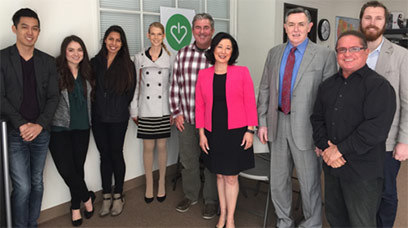 With my staff and Jim Carol, founder of GameChanger Charity, at the organization's technology lab in San Juan Capistrano.

My Staff:

Presented a Certificate of Recognition in honor of the Chipotle ribbon cutting in Mission Viejo.
Presented a Certificate of Recognition in honor of the Trevor's at the Tracks ribbon cutting in San Juan Capistrano.
Attended the San Clemente Legislative & Transportation Council meeting.
Attended the Lake Forest State of the City and Meet the Mayor event.
Attended the Orange County Association of REALTOR's 2017 Drought Update.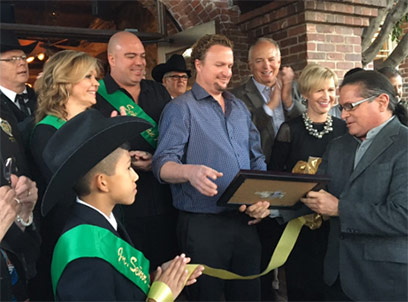 Presenting a certificate of recognition at the Trevor's at the Tracks ribbon cutting in San Juan Capistrano.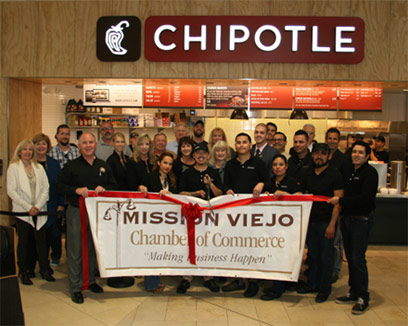 At the Chipotle ribbon cutting in Mission Viejo.

Fifth District Staff Highlight

On Thursday, February 17, my Policy Advisor Kelley Jimenez married her husband, Jinwoo Lee. My staff and I were honored to attend the wedding and reception in neighboring San Diego County. Congratulations to Kelley and Jinwoo on this wonderful milestone. I wish them a lifetime of happiness together!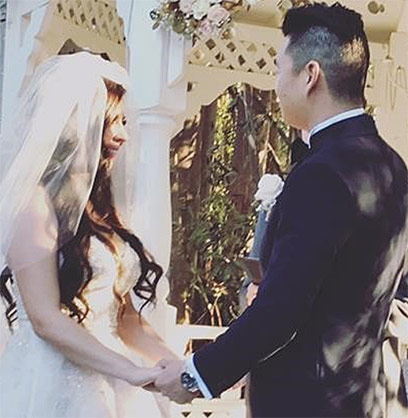 South County Elected Officials in the Community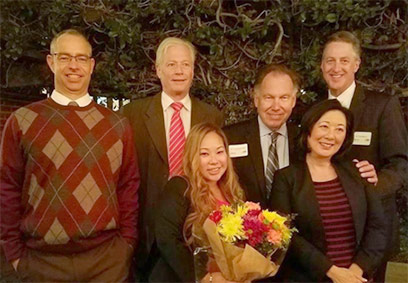 From left to right: OCAR CEO Dave Stefanides, OCAR President Craig Borner, OCAR Representative Dirissy Doan, District Attorney Tony Rackauckas, myself, and Rancho Santa Margarita Councilman Brad McGirr at the CWLA/OCTax Reception.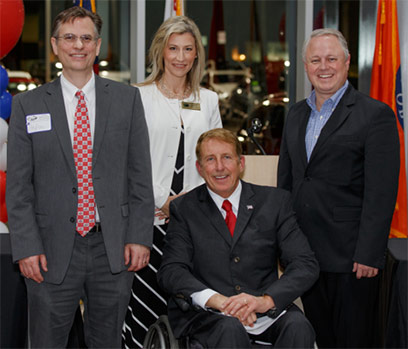 Lake Forest Councilman Andrew Hamilton, Mayor Pro Tem Leah Basile, Mayor Scott Voigts, and Councilman Dwight Robinson at the State of the City and Meet the Mayor event.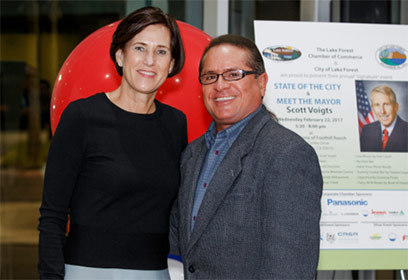 Congresswoman Mimi Walters at the Lake Forest State of the City and Meet the Mayor event.

For questions or comments regarding Supervisor Bartlett's E-Newsletter please contact the Supervisor's office staff at: (714) 834-3550 or Tanya.Flink@ocgov.com.