Fifth District Dispatch

Welcome to the Fabulous Fifth District Dispatch!

Thank you for subscribing to my weekly e-newsletter. The Fifth District Dispatch includes information from County departments, regional boards I represent, transportation highlights and upcoming events in South County.

Please add me on Twitter @OCSupBartlett and Facebook @SupervisorLisaBartlett to receive regular social media updates.

It is my honor to represent you!

Sincerely,

Lisa A. Bartlett
Supervisor, 5th District

South County Pet Expo & Dog-a-Palooza

I am happy to announce the South County Pet Expo and Dog-a-Palooza is now scheduled for Saturday, March 11!

This enormously popular event is being presented by my office, in partnership with the City of Lake Forest, OC Animal Care, The Pet Adoption Center of Orange County, and Mount of Olives Church. The Pet Expo will be held from 10 AM to 2 PM in The Commons greenbelt area at Lake Forest Sports Park, 28000 Rancho Parkway, Lake Forest, CA 92630.

This family and pet friendly event will feature rescue groups with many loving animals available for adoption, fun and exciting canine demonstrations, local vendors providing all manner of pet products and services, as well as food trucks, music and entertainment.

As an added bonus, Mount of Olives Church – Mission Viejo will perform a special Blessing of the Animals to all pets present at the Expo, followed by the inaugural Dog-a-Palooza Pet Parade! Overflow parking and shuttle service will also be available at Saddleback Church, directly across the street from the Pet Expo.

We look forward to seeing you and your well-behaved pet (leashes required) at the South County Pet Expo! For more information, please click on the flyer below.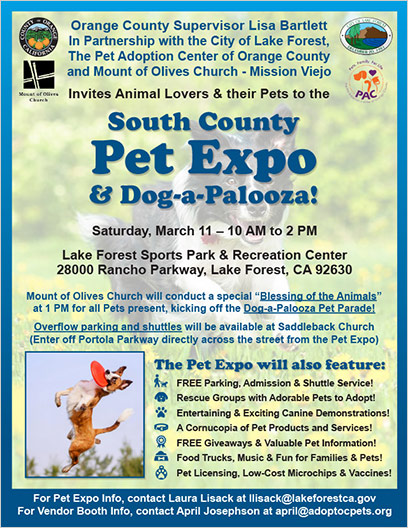 Click on the image above to view a PDF version.

County Connections

County Begins Demolition of Building 16, First Step in Civic Center Facilities Master Plan

Demolition began yesterday as an entire wall of the County of Orange's Building 16 was knocked down, marking the beginning of exterior demolition and a historic milestone in the start of the County's Civic Center Facilities Master Plan first phase.

Originally named the "Welfare Building," Building 16 was completed in 1955 at a cost of about $785,000 and was the first Civic Center structure completed. Now, it's the first structure to be demolished as the County moves forward with its master plan.

I was joined by Board of Supervisors Vice-Chair Andrew Do and Supervisor Shawn Nelson, Fourth District, to commemorate the demolition's significance.

According to the County of Orange Civic Center Facilities Master Plan approved by the Board of Supervisors in February 2015, a new six-story office building will be built on the site of the existing Building 16.

Building 16 was one of two twin gateway buildings located at the west entrance to the County-owned block of the Civic Center. It is a three-story structure, with approximately 36,000 square feet of office space and has been unoccupied since the mid-1980s.

The project will be delivered by a Public Private Partnership (P3) between the County and the Griffin Structures team utilizing tax-exempt financing with a long-term lease with the County, which will then own the facility at the end of the lease term. P3's are an innovative way to allow both the public and private sectors to do what they do best, increasing cost-effectiveness and making better use of County resources.

Approximate construction and affiliated costs for the new Building 16 are estimated at $166 million and the building is estimated to be ready for occupancy in 2020.

OC Moves

OCTA I-5 South County Construction Alerts

SB I-5 Freeway Lane, Ramp Closures:

Crews on March 2 are set to stripe southbound I-5 to its final configuration from PCH / Camino Las Ramblas to Camino de Estrella. The work will require closing the two outside freeway lanes from 10 p.m. March 2 to 5 a.m. March 3. The following ramps also are expected to be closed:


The PCH on-ramp to southbound I-5;
The Camino Las Ramblas loop on-ramp to southbound I-5; and
The southbound I-5 off-ramp to Camino de Estrella.
Nighttime Pico Closures:

Recent rains postponed the scheduled falsework removal and installation for the Avenida Pico bridge.

Crews are now scheduled to close Avenida Pico at night for up to six weeks, beginning Monday, March 6.

For the safety of the crews and the traveling public, Avenida Pico is scheduled to be completely closed under the freeway from 10 p.m. to 9 a.m. Monday through Friday until the work is completed. The off- and on-ramps to northbound I-5 also will be closed during this time.

Avenida Vista Hermosa and Calle Frontera will be available as detours.

Please be advised, dates and times are subject to change if there is inclement weather or if there are unforeseen operational factors.

OCTA Advisory Committee Recruitment

Are you interested in the transportation needs of Orange County? If so, the Orange County Transportation Authority (OCTA) needs your help. Two OCTA committees – the Citizens Advisory Committee (CAC) and the Special Needs Advisory Committee (SNAC) – have openings, and are recruiting new members. Applications for both these OCTA Board-appointed committees are due April 10.

CAC members provide input on a broad spectrum of transportation projects, studies and outreach activities. During their two-year terms, they identify opportunities for community input, recommend methods for obtaining public feedback on specific transportation issues, serve as a liaison between the public and OCTA and participate in roundtable discussions. Potential committee members should demonstrate a history of participating in community activities and transportation issues and be willing to dedicate at least 15 hours per year to OCTA meetings and activities. Applications are available here. For additional information, please contact Emily Mason at (714) 560-5421 or emason@octa.net.

SNAC members advise OCTA on its special needs transit service for persons with disabilities. Applicants should demonstrate an involvement with persons with disabilities and/or senior citizens, an interest in transportation, and a willingness to dedicate no less than 12 hours annually to OCTA meetings and activities during a three-year term. For additional information and to request an application, visit here or contact Efren Guzman Magdaleno at (714) 560-5560 or emagdaleno@octa.net.

OC Animal Care/Pet of the Week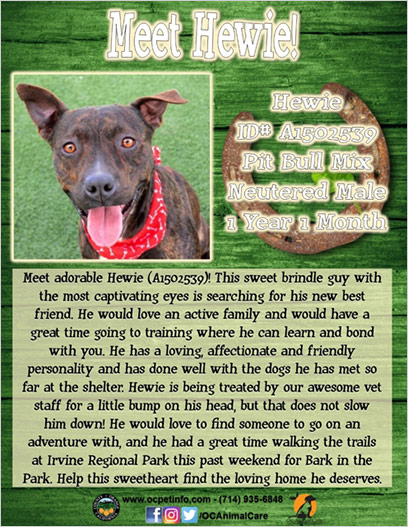 Click on the image above to view a PDF version.

South County Spotlight

South Orange County Community College District Celebrates 50 Years

On Monday, February 27, I was pleased to provide a proclamation in honor of South Orange County Community College District's 50th Anniversary Celebration at its Board of Trustees meeting. South Orange County Community College District (SOCCCD) is comprised of Saddleback College in Mission Viejo and Irvine Valley College in Irvine.

Interim Chancellor Debra Fitzsimons provided highlights of the District's 50-year history and presented a commemorative artwork piece encompassing the full 50-year timeline. The artwork was presented to the Board of Trustees, College Presidents, College Libraries, and District Services to mark the collective progress.

In addition to the proclamation from my office, special recognitions were presented by Irvine Mayor Don Wagner and Mission Viejo Mayor Pro Tem Ed Sachs, as well as from the offices of Congresswoman Mimi Walters, Senators Pat Bates and John Moorlach, Assemblymen Steven Choi and Matthew Harper, and Supervisor Todd Spitzer. The District also received proclamations from the City of Tustin and Congressman Darrell Issa.

The SOCCCD Board of Trustees also passed their own resolution to mark the historic 50th anniversary. A short reception followed in the foyer.

Below are some facts about South Orange County Community College District:

South Orange County Community College District serves more than 68,000 students per year, employs 4,000 faculty and staff, and operates an annual budget of $775 million. Its service area encompasses 352 square miles and nearly one million residents.


According to a socioeconomic impact study conducted by Orange County Business Council, South Orange County Community College District accounts for nearly $2.4 billion in combined economic activity and public benefits.


SOCCCD graduates who earn an associate's degree can expect to earn $387,000 more during a working lifetime.


Students receive a 17.4% return on their investment of time and money, well above any current bank savings accounts, or 8% to 10% long-term average of U.S. stocks and bonds.


Taxpayers receive a 15.3% return on their investment, well above the 4% normally received from government organizations.


South Orange County Community College District provides a return of investment of $4.78 for every $1.00 appropriated to us.


The Board of Trustees maintains a fiscally conservative management philosophy, allowing them to maintain a healthy 7.5% reserve with no long-term debt and a fully funded retiree obligation. The District and Colleges continue to cultivate outside funding sources to push new initiatives.
SOCCCD's next 50 years looks bright, too, as the District is developing a new 60-acre site in Tustin – the Advanced Technology and Education Park (ATEP) – on the former marine base, now known as Tustin Legacy.

In the next few years, Saddleback College also plans to build a stadium to provide a magnet venue for the area; and Irvine Valley College will open a career technical center at ATEP to provide workforce training in partnership with regional employers.

Congratulations to South Orange County Community College District for 50 years of academic excellence and outstanding service to the community! For more information about SOCCCD, please visit www.socccd.edu.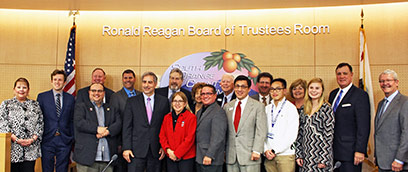 At the SOCCCD celebration with (L-R) Interim Chancellor Debra Fitzsimons, Donovan Higbee (Congresswoman Mimi Walters), Saddleback College President Tod Burnett, Student Trustee Johnathan Forde, Trustee T.J. Prendergast, SOCCCD Board President Tim Jemal, Mission Viejo Mayor Pro Tem Ed Sachs, Trustee Terri Whitt, Trustee Marcia Milchiker, Sergio Prince (Supervisor Lisa Bartlett), Trustee Jim Wright, Al Tello (Supervisor Todd Spitzer), Trustee David Lang, IVC Associated Student Government President Alvin Ng, Rhonda Reardon (Senator Pat Bates), Saddleback College Associated Student Government President Lucy Hendrix, Irvine Mayor Don Wagner, and Irvine Valley College President Glenn Roquemore.

Out and About In South County

Aliso Viejo Aquatic Center's Spring Kick-Off Party & Water Safety Day

Come out Saturday, March 4th from noon to 3:00 p.m. to the Aliso Viejo Aquatic Center at 29 Santa Barbara Drive for bouncers, face painting, balloon artists, gourmet food trucks as well as games and activities designed to test the abilities of swimmers of all ages. For more information, click here.

Dana Point: Festival of Whales

The 46th Annual Dana Point Festival of Whales kicks off its first weekend, March 4th through the 5th with the Festival Parade down PCH starting at 10 a.m. on Saturday March 4th and the Street Faire from 10 a.m. until 3 p.m. Sunday the 5th starts the day with a Pancake Breakfast starting at 7 a.m. and a nighttime movie screening at the Ocean Institute. For the full weekend schedule and more information, click here.

Mission Viejo: A Walk in their Shoes

Working Wardrobes is a non-profit aimed at helping men, women, young adults and veterans overcome difficult barriers so they can achieve the dignity of work. They are hosting their first 5K Walk and Fun Run on Saturday, March 25th, in Mission Viejo to benefit our community's veterans. For more information and to register, click here.

Orange County: Restaurant Week

The most delicious week in Orange County returns March 5-11! A plethora of Orange County's favorite restaurants are offering up prix fixe menus for this week only. Savor the best each eatery has to offer at fantastic prices; lunch menus range from $10-$20 per person, and dinner menus range from $20-$50 per person, depending on the venue. Check out the OC Restaurant Week website for a list of participating South County restaurants, and make your reservations today!

This week I:

Presented certificates of recognition to the honorees at the annual Age Well Senior Services "Signature Event" at the Ritz Carlton.
Participated in the initiation of the Building 16 demolition, which marked the historic first step in the Civic Center Facilities Master Plan.
Participated in the OCTA Board and Ad Hoc meetings.
Participated in the Board of Supervisors meeting.
Participated in the CSAC Housing, Land Use and Transportation Committee Leadership conference call.
Participated in the CalOptima Board meeting.
Interviewed with Charter Local Edition.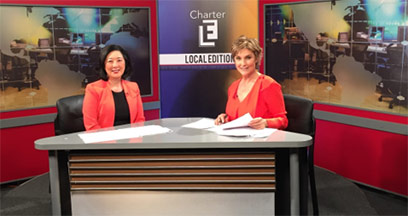 Interviewing with Leslie Layton on Charter Local Edition.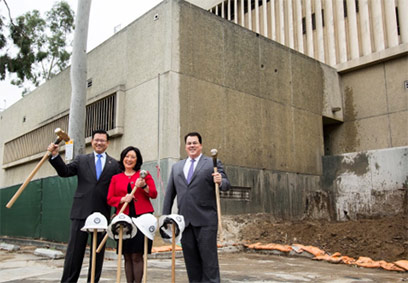 With Board of Supervisors Vice-Chair Andrew Do and Fourth District Supervisor Shawn Nelson at the Building 16 demolition.

My Staff:

Presented a Certificate of Recognition at the plaque unveiling ceremony for the Egan House in San Juan Capistrano in honor of being listed on the National Register of Historic Places.
Presented a Certificate of Recognition in honor of the Pinot's Palate ribbon cutting in Aliso Viejo.
Attended the CalOptima Opioid Epidemic Forum.
Attended the Coto de Caza Planning Advisory Committee meeting.
Attended the Orange County Business Council's Advocacy and Government Affairs meeting.
Attended the Probation Department's graduation ceremony.
Presented a Certificate of Recognition in honor of the McDonald's ribbon cutting in Lake Forest.
Attended the Laguna Niguel Chamber of Commerce Government Affairs Committee meeting.
Presented a Proclamation in honor of the South Orange County Community College District's 50th Anniversary Celebration held at Saddleback College.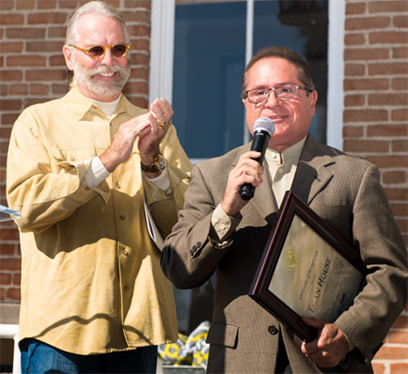 Presenting a Certificate of Recognition at the Egan House plaque unveiling in San Juan Capistrano.

South County Elected Officials in the Community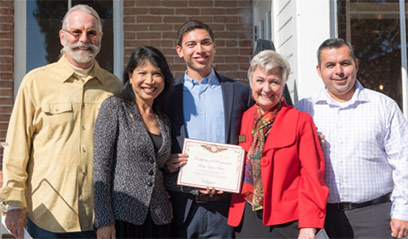 San Juan Capistrano Mayor Kerry Ferguson and Mayor Pro Tem Sergio Farias (right) at the Egan House plaque unveiling.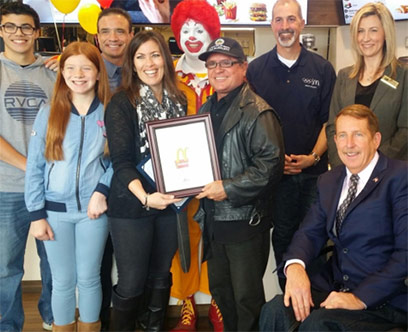 Lake Forest Mayor Scott Voigts and Mayor Pro Tem Leah Basile (right) at the McDonald's ribbon cutting.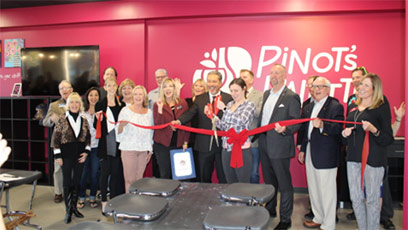 With Aliso Viejo Mayor Dave Harrington and Councilmen Ross Chun and Mike Munzing at the Pinot and Palette ribbon cutting.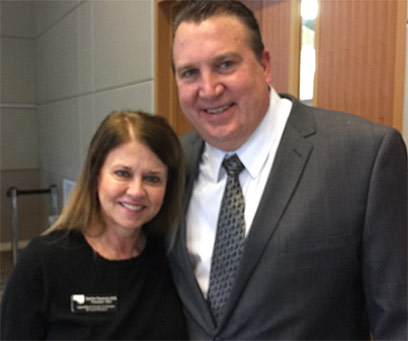 Laguna Niguel Mayor Jerry Slusiewicz and Chamber CEO Debbie Newman at the Government Affairs Committee meeting.

For questions or comments regarding Supervisor Bartlett's E-Newsletter please contact the Supervisor's office staff at: (714) 834-3550 or Tanya.Flink@ocgov.com.