Bartlett Bulletin

2018 South County Senior Summit a Success!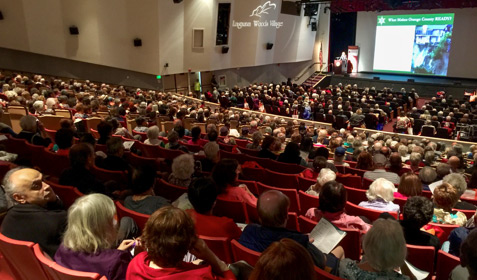 Over 1200 people attended the 2018 South County Senior Summit.
I'm pleased to report that our 11th Annual South County Senior Summit was the biggest and best yet!

With the 2018 theme, "Life Can Change in an Instant: Are You Ready?", well over 1200 attendees from all over the Fifth District filled the Laguna Woods Village Performing Arts Center to receive valuable information from an expert panel of speakers, who gave stimulating presentations on Disaster Preparedness for Seniors, Unexpected Life Altering Events, and Advance Care Planning, among other timely topics.

The packed house also enjoyed a lively vendor fair, complimentary breakfast and lunch, as well as receiving free Senior Summit gift bags and disaster preparedness buckets.

Stay tuned to next week's newsletter with more information on the 2018 Senior Summit, including the event video and photo album!

Earth Day Open House at Prima Deshecha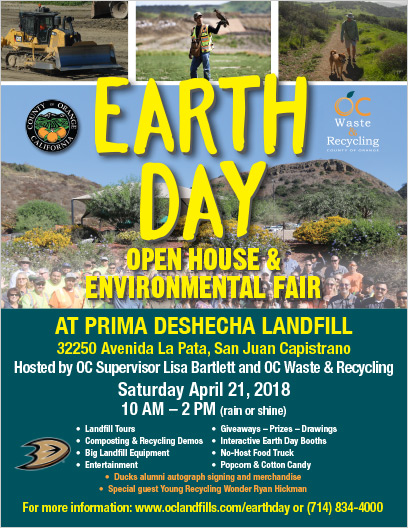 Click on the image above to view a PDF version.

Soka University International Festival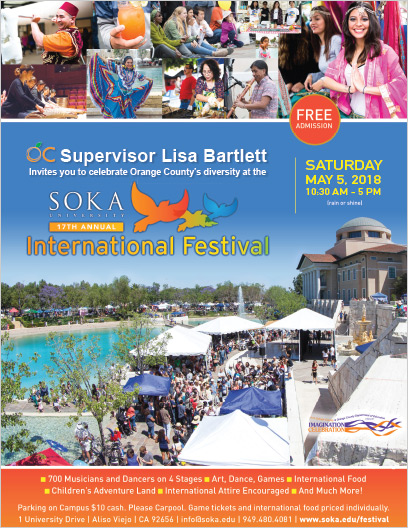 Click on the image above to view a PDF version.

County Connections

Request to FAA: Higher Altitudes in South County


The Federal Aviation Administration's (FAA) Next Generation Air Transportation System, known as NextGen, has been a significant topic for many of my constituents in the Fifth District. In 2003, Congress directed the FAA to develop NextGen, with the intent to improve aviation safety and efficiency through the use of GPS and other methods.

The FAA officially implemented changes last year, and many South County residents have voiced their concern. To address potential impacts in my district and inform the community, I hosted a well-attended town hall in Laguna Niguel and traveled to Washington D.C. to meet directly with the FAA to seek relief from impacts. Ultimately, the County joined in formal litigation with the Cities of Newport Beach and Laguna Beach to challenge the FAA's impact documents.

Early this year, the County and cities settled with the FAA. A significant part of the settlement was a commitment from the FAA to keep aircraft on their designated flight paths, which as resulted in mitigated "early turns" and significantly depreciated impacts to a large portion of South County.

While many residents have benefited from the reduction of early turns, those who live directly under the prescribed flight path are experiencing continuous noise impacts from aircraft overflights. Routinely, we hear from residents who share their discontent with the amount of noise that they attribute to low flying aircraft.

Based on flight track analysis, commercial planes departing from John Wayne Airport and headed to easterly destinations appear to be crossing the coast at approximately 10,000 feet above Mean Sea Level. As the FAA has full jurisdiction over flightpaths and aircraft in flight, I urge you to learn more about the FAA's project on our dedicated webpage. Additionally, you can accurately track flightpaths in real time by using our state-of-the-art Volans Software.

To that end, in an effort to minimize impacts to South County residents directly under the flightpath, I have formally requested the FAA consider increasing the altitude of commercial flights as they enter inland across the coast. To read my letter to the FAA, please click on the image below.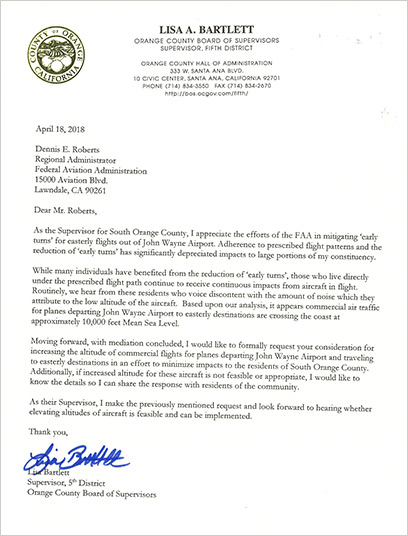 JWA named "Best Airport in the U.S."


John Wayne Airport (JWA) was named "Best Airport in the U.S." by MONEY Magazine in their annual Best in Travel rankings. This is the first time that JWA had been included in the list of the top 15 Best Airports on the list. The designation was based on evaluation of 80 of the nation's top airports, scores from J.D. Power, reader reviews from Travel + Leisure Magazine, on-time arrival rates, security delays, and traveler amenities such as shops and restaurants.

JWA was specifically commended on it efforts to create a feeling of serenity in an airport. As we all know, airports can be very stressful places, but over the past few years, the Airport has been working to combat the stress that accompanies air travel through innovative design features. For example, JWA keeps the volume of its announcements to a minimum, has repainted its terminals in neutral colors, and placed into effect regulations capping the number of television monitors in its terminals – all of which reduce stress and confusion for passengers.

However, it's not just design features that have made John Wayne stand out. The Airport has a high rate of on-time arrivals and departures, provides a selection of 24 unique dining options for passengers, and is easily accessible from major freeways. Visit Money Magazine and view the full article.

Critter Chronicles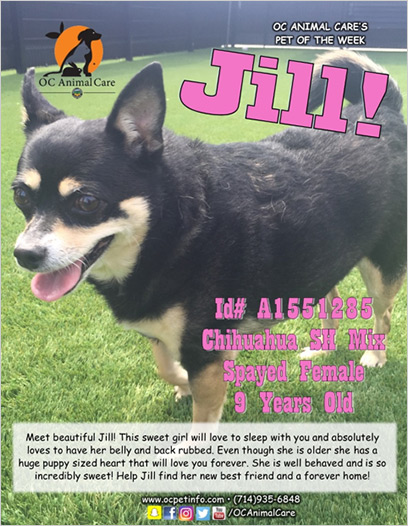 Click on the image above to view a PDF version.

OC Animal Care: Spring Fling

Join us Saturday, April 28 for OC Animal Care's Spring Fling! Adoptions are free 11 AM through 5 PM. Come find your forever friend.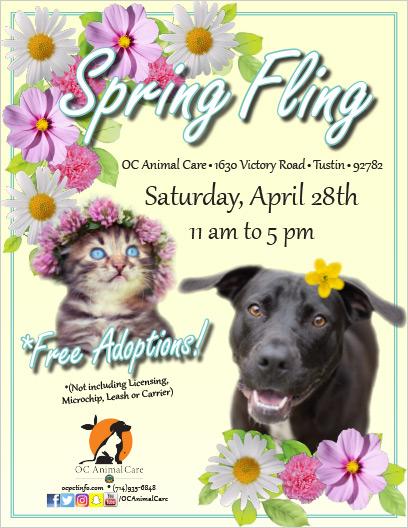 Click on the image above to view a PDF version.

Out and About in South County

Taste of Aliso Niguel

Mark your calendar for the annual Taste of Aliso Niguel on April 28 from 6 PM to 11 PM, featuring delectable tastes from 30 local restaurants, live music from the 80s tribute band "The Reflexx," a silent auction and much more!

Dana Point: Grand Prix of Cycling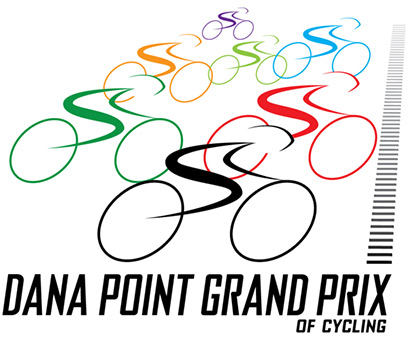 The Dana Point Grand Prix of Cycling is one of the best organized and attended one-day professional and bike festival events in America! Enjoy a fun-filled day of bike racing April 29 on a .8 mile course, crafts, OCTA bike festival, bike demos, elite competition, kids races, pro races, and much more from at 7 AM to 6 PM.

Laguna Beach: Sunset Serenades

Friday evenings from May 4 through June 8, 2018, at 6:30 PM, the Arts Commission will present Sunset Serenades, featuring free concerts at the Heisler Park Amphitheater with a variety of music genres.

Laguna Niguel: Springfest

Celebrate Laguna Niguel Skate Park's 15-year anniversary April 29 at the 3rd annual Springfest! Skaters will enjoy giveaways, raffles, games, food and a skate contest from 12 PM to 4 PM. At 4:30 PM, BMX riders are invited to enjoy a BBQ to celebrate. Admission to Springfest is free. Daily pass required to skate and bike.

This week I:

Attended the Age Well Senior Services Signature Event at the Ritz-Carlton to present a proclamation to retired CEO Dr. Marilyn Ditty.
Participated in a Special Board of Supervisors Study Session Meeting on Homelessness.
Gave a South County Update to to the Laguna Board of REALTORS
Appeared on Laguna Woods Village TV.
Attended the City of Rancho Santa Margarita Meet the Mayor event.
Presented an Adjournment in Memoriam in tribute to Melvyn E. Gruben of Coto de Caza.
Participated in the South Orange County Association of Mayors meeting on homelessness.
Attended the Aliso Viejo State of the City.
Hosted the 11th Annual South County Senior Summit. More on this in next week's newsletter.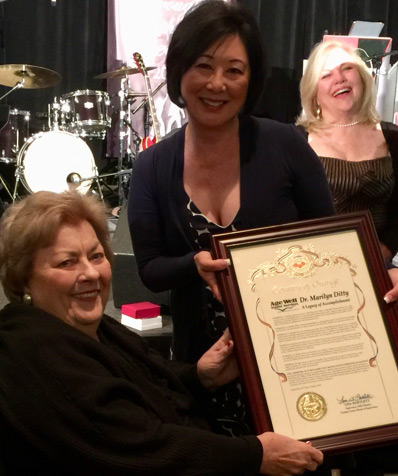 Presenting a proclamation to Dr. Marilyn Ditty at the Age Well Senior Services Signature Event.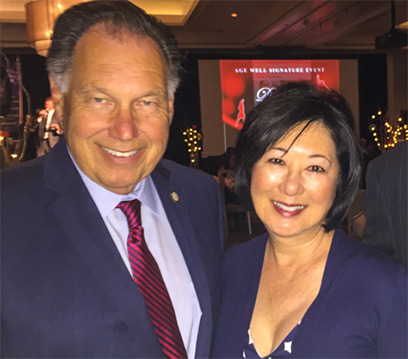 With Orange County District Attorney Tony Rackauckas at the Age Well Senior Services Signature Event.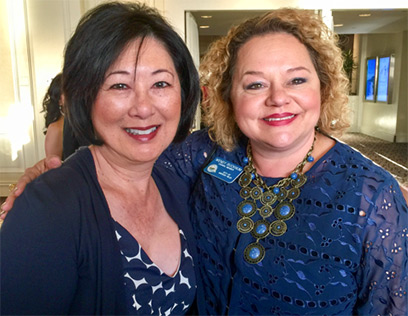 With Mission Viejo Councilwoman Wendy Bucknum at the Age Well Senior Services Signature Event.



With RSM Mayor Mike Vaughn (center), Kristen Camuglia (COX Communications), Dirissy Doan (OCAR) and Jeff Bott (TCA) at the Meet the Mayor event.
(Photo courtesy of Ildiko Takata / TAKATA Photo & Design)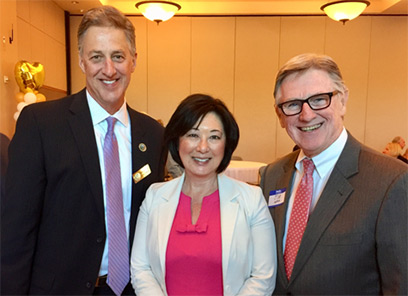 With RSM Councilman Brad McGirr and Jim Leach (SMWD) at the Meet the Mayor event.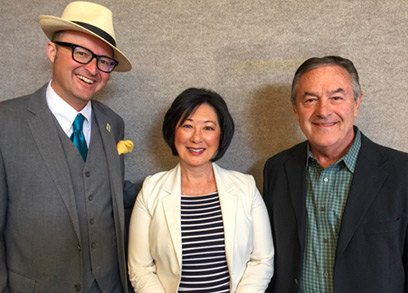 With Assemblyman Matt Harper and Mount of Olives Church Senior Pastor John Steward at the South County Senior Summit.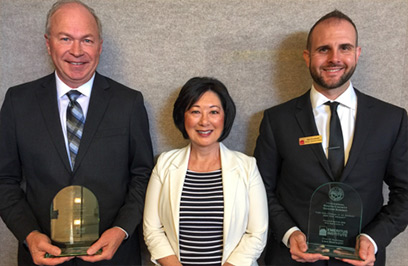 With Steve Moyer, CEO of Age Well Senior Services (left), and Dan Predoehl, Director of Saddleback College Emeritus Institute, at the South County Senior Summit.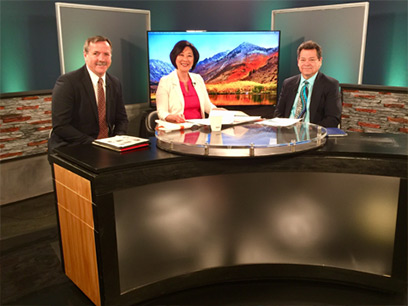 With Tim Moy, Laguna Woods Village Director of Security (left), and Ken Goldenberg, host of This Day on Village TV.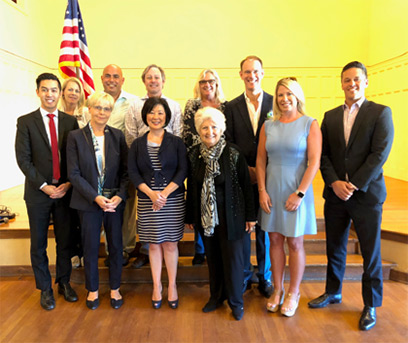 Presenting a South County Update to the Laguna Board of REALTORS.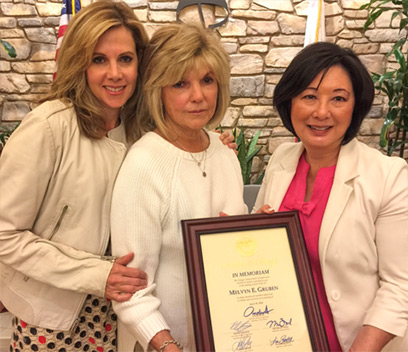 Presenting an Adjournment in Memoriam in memory of Melvyn E. Gruben to his wife, Fran Gruben, and daughter, Melissa Cisakowski.

My Staff:

Attended the Ladera Ranch Civic Council meeting on public safety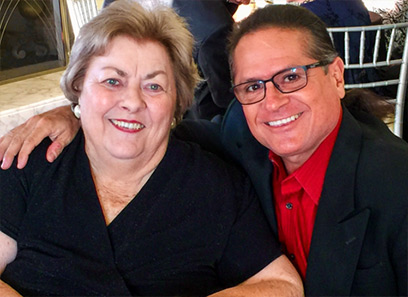 My Community Relations Advisor, Sergio Prince, with Dr. Marilyn Ditty at the Age Well Senior Services Signature Event.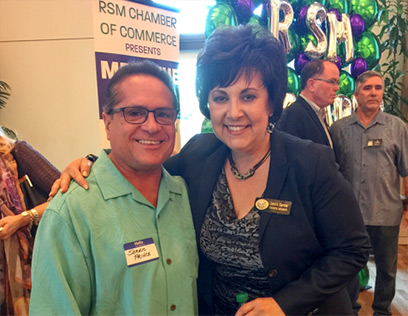 With RSM Councilwoman Carol Gamble at the RSM Meet the Mayor event.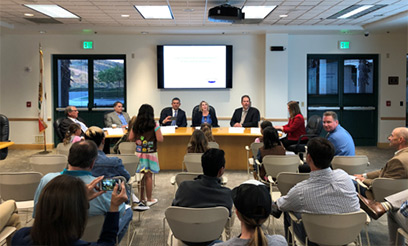 At the Ladera Ranch Civic Council meeting.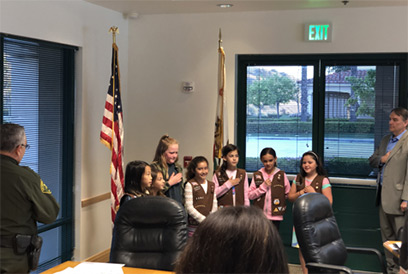 Brownie Troop 4393 leads Pledge of Allegiance at Ladera Ranch Civic Council meeting.

Elected Officials in the Community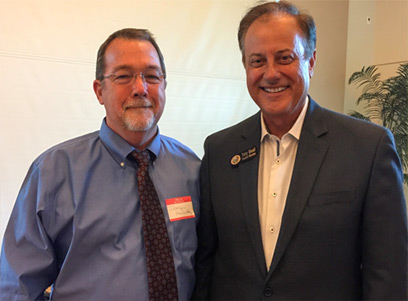 RSM Mayor Pro Tem Jerry Holloway and Councilman Tony Beall at the Meet the Mayor event.

For questions or comments regarding Supervisor Bartlett's E-Newsletter please contact the Supervisor's office staff at: (714) 834-3550 or email my Community Relations Advisor, Sergio Prince, at Sergio.Prince@ocgov.com.