Bartlett Bulletin

Completion of Avenida La Pata Extension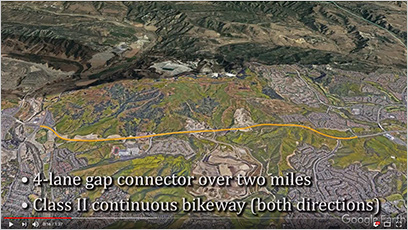 Click the image above to view video of the Avenida La Pata Extension.
After four years of construction and enough earthwork to fill Lake Mission Viejo nearly three times, OC Public Works has announced the significant completion of the Avenida La Pata Extension Project, the largest roadway project in the department's history. 

This milestone for one of our most significant transportation projects is a historical and exciting time for the County. With the opening of Avenida La Pata's initial phase in late 2016, we have seen improved mobility for those traveling this direct connection between South County communities, and this recent completion of new travel lanes is one more element to improving commutes.

The connection provides a direct route between San Clemente and San Juan Capistrano, Rancho Mission Viejo, Ladera Ranch and other neighboring communities. La Pata has greatly reduced commute times in the area by turning a 20 to 30-minute drive to only minutes when driving this new route as an alternative to the 5 Freeway, providing a direct connection to retail centers, medical facilities, schools, recreational areas, emergency evacuation routes, and the County's Prima Deshecha Landfill.

The completed project is the result of collaboration of many partners, including OC Public Works, OC Waste & Recycling, the Cities of San Juan Capistrano and San Clemente, Rancho Mission Viejo and OCTA.   

For more information, see the full press release or OC Public Works' overview video of the Avenida La Pata Extension project.

17th Annual Soka University International Festival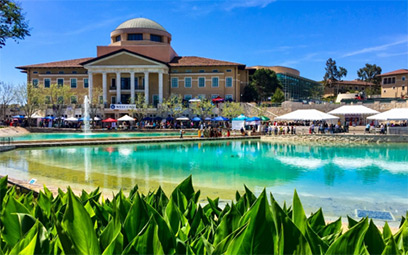 The annual International Festival is held at beautiful Soka University.
On May 5, I was pleased to once again participate as the Community Partner for the 17th Annual International Festival at Soka University in Aliso Viejo. This family-friendly event celebrates Orange County's diversity and offers attendees the opportunity to enjoy a diverse international mix of cultural music, dancing, costumes, arts and crafts, food, exhibitors, activities for kids, and much more.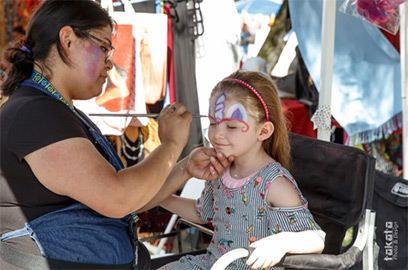 A youngster enjoys one of the many delights at the International Festival.
(Photo courtesy of Ildiko Takata / TAKATA Photo & Design)
I want to thank University President Daniel Habuki for hosting this wonderful annual event on the exquisite Soka University campus. For more information, please visit the event website, see the official event program or view our event photo album.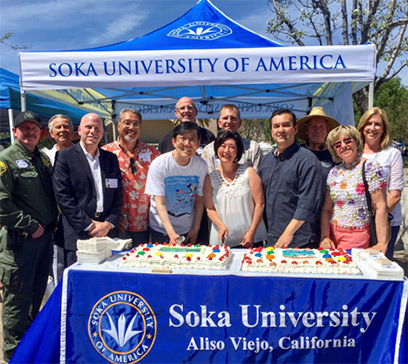 Cutting the cake with Soka University President Daniel Habuki and South County dignitaries.

ICYMI: South County Senior Summit on YouTube!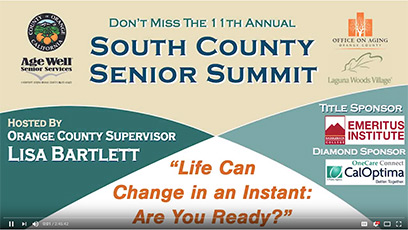 Click the image above to watch the 2018 South County Senior Summit.
In case you missed our 11th annual South County Senior Summit, you can now watch it in its entirety on YouTube or view the event photo album. For more information, see the 2018 event program.

Request to FAA: Higher Altitudes in South County


The Federal Aviation Administration's (FAA) Next Generation Air Transportation System, known as NextGen, has been a significant topic for many of my constituents in the Fifth District. In 2003, Congress directed the FAA to develop NextGen, with the intent to improve aviation safety and efficiency through the use of GPS and other methods.

The FAA officially implemented changes last year, and many South County residents have voiced their concern. To address potential impacts in my district and inform the community, I hosted a well-attended town hall in Laguna Niguel and traveled to Washington D.C. to meet directly with the FAA to seek relief from impacts. Ultimately, the County joined in formal litigation with the Cities of Newport Beach and Laguna Beach to challenge the FAA's impact documents.

Earlier this year, the County and cities settled with the FAA. A significant part of the settlement was a commitment from the FAA to keep aircraft on their designated flight paths, which has resulted in mitigated "early turns" and significantly depreciated impacts to a large portion of South County.

While many residents have benefited from the reduction of early turns, those who live directly under the prescribed flight paths are experiencing continuous noise impacts from aircraft overflights. As a result, we routinely hear from residents who share their discontent with the amount of noise that they attribute to low flying aircraft.

Based on flight track analysis, commercial planes departing from John Wayne Airport and headed to easterly destinations appear to be crossing the coast at approximately 10,000 feet above Mean Sea Level.

As the FAA has full jurisdiction over flightpaths and aircraft in flight, I urge you to learn more about the FAA's project on our dedicated webpage. Additionally, you can accurately track flightpaths in real time by using our state-of-the-art Volans Software.

To that end, in an effort to minimize impacts to South County residents directly under the flightpath, I have formally requested that the FAA consider increasing the altitude of commercial flights as they enter inland across the coast. To read my letter to the FAA, please click on the image below.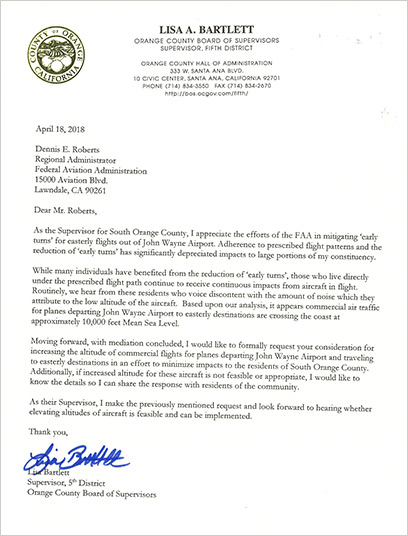 County Connections

May is National Mental Health Awareness Month


May is National Mental Health Awareness Month, when people throughout the nation will come together to spread awareness about the importance of mental health and to speak out against the stigma around mental illness.

One in four American adults suffers from a diagnosable mental illness in any given year, but many don't seek support because of fear of judgment and discrimination. Early support and help for mental health challenges can reduce suffering and save lives. Mental Health Awareness Month is a time to let others know that people are not defined by a mental health diagnosis and assist them in getting the help they need.

Because "Each Mind Matters," I invite you to wear the color lime green this month as a symbol of mental health awareness. Please watch this video to learn more about what it means to wear lime green.

Throughout the month, County staff and partners will be promoting activities throughout Orange County to share the importance of mental health and available resources. I encourage you to take part, begin open conversations about mental health, and advocate for community members that need assistance.

As always, the OC Health Care Agency's OCLinks Information and Referral Line, which provides telephone and online support for anyone seeking information or linkage to any of the County's mental health or substance use disorder program and services, is available at no cost at 855-OC-LINKS (855-625-4657) or www.ochealthinfo.com/OCLINKS.

Please click here to learn more about the Orange County movement and how you can participate. Please join me in making a pledge to do all we can to support mental health and wellness and build a better future for our community.

May is Foster Care Month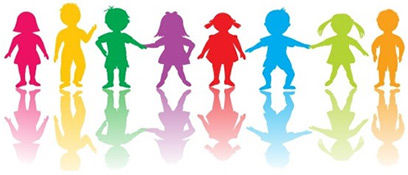 There are over 2,000 children and youth in foster care in Orange County. These youth are being provided with the compassion and nurture of a family in safe, secure, stable homes with relative caregivers, non-related extended family members, foster families, and adoptive families.

We recognize that brighter outcomes are achieved when children are provided opportunities to grow and develop in family settings and are committed to ensuring that foster children are placed in family based care whenever possible.

Foster Care Month recognizes the many people who work to meet the needs of children and youth involved in the foster care system and who help to provide foster and former foster children and youth with vital connections to their siblings.

If you are interested in learning more about how to become a resource family, call 1-888-871-KIDS.

2018 OC Election Security Playbook Released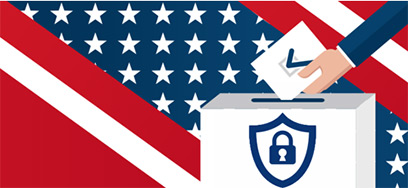 A paradigm shift occurred in election security in 2016, when widely reported attempts were made to disrupt elections in the United States. In addition, there has been a great deal of attention on issues related to ballot integrity, voter registration systems, and ensuring the eligibility of voters.

As a result, Orange County has been aggressively pursuing security measures to protect the integrity of our elections. We believe a proactive "ring of security" is critical to safeguard the millions of ballots that are cast in Orange County during each election cycle.

To that end, the Orange County Registrar of Voters (ROV) released the 2018 Election Security Playbook earlier this week, which details the steps the department has taken to limit risks and increase overall election protections. The ROV's playbook is available online in their Election Library.

OC Parks Summer Concerts and Sunset Cinemas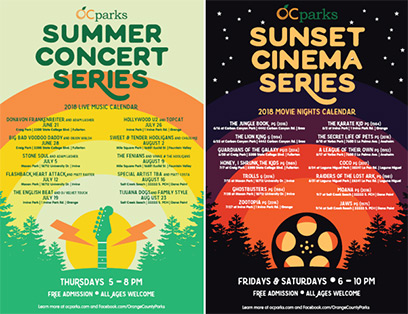 Click on the image above to view a PDF version.

Critter Chronicles

Animals for Armed Forces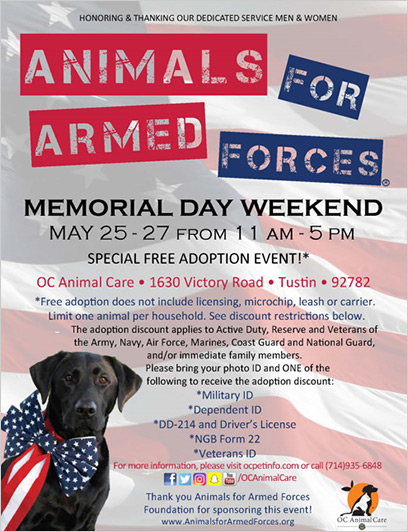 Click on the image above to view a PDF version.

Out and About in South County

Dana Point: 2018 Doheny Blues Festival


The 2018 Doheny Blues Festival rocks into Dana Point on May 19 & 20 at Sea Terrace Park, with more intimate stage areas, increased food and beverage offerings, shade structures, luxury shuttles throughout town, spacious amenities and lots of extras! For more information visit the event website.

Irvine: 2018 Special Olympics


Celebrate the 50th anniversary of Special Olympics! Come out to the 2018 Orange County Regional Spring Games Saturday, May 12, 9 AM to 5 PM, when nearly 900 athletes compete in five sports, including track and field, basketball, bocce, flag football, and swimming at Irvine High School & William Woollett Aquatics Center.

Laguna Beach: Sunset Serenades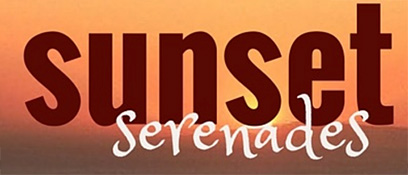 Friday evenings through June 8 at 6:30 PM, the Laguna Beach Arts Commission will present Sunset Serenades, featuring free concerts at the Heisler Park Amphitheater with a variety of music genres.

Laguna Hills: Memorial Day Half Marathon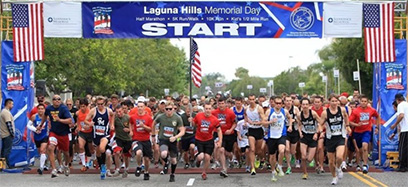 Come out May 28 for the 20th Annual Laguna Hills Memorial Day Half Marathon, honoring the U.S. Marine Corps Dark Horse Battalion. Runners of all skill levels are welcome to participate in the event of their choice: Half Marathon (13.1 miles), 10K (6.2 miles), 5K (3.1 miles) or Kid's Run (1/2 mile), including a one-day community expo with live music, beer garden and more than 50 exhibitors.

This week I:

Participated in the 17th Annual Soka University International Festival.
Participated in a weekly California State Association of Counties Officer's call.
Participated in an OCTA Executive and Regional Planning and Highways Committee Meetings.
Participated in a Transportation Corridor Agency meeting that reviewed the transition from large transponders to stickers on cars going through express lanes.
Participated in a Transportation Corridor Agency Joint Board Meeting.
Attended the City of Laguna Beach State of the City.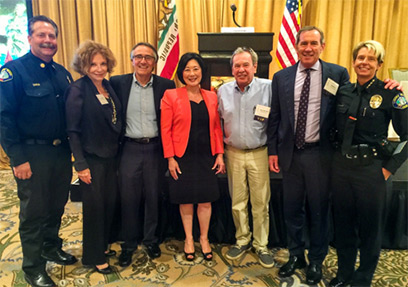 L-R: With Laguna Beach Fire Chief Mike Garcia, Councilwoman Toni Iseman, Mayor Pro Tem Rob Zur Schmiede, Mayor Kelly Boyd, Councilman Bob Whalen, and Police Chief Laura Farinella at the Laguna Beach State of the City.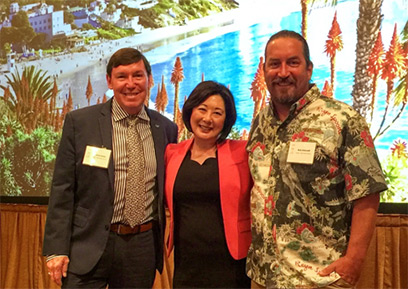 With South Coast Water District President Bill Green (left) and Director Rick Erkeneff at the Laguna Beach State of the City.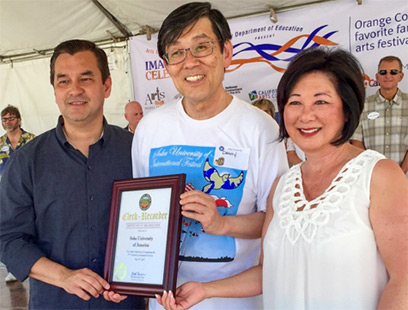 With OC Clerk Recorder Hugh Nguyen (left) and University President Daniel Habuki at the Soka University International Festival.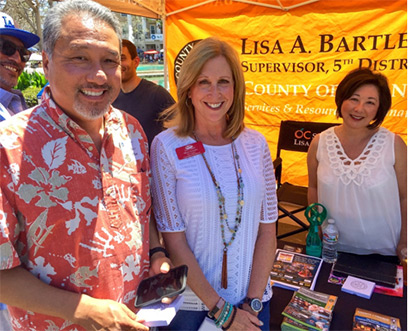 With Aliso Viejo Mayor Pro Tem Ross Chun and Chamber President Heidi Stoops at the International Festival.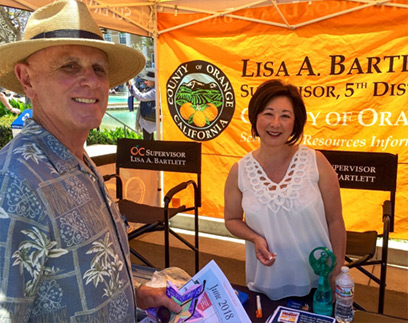 At the Festival with Moulton Niguel Water District Director Richard Fiore.

My Staff:

Attended the Orange County Visitor Association 10th Annual Conference on Tourism.
Presented a certificate of recognition in honor of the 30-year anniversary of SCOR Physical Therapy in San Clemente.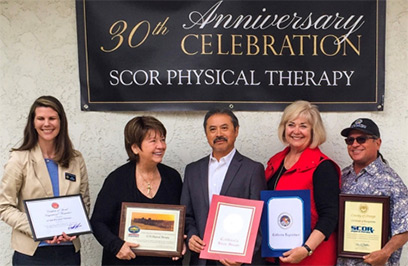 My Community Relations Advisor, Sergio Prince (right), presenting a certificate of recognition at SCOR Physical Therapy in San Clemente.

Elected Officials in the Community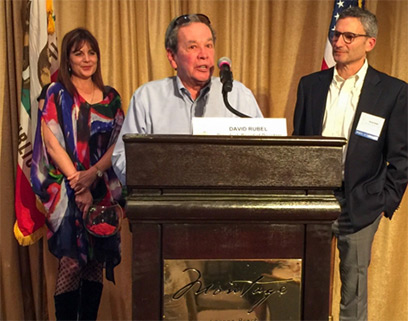 Laguna Beach Mayor Kelly Boyd (center) at the State of the City with Chamber Executive Director Meredith Dowling and Board President David Rubel.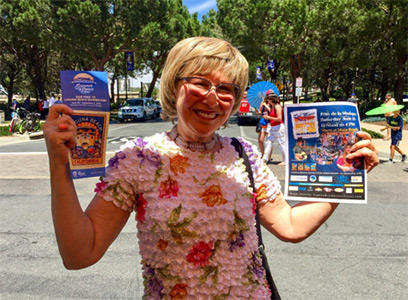 Laguna Woods Councilwoman Shari Horne at the International Festival.

For questions or comments regarding Supervisor Bartlett's E-Newsletter please contact the Supervisor's office staff at: (714) 834-3550 or email my Community Relations Advisor, Sergio Prince, at Sergio.Prince@ocgov.com.