Bartlett Bulletin

Aliso Viejo Explosion Investigated as a Crime

Orange County Sheriff's Department (OCSD) investigators, in partnership with the Federal Bureau of Investigations (FBI) and the Federal Bureau of Alcohol, Tobacco, and Firearms (ATF), continue to investigate the cause of an explosion at an Aliso Viejo business that killed one female and injured three others.

At approximately 1:10 PM on Tuesday, May 15, Orange County Fire Authority (OCFA) firefighters were dispatched to reports of an explosion at a medical office building at 11 Mareblu in the City of Aliso Viejo. Upon arrival, fire authorities assessed the scene and reported major damage to the building.

One deceased female was found during a preliminary search of the building. Two other women suffered injuries and were taken to a local hospital for treatment. They are expected to survive. One individual suffered from smoke inhalation and was treated and released at the scene.

The FBI arrested Stephen Beal, 59, of Long Beach, on suspicion of being in possession of an unregistered destructive device that was discovered at his residence during the service of a search warrant. Mr. Beal is not being charged in connection with the explosion. OCSD investigators and the FBI continue to actively investigate to see if there is a connection between the items discovered at Mr. Beal's residence and the crime scene.

Anyone with information regarding this incident is asked to call the FBI tip line at 1-800-call-FBI. Video of the incident can be uploaded to www.fbi.gov/caexplosion.

2018 South County Job Fair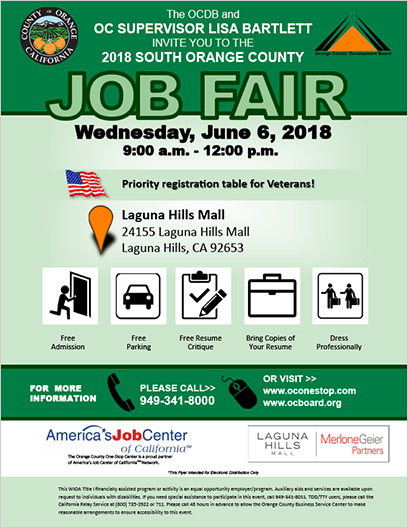 Click on the image above to view a PDF version.
If your company is interested in hosting a FREE booth at the South County Job Fair, please complete the Employer Registration Form.

Completion of Avenida La Pata Extension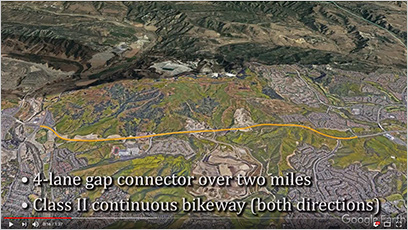 Click the image above to view video of the Avenida La Pata Extension.
After four years of construction and enough earthwork to fill Lake Mission Viejo nearly three times, OC Public Works has announced the significant completion of the Avenida La Pata Extension Project, the largest roadway project in the department's history. 

This milestone for one of our most significant transportation projects is a historical and exciting time for the County.  With the opening of Avenida La Pata's initial phase in late 2016, we have seen improved mobility for those traveling this direct connection between South County communities, and this recent completion of new travel lanes is one more element to improving commutes. 

The connection provides a direct route between San Clemente and San Juan Capistrano, Rancho Mission Viejo, Ladera Ranch and other neighboring communities. As a result, La Pata has greatly reduced commute times in the area by turning a 20 to 30-minute drive to only minutes when driving this new route as an alternative to the 5 Freeway, and it provides a direct connection to retail centers, medical facilities, schools, recreational areas, emergency evacuation routes, and the County's Prima Deshecha Landfill.

The completed project is the result of collaboration of many partners, including OC Public Works, OC Waste & Recycling, the Cities of San Juan Capistrano and San Clemente, Rancho Mission Viejo and OCTA.

For more information, see the full press release or OC Public Works' overview video of the Avenida La Pata Extension project.

Request to FAA: Higher Altitudes in South County


The Federal Aviation Administration's (FAA) Next Generation Air Transportation System, known as NextGen, has been a significant topic for many of my constituents in the Fifth District. In 2003, Congress directed the FAA to develop NextGen, with the intent to improve aviation safety and efficiency through the use of GPS and other methods.

The FAA officially implemented changes last year, and many South County residents have voiced their concern. To address potential impacts in my district and inform the community, I hosted a well-attended town hall in Laguna Niguel and traveled to Washington D.C. to meet directly with the FAA to seek relief from impacts. Ultimately, the County joined in formal litigation with the Cities of Newport Beach and Laguna Beach to challenge the FAA's impact documents.

Earlier this year, the County and cities settled with the FAA. A significant part of the settlement was a commitment from the FAA to keep aircraft on their designated flight paths, which has resulted in mitigated "early turns" and significantly depreciated impacts to a large portion of South County.

While many residents have benefited from the reduction of early turns, those who live directly under the prescribed flight paths are experiencing continuous noise impacts from aircraft overflights. As a result, we routinely hear from residents who share their discontent with the amount of noise that they attribute to low flying aircraft.

Based on flight track analysis, commercial planes departing from John Wayne Airport and headed to easterly destinations appear to be crossing the coast at approximately 10,000 feet above Mean Sea Level.

As the FAA has full jurisdiction over flightpaths and aircraft in flight, I urge you to learn more about the FAA's project on our dedicated webpage. Additionally, you can accurately track flightpaths in real time by using our state-of-the-art Volans Software.

To that end, in an effort to minimize impacts to South County residents directly under the flightpath, I have formally requested that the FAA consider increasing the altitude of commercial flights as they enter inland across the coast. To read my letter to the FAA, please click on the image below.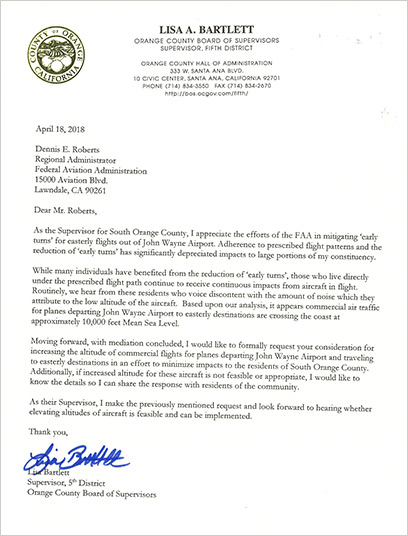 Special Olympics OC Spring Regional Games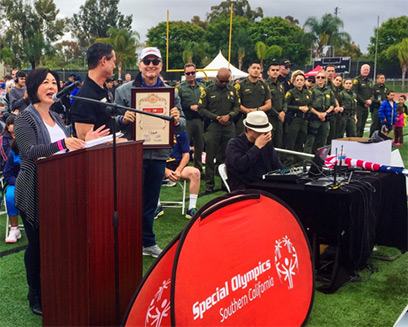 At the OC Regional Games presenting a resolution in honor of the 50th anniversary of Special Olympics.
On Saturday, May 12, I was honored to attend the Special Olympics 2018 Orange County Spring Regional Games to cheer on the athletes and present a Board Resolution during the opening ceremony to Bill Shumard, President/CEO of Special Olympics Southern California, in recognition of the 50th anniversary of Special Olympics.

Special Olympics has had an illustrious history and a profound impact on the lives of countless people over the last 50 years. Many of the accolades were listed in the Board resolution.

Eunice Kennedy Shriver started the concept of Special Olympics in 1963 as a day camp for people with intellectual disabilities to provide them with the therapeutic effects of physical fitness and sports.  

In 1968, she organized the first International Special Olympics Games, where 1,000 athletes from the United States, Canada and France competed. That year, Special Olympics was founded as a nonprofit organization.

Today, Special Olympics' global reach expands to 4.4 million athletes. Over 80,000 events and competitions are held annually; and Southern California accounts for over 34,500 athletes.

For more information, please visit the Special Olympics website or see the event photo album in my website.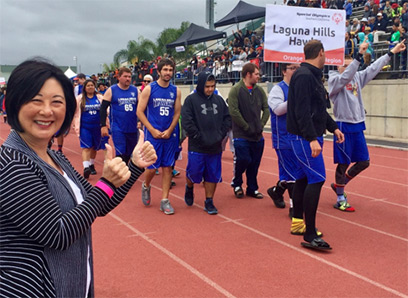 Cheering on our athletes at the Special Olympics OC Spring Regional Games.

County Connections

May is National Mental Health Awareness Month


May is National Mental Health Awareness Month, when people throughout the nation will come together to spread awareness about the importance of mental health and to speak out against the stigma around mental illness.

One in four American adults suffers from a diagnosable mental illness in any given year, but many don't seek support because of fear of judgment and discrimination. Early support and help for mental health challenges can reduce suffering and save lives. Mental Health Awareness Month is a time to let others know that people are not defined by a mental health diagnosis and assist them in getting the help they need.

Because "Each Mind Matters," I invite you to wear the color lime green this month as a symbol of mental health awareness. Please watch this video to learn more about what it means to wear lime green.

Throughout the month, County staff and partners will be promoting activities throughout Orange County to share the importance of mental health and available resources. I encourage you to take part, begin open conversations about mental health, and advocate for community members that need assistance.

As always, the OC Health Care Agency's OCLinks Information and Referral Line, which provides telephone and online support for anyone seeking information or linkage to any of the County's mental health or substance use disorder program and services, is available at no cost at 855-OC-LINKS (855-625-4657) or www.ochealthinfo.com/OCLINKS.

Please click here to learn more about the Orange County movement and how you can participate. Please join me in making a pledge to do all we can to support mental health and wellness and build a better future for our community.

May is Foster Care Month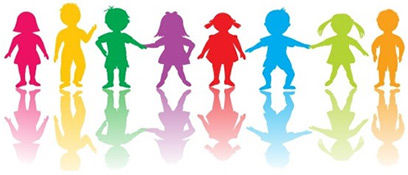 There are over 2,000 children and youth in foster care in Orange County. These youth are being provided with the compassion and nurture of a family in safe, secure, stable homes with relative caregivers, non-related extended family members, foster families, and adoptive families.

We recognize that brighter outcomes are achieved when children are provided opportunities to grow and develop in family settings and are committed to ensuring that foster children are placed in family based care whenever possible.

Foster Care Month recognizes the many people who work to meet the needs of children and youth involved in the foster care system and who help to provide foster and former foster children and youth with vital connections to their siblings.

If you are interested in learning more about how to become a resource family, call 1-888-871-KIDS.

County Receives 13 Awards for Innovation and Achievement


The County of Orange received a total of 13 awards in May 2018, including nine Achievement Awards from the National Association of Counties (NACo) and four Golden Hub of Innovation awards from the Association of California Cities-Orange County (ACC-OC).

County of Orange programs that received NACo Achievement Awards are:

Civic Education and Public Information
County Administration and Management
Financial Management
Health
Human Services
Information Technology
Parks and Recreation
Personnel Management, Employment and Training
Risk and Emergency Management


City Programs/Departments-Public Safety

OC Office of the District Attorney/Public Administrator (OCDA/PA): Orange County Gang Reduction and Intervention Partnership (OC GRIP)
Community Outreach
Energy and Environmental Quality
OC Public Libraries and OC Parks: Library of the Canyons
Technology e-Government
OC Registrar of Voters: OC Ballot Express
Congratulations to all our County Departments and Programs that received awards!

2018 OC Election Security Playbook Released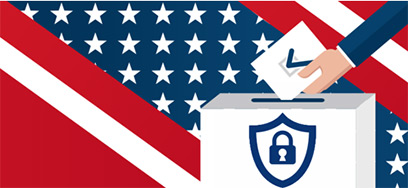 A paradigm shift occurred in election security in 2016, when widely reported attempts were made to disrupt elections in the United States. In addition, there has been a great deal of attention on issues related to ballot integrity, voter registration systems, and ensuring the eligibility of voters.

As a result, Orange County has been aggressively pursuing security measures to protect the integrity of our elections. We believe a proactive "ring of security" is critical to safeguard the millions of ballots that are cast in Orange County during each election cycle.

To that end, the Orange County Registrar of Voters (ROV) released the 2018 Election Security Playbook earlier this week, which details the steps the department has taken to limit risks and increase overall election protections. The ROV's playbook is available online in their Election Library.

OC Parks Summer Concerts and Sunset Cinemas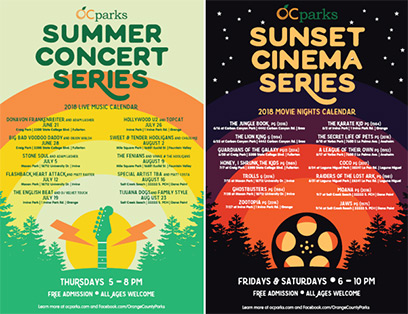 Click on the image above to view a PDF version.

Critter Chronicles

Pet of the Week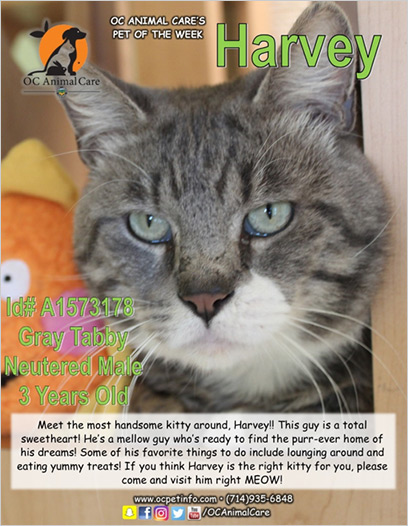 Click on the image above to view a PDF version.

Kitten Care Steps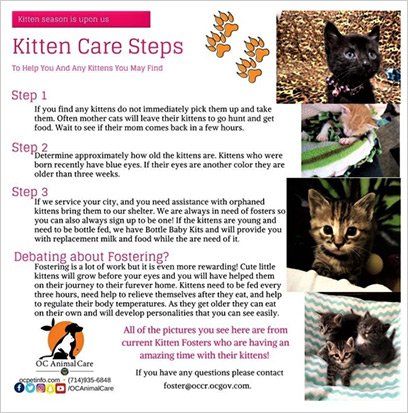 Click on the image above to view a PDF version.

Animals for Armed Forces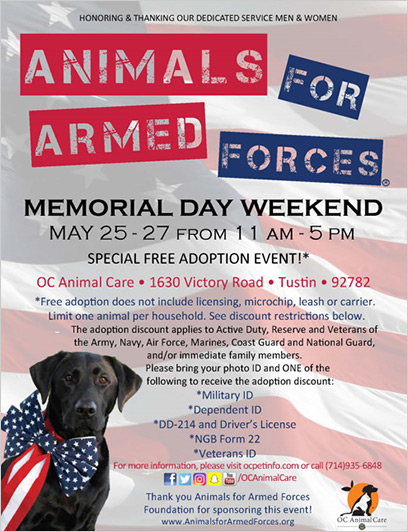 Click on the image above to view a PDF version.

Out and About in South County

Dana Point: 2018 Doheny Blues Festival


The 2018 Doheny Blues Festival rocks into Dana Point on May 19 & 20 at Sea Terrace Park, with more intimate stage areas, increased food and beverage offerings, shade structures, luxury shuttles throughout town, spacious amenities and lots of extras! For more information visit the event website.

Laguna Beach: 46th Annual Charm House Tour


The Village Laguna Charm House Tour is an annual celebration viewing iconic areas of Laguna Beach. On May 20, besides viewing homes of beauty and originality in and near Bluebird Canyon, the tour features a hidden-away organic farm set into a magnificent hillside with sweeping ocean views. The tour departs in front of The Festival of Arts from 12 PM to 3 PM. For more information or to purchase tickets, visit the Village Laguna website.

Laguna Beach: Sunset Serenades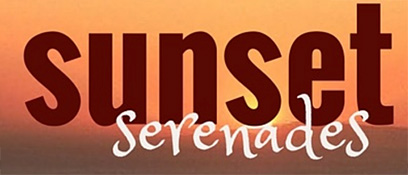 Friday evenings through June 8 at 6:30 PM, the Laguna Beach Arts Commission will present Sunset Serenades, featuring free concerts at the Heisler Park Amphitheater with a variety of music genres.

Laguna Hills: Memorial Day Half Marathon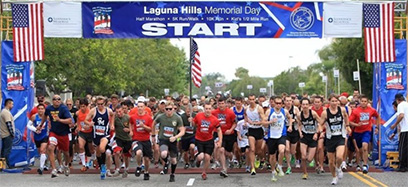 Come out May 28 for the 20th Annual Laguna Hills Memorial Day Half Marathon, honoring the U.S. Marine Corps Dark Horse Battalion. Runners of all skill levels are welcome to participate in the event of their choice: Half Marathon (13.1 miles), 10K (6.2 miles), 5K (3.1 miles) or Kid's Run (1/2 mile), including a one-day community expo with live music, beer garden and more than 50 exhibitors.

This week I:

Attended the Special Olympics 2018 Orange County Regional Games to present a Board Resolution to Bill Shumard, President/CEO of Special Olympics Southern California, in honor of the 50th anniversary of Special Olympics.
Chaired the Orange County Transportation Authority (OCTA) Board of Directors meeting.
Attended the CEO Leadership Alliance Breakfast.
Attended the California State Association of Counties (CSAC) Legislative Conference in Sacramento, where I spoke with various senators and members of congress, as well as heard Governor Brown speak.
Met with representatives from OC Waste and Recycling regarding the Prima Desecha Landfill.
Participated in a Health Care Agency briefing.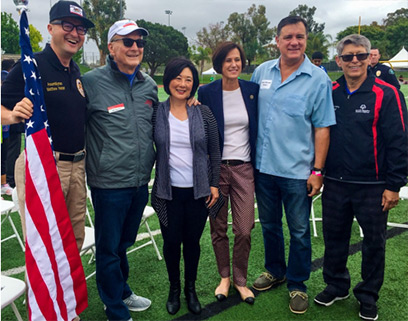 L-R: With Assemblyman Matt Harper, CEO Bill Shumard, Congresswoman Mimi Walters, Irvine Mayor Don Wagner, and Reginal Director David Armendariz at the Special Olympics OC Spring Regional Games.

My Staff:

Met with representatives from John Wayne Airport regarding concessions.
Presented certificates of recognition for the 2018 Angels for the Arts Scholarship Recipients at Saddleback College.
Presented a certificate at the grand reopening of Pavilions in Laguna Niguel.
Attended the Laguna Woods City Council meeting to pay tribute to retired CEO of Age Well Senior Services, Dr. Marylin Ditty.
Presented a proclamation to Executive Director Dawn Price in honor Friendship Shelter's 30th anniversary of helping the homeless in Laguna Beach and South County.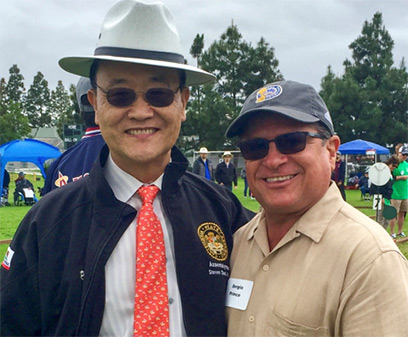 My Community Relations Advisor, Sergio Prince, with Assemblyman Dr. Steven Choi at the Special Olympics OC Spring Regional Games.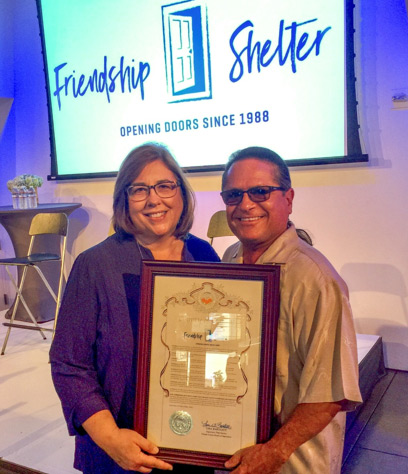 Presenting a proclamation to Dawn Price in honor Friendship Shelter's 30th anniversary of helping the homeless.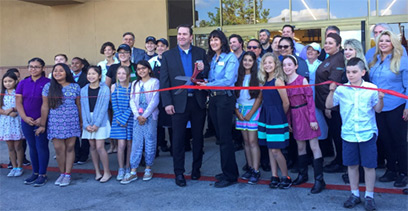 At the grand reopening ribbon cutting for Pavilions in Laguna Niguel.

Elected Officials in the Community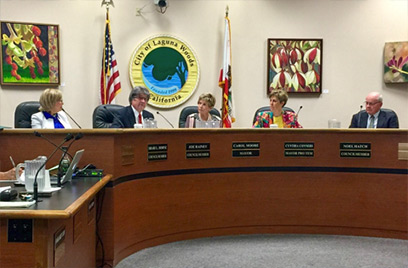 L-R: At the Laguna Woods City Council meeting with Councilwoman Shari Horne, Councilman Joe Rainey, Mayor Carol Moore, Mayor Pro Tem Cynthia Ward, and Councilman Noel Hatch, as they pay tribute to retired CEO of Age Well Senior Services, Dr. Marylin Ditty.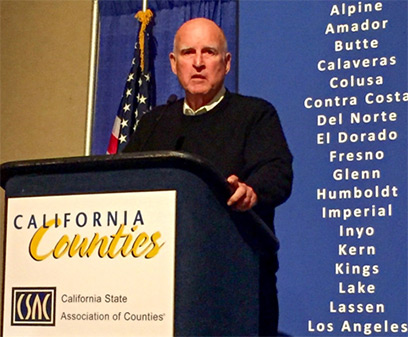 Governor Brown at the CSAC Conference in Sacramento.

For questions or comments regarding Supervisor Bartlett's E-Newsletter please contact the Supervisor's office staff at: (714) 834-3550 or email my Community Relations Advisor, Sergio Prince, at Sergio.Prince@ocgov.com.