Bartlett Bulletin

Aliso Fire Recap

On June 2, at approximately 1:07 PM, a large fire ignited in Aliso Viejo near the Top of the World community of Laguna Beach. The fire spread quickly, scorching over 175 acres of natural habitat in Aliso and Wood Canyons Wilderness Park. The magnitude and proximity of the blaze forced the mandatory evacuation of students from Soka University, as well as residents in Aliso Viejo and Laguna Beach.
More than 500 firefighting and emergency personnel were on scene under unified command with the Orange County Fire Authority, Orange County Sheriff's Department, OC Parks, and Cal Fire. While the wildfire destroyed sensitive parkland, no structures were damaged. Unfortunately, there were five reported injuries, including three to firefighters.
Currently, all mandatory evacuations have been lifted; however, Aliso and Wood Canyons Wilderness Park remains closed. Firefighters and volunteers will be patrolling the area until full containment is achieved, which is anticipated today, June 8th.
The cause of the fire remains under investigation. If you have any information about this incident, including photos or videos during the early stages, please call 1-800-222-TIPS (8477). For more information on how you can help, please visit the Laguna Canyon Foundation website.

Working to End Homelessness in Orange County

Over the last few years, the County has made considerable progress in creating the system of care for the homeless. However, homelessness continues to be a communitywide issue, and we are committed to working collaboratively with our cities to find a solution to this problem.

Since the County became involved in the federal court case pertaining to homelessness, we have made progress in enhancing the system of care. In recent weeks, the County has made significant strides. These include:
A pilot program with Illumination Foundation to serve the 60 most severe medical cases among the homeless
Enhanced mental health treatment beds
Enhanced recuperative care services
Additional Health Care Agency Outreach and Engagement staff and police resources stationed in South County cities
The County continues to work with cities to address the immediate need to increase shelter capacity, and the County will reach a milestone with the completion of the first year-round emergency shelter, Bridges at Kramer.
As the County works to address the immediate need for additional bed capacity, we are focused on the long term goal of creating 2,700 permanent supportive housing (PSH) units. The County is moving forward with nearly 500 PSH units in the pipeline, and we will continue to work with our cities toward the 2,700 unit goal.
For information on the Orange County Mental Health Services Act (MHSA) Plan Update, please see the press release.

2018 Dana Point "State of the City" Video


Click on the image above to view the video.
Last week, I had the pleasure of attending the Dana Point "State of the City" luncheon, hosted by the Dana Point Chamber of Commerce at the Laguna Cliffs Marriott.

During the luncheon, my office was pleased to present certificates of recgnition to the Chamber's 2018 Beautification Award winners: Harpoon Henry's, Coastal Kitchen, The Cove, and Bevmo.

In addition, Dana Point Mayor Richard Viczorek presented the State of the City address and the official 2018 video, highlighting the many things the make Dana Point the wonderful place it is to live, work and play.

Click here or on the image above to view the 2018 Dana Point "State of the City" video.

With Dana Point Chamber Board Chairman Jay Styles, Executive Director Bev Jorgensen, MNWD Direcor Duane Cave, and Mayor Richard Viczorek at the Dana Point State of the City.

OCWR Receives National Award for Excellence


The Prima Deshecha Landfill in San Juan Capistrano.
OC Waste & Recycling (OCWR) has received one of the waste industry's most important awards, the Solid Waste Association of North America (SWANA) 2018 Gold Award for Landfill Management Excellence of the Prima Deshecha Landfill in San Juan Capistrano.

The Prima Deshecha Landfill is a modern, multi-use resource recovery center that provides waste management services to the cities of south Orange County. In addition to the landfill for commercial and public waste disposal, it includes a Hazardous Household Waste Collection Center, a materials recovery facility and a natural habitat area.

SWANA's Excellence Awards Program recognizes outstanding solid waste programs and facilities that advance the practice of environmentally and economically sound solid waste management through their commitment to utilizing effective technologies and processes in system design and operations, advancing worker and community health and safety, and implementing successful public education and outreach programs.

Programs also must demonstrate that they are fiscally and environmentally responsible through their compliance with all applicable federal, state and local regulations.

The award will be presented at SWANA's annual conference, WASTECON, on August 22 in Nashville, Tennessee. Congratulations to OC Waste & Recycling!

For more information, please see the full press release. To view a video of our April 21 Earth Day event hosted by my office and OCWR at the Prima Deshecha Landfill, please click here or on the image below.

Click on the image above to view the video.

Don't Miss the 11th Annual Fête de la Musique!


Click on the image above to enlarge.

County Connections

OC Parks Summer Concert Series 2018


Click on the image above to view a PDF version.

OC Parks Sunset Cinema Series 2018


Click on the image above to view a PDF version.

New Interactive CrimeMapping Program

Residents in Orange County Sheriff's Department contract cities and unincorporated areas will be able to better track public safety issues in their neighborhoods with a recently launched software program that allows them to monitor and analyze criminal activity in their area.

In an effort to bolster community awareness and crime prevention, the Department has partnered with TriTech Software Systems to launch CrimeMapping – an interactive application that shares crime calls.

CrimeMapping will allow residents to search for 15 types of crime by address, landmark or zip code. Residents also will be able to sign up for custom-designed alerts and can create reports to easily analyze criminal activity near their homes, schools or businesses.

"OCSD provides exemplary public safety service to some of the safest areas in the country," said Orange County Sheriff Sandra Hutchens. "I hope CrimeMapping encourages the community to take an even more active role in working with us to increase the safety of our neighborhoods."

The data reflected on the mobile-friendly program is pulled directly from crimes reported to the Department and is updated every 24 hours. Although the information shared is preliminary, the program provides the public with important and timely information expected to increase awareness and create safer communities.

"The most common crimes our deputies respond to are crimes of opportunity - thefts from unlocked vehicles and residences," said Undersheriff Don Barnes. "We hope this tool reminds the community to take the initiative to take simple steps like locking vehicles and homes to reduce access for criminals hoping to take advantage of our safe neighborhoods."

Residents are encouraged to sign up for CrimeMapping alerts through the Sheriff's Department website at ocsd.org/crimemapping.

County Offers Free "Hands Only" CPR Training

Orange County residents are invited to take just 10 minutes out of their day this month and learn a skill that can save a life: Hands-Only Cardiopulmonary Resuscitation (CPR).

When an adult has a sudden cardiac arrest, the chances of survival are doubled – sometimes tripled – if he or she immediately receives CPR. Unfortunately, less than 1/3 of those who suffer from a cardiac arrest at home, work or out in the community receive this type of vital assistance. Many bystanders are worried they might do something wrong or make things worse by attempting to intervene because they haven't been empowered by appropriate training.

Participants can receive this training for free at several locations countywide thanks to a partnership between the Orange County Health Care Agency's OCEMS team and the American Heart Association. Attendees will learn how and when to use Hands-Only CPR, which is different from conventional CPR because it focuses on chest compression without the need for mouth-to-mouth breathing.

For a full list of locations, visit: www.healthdisasteroc.org/ems

OC Bus Youth Summer Pass for Half-Price

With an OC Bus Youth Summer Pass, kids can get out of the house and have a summer worth posting. A pass costs $20 and is valid for unlimited rides for 30 consecutive days between June 1 and Aug. 31.That's a 50 percent savings over the typical cost for a 30-day youth pass.

For the past 17 years, OCTA has provided a summer bus pass for ages 6 to 18 to help young riders discover affordable, convenient public transit. But kids aren't the only ones that like the freedom of having a set of wheels. Parents appreciate having a safe, reliable, affordable transportation alternative to being the family chauffeur.

The Youth Summer Pass can be used on any OC Bus fixed route, whether it's to get to the beach, a local shopping mall or to an amusement park. In addition to unlimited service on OCTA buses, Youth Summer Pass holders will also enjoy several discounts at local attractions.

As part of this year's promotion, OCTA is also offering prizes as part of a Summer Youth Pass photo contest. Simply hop on an OC Bus and take a selfie with your pass and post it using #OCSummerBus. Prizes for selected winners include tickets to Knott's Berry Farm and additional OC Bus passes to be used at a later date.

The Youth Summer Pass is on sale now through August 15 via the OC Bus mobile app, online and at participating Orange County Ralphs, Vons, or the OCTA Store. For more information, click here and here.

Critter Chronicles

Pit-Pit Hooray!


Click on the image above to view a PDF version.

Out and About in South County

Dana Point: Movies in the Park

Enjoy some of your favorite movies at Lantern Bay Park, 25111 Park Lantern in Dana Point every Friday in June from 8 PM to 10 PM. Popcorn is free and refreshments are available for purchase. For more information, visit the event website.

Laguna Beach: 11th Annual Fête de la Musique

The 11th annual Fête de la Musique, presented by Laguna Beach Sister Cities Association (LBSCA), is finally here! See the event flyer or visit the LBSCA website for more information.

Laguna Niguel: Summer Concert

Enjoy a wonderful night of music with family and friends at the Laguna Niguel's Summer Concert, featuring The Smokin' Cobras (Oldies - 50's, 60's and 70's) Friday, June 8 from 7 PM to 9 PM at Crown Valley Community Park. For more information, visit the event website.

Lake Forest: Summer Movies in the Park

Come to Lake Forest Sports Park on Friday, June 15 at 7:30 PM to enjoy The Lorax. Bring your family, friends, and a blanket!

RSM: Rancho Family Fest 2018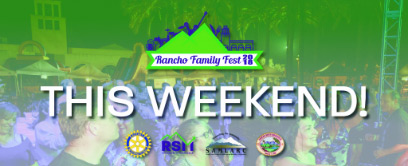 Rancho Santa Margarita is proud to present Rancho Family Fest! Enjoy a fun-filled weekend for the entire family, featuring Live Music & Entertainment, a Kids Fun Zone, Beer & Wine Garden, Multiple Food Booths, and much more! This signature summer celebration will be held Saturday, June 9 from 2 PM to 10 PM, and Sunday, June 10 from noon to 8 PM at Central Park. Skip the line and get your tickets in advance! For more information, visit the RSM Chamber website or see the event flyer below.

Click on the image above to view a PDF version.

San Clemente: The Art of Baja California

The opening reception for Casa Coastal: The Art of Baja California kicks off Friday, June 15 at 6 PM at Casa Romantica in San Clemente. Experience artwork inspired by Baja California and its rich culture, including live music, family-fun activities, artist meet-and-greets, and much more!

San Clemente: 23rd Annual Car Show

Enjoy the 23rd Annual Car Show in downtown San Clemente on Saturday, June 16 from 10 AM to 3 PM. The show is FREE to the public, featuring 300 quality cars, plus food trucks, vendors, and live entertainment. Hop on the FREE shuttle at San Clemente High School beginning 9 AM for a fun-filled day in historical downtown San Clemente. See the event website or flyer below for more information.

Click on the image above to view a PDF version.

This week I:

Participated in the Orange County Transportation Authority (OCTA) Executive Committee meeting.
Participated in the Orange County Transportation Authority Regional Planning and Highways Committee meeting.
Participated in a weekly call of California State Association of Counties (CSAC) officers.
Participated in the Orange County Board of Supervisors meeting.
Hosted the South County Job Fair.
Met with representatives from the Coto Conservancy.
Participated in the OCTA Environmental Oversight Committee meeting.
Met with representatives from OC Public Works for an update on County projects.
Met with new Director of the Office of Independent Review, Kevin Rogan.
Attended the Orange County Business Council (OCBC) Government Affairs Committee meeting.

Welcoming employers and job seekers to the South County Job Fair.

My Staff:


My Community Relations Advisor, Sergio Prince, presenting a certificate of recognition with Laguna Beach Councilwoman Toni Iseman (center) at the ribbon cutting for Laguna Beach Beer Company.

For questions or comments regarding Supervisor Bartlett's E-Newsletter please contact the Supervisor's office staff at: (714) 834-3550 or email my Community Relations Advisor, Sergio Prince, at Sergio.Prince@ocgov.com.