Fifth District Highlights

Going Home: Heartbreaker & Cabo Return to Sea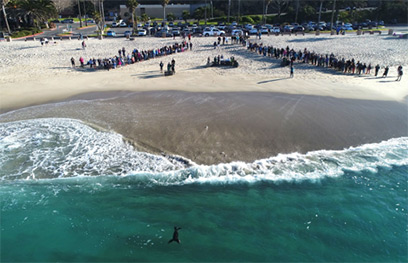 At Aliso Beach for the Pacific Marine Mammal Center release event.
Early last Saturday morning, I was honored to be at Aliso Beach to participate in the release of Heartbreaker, a northern fur seal pup, and Cabo, a California sea lion pup, that were rescued and rehabilitated by the Pacific Marine Mammal Center (PMMC).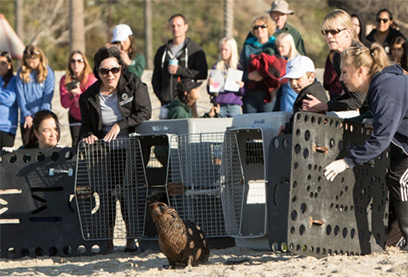 Heartbreaker wasted no time in heading out to sea!
As young Ryan Hickman and I opened their kennel doors, both pups peeked out, and then Heartbreaker took off, flippers flying all the way to the water as Cabo watched. Eventually, Cabo decided to head out, too, but chose to stay close to shore and play in the waves first.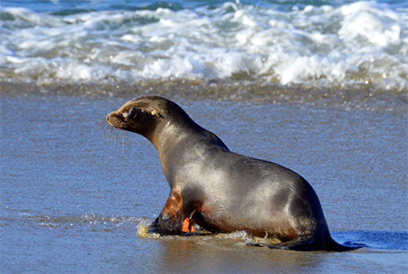 Cabo stops to look back at his PMMC rescuers before entering the ocean.
It was a truly joyful experience watching these beautiful animals return to sea, and I'm grateful to the Pacific Marine Mammal Center for inviting me to participate in this very special occasion. To view pictures of the release, visit the photo album or click on the video below.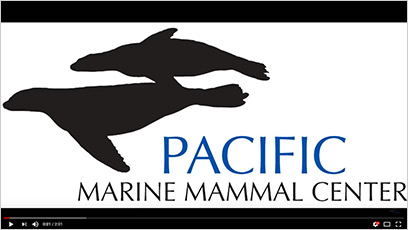 Click the image above to view the release event video.

Laguna Hills City Manager Bruce Channing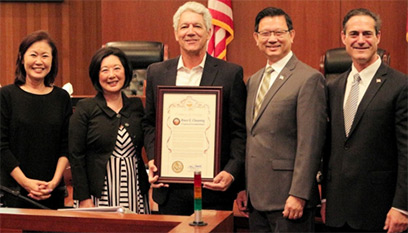 Presenting a retirement proclamation in honor of Bruce Channing (center).
At Tuesday's Board of Supervisors meeting, it was my great pleasure to present a proclamation to longtime Laguna Hills City Manager Bruce Channing, who officially retired last Friday after 26 years of outstanding service to the City.

Bruce was the first employee hired by the founding City Council, as he became the first City Manager of Laguna Hills, serving continuously since December 2, 1991.

Bruce guided the City through many major endeavors, including the start-up of the newly incorporated City, developing the 18-acre Laguna Hills Community Center & Sports Complex, completing two successful annexations to the City, overseeing the acquisition and renovation of the Laguna Hills Civic Center, maintaining the City's strong financial condition, upholding public safety as a top priority, and encouraging investment in the City's various retail centers, including Five Lagunas.

Bruce's stellar career in city management began over 40 years ago, as he also worked in the Cities of Santa Barbara, Santa Monica, Pasadena, and Yorba Linda, before beginning the new City of Laguna Hills.

Needless to say, Bruce has left a lasting legacy in Laguna Hills and will be greatly missed by the City and its residents, not to mention this Supervisor! To see the proclamation I presented to Bruce, please click on the image below.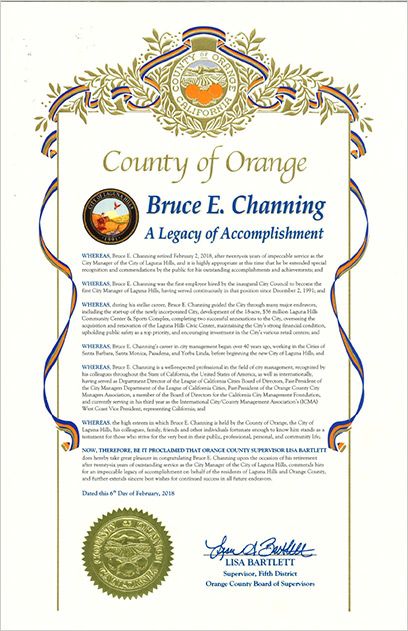 Click the image above to enlarge.

South County Resident on US Olympic Hockey Team


Orange County native and Fifth District resident, Jonathon Blum of Ladera Ranch, has been selected as a member of the U.S. men's hockey team at the 2018 Winter Olympics in Seoul.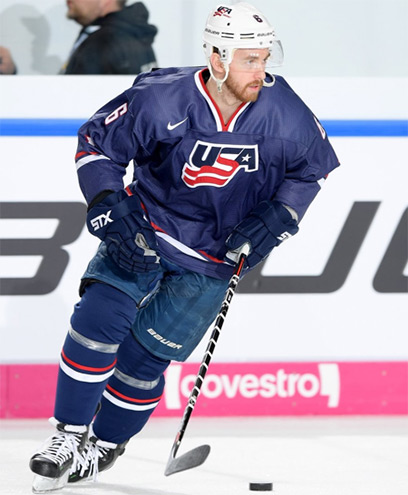 Jonathon started his professional hockey career with the Tennessee Predators, who selected him 23rd overall in the 2007 NHL draft, making him the first California native ever to be selected in the first round of the draft.

Jonathan has also been named CHL Defenseman of the Year and received the Bill Hunter Memorial Trophy, awarded to the WHL's top defenseman. Please join me in cheering for Jonathon and Team USA, as we watch our favorite winter athletes during the Winter Olympics.

OC Parks Initiates Firewood Policy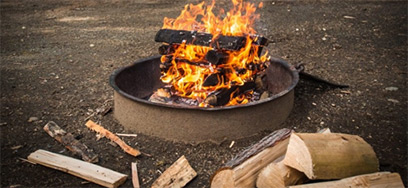 OC Parks is initiating a new firewood policy designed to reduce the risk of damaging Orange County's oak and sycamore woodlands and other trees from invasive pests.

Effective today, visitors to OC Parks' two camping parks, Caspers Wilderness Park and O'Neill Regional Park, both in the Fifth District, may no longer bring or burn outside firewood, unless it is commercially produced, heat treated and labeled "Pest Free" or "Safe to Move." This is due to highly invasive and destructive non-native insects that could travel in firewood and decimate local tree populations.

The Goldspotted Oak Borer (GSOB) and Polyphagous Shot Hole Borer (PSHB) are invasive pests contributing to ongoing tree mortality in California, and both have been found in Orange County. These pests and pathogens can easily be moved from place to place by hiding in firewood. Campgrounds around the state are taking steps to slow the spread of tree pests by limiting the movement of firewood.

Wood from shipping pallets, scrap lumber, tree trimming services, etc. is prohibited. Gathering of dead wood or other plant material within the park is not permitted.

Treated firewood bundles will be available for purchase at the park office of our camping parks.

Thank you for doing your part to protect the campsites you love and conserve our natural resources. To find out more about the pests and firewood, please go to:


DUI/Driver's License Checkpoints in Aliso Viejo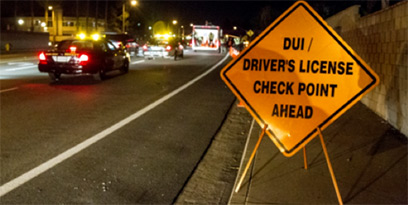 DUI and Driver's License Checkpoints will be conducted in Aliso Viejo to stop and arrest alcohol and drug-impaired drivers as part of ongoing traffic safety campaigns.

The checkpoint will be held from 7 PM on Friday, Feb. 9, to 3 AM Saturday, Feb. 10.

Drivers are encouraged to download the Designated Driver VIP, or "DDVIP", free mobile app for Android or iPhone. The DDVIP app helps find nearby bars and restaurants that feature free incentives for the designated sober driver, from free non-alcoholic drinks to free appetizers and more. The feature-packed app even has social media tie-ins and even a tab for the non-DD to call Uber, Lyft or Curb. Remember, if you see a drunk driver, call 911.

County Connections

Program of All-Inclusive Care for the Elderly (PACE)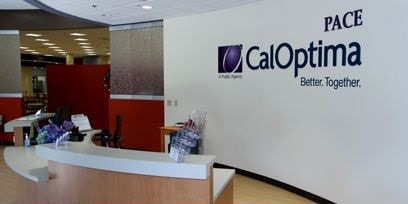 Dedicated to serving frail seniors, CalOptima's Program of All-Inclusive Care for the Elderly (PACE) is expanding through new partnerships with selected Community-Based Adult Services (CBAS) centers. With access to these centers, more seniors may join PACE and existing PACE participants will gain more options to receive adult day health care that suits their culture, location or medical condition.

Adult day services are an integral part of PACE, a community-based program launched in 2013 to deliver coordinated care that helps seniors with chronic health conditions live as independently as possible. The CBAS centers will function as satellite locations for the PACE program. The centers can provide most of the core PACE services, such as personal care, restorative therapy, recreational therapy, social services and more, while CalOptima's main PACE center in Garden Grove maintains responsibility for primary care and care planning.

After a thorough review of service quality, financial stability, operational capabilities and more, the following five CBAS centers qualified for partnerships:

Acacia Adult Day Services, Garden Grove
SeniorServ Anaheim Adult Day Health Care, Anaheim
SeniorServ Santa Ana Adult Day Health Care, Santa Ana
Sultan Adult Day Health Care Center, Anaheim

Pilot Phase of Restaurant Meals Program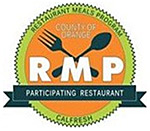 The pilot phase of the Restaurant Meals Program (RMP) officially launched February 1 in Orange County at participating restaurants in the cities of Anaheim and Santa Ana. Upon the launch, Orange County became the ninth county in California to offer this program to eligible participants.

The Restaurant Meals Program (RMP) allows elderly, disabled and homeless CalFresh recipients and their spouse to use their Golden State Advantage (EBT) card to purchase prepared meals from participating restaurants. RMP offers meal options for eligible CalFresh recipients who may not be able to prepare meals, have a place to store and cook meals, and/or have access to a grocery store.

In 2017, the Orange County Social Services Agency (SSA) worked with the State to obtain approval of the proposed plan. Upon plan approval in April 2017, SSA worked to develop the program, which included the development of a Master Memorandum of Understanding, recruitment of restaurants review of restaurant applications and staff training.

Additionally, SSA has been meeting with stakeholders, including presenting at the Homeless Provider Forum, to ensure that organizations that serve eligible RMP participants are aware of the upcoming program.

Nutrition and access to proper meals is one of the social determinants of health. The restaurant meals program will allow homeless individuals in Santa Ana and Anaheim to access hot prepared meals and improve their overall health.

For more information, including eligibility requirements for RMP, click here.

Restructured Commission to End Homelessness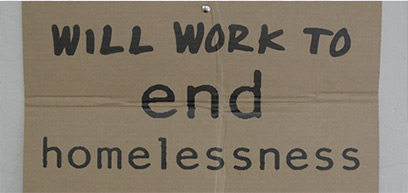 On January 23, the Orange County Board of Supervisors approved the formation of the newly restructured Commission to End Homelessness, representing a transition to a regional, systems-based approach to solving homelessness.

The previous commission dissolved effective January 31 and is followed by the formation of the new commission designed to better respond to current needs related to homelessness.

The new Commission to End Homelessness will work in collaboration with stakeholders across Orange County to focus on regional strategies to create systemic change to promote an effective response to homelessness within the county.

We value the input and contributions of our many partners participating in the commission as well as members of the public interested in solving homelessness. Homelessness is a complex issue and requires partnership among County and City governments, nonprofits, faith-based organizations, community members, and businesses.

The new Commission to End Homelessness will meet a minimum of six times per year, and each meeting will be open and public. Learn more about the County's efforts to address homelessness.

OC Food Establishments Awards of Excellence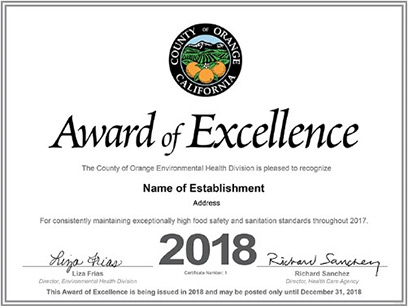 The OC Health Care Agency (HCA) has issued the 2018 Award of Excellence to 3,110 Orange County food facilities to recognize local businesses for their outstanding food safety and sanitation practices during 2017.

This annual recognition was created to provide an incentive for retail food businesses that consistently meet or exceed health and safety standards for food facility operations. In 1999, the first year of the program, 584 food establishments received the recognition. With increased outreach and improved compliance with food safety laws, the number of recipients has grown significantly since its inception.

Included in the Award of Excellence program are food facilities such as restaurants, catering establishments, meat/seafood markets, retail bakeries, supermarkets, supermarket/bakery combinations, and public and private schools with food production service. A complete list of all recipients and award criteria is available online.

HCA's Food Protection Program focuses on the inspection of retail food facilities in order to promote the safe and sanitary preparation and service of foods, prevent foodborne illness, and protect consumers from adulterated food products. For more information, visit www.ocfoodinfo.com.

OCTA Wilderness Preserve Naming Contest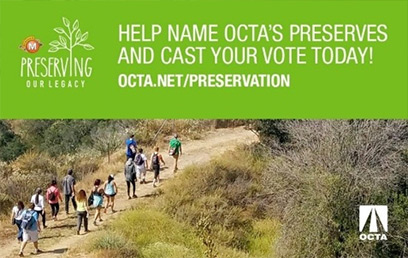 The Orange County Transportation Authority (OCTA) is looking for your help in renaming seven of our open space preserves to highlight the regional and environmental significances of each of our treasured preserves.

OCTA has successfully purchased seven properties that are permanently preserved as natural open space, totaling more than 1,300 acres of land. To learn more, check out the videos highlighting each property's natural resources and offering great views from every preserve.

Pick your favorite names and join us at OCTA's next hike Saturday, Feb. 24 at O'Neill Oaks in Trabuco Canyon to witness the unveiling of the new preserve names. Register here. The survey closes on February 16, 2018.

Everything About Waste Disposal and Recycling


Where does your trash go once it leaves your curbside? What kinds of waste should be kept out of landfills? What environmental controls are in place at landfills?

These questions and hundreds more are related to the management and disposal of solid waste, an essential public service and critical environmental utility provided by the County through OC Waste & Recycling (OCWR).

The people of OCWR play many different roles in delivering this essential public service to the residents and businesses in Orange County. They are skilled and talented professionals with expertise in a range of fields.

And they are public servants eager to share their knowledge and expertise, which is why the agency has launched a Speakers Bureau. If your HOA, community group or business is interested in learning about any aspect of waste management in OC, speakers are available free of charge.

It's easy, just look through the OCWR Speakers Bureau Directory, choose a topic and speaker, set a date, and that's it!

Want to know more? Email Ruth Wardwell, OCWR Strategic Communications Manager.

Critter Chronicles

Pet of the Week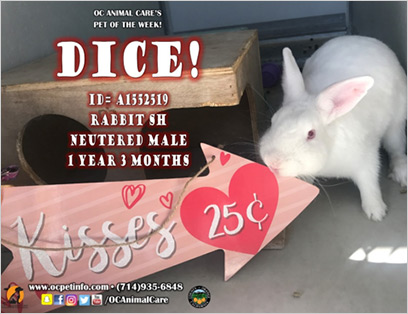 Click on the image above to view a PDF version.

Adopt a Shelter Rabbit Month

February is Rabbit Month at the Orange County Animal Shelter. For the entire month, all spay/neuter and microchip fees will be waived for rabbit adoptions! Hop on down to the shelter and find some bunny to love!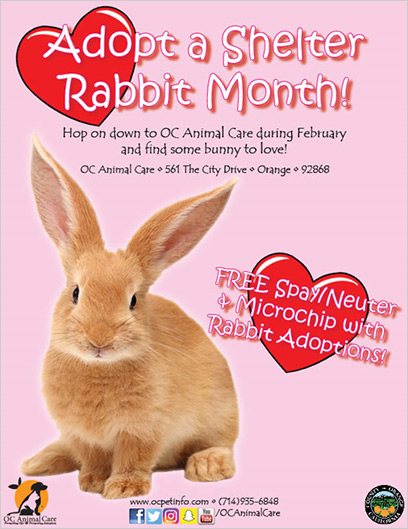 Click on the image above to view a PDF version.

Out and About In South County

Aliso Viejo: Free Health Care Clinic

Saddleback Church Aliso Viejo is hosting a free Healthcare Clinic for the public from 10:30 AM to 1:30 PM Sunday, Feb. 11. There will be blood pressure and blood sugar screenings as well as hands-on CPR first aid education and stroke awareness. Healthy snacks will be served. The event will be hosted at Aliso Niguel High School, 28000 Wolverine Way in Aliso Viejo

Laguna Niguel: Inaugural Senior Games

The City of Laguna Niguel is proud to present its first ever "Senior Games." The Opening Ceremony will be held Friday, March 9 at the Sea Country Senior and Community Center from 4 PM to 6 PM. Seniors 55 and older will compete in a number of sports, including billiards, table tennis, bocce ball, pickleball, soccer, and swimming Saturday, March 10 and Sunday, March 11. The registration fee is $10 for nonresidents and free for Laguna Niguel residents. See the event flyer for more information.

Lake Forest: Special Needs Valentine Dance

Come and dance with friends and enjoy refreshments at the free Special Needs Valentine Dance in Lake Forest! For fun, we will have a photo booth complete with crazy props! Everyone who wears red will receive a special giveaway. This event is Saturday, February 10 from 7 PM to 9 PM. There is no cost to attend.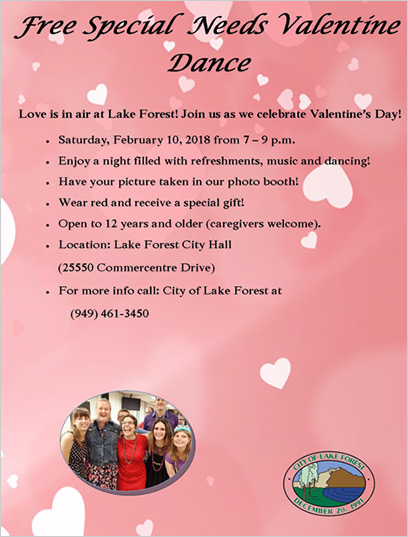 Irvine: OC Older Driver Mobility Training

Let's help make everyone safe on the road. If you work with the elderly or even have an older relative, sign up for this training course so you can help an elder stay safe and mobile. The training will take place on March 7 from 9 AM to 12 PM at the Alzheimer's Orange County Office. You must RSVP, as space is limited. See the flyer below for details.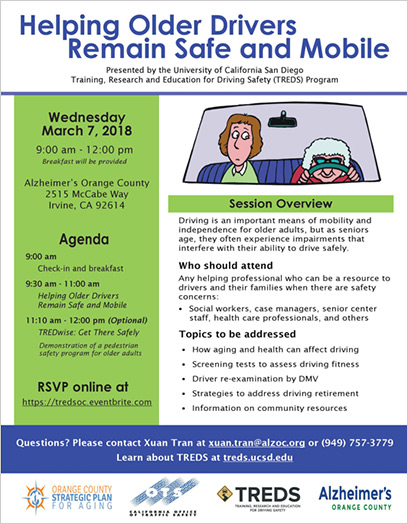 Click on the image above to view a PDF version.

Mission Viejo: Community Health Fair and 5k Run

Lace up your tennis shoes and get ready to take a trek along the Oso Creek Trail for a great cause of your choice Saturday March 3, 7:30 AM to 11 AM at the Norman P. Murray Community and Senior Center. The event is an extension of the annual Community Health Fair and in honor of the City's 30th anniversary celebration this year. Early registration ends at 4 PM February 24. Register before then and you'll receive an event T-shirt along with discounted fees. After that, the cost to participate increases. For more information, visit the event webpage Oso Fit Mission Viejo

San Clemente: Lunar New Year Celebration

Join Outlets at San Clemente for free family fun and entertainment featuring more than 50 performers from the Irvine Chinese School and San Diego-based Three Treasures Cultural Arts Society. Highlights include a Dragon Dance, interactive Lion Dance, martial arts demonstrations, arts and crafts activities, face painting, Red Envelopes, and more. See the flyer below for details.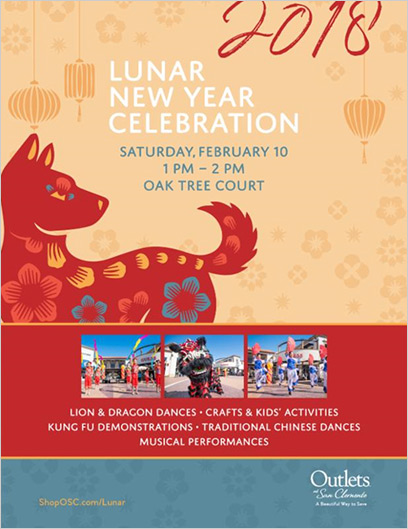 San Clemente: 90th Anniversary Celebration

Celebrate the City's 90th anniversary during San Clemente Day, Saturday February 24 from 9 AM to 6 PM, at the San Clemente Pier, Beach Club and historical sites. Enjoy FREE Trolley Rides, a Fishing Derby, Recreation Swim, Cake Cutting and Ice Cream Social. Historical luncheon at the Ole Hanson Beach Club $25. Register for the Derby and Luncheon online. Visit the San Clemente events webpage for more information

This week I:

Participated in the Pacific Marine Mammal Center release event at Aliso Beach.
Was interviewed by CNN regarding demographics of the County of Orange.
Participated in Orange Country Transportation Authority Executive and Regional Planning and Highways meetings.
Presented a County Update at the South Orange County Association of Mayors meeting held at the Ocean Institute in Dana Point.
Attended the Orange County Business Council's Annual Dinner and Installation of Officers.
Participated in a Discussion to End Homelessness with South County Elected Officials and City Managers in partnership with Orange County United Way and ACC-OC. More on this in next week's newsletter!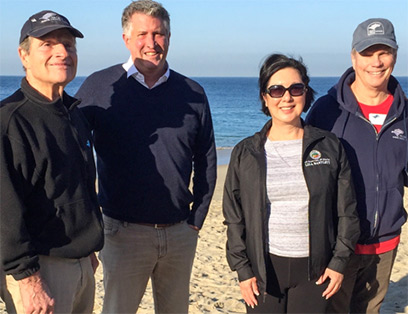 L-R: At the Pacific Marine Mammal Center's release event with PMMC Founder John Cunningham, PMMC Board President Jeff Meberg, and PMMC Release Coordinator Robb Mead.



At the PMMC release event with CNN Young Wonder, 8-year-old Ryan Hickman.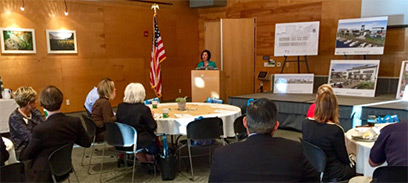 Presenting a County Update at the South Orange County Association of Mayors meeting.




In Laguna Hills speaking at the Discussion to End Homelessness with South County Elected Officials and City Managers. More on this in next week's newsletter.

My Staff:

Toured OC Public Works' Low Impact Development Project.
Presented a certificate of recognition at the Gold & Blue Veterinary Wellness ribbon cutting ceremony in Lake Forest.
Presented a certificate of recognition at the F45 Training Center ribbon cutting ceremony in Aliso Viejo.
Presented a certificate of recognition at the Shredz Gym ribbon cutting ceremony in Ladera Ranch.
Participated in the Homelessness Partners Meeting to address homelessness in the County.
Participated in the Orange County Community Coalition for Behavior Health meeting.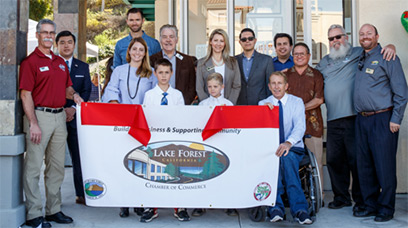 At the Gold & Blue Veterinary Wellness ribbon cutting with Lake Forest Mayor Dr. Jim Gardner, Mayor Pro Tem Leah Basile and Councilman Scott Voigts.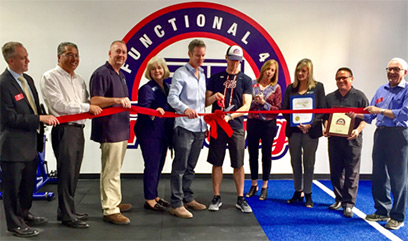 At the F45 Training Center ribbon cutting with Aliso Viejo Mayor Dave Harrington and Mayor Pro Tem Ross Chun.

Elected Officials in the Community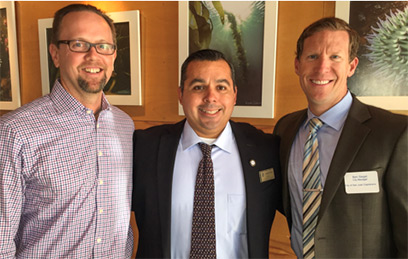 L-R: Ocean Institute President/CEO Dan Pingaro, San Juan Capistrano Mayor Sergio Farias and City Manager Ben Siegel at the South Orange County Association of Mayors meeting.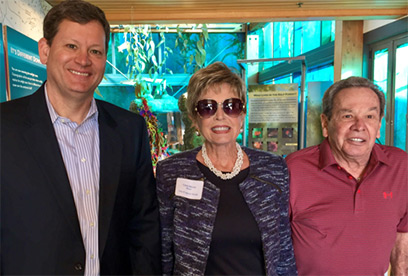 L-R: Laguna Beach City Manager John Pietig, Laguna Woods Mayor Carol Moore, and Laguna Beach Mayor Kelly Boyd at the SOCAM meeting.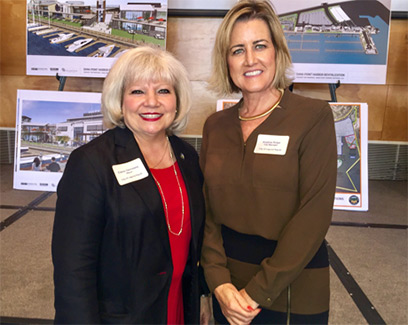 L-R: Laguna Niguel Mayor Elaine Gennawey and City Manager Kristine Ridge at the SOCAM meeting.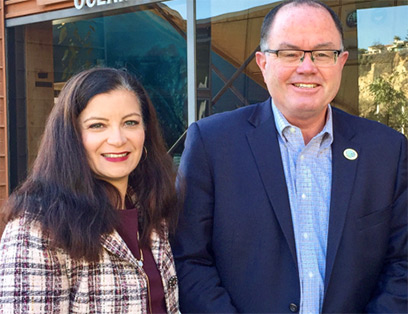 L-R: Rancho Santa Margarita City Manager Jennifer Cervantes and Mayor Mike Vaughn at the SOCAM meeting.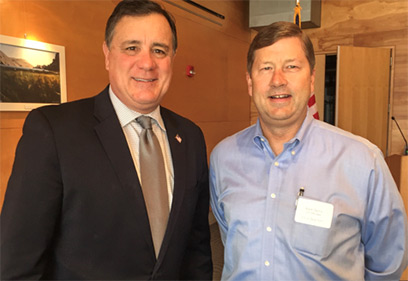 L-R: Irvine Mayor Don Wagner and Dana Point City Manager Mark Denny at the SOCAM meeting.

For questions or comments regarding Supervisor Bartlett's E-Newsletter please contact the Supervisor's office staff at: (714) 834-3550 or email Sergio.Prince@ocgov.com or Tanya.Flink@ocgov.com.