Fifth District Highlights

Together We CAN End Homelessness in OC!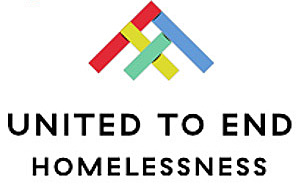 This week, I was pleased to join top leaders from Orange County's corporate, philanthropic, faith-based, government and non-profit sectors at UC Irvine for the official launch of "United to End Homelessness," a community-wide initiative led by Orange County United Way that will work to ensure integrated and sustainable solutions are implemented for people suffering from homelessness in Orange County.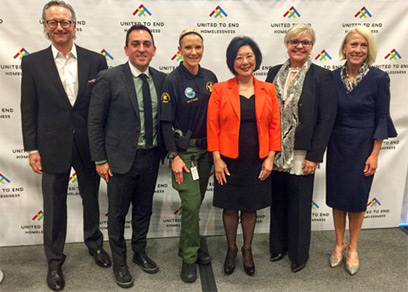 At the United to End Homelessness kickoff event at UC Irvine.
At the kickoff event, Orange County United Way CEO Sue Parks unveiled the United to End Homelessness Leadership Council that I'm proud to be a member of and includes executives from Disneyland, Angels Baseball, the Anaheim Ducks, Los Angeles Chargers, Kaiser Permanente, and Wahoo's, along with a host of influential local organizations, such as the Orange County Business Council, Association of California Cities – Orange County, UC Irvine, the Orange County Community Foundation, Apartment Association of Orange County, and the Hospital Association of Southern California, among others.

Our community has grappled with how to address homelessness, and the County has certainly made a lot of progress in creating our system of care; however, we need more permanent supportive housing to effectively solve homelessness. Working with the community to make this a reality is my top priority, and I thank United Way for leading this effort.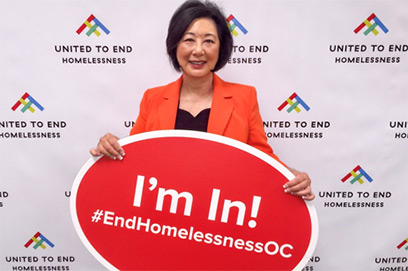 Orange County United Way's United to End Homeless Initiative plays a critical role in raising public awareness that long-term solutions to homelessness are indeed possible and together we can make this a reality. Community leaders are actively working to develop a plan that will create the permanent supportive housing needed in our County. The Association of California Cities is also playing an important role in bringing our cities together. Through these collaborative efforts, I have faith that together we CAN and WILL end homelessness in Orange County!

Please see the full press release for more information.

Don't Miss the 2018 South County Pet Expo!



Pets and their owners enjoying the 2017 South County Pet Expo.
This enormously popular third annual event is being presented by my office in partnership with the City of Lake Forest, The Pet Adoption Center of Orange County, and Mount of Olives Church – Mission Viejo. The Pet Expo will be held Saturday, March 10 from 10 AM to 2 PM in The Commons greenbelt area at Lake Forest Sports Park, 28000 Rancho Parkway, Lake Forest, CA 92630.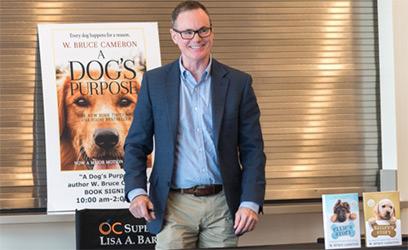 Bruce Cameron will be signing his books at the 2018 South County Pet Expo.
The 2018 South County Pet Expo is pleased to present special guest, W. Bruce Cameron, author of the New York Times Bestseller and major motion picture, "A Dog's Purpose," starring Dennis Quaid. Cameron, who recently finished shooting his latest movie, "A Dog's Way Home," starring Ashley Judd, will be at the Pet Expo to conduct a book signing for all attendees.

This family and pet friendly event will feature rescue groups with many loving animals available for adoption, fun and exciting canine demonstrations, local vendors providing all manner of pet products and services, as well as food trucks, music and entertainment.

As an added bonus, Mount of Olives Church – Mission Viejo will perform a special Blessing of the Animals for all pets present at the Expo! Overflow parking and shuttle service will also be available at Saddleback Church, directly across the street from the Pet Expo, at the parking lot on the corner of Portola Parkway and Purpose Drive.

We look forward to seeing you and your well-behaved pet (leashes required) at the South County Pet Expo! To view pictures of last year's event, see the photo album. For more information about the 2018 Pet Expo, please click on the flyer below.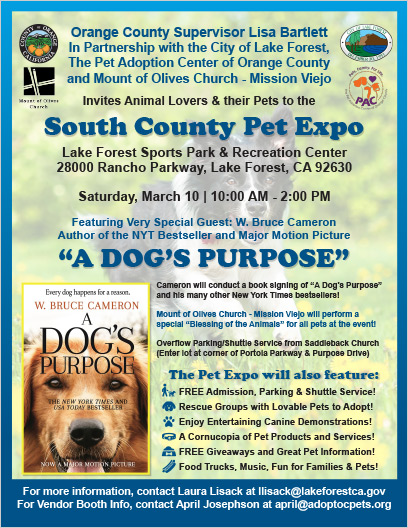 Click on the image above to view a PDF version.

Count Down of Final Weeks of I-5 Construction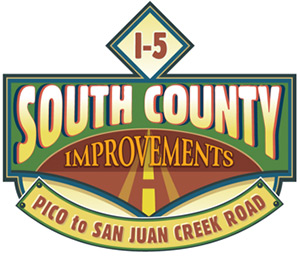 I'm pleased to report that work is finishing up on the I-5 South County Improvements Project, a $230 million widening of I-5 to extend carpool lanes from San Juan Capistrano to San Clemente that includes the complete reconstruction of the Avenida Pico interchange.

The project is approaching several milestones in the last few weeks of work. Here's a look by segment:

San Juan Creek Road to PCH/Camino Las Ramblas
Crews have finished placing the final cap of asphalt and are striping lanes into their final configuration on this section of the project, which is expected to wrap up early this month.
 
PCH/Camino Las Ramblas to Avenida Vista Hermosa
Crews are expected to remove debris along the median in the coming weeks to prepare this segment for final striping. The work is expected to finish up by mid-March.
 
Avenida Vista Hermosa to Avenida Pico
Final paving and striping has been completed on Avenida Pico, and the roadway is now in its final configuration, as crews will be finalizing signal timing and completing landscaping. On the freeway, crews still need to place final paving and striping, which requires nighttime temperatures of 50 degrees or higher. Work on this segment is scheduled to be completed soon.
 
Look for the carpool lanes to open up by mid- to late March. For more information or to sign up for construction alerts, visit here.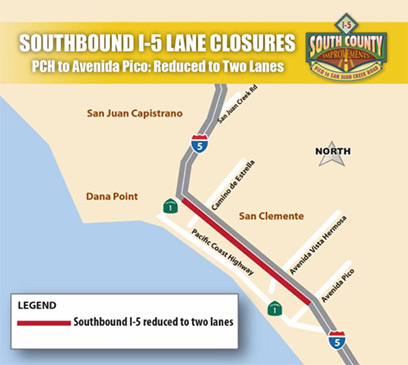 Targeting Distracted Driving in Mission Viejo


The Orange County Sheriff's Department Traffic Division will again launch a special enforcement effort Friday, March 2, to target distracted driving in the City of Mission Viejo.

Distracted driving is anything that takes your eyes or mind off the road, or your hands off the steering wheel – especially texting and cell phone use.

Cell phone usage is the most common distraction for drivers, but any other activities that pull a driver's focus from the road could warrant a citation. Although eating, applying makeup, reading directions, or driving with a pet in the lap are not illegal, if a law enforcement officer determines the practice is distracting enough to be dangerous, a driver may be cited.

The California Office of Traffic Safety offers these reminders to stay safe on the road and prevent collisions:

Never text and drive
Turn off your phone before you get behind the wheel
Don't text or call someone when you know they are likely to be driving
Make a pact with your family, spouse and caregivers to never use the phone with children in the car
Do not eat or drink while driving
Do not program your GPS, MP3 player or other devices while driving
If a phone call is necessary or you need reroute your map, pull over to a safe parking spot
Do not groom
Do not read
Do not watch videos
Try not to get too involved with passengers in your car
Finally, if something falls to the floor, pull over to a safe parking spot before trying to reach it

County Connections

HCA Issues Ocean and Bay Rain Advisory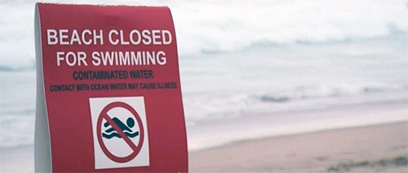 The Environmental Health division of the OC Health Care Agency advises swimmers that levels of bacteria can rise significantly in ocean and bay waters, close to storm drains, and the outlets of creeks and rivers during and after rainstorms. The elevated bacterial levels in the coastal ocean waters may continue for a period of at least 3 days depending upon the intensity of the rain and volume of the runoff. Swimmers should avoid Orange County coastal waters during this time, and beach users should avoid contact with any runoff on the beach.

Storm drains, creeks, and rivers carry floodwaters and urban runoff to the ocean. Urban runoff may include fertilizers, road oils, animal wastes, and litter. During and after rain events, discharges may contain large amounts of bacteria from a variety of sources such as animal wastes and decomposing vegetation. Sewage is not normally present in the storm runoff since the sewer system is separate from the storm drain system. In the event of a sewage spill, Environmental Health will quarantine the affected ocean or bay water area.

For information regarding Orange County ocean, bay, or harbor postings and closures, please call (714) 433-6400 or visit ocbeachinfo.com

Program of All-Inclusive Care for the Elderly (PACE)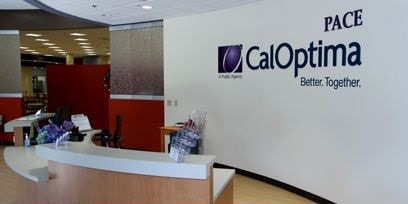 Dedicated to serving frail seniors, CalOptima's Program of All-Inclusive Care for the Elderly (PACE) is expanding through new partnerships with selected Community-Based Adult Services (CBAS) centers. With access to these centers, more seniors may join PACE and existing PACE participants will gain more options to receive adult day health care that suits their culture, location or medical condition.

Adult day services are an integral part of PACE, a community-based program launched in 2013 to deliver coordinated care that helps seniors with chronic health conditions live as independently as possible. The CBAS centers will function as satellite locations for the PACE program. The centers can provide most of the core PACE services, such as personal care, restorative therapy, recreational therapy, social services and more, while CalOptima's main PACE center in Garden Grove maintains responsibility for primary care and care planning.

After a thorough review of service quality, financial stability, operational capabilities and more, the following five CBAS centers qualified for partnerships:

Acacia Adult Day Services, Garden Grove
SeniorServ Anaheim Adult Day Health Care, Anaheim
SeniorServ Santa Ana Adult Day Health Care, Santa Ana
Sultan Adult Day Health Care Center, Anaheim

HCA Launches New "Every Woman OC" Website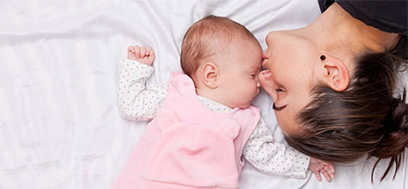 The OC Health Care Agency (HCA) in partnership with the Orange County Perinatal Council is proud to announce the launch of a new website with the goal of providing essential health information and resources to women who are considering pregnancy, pregnant, or in the postpartum period with infants through their first year of life.

Recognizing the need for reproductive age women to easily access accurate and up-to-date pregnancy and postpartum health information, the website was developed through the collaborative efforts of public and private partners.

Women in the preconception, prenatal, and postpartum periods can find information on medical services, nutrition and healthy weight, healthy relationships, substance use, the home and work environment and infant care. The website has rich content with national, state, and local resources pertinent to these and other topics. The content is also available online in Spanish.

Critter Chronicles

OC Animal Care's Pet of the Week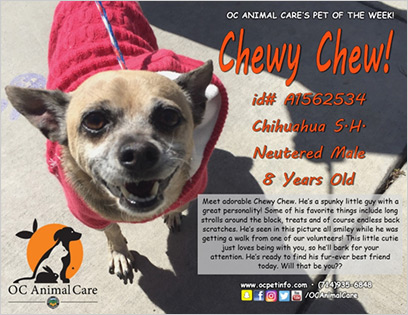 Click on the image above to view a PDF version.

Anaheim Ducks' Animal Care Day

Join the Anaheim Ducks for OC Animal Care Day! Meet shelter animals and donate gently used pet toys or pet food.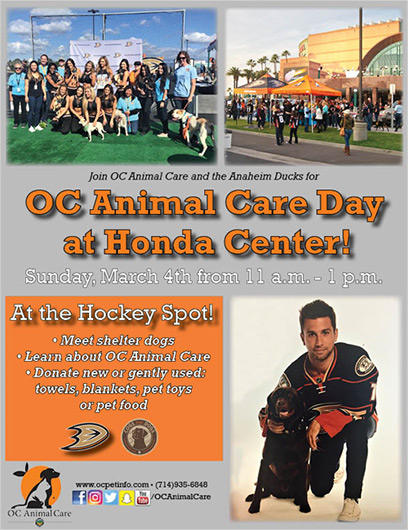 Click on the image above to view a PDF version.

Out and About In South County

Dana Point: Festival of Whales

Join the City of Dana Point - March 3 & 4, 10 & 11 - as we celebrate the annual migration of the Gray Whale with family friendly activities, including a parade and street fair, marine mammal lecture series, Ocean Awareness events, and delicious food over both weekends. Whale watching can also be done every day of the festival from a lookout point or on a boat. For more information, visit the event webpage or see the flyer below.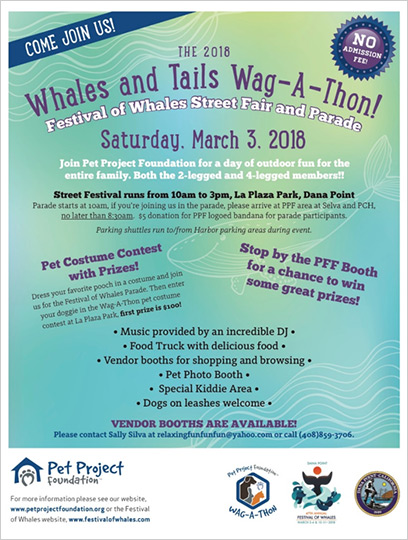 Click on the image above to view a PDF version.

Laguna Niguel: Inaugural Senior Games

The City of Laguna Niguel is proud to present its first ever "Senior Games." The Opening Ceremony will be held Friday, March 9 at the Sea Country Senior and Community Center from 4 PM to 6 PM. Seniors 55 and older will compete in a number of sports, including billiards, table tennis, bocce ball, pickleball, soccer, and swimming Saturday, March 10 and Sunday, March 11. The registration fee is $10 for nonresidents and free for Laguna Niguel residents. See the event flyer for more information.

Irvine: OC Older Driver Mobility Training

Let's help make everyone safe on the road. If you work with the elderly or even have an older relative, sign up for this training course so you can help an elder stay safe and mobile. The training will take place on March 7 from 9 AM to 12 PM at the Alzheimer's Orange County Office. You must RSVP, as space is limited. See the flyer below for details.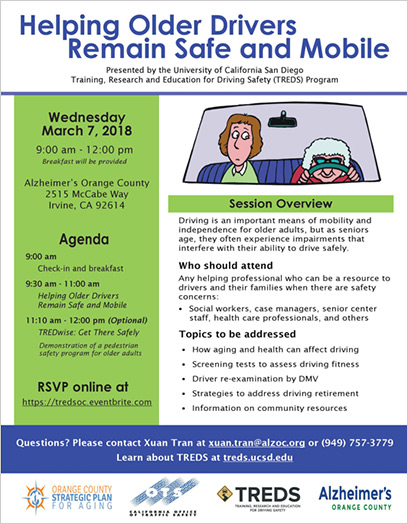 Click on the image above to view a PDF version.

Mission Viejo: What's Hurting Our Kids?

Please join us Wednesday, March 7, as we address serious issues affecting our kids and teens today. Keynote speakers will share insights, resources, and answer important questions to support children and families on various timely topics, such as the impacts of social media, social and academic pressures, identity issues, and much more. This important community discussion will take place from 7 PM to 8:30 PM at Mount of Olives Church in Mission Viejo. For more information, please visit the event webpage or click on the image below.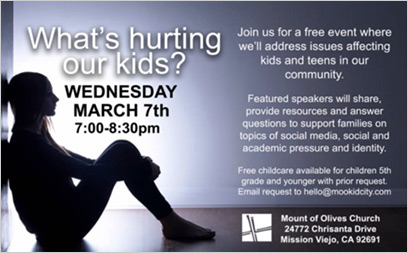 Click on the image above to view a PDF version.

San Juan Capistrano: The Ecology Center

On Saturday, March 3, The Ecology Center will be opening its doors from 10:00 AM to 4:00 PM allowing the community to participate in free DIY garden activities, marmalade tasting, a garden tour and opportunity to meet Executive Director, Evan Marks. The Ecology Center is located at 31701 Alipaz Street. For more information, visit The Ecology Center.

This week I:

Chaired the Orange County Transportation Authority (OCTA) Board of Directors meeting.
Participated in the Orange County Board of Supervisors meeting.
Participated in a meeting to discuss SONGS (San Onofre Nuclear Generating Station).
Attended Orange County United Way's "United to End Homelessness" kickoff event at UCI.
Provided a South County Update at the Laguna Niguel Chamber of Commerce Government Affairs Committee meeting.
Toured the Lido House Hotel in Newport Beach. The same development partners will be working on our Dana Point Harbor Revitalization.
Met with OC Public Works officials to discuss future County projects.
Met with behavioral health service providers to discuss services for youth.
Met with representatives of South Coast Water District.
Toured the new Orange County Animal Shelter in Tustin. The Grand Opening will be March 24. More on this in next week's newsletter!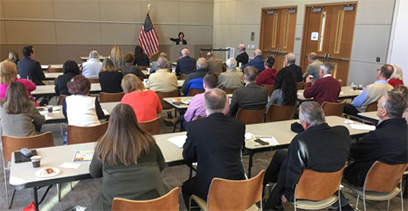 Speaking at the Laguna Niguel Chamber of Commerce Government Affairs Committee meeting.



L-R: With Laguna Niguel Mayor Pro Tem John Mark Jennings, Mayor Elaine Gennawey and Councilman Fred Minagar at the Chamber of Commerce Government Affairs Committee meeting.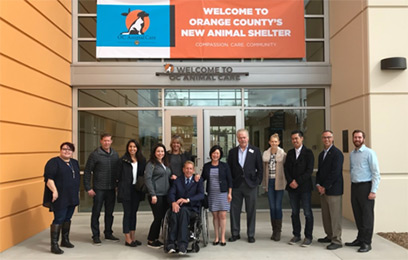 Touring the new Orange County Animal Shelter in Tustin with Lake Forest Mayor Dr. Jim Gardner, Councilman Scott Voigts, my office and County staff.

My Staff:

Met with representatives from the Aliso Creek Estuary on restoration efforts.
Attended the OCBC Advocacy and Government Affairs Meeting.
Attended the Orange County Faith Leaders Summit to work on addressing homelessness.
Presented a certificate of recognition at the TAPAS Flavors of Spain ribbon cutting ceremony in Mission Viejo.
Attended a meeting of the Dana Point Historical Society to present a proclamation to Keith Johannes in honor of receiving 2018 Pat Plepler Citizenship Award.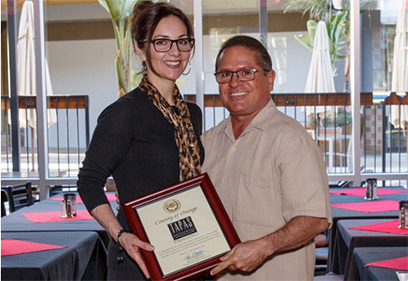 My Community Relations Advisor, Sergio Prince, presents a certificate of recognition at the TAPAS Flavors of Spain ribbon cutting in Mission Viejo.
(Photo courtesy of Ildiko Takata / TAKATA Photo & Design)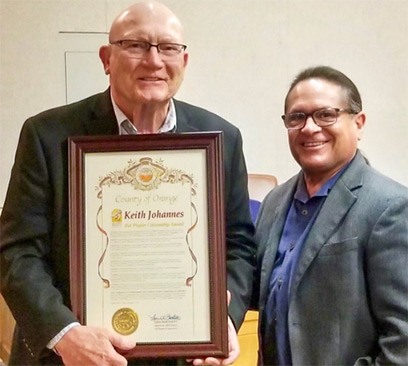 Presenting a proclamation to Keith Johannes at the Dana Point Historical Society meeting.

Elected Officials in the Community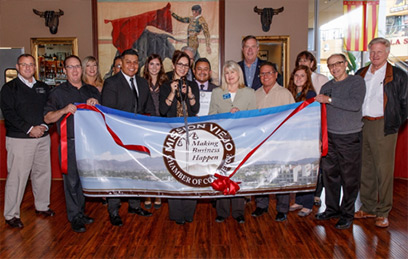 Mission Viejo Mayor Pro Tem Greg Raths and Councilwoman Trish Kelley at the TAPAS Flavors of Spain ribbon cutting.
(Photo courtesy of Ildiko Takata / TAKATA Photo & Design)

For questions or comments regarding Supervisor Bartlett's E-Newsletter please contact the Supervisor's office staff at: (714) 834-3550 or email my Community Relations Advisor, Sergio Prince, at Sergio.Prince@ocgov.com.