News and Updates



Huntington Beach Annual Fourth of July Parade

I had a fantastic time at the 118th annual Huntington Beach 4th of July Parade. My wife, Judge Cheri Pham, and I joined dozens of other parade participants in the largest 4th of July parade west of the Mississippi. Annually, the 2.5-mile route parade attracts over 500,000 attendees.
Thank you to the Parade Committee and the countless volunteers who made the parade enjoyable for everyone. And thank you to the courageous men and women who risk their lives every day to uphold our liberty and democracy.

4th of July Fireworks Spectacular at Joint Forces Training Base Los Alamitos

This year, as the new OC Supervisor for the City of Los Alamitos, I was proud to sponsor the 35th annual 4th of July Fireworks Spectacular at the Joint Forces Training Base Los Alamitos, in partnership with the cities of Los Alamitos and Seal Beach.
This family-friendly event was back in full swing this year with thousands in attendance to enjoy the live entertainment of the 40th Infantry Division Band, games, static displays, food, and of course, the best fireworks display in the area.
A big thank you to the Los Alamitos Community Services staff and all the soldiers and volunteers who ensured this year's event was the best ever!



OC Veterans Cemetery

On June 28, the OC Board of Supervisors unanimously approved the OC Cemetery District Business Plan for Phases 1A and 1B of the OC Veterans Cemetery at Gypsum Canyon in Anaheim Hills.
It's exciting to see this significant step move forward.
Phase 1A will focus on the infrastructure needed to access the site and Phase 1B will focus on the acres of manicured lawns for inground casket and cremation spaces as well as roads for access throughout the property.

Simultaneously in the evening, AB 1595, which will authorize the siting of a Veterans Cemetery in Orange County, passed out of the Senate Military & Veterans Affairs Committee.

In 2014, the County received approximately 2,500 acres of open space land as a donation from the Irvine Company, which included the property located adjacent to Gypsum Canyon Road in Anaheim Hills.

On December 4, 2018, then-Supervisor Todd Spitzer and I proposed transferring the property to the OC Cemetery District to be used as a joint civilian/veteran's cemetery. Our proposal won unanimous Board support.

On March 26, 2019, the Board unanimously adopted my proposed resolution to set aside 10% of all burial space in the public cemetery for those who served in the military or government of U.S. allied forces in the Korean and Vietnam Wars.

And just in March of this year, the Board unanimously approved Supervisor Wagner's proposal to set aside acreage for a section dedicated to the interment of sworn police officers and firefighters (First Responders) who have served the residents of Orange County for at least 10 years and for 50% of their careers.

It is both a privilege and an honor to be in a position where I can properly give back to those who have served us all so valiantly with a final resting place. Their sacrifices and selfless acts have given us the ability to enjoy peace and freedom. It is fitting, therefore, to develop, construct, and equip a state-owned and state-operated Southern California Veterans Cemetery in Orange County as soon as reasonably possible.



The VSO Offers In-Person or Virtual Appointments

Through a technology enhancement project funded through ARPA funds, the OC Veterans Service Office now offers an option allowing U.S. Veterans and their families to self-schedule and manage their virtual or in-person VSO appointments online.
The three service types available by appointment include:
In-person benefits claims processing

Virtual benefits claims processing

In-person veteran verification form for driver's licenses
For more information, call 714-480-6555 or send an email to ocvso@occr.ocgov.com.



A Day on the USS Nimitz

In celebration of Armed Forces Day in May, I had the honor of being a Distinguished Visitor Embark Guest of Vice Admiral Kenneth Whitesell, Commander Naval Air Forces, aboard the USS Nimitz Aircraft Carrier (CVN-68).
While aboard the USS Nimitz, I observed day and nighttime flight operations, enjoyed meals with the officers and crew, toured many areas of the ship, and saw first-hand drills on how to handle all manners of emergencies on-board.
As a Distinguished visitor, I received a rare first-hand look at life aboard an aircraft carrier and witness the pride and professionalism of the young men and women who serve our country at sea. It was a memorable experience I will never forget.
Watching the sailors in multi-colored shirts that designated the different responsibilities on the flight deck during the launching and recovery of aircraft, was truly amazing and awe-inspiring. The professionalism of the entire crew, including many who are still in their teens, renewed my respect for our military power and the men and women who work to defend our country.
Thank you to Vice Admiral Ken Whitesell and the entire crew for the warm welcome and unforgettable tour.
Our collective freedoms are protected every day by the brave members of our armed forces and the immense sacrifices they make. Thank you to all our service members and the amazing families that support them for all you do!



OC Approves $2.1 Million for Emergency Food and Water Storage

On June 25, the Board of Supervisors approved $2 million in ARPA funds to Abound Food Care for the purchase of food and water storage equipment in the event of a disaster or emergency.
Additionally, the Board unanimously voted to approve my proposal of $100,000 from the First District's allocation of ARPA funds for the purchase and support of blast freezers and related equipment as needed to properly preserve meals for kitchens in the First District that provide meals to our most vulnerable.
The pandemic increased an already existing food insecurity for many Orange County families. Through this funding, we are addressing food insecurity and combating food waste by providing extra storage where food can last longer.



Equity in OC Leadership Academy

On June 30, the OC Health Care Agency and the Office of Population Health & Equity wrapped up their first Community Health Improvement Leadership Academy at Freedom Hall. Over 250 participants from cross-sector community partners, including community-based organizations, grassroots organizations, and other community voices participated in this 3-day academy.
The information the County gained from each participant will better direct our public health efforts to advance the health and well-being of Orange County residents.
Each participant's generosity in sharing their experience and commitment to community service was crucial to the success of the academy. And what we learned over the course of 3 days will inform and shape the work that lies ahead for the well-being of our family, friends, and neighbors.



Disaster Relief Available for Businesses Affected by the Pipeline Oil Spill

Was your small business negatively impacted by the October 2021 pipeline oil spill?
The U.S. Small Business Administration is encouraging businesses and nonprofit organizations of any size to apply for SBA's Economic Disaster Loan of up to $2 million. This low-interest loan may be used to pay fixed debts, payroll, accounts payable and other bills that cannot be paid because of the disaster's impact.
For more information and access to the application:



CalOptima Hosts CalFresh Events

Last month, CalOptima hosted a CalFresh event in Garden Grove where approximately 1,500 community members were served, providing them with 700 snack bags, 225 boxes of diapers, and 375 boxes of food!
As the school year turns the corner, keep an eye out for more CalOptima efforts for back-to-school vaccination events!
If you have any questions, call CalOptima at 888-587-8088 or visit www.caloptima.org.



Families Together of Orange County Grand Opening

The First District Team had the pleasure of recognizing Families Together of Orange County for their new community health center in Fountain Valley.
This community center offers multi-specialties such as internal medicine, infectious disease, dermatology, mammograms, and more — all in one place. There are two other locations, one in Garden Grove and the other in Tustin. Families Together in OC clinics are deeply rooted in the communities they serve.
Congratulations to Dr. Sujata Lalla-Reddy and CEO Alexander Rossel on the opening of their new health center! Thank you for bringing quality healthcare to the First District!



License your Pet with OC Animal Care

One in three pets will get lost at some point in their life. Without ID, 90% won't make it home. A license tag provides a quick and accurate way of helping furry family members find their way back to you.
License your pet at https://ocpetinfo.com/license today and receive a brand new PetHub license tag!



Cypress Neighborhood Hero

It is my honor to celebrate Ms. Maureen Bradley from the City of Cypress as the First District's recipient of the Neighborhood Hero Award!
Nominated by her neighbor Gloria (left), Maureen (right) is recognized for her kind and caring heart. Inspired by her mother, Nicki, a former librarian and a 100-year-old WWII Navy veteran, Maureen installed a free lending library and named it "Nicki's Little Free Library" outside her home.
Maureen's lending library is filled with a variety of entertaining, educational, and diverse books for all ages. Parents bring their kids and sit on a bench in front of her home to read a book.
When Maureen is not caring for her mom or looking for books, she is a Skid Row Assessment Team Public Health Nurse for LA County.
Thank you, Maureen, for helping improve the quality of life for your community. You are a true Neighborhood Hero.
Unsung heroes are everywhere. It's time to recognize those making a positive difference in our community. If you know someone in your neighborhood who has gone above and beyond for others, please complete this short nomination form in the link below!
https://forms.gle/H9mS6wxp6iwQCWGM7



Garden Grove K-9 Support Dogs

The First District Team had the honor of meeting Garden Grove Police Department support dogs, Misha and Nellie, and their handlers, Officer Link and Officer Julienne, who were flown to Texas last month to provide emotional support to the Uvalde community after the horrific shooting at Robb Elementary School on May 24.
Misha, a four-year-old white retriever, and Nellie, an English black lab, were two of several support dogs at the Willie de Leon Civic Center that served as a counseling center for families, teachers, administrators, dispatch teams, officers, and community members who were in need of social-emotional support. They comforted many and shined some light into a dark time.
Misha and Nellie plan to return with their handlers to Uvalde this month to meet with other emergency responders and community members.

Retirement Luncheon for Cindy Spindle

Last month, the First District Team celebrated the retirement of Cindy Spindle from the Garden Grove Chamber of Commerce alongside several community partners. Under Cindy's leadership as CEO, the Chamber's membership increased, encouraging more businesses to interact with each other, and residents to shop locally. Best wishes on your next adventure, Cindy!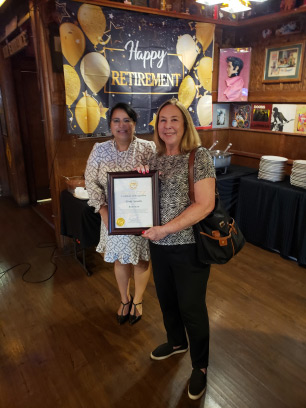 OC Amateur Radio Club

Last month, the First District Team visited the Orange County Amateur Radio Club W6ZE to observe their National Field Day event at Ocean View School District. They were one of over 6,000 volunteer groups that participated in the 24-hour event.
The Orange County Amateur Radio Club was founded in 1933 and is dedicated to the advancement of Amateur Radio or "Ham Radio."
Ham Radio operators provide a critical public service for our community during times of disaster. They establish reliable communications when the normal infrastructure is offline. Licensed by the Federal Communications Commission and trained in the art and science of radio communication and basic electronic theory, they own and maintain their own communications equipment and are prohibited by federal law from receiving payment for their services. They are trained to work with FEMA, the Red Cross, the Salvation Army, and many other entities. Their public service is easily extended to non-emergency civic events such as parades, marathons, and community festivals.
Thank you to all members for the critical public service role you play for our community during times of disaster and non-emergency civic events.
Click here for more information on the Orange County Amateur Radio Club

Free Lending Library Installation at Thomas House Garden Grove

Last month, the Thomas House Family Shelter in Garden Grove was the lucky recipient of a little free library book box from the Dynamite Book Club.
The Dynamite Book Club youth welded, painted, and stocked the lending libraries with donated books. Thank you for donating this gift of literacy to the families of Thomas House in Garden Grove. A special thank you to Catherine Hahn, Marta Rodriguez of Open Hands of Hope, and the awesome staff at Thomas House!



Little Saigon Night Market

If you're looking for a place to take your family and friends this summer for authentic Vietnamese cuisine and cultural performances, stop by the Asian Garden Mall!
Address:
9200 Bolsa Ave, Westminster, CA 92683
Date & Time:
June 17 - September 4 (Fridays - Sundays) | 7pm to 10pm

Los Alamitos July Park Events

Throughout the month of July, the city of Los Alamitos is hosting Parks Make Life Better— a month of fun activities for the whole family to enjoy!
Click here for more information.

Cypress Farmers Market

Looking for weekend plans? Swing by the Cypress Farmers Market to support small businesses AND buy the freshest produce! This certified farmers' market happens every Saturday — rain or shine.
Address:
Cottonwood Church Parking Lot - 4504 Katella Ave, Los Alamitos
Date & Time:
Saturdays | 9:00 am - 2:00 pm
Click here for more information on the Cypress Farmers Market.



St. Isidore Historical Plaza in Los Alamitos

Have you heard the latest news in Los Alamitos? St. Isidore Historical Plaza has been granted state AND national historical designation!
After a 23-year journey, the Los Alamitos community proudly celebrated this momentous occasion with an invocation led by Father Klunk from St. Hedwig's. Afterwards, St. Isidore members treated everyone to handmade tamales. St. Isidore is the oldest building in the City of Los Alamitos and the first building to receive the historical designation.
Next time you're in Los Al, make sure to stop by!
10961 Reagan St., Los Alamitos, CA 90720