News and Updates



OC Approves Office of Immigrant and Refugee Affairs

Orange County is taking steps to help local immigrants and refugees access government resources and services.
On Tuesday, April 25, Supervisor Doug Chaffee and I authored a plan that was unanimously approved by the Orange County Board of Supervisors to establish an Office of Immigrant and Refugee Affairs (OIRA) in Orange County.
My family and I came to this country as refugees. We know what it means – the struggles and hardships – to start your life over in a completely new place. This new Office of Immigrant and Refugee Affairs in Orange County will support incoming immigrants and refugees accessing existing services as they build a new home in Orange County. Through the OIRA, we want to assist new immigrants in assimilating into American life. Their success in the U.S. is the fuel in the fight for democracy, basic human dignity, and human rights around the world.
Click here to read the full press release.



48th Anniversary of Black April

April 30th marked forty-eight years since the Fall of Saigon.
More than 100,000 Vietnamese left their homeland on April 30, 1975, seeking freedom and renouncing communism in the most heroic way possible – with their lives. Hundreds of thousands of Vietnamese later fled by boat and on foot. Many perished at sea at the hands of pirates or in the wilderness.
April 30th, also known as Black April, serves as a solemn remembrance for those who gave their lives in defense and pursuit of freedom and democracy.
Orange County stands in solidarity and solemn reflection to honor the courage and selflessness of those who gave their lives in the fight for liberty, individual freedom, and basic human rights.



Dedication at Nixon Library

On March 29, National Vietnam War Veterans Day, the Nixon Library in Yorba Linda dedicated a bronze monument in honor of the 50th anniversary of when Americans last had boots on the ground.
My Chief of Staff, Van Tran, a Vietnam refugee who fled in 1975 during the Fall of Saigon, was at the ceremony amongst hundreds of U.S. veterans who served in the war. After the ceremony, Van had the opportunity to speak with one of the Vietnam War Veterans, Ronnie Guyer.



King Hùng Vương Commemoration Day Event at the Rose Center Theater

Van Tran, my chief of staff, attended the King Hùng Vương Commemoration Day event at the Rose Center Theatre in the City of Westminster.
This year marks the 4,902nd celebration of King Hung Vuong, the first head state to rule Vietnam. The first Hùng king was Kinh Dương Vương, who came to power in 2879 BC. The date honors contributions to the history of Vietnam.
Those who participated in the show engaged in traditional Vietnamese practices such as the dragon dance and a ceremony honoring ancestors. Events like this enrich our culture and help keep our traditions alive.



Garden Grove Community Coffee Recap

Earlier this month, my Director of Community Engagement Ofelia Garcia and my Field Representative Jack Du, provided a district update on County services and resources at the First District Garden Grove Community Coffee.
Here are some of the topics discussed:
– Affordable Housing and Permanent Supportive Housing
– Homelessness and the Central Cities Navigation Center
– Assistance Paying Utility Bills through CAPOC
– Recent Changes in CalFresh Benefits
Thank you to librarian Cyrise and the library staff for hosting us. If you missed the coffee and would like more information about the county, please contact my office at 714-834-3110.

Fountain Valley Community Coffee Recap

Thank you to everyone who stopped by our Fountain Valley Community Coffee at the Fountain Valley Branch Library to learn about the programs and services offered by the County and some of my current initiatives.
As soon as our event finished, parents began arriving with their children for Preschool Storytime. All county libraries offer Storytime once a week, where kids can listen to stories, rhymes, and songs and develop a lifelong love of reading. Visit ocpl.org/kids to learn about the various no-cost in-person and virtual programming offered for all ages.
Thank you to the head librarian, Zoe, and Mayor Kim Constantine for stopping by.



World's Largest Water Recycling Facility Ceremony in Fountain Valley

Last month, the OC Water District and the Orange County Sanitation District celebrated the completion of the final expansion to the world's largest water recycling facility, the Groundwater Replenishment System.
This facility produces 130 million gallons of water a day. That is enough water to serve nearly one million people in Orange County. My Chief of Staff Van Tran attended the ceremony to celebrate this milestone. This expansion maximizes water recycling efforts and provides a reliable, high-quality water supply, even during drought.
For more information on the project and to check out a time-lapse, visit: https://www.ocwd.com/gwrs/final-expansion/.



Meet and Greet with Rossmoor's New Captain

Van Tran, my chief of staff, met with Rossmoor's new Captain AJ Patella of the OC Sheriff's Department to discuss resident concerns.
Captain AJ Patella serves as the Chief of Police Services for North Patrol, which provides police services for the 72,212 residents of unincorporated Orange County. If you live in Rossmoor, Midway City, or any of the county unincorporated areas and would like more information on some of the services the North Patrol offers, please visit: https://www.ocsheriff.gov/patrol-areas/north-patrol.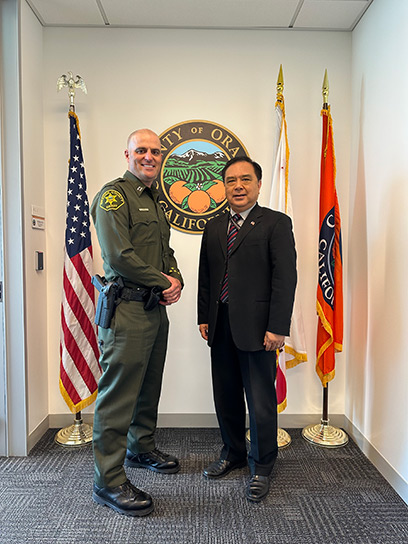 Marine Corps Recruiting Substation Westminster

The Marine Corps Recruiting Substation Westminster has received recognition as the West Recruiting Region of the Year 2022. To celebrate this tremendous feat, my District Representative, Jack Du, presented a certificate of recognition to Staff Sergeant Carrie Nguyen of the United States Marine Corps at Congresswoman Michelle Steel's District Office in Cypress.
Thank you to all who serve in our military and congratulations to Staff Sergeant Nguyen and her team for this achievement!



Los Alamitos Weekend of Art Sponsorship

Last month, I helped sponsor Los Alamitos' Weekend of Art event at their Community Center. Families enjoyed live performances, food and merchandise vendors, as well as an art exhibition by local artists. It is great to see events like this one where creativity is inspired.
I encourage everyone to check out their local city's recreation center for a list of spring activities.

California Distinguished Schools

Of 356 selected elementary schools, 38 are from Orange County, and 9 are in First District.
To congratulate these outstanding schools, my Chief of Staff Van Tran, my Director of Community Engagement Ofelia Garcia, and my District Representative, Jack Du, presented certificates of recognition to these schools.
Congratulations to all for your commitment to the future of our children.
- A. G. Cook Elementary School, Garden Grove Unified School District
- Ethan B. Allen Elementary School, Garden Grove Unified School District
- Margaret Landell Elementary School, Cypress School District
- S. A. Moffett Elementary School, Huntington Beach City School District
- Rossmoor Elementary School, Los Alamitos Unified School District
- Schroeder Elementary School, Westminster School District
- Jack L. Weaver Elementary School, Los Alamitos Unified School District
- Francis Hopkinson Elementary School, Los Alamitos Unified School District
- Plavan Elementary School, Fountain Valley School District



Take action today to keep your Medi-Cal

For more than three years, Medi-Cal beneficiaries were not required to re-verify their eligibility for the program. As of April 1, that changed.
To avoid having a coverage gap, make sure you have reported any changes to your name, mailing address, email address, and phone number so that a rep from the County of Orange Social Services Agency can contact you.
Then, look out for your renewal form in a yellow envelope. If you receive a form, submit your information within 60 days online, by phone, in person, or by mail to keep your Medi-Cal.
You can visit your Medi-Cal account at BenefitsCal.com or call SSA at 1-800-281-9799.
Take action today to keep your Medi-Cal!



@MommaLuesBakery (Huntington Beach)

Known for their comforting flavor and chewy texture, oatmeal cookies are a timeless classic. To celebrate national oatmeal cookie day last month and to support a small business, my office reached out @MommaLuesBakery and placed a special request for oatmeal cookies with a hint of chocolate chips. This local business creates custom cakes, sweets, and pastries for any occasion.
Remember, when you support a local business, you're also supporting your city and your neighborhood.

Dano's Pizzeria (Westminster)

Besides great pizzas, this small business features Argentine-style beef, chicken, or spinach empanadas, accompanied with chimichurri and hot mayo sauces.
Dano's Pizzeria opened in 2018 as a second location for the Bizaro family's primary empanada and pizza business. Their first restaurant, Empanada Man Pizzeria, opened over 20 years in Lake Forest by Omar Bizaro. Dano's Pizzeria is run by his son, Fred.
Address: 16505 Magnolia St., Westminster

Burtucci's NY Pizza (Huntington Beach)

This local business rolls their dough by hand and bakes all pizzas in their in-store brick oven. Next time you're in Huntington Beach, make sure to check them out!
Address: 7101 Yorktown Ave. Huntington Beach, CA 92648

Magnolia Café (Fountain Valley)

Magnolia Café in Fountain Valley has been in business since 1969 - one of the longest-running restaurant establishments in the First District. Joseph Babazadeh, pictured below, has owned and operated the restaurant since 2007. This local business offers a diverse menu that will satisfy any palate.
Address: 8988 Warner Ave, Fountain Valley, CA 92708