August 28, 2013
Volume 1

Issue 33

Orange International Street Fair Opens Aug. 30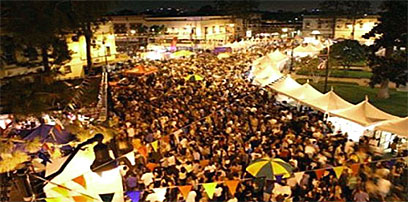 Courtesy Orange Police Department
(ORANGE, CA) The streets of downtown Orange will be filled with filled with people, bands, vendors and food for the annual Orange International Street Fair, which begins Friday, Aug. 30 and runs through Sunday, Sept. 1.

The three-day event allows local groups to get exposure and raise funds by selling food and crafts.

This year's theme is "Sweet on Summer," marking the 40th continuous year of the Street Fair.

There are 15 themed areas based on cultures – streets dedicated to food, beer and crafts from, for example, America, Mexico, England or Greece – as well as themed entertainment.

Typically, more than 300,000 people visit the Street Fair throughout the weekend.

"The Orange International Street Fair is a tradition in the City of Orange for more than 40 continuous years," said Supervisor Todd Spitzer. "The Street Fair is a great way for residents, friends and families to celebrate and finalize the official end of the summer."

For more information, visit orangestreetfair.org.

Irvine Valley College to Dedicate Veterans Service Center on Aug. 30

(IRVINE, CA) Irvine Valley College is hosting a dedication ceremony of its Veterans Services Center at 11 a.m. Friday, Aug. 30 at the campus, 5500 Irvine Center Dr. in Irvine.

The center is specifically committed to supporting the college's active service members, veterans, and military dependents. The ceremony will include both the ribbon cutting and dedication ceremonies.

"For Irvine Valley College to be recognized as a Military Friendly School for the third consecutive year, it shows the high regard the college has for military students," Supervisor Todd Spitzer said.

"The opening of the Veterans Service Center cements that dedication in offering a liaison between student veterans and the college to help student-veterans with serious issues and advising on many other common issues that veterans face in the transition from the military to college."

Third District Residents Graduate OC Sheriff's Citizens Academy

(SANTA ANA, CA) Nine residents of the Third District were recognized Aug. 27 with 27 other residents from the other four Supervisory districts as being the first graduates of the Citizen's Academy, hosted by the Orange County Sheriff's Department.

The Citizen's Academy was developed to provide participants with the opportunity to learn firsthand how the Orange County Sheriff's Department operates as an organization.

During the nine-week academy, participants met one night a week to take part in classes that consisted of lectures, discussions and demonstrations, with a goal of providing participants with a newfound understanding of the law enforcement profession.

The Third District resident graduates are: Karen Vaughn, Anaheim Hills; Tanya Revoir, Irvine; Raymond Leger, Tustin; Kathleen Leger, Tustin; Ryan Bent, Yorba Linda; Victor Cimorell, Yorba Linda; James Conniff, Yorba Linda; Tamer Kashou, Yorba Linda; and Denise Otterbach, Yorba Linda.

"Congratulations to these residents to took time to learn more about the intricacies of the law enforcement officers who serve and protect the community," Supervisor Todd Spitzer said. "Hopefully, they gained a greater understanding of how and why law enforcement officers make the split-second, critical decisions they do every day."

Todd Spitzer Urges Motorists to Drive Sober Over Labor Day Weekend


(SANTA ANA, CA) Law enforcement agencies throughout Orange County are participating in a nationwide drunk driving campaign through Labor Day weekend.

The "Drive Sober or Get Pulled Over" campaign, which began Aug. 16, includes DUI checkpoints and saturation patrols aimed at stopping suspected drunken drivers.

Supervisor Todd Spitzer encouraged those celebrating during the Labor Day weekend to make wise choices about alcohol consumption and driving.

"If you are buzzed, you cannot drive. You put yourself and others at risk," Spitzer said. "The fees associated with a DUI arrest can add up to $10,000 or more, as well as possible jail-time. Please consider having a designated driver, calling a taxi or having a friend or family member pick you up instead of getting behind the wheel of a car."

Tustin Appoints Interim Police Chief

(TUSTIN, CA) Tustin police Capt. Charles Celano was appointed as Interim Police Chief on Aug. 23. Celano replaced Scott Jordan, who retired on Aug. 20 after eight years as chief.

Celano has worked for the Tustin Police Department for the past 22 years. His most recent duties as Captain included overseeing the Community Policing Bureau, where he managed a command of 90 officers and was responsible for patrol operations, traffic, general investigations, gang suppression, and vice/narcotics enforcement.



Courtesy Tustin Police Department
Celano formerly oversaw the Administrative Services Bureau which included: community relations, professional standards, field support services, and operations support services.

"Congratulations to Interim Chief Celano on his appointment," Supervisor Todd Spitzer said. "Best wishes to him in his new duties and for his dedication to the City and its residents."

Placentia-Yorba Linda Unified Set to Begin Fall Semester; Motorists Asked to be Careful

(YORBA LINDA, CA) The 31 elementary, middle and high schools in the Placentia-Yorba Linda Unified School District begin the 2013-14 school year on Sept. 3. The school district is the second in the Third District to return to school.

The Orange Unified School District began on Aug. 21, the Tustin Unified School District returns on Sept. 4 and the Irvine Unified School District returns on Sept. 10

Supervisor Todd Spitzer encouraged motorists to be mindful of the higher volume of traffic around the schools.

"It is important that motorists in these areas plan their time accordingly," Spitzer said. "Leave for work earlier and try to be patient."

Todd Spitzer Seeks Third District Resident for OC Waste Management Commission

Supervisor Todd Spitzer seeks a Third District resident to serve on the Orange County Waste Management Commission to succeed the retiring John Beauman. The commission advises the Board of Supervisors on municipal solid waste management and on the operation and maintenance of County landfills and other County facilities related to solid waste disposal.

"It is critical that Third District residents are represented on this commission," Spitzer said. "The Third District is home to two of the three currently-operating County landfills and ten of the twenty closed County landfills and refuse disposal sites."

All Third District residents are eligible for appointment, except for representatives of the waste industry who are prohibited from holding the post. Each appointee serves a two-year term. The commission meets quarterly on the second Thursday of March, June, September, and December at 2 p.m. in Room 467 at the OC Waste & Recycling Headquarters, 300 N. Flower St.

Click here for the application
Click here to read more


Pet of the Week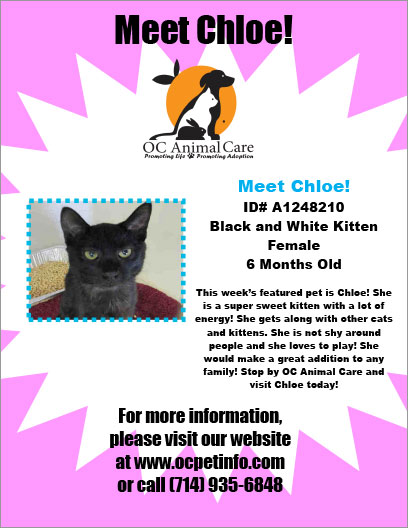 Click on the image above to view a PDF version.

Events Around The District

Anaheim
Computer Basics
10-11:30 a.m. Saturday, Sep. 7
Ponderosa Branch Library, 240 E. Orangewood Ave.

Orange
Star Wars Day
2-4 p.m. Saturday, Sep. 7
Orange Public Library, 407 E. Chapman Ave.

Irvine
Book Club Discussion – The Best American Short Stories of the Century
2:30-4:30 p.m. Tuesday, Sep. 3
Irvine Heritage Park, 14361 Yale Ave.

Villa Park
Stamp Club
noon-4 p.m. Sunday, Sep. 8
Villa Park City Hall, 17855 Santiago Blvd.

Silverado
Fire Explorer Program
6:30-9 p.m. Monday, Sep. 2
Modjeska Fire Station #16, 28891 Modjeska Canyon Rd.

Tustin
Business Banking Expo by Independence Bank
5-7:30 p.m. Tuesday, Sep. 10
Independence Bank, 17782 E. 17th St.

Yorba Linda
Stitchin' in the Stacks
5-7 p.m. Saturday, Sep. 7
Yorba Linda Public Library Fireplace, 18181 Imperial Hwy.




DISTRICT

STAFF
Martha Ochoa
Chief of Staff

Eugene Fields
Communications Director

Martin Gardner
Policy Advisor

Carrie O'Malley
Policy Advisor

Chris Nguyen
Policy Advisor

Christine Richters
Executive Aide



District Map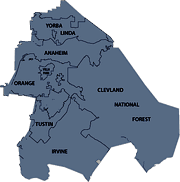 Anaheim, Irvine, Orange, Tustin, Villa Park, Yorba Linda, El Modena, North Tustin, Orange Park Acres, the Canyon Communities

Stay Updated!