November 21, 2013
Volume 1

Issue 45

Supervisor Spitzer Unveils Orange County Crime Victims' Memorial Design Finalists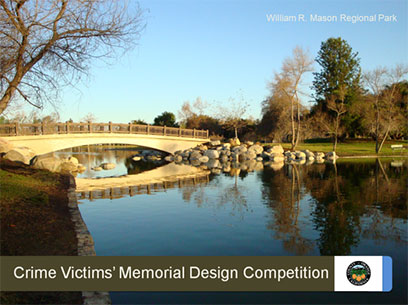 William R. Mason Regional Park in Irvine has been designated as the location for the Orange County Crime Victims' Memorial
On Tuesday, Supervisor Todd Spitzer publicly unveiled the five finalists for the design of the Orange County Crime Victims' Memorial.

"Victims' rights are civil rights, and the level of interest from designers from around the world is a huge statement of how victimization is an issue that affects all walks of life," Supervisor Spitzer said. "The Crime Victims' Memorial serves to pay tribute to crime victims and those touched by crime while providing a feature that complements the landscape of the park."

The Board of Supervisors and OC Parks announced the Crime Victims' Memorial Competition in April during National Crime Victims' Rights Week after Supervisors selected Mason Regional Park in Irvine to house the memorial. The competition was open to any person who wished to submit a design proposal. Fifty-nine entries were submitted, with 42% of the proposed designs coming from outside the United States, including from Australia, China, Japan, Mexico, Sweden, the United Kingdom, and Yugoslavia.

The OC Crime Victims' Memorial judging panel chose five finalists from the 59 different entries. The five selected designs were created by:

Man-Foon Chu of Bellevue, Washington
Joaquin Ochoa of Mexico
Ivan Juarez of Mexico
Marija Cvejic of Yugoslavia
Jason Zerafa of New York, New York
The designers' names and locations were not known to the OC Crime Victims' Memorial judging panel until after the finalists were selected.

Chu, Ochoa, Juarez, Cvejic, and Zerafa will each submit detailed design documents in plan and elevation view, logo design, and an optional materials board by Thursday, January 30, 2014. Those submissions will then be publicly exhibited in February and March 2014. The winning design will be announced during National Crime Victims' Rights Week in April 2014.

Supervisor Spitzer's PowerPoint presentation, including slides depicting each of the five designs, can be viewed in PDF form here.

OC Parks has constructed a web site to enable public comments on the finalists' designs to be submitted to the OC Crime Victims' Memorial judging committee here.

A map of Mason Park is available here, with a more specific map of the site available here.

The original 59 entries can be viewed here.

Supervisors Approve Plan to Improve Assessment Appeals Process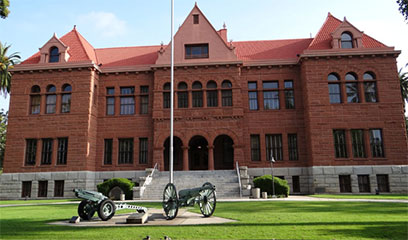 Adopting one of the best practices suggested by the California State Board of Equalization, the Board of Supervisors this week approved a proposal to improve the process for assessment appeals in Orange County. An assessment appeal is filed when a taxpayer disagrees with the amount the Assessor has appraised a home or business for property tax purposes.

"It is critically important to protect the right of taxpayers to appeal decisions of the Assessor," Supervisor Todd Spitzer said. "This includes ensuring the most efficient process possible to allow appeals to be heard in a timely fashion."

20,000 people file assessment appeals in Orange County every year. State law mandates that hearing notices arrive in appellant's homes 45 days before the hearing. In Orange County, the Clerk of the Board sends out hearing notices 60-70 days before the scheduled hearing.

Under the new process approved this week, a reply card will be added to the hearing notice, which appellants must return to confirm their attendance on the date proposed in the hearing notice.

Under the old process, 30%-40% of people requesting assessment appeals hearings did not appear. In many cases, these people had determined that their appeal was not worth pursuing after conducting research that found their tax savings would be minimal or that their property values were accurately assessed, but they did not bother to cancel their hearing. In other cases, people simply forgot that they had scheduled an assessment appeals hearing.

By adding the reply card, the newly-approved process will reduce the number of people who "no-show" at an assessment appeals hearing, which will allow taxpayers to have their appeals heard sooner. With the reply card, taxpayers who are no longer interested in appealing (either by not returning their reply cards or by replying that they are not interested in continuing their appeal) will be removed from the hearing schedule. This will allow the Clerk of the Board to schedule hearings in a more efficient manner for taxpayers who do wish to continue to pursue their assessment appeals.

For more information about the assessment appeals process, visit the Clerk of the Board's web site here.

Volunteers and Donations Sought for County of Orange's Armory Emergency Shelters


(Portions courtesy of OC Community Services)

Every year, the County of Orange contracts with Mercy House Living Centers, Inc. to operate and provide services for the County's Armory Emergency Shelter Program. The shelter at the Fullerton Armory opened last week and the shelter at the Santa Ana Armory will open on Monday, December 2.

"I thank the staff at OC Community Resources and Mercy House for their dedication to helping the homeless," Supervisor Todd Spitzer said. "As a County, we must work to find more solutions to the problem of homelessness in our community."

The Armory Program provides a safe place to sleep and shelter from the winter weather, along with hot meals, showers, clothing, blankets, and other supportive services to approximately 400 homeless people per night.

The success of the Armory Program is largely due to the collaborative efforts of County agencies, the State of California's Army National Guard, the participating cities of Fullerton, Santa Ana, and Anaheim, churches, nonprofit agencies, and dedicated individuals who generously volunteer their time.

Volunteer opportunities include: helping the homeless to sign-in, distributing blankets or clothing, serving food, as well as setting up and/or cleaning up. Individuals interested in volunteering can contact Irene Mendoza of Mercy House at IreneM@mercyhouse.net.

Donations of gently used and new items to the Armory Program can be dropped off Monday through Thursday from 5:00 PM-8:00 PM from December through March at the two armories:

Fullerton Armory, 400 S. Brookhurst Rd. (Corner of Brookhurst Rd. and Valencia Dr.)
Santa Ana Armory, 612 E. Warner Ave. (Between Main St. and Grand Ave.)
For more information on the Armory Emergency Shelter Program, visit Mercy House's website at www.mercyhouse.net. For any other questions about homeless issues, contact OC Community Services Director Karen Roper at (714) 480-2805 or karen.roper@occr.ocgov.com.

John Wayne Airport Offers Thanksgiving Travel Tips

(Portions courtesy of John Wayne Airport)

In anticipation of one of the most heavily traveled holiday periods, John Wayne Airport offers travel tips to help passengers prepare for a safe and enjoyable holiday. Passengers traveling through John Wayne Airport between Friday, November 22 and Monday, December 2 will experience higher-than-normal passenger traffic due to the Thanksgiving holiday.

"The day before Thanksgiving is the busiest travel day of the year," Supervisor Todd Spitzer said. "By following these Thanksgiving travel tips, passengers will be able to get more quickly to their destinations and reduce the stress of the holiday."

KeepOCSafe is a partnership between the County of Orange, the City of Anaheim, the City of Santa Ana, and the U.S. Department of Homeland Security. The County, through KeepOCSafe and John Wayne Airport, encourages travelers to be more aware of their surroundings and to report questionable objects or activities. A Giant Red Backpack (pictured below) will be on display in the Thomas F. Riley Terminal throughout the holidays to remind passengers and visitors: "If You See Something, Say Something™."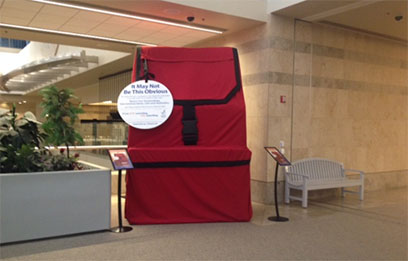 Travel Tips for Passengers and Visitors:
Arrive 90 minutes to two-hours before the flight departure time to find parking, check luggage and go through the security checkpoint. Passengers who are members of TSA Precheck can expedite the screening process in Terminals A, B (morning only) and C.
Drivers picking up passengers at the Airport are encouraged to utilize 2-hour parking spaces, located on the lower level of Parking Structures A1, B2 and C.
Passengers are allowed one small carry-on bag plus one personal item as long as the carry-on bag fits airline dimensions. Check with your individual airline for specifics.
Parking Options at JWA:
Curbside Valet Parking for $30 per day, is located on the Departure (upper) Level between Terminals A and B, or in front of Terminal C.
Parking Structures A1, A2, B2 and C are located adjacent to and directly across from the Riley Terminal at a rate of $20 per day and $2 per hour with the first 15 minutes being free for those dropping off and picking up passengers. Access to terminal parking structures is available from the Departure (upper) Level only.
Off-site Main Street Parking Lot located at 1512 Main St., Irvine for $14 per day with free shuttle service to/from the Terminal every 15 minutes.
For parking availability call 949.252.5200 or for directions to JWA, visit: http://www.ocair.com/parking/rates.aspx.
Know Before You Go from TSA and CBP:
Review Transportation Security Administration (TSA) Travel Tips to become familiar with what items are prohibited, including the 3-1-1 rule for liquids in carry-ons.
International travelers should check the U.S. Customs & Border Protection (CBP) website to ensure they have appropriate documentation for traveling to and from the United States. Visit http://cbp.gov/xp/cgov/travel/vacation/ to learn more. Note: Passengers who are members of the Global Entry Trusted Traveler Program will be able to expedite their Customs clearance into the U.S. at John Wayne Airport. Those passengers traveling to and from Canada will clear Customs in Canada before returning to the United States.

Third District Forum on Conditions of Children in Orange County Report Set for December 3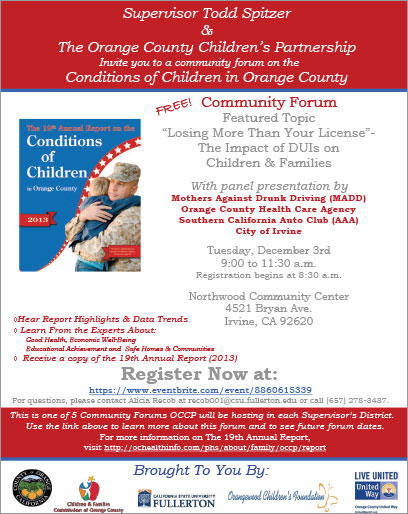 Click on the image above to view a PDF version.

Click here to register.

Pet of the Week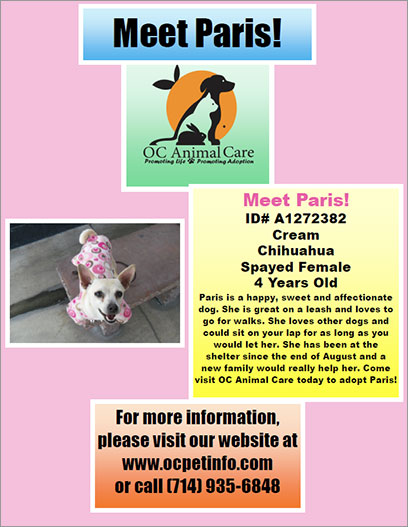 Click on the image above to view a PDF version.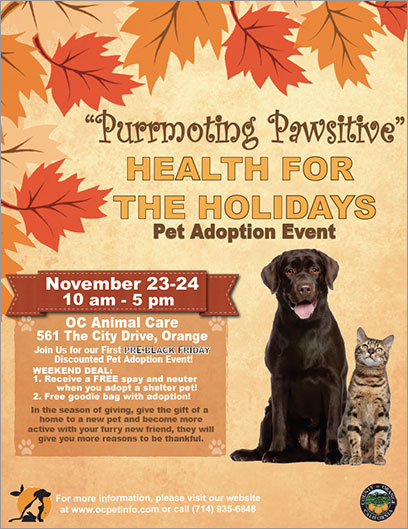 Click on the image above to view a PDF version.

Events Around the District

Anaheim
Family Story Time and Thanksgiving Craft
Saturday, November 23, 2013, 11:00 AM
East Anaheim Library, 8201 E. Santa Ana Canyon Rd.

Irvine
38th Annual Staser Fall Scholastic Chess Tournament
Saturday, November 23, 2013, 10:00 AM – 4:30 PM
Orange County Great Park

Orange
Free Practice SAT
Saturday, November 23, 2013, 10:00 AM – 2:00 PM
Orange Public Library & History Center, 407 E. Chapman Ave.

Silverado
Mountain Music Jam Up Black Star Canyon Road
Friday, November 22, 2013, 6:00 PM – 8:00 PM
End of Black Star Canyon Rd. by Metal Gate and Giant Sandstone Formation

Tustin
Tustin Ranch Road Extension Opening Ceremony
Saturday, November 23, 2013, 9:00 AM – 11:00 AM
Tustin Ranch Rd. Bridge Over Edinger Ave. (Enter off Walnut Ave. at Tustin Ranch Rd.)

Villa Park
OC Sheriff's Department Presentation: Protect Yourself from Fraud
Wednesday, December 5, 2013, 5:00 PM – 7:00 PM
Villa Park City Hall, 17855 Santiago Blvd.

Yorba Linda
Free Country Concert with the Doo-Wah Riders
Thursday, November 21, 2013, 6:30 PM – 7:15 PM
Yorba Linda Public Library, 18181 Imperial Hwy.




DISTRICT

STAFF
Martha Ochoa
Chief of Staff

Martin Gardner
Policy Advisor

Carrie O'Malley
Policy Advisor

Chris Nguyen
Policy Advisor

Christine Richters
Executive Aide



District Map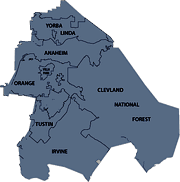 Anaheim, Irvine, Orange, Tustin, Villa Park, Yorba Linda, El Modena, North Tustin, Orange Park Acres, the Canyon Communities

Stay Updated!