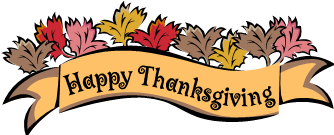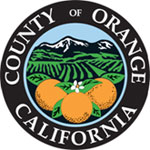 Board Selects IT Contractors

The Board held a special meeting on Tuesday to select contractors for the County's Information Technology equipment, specifically computer services (Scope 1) and phone services (Scope 2). By a 4-1 vote, the Board directed staff to negotiate with SAIC as the primary vendor and HP as the secondary for Scope 1. In addition, Supervisors unanimously approved the County staff recommendation to negotiate with Xerox as the primary and Verizon as the secondary vendor for Scope 2 services. Staff will return to the Board of Supervisors at a later date for approval of the negotiated contracts.

Below, please view the IT process timeline and the presentation received by the Board.

IT Timeline

IT Slideshow
---


AQMD Leaf Blower Exchange

The South Coast AQMD is conducting a leaf blower exchange program through which professional gardeners or landscapers can trade in their old (but operational) backpack leaf blower to get a new STIHL BR 500 leaf blower for only $200. This is the powerful low-noise 65 dB(A), low-emissions model with a suggested retail price of $469. Up to ten blowers per business can be exchanged.

The program is only available to professional gardeners and landscapers who live and work within the South Coast AQMD's four-county jurisdiction. This includes most of Los Angeles County (excluding the Antelope Valley), all of Orange County, almost all of Riverside County and the non-desert portion of San Bernardino County. For more information, please visit the AQMD Leaf Blower Exchange page.
---


OCCOG Meeting

The Orange County Council of Governments failed to achieve quorum at yesterday's Board of Directors meeting, postponing votes on any agenda items. However, the members present received an update on the expansion of the Fourth Supervisorial District Bikeways Collaborative to the First and Second Districts, which will include 13 cities and the County of Orange. Below, please see a copy of the presentation.

The next scheduled meeting will be Thursday, January 24, 2013 at 10:30 am in the Orange County Transportation Authority headquarters – 600 South Main Street, Orange 92868.

OCCOG Slideshow
Veterans Day - Downtown Anaheim

Supervisor Nelson partnered this year with Anaheim Mayor Tom Tait to deliver their appreciation to America's heroes at this year's Veterans Day festivities. Supervisor Nelson spoke of his personal connections to city of Anaheim military members in Marine Cpl Claudio Patino and Army SSGT Marc Arizmendez who lost their lives in the first weeks of his taking office in 2010. Nelson formally honored their parents and armed forces partners overseas with his 'Cigars for Heroes' event where cigars were sent to forward combat bases.

This year's event guest speaker was Major General (Retired) John S. Harrel. Major General Harrel's active military service began in June of 1975 after receiving his commission as a second lieutenant through the United States Marine Corps Platoon Leaders Course. He progressed through a variety of assignments, and completed his service in the USMC as a company commander at Marine Barracks, NAS Alameda. Major General Harrel transferred to the California Army National Guard in 1980, entering service as S-2, 1st Brigade, 40th Infantry Division, and held positions of progressing responsibility with commands. Major General Harrel's awards and decorations include the Legion of Merit (2 Oak Leaf Clusters); Meritorious Service Medal (3 Oak Leaf Clusters) and the Army Commendation Medal (2 Oak Leaf Clusters); the Kosovo Campaign Medal, and the Ukraine Order of Merit.

For more information on the Veterans Day Celebration and the City's Veterans Working Group and Resource Center, please click here. For more information on the City of Anaheim, please visit www.anaheim.net.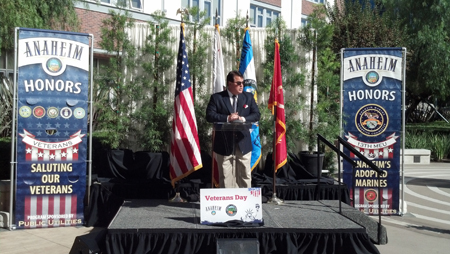 (Above) Supervisor Nelson addresses the crowd on Saturday, November 10 in Downtown Anaheim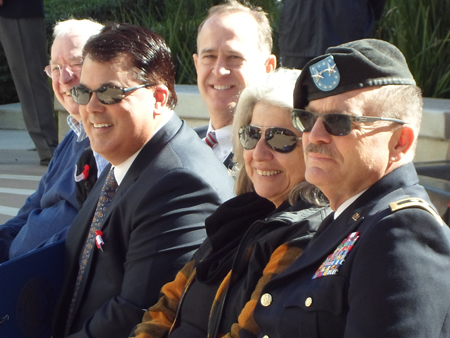 (Left to Right) Tom Tait's Father, Supervisor Nelson, Anaheim Mayor Tom Tait and the keynote speaker and his wife, Mrs. and Major General John Harrel of the United States Army.
---
Supervisor Nelson Joins Community in Honoring Veterans - Fullerton

This past weekend we again renewed our appreciation in honoring the sacrifices of America's military veterans. The Fourth District was host to several ceremonies and gatherings to recognize America's men and women in uniform. Supervisor Nelson was proud to take part in supporting these events and promoting their mission. On Saturday Supervisor Nelson marched in support of the City of Fullerton's Annual Veteran's Day Parade hosted by the American Legion Post 142. Thousands of attendees lined the streets to cheer on our veterans as many of them marched along side the Troy High School Honor Guard and ROTC. Following the parade a ceremony was held at Hillcrest Park where Supervisor Nelson made remarks of appreciation. The ceremony was highlighted by keynote speaker Richard Lamband and a 21 gun salute by the Fullerton Police Department. The ceremony featured a touching salute to the Fullerton High School class of 1968 who were reunited and were officially thanked by the community for the first time in over 40 years.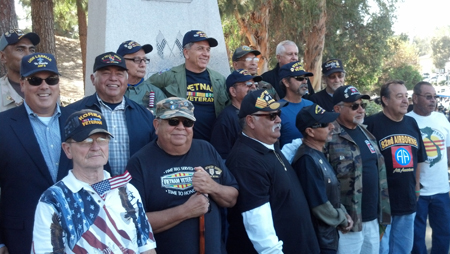 Supervisor Nelson was honored to step in for photos with Tino Gallo and other members of Fullerton High School, Class of 1968, who reunited this year to walk in the downtown 2012 Veterans Day parade as part of their healing and Fullerton's 'welcome home' for their military service in the Viet Nam war.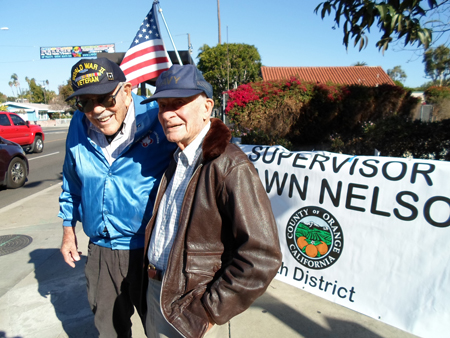 (Left) Jack Doughty fought with the 43 Infantry US Army as a rifleman in the Pacific campaign.
(Right) Rowland Weiss was a fighter pilot who flew Grumman Hellcats
---
Brown & Brown – New office location! – Anaheim

Nelson Staffer Neha Sata presented Fourth District congratulations to Executive Vice President Tim Casey at Brown & Brown Insurance who celebrated their new office location on November 15th. Anaheim Chamber members and representatives from elected offices were present at their afternoon ribbon cutting. Brown & Brown is an independent insurance intermediary that provides a variety of insurance and reinsurance products and services to corporate, public entity, institutional, trade, professional, association and individual clients. Their drive to be the best has made Brown & Brown one of the largest and most respected independent insurance intermediaries in the nation, with over 70 years of continuous service.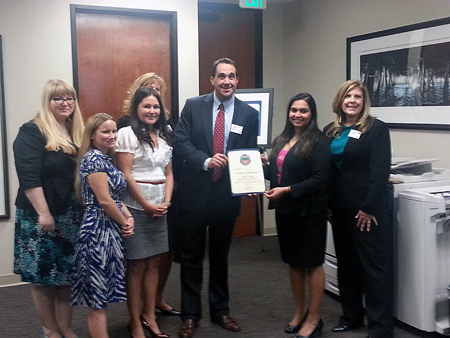 (Above) Neha Sata proudly presents Vice President, Tim Casey, with a certificate of recognition from the Fourth District
---
Nelson meets with Senior Transportation provider SeniorServ

Supervisor Shawn Nelson joins SeniorServ VP Gio Corzo, advisor Lynn Daucher and President-CEO Holly Hagler in discussions this past week about the cost-effective transportation project they operate. The TRIP program will deliver critical mobility to seniors, offer them independence and access to medical, nutrition and exercise programs while dramatically relieving family and caregivers of appointment and driving duties. This innovative program offers an entrepreneurial approach to the growing challenge of senior transit.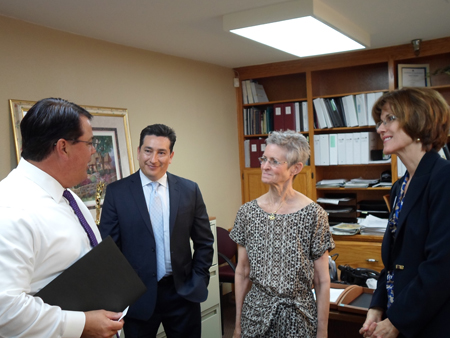 (Left to Right) Supervisor Shawn Nelson, Gio Corzo, Lynn Daucher & Holly Hagler
---
Bruxie Celebrates First Year Anniversary in Downtown Brea

Bruxie celebrated its first year anniversary on Thursday, November 8, 2012. The Belgian waffle specialty chain opened its second location at Downtown Brea in November 2011 after the success of the business' first Old Towne Orange location. Thursday's ribbon cutting ceremony also commemorated Bruxie's official induction into the Brea Chamber of Commerce. The event was attended by representatives from elected offices, members of the Brea Chamber of Commerce, and various individuals from the local community, including beauty pageant winner, Miss Brea of 2012. Bruxie provided complimentary appetizers for their attendees, including their original "Green Eggs & Ham" and "Prosciutto & Gruyere" sandwiches. Since the restaurant chain was first established in 2009, Bruxie has expanded to four locations in Orange County. Bruxie in Downtown Brea is located at 215 W. Birch Street, Brea, CA 92821.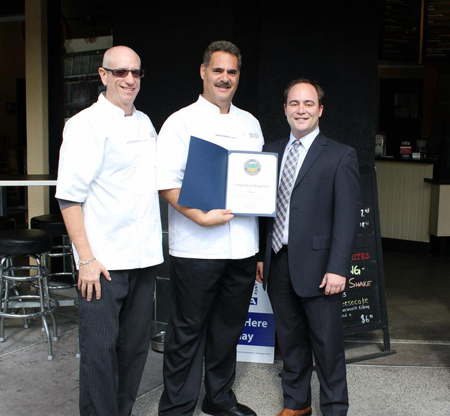 Fourth District Policy Advisor Scott Carpenter (right) presents a Certificate of Recognition to the Bruxie Founders Kelly Mullarney (left) and Dean Simon (middle).
---
Dr Detail – One Year Anniversary!

The Fourth District congratulates the staff of Dr Detail, who celebrated their business' one year anniversary with Fullerton Chamber of Commerce members, representatives from elected offices, and automobile enthusiasts in the local community. Dr. Detail is a one-stop car care shop that sells a variety of mobile detailer professional products. The owner has 25 years of experience in the detailing industry and now sells products from Dr. Detail's store at 1115 W. Orangethorpe Avenue, Fullerton, CA 92833.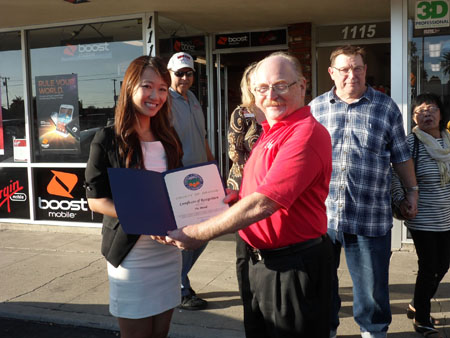 Fourth District Staffer Amy Nguyen presents a certificate of recognition to Warren, owner of Dr. Detail.
COUNTY COMMISSIONS AND COMMITTEES

The 4th District has vacant appointments on the following commissions or committees:


Human Relations Commission
Development Processing Review Committee
Assessment Appeals Board No. 1
If you are interested in serving on one of these committees, please call Audra Fishel at (714) 834.3440



Historic Yorba Cemetery Tour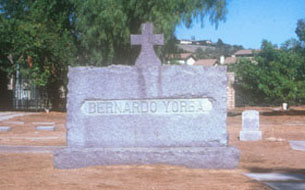 Saturday, December 1
11:00 am to 12:00 pm

Between 1858 and 1939, many of the northern Orange County's rancho families were buried at the Yorba Cemetery, Orange County's oldest private cemetery. Join us on the First Saturday of December to hear stories of the Yorbas and other families of the Santa Ana Canyon, and about the cemetery's transformation from horse corral to historic landmark.

Yorba Cemetery
Woodgate Park
Yorba Linda, CA 92886
714-973-3190 or 714-973-3191

Special Instructions: From Imperial Highway, turn east onto Orangethorpe/Esperanza. Turn Left onto Fairlynn, Right onto Woodgate, and Left onto Parkwood. Parking is available on the right side past the tennis courts.
---
Creatures in the Cold - Toddler Program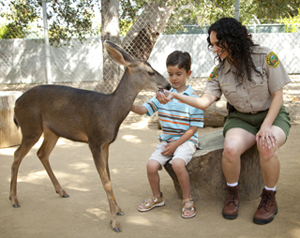 Thursday, December 6
10:00 am to 11:00 am

Come learn all about animals that live in the cold! Class includes hands-on learning, fun crafts, and meeting animals up close. Please see special instructions.

Event Fee: $5.00 per child (One parent included)
Parking Fee: Irvine Park entry weekdays $3 per car; weekends $5 per car
Age: 3-4 years old

Orange County Zoo
1 Irvine Park Road
Orange, CA 92869
(714) 973-6847

Special Instructions: PHONE REGISTRATION REQUIRED. Call Marcy Crede-Booth, Education Coordinator at (714) 973-6846. Additional parents/siblings/family/friends must pay admission fee to enter zoo. Please note spaces fill quickly for toddler classes.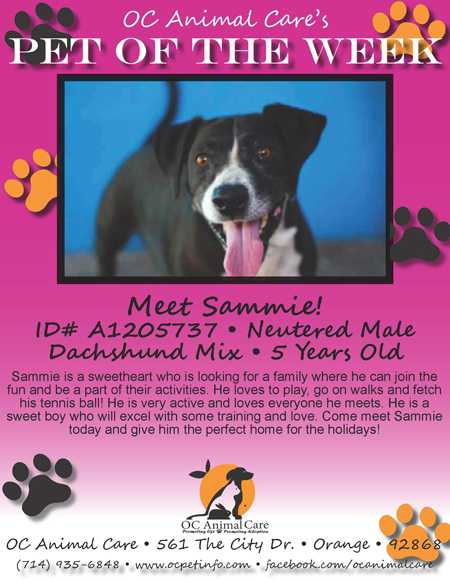 Click on the image above to view a larger version.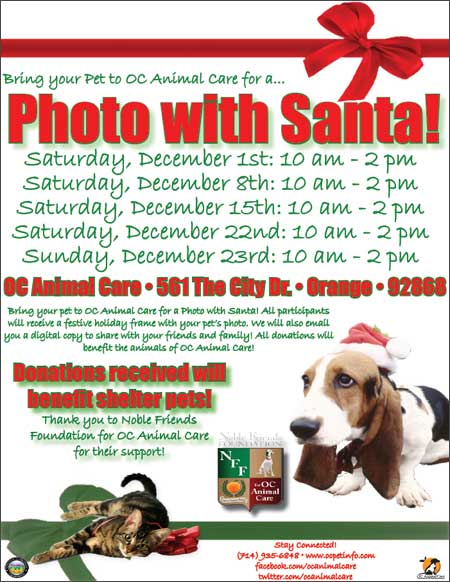 Click on the image above to view a larger version.

Have you been to the Brea Library?
If not, check out their calendar below!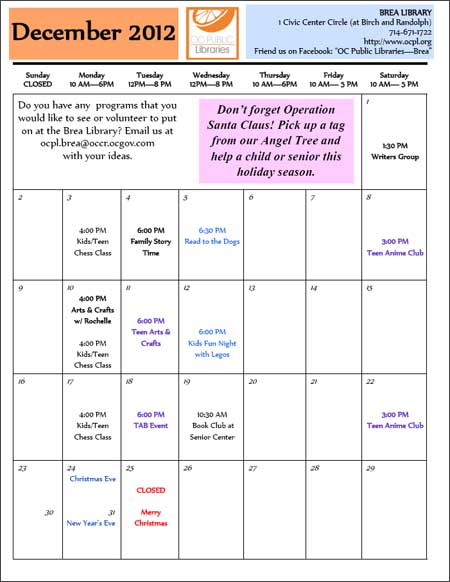 Click on the image above to view a larger version.

Registration is Open!

American Heart Association's OC Heart Walk

Disneyland Theme Parks
Sunday, February 3rd, 2013
Time TBA

The County of Orange is participating in the American Heart Association's OC Heart Walk on Sunday, February 3, 2013 at the Disneyland Theme Parks. The OC Heart Walk is a non-competitive 5k (3.1 miles) walk for a good cause. This fun, family-friendly event promotes physical activity as part of a heart-healthy lifestyle and raises funds for research and programs to fight heart disease, stroke and other cardiovascular diseases. The OC Heart Walk is aiming to raise $1.8 million dollars at this event to benefit heart disease research.

Being a walker is fun and easy. Simply click here to register on the County of Orange Heart Walk team. The AHA provides great tools and tips, including the provision of a website where you can solicit donations quickly online!
In addition to the traditional prizes, participants who raise $1,000 or more will receive a Disney Park Hopper Pass for 2/3/13.
All Heart Walk participants will need to raise a minimum of $50 to walk through the theme parks on February 3rd. Discounted tickets for 2/3/13 will be available for purchase by all Heart Walk participants -1 Day 1 Park: $77 (12% discount to gate) and 1 Day Park Hopper: $97 (23% discount to gate)
Parking is free all day and after walking through the Disneyland theme park and California Adventure, participants are encouraged to enjoy the entertainment available in Downtown Disney.

For more information, visit www.ocheartwalk.org. For questions, contact Jennifer Gaylord at jennifer.gaylord@heart.org.
---
Mark Your Calendars!

The 18th Annual Tamale Festival and Las Posadas



Downtown Placentia

Wednesday, December 5, 2012
4 pm - 9 pm

Food booths, crafts, display and booth games
Santa Claus!
Holiday Tree Lighting!
Live Entertainment Featuring Grammy Award Winning Mariachi Divas!
Attendance of about 15,000 persons!

Contact Rosalina Davis: ocrosalina@yahoo.com for sponsorship opportunities and more.

Craft booths and Game booths - $125.00 Display/Exhibit booths- $100.00
Anaheim

What: 25th White House Tree Lighting Ceremony
Where: Anaheim White House, 887 S. Anaheim Blvd.
When: November 18th, 2012
Time: 6 pm – 7 pm

Brea

What: Wine Tasting Festival
Where: Total Wine & More, 471 South Associated Road, Brea Plaza Shopping Center
When: December 1st, 2012
Time: 5 pm – 9 pm

Buena Park

What: 42nd Annual Candy CaneLand & Craft Faire
Where: Ehlers Community Center, 8150 Knott Ave.
When: December 1st, 2012
Time: 10 am – 4 pm

Fullerton

What: Fullerton Winter Market
Where: Wilshire Ave, between Harbor Blvd. and Pomona Ave.
When: December 1st, 2012
Time: 12 pm- 6 pm

La Habra

What: Free Thanksgiving Dinner
Where: La Habra Church of Christ, 1621 W. Lambert Rd.
When: November 22nd, 2012
Time: 12 pm – 4 pm
For questions or comments regarding Nelson's E-News
please contact the Supervisor's office staff:
Audra Fishel Ph: 714-834-3440 Email: Audra.Fishel@ocgov.com.