Board of Supervisors

Welcome to Nelson's E-News!

The Board of Supervisors was dark this week for regular business.

This past weekend was a time to reflect on those who have made the ultimate sacrifices in service to the country. This Memorial Day weekend, I had the humble honor of attending a commemoration at Loma Vista Memorial Park in Fullerton. It was Loma Vista's 75th annual tribute, entitled "Avenue of Flags." Photos and a description are below.

Yesterday, I also participated in a panel discussion regarding the County's plan to address homelessness, facilitated by the Association of California Cities – Orange County. Working together with County staff and community stakeholders, many instances of homelessness can be successfully prevented and eliminated. Please keep reading for more information.

As part of the County's initiative to rein in retirement costs, starting next month members of the Orange County Managers Association and at-will executives will begin contributing more of their income toward their pensions, reducing the impact on the General Fund.

The Board of Supervisors will be dark on Tuesday, June 4 with the budget meetings taking place on Tuesday, June 11 and Wednesday, June 12. Please check the Clerk of the Board website for more information and upcoming agendas.

Sincerely,
Shawn Nelson

Board Updates



AB 109 Update

At the Tuesday, May 21 Board meeting, the Sheriff presented the impacts of the State transferring prisoners to local jails and supervision.

In 2011, the governor signed AB 109 to reduce overcrowding at state prisons by transferring certain low-level inmates to county post-release supervision and reimbursing associated costs. For more information on AB 109, click here.

Managers to Pay More Toward Retirement

On Tuesday, May 21, Supervisors also voted to shift the costs of executive managers' retirement contributions from the County to those executives and, beginning in January 2015, County elected officials.

Effective June 28, these employees will begin paying the full employee share of their retirement costs. Currently, the County pays for, or "picks-up," the employee portion of retirement for executives both under contract and at-will.

This action is projected to save approximately $1.6 million annually in County General Fund expenses. Already, the new County Executive Officer, Clerk-Recorder and Auditor-Controller pay their employee share as part of their appointment to the positions.

OCTA



O.C. Bridges Team Hosts Two Neighborhood Discussions

To Help Prepare Community For Upcoming Construction Impacts

Two overcrossing projects in the O.C. Bridges program will begin construction next month.

The Orangethorpe Avenue overcrossing project will elevate Orangethorpe Avenue, taking drivers over the rail crossing between Miller Avenue and Chapman Avenue. The Tustin Avenue / Rose Drive project will take drivers over the railroad crossing at Orangethorpe Avenue. Each project includes a bypass road, allowing traffic to continue to use these routes during construction.

The O.C. Bridges outreach team hosted open house events, on May 9 and May 15, for residents in the project vicinities. More than 100 residents attended the meetings, where they learned about the construction activities associated with the upcoming projects, including staging, construction methods, and potential traffic impacts. In addition, the outreach team provided the residents with ways to remain informed about the projects.

Of the 40 percent who returned surveys regarding the meeting, 100 percent agreed that the evening's presentation was helpful to them and 98 percent agreed that staff had answered their questions.

Approximately 70 Burlington Northern Santa Fe freight trains use this corridor every day. In the next decade, train traffic is anticipated to almost double, equating to one train every 10 minutes in this heavily traveled area.

The O.C. Bridges program obtained state Proposition 1B Trade Corridor Improvement Funds and leveraged them with local Measure M funds and federal funds to address safety and congestion impacts at these overcrossings.

The project, which is scheduled to be completed in 2016, will eliminate delays caused by rail traffic, resulting in a safer commute for drivers. Two undercrossing projects – at Placentia Avenue and Kraemer Boulevard – are currently under construction, with completion scheduled for next year.

For more information, including video simulations, please visit the project website, www.ocbridges.com, or call Tresa Oliveri at 714.560.6374.

In the Community

Memorial Day 2013 at Loma Vista Memorial Gardens

With over 2,000 Veterans and military family members attending, the 75th Annual Memorial Day at Loma Vista Memorial Park again represented Orange County's fine celebration of patriotism and honors for America's Bravest. Supervisor Shawn Nelson and his wife, Sharon, enjoyed the morning's congeniality that was hosted by the Memorial Park, The American Veterans Association and the City of Fullerton. A special congratulation was delivered to Captain Marilyn Harris (retired) and her husband, Jeff, who stood as Officer of the Day to oversee the helicopter delivery of keynote speaker Captain Jo Dee Catlin Jacob.

The day's celebration of America's fallen concluded with a 21 gun salute, Taps, and flag/wreath placements to honor the Veterans and extend our appreciation to the members and organizations that made this such a terrific event.

Supervisor Nelson will be attending two other memorials later this year. There will be the upcoming Vietnam Wall that Heals Traveling Museum exhibit in July at La Habra High School and the Veterans Day march up Harbor Blvd to Hillside Park.


(Left) Supervisor Nelson and his lovely wife Sharon (Right) Navy Captain Jo Dee Catlin & Sup. Nelson

Association of California Cities - Orange County Hosts Panel on Addressing Homelessness at Annual Infrastructure Summit

Supervisor Nelson joined Orange County Community Services Director Karen Roper, former Costa Mesa City Manager Allan Roeder and CEO of the Orange County Rescue Mission Jim Palmer on a panel discussion about addressing homelessness. Many Orange County local elected officials were in the audience and got the chance to hear the insights each panelist provided on working together to better deliver services to prevent and end cases of homelessness. The panel stressed that the issue is county wide and each region of the county will be presented with obligation of finding solutions. Attendees later asked questions on how to engage local government, the business community and charitable organizations to support solutions. The Question and Answer period provided an opportunity for the panel to explain their shared experiences to more effectively deliver results.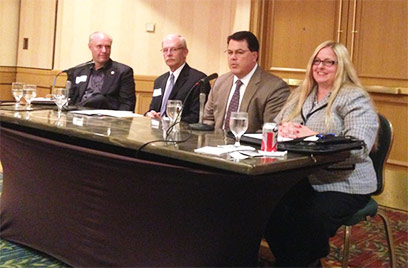 (Left to Right) Jim Palmer, Allan Roeder, Supervisor Nelson, Karen Roper

Brea Rotary

This week Supervisor Nelson was an invited guest speaker at the Brea Rotary's weekly general meeting. The Supervisor updated the club on current county issues including employee pensions, prisoner realignment AB109, Vehicle License Fee lawsuit, and addressing homelessness.

The Rotary Club of Brea has been one of the most active and respected service clubs in North Orange County. The club was founded in 1958. Over the decades, the Rotary Club of Brea has provided a forum for prominent people from business, the professions, government and academia in the United States and around the world. They have found the club to be an excellent venue to present their views on topical issues and encourage support for their programs and causes.

For more information on the Brea Rotary Club and details on how to join, please visit www.brearotary.org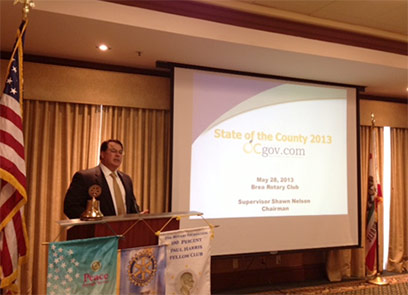 Supervisor Nelson gives his State of the County address to the Brea Rotary

Public Works Week - Presentation

For the past 53 years, National Public Works Week has been celebrated across North America each May to energize and educate the public on the importance of the contributions of public works to their daily lives.

This year's theme, "Because of Public Works…" highlights the quality of life that our residents enjoy "because of Public Works" whether it is clean water, safe streets and neighborhoods, efficient traffic, or safe clean communities. To coincide with National Public Works Week, the Orange County Board of Supervisors has declared the week of May 19-25, 2013, National Public Works Week in the County of Orange. Each year, OC Public Works hosts its Annual Open House as a way to celebrate National Public Works Week and reach out to the community and share information on the services the County of Orange provides.

Supervisor Nelson was on hand to say thank you to all of the men and women throughout Orange County who dedicate their lives to providing public works services to the 3.1 million residents of Orange County!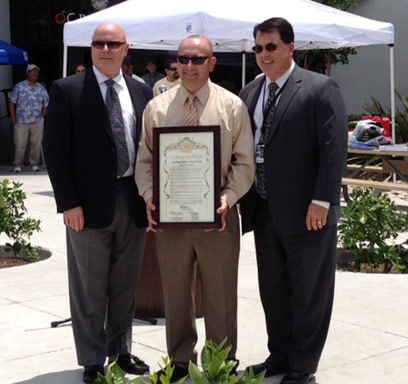 (Left to Right) County Executive Officer Mike Giancola, Assistant Director OC Engineering Tony Olmos and Supervisor Nelson

Bootleggers Brewery New Tasting Room

The Fourth District was proud to deliver a Certificate of Recognition to Erik Arho during a presentation ceremony at the newest Bootlegger's Brewery location at 130 S. Highland Avenue. The presentation recognized their opening and first two months of operations at the new Tasting Room and patio. It is located just 50 yards south of Commonwealth and Highland and directly across from Amerige Park in the alley entrance that leads to the Soco Entertainment Center in Fullerton.

The new facility is ideal for after-event receptions, with doors open from 11 am to 10 pm on weekdays and 11 am to midnight on Fridays and Saturdays. The tasting room offers some 20 varieties of hand-crafted brews, available in different sizes and price-ranges for sampling and sipping. The facility accommodates approximately 60 guests with benches and canopy-covered tables.

Although food is not prepared at the new tasting room, there are catering trucks that provide a nightly assortment of tastes—including tacos, Greek, Western, Burger Mania and Korean Barbecue—to savor while relaxing with an ice-cold beer.

For more information on the new tasting room and what it has to offer, call the Bootlegger's Tasting Room at 714-871-2337.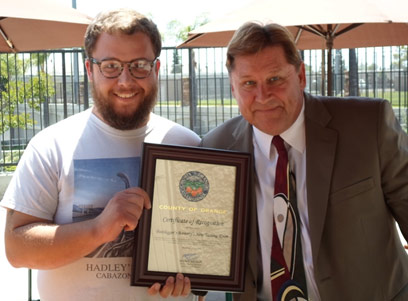 Bartender Erik V. Arho enjoys his celebrity moment as he accepts the Supervisor's Certificate of Recognition from Staffer Steve Spernak celebrating the new Bootlegger's Tasting Room and Patio in Fullerton.

Buena Park Police Officers Honored at Annual Luncheon

Supervisor Nelson was proud to join in honoring 20 members of the Buena Park Police Department at the 2013 Police Appreciation Luncheon hosted by the West Orange County Regional Chamber of Commerce at the Knott's Berry Farm Resort. Chief Corey Sianez proudly introduced each of the twelve officers who received "Officer of the Month" commendations this past year.

In addition to receiving recognition from the Police Department, the honorees were applauded by the City Council, State Assembly and Supervisor Nelson's office. During the event Chief Sianez explained that, "…the valiant efforts of this team at that incident were in keeping with the highest traditions of Law Enforcement' in protecting their community at great personal peril that concluded in a life-saving application of compassion and restraint." Special recognition was given to veteran officer Manuel Mugica who received the Department's coveted "Officer of the Year Award." Mugica's reputation for assertive and proactive enforcement resulted in the arrest of 120 suspects helped close cases and helped victims recover stolen property.

Congratulations and continued success to Buena Park's Finest!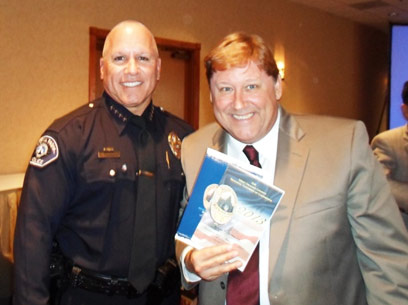 Buena Park Police Chief Corey Sianez joins District Staffer Steve Spernak at The Buena Park Police Appreciation Luncheon hosted by the West Orange County Chamber of Commerce.

OC Knights of Columbus - Wheelchair Donations Project

Supervisor Nelson was honored to recognize the 6,000 members of the Orange County Knights of Columbus who raised $80,000 to purchase over 400 wheelchairs for their 2013 Memorial Day Barbecue and donations project. The Knights assembled the wheelchairs and donated to Veterans who needed it during day-long operations hosted at the Long Beach Regional Veterans Hospital.

Congratulations were delivered by Staffer Steve Spernak, who spoke to the crowd about the spirit of appreciation and patriotism all Orange County residents demonstrated by working toward the success of the Knights project and honoring our Wounded Warriors with wheelchairs. Spernak delivered special thanks to project coordinators John Muller, Bobby McDonald, and Ed & Pat Alvarez for their selfless contributions of time and communications with the Supervisor's office and staff.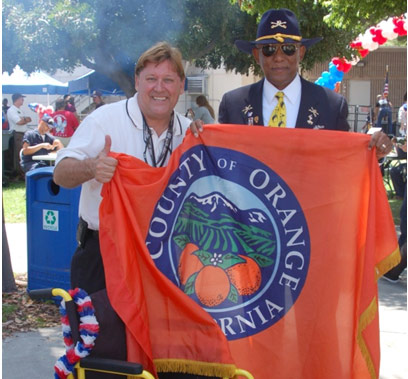 (Left to Right) District Staffer Steve Spernak and Steve Bolton

Peace Officers Memorial

At a memorial service attended by hundreds of Police and OC Sheriff Deputies, Chiefs and surviving family members, the new Peace Officers Memorial was dedicated on the grounds of the Sheriff's Academy on Armstrong Street in Tustin. Congratulations to all the members of the Sheriffs Advisory Council, the great work and leadership by their Chairman Steve Alford and Executive Director Marilyn McDougal for pulling the $2 million dollar monument together. The design took a year to build and has a reflection pool and the names of each of the 52 Officers, Deputies and CHP killed since 1912.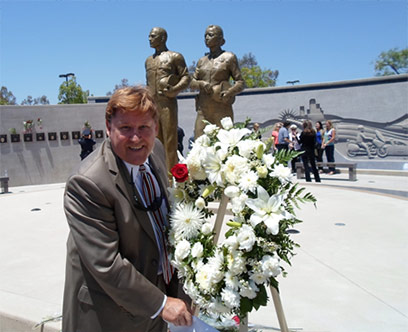 Fourth District Staffer Steve Spernak

Superior Signs and Graphics – Grand Opening

If you are looking for top quality signage, Superior Signs and Graphics is the new place to go! On May 16th the Fourth District was proud to congratulate the Hoffman family on the grand opening of their new business Superior Signs and Graphics. Superior Signs and Graphics is a full service sign and design company dedicated to helping their customers grow their business. Superior Signs and Graphics is located at 6061 Dale Street - Suite G • Buena Park, CA 90621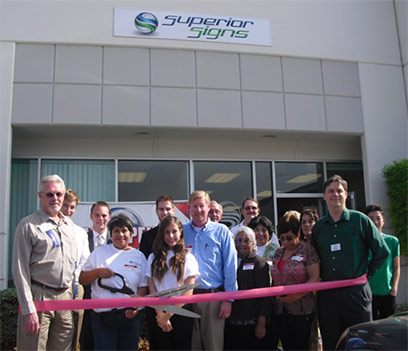 (Second from Left) Fourth District Staffer Chandler Daily poses for a photo with Superior Signs staff

OC Parks


OC Parks Presents the 2013 Summer Concert Series

Craig Regional Park in Fullerton will kick off the summer concert series with three free concerts. Thursday, June 6 welcomes acclaimed Oingo Boingo tribute band Dead Man's Party performing with Michael Michael. June 13 presents '80s sensation Flashback Heart Attack with DJ Velvet Touch. The O.C. Supertones will bring ska to the park on June 20 performing with Mike Vitale.


Details:
Location: 3300 State College Blvd., Fullerton, CA 92835
Contact: (714) 973-3180, craigpark@ocparks.com
Date: Thursday, June 6
Artist: Dead Man's Party with Michael Michael
Date: Thursday, June 13
Artist: Flashback Heart Attack with DJ Velvet Touch
Date: Thursday, June 20
Artist: O.C. Supertones with Mike Vitale
Time: All concerts 6 – 8 p.m.
Cost: Free Parking: Free

County Commissions and Committees

The 4th District has vacant appointments on the following commissions or committees:


Community Action Partnership of Orange County
If you are interested in serving on this Committee, please call Audra Fishel at (714) 834-3440

OC Animal Care
Pet of the Week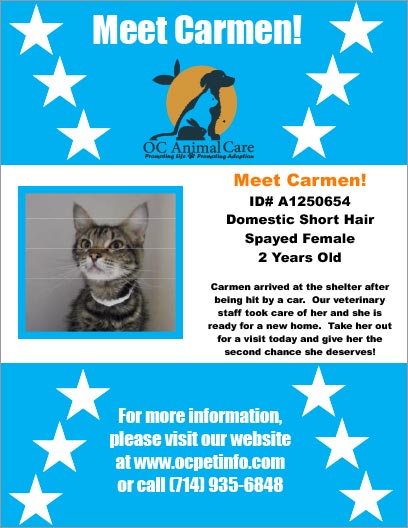 Click on the image above to view a larger version.

Forever Friends for Free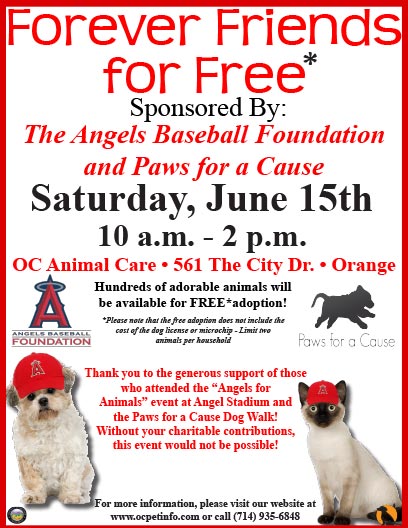 Click on the image above to view a larger version.

Library Corner
Adult Reading Program – La Habra Library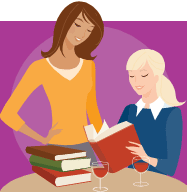 The Adult Summer Reading Program "Reading Is Sooooo Delicious" pre-registration starts June 10 and officially begins June 24th. Read to earn a chance to win a weekly prize basket and grand prizes filled with gift certificates, etc., and attend free programs galore! You can register at the La Habra Library Information Desk.

Contact: Cathy Hickle, Adult Reference Librarian, La Habra Branch

Phone: 562-694-0078

Email: cathy.hickle@occr.ocgov.com

Brea Library Calendar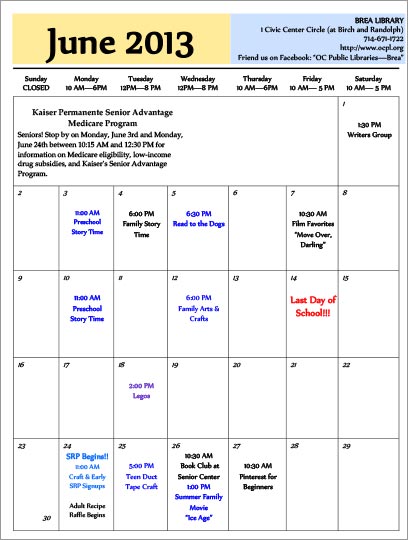 Click on the image above to view a larger version.

Buena Park Library District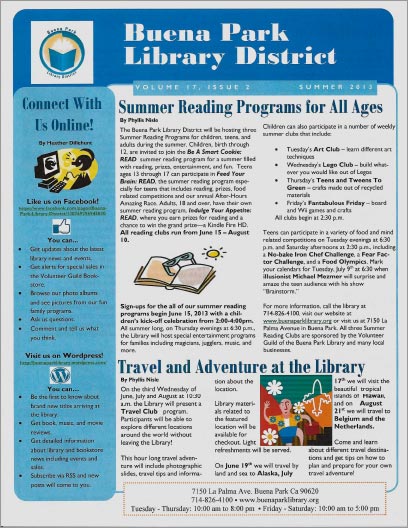 Click on the image above to view a larger version.
Events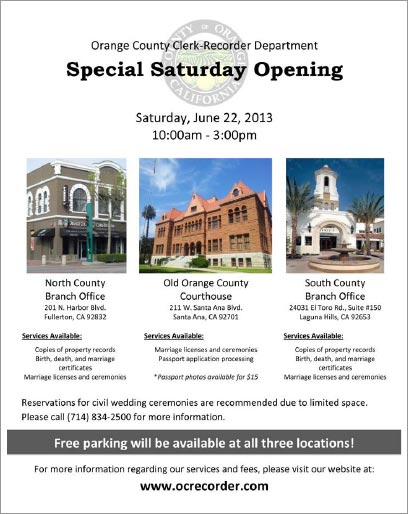 Click on the image above to view a larger version.

Anaheim

What: KFI Law Day 2013
Where: Business Expo Center, 1960 S. Anaheim Way, Anaheim, CA 92805
When: Saturday, June 1st
Time: 9 am – 3 pm

What: Good Morning Anaheim Breakfast
Where: Center Street Promenade
When: Friday, June 7th
Time: 7:30 – 9 am

Brea

What: PaperWorks: Let the Magic Unfold
Where: 1 Civic Center Circle, Plaza Level, Brea, California, 92821
When: Saturday, June 1st
Time: 12 pm – 5 pm

What: The Inside Scoop with The Brea Veterinary Hospital
Where: Brea Veterinary Hospital 675 S. Brea Blvd., Brea, CA 92821
When: Sunday, June 9th
Time: 1 – 4 pm

Buena Park

What: Outdoor Summer Concert Featuring Frank Sinatra Tribute Band
Where: Boisseranc Park, 7520 Dale St.
When: Wednesday, June 12th
Time: 7 - 9 pm

Fullerton

What: Fullerton Heritage Brookdale Heights Home Tour
Where: 444 W. Brookdale Place
When: Saturday, June 8th
Time: 10 am – 3 pm

What: Stroller Brigade
Where: Fullerton Museum Center
When: Wednesday, June 12th
Time: 10 am – 12 pm

La Habra

What: Target Free Day: Jump into Summer
Where: Children's Museum at La Habra
When: Saturday, June 1st
Time: 10 am – 4 pm

What: 2013 N.O.C. Gem and Mineral Society Gem and Jewelry Show
Where: 1201 W. Malvern Ave, Fullerton, CA 92833
When: Saturday, June 8th – Sunday, June 9th
Time: 10 am - 5 pm

Placentia

What: 5th Annual Ciwabunga Crabfest
Where: Kraemer Park
When: Saturday, June 1st
Time: 3 – 8 pm

What: Lunch "Mob"
Where: The Bench Sports Bar, 3159 Yorba Linda Blvd., Fullerton
When: Monday, June 10th
Time: 11:30 am – 1 pm


For questions or comments regarding Nelson's E-News
please contact the Supervisor's office staff:
Audra Fishel Ph: 714-834-3440 Email: Audra.Fishel@ocgov.com.