Board of Supervisors

Welcome to Nelson's E-News!

I was honored to receive my OCTA colleagues' support for appointment to the Metrolink Board this year. My first meeting was two weeks ago in which the agency's financial condition was addressed. Please continue reading for the Ad Hoc Finance Committee's conclusions and its report. In addition, I currently serve on the Safety and Operations Committee.

As always, there are many ways to get involved in the community. For Asian Pacific American Heritage Month, nominations are being accepted for those outstanding individuals. Keep reading to find out how to submit names. Finally, OC Parks is now offering its 2013 annual passes. Read below to find out how to get convenient access to all of the County's wonderful parks!

The next regular Board of Supervisors meeting will be Tuesday, February 26 at 9:30am on the first floor of the Hall of Administration – 333 W. Santa Ana Blvd., Santa Ana 92701. To view a copy of the upcoming agenda, please click here.

Sincerely,
Shawn Nelson

OCTA



Caltrans and OCTA Open New Lanes on 91

Earlier today, Caltrans and OCTA officially marked the opening of the 91 Westbound and Eastbound Lane Addition Project at a completion event in Anaheim.

The second in a series of freeway improvements intended to increase capacity and improve operations on the 91 Freeway adds a new 6 mile westbound and eastbound lane between State Route 55 and State Route 241. In addition to the new general purpose lanes, the project also delivers a second eastbound exit lane at the high volume Lakeview, Imperial Highway and Yorba Linda/Weir Canyon off-ramps.

Working together, OCTA and Caltrans have added eighteen lane miles, and made numerous operational improvements, to the 91 freeway in Orange County over the last three years. Consistent with voter approved Measure M, this effort will continue later this year when OCTA and Caltrans break ground on the 91 Westbound Lane Project, which will add a four mile lane between State 57 and Interstate 5. Beyond this, OCTA's sister agency, the Riverside County Transportation Commission, will be moving forward with improvements to the 91 east of the Orange County line.

OCTA's and Caltrans' 91 freeway improvement projects are part of the 91 Implementation Plan, a multi-year and multimodal plan developed to improve mobility on the 91 in the short, mid and long term.

For more on these and other freeway improvement projects, visit www.octa.net.

MetroLink

Metrolink Finances

The OCTA Board of Directors recently appointed Supervisor Nelson to the Southern California Regional Rail Authority, better known as Metrolink. During his first meeting, an ad hoc committee report was delivered that addressed concerns over the agency's finances.

The findings contained instances of inaccurate record keeping, inadequate accounting procedures and missing or unaccounted for budget documents. To remedy this, the committee recommended several options, including accounts separated by purpose, outsourcing financial management and allowing member counties to fund all capital projects within their jurisdiction. The entire report can be found below.

For more general information on the agency, please visit Metrolink Trains.

Metrolink Report.

In the Community

Supervisor Nelson Presents to Fullerton City Council

On January 19th Supervisor Nelson gave an update to the Fullerton City Council on the County's plan to replace the Emergency Homeless Shelter at the Fullerton Armory. After the Board of Supervisors unanimously approved a purchase agreement last month to acquire a building to establish a year-round multiservice center, Supervisor Nelson has made it a priority to communicate the plan to community leaders in Fullerton and North Orange County. The City Council welcomed the Supervisor during the presentations portion of their regular meeting. During his presentation, Supervisor Nelson outlined the challenges the current temporary Armory program faces (making it often times ineffective in managing the issue of homelessness) and outlined the new model that will better utilize tax dollars to prevent homelessness and better deliver services the County already provides. Supervisor Nelson will join the City of Fullerton's Homeless Taskforce on March 11th to host an informational community meeting at the Fullerton main library at 6:30 p.m. All are welcome to attend.

Fullerton presentation.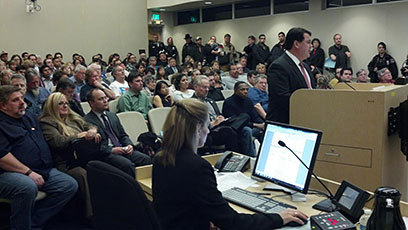 Supervisor Nelson addresses the crowd and Council this past Tuesday at Fullerton City Hall

Outreach Project of the Year – Broadrock Renewables

Supervisor Nelson is honored to present the United States Environmental Protection Agency, Landfill Methane Outreach Project of the Year Award for the new 32.5 megawatt Broadrock Renewables Landfill Gas-to-Energy Plant at the Olinda Alpha Landfill located in Brea. OC Waste and Recycling partnered with Broadrock in 2008 to expand the existing 5-megawatt landfill gas-to-energy plant with this new state-of-the-art facility. Power generation makes the most of the valuable renewable resource we have in the County's landfills. The Olinda Alpha facility is currently the 2nd largest landfill gas- fuelled power plant in the US and has enough power to run over 43,500 homes. Fourth District proudly congratulates the OC Waste and Recycling Department for this incredible achievement.


(Left Picture) Director of OC Waste and Recycling, Mike Giancola and Supervisor Nelson

(Right Picture) The group is part of the team that works at the Olinda Alpha Landfill in Brea. (from left to right) Nikil Patel, Admin Manager I; Jose Gamboa, Landfill Operations Superintendent; Angela Vogel, Staff Specialist; Jeff Southern, Deputy Director-North Region; Sam Pascual, Sr. Civil Engineer; Jim Markham, Landfill Operations Supervisor II; Ray DeAvila, Senior Equipment Operator; Marc Rubio, Engineering Technician; Virginia Roman, Project Manager I.

State of the County 2013

Supervisor Nelson presented his State of the County PowerPoint last week at the Orange County Public Affairs Association Meeting. Employee pensions, prisoner realignment and recruitments for elected office vacancies in the County were among some of the issues addressed by Supervisor Nelson. The Orange County Public Affairs Association has grown to over 150 public affairs professionals, elected officials, corporate executives, and public policy-makers. Their various forums and networking events, along with our annual membership directory, have made our 16-year old organization an important focal point for Orange County's growing public affairs community. To learn more please visit www.ocpaa.org.

Please click below to view the slideshow:

State of the County.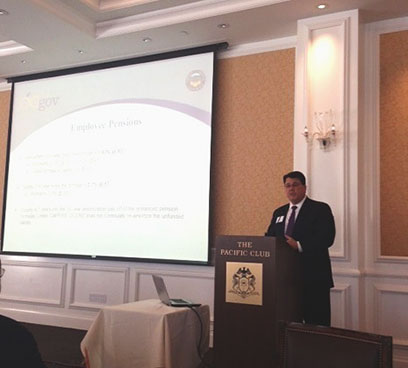 Supervisor Nelson addresses the Orange County Public Affairs Association

La Habra Mayors Breakfast

La Habra Mayor Rose Espinoza partnered with city staff to present their annual State of the Community breakfast this week. Hosted by the La Habra Chamber of Commerce and Southern California Gas Company at the La Habra Community Center, business and civic leaders were updated on the good news and accomplishments delivered by the council and city employees.

La Habra is on solid financial ground, according to City Manager Don Hannah, and investments of time and talent helped deliver traffic signal synchronization, residential paving upgrades, and streamlined business practices attracted new businesses.

A source of pride for the city is the new Wal-Mart and CVS that brought hundreds of new jobs. The two new mega businesses also were presented awards by the Orange County Business Council for adopting green environmental standards.

Acting Police Chief Jerry Price presented an impressive narrative on the response time improvements, a new computer dispatch system, and efforts to refurbish the department are expected to be completed by the end of the year. Crime rates are down 17%, which is a huge credit to the department's efforts to partner with business leaders and having officers specifically assigned to areas where residents can develop trust and personal access for safer neighborhoods.

The Mayor's final announcement is to 'Save the Date' of July 10th to July 15th when the City will host 'The Wall that Heals' Vietnam Memorial replica at La Habra High School. (Please see PDF under our EVENTS section)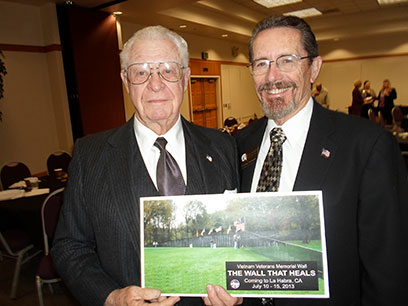 Chuck Morse (left) is joined by La Habra Mayor Pro Tem Tom Beamish at Mayor Rose Espinoza's State of the Community breakfast where she proudly announced the city & community sponsors will host 'The Wall that Heals 'Vietnam Memorial replica at La Habra High School July 10th-15th

Tet Festival

The Tet Festival of Southern California is recognized as the world's largest Tet Festival outside of Vietnam. Helping preserve Vietnamese culture, the Tet Festival boasts about the attraction of an audience of over 100,000 and hundreds of booths in a span of a three day weekend event. Visitors are immersed with a vibrant array of traditional foods, live entertainment, festive games, and customs celebrating the Vietnamese Lunar New Year.

Joining in the fun of the Lunar New Year, Supervisor Nelson's Fourth District Staffer Steve Spernak attended the 32nd annual Tet Festival 2013 in Westminster. Thousands enjoyed the Chairman's support that included patriotic decorating of one of the floats that drove the Bolsa Ave. parade and taking photos with parade knife-tossing dancers.


Policy Advisor Steve Spernak enjoys the festivities at this year's Tet Festival

Announcements

Anaheim Citizens Advisory Committee

Established by the Anaheim City Council, the Citizens Advisory Committee on Elections and Community Involvement met for the sixth time on Thursday, February 21, to discuss voter participation and outreach efforts. To view agendas, supporting documents and video of all past meetings, click here.

The Committee will meet next on Thursday, February 28 at 6:30 p.m. at a location to be determined. The committee will discuss dividing into subcommittees to begin developing their report. Contact cacelections@anaheim.net for more information. For the full committee meeting calendar and list of topics, click here.

Asian Pacific American Heritage Month
Nominations must be received by Tuesday, March 5, 2013!!

Union Bank and KCETLink, the new national independent public media organization formed by the merger between KCET and Link Media, are looking for outstanding Asian Pacific American men and women who are providing great leadership and making significant contributions to improve and enrich the lives of others. The stories of selected heroes will be broadcast on KCET in May 2013.

To view Guidelines, please click here.

To view Nomination Form, please click here.

County Commissions and Committees

The 4th District has vacant appointments on the following commissions or committees:

Development Processing Review Committee
If you are interested in serving on one of these Committees, please call Audra Fishel at (714) 834.3440

OC Parks


2013 Annual Passes Now Available!

Give the gift of the great outdoors and join OC Parks in the coming New Year! 2013 OC Parks annual passes are now available for purchase.

OC Parks annual passes and decals allow for convenient parking at your favorite regional and wilderness parks, as well as all County beach parks. Enjoy hiking, mountain biking, exploring, surfing or rest and relaxation in nature with simple pre-paid parking at all locations. An OC Parks Pass makes for the perfect gift for the outdoor and adventurous friends and family members in your life.

The 2013 OC Parks annual pass rates remain the same affordable and accessible prices as in 2012. The annual regional and wilderness parking passes and parking decals, as well as the separate annual beach parking decals, are available for $55 to the general public, and $35 for disabled with placard and to seniors 60 years of age and above. Disabled with placard already park free at County beach parks.

For the best value, purchase a combination pass to enjoy all OC Parks and beaches for $80 and just $50 for seniors.

Annual passes and decals are available for purchase at an OC Parks facility near you. Visit the Purchase a Pass page for more information and a list of convenient locations. Spend some time in the great outdoors with family, friends and OC Parks in 2013.

Attention Seniors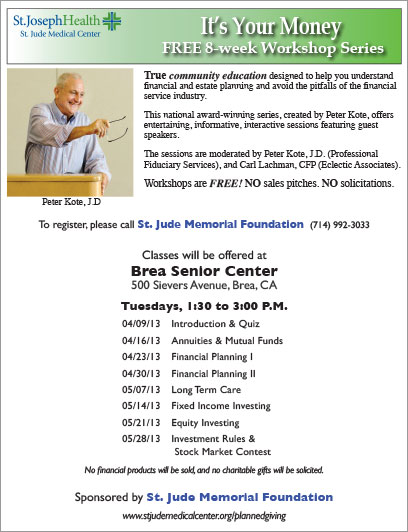 Click on the image above to view a larger version.

OC Animal Care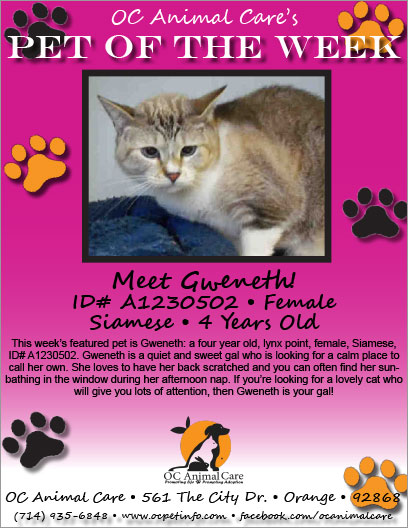 Click on the image above to view a larger version.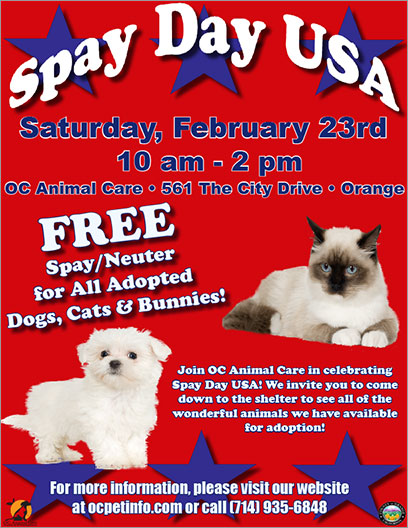 Click on the image above to view a larger version.

Library Corner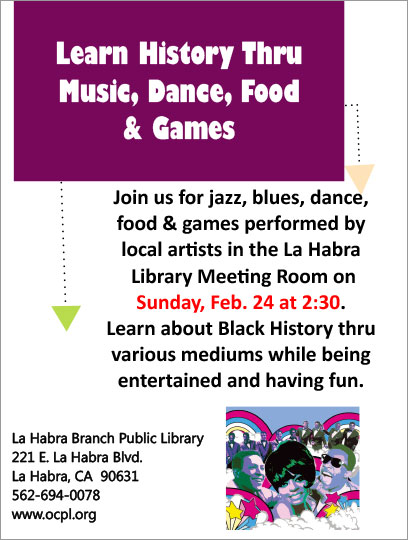 Click on the image above to view a larger version.

Events
Anaheim

What: Help us Build a New Playground at Schweitzer Park -Build Day
Where: Schweitzer Park 238 S. Bel Air Street, Anaheim, 92804
When: March 4th, 8:00 a.m. - 3:00 p.m.

What: 10,000 Best Jobs Expo Sponsored Tickets (Orange County)
Where: Angel Stadium 2000 Gene Autry Way, Anaheim, 92806
When: March 21st, 9:00 a.m. - 5:30 p.m.

Brea

What: 14th Annual Spring Craft Boutique
Where: Brea Community Center 695 E. Madison Ave.
When: March 16th, 9:00 a.m. - 4:00 p.m.

What: 28th Annual Made in California Juried Exhibition, Opening Reception and Main Event
Where: Art Gallery, 1 Civic Center Circle Plaza Level
When: Saturday Feb. 23rd 7:00 - 9:00 p.m. and Sunday Feb. 24th 12:00 - 5:00 p.m.

Buena Park

What: Music Arts & Just Desserts
Where: Walter D. Ehlers Community Recreation Center Liberty Hall, 8150 Knott Boulevard
When: Sunday, March 17, at 3:00 p.m.

Fullerton

What: Fullerton's Musical Best Comes to Main Library
Where: Fullerton Main Library, Osborne Auditorium, 353 W Commonwealth Ave., Fullerton, CA 92832
When: Feb. 25th, 7:00 p.m.

La Habra

What: Critter Encounter at the Museum
Where: The Children's Museum at La Habra, 301 South Euclid Street, La Habra, CA 90631
When: Feb. 24th, 1:30 - 3:00 p.m.

Placentia

What: Easter Eggcitement & Spring Carnival
Where: 201 N. Bradford Ave., Placentia, CA 92870
When: March 23rd, 8:00 a.m. - 2:00 p.m.

Bootlegger's Preps for New Tasting Room

After months of behind the scenes planning and work, Bootlegger's Brewery will be moving their tasting room to a new location-130 S. Highland Ave. The last day open at the original Richman Ave., location will be Saturday Feb 23, 2013, after which that location will be permanently closed.

Barring any unforeseen hiccups, they will open their new Pilot Brewery and Tasting Room at 130 S. Highland Ave Fullerton, CA around March 1, 2013. There are many moving parts to the move, and once things are confirmed, an announcement with a firm opening date will be made.

Join Bootlegger's for their last hurrah in the original tasting room on Saturday, Feb. 23 from 6 p.m.-close. Enjoy drink specials, music, and Ninjas With An Appetite Food Truck serving dinner. The evening will also feature "Sport Your Stein" night, so bring your favorite cup/stein and they will be fill it up. Prizes for the best cup/stein will be given out that night.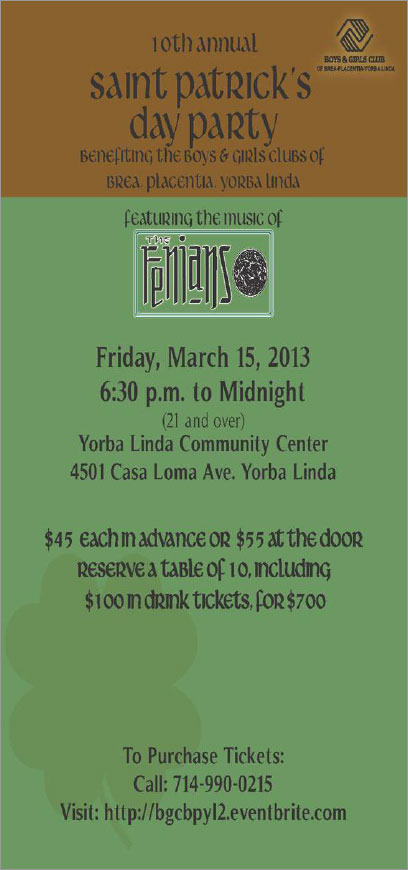 Click on the image above to view a larger version.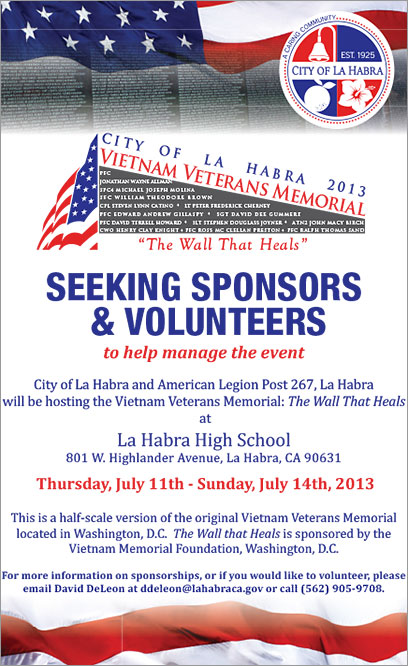 Click on the image above to view a larger version.

For questions or comments regarding Nelson's E-News
please contact the Supervisor's office staff:
Audra Fishel Ph: 714-834-3440 Email: Audra.Fishel@ocgov.com.