Board of Supervisors

Welcome to Nelson's E-News!

This year, 2014, represents Orange County's 125th anniversary. To memorialize the occasion, the County has adopted a new logo for use throughout the year. Read below for more information on the history of Orange County and planned events.

Earlier this month, I was honored to be unanimously selected by my colleagues as the Chair of the Orange County Transportation Authority, the county's $1.2 billion bus system. The Board of Directors meeting schedule for 2014 may be viewed here.

The next Board of Supervisors meeting will be held on Tuesday, January 28 at 9:30am in the Hall of Administration, 333 West Santa Ana Blvd., Santa Ana 92701. The agenda may be accessed here.

Sincerely,
Shawn Nelson

Board Updates

County Celebrates 125th Birthday in 2014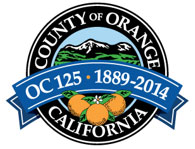 Back in 1989, Orange County celebrated its 100th anniversary, or Centennial. Now, 25 years later, the County is preparing for another observance, this one of its 125th anniversary or Quasquicentennial. As approved by the Board of Supervisors, OC125, as the observance will be known, will celebrate Orange County's rich 125 year history and some of the people, places and events that make Orange County unique.

When California became a state in 1850, what is now Orange County was a part of Los Angeles County. According to information from the OC Archives, several attempts in the 1870's and '80s to form a new county failed, but in 1889, the area's lone Assemblyman, Col. E.E. Edwards of Santa Ana, introduced a new bill to create Orange County. Santa Ana's founder, William H. Spurgeon, a prominent Democrat, joined local Republican leader James McFadden in helping Col. Edwards lobby the State Legislature. They also enlisted the support of the San Francisco delegation, which was more than happy to see Los Angeles County lose some of its population and power. The bill passed in both houses of the State Legislature and was signed into law by Governor Robert Waterman on March 11, 1889. However, the bill as approved did not actually create Orange County; it only allowed for a vote of the local residents to decide the matter. When the vote was held on June 4, 1889, the measure passed easily: 2,509 to 500.

Once the formation of Orange County was approved, a second election was held on July 17 to choose a county seat and elect county officers. Orange County was officially born on August 1, 1889 and the Board of Supervisors met for the first time on August 5. When Orange County was formed, there were just three incorporated cities here and a population of about 15,000.

More information about OC125, the County's history and the people, places and things that best represent Orange County will soon be appearing on the County's website, http://ocgov.com/.

John Wayne Airport Posts December 2013 Statistics

Airline passenger traffic at John Wayne Airport increased in December 2013 as compared to December 2012. In December 2013, the Airport served 789,342 passengers, an increase of 7.3% when compared to the December 2012 passenger traffic count of 735,626.

Commercial aircraft operations decreased 3.7%, while Commuter aircraft operations decreased 2.7% when compared to the levels recorded in December 2012.

Total aircraft operations decreased in December 2013 as compared to the same month in 2012. In December 2013, there were 18,995 total aircraft operations (take-offs and landings), a decrease of 0.8% when compared to 19,139 total aircraft operations in December 2012.

General aviation activity, which accounted for 64.4% of the total aircraft operations during December 2013, increased 0.7% when compared to December 2012.

Please click here for the report.

OC Acknowledged as National Leader in Elections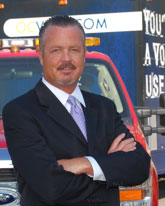 Neal Kelley

(Santa Ana, CA) — Orange County has been recognized by the bipartisan Presidential Commission on Election Administration for best practices, innovation and elections operations in a report recently presented to the White House.

The 122-page report, which examined election operations across the country in 2012, included 19 recommendations for improving the administration of elections nationally. They include expanding voter registration opportunities, improving the accuracy of voter lists, improving access to polling places, employing state-of-the-art techniques for efficient management of polling places and replacing antiquated voting machines.

Orange County's Registrar of Voters operation was among a handful of jurisdictions singled out for praise. The commission highlighted the County's work on web applications to manage voting lines based on historical turnouts, registration and other factors, and for estimating wait times at polling places. Most of the report's recommendations already are in use by the County.

"The support of the Board of Supervisors has enabled us to operate in an environment of continual improvement," said Orange County Registrar of Voters Neal Kelley, who was invited to testify before the commission in September. "It is gratifying for our operations to be cited as a model for other jurisdictions."

Kelley also is one of four elections officials serving on the Future of California Elections, a statewide consortium of election officials, advocacy groups and academics focused on improving California's elections. The state panel was mentioned in the commission's report as an example of state-level commitment to improving voters' experiences.

For a copy of the commission report, click here: www.supportthevoter.gov.

OCTA



Supervisor Shawn Nelson Selected as OCTA Board Chairman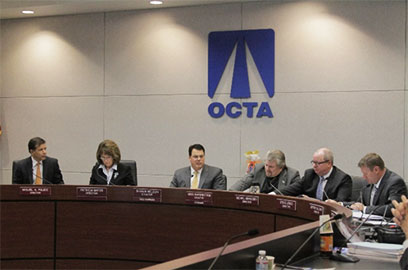 Supervisor Nelson (Center) and OCTA board members

ORANGE – Orange County Supervisor Shawn Nelson was unanimously selected as the new chairman of the Orange County Transportation Authority Board of Directors.

Nelson, who is also the Fourth District Supervisor, served as the OCTA board's vice chairman for the last year. He replaces outgoing Chairman Greg Winterbottom, who remains on the board.

"I'm thrilled to lead an agency dedicated to helping sustain and improve mobility for Orange County residents, workers and visitors," Nelson said. "It's an honor to be chosen by my peers on the board to help guide those efforts to keep Orange County moving, whether it's by bus, rail, car or bicycle." Nelson, a resident of Fullerton, is an attorney by profession and has more than a decade of political experience since being elected to the Fullerton City Council in 2002. He served as mayor of Fullerton in 2004-05 and 2006-07.

He was first elected to the Orange County Board of Supervisors in 2010 and currently serves as the chairman. He has been a member of the OCTA board since 2010 and an active supporter of a wide range of transportation projects, including leading an effort to improve bikeways in the county. He has served on the Southern California Regional Rail Authority (Metrolink), the Transportation Corridor Agency, Orange County Council of Governments and the Southern California Association of Governments, among other agencies.

Chairman Nelson and his wife, Sharon, are parents to three children and are very active in youth sports and charitable efforts in North Orange County.

Replacing Nelson as vice chairman is Director Jeffrey Lalloway, who is a member of the Irvine City Council. He joined the OCTA board in January 2013.

Outgoing Chairman Winterbottom congratulated Nelson on his selection, saying: "I want to thank the new chairman for his service this past year as he helped me navigate a number of challenging issues and I know the agency will be in good hands under his leadership in 2014."

Also sworn in as a director today at the first board meeting of 2014 was Anaheim Mayor Tom Tait, who has served on the Anaheim City Council since November 2010 and previously served in Anaheim from 1995-2004.

OCTA Advocacy Meetings in Washington, D.C.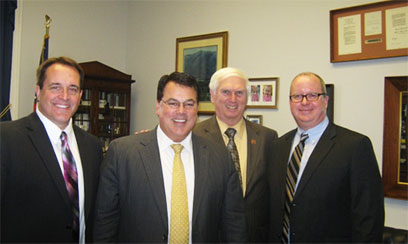 Left to Right: OCTA Director Frank Ury, OCTA Chairman Shawn Nelson, U.S. House Transportation Committee Vice-Chairman Jimmy Duncan (R-TN), OCTA Director Michael Hennessey

Earlier this week, Supervisor Nelson traveled to our nation's capital representing the Orange County Transportation Authority (OCTA). He met with the top Administrative officials at the Federal Highway Administration and the Federal Transit Administrations to discuss OCTA's current and planned highway and transit projects and how to more quickly move project funding in order to create jobs in Orange County and California. He also met with Congressman Bill Shuster (R-PA), the Chair of the House Transportation and Infrastructure Committee, and Committee Vice Chair Jimmy Duncan (R-TN) to discuss the importance of reauthorization of the federal Highway and transit program. On September 30 of this year, the current authorization, called Moving Ahead for Progress in the 21st Century (MAP-21), will expire. Unlike other years, this expiration will also coincide with the complete spend down of balances in the Highway Trust Fund. These balances, along with general fund contributions, have been used to prop up the trust fund for several years. Mr. Shuster and others on both sides of the aisle in Congress are seeking to provide a stable, reliable and fiscally responsible way to assure adequate future funding in the Highway Trust Fund. Lastly, we rounded out the schedule in Washington with meetings with Congressmen Royce and Rohrabacher, of our own Orange County delegation and meetings with Congressmen Jeff Denham (R-CA), Duncan Hunter (R-CA) and Gary Miller (R-CA) , all California members of the House Transportation Committee.

Supervisor Nelson speaks to WTS (Women's Transportation Seminar)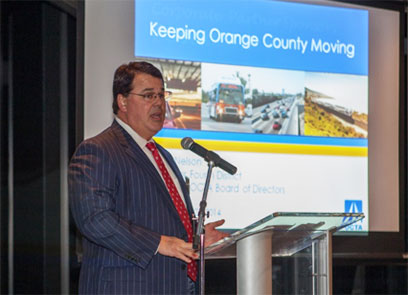 Supervisor Nelson addressing the crowd at WTS

On January 21st, OCTA Chairman Supervisor Nelson was proud to be the guest speaker at the WTS conference which was held at the Center Club in Costa Mesa. Supervisor Nelson presented a thirty minute PowerPoint slideshow titled Keeping Orange County Moving that highlighted some of OCTA's most noteworthy capital projects, topics ranged from OC bridges, OC's West County Connectors, the I-405 improvement project and Project R. To view the presentation please click the link below:

Please click here for the slideshow.

Founded in 1977, WTS is an international organization dedicated to building the future of transportation through the global advancement of women. Boasting more than 5,000 members--both women and men--WTS is helping women find opportunity and recognition in the transportation industry. Through its professional activities, networking opportunities, and unparalleled access to industry and government leaders, WTS is turning the glass ceiling into a career portal.

WTS stands for Women's Transportation Seminar, which was how it was named when founded in 1977 when women couldn't get subsidized for association memberships unless they were educational. But times have changed, and now joining an association is an opportunity women and men can take advantage of to work together and benefit each other in their careers.

For more information on WTS, please visit: https://www.wtsinternational.org/

In the Community

Fullerton Chamber of Commerce Welcomes Real Dentistry

On Friday January 10th the Fullerton Chamber of Commerce hosted a Ribbon Cutting ceremony and Open House for Real Dentistry. Located north of Downtown Fullerton on Harbor Boulevard the office shares a building with several businesses and a Chase Bank for convenient access for patients. Real Dentistry staff was on hand to give tours of the state of the art equipment and showcase the various dental services that can be provided. Dozens of Chamber of Commerce members, local elected and other dignitaries were proud to celebrate the afternoon with Dr. Real and his staff. For more information on Real Dentistry you can visit their Facebook page at: https://www.facebook.com/MyDentistHercules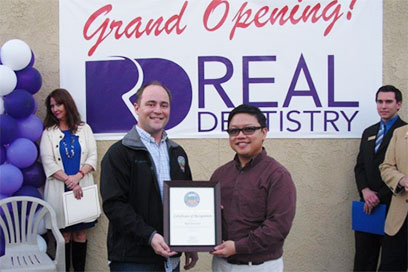 Policy Advisor Scott Carpenter presents a certificate to Dr. Hercules Real.

Spaghetti Factory Ribbon Cutting - Fullerton

Congratulations to the Fullerton Chamber of Commerce for their reception honoring the 45th anniversary of The Old Spaghetti Factory located at the train depot on Harbor Blvd. The operations manager, Russell Gray, enjoyed the moment and happily accepted awards, photos and congratulatory speeches from community leaders and local elected officials. The Spaghetti Factory has a nice variety of pastas, fresh breads, salads and desserts at great prices including Supervisor Nelson's favorite in the Manager's Special which is a combo of White Clam Sauce and Mizithra Cheese & Browned Butter. For a fun dinner or family event call Russell at the Old Spaghetti Factory at 714 526 -6801 for information and directions to their restaurant located at 110 E. Old Santa Fe in Fullerton.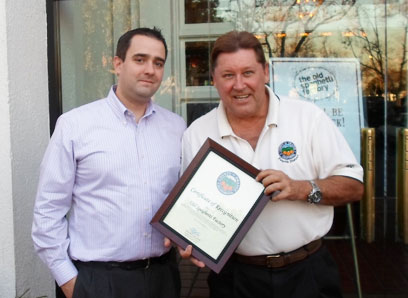 Policy Advisor presents manager Russell Gray with the Supervisors congratulations and certificate of recognition for 45 great years.

Tinker Bell Half-Marathon – Anaheim

Supervisor Nelson sent his congratulations to the Anaheim Community Foundation, The City of Anaheim, Anaheim Police Department and the hundreds of "Voluntears" who helped make the 2014 Tinker Bell Half-Marathon another fantastic event. The weekend gala was four days of running events, expo on equipment and training, spaghetti festivals and family-time at the Magic Kingdom that only Disney can do. Some 30,000 runners, coaches and organization members attended, along with runners from 13 nations and states throughout America. The Disney events are so well done and so much fun for both families and competitive racers that reservations are booked months in advance. The Anaheim Community Foundation coordinates a collaborative of civic groups who deliver pride and projects in the City of Anaheim. To donate or volunteer, contact ACF at 714 765 4419 or email: AnaheimCommunityFoundation@gmail.com Policy Advisor Steve Spernak delivered Shawn's Fourth District contribution to the event with a water station, ice chips and First Aid for the passing 17,000 runners at Mile Marker 11 from 4 am to 10 am.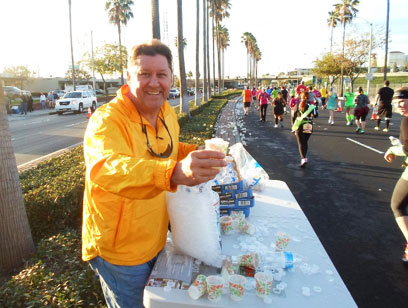 Policy Advisor Steve Spernak supplied water and ice to some of the 17,000 runners at the Tinker Bell Half-Marathon as part of the Supervisor's support for the Anaheim invitational.

Announcements
Postage Increasing

Be sure to stock up on Forever stamps this weekend. The price of sending a first-class letter weighing up to one ounce will increase beginning January 26. Stamps will increase to 49¢, up three cents from the current 46¢. In addition, letters to international destinations will be $1.15 and postcards will go up 1¢ to 34¢.

For more information, please visit the USPS website.

OC Parks


Santa Ana River Bike Path / Riding Hiking Trail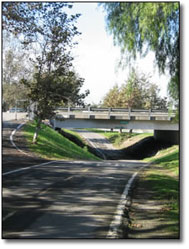 Highlights: A Class 1 bicycle path that parallels the Santa Ana River channel.
Near: From Green River golf course to Yorba Regional Park to Huntington Beach.
Distance: 29 miles one way.
Bikeway condition: Maintained asphalt path, and welcomed rest areas.
User groups: Walkers with dogs, Bike riders, Rollerblades, joggers and strollers.

Summary: The first section of the trail, from Green River golf course to Yorba Regional Park, contains the only moderate hills of the largely flat trail. Various types of wild life, birds and animals can be seen through this region along with a massive body of water that flows down stream and empty out at the mouth of the Huntington State Beach. Parking is available at various locations along the path way.

Yorba Park is enjoyable site to stop and enjoy a picnic, or as you head towards the beach, Orange-Olive is another picnic rest stop where you can get a fresh drink of water and relax. As you continue riding past Anaheim Pond & Angel Stadium you can enjoy a restroom stop and another picnic area located just off Katella Ave. Centennial Regional Park @ Edinger Ave. is another rest area in the City of Santa Ana. Your journey will end at Huntington Beach to enjoy the beach.


Library Corner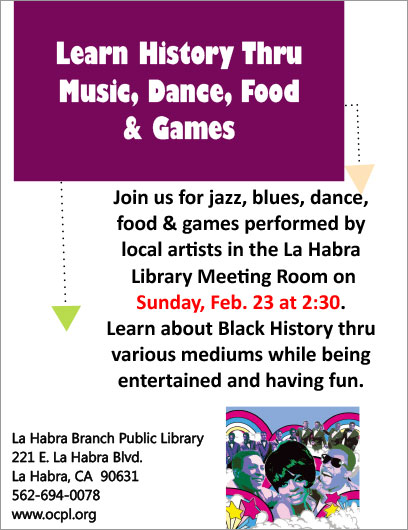 Click on the image above to view a larger version.

County Commissions and Committees

The 4th District has vacant appointments on the following commission or committee:


Oversight Board of the Successor to the City of Redevelopment Agency (Buena Park and Anaheim)
If you are interested in serving on this Committee, please call Audra Fishel at (714) 834.3440

OC Animal Care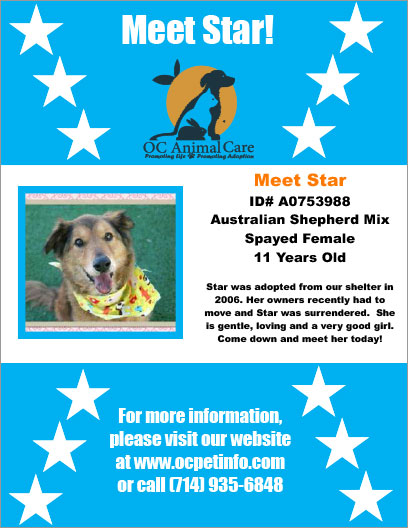 Click on the image above to view a larger version.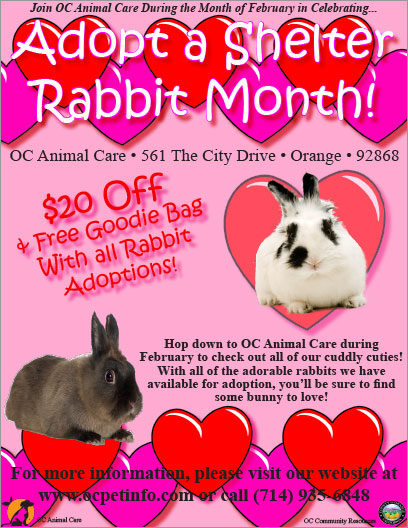 Click on the image above to view a larger version.

Veterans Corner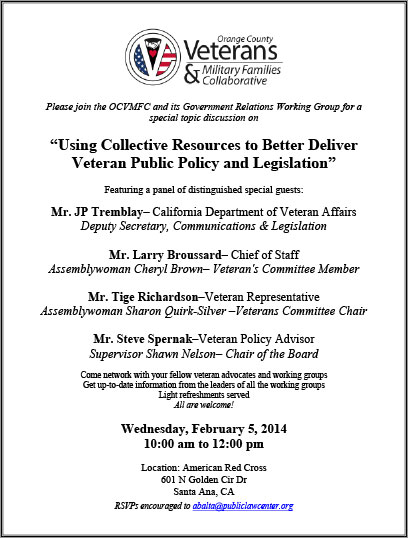 Click on the image above to view a larger version.

Events
Marcia Clark will be the Placentia Library Friends Foundation special guest!

Date: March 1, 2014

Location: Alta Vista Country Club, Placentia CA

Contact: Jo Ann Sowards, JoAnn@TNGRealEstate.com

Marcia Clark Bio:
Marcia Clark joined the Office of the District Attorney in Los Angeles in 1981, where she handled thousands of cases, including more than 20 murder trials. In 1994, Ms. Clark became lead prosecutor in the most publicized criminal case in American history….the O.J. Simpson trial.

Two years after the verdict was handed down, Clark's book about the trial, Without A Doubt, became #1 on the New York Times, Wall St. Journal, Washington Post, L.A. Times, and Publisher's Weekly bestseller lists.

Ms. Clark has been a frequent on-air legal analyst and expert commentator for NBC, CNBC and MSNBC, as well as appearing frequently on the "Nancy Grace Show" on HLN. In the years since the Simpson trial, Clark has toured the U.S. and Canada, speaking on women's issues and domestic violence, giving motivational speeches and lecturing on public service careers.

In recent years, Clark has used her experiences in the legal arena to become a best-selling crime novelist. Her novels, Guilt By Association (2011) and Guilt By Degrees (2012), feature the exploits of Rachel Knight, a tenacious, wise-cracking, and fiercely intelligent Special Trials Prosecutor. Killer Ambition (2013), the latest in this book series, presents "a refreshing portrayal of high-stakes trials, criminal lawyers and the strategies behind every legal move."

Marcia Clark is currently working on her fourth Rachel Knight novel, due in July 2014.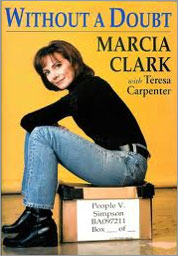 Anaheim

What: Downtown Sounds in Downtown Anaheim
Where: 205 Center St Promenade
When: Saturday, January 25
Time: 6:00pm-10:00pm

What: State of the City Luncheon
Where: The City National Grove of Anaheim-2200 E. Katella Ave
When: Tuesday, January 28
Time: 11:00am-2:00pm

What: 34th Annual O.C. Black History Parade and Cultural Faire
Where: 201 Center Street Promenade
When: Saturday, February 1
Time: 10:00am-4:00pm

What: Ladies Night on Center Street Promenade
Where: 201 Center Street Promenade
When: Thursday, February 6
Time: 6:00pm-8:00pm

Brea

What: Bridal Show
Where: Brea Community Center-695 East Madison Way
When: Saturday, January 25
Time: 11:00am-3:00pm

What: Seussical the Musical
Where: Curtis Theatre-1 Civic Center Circle
When: Saturday, February 1
Time: 2:00pm-4:00pm

What: Hot Friday Night Teen Dance
Where: Teen Zone-695 East Madison Way
When: Friday, February 7
Time: 6:00pm-9:30pm

Buena Park

What: City Council Meeting
Where: Council Chamber-6650 Beach Boulevard
When: Tuesday, January 28
Time: 5:00pm

What: City Hall Closed
Where: City Hall
When: Friday, January 31
Time: ALL DAY

Fullerton

What: Retirement Boot Camp: Turbocharge Your Retirement
Where: Cal State Fullerton-Ruby Gerontology Center
When: Saturday, January 25
Time: 9:00am-3:00pm

What: Snow Day
Where: Brea Dam Park
When: Saturday, January 25
Time: 11:00am-2:00pm

What: Rancho Fullerton Social Club Bingo
Where: 1201 W. Valencia Drive (west of Euclid)
When: Monday, January 27
Time: 5:00pm-8:00pm

La Habra

What: Free Art Fridays
Where: La Habra Community Center-Family Art Center
When: Friday, January 31
Time: 11:00am-3:00pm

What: Museum CLOSED Today
Where: Children's Museum at La Habra
When: Monday, February 3
Time: ALL DAY

Placentia

What: Economic Development Committee Meeting
Where: City Hall Meeting Room
When: Tuesday, January 28
Time: 6:00pm-7:30pm

What: Placentia City Council Meeting
Where: City Hall Meeting Room
When: Tuesday, January 4
Time: 7:00pm-9:00pm



For questions or comments regarding Nelson's E-News
please contact the Supervisor's office staff:
Audra Fishel Ph: 714-834-3440 Email: Audra.Fishel@ocgov.com.


Denis Bilodeau
Chief of Staff

Mark Lopez
Deputy Chief of Staff

Audra Fishel
Policy Advisor /
Communications Director

Steve Spernak
Policy Advisor

Scott Carpenter
Policy Advisor

Natalie Wieckert
Staff Aide



Stay Connected!