Board of Supervisors

Welcome to Nelson's E-News!

One of the biggest issues facing local government is funding its employees' compensation, with Orange County no exception. Because of mathematical realities, health and retirement benefits used historically have become unsustainable. Making strides toward mitigating this challenge, the County approved a compromise contract with its largest union. Please read below for more details.

I had the opportunity to speak before the Fullerton Rotary, which welcomed me to bring its members up to date on transportation issues and projects affecting North Orange County. Please continue reading for a photo and details.

Finally, if you are able, please consider attending the OC Parks Kids' Fishing Clinic at Tri-City Park. More information is below. The next Board meeting will be held Tuesday, April 1 at 9:30am in the Hall of Administration, 333 W. Santa Ana Blvd., Santa Ana 92701. The agenda may be accessed here.

Sincerely,
Shawn Nelson

Board Updates



Board Sets Policy To Direct Ambulance Bidding Process

On Tuesday the Board of Supervisors approved on a 3-2 vote (Moorlach and Nelson dissenting) the policy that will dictate how ambulance contracts and billing are awarded and decided. Since the state determined that the Board of Supervisors must award the ambulance contracts a couple of months ago the issue of how fees were collected became the main policy question on Tuesday. Ultimately the board decided to include Basic Life Support (BLS) and Advanced Life Support (ALS) on one bill together collected by the ambulance provider. The alternative option was to have contracted providers to only bill customers for BLS services and to not include the ALS rate in the upcoming Request for Proposal (RFP), which was the option Supervisors Nelson and Moorlach preferred. Following the Board's direction the county's Health Care Agency is now in the process of drafting the RFP which will need to be approved by the Board of Supervisors and the competitive bidding process can begin in the next several months.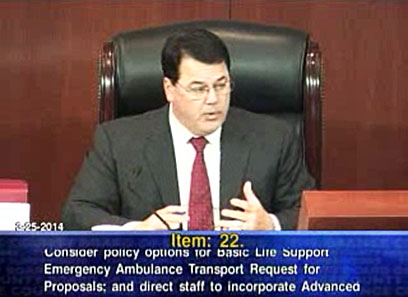 Chair Nelson at the 3/25/14 board meeting

Contract with Largest County Union Approved

The Board of Supervisors unanimously agreed Tuesday to a new contract with the Orange County Employees Association, the largest union representing general County employees. All eight employee units represented by OCEA previously voted to ratify the contract.

The agreement, which was proposed by a mediator during lengthy negotiations, runs through June 30, 2015, and calls for an immediate 1.25% salary increase with another 1.25% bonus paid in April. OCEA represents 11,808 of the County's 17,400 workers.

The pay increases are consistent with what was accepted by County managers last year.

This has been a long and difficult process that led to both sides accepting a mediator's proposal. There are points that each side likes and dislikes. But we're thankful that the mediator was able to bring us together for a compromise solution.

The contract will generate about $4 million in net cost to the County, compared with the nearly $2 million in savings that had been sought. But the County was successful in persuading OCEA to implement changes needed to reign in the escalating costs of health insurance plans.

All bargaining groups were asked to accommodate those changes to achieve critical cost-savings. Additionally, the Board of Supervisors asked all groups to pay their full employee share toward their pensions, something OCEA members have done for years.

During the negotiations, the Board repeatedly attempted to persuade the State to unlock more local tax dollars for the County, which could then be used for raises. The argument was unsuccessful with State officials.

Also on Tuesday, supervisors ratified a new contract with the Internal Union of Operating Engineers, which represents 139 trades workers.

Contact: Jean Pasco 714-834-7218

Jails to Donate Excess Food

The Board authorized the Sheriff to donate excess unused food from the jail system to Second Harvest Food bank and other food banks in Orange County. As long as food is fit for human consumption, California and federal law allow it to be donated to nonprofit charitable organizations. In addition to helping fight hunger in the county and feeding needy families, this will divert solid waste, increasing the lifespan of the county's landfills.

Finally, the County incurs no cost from the food donation as the work is part of the normal routine already in place for recycling purposes and the food banks provide transportation.

County Receives Homeland Security Grant

Last Tuesday, the Board approved a $120,000 Homeland Security grant for the Orange County Sheriff's Department. The purpose of the grant, which provides funding to border states, includes addressing border security issues and increasing coordination and collaboration among Federal, State and local law enforcement agencies.

Since 2009, the Orange County Sheriff's Department has received this funding as a sub-recipient of funds passed through the County of San Diego. Other sub-recipients include the San Diego County Sheriff's Department, San Diego County Probation, several city police departments in San Diego County, the San Diego Harbor Police, Los Angeles County Sheriff's Department and the California Highway Patrol.

The grant funds are intended to be used to close a gap in human trafficking, drug smuggling, drug cartel and gang activity, and threat interdiction identified by Customs and Border Protection and the San Diego County Sheriff's Department. As San Diego has increased prevention, criminal activity is perceived to be circumventing law enforcement there by establishing alternative maritime or land-based routes, which potentially impact Orange County. Therefore, the grant provides funding toward overtime costs in the Harbor Patrol and Air Support bureaus, helicopter flight costs and boat fuel and maintenance costs.

OCTA



California Transportation Commission Reception

As part of the duties as Chairman of the Orange County Transportation Authority, Supervisor Nelson was honored to be a guest speaker at the California Transportation Commission conference which was held at the Doubletree Hotel in Santa Ana. Chairman Nelson spoke on OCTA's continued partnership with the CTC and their goal of improving the quality of life for the people who live, work and travel in Orange County. Also, Chairman Nelson expounded on several projects that OCTA is involved with such as the countywide bus service, the 91 express lanes and environmental mitigation programs. For more information on the California Transportation Commission, please visit: http://catc.ca.gov.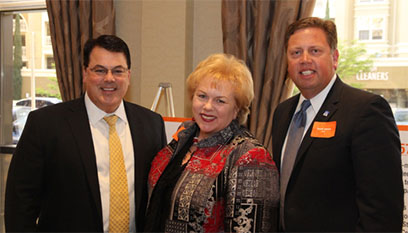 (Left to Right) OCTA Chair Shawn Nelson, OCBC President Lucy Dunn, OCTA CEO Darrell Johnson

$3 Million Going toward Clean Water Program through Measure M

On Monday, March 10, the OCTA board approved allocating nearly $3 million to help improve water quality in Orange County.

The funds come from Measure M, the county's half-cent sales tax for transportation improvements. The ballot measure approved by voters in 2006 includes funding for an Environmental Cleanup Program that awards money on a competitive basis to cities and the county for projects that reduce the impacts of water pollution related to transportation.

Protecting the county's natural resources, while at the same time improving the transportation network, is a key promise made to voters in Measure M.

The OCTA board has approved a two-tier approach to funding, with Tier 1 projects focused on removing visible pollutants such as litter and debris from roads before they reach waterways and Tier 2 projects focused on detention basins and bioswales that can prevent chemicals, heavy metals and sediment from reaching the ocean.

In the current call for projects, that runs through May 19, OCTA will make $2.8 million available countywide for Tier 1 projects that improve water quality.

An 11-member committee reviews the proposals and makes recommendations to the OCTA board. Last year, OCTA received 46 applications from 29 cities.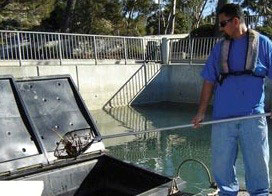 So far, at least $5.6 million has been awarded for water quality projects, including a litter removal project in Newport Beach, installation of catch basin inserts and screens in Tustin and stormwater and transportation runoff abatement project in Mission Viejo, among many others throughout the county. Nearly $58 million was made available through Measure M's Early Action Plan for water quality improvements. Some $300 million is expected to be awarded for that purpose over the 30-year life of Measure M.

In the Community

Lupus Awareness Month

Lupus Advocate, Kirsten Gee Maeda, co-leads the Irvine Lupus Support Group (sponsored by Lupus LA) in Irvine, she is also a Lupus Research Institute (LRI) National Coalition member along side her identical twin sister, Deidre Gee Baptista who has lived with Lupus for over 18 years.

The identical twins along with the other Lupus Research Institute National Coalition members just returned from a productive and successful Lupus Advocacy Day in DC. With much enthusiasm, ("The GEE Twins for Lupus" both graduates of UC Irvine, continue to spread the awareness of this chronic autoimmune disorder, Lupus "Spreading Lupus awareness one butterfly at a time"). Last year after receiving proclamation/resolutions in our home cities Irvine and Rocklin, CA we decided we need to spread Lupus awareness in our counties. (Deidre is working on the Placer County resolution in Northern Cal).

Over 1.5 M Americans live with lupus, yet it is one of the nation's least recognized major diseases. Lupus is difficult to diagnose, some classic symptoms include fatigue, painful joints, and the "butterfly" shaped rash across the cheeks. More severe complications can develop and may affect the heart, lungs, kidney and brain. Over 90% of people with Lupus are women, and Lupus is more common in women of color, African-Americans/blacks, Hispanics and Asians. While there is no cure research is promising, look for future events coming to Orange County.

Upcoming events and resources: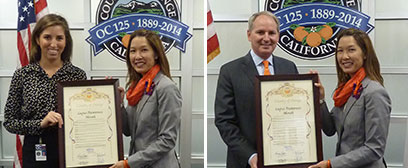 (Left to Right) Natalie Wieckert Office of Supervisor Shawn Nelson & Lupus Advocate Kirsten Gee Maeda; Chief of Staff, Denis Bilodeau & Lupus Advocate Kirsten Gee Maeda

Fullerton Rotary Club – Chair Nelson provides OCTA Update

Supervisor Nelson presented an Orange County Transportation Authority themed PowerPoint "Keeping Orange County Moving" this week at the Fullerton Rotary Club. Renewed Measure M, SR-57 improvements and The Orange County bicycle loop were among some of the issues addressed by Supervisor Nelson. Fullerton's new bike share program is also a hot topic and noteworthy initiative that OCTA is pursuing. Currently, as part of a beta test period, there are 10 stations with 94 bikes located throughout Fullerton, which will increase to 15 stations with 165 bikes by the end of the year. These stations are along key corridors that connect major destinations in Fullerton including: Cal State Fullerton, Fullerton College, Fullerton City Hall, First Christian Church, and the Fullerton Transportation Center.

The Rotary Club of Fullerton is an association of concerned Fullerton citizens, working for the betterment of our community, the welfare of our families, and the future of our youth. The club has been serving the community for over 75 years! For more information on how to join the Fullerton Rotary, please visit www.fullertonrotary.org.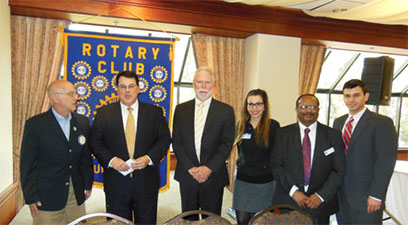 (Left to Right) Rotary president Lee Brockett, OCTA Chair Nelson, OCTA Deputy Chief Executive Officer Ken Phipps, OCTA Strategic Communications Coordinator Kelley Jimenez, OCTA Business Relations Administrator Bekele Demissie, and Nelson's Deputy Chief of Staff Mark Lopez

Nelson Honors Anaheim High School CIF Champions

Supervisor Nelson was honored to deliver thirty Certificates of Recognition to the Anaheim High School Boys Soccer team for winning the CIF Division 3 Championships last week.

The Colonists, led by Anaheim Senior Alexis Supancic who scored a goal in the 2-0 victory over Century HS, celebrated the moment in front of 300 students, cheerleaders and teachers during the 3 pm pep rally. Supancic was named CIF Division 3 Southern Section Player of the Year and joined fellow Colonists as CIF –SS First Team selections along with Elliot Carrillo, Beeri Martinez and, Francisco Santana. Anaheim HS Head Coach Joe Chavez was named CIF Division 3 Southern Section Coach of the Year.

Attending the pep rally and joining Policy Adviser Steve Spernak in the celebrations were Anaheim High School Alumni members Janet Brown and Debbie Vidana who provided Colonists with their superstar awards and provided photography for their Alumni Newsletter.

The Alumni Association will begin accepting donations to purchase CIF Championship rings for the team and coaches this week. Checks can be sent to the Anaheim Alumni Association at PO Box 389, Anaheim, Ca. 92815 and contact/details can be made with the association director Debbie Vidana at 714 883 2389. Congratulations to the team and coaches for a fantastic season and their 'one shining moment' victory over Century High School to bring the CIF Championship to Anaheim High!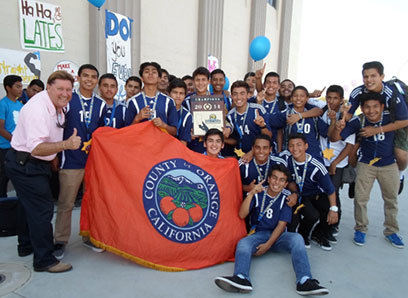 Steve Spernak surrounded by the Championship Team – Anaheim High School

Nelson Honors Top DUI Enforcement at MADD Awards Luncheon

Supervisor Nelson was honored to support the top Officers and Prosecutors in Orange County who man the frontlines in the war on drunk driving with his office's appearance at the 2014 MADD Awards Luncheon. The 27th annual luncheon recognizes the top arresting officers, CHP and deputies who made 7,500 of the 15,000 drunk driving arrests in the last 12 months.

Receiving the DRE (drug recognition expert) AWARD was Captain George Crum from the Fullerton Police Department. Captain Crum has been active in driving under the influence of drugs since 1996 and helped train the 26 DRE certified officers now working at Fullerton PD. Special congratulations to Buena Park Police Officer Patrick Bates who was part of the elite Century Award honorees for the 124 drunk driving arrests he made thru last year.

The La Habra Police Department Explorer Post and community service officers were honored by MADD as the Civilian Employee Group of the Year for their work supporting the department's DUI checkpoints, bookings, transport and stored vehicles after arrests management. 2014 also marked the 20th anniversary of the vehicular manslaughter death of 16 year old Allison Saliture. Policy Advisor Steve Spernak, then a Cypress Police Officer, was in pursuit of the drunk driver at 145 mph up Valley View and trying to stop or intercept the suspect before he struck Allison and her friend who were stopped at the intersection of Valley View and Lincoln. Spernak was recognized for his arrest and court-room testimony that lead to the conviction and imprisonment of the suspect for 10 years for gross vehicular manslaughter and felony DUI.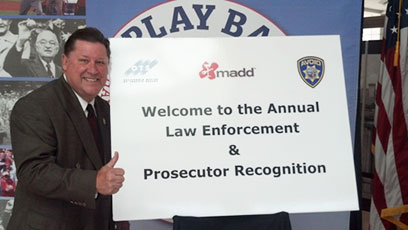 Steve Spernak at the MADD event

Announcements

Do you know any hometown heroes?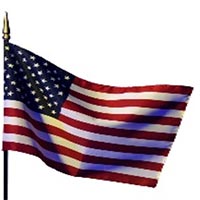 The Fourth District is accepting submissions to recognize unsung heroes in our community.

This may include public safety, first responders, or friends and neighbors who have gone above and beyond the call of duty in everyday life to enrich our community.

To share your story, please call or email Audra Fishel: Audra.Fishel@ocgov.com 714-834-3440

OC Parks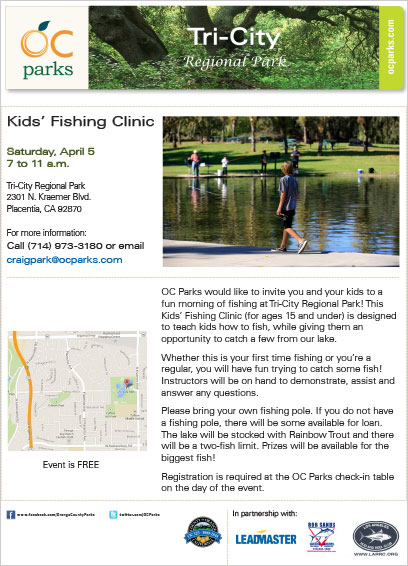 Click on the image above to view a larger version.

County Commissions and Committees

The Fourth District has vacant appointments on the following commissions or committees:


Oversight Board of the Successor to the City of Redevelopment Agency (Buena Park and Anaheim)
Community Action Partnership of OC
In Home Support Services Commission
Treasury Oversight Committee Member
If you are interested in serving on one of these Committees, please call Audra Fishel at (714) 834.3440

OC Animal Care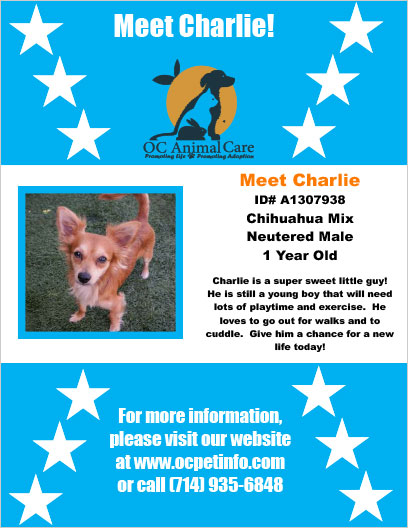 Click on the image above to view a larger version.

Library Corner
Pathways to Hope comes to the Buena Park Library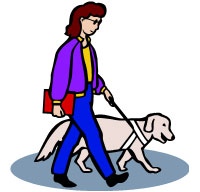 Saturday, April 5th, 2 pm. Learn all about Pathways to Hope's Cell Dogs training programs and meet a service dog in training! Pathways to Hope is a nonprofit organization that partners with OC Animal Care and local correctional facilities to improve the lives of incarcerated individuals and shelter dogs. The dogs in this program are housed with and trained by selected prison inmates in preparation for becoming service dogs.

This event is part of our fourth annual "Buena Park Reads Together" program. During the month of April, we will be offering interactive programs, book discussions and family fun inspired by this year's chosen book, Weekends with Daisy by Sharon Kahn Luttrell.

In Weekends with Daisy, a volunteer service dog trainer tells the story of her relationships with an endearing yellow Labrador puppy and its felon partner in the Prison PUP program. Join us this April for a month-long celebration of service animals and their caretakers, and the joy that animals bring to our lives!

For more information, please call the library at 714.826.4100 x125, or visit our virtual branch at www.buenaparklibrary.org. The Buena Park Library District is located at 7150 La Palma Ave, Buena Park, CA. The Library is open Monday through Thursday, 10:00 a.m. – 8:00 p.m. and Friday and Saturday, 10:00 a.m. – 5:00 p.m.

Meditation Techniques Workshop at the Buena Park Library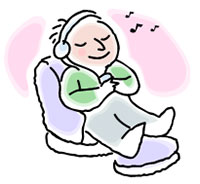 Buena Park Library will be holding a workshop series on Meditation Techniques during the month of April on Monday evenings from 6:00-6:30. Adults and children seven and older are invited to come and learn some basic meditation techniques to ease your stress and relax your family. Dress comfortably. You may choose to sit on the carpet or in a chair as you participate in this half hour of calm.

For more information, please call the library at 714.826.4100 x125, or visit our virtual branch at www.buenaparklibrary.org. The Buena Park Library District is located at 7150 La Palma Ave, Buena Park, CA. The Library is open Monday through Thursday, 10:00 a.m. – 8:00 p.m. and Friday and Saturday, 10:00 a.m. – 5:00 p.m.

Events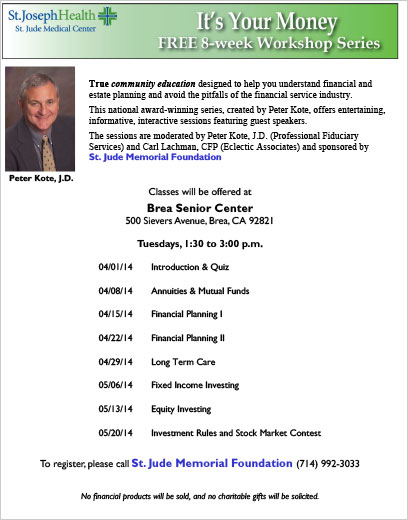 Click on the image above to view a larger version.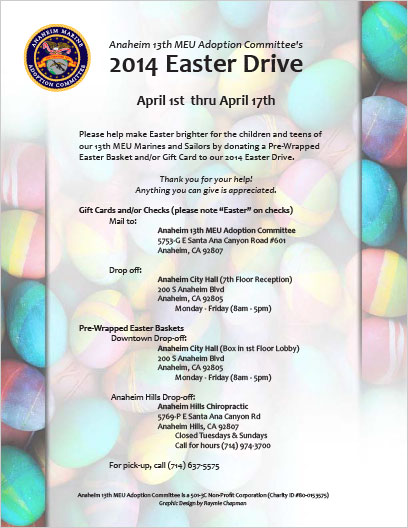 Click on the image above to view a larger version.

Anaheim

What: "Renew West Anaheim" Beach Blvd. Committee Meeting
Where: West Anaheim Youth Center-320 S Beach Blvd.
When: Monday, March 31
Time: 6:30pm

What: Compost Giveaway
Where: Angel Stadium of Anaheim, Orangewood Entrance
When: Saturday, April 5
Time: 7:00am-10:00am

What: 2014 Easter Drive Benefiting the 13th MEU Families
Where: City of Anaheim City Hall, 1st Floor Lobby-200 S. Anaheim Blvd.
When: Tuesday, April 1-Thursday, April 17
Time: 8:00am-5:00pm

Brea

What: 29th Annual Made in California Juried Exhibition
Where: Brea Art Gallery-1 Civic Center Circle
When: Friday, March 28-Sunday, March 30
Time: 12:00pm-5:00pm

What: English as Second Language Class
Where: 695 East Madison Way-Meeting Rooms
When: Monday, March 31
Time: 8:30am-11:00am

What: Bridal Show
Where: Brea Community Center-695 East Madison Way
When: Saturday, April 5
Time: 11:00am-3:00pm

Buena Park

What: City Council Meeting
Where: 6650 Beach Blvd.
When: Tuesday, April 8
Time: 5:00pm

What: All City/Schools Track & Field Meet
Where: Magnolia at Academy Way, Buena Park
When: Friday, April 11
Time: 5:00pm

What: Fine Arts Commission Meeting
Where: 6650 Beach Blvd.
When: Wednesday, April 16
Time: 6:30pm

Fullerton

What: Speaker Series at FMC: Life Aboard a Pacific Battleship
Where: Fullerton Museum Center-301 N. Pomona Ave.
When: Saturday, March 29
Time: 2:00pm

What: Stroller Brigade
Where: Fullerton Museum Center-301 N. Pomona Ave.
When: Wednesday, April 2
Time: 10:00am

What: Kid's Fishing Derby-8th
Where: Laguna Lake Park
When: Saturday, April 5
Time: 8:00am-12:30pm

What: 12th Annual "Faces of Fullerton"
Where: Fullerton Downtown Plaza
When: Saturday, April 12
Time: 10:00am-3:00pm

La Habra

What: Free Art Fridays
Where: Family Art Center-201 E. La Habra Blvd.
When: Friday, April 4
Time: 11:00am-3:00pm

What: Wet Chalk Easter Eggs
Where: Family Art Center-201 E. La Habra Blvd.
When: Tuesday, April 8
Time: 11:00am

What: Easter Hats
Where: Family Art Center-201 E. La Habra Blvd.
When: Saturday, April 19
Time: 11:00am

Placentia

What: Placentia City Council Meeting
Where: 401 E. Chapman Ave.
When: Tuesday, April 1
Time: 7:00pm-9:00pm

What: Veterans Advisory Committee Meeting
Where: 401 E. Chapman Ave.
When: Monday, April 7
Time: 6:30pm-8:00pm

What: Good Morning Placentia
Where: Avalon Bagel to Burgers-174 E. Yorba Linda Blvd.
When: Wednesday, April 23
Time: 8:00am


For questions or comments regarding Nelson's E-News
please contact the Supervisor's office staff:
Audra Fishel Ph: 714-834-3440 Email: Audra.Fishel@ocgov.com.