December 07, 2012

Welcome to this edition of the Fifth District Report, an electronic newsletter keeping you updated about the events taking place in Orange County and in the Fifth District. It is my hope that you find this distribution informative and I would encourage you to contact me regarding any thoughts, comments, or concerns you may have.
---
IN THIS ISSUE...
1. HOLIDAY HEADLINER

2. BOARD BULLETIN BOARD

3. TAX COLLECTOR COLLECTIBLES

4. TRANSPORTATION INFORMATION

5. SAFETY SENTRY

6. ENVIRONMENTAL MEMOS

7. CRITTER CHRONICLES

8. COUNTY CONNECTIONS

9. HOLIDAY HELPER

10. FIFTH DISTRICT SPOTLIGHT

11. HOLIDAY HAPPENINGS

12. FIFTH DISTRICT WRAP-UP

---
OUR STAFF...
Don Hughes:
Chief of Staff
Kristen Thornton:
Deputy Chief of Staff
Ray Grangoff:
Deputy Chief of Staff
Sergio Prince:
Policy Advisor
Sabrina Ross:
Policy Advisor
Ruth Strachan:
Office Manager
Click here to subscribe.

Click here to unsubscribe

---
HOLIDAY HEADLINER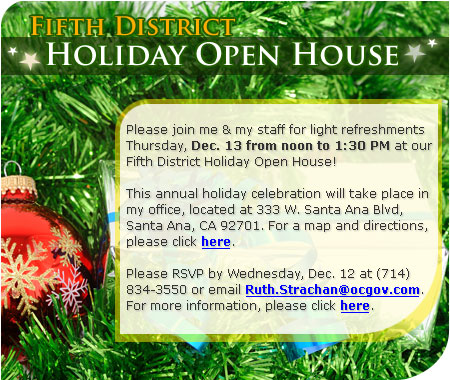 BOARD BULLETIN BOARD

Certification of Election Results for 2012 General Election

The Board certified the election results for the November 6 General Election by declaring elected the candidates with the highest number of votes and receiving the certified Statement of Votes Cast.

To view the General Election results, please click here.

Amendment to the Master Plan of Arterial Highways

The Master Plan of Arterial Highways (MPAH) is used as a model of coordinated planning, requiring the cities of Orange County and the County of Orange to work cooperatively in implementing a regional transportation system.

The MPAH map is a critical element of overall transportation planning and operations in Orange County, as it defines a countywide circulation system in response to existing and planned land uses. The Orange County Transportation Authority (OCTA) is responsible for maintaining the integrity of the MPAH system.

The Cities of Irvine, Laguna Hills and Laguna Woods have requested amending the MPAH to reflect changes in the traffic patterns and circulation routes as a result of new road construction and roadway improvements that have occurred over the past years, as well as environmental considerations.

In approval of the MPAH, OCTA required a Memorandum of Understanding (MOU) between the above cities and the County, as well as amendments to the individual agencies' general plans. On Tuesday, the Board of Supervisors approved the MOU and held a public hearing regarding the General Plan amendment.

For more information, please click here.

Moulton Parkway Widening Segment 3, Phase II

The Board approved a construction contract with Griffith Company in the amount of $9,302,214 for the Moulton Parkway Widening Project (Segment 3, Phase II), from 400 feet north of El Toro Road to 500 feet north of Santa Maria Avenue in the City of Laguna Woods.

The project will widen and upgrade a 0.8 mile section of Moulton Parkway to a six-lane Smart Street in conformance with its designation on the Orange County Transportation Authority's Master Plan of Arterial Highways. This Project is the last segment of the Moulton Parkway Smart Street Project, which extends 24.5 miles from the City of Santa Ana to the City of Dana Point.

The project scope includes road widening, continuous sidewalk and bike lanes, traffic signal synchronization, bus turnouts, intersection improvements, new dedicated right turn lanes into the adjacent golf course and garden center, and increased capacity for existing dedicated left turn lanes at Gate 12 and Santa Maria.

For more information, please click here.

Board of Supervisors Rules of Procedure Change

The Board adopted a change to the Rules of Procedure that modifies the time allowed for public comments at Board of Supervisors' meetings. The new rule allows members of the public to speak for up to nine minutes total during Board of Supervisors meetings, with a maximum limit of 3 minutes per item. The rule changes do allow the Chair of the Board discretion in allowing a speaker to go beyond the 9 minute limitation.

While I am a firm believer in public participation at our Board meetings, the action taken this week was in response to continued disruptions and increased abuse of the public speaking rules that caused significant delays in conducting the business of the County and deprived other members of the public the opportunity to have their issues addressed in a timely manner. It is my hope this rule change will facilitate more focused discussion of the important issues facing the residents of Orange County.

For more information, please click here.

Dana Point Yacht Club Lease Approved

The Board unanimously supported a new lease with the Dana Point Yacht Club. This allows the public benefits provided by the Yacht Club to continue, including many community-serving events and services such as children's sailing programs and charitable fundraising.

The Yacht Club has been instrumental over the years in promoting boating in Dana Point Harbor and ocean based educational programs. The Yacht Club has proven to be a responsible and cooperative tenant in the Harbor, and the County looks forward to continuing this partnership for the betterment of Dana Point Harbor.

For more information, please click here and here.

Orange County Cemetery District Appointment

The Board of Supervisors unanimously supported my nomination to reappoint Leslie Ann Keane to serve on the Orange County Cemetery District Board of Trustees.

The three cemeteries owned and operated by the District are among the County's oldest and most established, with each having recorded burials prior to 1900. Although privately owned originally, the cemeteries were formed into separate independent districts in 1926. In 1985, the districts were consolidated under one governing board to create the Orange County Cemetery District.

I commend Leslie Ann Keane, who also serves as Laguna Woods City Manager, for her commitment to public service.

For more information, please click here.

Dana Point Harbor Marina Improvement Project

At our upcoming December 11 Board of Supervisors meeting, the Board will hold a Public Hearing to consider the Subsequent Environmental Impact Report (SEIR) No. 613 for the Dana Point Harbor Marina Improvement Project.

Approval by the Board will certify the Final SEIR No. 613 and incorporate refinements to the Dana Point Harbor Marina Improvement Project description as presented in the final SEIR Response to Comments.

The Public Hearing will begin at 9:30 AM in the Hall of Administration Hearing Room. For the complete staff report, please click here.


TAX COLLECTOR COLLECTIBLES

1st Installment of Secured Property Taxes Due

The 1st installment of your secured property taxes is due Monday, December 10. Payments postmarked after this date will be subject to a 10% late penalty.

To pay by eCheck at no cost or for more information, please click here.


TRANSPORTATION INFORMATION

Jingle Pass

The Orange County Transportation Authority's (OCTA) holiday Jingle Pass is back again this year to help make your holidays even merrier. No worries about filling up your gas tank or finding a parking spot, just hop on board a clean OCTA bus and leave the stress behind.

You can ride all you want, all day long through the holiday season for just $45. That's just a $1 a day, what a bargain!

Hurry and buy yours while supplies last and find out where OCTA and the Jingle Pass can take you. Quantities are limited and there is a limit of two passes per household.

For more information, click here.

F/E TCA Finance and Operations Committee Meeting

The Foothill Eastern Transportation Corridor Agency (F/E TCA) Finance and Operations Committee approved moving forward on development of finance structures to refinance and restructure existing F/E TCA bonds.

In November, the F/E TCA Board of Directors approved a financing team to begin the process of pursuing refinance/debt restructuring. The purpose of a refinance is to take advantage of the low interest rates that currently exist in the market.

With this action, the F/E TCA Board is taking a strategy of developing a few different structures and submitting them to the rating agencies for review and comment. Once this occurs, the Board will be able to determine which plan is best for the agency to adopt in order to meet financial needs over the next several years.


SAFETY SENTRY

DUI Enforcement Operations Planned for South County

Deputies from the Orange County Sheriff's Department's DUI Task Force will be deploying this weekend to stop and arrest alcohol and drug-impaired drivers as part of the department's ongoing traffic safety campaign.

DUI Saturation Patrols will deploy on Friday, December 7 from 8:00 PM to 4:00 AM in the cities of San Clemente, Dana Point and San Juan Capistrano. These patrols will be targeting areas with high frequencies of DUI collisions and/or arrests.

For more information, please click here.

Holiday Season Safety Tips

With the holiday season underway, local law enforcement agencies are reminding the public to remember the following safety tips:

Always lock your vehicle and remove all of your valuable property, especially your holiday gifts, while parked anywhere - even in your garage. Vehicle burglaries occur during this season because many people drop off their purchased gifts to their car and go back into the store for more shopping, leaving their vehicles and gifts unattended.


Always take your purse or wallet with you - never leave it in your car. Use a shoulder-strap purse to prevent your purse being taken from a shopping cart, counter or the floor by a thief.


To prevent the theft of packages being delivered to your home when you're not there, request from the company you are ordering from or shipper that USPS, UPS or FedEx requires your signature before your packages are delivered. Or, if possible, request that USPS, UPS or FedEx hold your packages for pickup at their nearest location. This is one way to avoid them from being stolen from your front porch.


Burglars know that a holiday tree showcased in the front window means presents will be underneath it. Close your blinds while you are away from home and reinforce all of your windows and sliding doors with additional locks.


Keep your garage door closed at all times to prevent thefts from your garage, vehicle or home. Also, remove the garage door remote when you park in your driveway or on the street.


If you go out of town for a holiday vacation, make your house look "lived in." Have a trusted neighbor pick up your mail and newspaper every day. Place timers on different lamps, TVs and radios throughout the house at different days and times to give the illusion of an occupied home.


When shopping online, consider using a third-party service, such as disposable credit card or PayPal to pay for purchases. This protects your personal credit card information, reducing the risk of fraud.


To avoid being a victim of a charity scam, never give out personal information, including credit card and bank account details, especially over the phone. If you want to give this holiday season, contact the charity of your choice to find out how you can donate to their cause.


If an offer, product or service sounds too good to be true, it probably is. Don't fall for the scam.


Keep your credit card receipts in a safe place and review your credit card, ATM card or checking account statements for activity that may indicate fraud or identity theft. If you are a victim of fraud or identity theft, call the credit reporting agencies to put an alert on your accounts and call your local police non-emergency line to report it.


Call your local police non-emergency line to report any solicitors or other types of suspicious people or activity.
ENVIRONMENTAL MEMOS

Orange County Coastal Coalition

The Orange County Coastal Coalition, which I Chair, provides an opportunity to learn about and collaborate on current topics affecting not only our coastal cities, but those inland as well. As such, our November 29 meeting provided a forum to hear from Mr. Matt Brisbois, Newport Beach Fire Department Community Emergency Response Team (CERT) Program Manager; and Ms. Donna Boston, Emergency Manager, Orange County Sherriff's Department.

Mr. Matt Brisbois shared about one of the local Department of Homeland Security Citizen Corps volunteer programs called the Newport Beach Fire Department Community Emergency Response Team (CERT). The CERT program is designed to prepare you to help yourself, your family and neighbors in the event of a catastrophic disaster.

Because emergency services personnel will not be able to help everyone immediately, you can make a difference by using CERT training to save lives and protect property. Following a major disaster, first responders who provide fire and medical services will not be able to meet the demand for these services.

Factors such as number of victims, communication failures, and road blockages will prevent people from accessing emergency services they have come to expect at a moment's notice through 911. People will have to rely on each other for help in order to meet their immediate life-saving and life-sustaining needs.

CERT is about readiness, people helping people, rescuer safety, and doing the greatest good for the greatest number. CERT is a positive and realistic approach to emergency and disaster situations where citizens will be initially on their own and their actions can make a difference.

For more information about the U.S. Department of Homeland Security Citizen Corps volunteer programs, please click here.

Ms. Donna Boston shared about the mission of the Orange County Sherriff's Department's Emergency Management Bureau in the event of a disaster. The mission is to promote, facilitate and support County of Orange and the Operational Area (OA) efforts to prepare for, mitigate against, respond to, and recover from disasters.

Legal mandates state that "Each county is designated as an OA… each OA shall serve as a link in the system of communications and coordination between the state's emergency operating centers and the operating centers of the political subdivisions comprising the operational area."

All public employees, state, county and city are "disaster service workers subject to such disaster activities as may be assigned to them by their superiors or by law." In the County of Orange, there are several approved Emergency Plans and some additional plans under development currently.

Disasters can occur with little to no notice and have unpredictable severe outcomes, causing stress, uncertainty, high risk and high consequence. AlertOC is Orange County's regional public mass notification system designed to keep those who live or work in Orange County informed of important information during emergency events. The system is sponsored and led by the County of Orange in partnership with many Orange County cities.

Based on the severity of the event, AlertOC may be used to contact residents by one or all of the following methods: home phone, work phone, cell phone, e-mail, text message.

The legal authority (County or City) responsible for announcing emergency notifications depends on the nature and scale of the incident. With the AlertOC partnership between the County and Cities, residents and businesses only need to provide their contact information once to receive emergency messages from either the County or City in which they live or work.

For more information about AlertOC, please click here. For more information about Orange County's emergency preparedness resources, please click here.

To be placed on the email distribution list for Coastal Coalition meetings, please send your email address to andrea.toscano@ocpw.ocgov.com.


CRITTER CHRONICLES

Photo with Santa

Bring your pet to OC Animal Care on Saturdays through December 23 for a Photo with Santa! All participants will receive a festive holiday frame with your pet's photo. You will also receive a digital copy to share with your friends and family! All donations will benefit the animals of OC Animal Care!

For more information, please click here.


COUNTY CONNECTIONS

Recruitment for Children and Families Commission

The Board of Supervisors has launched a countywide recruitment to fill three positions for the 2013 Children and Families Commission of Orange County. The recruitment is open to new applicants and current members. Applications for these positions will be accepted by 3:00 pm on February 1, 2013.

For more information and/or to download the application, please click here and here.


HOLIDAY HELPER

Assisting the Needy this Holiday Season

Adding one more gift to your shopping list can make holiday dreams come true for a needy child or teen, an impoverished senior citizen or a low-income family.

For volunteer and donor opportunities available this holiday season, please click here.


FIFTH DISTRICT SPOTLIGHT

Program by South County Student Spreads Across Nation

As a Tesoro High School sophomore, Caitlin Crommett began a service club called "DreamCatchers" to grant final wishes to terminally ill patients. Caitlin's high school club has now become a national organization, which was featured by her college, the University of Notre Dame, in a two-minute ad featured live on NBC during the Notre Dame-Wake Forest football game November 17.

Today, thanks to support from the University of Notre Dame, Caitlin's vision of fulfilling the dreams of others is now active in ten states and counting. To view a video about the program founded by the current Notre Dame sophomore, please click here.


HOLIDAY HAPPENINGS

Dana Point Harbor: Boat Parade of Lights

This year's theme for the 38th annual Boat Parade of Lights in Dana Point Harbor is "A Hollywood Holiday." You may view the parade for FREE from anywhere in the Harbor on December 7, 8, 14 & 15. For more information, please click here.

Laguna Niguel: 2012 Holiday Parade

The theme for the 2012 Laguna Niguel Holiday Parade is "Honoring Our Heroes." The parade, which begins at 10:00 AM on Saturday, December 8, will be filled with beautiful equestrian units, patriotic and inspirational military tributes, spirit-filled youth groups, classic auto clubs, talented marching bands, and some of the biggest attractions in the nation! For more information, please click here.

Laguna Beach: 22nd Annual Winter Fantasy

The 2012 Winter Fantasy in Laguna Beach, featuring the fine art and craft of over 170 exhibitors, concludes this weekend, December 8 & 9 at the Sawdust Art Festival grounds. For more information, please click here.

Laguna Hills: Breakfast with Santa

Santa will be arriving at the Laguna Hills Community Center for a morning full of holiday fun on Saturday, December 8 from 9:00 AM to 10:30 AM. Sign up soon, space is limited! For more information, please click here.

Aliso Viejo: Holiday Show

Enjoy the holiday cheer at the 2nd annual Aliso Viejo Holiday Show on Saturday, December 8 from 7:00 PM to 9:00 PM at Soka University's Performing Arts Center, featuring an array of dancers, singers and musicians in a magical and memorable performance. For more information, please click here.

Mission Viejo: Winter Leisure Time

The City of Mission Viejo's winter Leisure Time publication is now available online, offering detailed information about upcoming special events, programs and classes, including holiday events like the 40th annual Holiday Home Lighting Contest and Santa Paws on December 8. For more information, please click here and here.


FIFTH DISTRICT WRAP-UP

In addition to my many meetings, briefings, and other supervisorial activities, I also:

Attended the Laguna Niguel City Council meeting to present certificates of recognition in honor or outgoing Councilmembers Joe Brown, Gary Capata and Paul Glaab.
Attended the Aliso Viejo City Council meeting to present certificates of recognition in honor of outgoing Councilmembers Greg Ficke and Don Garcia.
Adjourned the Board of Supervisors meeting in memory of John "Jack" Leahy of Laguna Woods.
My office also:

Attended "Saddleback College Presents: Election 2012 - How the Results will Impact Small Business."
My staff and I look forward to continually providing you updated information in our Fifth District Newsletter and website.

Please feel free to contact my office with your concerns, comments or questions at (714) 834-3550. It is an honor and a privilege to serve as your Supervisor for Orange County's Fabulous Fifth District.

For an ADA version of our newsletter, click here.

Follow me on Facebook!