April 17, 2015
Volume 2

Issue 15

County Connections

Board of Supervisors Vote to Delay Ambulance RFP Awards

Last December, in my newsletter Volume 1 Issue 2, I explained that the Board of Supervisors voted to rescind the cancellation of the 9-1-1 Emergency Ambulance Transportation Services Request For Proposal (RFP) and directed the Health Care Agency (HCA) to regrade the existing RFP's with a new panel.

The award of these 9-1-1 Emergency Ambulance Transportation contracts has been a controversial issue for over a year now, predating my election to the Board of Supervisors. On Tuesday, the Health Care Agency sought approval of the selection of recommended service providers and alternates, and execution of Agreements with the recommended service providers, for provision of 9-1-1 Emergency Ambulance Transportation Services for the period of June 1, 2015 through May 31, 2020.

My primary concern has always been the process by which we got to where we are today and the lack of local input in the development of the Exclusive Operating Areas (EOA). In 2013, the State Emergency Medical Services Authority directed HCA to develop EOA's for nineteen contract cities, majority of which are in the 5th District.

As the 5th District Supervisor it is my job to protect the residents of my District, to whom I am elected to serve. I have strong concerns with regards to the impact decisions being made at the State level are having in Orange County. On Tuesday, the recommendation was to award four of the five EOA contracts to one ambulance provider, this provider also has contracts with a vast number of cities in the northern portion of the County. I strongly believe in the capability of this ambulance company and the recommended alternate, however I am troubled that we could possibly be setting the stage for a monopoly. The State EMSA has not appeared to be concerned with regards to a monopoly – however, I am.

I have always been an advocate for local control and strongly believe that we should not allow Sacramento to dictate how we select our ambulance service providers. For these reasons, my colleagues and I voted to delay the award of the 9-1-1 Emergency Ambulance Transportation contract for two weeks. Supervisor Michelle Steel and I volunteered to be part of a task force to work with our Orange County State Legislators, and the County to collaborate with EMSA and develop a solution that is in the best interest of public safety and the cities we represent.

This has been a long and arduous process I would like to thank the HCA staff for their time and effort spent on this procurement. Additionally, I am incredibly grateful for all of the South County Mayors, Mayor Pro Tems, Councilmembers, City Managers, and stakeholders who testified at the Board meeting, and to Senator Patricia Bates for being a strong South County advocate throughout this process.

To view the Staff Report please click here.

State Awards $17.5 Million for New County Juvenile Probation Center

The California Board of State and Community Corrections has awarded $17.5 million to the County of Orange to build a multi-purpose rehabilitation facility at the Juvenile Hall and Youth Leadership Academy campus in Orange, including a visitation center, meeting rooms and a gymnasium.

The funding was the most received among eight counties splitting nearly $80 million to improve housing and program space for youthful offenders.

The County is providing the land for the new center, as well as in-kind resources and cash, toward the total project cost of $23.3 million. The amount has been budgeted in the County's strategic plans.

Juvenile Hall is operated by the Orange County Probation Department for youthful offenders aged 12 to 20. The Youth Leadership Academy is a 120-bed juvenile detention facility that shares a school, library, recreation fields and kitchen with Juvenile Hall.

The state funds will be used to replace the outdated Visiting Center, including access to free parking. The gymnasium will allow for large indoor exercise space. New program space will provide rooms to accommodate large family and community events, as well as offer a variety of vocational, recreational and social activities.

The new facility will be designed toward juvenile justice best practices, which encourages that facilities be close to youths' families and communities, be accessible for visiting and be designed to minimize the institutional feel as a way of encouraging positive behavior. Additional staff needs are not anticipated.

Other counties receiving funding for juvenile facility improvements included Riverside, San Diego, Santa Cruz, Tulare, El Dorado, Yuba and Kings.

Clerk Recorder Special Saturday Hours Planned for April 25th

Plan now to take advantage of special Saturday hours available at the Orange County Clerk Recorder Department on Saturday, April 25th from 10 a.m. to 3 p.m. at the Old County Courthouse in Santa Ana and the department's branch offices in Fullerton and Laguna Hills. Appointments are filling fast.

The Old County Courthouse will be offering marriage licenses, civil wedding ceremonies and passport application services only. Copies of property records and birth, death and marriage certificates will be available at the Laguna Hills and Fullerton branch offices, as well as obtaining marriage licenses and civil wedding ceremonies. Please note that the department's South County branch office in Laguna Hills is now offering passport services. Free parking will be available at all three locations.

The popular Saturday hours make it easier for families and those who work during the week to obtain services usually offered just on weekdays. For example, to obtain a passport for a child under the age of 16, both parents must be present.

During the department's March 21st Saturday opening, department staff issued 146 marriage licenses and performed 110 civil marriage ceremonies. The department also accepted 32 passport applications. These numbers exceed typical daily averages indicating to the department that demand remains high for these Saturday openings.

Appointments for civil wedding ceremonies are recommended due to anticipated increase in demand for services at the beginning of spring. To save time, marriage license, ceremony and passport applications can be completed in advance online at www.ocrecorder.com. As an added convenience, passport photos are available on the spot for $15.

To make an appointment or for more detailed information about the services available at the Clerk-Recorder Department, please visit: www.ocrecorder.com.

OC MOVES

OCTA Seeks Applicants For Measure M Taxpayer Oversight Committee

The Orange County Transportation Authority (OCTA) is seeking qualified volunteers to serve on the Measure M Taxpayer Oversight Committee (TOC).

The eleven-member committee monitors OCTA's use of Measure M funds and ensures that all revenue collected from both Measure M1 (M1) and the Renewed Measure M2 (M2) is spent on voter-approved transportation projects. The independent committee was formed after the passage in 1990 of Measure M, a half-cent sales tax to fund transportation improvements in Orange County.

Applications for the 2015-2018 term will be accepted through May 4, 2015 to fill four positions; one each in the First, Second, Fourth and Fifth Supervisorial Districts. Orange County residents residing in these areas are eligible to apply. Candidates must be 18 years of age, reside in one of the districts named above and be willing to participate for a three-year term. Potential committee members should also demonstrate a history of participating in community activities and knowledge of public transportation.

The Grand Jurors Association of Orange County is conducting the recruitment program and will recommend qualified candidates for membership. For additional information or to request an application, call the selection panel at (714) 970-9329 or visit OCTA's website at www.octa.net/toc.

SAFETY FIRST

Superior Court Service Center Now Open in Mission Viejo

Since the closure of the courthouse in Laguna Hills in 2013, Orange County Superior Court has had a significant need to provide public access to court services to the over 600,000 residents living in south Orange County. The SCSC is a service location where court users can obtain self-help services. In the future, the SCSC will offer expanded services by opening filing windows for various case types and traffic services for the public.

The SCSC is located at 27573 Puerta Real, Mission Viejo, CA 92691, in a commercial shopping center which can be accessed from the Crown Valley Parkway exit off the 5 Freeway. The SCSC is open Monday through Thursday from 8:00 a.m. to 12:30 p.m. and from 1:30 p.m. to 4:00 p.m., and on Friday from 8:00 a.m. to 12:30 p.m. and from 1:30 p.m. to 3:00 p.m.

Initially, the SCSC is offering self-help services to self-represented litigants in various case types. Self-help services include providing legal information and procedural assistance, offering workshops, providing document review of Judicial Council forms and Orange County approved local forms, public computer use, and legal library use. Please visit www.occourts.org/self-help/shworkshops.html for workshop schedules.

OC Pet of the Week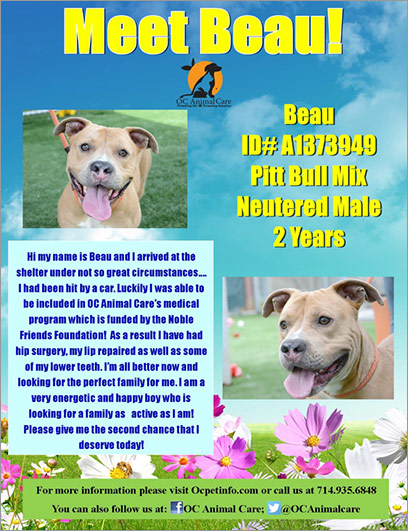 Furry Friends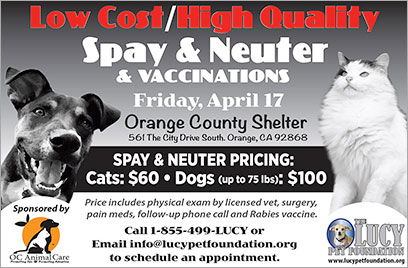 Click on the image above to view a PDF version.

Out and About South County

Aliso Viejo: Creek cleanup effort on tap April 18

Help the Laguna Canyon Foundation clean up trash along Aliso Creek on Saturday, April 18. Restoration crews recently removed large stands of an invasive bamboo-like weed, Arundo. Now that this eyesore is gone, creek visitors will see the stream bed transform into a wooded glade bordering a meandering stream. Your cleanup efforts will help highlight the creek's beauty by removing trash that has accumulated in the weedy Arundo. Residents, groups and organizations are invited to take part in this Earth Day activity and restoration effort.

The group will meet at 7:45 a.m. at the Aliso and Wood Canyons Wilderness Park Ranger's Headquarters at 28373 Alicia Parkway. The cleanup takes place from 8 to 11 a.m. along the portion of Aliso Creek between the Laguna Niguel Skateboard and Soccer Park and Pacific Park Drive.

Dana Point: California Wine Festival - Orange County April 17 – 18, 2015

Wine, food, music, sun and sea. Experience the quintessential California wine tasting and enjoy hundreds of California's finest vintage wines, delicious gourmet foods samples and lively music. Discover new wines at every Festival, find a new favorite and pair it with a dizzying variety of fresh gourmet appetizers like artisan breads, cheeses, olive oils and so much more. Enjoy an afternoon of unlimited fun, food and music – at the biggest wine festival under the sun! For more information visit californiawinefestival.com.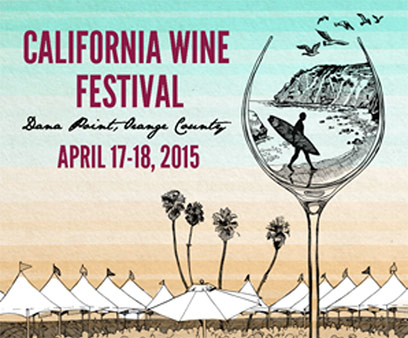 Laguna Niguel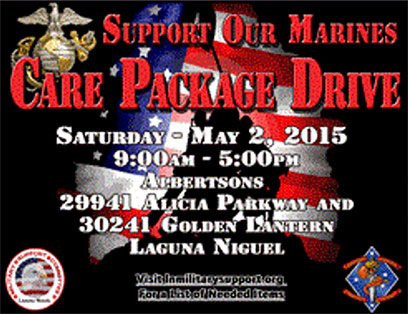 Mission Viejo: Spring Reflections Fine Art Exhibition

The Saddleback Art League will hold its 16th annual Juried Fine Art Exhibition April 13 through May 22 in the Mission Viejo Library, 100 Civic Center, Mission Viejo. The artists represented in the show will be mostly local residents, many with noteworthy reputations for creative styles and subject matter in a variety of media. Much of the artwork on display will be available for sale. For more information, visit www.saddlebackartleague.com.

Last but not least this week I:

Participated in the Orange County Transportation Authority Board of Directors and Legislative and Communications committee meeting.
Presented at the San Juan Capistrano Rotary Club.
Participated in the Orange County Fire Authority Executive Committee meeting.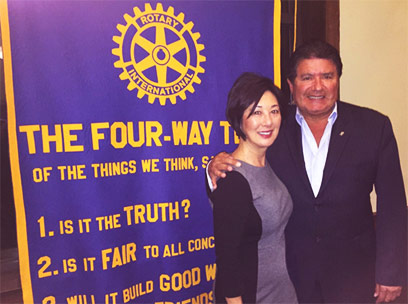 My Staff:

Attended a meeting of the South Orange County Exchange Club to present a certificate of recognition to their Youth of the Year, Santa Margarita High School senior Grant Kalasky.
Toured the Brain Treatment Center in Newport Beach.
Presented a certificate of recognition in honor of the grand opening of Friar Tux in Laguna Niguel.
Presented a certificate of recognition in honor of the grand opening of Sycamore Chiropractic in San Juan Capistrano.
Attended the San Onofre Decommissioning Community Engagement Panel.
Participated in the Superior Court Leadership Academy.



DISTRICT

STAFF
Paul Walters
Chief of Staff

Victor Cao
Policy Advisor

James Dinwiddie
Policy Advisor

Kelley Jimenez
Policy Advisor

Sergio Prince
Community Relations Advisor

Tanya Flink
Office Manager



Stay Updated!