November 13, 2015
Volume 2

Issue 45

County Connections

2015 South County Veterans Summit

On November 6, as the nation was preparing to celebrate Veterans Day the following week, I had the pleasure of hosting my inaugural South County Veterans Summit at Saddleback College in Mission Viejo. Partnering with me to host the 2015 South County Veterans Summit were OC Community Services, which includes the OC Veterans Service Office and OC Workforce Investment Board, as well as OC Veterans Advisory Council, 2-1-1 Orange County, and Saddleback College.

Orange County is home to the sixth largest concentration of veterans in the United States – approximately 133,000 - and growing. In an effort to reach and connect with veterans in our community, the theme for the event was "Connect and Succeed!"

The 2015 Veterans Summit began with an informative program and an inspiring welcome from Saddleback College President, Dr. Tod Burnett. The main focus of the program was a presentation on the results of a new study, titled "South Orange County Veterans Report." The Report, commissioned by the OC Workforce Investment Board (OCWIB), addressed the attributes of South County veterans and employers, education and access, and nonprofits providing veteran services.

The Report was presented by Dr. Wallace Walrod, Chief Economic Advisor for the Orange County Business Council (OCBC). This was a pilot project and the first attempt by OCWIB to conduct research for a sub-region and special population. The Report's results were based on current labor market information and economic data analysis, as well as findings released earlier this year of an Orange County Community Foundation survey conducted by USC's School of Social Work, titled "The State of the American Veteran: The Orange County Veterans Study."

As such, our Report provides a snapshot of the current economic and employment well-being of veterans residing in South County. South Orange County has a unique labor market and mix of industry clusters, which require varied types of education and workforce training to ensure South County veterans are able to find successful, appropriate employment within the region.

The Veterans Summit program also included a panel of speakers, who discussed their ongoing efforts to assist our South County veterans, including Marco Martinez from the OC Veterans Service Office, Bobby McDonald from OC Veterans Advisory Council, Karen Williams from 2-1-1 Orange County, and Terence Nelson from Saddleback College.

In addition, the 2015 South County Veterans Summit featured a Resource Expo, connecting veterans with traditional basic need and support services. The expo fea The Resource Expo also featured a series of breakout sessions, providing valuable information on accessing VA benefits, as well as transitioning veterans to employment and education.

Please be assured that as your Orange County Supervisor, my office, OC Community Services, including the Orange County Workforce Investment Board and Veterans Service Office, as well as the OC Veterans Advisory Council and Saddleback College, will continue to coordinate our efforts to best serve our region's veterans, to whom we owe an enormous debt of thanks.

To view the program and agenda for the 2015 South County Veterans Summit, please click here. To view South Orange County Veterans Report, please click here. To view the PowerPoint presentation of the Veterans Report, please click here. To view the updated County of Orange Veterans Resource Directory, please click here. To view a photo album of the 2015 South County Veterans Summit and Resource Expo, please click here.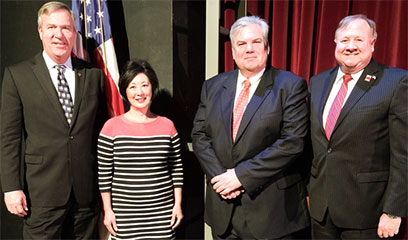 Col. Greg Raths (Mayor Pro Tem, Mission Viejo), Supervisor Bartlett, Dr. Wallace Walrod (Chief Economic Advisor, OC Business Council), Dr. Tod Burnett (President, Saddleback College)

SMWD Honors SustainaBlue Water Heroes

The Santa Margarita Water District Board of Directors recognized and honored three Mission Viejo water heroes at their regular monthly meeting on Wednesday, November 4, 2015. SMWD's "SustainaBlue" Water Heroes are selected from among the District's 65,000 customers for their extraordinary efforts at achieving water use efficiency and conservation. The honorees are among those customers who have risen to the challenge of cutting their water use by at least 24 percent during the unprecedented California drought. At the end of October, the District had seen cumulative cut-backs in use amounting to some 29 percent as compared to that same period in 2013. Water Heroes for November are Roberta Scharlin Zinman, Kevin and Mary Regan, and the Casta del Sol Homeowners Association, all of Mission Viejo.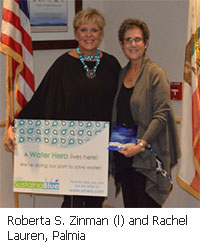 Aided by her consultant, Rachel Lauren of Rachel Lauren Design, Ms. Zinman removed all of the original back yard with the exception of a beautiful 30 year-old Magnolia tree. She installed a 'Smart', weather based irrigation control and drip irrigation system and a new colored concrete patio surround, removing 450 square feet of sod and irrigation and replacing it with an equal amount of decomposed granite, extending Ms. Zinman's newly designed outdoor living spaces.

Ms. Zinman's only been in her home since March of this year. Nevertheless, her water use is well below average and she's taken important steps to ensure her efficiency going forward.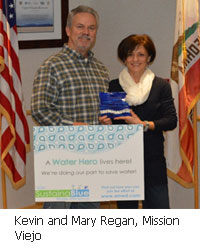 Kevin and Mary Regan took advantage of several of the learning opportunities made available by SMWD to help customers in their efforts to become more water efficient and reduce their water use.

The couple attended four SMWD landscape design workshops and participated in the Tree of Life Nursery's Designer in Residence in Program. In addition, they also participated in the turf removal program and removed almost 2,000 square feet of turf. Since June, 2015 their water use in and around their home is down some 29%.

The Regans have expressed interest in more SMWD design assistance and will participate in the District's "SustainaBlue" Design Studio, the newest program the launched by the District.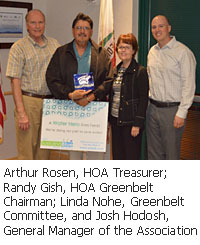 In response to the drought and with a strong desire to be as water-efficient as possible, the Casta del Sol HOA developed a water savings plan earlier this year.

Casta del Sol maintains two on-site weather stations that are hard-wired to the central irrigation controller for maximum efficiency. Their plan also calls for maximizing the "percentage adjust" feature of their central irrigation controller to meet the District's 24% reduction goal within the Associations boundaries.

Additionally and further contributing to their success, the HOA has taken out 62,000 square feet of grass and in its place, put in attractive low-water use plants.

The Santa Margarita Water District presented the each of the awardees with a commemorative plaque and a yard sign designating them as "Water Heroes." Nominations for Water Hero Awards are welcome and can be made by contacting the District. Please send an mail to Jim Leach at jiml@smwd.com.

County Department Highlights

CalOptima Receives HEDIS Best Performance Award for a Large Scale Plan

During the Department of Health Care Services All Plan Medical Director's Meeting on Thursday, October 15, DHCS announced the winners of its Annual Quality Awards. The awards are intended to highlight health plans that have excelled in improving the quality of health care for the greater than nine million Medi-Cal beneficiaries receiving services through managed care. CalOptima was the recipient for the HEIDS Best Performance Award for a Large Scale Plan.

Spread the Holiday Cheer with Operation Santa Claus

Help spread the holiday cheer to those in need by donating to or volunteering for Operation Santa Clause and Senior Santa & Friends! Multiple County departments are working together to gather toys, funds, and volunteers to make everyone's season a bit brighter. See the flyer to find out ways you can help support this team effort.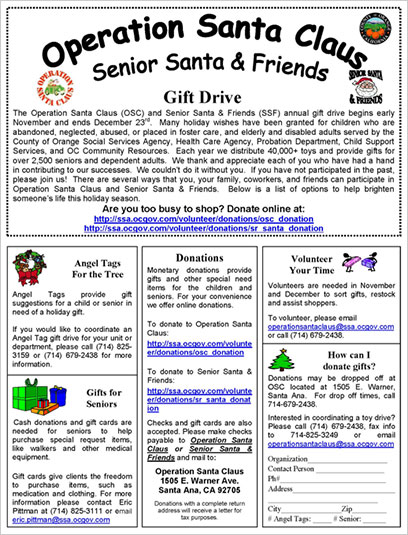 Click on the image above to view a PDF version.

Safety First

Sheriff's CSA Recruit First Amputee to Graduate from OC Sheriff's Academy

Correctional Services Assistant Recruit Robert Ram graduated the Orange County Sheriff's Department Correctional Services Assistant (CSA) Academy on October 29, 2015. Ram, a Rancho Santa Margarita resident, is a single leg amputee and is the first amputee to graduate from an Orange County Sheriff's Academy class.

Diagnosed with Ewing's sarcoma in the marrow of his left tibia, Ram's leg was amputated above the knee at age 12. Prior to his diagnosis and amputation Ram was an active young man and an all-star baseball player. After the amputation in May of his 7th grade year, Ram focused on rehabilitation and returning to the active lifestyle he'd previously enjoyed. With hard work and dedication, Ram played multiple sports in high school including four years of water polo, three years of swimming, and one year of wrestling. Ram also volunteers at CHOC speaking to young patients who are dealing with amputations and encouraging them to chase their dreams.

Ram always dreamed of being a deputy sheriff, hoping to follow in the footsteps of his father who is a retired LASD deputy. As he is just 20 years old, Ram is not old enough to enter the deputy academy. He hopes becoming a CSA will prepare him for the deputy academy.

DUI/Driver License Checkpoint in Mission Viejo Tonight

The Orange County Sheriff's Department DUI Taskforce will be conducting a DUI/Driver License Checkpoint on Friday, November 13 in the City of Mission Viejo between the hours of 6:00 PM and 2:00 AM.

Deputies will be looking for signs of alcohol and/or drug impairment along with checking drivers for proper licensing. When possible, specially trained deputies will be available to evaluate those suspected of drug-impaired driving.

DUI Checkpoints are placed in locations based on collision statistics and frequency of DUI arrests affording the greatest opportunity for achieving drunk and drugged driving deterrence. Locations are chosen with safety considerations for the deputies and the public.

For more information, please click here.

OC Moves

OCTA Honors Veterans in Annual Event

The Orange County Transportation Authority this week honored employees who have served in the military and employees with relatives currently serving during OCTA's sixth annual Veterans Day Appreciation event.

OCTA employs more than 100 veterans from the Army, Air Force, Navy, Marines and Coast Guard, representing nearly 10 percent of the workforce. OCTA has been recognized by military organizations as a military-friendly employer for its efforts to actively recruit veterans.

Veterans fill a range of positions at OCTA, including coach operators, dispatchers, maintenance workers and administrative employees.

Members of the Santa Ana High School NJROTC presented colors and performed a precision military drill in honor of the veterans present.

CEO Johnson said that honoring veterans is a tradition he's proud to continue since the OCTA Veterans Day ceremony began in 2010.

OCTA employees with relatives – sons, daughters, brothers, sisters and grandchildren – serving in the military also received recognition.

In 2012, the Southern California Army Advisory Council recognized OCTA as a military friendly employer for its efforts to actively recruit veterans. Those efforts include participating in recruiting events at the Marine Corps base at Camp Pendleton, remaining engaged with local junior colleges and universities to bring aboard veterans, and coordinating events with military organizations to help veterans transition from active duty service to careers in the transportation industry.

Healthcare Advisory

Follow-Up Care Is Important for Involuntary Psychiatric Hospitalization

A psychiatric hospital is a safe and secure setting for a person to receive mental health evaluation and treatment. A person can be placed in a psychiatric hospital under Welfare and Institutions Code 5150. The criteria for a 5150 hold, also known as a 72-hour hold, are: due to a mental health condition, a person is a danger to self, a danger to others or is gravely disabled. Grave disability is a state in which, due to a mental health condition, a person is unable to care for his or her basic needs.

After a person is hospitalized on a psychiatric hold and released, it is very important that the person follows up with his or her doctor within the week after the hospitalization. The National Alliance on Mental Illness (NAMI) describes psychiatric hospitalization as intensive mental health treatment that should be a coordinated effort between the person, the inpatient service providers and the outpatient service providers.

The person who was hospitalized may have experienced a psychotic episode, have a chronic mental illness or may have stopped taking prescribed medications. During hospitalization, treatment could have included new medications or a change in medication dosage. NAMI reports that most hospital stays are only long enough to resolve the most critical issues, which range from a few days to a couple of weeks.

Usually, psychiatric hospital discharges can include up to seven days of medications from the facility but, depending on the circumstances of the discharge, the person may not be provided with any medication. This is especially challenging because most psychiatric hospitals do not provide outpatient medication prescriptions. Medication should only be stopped under a doctor's care and the person will need access to obtain his or her medication.

After hospitalization, the person will need support and behavioral health intervention to continue to work on stabilization and move forward toward his or her goals. It is necessary for the person to see the doctor after discharge in order to maintain consistency with the medication regimen and monitor the medication's effects. Continued outpatient treatment is crucial to the person's recovery.

Mental health services are available to CalOptima members. These services include: individual and group psychotherapy, psychological testing to evaluate a mental health condition, outpatient services such as lab work, drugs and supplies, outpatient services to monitor drug therapy, and psychiatric consultation.

CalOptima members can call the CalOptima Behavioral Health line at 1-855-877-3885 for screening and referral to mental health services.

For more information, please visit www.nami.org.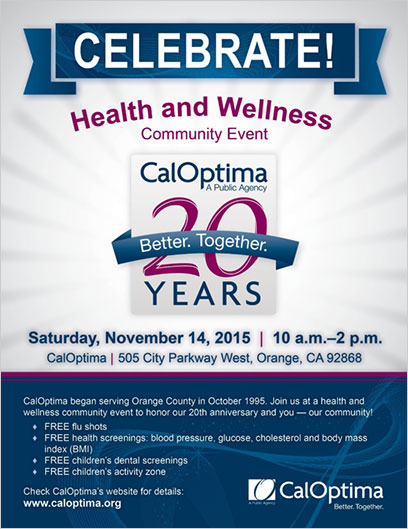 OC Pet of the Week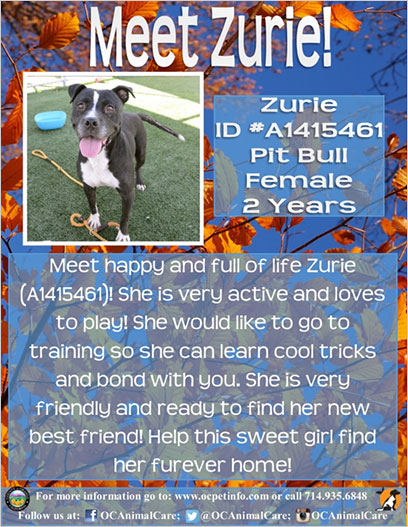 Click on the image above to view a PDF version.

Out and About South County

Conditions of Children Report Community Forum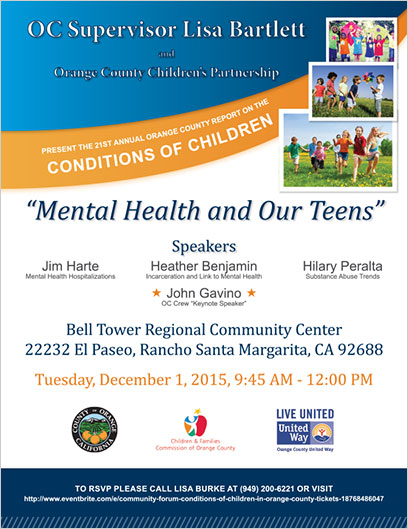 Click on the image above to view a PDF version.

Dana Point: Celebrate McCool Flowers 20th Anniversary and Sponsor a Marine for Thanksgiving Dinner

Join McCool Flowers as they celebrate their 20th Anniversary. One free rose per attendee. Anniversary specials all day! There will be a reception from 4:30PM to 6PM on Saturday and light hors' douvres will be served. For more information, please click here.

And

Let's celebrate our Marines & their families with a festive, fully plated Thanksgiving dinner and desserts! Come join in the celebration with our Marines, Sailors, Wounded Warriors and their families. The meal, desserts, drinks, raffle prizes and entertainment are our way of saying Thank You and all are complimentary for our 5th Marines thanks to your support.

On Thanksgiving Day, November 26, 2015, Waterman's Harbor Restaurant will again be hosting for the 5th year a complete plated Thanksgiving Dinner, Open Bar, Dessert and Coffee for our Marines and their Families at Waterman's Harbor Restaurant in Dana Point.

Donate today! The cost to Sponsor a Marine or Family Member is only $35/Person. To Sponsor a Marine(s) and their Family Member(s) please visit and to learn more about this event, visit: http://DanaPoint5thMarines.com/2015-thanksgiving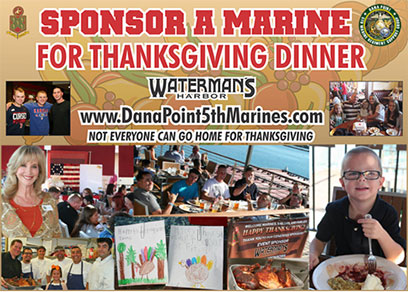 Laguna Beach: Hunger and Homelessness Awareness

The City of Laguna Beach is proud to announce its 8th Annual Hunger and Homelessness Awareness month in November. The Housing and Human Services Committee is pleased to present an expert panel discussion called: "Homelessness in Orange County: Discovering Solutions Together" on Saturday November 14th at the City Council Chambers starting at 1PM. The community is invited to attend. For more information, please click here.

Also, on Thursday, November 19th, the city of Laguna Beach and the Laguna Beach Unified School District will be hosting a joint ribbon cutting ceremony at the Laguna Beach High School tennis courts. Light refreshments will be served followed by an informal social tennis mixer. Please bring your racquet and tennis shoes.

Laguna Niguel: Free Dental Clinic

The Rotary Club of Laguna Niguel, Niguel Hills Middle School, AUYDA International and USC School of Dentistry will host a free dental clinic for Laguna Niguel students 1st grade and older, on Saturday, November 14th from 8AM to 3PM at Niguel Hills Middle School. Appointments are required. To make an appointment, please call Berenice Gonzalez at (949) 234-5360. For more information, please click here.

Would you like to receive a letter from Santa? Santa has asked us to help him by collecting letters in our "North Pole" mailbox in front of the Crown Valley Park office. Santa will be able to write one return letter per family at one address in Laguna Niguel. For more information, please click here.

Laguna Woods: Free Document Shredding Event

Southern California Shredding will destroy all typed of documents on-site at the event while you watch. The shredding machine will destroy all types of paper and file folders, even those with metal fasteners. The event will take place at Laguna Woods City Hall on Saturday, November 14th from 8:30AM to 12:30PM. For more information, please click here.
San Clemente: Tree Lighting Concert

On Saturday November 14th, the Outlets at San Clemente will hold its inaugural Tree Lighting Concert, to feature American Authors, best known for their Top 40 song "Best Day of My Life;" 2015 American Idol winner and rising star Nick Fradiani; and local up-and-coming singer from the first season of X-Factor, John Lindahl. Hosted by Valentine of 104.3 MY FM's morning show, the free concert in Center Court is open to the public and includes the lighting of the center's fresh cut live Christmas tree from Mt. Shasta, decorated with 3,000 twinkling lights and holiday décor. For more information, please click here.

Last but not least this week I:

Participated in an Orange County Board of Supervisors meeting.
Participated in an Orange County Transportation Authority (OCTA) Board meeting.
Participated as the keynote speaker at the WomenSage Family Matters Dinner.
Attended the Veterans Day Ceremony at the Sea Country Senior Center in Laguna Niguel. To view a photo album of the occasion, please click here.
Participated in the Transportation Corridor Authority San Joaquin Hills Board meeting.
Presented a certificate of recognition and cut the ribbon at the San Clemente Outlets grand opening ceremony. To view a photo album of the occasion, please click here.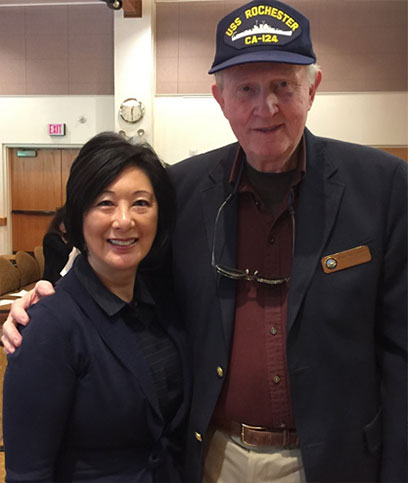 With Laguna Niguel Mayor Jerry McCloskey at city's Veterans Day celebration.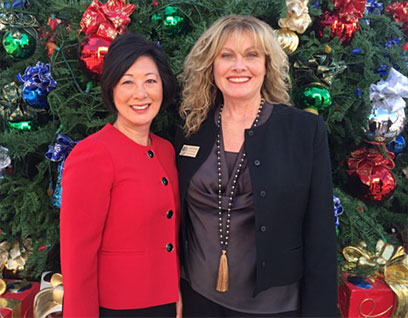 With San Clemente Councilwoman Kathy Ward at San Clemente Outlets ribbon cutting ceremony.



My Staff:

Attended the WomenSage Family Matters Dinner, where twelve exemplary women volunteers were honored for their service to our local community.
Attended the San Clemente Outlets Ribbon Cutting and Grand Opening.
Presented a certificate of recognition in honor of the topping out ceremony for Ladera Sports Center in Ladera Ranch.
Took an educational tour of the Ecology Center in San Juan Capistrano.
Attended the 240th Marine Birthday Ball.
Attended the Business Industry Association Orange County Chapter's (BIAOC) Complete Streets Workshop.
Attended the Transportation Corridor Authority (TCA) San Joaquin meetings.
Attended the Building Industry Association Orange County Installation Gala.
Attended the OC Conservation Corps Environmental Stewardship Awards
Attended the Orange County Visitor's Association Board of Directors meeting
Attended the Veteran's Day Ceremony in the City of Laguna Niguel.
Attended the Veteran's Day Tribute in the City of Rancho Santa Margarita.
Presented a certificate of recognition in honor of the ribbon cutting ceremony for Tommy Hilfiger at the Outlets of San Clemente.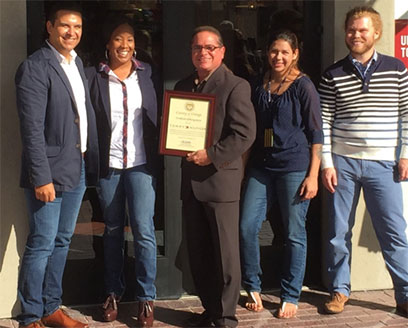 Tommy Hilfiger ribbon cutting at the Outlets of San Clemente.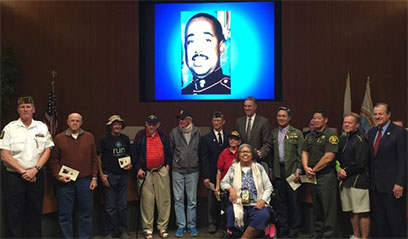 Veterans Tribute at Rancho Santa Margarita City Hall.



For questions or comments regarding Supervisor Bartlett's E-Newsletter please contact the Supervisor's office staff at: (714) 834-3550 or Sara.May@ocgov.com.


DISTRICT

STAFF
Paul Walters
Chief of Staff

Victor Cao
Policy Advisor

James Dinwiddie
Policy Advisor

Kelley Jimenez
Policy Advisor

Sara May
Policy Advisor

Sergio Prince
Community Relations Advisor

Tanya Flink
Office Manager



Stay Updated!