Fifth District Dispatch

Welcome to the Fabulous Fifth District Dispatch!

Thank you for subscribing to my electronic newsletter. My weekly newsletter includes information from County departments, regional boards I represent, transportation highlights and upcoming events in South County.

Please add me on Twitter @OCSupBartlett and Facebook @SupervisorLisaBartlett to receive regular social media updates.

It is my honor to represent you!

Sincerely,
Lisa A. Bartlett

Clear the Shelters Event

OC Animal Care, in partnership with NBC4 and Telemundo52, is hosting its annual Clear the Shelters event on Saturday, July 23rd, from 10am to 5pm. Bring the family to visit with all the adoptable pets at the OC Animal Shelter, and take home a "furever" friend at a discounted price! There will be plenty of dogs, cats, bunnies, and other animals who need loving homes. If you are looking for a pet, this is the event for you to find your "purrfect" match! Please help us promote responsible pet ownership and help reduce the number of homeless animals in our community. See the flyer below for more information.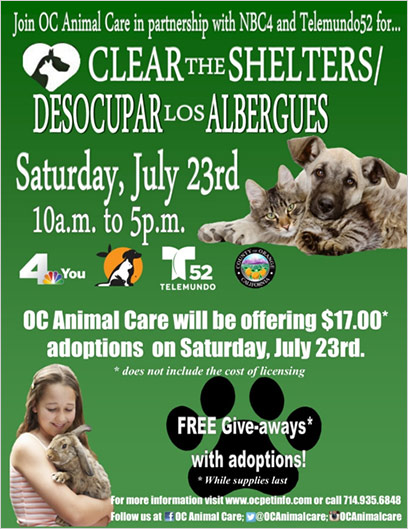 Click on the image above to view a PDF version.

County Connections

Bike and Pedestrian Enforcement Operation Aims to Increase Safety

The Orange County Sheriff's Department will step up Bike & Pedestrian Safety Enforcement Operations beginning on Thursday, July 21, 2016, with focused enforcement on collision-causing factors involving motorists, pedestrians and bicyclists. The department has mapped out locations over the past seven years where pedestrian and bike collisions have occurred, along with the violations that led to those crashes. Extra officers will be on duty patrolling areas where bike and pedestrian traffic and crashes occur in an effort to lower deaths and injuries.

Officers will be looking for violations made by drivers, bike riders and pedestrians alike that can lead to life changing injuries. Special attention will be directed toward drivers speeding, making illegal turns, failing to stop for signs and signals, failing to yield to pedestrians in cross walks or any other dangerous violation. Additionally, enforcement will be taken for observed violations when pedestrians cross the street illegally or fail to yield to drivers who have the right of way. Bike riders will be stopped and citations issued when they fail to follow the same traffic laws that apply to motorists. All riders are reminded to always wear a helmet – those under 18 years of age must wear helmets by law. Pedestrians should cross the street only in marked crosswalks or at corners.

Bicycle and pedestrian fatalities are rising in California as more people use these non-motorized means of transportation. Locally, the Orange County Sheriff's Department has investigated 26 fatal and injury collisions involving pedestrians and bicyclists during the past three years. In 2013, California witnessed 701 pedestrians and 141 bicyclists killed, accounting for more than 28 percent of all traffic fatalities.

Funding for this program is provided by a grant from the California Office of Traffic Safety through the National Highway Traffic Safety Administration.

OC Residents Hit It Out of the Park at Eco Challenge at Angel Stadium

OC Waste and Recycling welcomed hundreds of county residents bright and early Saturday, July 16, for the fourth annual Eco Challenge collection event at Angel Stadium. As early as 6 a.m., cars lined the gates with household hazardous waste, e-waste, documents for on-site shredding, and donations of gently used clothing and home goods – all for a day of eco-friendly activities and prizes, including the chance to score an in-person autograph with Angel starting pitcher, Nick Tropeano.

Chief of Staff, Paul Walters represented Chairwoman Bartlett at the event. He also took the Eco Challenge Pledge and enjoyed the Family Fun zone under the big red hats. Many families took the first step toward completing Summer Eco Challenge, a program designed to show how small changes in recycling can make a big impact for our community and environment.

In four short hours, more than 18 tons of recyclable materials were collected. This year's fan favorites collected at the event were household hazardous waste and home goods, tipping the scales at more than 10 tons.

For more information about the Summer Eco Challenge, visit OC Waste and Recycling or call Isabel Rios-Kahn at 714-834-4118.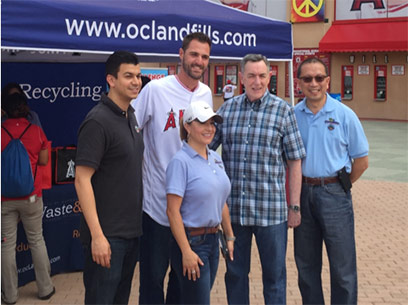 Angel's pitcher Nick Tropeano poses with Chief of Staff Paul Walters, 4th District Deputy Chief of Staff Mark Lopez, and staff.

OC Moves

La Pata Gap Connector Ribbon Cutting

Mark your calendar for the highly anticipated La Pata Gap Connector Ribbon Cutting Celebration on August 13th at 10a.m.! Bring the entire family for a day full of activities, including a car show, food trucks, live entertainment, and more! There will be a ribbon cutting at 11a.m. with a short program including Congressman Darrell Issa and Senator Pat Bates among others. See the flyer below or click here for details.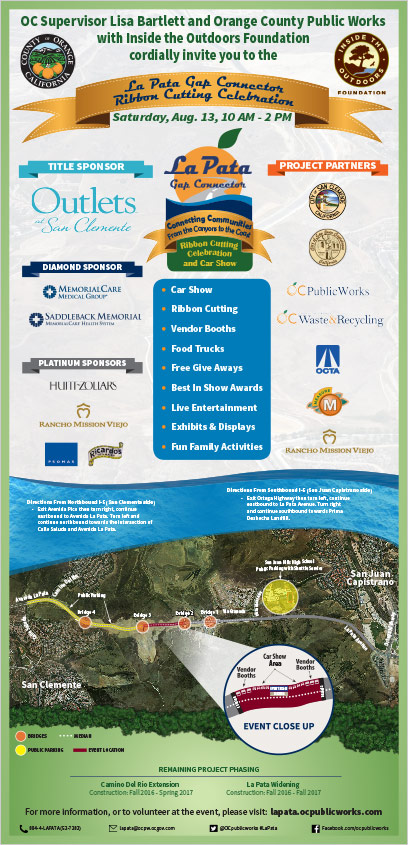 Free Laguna Beach Summer Breeze Bus Program

This summer the City of Laguna Beach is partnering with the Orange County Transportation Authority to pilot a bus program on weekends. I am proud to facilitate this partnership to reduce congestion on Laguna Canyon Road.

Begin your hassle free adventure by parking for FREE at the SR-133/I-405 parking lot near the 405 & 5 freeways, where the Cavalia Odysseo was hosted in Irvine. The Laguna Beach Summer Breeze (OC Bus Route 689) makes a loop beginning at the SR-133/I-405 parking lot and continues along Laguna Canyon Road with stops at the:

Sawdust Festival,
Art-A-Fair,
Festival of the Arts,
Pageant of the Masters,
Laguna Playhouse and the
Laguna Beach Bus Station,
where it meets the FREE Laguna Beach Trolley. The trolley connects with shopping and food destinations along Pacific Coast Highway. For more information about the Laguna Beach Trolley, visit LagunaBeachCity.net/Trolley.

The Laguna Beach Summer Breeze runs Saturdays and Sundays from 11 am to Midnight from July 9 through August 28. Buses will arrive every 30 minutes FREE of charge. For the full schedule click here.

I-5 South Nine-Day Ramp Closure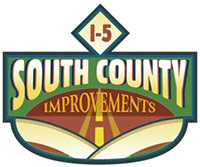 The extended closure of the Avenida Vista Hermosa on-ramp to southbound I-5 will begin at 5 a.m. Monday, Aug. 1, for nine days. During the closure, workers will demolish and remove the existing pavement on the ramp and immediately repave it in its new configuration. The reconfigured ramp will accommodate the new lanes being added on the I-5 freeway.

Crews also are planning a 55-hour weekend closure of the straight on-ramp from Camino de Estrella/Camino de los Mares to northbound I-5. That closure is scheduled to begin Aug. 5.

As additional details on these closures is confirmed, information will be shared on construction alerts, and on the project website and social media pages. Sign up for the alerts and find out more about the project at www.octa.net/I5South.

Dana Point Harbor

Dana Point Trolley & Harbor Shuttle

Thanks to the City of Dana Point, Dana Point Trolley service has been extended into the Harbor! Trolley service will run through Labor Day. Visit www.dptrolley.com for more details about the route.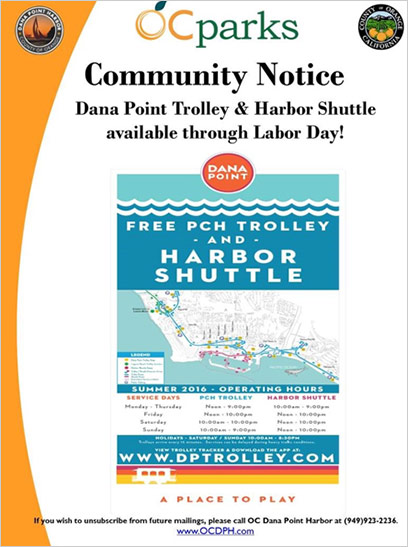 Click on the image above to view a PDF version.

Save the Date: Dana Point Harbor 50-Year Time Capsule Celebration

Mark your calendars for Monday, August 29th, to attend a special historic event to celebrate the unveiling of the Dana Point Harbor 50-Year Time Capsule. In addition to the unveiling, there will be a special BBQ dinner to follow. Don't miss out; be sure to purchase your BBQ dinner tickets in advance here. See the flyer below for details.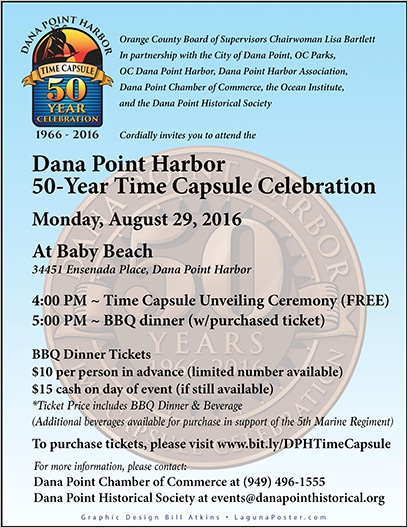 Click on the image above to view a PDF version.

OC Animal Care/Pet of the Week


Click on the image above to view a PDF version.

A Special Puppy at the OC Animal Shelter Makes a Full Recovery

I would like to highlight the heart-warming story of Bubba, the Jack Russell Chihuahua puppy who was adopted this week from the OC Animal Shelter. At just eight weeks old, OC Animal Control rescued Bubba from a drug-laden hotel room, and later found methamphetamine and heroine in his system. After months of intensive care and monitoring, Bubba has finally made a full recovery and was made available for adoption this week. He went home to his new loving family on Wednesday afternoon. Thank you to the staff members at OC Animal Care for all the attention and care they gave to Bubba. For more on this touching story, read The OC Register article here.

New Shelter Groundbreaking Ceremony

Next Friday marks an exciting day for OC Animal Care! Please join me and other representatives from the County and the City of Tustin as we celebrate the official groundbreaking of the new animal shelter. Our new shelter will be a state-of-the-art, 10-acre facility that will replace the current 4.2 acre facility that was built in 1941. The ceremony will take place at 9a.m. at the former Tustin Marine base on Armstrong Avenue between Valencia and Warner in Tustin. RSVP to Ariana.Mandujano@occr.ocgov.com. See the flyer below for more details.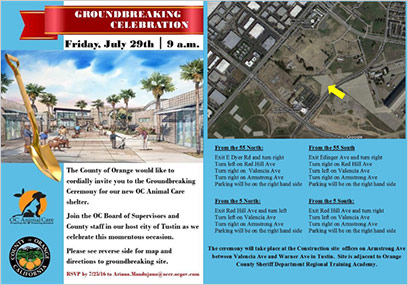 Get ME-OWTTA Here: Discounted Cat Adoptions all Month Long

Thinking about adopting a cat or kitten? Now is the time to bring a new feline friend home! During the month of July, the Orange County Animal Shelter is offering discounted cat and kitten adoptions; you just pay the $17 cost for the microchip! Due to the spike in cat and kitten intake over the summer months, there are plenty of animals to choose from. Please help us decrease the number of homeless pets in our community and take advantage of this promotion by adopting today!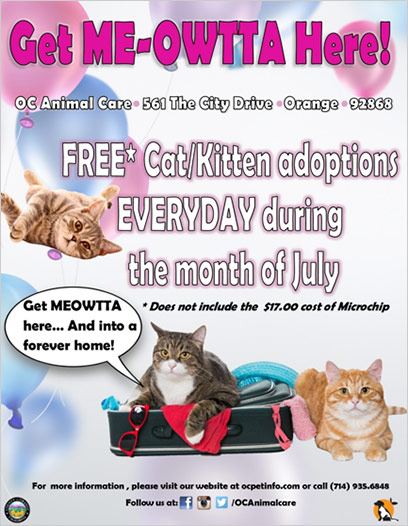 Click on the image above to view a PDF version.


Fifth District Office Celebrations

As many of you know, I'm very proud of my board office staff. They all are incredibly accomplished in their service to residents of the Fifth District, and they are embarking on an exciting future. It's an honor to be a part of their personal development and help them achieve their goals. As it turns out, nearly half of them are engaged to be married. I wanted to share with you some of the people I value and celebrate.

This week I would like to highlight Kelley Jimenez. She handles transportation policy and legislation for my office. I am proud to announce she is engaged and will be married in winter 2017. Congratulations Kelley and Jin!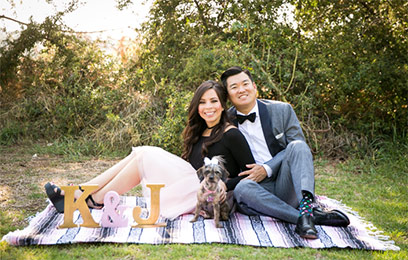 Kelley and Jin pose with her 12 year old Doxiepoo, Lola.

Out and About South County

Dana Point: Summer Concert

Trisha Freeman Band and Peaceful Easy Eagles Tribute will be performing on July 24th from 2:30PM-6:00PM at Sea Terrace Park located on Pacific Coast Highway at Niguel Road in Dana Point. There will be food and refreshments available for purchase and free shuttle buses from 1PM-7PM at Dana Hills High School. For more information click here.

Laguna Beach: Wilderness Preserve Guided Hike

On Saturday, August 13th, OCTA will be hosting a guided hike at the Aliso Canyon Preserve in Laguna Beach. All hikers 12 years and older are encouraged to attend this moderate to strenuous two-hour excursion. Space is limited, so be sure to register at http://preservingourlegacy.org/.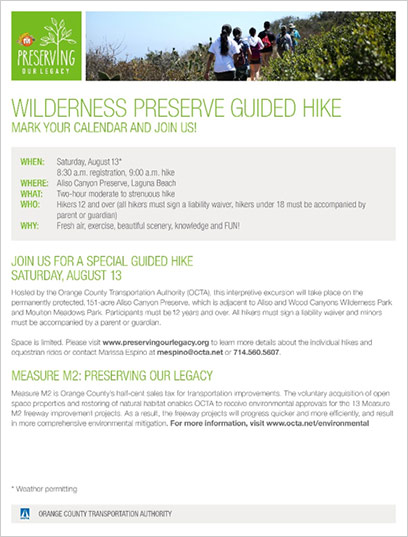 Laguna Hills: Shakespeare in the Hills – Twelfth Night

Bring a blanket, a picnic, and your family to this outdoor performance of William Shakespeare's Twelfth Night, presented by On The Edge Theatre Productions. Viola has been shipwrecked in a violent storm on the coast of Illyria and has lost her twin brother at sea. She disguises herself to serve Orsino, who pines for the love of lady Olivia. Mishaps ensue when the long-lost brother returns unbeknownst to them all. This event takes place at the Laguna Hills Community Center and Sports Complex (25555 Alicia Parkway) for three days (July 29th-31st). Tickets are $10 and are sold the day of. Snacks and refreshments will be available for purchase. For more information click here.

Lake Forest: 25th Anniversary Golf Tournament

Come out and celebrate the 25th anniversary of Lake Forest by playing a fun game of golf! It is open to all players and consists of teams of 4 with a maximum of 11 teams. The event will take place on Saturday, July 23rd, at the Lake Forest Golf Center (23308 Cherry Ave.) beginning at 1:00pm. The cost is $30 per person. To register call (949) 273-6960 or click here to view the flyer.

Mission Viejo: Family Fun Night Luau

If you are seeking an exciting evening your entire family will enjoy, then make plans for Family Fun Night from 4 p.m. to 9 p.m. on Saturday, July 23rd, at the Montanoso Recreation Center (25800 Montanoso Drive). This fun summer event features a family luau and the chance to test your skills on an inflatable pool obstacle course. Family Fun Night is free for members and included in day fees for guests. General admission for non-members is $4 for kids under 13; and $8 for 14 and older. For more information click here.

Rancho Santa Margarita: Pet Adoption Center Fundraiser

On Sunday, July 24th, visit the Rancho Santa Margarita Chipotle to help raise funds for The Pet Adoption Center, a non-profit that works to showcase shelter pets help our homeless animals find loving, permanent homes. 50% of the proceeds will be donated to the organization, so make sure you bring the family and order those chips and guac! See the flyer below for more details, or visit The Pet Adoption Center website at http://adoptocpets.org/.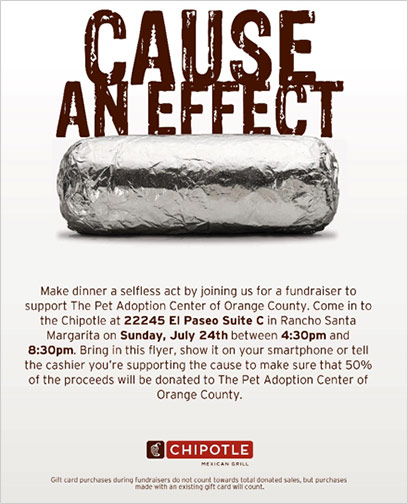 San Juan Capistrano: Stretch and Strength Supporting the American Cancer Society

In honor of all those who have survived or are currently battling cancer, Mission San Juan Capistrano will host the third annual Stretch and Strength Class Series to help raise awareness and funds for cancer research. The public is invited to enjoy this special after-hours experience of stretching, meditation and renewal in the historic Mission courtyard. Proceeds benefit the American Cancer Society Relay for Life of San Juan Capistrano. Bring a personal exercise mat and water bottle. Children may participate or observe but must be accompanied by an adult. Cost is $10 per person. This event will be held on Thursday, July 28th, from 6:00pm-7:00pm. For more information click here.

My Staff:

You may notice this week's newsletter does not include my activities for the week. As many of us do during the summer months, I took a week to spend some quality time with my family for our annual vacation. In my absence, my staff dutifully stepped up to the plate to ensure that my committee responsibilities were covered and that the office continued to run smoothly. This week they:

Attended and spoke at the OC Waste & Recycling Eco Challenge Day at Angel Stadium.
Attended the South Orange County Economic Coalition meeting in Laguna Niguel.
Attended the TCA Foothill Eastern/241/91 Express Connector Ad Hoc Committee and Joint Capital Programs & Projects meetings.
Attended the OCTA Legislative & Communications Committee meeting.
Attended the South Orange County Association of Mayors meeting in Lake Forest.
Presented a certificate of recognition in honor of The Shirt Cannery's 40th Anniversary in Mission Viejo.
Presented a certificate of recognition in honor of The English Rose Ribbon Cutting in Dana Point.
Presented a certificate of recognition in honor of the PLAYlive Nation Ribbon Cutting in Rancho Santa Margarita.
Presented a certificate of recognition in honor of the Pedal Spin Ribbon Cutting in Ladera Ranch.
Presented a certificate of recognition in honor of the Kitchen Collection Ribbon Cutting in San Clemente.
Presented a certificate of recognition in honor of the Union Market Grand Opening at the Kaleidoscope in Mission Viejo.
Presented five certificates of recognition in honor of the Multi-Member Ribbon Cutting event in Laguna Niguel. Recipients included: Sater Secretarial & Business Services, Beauty by Tiera, Laguna Niguel Community Theatre, American Lung Association in California, and Kimberly Lou/Repair. Build. Shred.
Presented certificates of recognition at the San Juan Capistrano City Council Meeting to honor Deputy Leith Chacon, Deputy Anthony Franco, and Deputy Juan Lopez for their service to the city.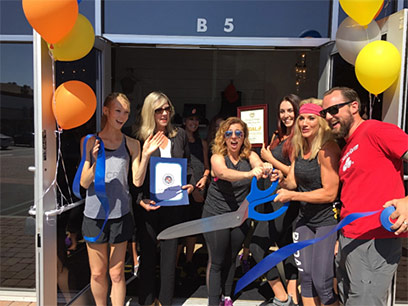 The Pedal Spin Orange County Ribbon Cutting in Ladera Ranch.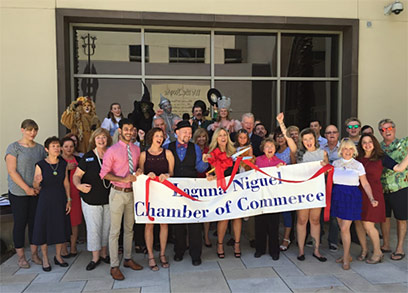 The Laguna Niguel Multi-Member Ribbon Cutting event, including the cast of The Wizard of Oz, one of the new member's latest productions.

South County Elected Officials in the Community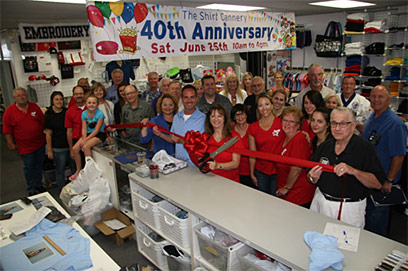 The Shirt Cannery 40th Anniversary Ribbon Cutting, with Mission Viejo Mayor Pro Tem Wendy Bucknum (left of center).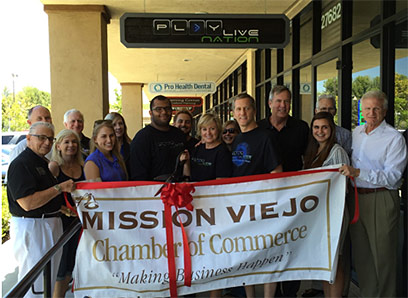 PlayLIVE Nation Ribbon Cutting, with Mission Viejo Councilman Greg Raths (right of center).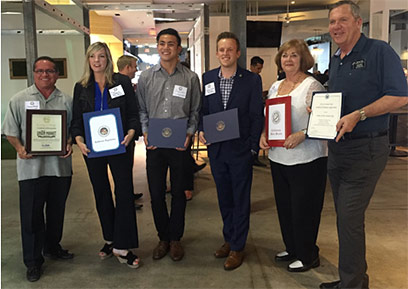 Mission Viejo Councilman Greg Raths (right) at the Union Market ribbon cutting.

For questions or comments regarding Supervisor Bartlett's E-Newsletter please contact the Supervisor's office staff at: (714) 834-3550 or Tanya.Flink@ocgov.com.