Fifth District Dispatch

Welcome to the Fabulous Fifth District Dispatch!

Thank you for subscribing to my weekly e-newsletter. The Fifth District Dispatch includes information from County departments, regional boards I represent, transportation highlights and upcoming events in South County.

Please add me on Twitter @OCSupBartlett and Facebook @SupervisorLisaBartlett to receive regular social media updates.

It is my honor to represent you!

Sincerely,

Lisa A. Bartlett
Supervisor, 5th District

South County Pet Expo & Dog-a-Palooza

The South County Pet Expo and Dog-a-Palooza is this Saturday, March 11!

This enormously popular event is being presented by my office, in partnership with the City of Lake Forest, OC Animal Care, The Pet Adoption Center of Orange County, and Mount of Olives Church. The Pet Expo will be held from 10 AM to 2 PM in The Commons greenbelt area at Lake Forest Sports Park, 28000 Rancho Parkway, Lake Forest, CA 92630.

This family and pet friendly event will feature rescue groups with many loving animals available for adoption, fun and exciting canine demonstrations, local vendors providing all manner of pet products and services, as well as food trucks, music and entertainment.

As an added bonus, Mount of Olives Church – Mission Viejo will perform a special Blessing of the Animals to all pets present at the Expo, followed by the inaugural Dog-a-Palooza Pet Parade! Overflow parking and shuttle service will also be available at Saddleback Church, directly across the street from the Pet Expo.

We look forward to seeing you and your well-behaved pet (leashes required) at the South County Pet Expo! For more information, please click on the flyer below.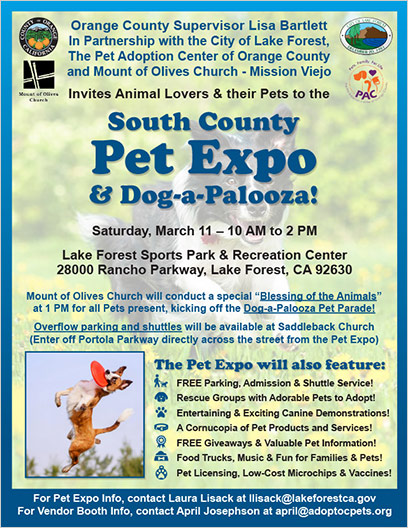 Click on the image above to view a PDF version.

County Connections

Sheriff's Department: DUI Enforcement This Weekend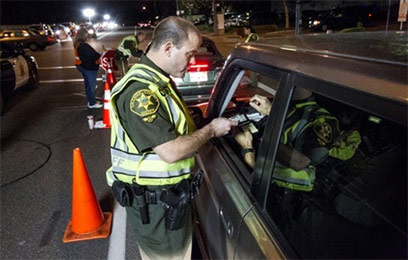 Deputies from the Orange County Sheriff's Department's DUI Enforcement Team will be deploying this weekend to stop and arrest alcohol and drug-impaired drivers in the Department's ongoing traffic safety campaign. DUI Saturation Patrols will deploy from 7 p.m. Friday, March 10, through 3 a.m. Saturday, March 11, in areas with high frequencies of DUI collisions and/or arrests in the cities of Lake Forest and Mission Viejo.

High Visibility Enforcement using both DUI checkpoints and DUI Saturation Patrols has proven to lower the number of people killed and injured in alcohol- or drug-impaired crashes. Research shows that crashes involving an impaired driver can be reduced by up to 20 percent when well-publicized, proactive DUI operations are routinely conducted.

Officers will be looking for signs of alcohol and/or drug impairment. When possible, specially trained officers will be available to evaluate those suspected of drug-impaired driving, which now accounts for a growing number of impaired driving crashes.

Drivers are encouraged to download the Designated Driver VIP, or "DDVIP," free mobile app for Android or iPhone. The DDVIP app helps find nearby bars and restaurants that feature free incentives for the designated sober driver, from free non-alcoholic drinks to free appetizers and more. The feature-packed app even has social media tie-ins and a tab for the non-DD to call Uber, Lyft or Curb.

The cost of a ride home is cheap. Those caught driving impaired can expect the impact of a DUI arrest to include jail time, fines, fees, DUI classes, license suspensions and other expenses that can exceed $10,000, not to mention the embarrassment when friends and family find out.

Funding for this DUI operation is provided to the Orange County Sheriff's Department by a grant from the California Office of Traffic Safety, through the National Highway Traffic Safety Administration, reminding everyone to 'Report Drunk Driver – Call 9-1-1'.

Treasurer-Tax Collector: Property Tax Auction March 15

Orange County Treasurer Shari L. Freidenrich announced that the next tax auction is scheduled for Wednesday, March 15, 2017, at 1 p.m. in the Board of Supervisors Hearing Room located at 333 W. Santa Ana Boulevard, Building 10, in Santa Ana.

"We currently have 11 improved parcels and three unimproved parcels to auction, and we expect to actually auction off between five and 10 parcels," stated Treasurer Freidenrich. The Treasurer will only auction off those properties that have not paid all delinquent taxes and penalties in full by 5 p.m. on Tuesday, March 14, or those properties that are otherwise ineligible for sale.

The current list of parcels and all information on the upcoming tax auction is available online at ocgov.com/taxauction. The list of parcels is updated daily. You can also view a listing of the properties and a GIS map of the auction properties by clicking on the map icon on the website.

All bidders must pre-register on Tuesday, March 14. Bidders can register and pick up the registration packet between 8 a.m. and 5 p.m. on March 14 in the Office of the Treasurer-Tax Collector at 625 N. Ross Street, Building 11, Room G58. A $5,000 refundable deposit (cashier's check only) and a valid government issued photo identification are required to register. Registration information is available on our website at ocgov.com/taxauction. Unsuccessful bidders can pick up their unused deposits either right after the tax auction concludes or on a subsequent day.

Under California law, properties become subject to the Treasurer-Tax Collector's "power to sell" and can be sold at a tax auction after at least one property tax installment payment has been delinquent for five or more years. The Treasurer sets the minimum bids based on the total amount of delinquent taxes, penalties and selling costs. This is a "buyer beware sale," and the properties are sold "as is." Some liens may not be discharged by the sale; check out the detailed information on the tax auction website. In addition, the Office of the Assessor is responsible for determining the assessed value of all properties in the County of Orange based on the California Constitution and property tax laws. Upon a change in ownership, properties will be assessed at the market value. Therefore, the price you pay for the property at the tax auction will not necessarily be the new assessed value of the property.

To register your e-mail for upcoming tax auction information, go to ocgov.com/taxauctionreminder.

OC Moves

I-5 South County Construction Update

Nighttime Freeway Lane, Ramp Closures: For the next several weeks, there will be nighttime freeway lane and ramp closures on north- and southbound I-5 between PCH / Camino Las Ramblas and Avenida Vista Hermosa. The closures, scheduled to occur between 10 p.m. and 5 a.m. Monday through Friday, are necessary to install equipment used to monitor traffic.

Stonehill Drive / Camino Capistrano On-Ramp Closure: The Stonehill Drive / Camino Capistrano on-ramp to northbound I-5 will be closed nightly from 10 p.m. to 5 a.m. Monday, March 6, through Friday, March 10, to allow crews to install a crash barrier.

Nighttime Pico Closures: Crews are scheduled to close Avenida Pico from 10 p.m. to 5 a.m. Monday through Friday for up to six weeks, beginning Monday, March 6. The closures will allow crews to remove and install falsework for the Avenida Pico bridge. The northbound I-5 off- and on-ramps also will be closed during this time.

Avenida Vista Hermosa and Calle Frontera will be available as detours.

Please be advised, dates and times are subject to change if there is inclement weather or if there are unforeseen operational factors.

OCTA Advisory Committee Recruitment

Are you interested in the transportation needs of Orange County? If so, the Orange County Transportation Authority (OCTA) needs your help. Two OCTA committees – the Citizens Advisory Committee (CAC) and the Special Needs Advisory Committee (SNAC) – have openings, and are recruiting new members. Applications for both these OCTA Board-appointed committees are due April 10.

CAC members provide input on a broad spectrum of transportation projects, studies and outreach activities. During their two-year terms, they identify opportunities for community input, recommend methods for obtaining public feedback on specific transportation issues, serve as a liaison between the public and OCTA and participate in roundtable discussions. Potential committee members should demonstrate a history of participating in community activities and transportation issues and be willing to dedicate at least 15 hours per year to OCTA meetings and activities. Applications are available here. For additional information, please contact Emily Mason at (714) 560-5421 or emason@octa.net.

SNAC members advise OCTA on its special needs transit service for persons with disabilities. Applicants should demonstrate an involvement with persons with disabilities and/or senior citizens, an interest in transportation, and a willingness to dedicate no less than 12 hours annually to OCTA meetings and activities during a three-year term. For additional information and to request an application, visit here or contact Efren Guzman Magdaleno at (714) 560-5560 or emagdaleno@octa.net.

OC Animal Care/Pet of the Week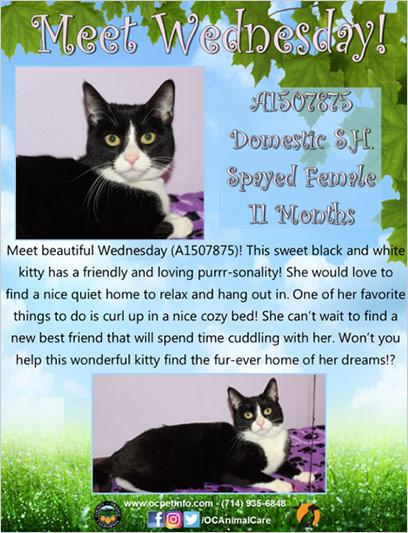 Click on the image above to view a PDF version.

Out and About In South County

Aliso Viejo: Wedgewood Aliso Viejo Spring Wedding Fair

Join us for an unforgettable evening of food, fun and festivities! You don't want to miss this opportunity to tour our newly renovated property, meet our package included vendors, sample delicious hors d'oeuvres & entrees, toast with drinks from our hosted California bar, play wedding games and be entered to win free wedding day package enhancements! Tickets are $19.99 each. This event is Wednesday, March 22nd from 6-9 pm at the Wedgewood Center at 31 Santa Barbara Drive in Aliso Viejo. For more information, click here.

Dana Point: Festival of Whales

Come join us in celebrating weekend two of the 46th Annual Dana Point Festival of Whales. Saturday kicks off with a beach cleanup of Doheny State Beach at 9 am, includes the 6th Annual Clam Chowder Cook Off starting at 11 am and ends with a free movie screening of Finding Dory at 6:30 pm at the Dana Point Community Center. Events continue through 5pm on Sunday the 12th. For more information on events and the time schedule, click here.

Laguna Niguel: High School, Job & College Fair

The City of Laguna Niguel Youth Committee invites you to attend its annual High School, Job & College Fair! Representatives from local businesses as well as local colleges, universities and trade schools will be in attendance to share information regarding their institutes of higher learning, job opportunities, career pathways, and internships. This is an excellent opportunity for teens to explore specific career paths and options for college and to gain insight into the workforce. This event is Saturday, March 18th from 10 am to 12 pm at the City Hall Community Room. For more information, click here.

Mission Viejo: A Walk in their Shoes

Working Wardrobes is a non-profit aimed at helping men, women, young adults and veterans overcome difficult barriers so they can achieve the dignity of work. They are hosting their first 5K Walk and Fun Run on Saturday, March 25th, in Mission Viejo to benefit our community's veterans. For more information and to register, click here.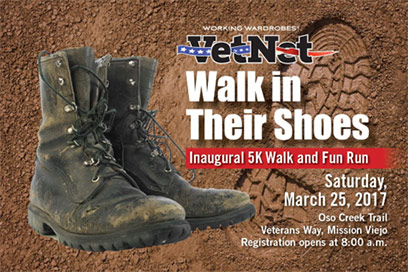 San Clemente: St. Patrick's Day Dinner and Dance

The 50th Annual Community St. Patrick's Dinner and Dance will be held on March 11th from 5-10 p.m. in the auditorium at 11 N. Calle Seville. Sponsored by the Exchange Club in partnership with the City of San Clemente this dinner will benefit local charities. Corned beef and cabbage dinner with all the trimmings will be catered by Hennessey's Wine/Bistro and will be served from 5-8:30 p.m. In addition to a live band with fabulous music all evening, the event will also feature traditional Irish Dancers from the Anair Academy of Irish Dance performing at 5:30 to 6:20 p.m. Ticket donation includes a door prize raffle ticket and a full service bar is available. For more information, click here.

This week I:

Participated in the Festival of Whales Parade & Street Fair in Dana Point.
Participated in the OCTA Executive Committee meeting.
Hosted the South County Mayor's Forum in Aliso Viejo.
Was the featured speaker at the Niguel Shores Men's Club monthly meeting and the Laguna Woods Republican Satellite meeting.
Attended the Association of California Cities – Orange County's regional meeting in Mission Viejo.
Participated in the TCA Board meetings.
Participated in a California State Association of Counties (CSAC) Executive Committee conference call.
Attended the Orange County Strategic Plan for Aging Leadership Council meeting.
Participated in an OCFA Ad Hoc meeting.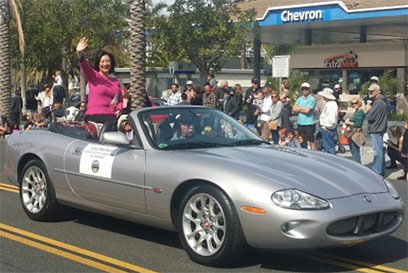 Riding in the Dana Point Festival of Whales Parade.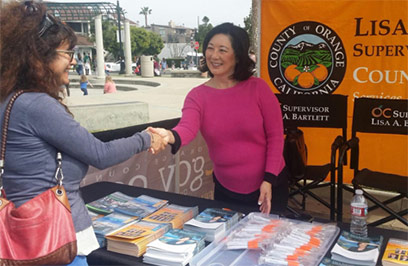 Working in the County Information Booth at the Festival of Whales Street Fair in Dana Point.




At my South County Mayors Forum with (L-R) Laguna Hills City Manager Bruce Channing , Laguna Niguel Assistant City Manager Dan Fox and City Manager Rod Foster, Laguna Hills Mayor Don Sedgwick, Lake Forest City Manager Debra Rose, San Juan Assistant City Manager Jacob Green, RSM City Manager Jennifer Cervantez, Laguna Niguel Mayor Jerry Slusiewicz, Lake Forest Mayor Scott Voigts, Laguna Woods Mayor Shari Horne, RSM Mayor Pro Tem Mike Vaughn, Dana Point Mayor Debra Lewis, Aliso Viejo Mayor Dave Harrington, Mission Viejo Mayor Wendy Bucknum and City Manager Dennis Wilberg, Dana Point City Manager Mike Killebrew, Aliso Viejo City Manager David Doyle, and Laguna Woods City Manager Chis Macon.

My Staff:

Presented a Certificate of Recognition to Jesse Zweig, a Lake Forest constituent who ran 200 miles, nonstop, in 72 hours to raise funds for CHOC. Read the OC Register article on Jesse's inspiring accomplishment here.
Presented a Certificate of Recognition in honor of the ABC Pharmacy ribbon cutting in Laguna Hills.
Presented a Certificate of Recognition in honor of The Game Chest ribbon cutting in Mission Viejo.
Attended the United Way Roundtable Breakfast.
Met with the Dana Point Harbor Association.
Attended the 2017 South Orange County Economic Report.
Attended the Summer Breeze 2017 planning meeting.
Attended the San Juan Capistrano State of the City.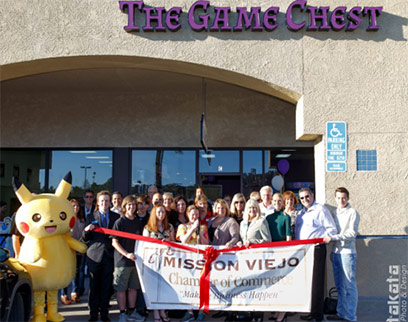 At The Game Chest ribbon cutting in Mission Viejo.

South County Elected Officials in the Community


Dana Point Mayor Debra Lewis in the Festival of Whales Parade.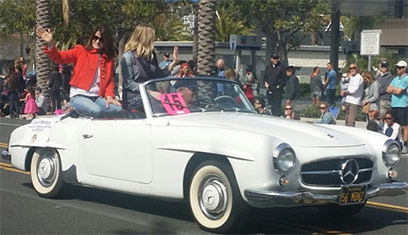 State Board of Equalization Chairwoman Diane Harkey in the Festival of Whales Parade.

For questions or comments regarding Supervisor Bartlett's E-Newsletter please contact the Supervisor's office staff at: (714) 834-3550 or Tanya.Flink@ocgov.com.